---
Kotaku Monday, January 17, 2022 6:15 PM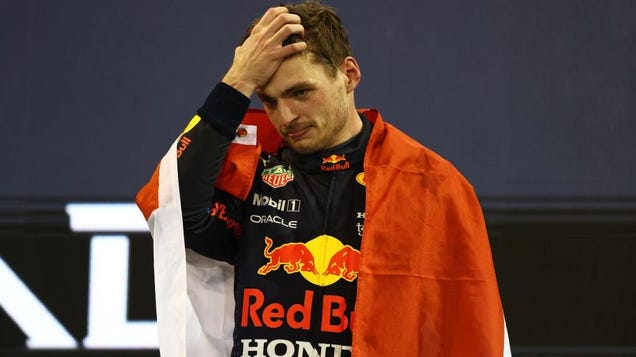 While Red Bull's Max Verstappen enjoyed a successful end to his actual racing season, when he claimed the F1 crown in controversial circumstances, his appearance over the weekend in a virtual Le Mans 24 hour race didn't go quite so well.

---
Kotaku Monday, January 17, 2022 2:35 PM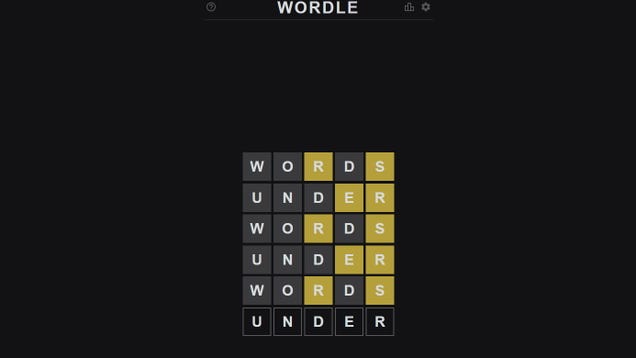 You know how everything is awful? Well, wait! This isn't! Wordle, the super-simple Mastermind-like word game that has taken over planet Earth, seems to create goodwill in its wake—the latest being that of Steven Cravotta, whose five-year-old app with the same name has found itself at the top of the mobile charts.…
---
PCGamesN Monday, January 17, 2022 6:24 PM
If you keep an eye on the Steam charts or any number of YouTubers focused on highlighting indie games, you might've seen a little thing called Vampire Survivors. Billed as a "gothic horror casual game" that lets you "be the bullet hell", the simplistic charms of Vampire Survivors is quickly propelling it to breakout hit status.
Vampire Survivors is a run-based twin-stick shooter that, effectively, has only one stick. You move your character manually, but your attacks are all automatic. Each character has their own starting ability, like a whip that swipes in the direction you're facing, or a magic projectile that fires in the direction of nearby enemies.
Each enemy drops an experience gem when they die, so you've got to make your way through the hordes while picking through their remains. Each time you level up - a process that takes mere seconds to start - you get a new weapon or upgrade. Maybe your whip can fire in both directions now, or you shoot multiple magic bullets at once.
---
PCGamesN Monday, January 17, 2022 5:49 PM
Dead Cells is an excellent side-scrolling roguelike game, which means it would be sad if someone couldn't play it. That thought has occurred to developer Motion Twin, which is currently seeking ideas for enhancing Dead Cells' accessibility. The studio has asked its player community to share their suggestions on how to make the game more accessible to more people.
"Recently we've been having conversations about making sure that everyone can experience Dead Cells," the developers write in a Steam post, "because the whole world should know the sheer joy of sacrificing Mushroom Boi to save your own skin." While the developers are looking into ways to increase accessibility on their own, they thought players might have valuable input as well.
Motion Twin has identified a few features that might help enhance the game's accessibility: adjustable font sizes and colours, a global colour palette adjustment option for different types of colourblindness, an option to increase the UI size, the ability to bump up the background contrast, and an option for autohit.
---
PCGamesN Monday, January 17, 2022 3:36 PM
Workers and Resources: Soviet Republic is secretly the best city-building game out there, as long as you're the kind of person who enjoys setting up gravel conveyors, placing railway signals, and keeping tabs on your citizens through a secret police network. Developer 3Division keeps adding complexity to it, and an upcoming patch will include a water and sewage system.
The latest Report for the Community includes some details about how the plumbing system will work. Naturally, you'll first need a water source, such as a well. This water needs to be piped to a treatment facility, which will make it safe for drinking by adding chemicals to it. The amount of chemicals you'll need to purify the water depends on where the source is - wells in heavily polluted areas will require more purification than well water from cleaner areas.
3Division says it's already worked out how Workers and Resources will handle things like water pressure and delivery, and that now the studio is figuring out exactly how the water system will connect to the power grid and what kinds of values will be used to determine water consumption.
---
PCGamesN Monday, January 17, 2022 2:09 PM
Just like All Might, the first gameplay footage of My Hero Academia: Ultra Rumble is here, as is confirmation of a beta test in February and the game's planned launch platforms - including PC via Steam. Sadly, all this promotional material is in Japanese and there's no confirmation of a Western release just yet.
Ultra Rumble is a 24-player battle royale game where eight teams of three fight for survival. As a press release translated by Gematsu explains, you take control of heroes and villains from the anime and manga, powering up your quirk with skill cards hidden throughout the map. Endangered civilians are scattered through the map, too - rescuing or attacking them will bring benefits to your team.
The PlayStation 4-exclusive beta runs from February 2 to February 6 - but again, those dates are confirmed only for Japan. The beta's playable characters include Deku, Bakugo, Uraraka, Todoroki, Tsuyu, All Might, Cementoss, Mt. Lady, Shigaraki, Dabi, Himiko Toga, and Mr. Compress.
---
PCGamesN Monday, January 17, 2022 1:12 PM
The next project from PUBG creator Brendan 'PlayerUnknown' Greene was first teased last year as a big-scale experiment in building triple-A open-world games through procedural generation. Exactly what the 'game' part of that experiment will be remains to be seen, but Greene is showing off an early tech demo and the team's goal of "planet-sized worlds".
"Today I want to share a proof-of-concept tech demo from early last year," Greene says in a tweet. "This gave me the confidence to think about planet-sized worlds and the possibilities they could afford players." The demo, which you can see below, is described as a "proof-of-concept" showing a 64x64km map of "runtime generated terrain".
This comes as part of a hiring push at PlayerUnknown Productions, and job listings say that the studio aims to "push the envelope of what is possible with open worlds in gaming. Our goal is to build deep, systemic playgrounds hundreds of kilometers wide and populated by thousands of players."
Upcoming PC Games
---
PCGamesN Monday, January 17, 2022 12:48 PM
Cities: Skylines' next big DLC expansion is Airports, but planes won't be the only new modes of transportation that arrive with it January 25. The add-on pack to the city-building game also adds new high-capacity buses, metros, and trains to take people from your brand new airport to the places in your city they're itching to visit.
As the latest few dev diaries explain, airports in Cities: Skylines will gain levels as you service more passengers and increase your city's attractiveness rating. Each new level unlocks new options, and among those are more efficient and convenient methods of transportation that plug directly into your city's existing transportation networks.
At level one, you'll be able to build an airport bus terminal to your airport, which you can outfit with articulated airport buses and double-decker airport buses. Articulated buses can carry up to 50 passengers, while double-deckers can hold up to 60 - which is a nice upgrade over the standard 30-passenger bus that's available in the base game.
Cities: Skylines mods
,
Cities: Skylines system Requirements
---
PCGamesN Monday, January 17, 2022 12:30 PM
The Nvidia RTX 3090 is a GPU juggernaut, and it's currently one of the best graphics cards on the market. While the RTX 4000 series will likely replace the current flagship at some point in the near future, the green team officially announced the RTX 3090 Ti during CES 2022, showing that Ampere still has more to offer before Lovelace arrives on the scene.
Admittedly, it's hard to get excited for new GPUs amid ongoing graphics card shortages. Not only did the RTX 2060 12GB refresh arrive with an out of stock label already attached, but its RTX 3080 12GB is currently suffering the same fate. However, RTX 3050 stock rumours suggest that Nvidia next card might actually be available at launch, so we could be about to transition into an era of Ampere availability.
Nvidia's RTX 3000 GPUs are undeniably coveted, but you don't have to wait around for hardware stocks to replenish to experience RTX gaming. In fact, the best gaming laptops are much easier to get a hold of than dedicated desktop cards, and they come with RTX exclusive features like Nvidia DLSS and DLDSR downsampling. Nevertheless, if you're still hellbent on upgrading to an RTX 3090 Ti, we've compiled information on the graphics card's price, release date, specs, and possible benchmarks.
RTX 2070 Super review
,
RTX 2060 Super review
,
Best graphics card
---
PCGamesN Monday, January 17, 2022 12:20 PM
Epic has confirmed the Fortnite 19.10 release time, and with a new teaser, has effectively made it official that this update will see the return of Tilted Towers. The Chapter 1 POI was one of the game's most popular drop points, and outside of a handful of revamped returns, has been missing in action for nearly two years.
Downtime for Fortnite 19.10 begins on January 18 at 1am PST / 4am EST / 9am GMT. (Matchmaking will be disabled 30 minutes prior to that time.) Downtime can last up to four hours, though typically it's much less than that. Either way, you'll be able to see the new content as of the morning of January 18.
Alongside the release timing, Epic tweeted "one more sleep" alongside an emoji of a city. The return of Tilted has been teased in-game with the melting snow, which has been slowly revealing a few building tops. Combined with dataminers reporting that Tilted's comeback is imminent, it seems the location really is finally about to reemerge.
Fortnite V-Bucks
,
Fortnite Skins
,
Fortnite Creative Codes
---
Rock Paper Shotgun Latest Articles Feed Monday, January 17, 2022 6:08 PM
Diplomacy Is Not An Option looks pleasant and lovely, a bucolic town builder of the sort that would enrapture me for a lost weekend. There's a little combat, but not mu-- Oh, wow. Waitaminute. There's a moment in this trailer where it suddenly looks like one of those adverts for fake mobile games. The hordes. Seemingly thousands of enemies on screen, and the physics to simulate them being hurled about.
You can watch said trailer below, released alongside the news that the game has slipped into next month.
---
Rock Paper Shotgun Latest Articles Feed Monday, January 17, 2022 4:38 PM
Ubisoft are making a VR escape game set inside Notre-Dame cathedral. As reported by Variety, the one-hour long experience is being built to complement Jean-Jacques Annaud's upcoming docudrama about the 2019 fire that partly destroyed the cathedral.
---
Rock Paper Shotgun Latest Articles Feed Monday, January 17, 2022 4:08 PM
I stumbled across a stream of Jump King last week, a platformer that passed me by when released a couple of years ago. "Yes, I want to ruin my life," I thought, and instantly bought it.
Now just a few days later, my life ruined, I see jumps and punishing falls everywhere. Is indie developer Daniel Linssen's new free game Tumbledown Drive a Jump King and Getting Over It With Bennett Foddy-inspired platformer in which you are a car hopping up a mountain, or is this another hallucination?
---
Rock Paper Shotgun Latest Articles Feed Monday, January 17, 2022 2:19 PM
Even if you're not playing smash-hit word puzzle game Worldle, you'll likely have seen grids of green and yellow squares in your social media feeds from people sharing their solutions to the day's puzzle. A good way to share info in an abstract, but not the prettiest. So after some Wordle players started recreating their solutions inside the pretty town-building toy Townscaper, someone went ahead and made a tool which automatically does the work for you. The result, your solution built as a colourful building, for you to view in your browser.
---
Rock Paper Shotgun Latest Articles Feed Monday, January 17, 2022 12:01 PM
Apparently today is Blue Monday, the most depressing day of the year. I'm not sure what that means. Surely the first Monday we're all back at work would be the worst? Or is this the one where we've had a while to realise that the promise of hope in the new year is, once again, a terrible lie? Perhaps. Either way, I refuse to submit. Enjoy the heck out of this Monday. Have your favourite thing for dinner. Watch your favourite movie. Have a bath and put on a cool playlist of songs and sing really loud to annoy your neighbour.
Alternatively, play some cool video games! Here are the ones that make me smile when I'm feeling blue.
---
Twinfinite Monday, January 17, 2022 5:00 PM
It's the first month of the year and that can only mean one thing, it's time for video game awards! The last year was packed with haunting sound and soundtracks in Metroid Dread and Returnal as well as more playful tracks like you would find in Guardians of the Galaxy. Here are the games with […]
The post Best Video Game Soundtracks of 2021 appeared first on Twinfinite.
---
Twinfinite Monday, January 17, 2022 4:43 PM
---
Twinfinite Monday, January 17, 2022 3:24 PM
---
Twinfinite Monday, January 17, 2022 1:43 PM
It's official, folks: Despite a surge in omicron cases across the globe, Scream has opened to an impressive $34 million box office over the Martin Luther King Jr. 4-day weekend, even beating out the record-breaking Spider-Man: No Way Home. For comparison, Sony's Web-Head managed to nab a solid $25 million over the same time period. […]
The post Scream Slashes Its Way to an Impressive $34m Box Office Opening appeared first on Twinfinite.
---
Twinfinite Monday, January 17, 2022 1:17 PM
---
Twinfinite Monday, January 17, 2022 12:32 PM
---
Twinfinite Monday, January 17, 2022 12:10 PM
Continuing Twinfinite's awards season, it's time to look back and reflect on the highlights from last year. And today, we're here to celebrate the best multiplayer experiences of 2021. Voted on by all our staff and editors, these are the games that stood out for nailing the multiplayer side of things. Be it standing out […]
The post Best Multiplayer Experiences of 2021 appeared first on Twinfinite.
---
Destructoid Monday, January 17, 2022 5:00 PM
---
Destructoid Monday, January 17, 2022 3:00 PM
---
Destructoid Monday, January 17, 2022 1:00 PM
---
PC Invasion - FeedDDD Monday, January 17, 2022 5:45 PM

It's "suspicious" how much Among Us continues to rising back into the spotlight. While the social deduction game has fallen out a little bit in popularity, the developers are still giving the remaining players plenty to play and enjoy. Also, that last sentence might have been a lie, since Among Us continues as the most downloaded game on markets like the PlayStation Network. I guess Among Us really only dipped in popularity on Twitch. Either way, Among Us received tons of support over the past year or so. The game got some new roles like the Scientist, a new way to earn and buy cosmetics in the form of Cosmicubes, and even a collaboration with the Netflix goliath Arcane. (Which, of course, is based on the PC gaming goliath League of Legends.) Now, the developer revealed a roadmap that discusses plans to continue what it has been doing: more roles, more cosmetics, and more collaborations. A sus roadmap The developers released an image detailing what exactly i...
---
PC Invasion - FeedDDD Monday, January 17, 2022 2:30 PM
The PC servers powering the multiplayer mode of Star Wars Battlefront II have been facing some trouble over the last few months. Back in October 2021, the game's PC version had faced an issue that was severely affecting the multiplayer content. So much so, that lots of players had flocked to the EA forums and complained about the problem. The issue persisted though, all the way through October to right now. Even though Star Wars Battlefront II had an infamously rough start, it's gone on to develop a passionate fan base. But, with the issues that have overrun the game, a lot of people's patience has been tested. Recently however, a community manager from DICE reached out to users on Reddit to assure them that the issue would be addressed soon. DICE community manager, Kevin Johnson (TOTALfps on Reddit), stated that "progress was made towards getting a fix in place, it will be fixed." The problem facing Star Wars Battlefront II The issue that Battle...
---
PC Invasion - FeedDDD Monday, January 17, 2022 1:30 PM
Call of Duty: Warzone Pacific has become known for all its bugs and glitches. Some are minor issues, while others are game breaking. One of the most well-known bugs that the developers have yet to squash once and for all is the demon gun glitch. The weapon glitch causes your gun textures to change to spiky blocks which can make the weapon difficult to use. Similarly, if you encounter an enemy that has the demon gun glitch, it can be just as hard to take them out, as the bugged textures cover the operator. Now, it appears that the demon gun glitch has made its way into Vanguard, but with a slight twist. A player posted a clip on the Call of Duty: Vanguard Reddit, which shows the texture bug in action. The clip has been taken from a game of Domination on Das Haus. As you can see, the problem is not limited to the gun, but the whole terrain, objects included. The texture glitch is causing chaos on the map, making it difficult to navigate and see enemy players. You can run, but y...
---
PC Invasion - FeedDDD Monday, January 17, 2022 12:30 PM
The release of Call of Duty: Vanguard Season One saw the introduction of Warzone Pacific. The integration between the two titles expanded the weapon pool, and there are now more options than ever to choose from. One underrated submachine gun is the Owen Gun. If you've picked it up as floor loot, you may have noticed that it has a huge amount of potential. With the best attachments, you can build an Owen Gun class which shows the opposition just how strong the weapon can be in Warzone Pacific. Already, the gun has a good fire rate, and it is able to deal a respectable amount of damage. In addition, it can take on short and medium range fights. This class will focus on increasing the accuracy of the weapon, so you can shred through enemy armor and health with ease. Call of Duty: Warzone Pacific Owen Gun class Muzzle: Mercury Silencer Barrel: Hockenson 305mm Precision Stock: Gawain H4 Folding Rear Grip: Polymer Grip Magazine: 9mm 72 Round Mags Ammunition: Lengthened Under...
---
PC Invasion - FeedDDD Monday, January 17, 2022 12:00 PM
PC game release dates from 2022 to 2023 by month/date January February March April May June July August September October November December TBA, the rest of 2022, and beyond Welcome to PC Invasion's PC game release dates list from January 2022 onwards. Whether you are looking for PC games launching in 2022 or PC games that still don't have a definite release date, this is the list for you. This is unlikely to cover every single upcoming PC game of 2022 and succeeding years. Truthfully, it would impossible to keep track of everything due to the sheer volume of PC games released on Steam and other distribution channels. As always, comments are welcome so we can add any glaring omissions. The PC game release dates 2022 – 2023 list will be continually updated by the PC Invasion team with titles being added and dates being changed. You can also check last year's release dates list in case you missed something. Last updated: January 12, 2022
---
Player Assist | Game Guides & Walkthroughs Monday, January 17, 2022 4:17 PM
Free Fire is one of the many titles belonging to the battle royale genre. Fifty players will fight to the death, and the winner gets to earn bragging rights and rewards. One of the game's currencies is the Magic Cube, and they're not easy to get. Players looking for ways to earn Magic Cubes are […]
---
Player Assist | Game Guides & Walkthroughs Monday, January 17, 2022 1:49 PM
Riot Games finally made the jump into the mobile MOBA genre with their tried and tested League of Legends title. League of Legends: Wild Rift is Riot's first entry into the mobile MOBA genre. Fortunately, since the game is more or less based on the original PC game, tons of fans will find the characters, […]
---
Player Assist | Game Guides & Walkthroughs Monday, January 17, 2022 12:43 PM
In Supergiant Games' Hades, the gods of Olympus or Olympians are helping Zagreus in his quest to leave and escape the Underworld. By helping Zagreus, the Olympians believe he is fighting his way to leave the Underworld and be with them in Olympus. They do not know that Zagreus' actual intention is not, and he […]
---
Pivotal Gamers Monday, January 17, 2022 12:20 PM
Hello fellow gamers. Alienware Arena holds a new giveaway for LEAP. This is what they say. LEAP Closed Beta Key Giveaway Become an elite LEAP mercenary as you soar into battle! A few words about LEAP LEAP is a fast-paced, online multiplayer first-person shooter featuring epic battles with up to 60 players, each armed to the teeth. Fight for either the United Earth Defense Coalition (UEDC) or ...
---
Pivotal Gamers Monday, January 17, 2022 12:20 PM
Hello all. Alienware Arena is giving you the opportunity to win on Guild Wars 2. Read on for their offering. Guild Wars 2: Heroic Edition Key Giveaway Join the fight for Tyria's future in Guild Wars 2: End of Dragons! What you'll get: The base Guild Wars 2 game (x1) Suit of Legacy Armor (x1) 18-slot Mithril Box (x4) Heroic Boosters A few words about Guild Wars 2 Guild Wars 2 is a free ...
---
Level Up Monday, January 17, 2022 12:30 PM
Over the weekend, the yearly Awesome Games Done Quick speedrunning marathon concluded, breaking records along…