---
Kotaku Tuesday, April 12, 2022 5:25 PM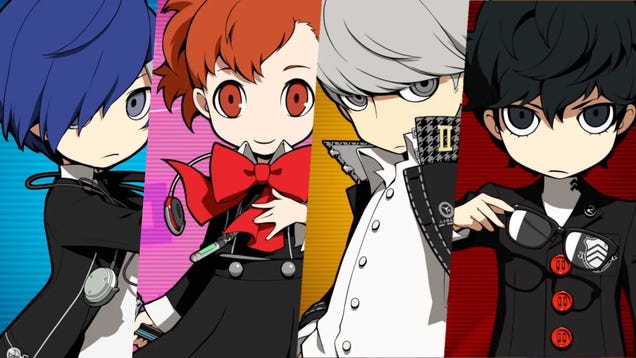 Last week, Cyberpunk 2077 was $5 at Best Buy. Amazon was giving away games like Elden Ring as part of a buy two, get one free discount. And PlayStation's spring sale, running all month, is offering some solid deals on a ton of games. But the actual best low-key video game sale of the season has secretly been on the…
---
Kotaku Tuesday, April 12, 2022 4:35 PM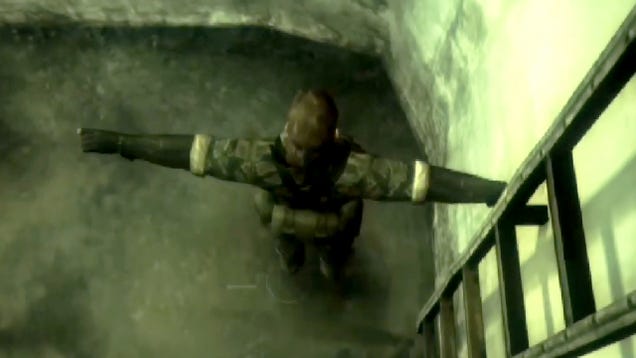 Despite being one of the most iconic moments in video game history, it was only a matter of time before speedrunners discovered a way to bypass the much-beloved ladder-climbing sequence in Metal Gear Solid 3: Snake Eater entirely. What a thrill.

---
Kotaku Tuesday, April 12, 2022 4:20 PM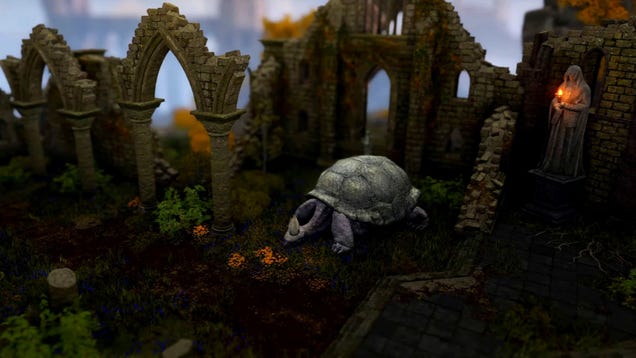 Elden Ring is not an adorable game. Literally everything, from the ferocious wildlife to the beefed-up Starscourge Radahn, wants to bury your Tarnished and stop you from restoring order to the Lands Between. But the idea that FromSoftware's famously difficult Souls-like could be cute sent YouTuber Kevin "Flurdeh"…
---
Kotaku Tuesday, April 12, 2022 1:45 PM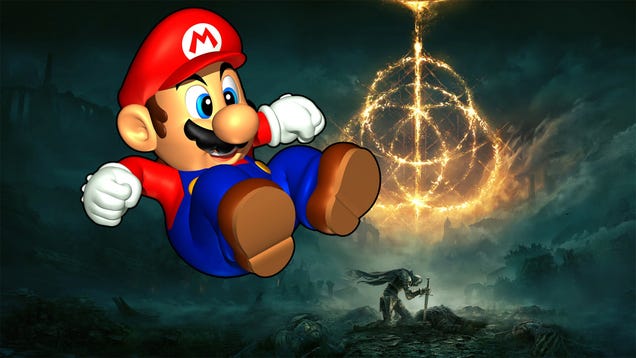 Most people ask themselves normal questions like, "Is it going to rain later?" and "What should I have for dinner tonight?" Many Elden Ring players are not normal, however, which is why one asked himself if he could beat the game's bosses by exclusively smashing ass. And because this is Elden Ring, the answer is: of…
---
Kotaku Tuesday, April 12, 2022 12:55 PM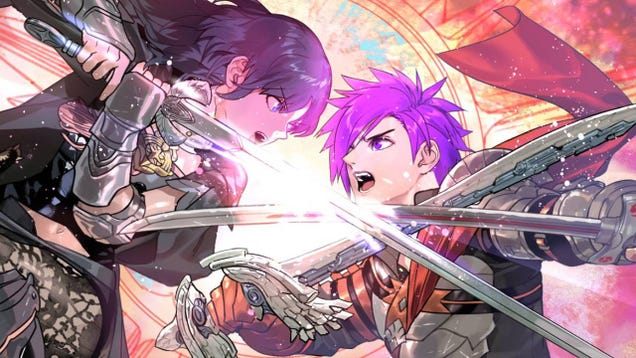 The second trailer for Fire Emblem Warriors: Three Hopes debuted this morning, and it's promising me everything that I could want in the musou follow-up to a tactical RPG masterpiece. After showing our new protagonist getting beaten down by the protagonist of Fire Emblem: Three Houses, the video goes straight into…
---
Kotaku Tuesday, April 12, 2022 12:05 PM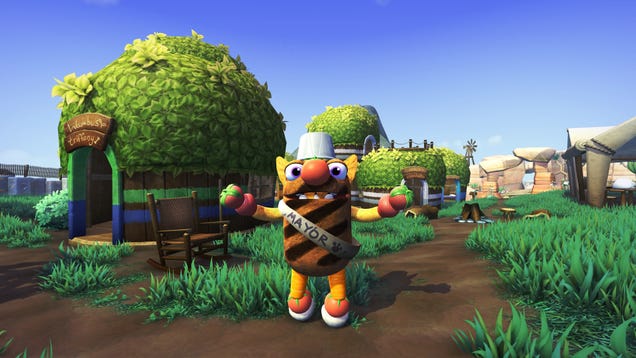 At this point, it's fair to assume that any proclamations of "console exclusivity" should be taken with an entire deer lick of salt. The PlayStation 5 launch title Bugsnax comes out on Xbox One and Xbox Series X/S on April 28, as part of the Game Pass library, developer Young Horses announced. It's also getting a…
---
Kotaku Tuesday, April 12, 2022 10:50 AM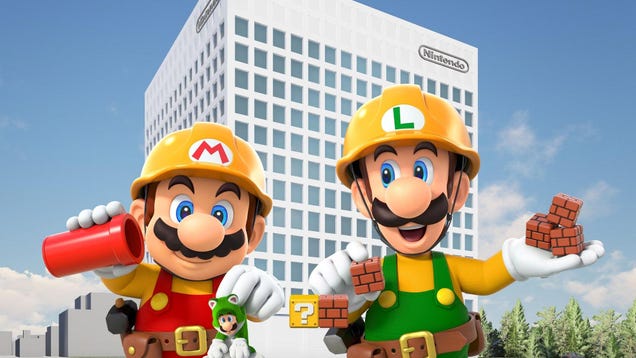 While the rest of the video game industry is consolidating, Nintendo is spreading out. The Switch manufacturer has finally responded to massive moves by competitors Sony and Microsoft by announcing a $39.8 million land deal to break ground on a new R&D office. Whatever it takes to finally port Mother 3.
---
Kotaku Tuesday, April 12, 2022 10:30 AM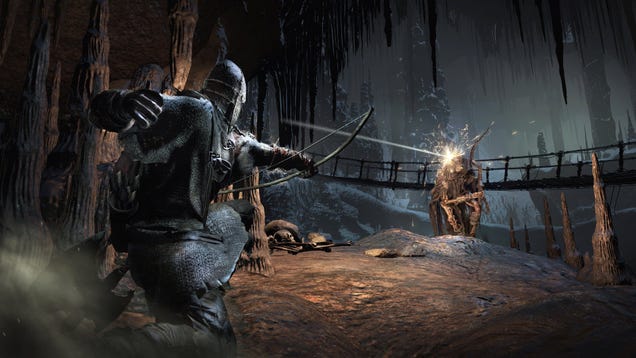 Many of FromSoftware's games are punishing. They require calmness, patience, and quick reflexes, as any wrong move or panicked action could—and often does—result in an unceremonious death. So, you'd think taking advantage of every tool in your arsenal when exploring FromSoft's games would be a no-brainer. But YouTuber …
---
PCGamesN Tuesday, April 12, 2022 5:31 PM
There's a new patch out today for Age of Empires IV, but you won't need to download an update for the medieval RTS game. Instead, this small update is all going down server-side, but that doesn't mean it doesn't include some impactful changes. This update makes some key adjustments to a few units and the matchmaking system, so you'll want to know what's changed before you start your next game.
Some of Age of Empires IV's core siege units are getting updated to discourage siege-heavy builds and push the units back toward their primary purpose. Rams now have an additional +100 damage bonus against walls, which should make them more useful in the early to mid-game. Meanwhile, mangonels have had their area of effect radius reduced from 1.25 tiles to 0.75 tiles.
Monks' movement speed is getting a boost, from 1 to 1.12 tiles per second. However, once they pick up a relic, they're now 25% slower. Villagers, meanwhile, will ignore attacks and carry on harvesting resources when that happens - what absolute champions.
Age of Empires 4 release date
,
Age of Empires 4 review
,
The best RTS games on PC
---
PCGamesN Tuesday, April 12, 2022 5:45 PM
If you've been looking for a modern open-world game set in Springfield, this Minecraft Simpsons map has you covered. Minecraft is a game where players can do everything from mimicking Elden Ring to running an election campaign for the French president. Because of all of that boundless potential, many people like to recreate places from TV shows and films, and this time around, that means we're all going to Springfield.
This is all thanks to a group of creators called Blockster - a team who likes to create massive Minecraft maps. While their official site features an array of original creations, this one is all Springfield, and it looks fantastic. A full list of the features they're creating is available here, but it includes 25 skins, a texture pack, and basically the whole of the town to explore.
That means you can visit places like the home of the Simpsons themselves, the nuclear power plant, and even the Kwik-E-Mart. Each building can be explored, and you'll bump into famous characters there as well. There are a lot of characters across the series' 32 year run time, but it looks like most of the big ones are there.
Minecraft console commands
,
Minecraft skins
,
Minecraft mods
---
PCGamesN Tuesday, April 12, 2022 3:34 PM
MythForce makes its intentions clear right from the moment it's launched: a shining owl sigil gleams as the opening of an upbeat, synth-driven pop theme song kicks in, and you're transported to the intro sequence of an '80s action cartoon you've never seen before. It's a co-op game in the vein of Vermintide, but done in a family-friendly style that harkens back to the original runs of He-Man and the Masters of the Universe and She-Ra: Princess of Power.
It's in the works from Beamdog, a studio RPG game fans will know from its modern remasters of Infinity Engine classics like Baldur's Gate and Planescape Torment. The developer has shifted gears for its first original game, moving to full 3D and working with Unreal Engine 4.
In MythForce, you take on the role of one of four heroes: there's valiant knight Victoria, who can hurl her shield like Captain America, or the stealthy hunter Hawkins, who can slip into the spectral realm and pass by enemies unseen. Maggie the Mage can summon an owl familiar or a deflecting shield, while rogue Rico can blind enemies with a fistful of pocket sand.
---
PCGamesN Tuesday, April 12, 2022 2:59 PM
Today, two major items return to Epic's battle royale game: Fortnite Jetpacks and Egg Launchers, and there's a big map change too that involves Spider-Man's Daily Bugle location. You've got to give Epic credit; they like to keep us on our toes.
The first unvaulted item is the jetpack, which you can find attached to the walls inside of the IO blimps. This'll allow you to mess around more with verticality, but you can feather the jump button to allow you to float around a bit as you rain down hails of bullets at other players. Just keep an eye on the charge it has per jump, as you don't want to end up falling from a great height - the ground still hurts, remember.
The next item is the Egg Launcher, which is an explosive weapon that feels like it belongs in Banjo-Kazooie rather than Fortnite. Finally, Bouncy Eggs are back too, and when you eat them, they effectively grant you low gravity. Items aren't the only change happening today, either, as the map has had a small tweak too.
Fortnite V-Bucks
,
Fortnite Skins
,
Fortnite Creative Codes
---
PCGamesN Tuesday, April 12, 2022 2:09 PM
American Truck Simulator is getting a Montana map in an upcoming DLC release, and that takes us way back into the history books of developer SCS Software. Back before the days of Euro Truck Simulator 2 and ATS on Steam, the studio made an extensive series of fairly low-budget truck driving sims throughout the 2000s. One of those games already had a Montana map, and the devs intend to pay tribute to the old work with the new DLC.
Extreme Trucker 2 launched in 2011 as the final entry in the 18 Wheels of Steel series. One of that game's maps was centred on Thompson Falls, Montana, and that location will return for the ATS map.
"Our map team has recreated Thompson Falls and its industries using similar and reworked assets from the original game," the devs say in a new blog post. "From the street lamps to the very road network layout itself, this area has been preserved as a little piece of simulator history. Our teams have also hidden quite a few 18 Wheels of Steel easter eggs around the map, so we really hope you will take the time to explore and discover them for yourself."
---
PCGamesN Tuesday, April 12, 2022 1:33 PM
E3 is dead (this year, at least), but the Summer Game Fest schedule will ensure that there's plenty of appointment viewing if you're looking for direct marketing from major publishers on their upcoming PC games. Between the individual events that have already been announced and the usual rumours from the industry's more reliable insiders, we're starting to get a pretty clear idea of what we can expect from this summer's not-quite-E3 press conferences.
Before we get to what will happen, let's talk about what won't. There will be no EA Play this year. EA's annual showcase typically took place just ahead of E3 every year, but the publisher has confirmed there will be no such broadcast in 2022. Instead, individual EA studios intend to bring info about games like Dragon Age and Dead Space through smaller, dedicated info blasts on social media.
EA brings us straight to the rumour mill, too. The sequel to Star Wars Jedi: Fallen Order is reportedly due for a reveal soon, and insiders expect that to be either on May 4, the semi-official Star Wars day, or sometime between May 26 and May 29, the dates of the annual fan convention, Star Wars Celebration.
Starfield release date
,
Best space games
,
Elder Scrolls 6 release date
---
PCGamesN Tuesday, April 12, 2022 1:31 PM
Blizzard has confirmed the WoW expansion announcement time, so we now know exactly when to tune in in order to see the reveal of the next big addition to World of Warcraft. The devs haven't officially revealed much, but as previously confirmed, April 19 will serve as the date for all the initial details on the MMO's next expansion.
The WoW expansion announcement time is set for Tuesday, April 19 at 9am PDT / 12pm EDT / 5pm BST. You'll be able to watch it on both YouTube and Twitch. As Blizzard says in the official announcement, "with the story in the Shadowlands coming to a conclusion, the time is at hand to get a sneak peek at what's next for the heroes of Azeroth."
While there are no official details on the expansion yet, the title - World of Warcraft: Dragonflight - appears to have leaked via a recent update to Blizzard's own website. The update also noted Base, Heroic, and Epic pre-order options, so it's a pretty safe bet that pre-orders will be available immediately following the reveal, meaning that a release date is likely, too.
WoW Shadowlands review
,
The best WoW addons
,
WoW Classic leveling guide
---
PCGamesN Tuesday, April 12, 2022 12:39 PM
The new game from one of the lead developers behind Deus Ex: Human Revolution is confirmed by the Hell is Us reveal trailer, and it's a creepy action-adventure game that seems like a mix of Death Stranding and Elden Ring.
Hell is Us is the latest game from Rogue Factor, the developer of Warhammer strategy games Necromunda: Underhive Wars and Mordheim: City of the Damned - but this one sounds very different. Hell is Us is led by Jonathan Jacques-Belletête, who previously worked at Eidos Montreal and was the art director of Deus Ex: Human Revolution - which had a distinct style, to say the least.
Hell is Us is described as a "semi-open world" third-person action-adventure game set in a country undergoing both a civil war and the invasion of supernatural creatures that resemble various headstones and monuments in the area. The protagonist is armed with special weapons to defeat "the Calamity", as it's called, which - going off of what the trailer reveals - includes a drone and a massive Final Fantasy-style greatsword.
---
PCGamesN Tuesday, April 12, 2022 12:31 PM
There are few things in life better than music, so obviously there are even fewer things in life better than music and rhythm games. Music evokes more emotional responses than any other and usually does so within a few short minutes. Games can make us feel things over time, but music is often much more immediate.
Similarly, building videogames around music takes a few key ingredients - gameplay remains top of the pecking order, of course, but you wouldn't play a rhythm game if the soundtrack wasn't up to par. Imagine if Guitar Hero swapped out its iconic song catalogue for tracks you hadn't heard of - it arguably wouldn't be worth playing. With that in mind, we've put together a list of the best rhythm games around.
From 2D rogue-likes with a solid beat, to lightsaber-wielding VR games, to games that can teach you how to play your instrument or let you play using your own music library - and even a game where you just press one button on the beat in increasingly challenging scenarios. A brief disclaimer - Tetris Effect was considered for the list but arguably doesn't make rhythm its focus, so it misses out. In any case, you really should play Tetris Effect. Seriously.
---
PCGamesN Tuesday, April 12, 2022 12:00 PM
The Ultima series of role-playing games has been foundational for videogames not once, but at least twice. The original series pioneered a path that western RPGs would follow for decades, and Ultima Online was the proving grounds for many of the best ideas and solutions in MMORPGs today. Now the series' creator is going for the hat trick: Richard Garriott, known to Ultima fans as 'Lord British,' is making another MMO - but this time, it's going to be built using blockchain technology.
Garriott is working with long-time collaborator Todd Porter, and the pair say they're well aware of the problems crypto brings with it, both in terms of the technology itself and its reputation with players.
"There's not really any good NFT games right now, in my opinion," Porter tells us. "I've not seen anything that I felt has really held up any gameplay." Garriott agrees, and says part of that is down to the fact that it's still early days - there hasn't been enough time since NFTs became a major fad for anyone to develop a strong title based on the technology.
---
PCGamesN Tuesday, April 12, 2022 11:40 AM
So you want to know about the Floral Courtyard event in Genshin Impact? This new Genshin Impact event is part of the Hues of the Violet Garden chain in Genshin Impact 2.6. The 'Magnificent Irodori festival' is a series of four minigames, and the Floral Courtyard flower-arranging puzzle is the fourth and final one.
For the Floral Courtyard event, you essentially have to arrange flowers in a flower pot for the florist Fushizome. There are several themes, but only one is released each day. Each theme comes with several hints to help you arrange the flowers correctly, with more hints being unveiled over time. You're looking to get not only the right combination of flowers and decorations, but also make sure the flowers are arranged at the correct height as well.
After completing a specific arrangement, players may keep their creation and place it in their Serenitea Pot. The first theme released on April 11, and there will be one each day until April 14. Check out our guide below for everything you need to know to complete the Genshin Impact Floral Courtyard event.
Play Genshin Impact for free
,
Genshin Impact character tier list
,
Genshin Impact leveling guide
---
PCGamesN Tuesday, April 12, 2022 12:40 PM
What are the best card games on PC? It is not a question we would have been asking a few years ago, when some basic ports of paper-based systems and some minigames in larger titles were all we had access to.
Now, there are heaps of games like Hearthstone vying to be among the best card games on PC - it is one of the quickest growing genres in the industry. The best card games offer players a rich and constantly shifting meta, potentially limitless replayability, and are approachable to boot - so it is not hard to see why card games have taken off in recent years.
What that means is somebody (us) needs to lay down the objective truth (subjective opinion) on which are best card games on PC (the ones we enjoy the most). We will cover everything from the biggest player in the genre today (you will never guess which that is), the best ports from paper, the up-and-comers you might not have heard of, and some of the best free card games out there.
Best Hearthstone decks
,
The best card games on PC
,
Free card games
---
PCGamesN Tuesday, April 12, 2022 10:48 AM
Intel Alder Lake processors ranking rank among the best gaming CPUs you can buy today, but reports of the chips seemingly bending when placed in their LGA 1700 sockets has have raised the concerns of gaming PC enthusiasts. Now, speaking to Tom's Hardware, Intel doesn't seem to be concerned, and says bending is "expected."
The company's internal data claims that Intel Alder Lake processors "may have slight deflection after installation in the socket," and says that "such minor deflection is expected and does not cause the processor to run outside of specifications." That said, the company is "investigating any potential issues alongside our partners and customers" and will provide any necessary guidance "as appropriate."
While it's true that there's no evidence of Intel Alder Lake chips performing worse than their advertised specifications, there are other issues at play here. For instance, intrepid enthusiasts have found that it's possible to improve contact between the CPU die and cooler through modifications of varying complexity, improving temperatures by as much as 5°C as a result. These mods range from simple washers to hacksawing the motherboard itself. Of course, Intel discourages these pursuits and warns that any modifications may void product warranties.
Arc Alchemist GPUs - everything we know
,
Raptor Lake CPUs - everything we know
,
Best gaming CPU
---
PCGamesN Tuesday, April 12, 2022 10:36 AM
Wondering what the best Tiny Tina's Wonderlands builds are? As you fight your way through every monster in Tiny Tina's Bunkers and Badasses campaign, you'll gather some of the best Tiny Tina's Wonderlands weapons. In the right hands, Tiny Tina's Wonderlands legendary weapons can make you a mighty force to be reckoned with.
However, it's no good to have one devastatingly powerful weapon carry your Tiny Tina's Wonderlands build. You need to spend points on passive skills that take advantage of your weapons' unique traits, and then choose two classes that give you kick-ass class feats and action skills.
Your starting options offer a choice of no fewer than six classes with a handful of different backgrounds to choose from. Then, later on in the game, you'll unlock the ability to add a second class too. That's a lot of different things to juggle when trying to work out your perfect Wonderlands build, but fear not. We've been messing about with the game a lot and through hours of unsettling experimentation, we've come up with a list of six different Tiny Tina's Wonderlands builds for you to try out.
Tiny Tina's Wonderlands review
,
Tiny Tina's Wonderlands legendary weapons
,
Tiny Tina's Wonderlands best builds
---
PCGamesN Tuesday, April 12, 2022 10:26 AM
Halo MCC may be 'unsupported' on the Steam Deck, but plenty of players have been able to get the game's campaigns up and running on Valve's handheld (albeit on their lonesome). However, it appears that the most recent update to the game has rendered the FPS game unplayable on the portable gaming PC and other Linux Proton systems.
Easy Anti-Cheat (EAC) seems to be the culprit in breaking Halo MCC on Deck, but not in the way you might think. According to GamingOnLinux, the introduction of a new directory and files that should help get EAC up and running on the platform has actually "broken the game on Linux Proton / Steam Deck."
GamingOnLinux notes there's still likely work to be done in getting the anti-cheat software working on the Steam Deck, and there's thankfully a way to get Halo MCC working again in the meantime. For now, players can delete the 'easyanticheat' directory in the installation folder, which should restore functionality to the level it was prior to the update.
Best SSD for gaming
,
How to build a gaming PC
,
Best gaming CPU
---
PCGamesN Tuesday, April 12, 2022 11:18 AM
Want to know more about the best Tiny Tina's Wonderlands weapons? Tiny Tina is back with the follow up to the Borderlands 2 DLC, Assault on Dragon Keep. This standalone adventure is set within the world of a tabletop fantasy game controlled by Tiny Tina herself, so you can expect plenty of wacky situations to occur at any time.
As you should expect from a Borderlands game, there are plenty of Tiny Tina's Wonderlands weapons, along with their own rarities and elemental damage types. For the first time in Borderlands, players also have access to melee weapons and magic spells. The guns and melee weapons in this FPS game feature the same procedural technology used in Borderlands 3, giving players access to billions of weapons to sift through.
To take things even further, there are several weapon manufacturers that specialise in their own brand of guns and ammo. For example, if you're looking for a weapon that can land plenty of critical hits, a Blackpowder pistol may be the gun for you. Here's everything you need to know about the weapons in Tiny Tina's Wonderlands.
Tiny Tina's Wonderlands review
,
Tiny Tina's Wonderlands legendary weapons
,
Tiny Tina's Wonderlands best builds
---
Rock Paper Shotgun Latest Articles Feed Tuesday, April 12, 2022 5:24 PM
Weird West is a singleplayer RPG which functions like a modern take on classic Fallout, but it's also a game released in 2022, and that means there's a post-launch content roadmap including several community events. The first of those events is live now, and it sees zombies invading the game for a limited time. You'll find a trailer below.
---
Rock Paper Shotgun Latest Articles Feed Tuesday, April 12, 2022 5:00 PM
Last week, Epic and Lego announced their intent to build "a space in the metaverse" for children. Today, Sony and KRIKBI - the investment company behind The Lego Group - announced that they'd each invested $1 billion (around £769m) in Epic Games to aid more broadly with "the company's vision to build the metaverse."
As always, all of this is more fun if you replace the word "metaverse" with, for example, "Habbo Hotel."
---
Rock Paper Shotgun Latest Articles Feed Tuesday, April 12, 2022 3:58 PM
Old World has been limited to the Epic Games Store for longer than most games, arriving there in early access all the way back in 2020 and getting its full release last year. That's finally changing. Soren Johnson's mixture of Civilization and Crusader Kings 3 will come to Steam and GOG on May 19th, alongside a new expansion that will be free to keep for the first two weeks.
---
Rock Paper Shotgun Latest Articles Feed Tuesday, April 12, 2022 3:44 PM
The XPG S70 Blade is a high-performance PCIe 4.0 SSD that I've had the pleasure of testing while wearing my other hat over at Digital Foundry, so when I spotted that it had been reduced over at Best Buy I dashed to my computer (exaggeration) to let you know. Right now, a roomy 2TB model is going for $220, the lowest price we've ever seen for a drive of this spec.
---
Rock Paper Shotgun Latest Articles Feed Tuesday, April 12, 2022 3:13 PM
You don't need me to tell you that graphics cards prices are crazy these days - but things are getting slowly better. I noticed this afternoon that the RTX 3060 and the RX 6600 XT, the two major '1080p performance' GPUs, have now dipped under £400. That's still about £70 to £100 over the base RRP, but it's a big improvement over the situation for the past year where we often saw these cards retailing - and selling - for over £500, £600 and even £700.
---
Rock Paper Shotgun Latest Articles Feed Tuesday, April 12, 2022 12:53 PM
Two great games about patience, mastery, and dying horribly combine in a Trials Rising custom track which races through the world of Elden Ring. Made by a player, the level does a surprisingly good job of capturing a sense of Elden Ring-ness, stunting on your motorbike past the Erdtree and over a castle towards an all-too-familiar ending.
---
Rock Paper Shotgun Latest Articles Feed Tuesday, April 12, 2022 10:13 AM
April 28th is the big day for Bugsnax, developers Young Horses announced today. That's when it will: 1) add a whopping great new campaign in a free update; 2) end its Epic Games Store exclusivity and hit Steam; 3) arrive on Game Pass; 4) launch on Xbox and Switch. The new campaign, named The Isle Of Bigsnax, will introduce new creatures made of snacks for you to find and capture, and you can meet a few in the new trailer below.
---
Twinfinite Tuesday, April 12, 2022 5:32 PM
With the tidal wave of '80s-inspired nostalgia, it's safe to say that retro is well and truly back in fashion. From TV shows like Stranger Things and Cobra Kai to movies like Drive and Donnie Darko, the eighties continue to give us a bunch of warm, fuzzy feelings inside. With that in mind, developer Beamdog's latest rogue-lite, Mythforce, may […]
---
Twinfinite Tuesday, April 12, 2022 4:48 PM
Fans of the Chrono series rejoiced when Square Enix announced Chrono Cross: The Radical Dreamers Edition, which was released last week. This remaster contains two of the three games in the series: Chrono Cross and Radical Dreamers, the two follow-up games to the beloved classic Chrono Trigger. Chrono Cross: The Radical Dreamers Edition is a […]
---
Twinfinite Tuesday, April 12, 2022 4:23 PM
Third-party developers shared several assets reveals and releases today related to add-ons for Microsoft Flight Simulator.
---
Twinfinite Tuesday, April 12, 2022 3:17 PM
Today, Sucker Punch Productions confirmed that the Ghost of Tsushima movie has already found its screenwriter. This news came by way of a tweet from the company, which stated Jin's story would be penned by Takashi Doscher. Doscher is an award-winning writer and is best known for his work directing Only (2019), the musical Hear […]
---
Twinfinite Tuesday, April 12, 2022 2:43 PM
Bugsnax, the first-person adventure game that delved into body horror on an island full of cute snack-like creatures, will be coming to more platforms later this month alongside a free update adding a completely new campaign. Developer Young Horses announced that Bugsnax would be coming to Nintendo Switch, Xbox Series X|S, Xbox One, Windows 10, […]
---
Twinfinite Tuesday, April 12, 2022 2:36 PM
Things are about to get a lot more disorienting for the residences of Hawkins, Indiana, as Stranger Things 4's newest trailer shows off a lot of chaotic and freaky new stuff fans can expect for the next installment. The three-minute-long trailer provides a brief overview of the current whereabouts of the cast, as they've relocated […]
---
Twinfinite Tuesday, April 12, 2022 1:14 PM
Nobody does weapon skins quite like Riot Games for its popular tactical shooter Valorant, and as is typical a new bundle has been teased in tandem with this week's update. Called Doodle Buds, the theme this time around is centered around a unique kill animation that adds color to drawings etched onto each weapon. For […]
---
Twinfinite Tuesday, April 12, 2022 12:41 PM
Today Type-Moon released new gameplay of the upcoming DLC characters that will be released for its 2D fighting game Melty Blood: Type Lumina.
---
Twinfinite Tuesday, April 12, 2022 11:56 AM
Today Rabbit & Bear Studios and 505 Games announced the release date of the upcoming action JRPG Eiyuden Chronicle: Rising.
---
Twinfinite Tuesday, April 12, 2022 11:34 AM
Today Bandai Namco Entertainment revealed new content for the latest Super Robot Warriors Game Super Robot Warriors 30.
---
Twinfinite Tuesday, April 12, 2022 10:58 AM
Today Nintendo & Koei Tecmo released a new trailer of the upcoming Musou-like game Fire Emblem Warriors: Three Hopes.
---
Siliconera Tuesday, April 12, 2022 3:00 PM
There are times when you hope a new unit added to an ongoing gacha game ends up being one that is strong, useful and in-character. Ahead of Ayato Kamisato's launch, we knew he was the head of the Yashiro Commission in Inazuma and Ayaka's elder brother. MiHoYo also teased that he'd be a Hydro unit. But we didn't have exact details about the sort of role he'd play. Now that he's in Genshin Impact, it's incredibly satisfying to see how well Ayato and Ayaka work together.
To start, Cryo and Hydro are two elements that work well together. The Elemental Reaction between the two will freeze characters. With units like this, you ideally want ones that can apply their element to as many opponents as possible. Both Ayaka and Ayato excel at this. Ayato's Kamisato Art: Kyouka Elemental Skill involves an illusion that deals water damage to an area when it explodes, applying Hydro, and puts him in a Takimeguri Kanka state that involves faster attacks that also deal Hydro AOE damage. His Kamisato Art: Suiyuu Elemental Burst deals constant Hydro damage over an area as water swords fall, while temporarily boosting normal attacks from Ayato and allies.
This means if someone is using Ayaka as their main damage dealer, Ayato can act as a supporter and allow someone to take full advantage of her special abilities. Especially if a person also equipped her with the Blizzard Strayer artifact set that increases her Cryo damage and increases her critical hit chance if her opponents are frozen. To start, when Ayaka dashes, she temporarily turns into frozen vapor. She applies Cryo to enemies near her when she stops dashing. Her attacks also inflict Cryo briefly after doing so. This means her normal attacks could freeze if Ayato already got all opponents wet. Her Kamisato Art: Hyouka Elemental Skill deals AOE Cryo damage. Her Kamisato Art: Soumetsu Elemental Burst essentially sends an ice tornado onto the field. So between the two of them, you're creating situations in which opponents will be frozen and she'll ideally be able to perhaps land more critical hits.
What I also love is how Ayato's story quest in Genshin Impact also supports his devotion to his family. First and foremost, the character questline is designed to show how he plans ahead. We see his ability to read people and situations. His Shuumatsuban agents appear. But we also learn why he stepped up. It's because he and his sister were all that were left. He couldn't bear the thought of anything happening to what's left of his family. So he did what he had to in order to support her. Which means him being an exceptional support for her in battle feels so fantastic too.
Now, I know I've been focusing on how well Ayato and Ayaka work together, but this is a situation that applies to most Cryo users. While Ayato can be your main and the character dealing the most DPS, he also is very good as at offering supplemental DPS for the best Cryo main DPS units in the game. His burst works well with Eula's Icetide Vortex Elemental Skill and Glacial Illumination Elemental Burst. Even better is his compatibility with Ganyu. Her Celestial Shower Elemental Burst also affects an area and deals constant Cryo damage, much like his Kamisato Art: Suiyuu. Which means the opponents within will be constantly frozen while both run.
Genshin Impact is a game about synergy, and it's great to see Ayato turn out to be a character who works well with his sister and some of the other best Cryo characters in the game. It is consistent with his personality. It means people who already invested in some of the other incredible damage dealers in the game don't need to suddenly reinvest in making him incredible. (Though that does help. Especially if you go with Heart of Depth artifacts!) A character who's described as someone behind the scenes and devoted to his family can continue to do exactly that. It's pretty great.
Genshin Impact is available for the PS4, PS5, PC and mobile devices. It will also come to the Nintendo Switch. The Ayato banner is available in Genshin Impact until April 19, 2022. It will be followed by the Ayaka rerun.
The post Ayato Works Perfectly With Ayaka in Genshin Impact appeared first on Siliconera.
---
Siliconera Tuesday, April 12, 2022 1:00 PM
FFXIV Crystalline Conflict season 1 kicked off, and people can see the rank and tier rewards they can earn. It began once the 6.1 patch went live on April 12, 2022. Participants in the 5v5 PVP mode can acquire various items for taking part in fights.
First, here's a refresher for how Crystalline Conflict works in FFXIV. There are both ranked and casual matches, with no role requirements. If you are at job level 30, you can participate. Ten players are divided into Astra and Umbra teams. Over a five minute period in the Cloud Nine, Palaistra, or The Volcanic Heart, you need to help your team get the Tactical Crystal to the opposing goal.
As for the FFXIV Crystalline Conflict season 1 rewards, there are two types. The top Rank Reward involves 10,000 Trophy Crystals and Final Conflict Framer's Kit. People between 2nd and 30th place get 6,000 Trophy Crystals and an Endless Conflict Framer's Kit. Finally, the 31st through 100th spots get 3,000 Trophy Crystals and a Rising Conflict Framer's Kit. When it comes to the Tier Rewards, there are six levels. You can see them below.
Crystal: 6,000 Trophy Crystals and a Crystal Framer's Kit
Diamond: 5,000 Trophy Crystals and a Diamond Framer's Kit
Platinum: 4,000 Trophy Crystals and a Platinum Framer's Kit
Gold: 3,000 Trophy Crystals and a Gold Framer's Kit
Silver: 2,000 Trophy Crystals and a Silver Framer's Kit
Bronze: 1,000 Trophy Crystals and a Bronze Framer's Kit

Final Fantasy XIV is available for the PS4, PS5, and PC. FFXIV Crystalline Conflict season 1 went live when patch 6.1 appeared.
The post FFXIV Crystalline Conflict Season 1 Rewards Revealed appeared first on Siliconera.
---
Siliconera Tuesday, April 12, 2022 12:00 PM
Not only is the free Bugsnax DLC coming on April 28, 2022, but the Nintendo Switch, Xbox One, and Xbox Series X versions will arrive on that same date. The Isle of Bigsnax introduces a new side-story and gameplay elements. The game is already available on the PS4, PS5, and PC via Epic Games Store. In addition, that same day is when Steam will begin carrying the title.
Here's the latest Bugsnax DLC trailer. It focuses on The Isle of Bigsnax's big Bugsnax. It begins by showing when you can access the free area. People first need to have found Snorpy. Then, they need to complete the character's quests. In the example video, the Major Celebration! quest is the active one. Snorpy will then let you know about a new adventure if you speak with him. If someone already beat the game, continuing their save file will put them at the exact moment.
After that, the video shows what it will be like on the new island. Chandlo, Floofty, Shelda, and Triffany will explore it alongside you. You may come across doors that require you to send a Buggy Ball in to unlock. There are the bigger-than-usual Bugsnax, which can be brought back to a normal size with Shrink Spice.
While the new island will make up the bulk of new gameplay, there will be other activities around Snaxburg too. You will have a mailbox. Characters will drop off challenge letters for you to complete. If you take part in them, you can get items to place in your new home. Some wild Bugsnax will also be wearing hats. If you catch those specific bugs, you also get those hats to use.

Bugsnax will come to the Nintendo Switch, Xbox One, Xbox Series S on April 28, 2022, the same day its free DLC will appear for all versions. The game is immediately available on the PS4, PS5, and PC.
The post Bugsnax DLC and Switch and Xbox Ports Will Arrive on the Same Day appeared first on Siliconera.
---
Siliconera Tuesday, April 12, 2022 11:30 AM
13 Sentinels: Aegis Rim is making its Switch debut, and its launch trailer shows its characters summoning sentinels and heading into battle. Each member of the cast is shown touching their "start" button to head into the fight. From there, we get to see more gameplay showing how the title runs on the system.
Things begin by setting the stage. People are shown how the Deimos kaiju began attacking the world. The only way to stand against them is for a group of young people to head into sentinels suits to fight back. We watch as members of the cast press their "start" buttons that allow them to summon and board the units.
After that introduction, the video shows how the real-time strategy segments work. Characters in their sentinels are deployed on a map in 13 Sentinels: Aegis Rim. They must guard a terminal that Deimos units are attempting to attack. The goal is to either wipe them all out or survive long enough for the terminal to send out a pulse that eliminates all enemies.
13 Sentinels: Aegis Rim is available for the Nintendo Switch. People can also find it on the PlayStation 4. At one point, a Vita version was announced, then canceled.
The post 13 Sentinels: Aegis Rim Switch Launch Trailer Shows Characters Summoning Sentinels appeared first on Siliconera.
---
Siliconera Tuesday, April 12, 2022 11:00 AM
The latest details about Made in Abyss: Binary Star Falling into Darkness reveal which characters people can expect to see in its modes. There will be Hello Abyss and Deep in Abyss modes in the game. People will need to worry about the Curse of the Abyss and surviving in each one. However, Hello Abyss is the one that will follow the events of the existing series.
In Made in Abyss: Binary Star Falling into Darkness's Hello Abyss, you'll follow Riko, Reg, and Nanachi. All three are the original stars. They'll be played by the anime adaptation's actors. Folks will follow them as they head into the heart of the Abyss to find out more about Reg and search for Riko's missing mother. The announcement didn't note how much of the original story will be present.
As for Deep in Abyss, that's where you'll see the Made in Abyss game's original characters. This lets people make their own Delver. You design your avatar and go it alone. While this story is all new, Akihito Tsukushi is connected to it. The series' author "supervised" its creation.
For those unfamiliar with the Curse, exploring the Abyss' layers is dangerous in Made in Abyss. As you descend into different layers, you will face more extreme repercussions on your character's body as they ascend again. This is in addition to needing to endure encounters with increasingly dangerous creatures. Also, as being weighed down is a thing, people need to know how to cook and craft using materials found in the depths.
Made in Abyss: Binary Star Falling into Darkness will come to the Nintendo Switch, PlayStation 4, and PC in Fall 2022.
The post Made in Abyss Game Modes Star Existing and Original Characters appeared first on Siliconera.
---
Siliconera Tuesday, April 12, 2022 10:30 AM
People won't have to wait long for the Eiyuden Chronicles: Rising release date. The prelude to Eiyuden Chronicle: Hundred Heroes proper will appear on May 10, 2022. That date applies to every platform. People will be able to find it on the PS4, Switch, Xbox One, and PC.
As a reminder, Eiyuden Chronicle: Rising was a Kickstarter stretch goal. It is a supplemental companion game that plays very differently from the main RPG. It focuses on only three characters. The small town of New Neveah is suddenly home of the Runebarrows, an area attracting adventurers with the promise of treasure like Rune-Lenses. CJ comes there in search of exploring to prove herself, as all young Scavengers must. Along the way, people meet the young mayor Isha. When her father disappeared, she stepped up to help rebuild the village and keep people going. There's also Garoo, a warrior who's in town acting as a sort of guard.
It is also more of an action-RPG. This is a 2D, side-scrolling sort of title. You head into an area, swap between your three characters to fight foes, and gather items like artifacts and materials for quests.
The Eiyuden Chronicles: Rising release date is May 10, 2022. It will appear on the Nintendo Switch, PlayStation 4, Xbox One, and PC. Eiyuden Chronicle: Hundred Heroes has a tentative 2023 release window. It will appear on the PS4, PS5, Xbox One, Xbox Series X, and PC. It will also come to whatever Nintendo console appears after the Switch.
The post Eiyuden Chronicle: Rising Release Date Set appeared first on Siliconera.
---
Destructoid Tuesday, April 12, 2022 5:45 PM
---
Destructoid Tuesday, April 12, 2022 5:00 PM
---
Destructoid Tuesday, April 12, 2022 4:30 PM
---
Destructoid Tuesday, April 12, 2022 3:30 PM
---
Destructoid Tuesday, April 12, 2022 3:00 PM
---
Destructoid Tuesday, April 12, 2022 2:30 PM
---
Destructoid Tuesday, April 12, 2022 2:00 PM
---
Destructoid Tuesday, April 12, 2022 1:30 PM
---
Destructoid Tuesday, April 12, 2022 12:30 PM
---
Destructoid Tuesday, April 12, 2022 12:00 PM
---
Destructoid Tuesday, April 12, 2022 11:30 AM
---
Destructoid Tuesday, April 12, 2022 11:00 AM
---
Destructoid Tuesday, April 12, 2022 11:00 AM
---
Destructoid Tuesday, April 12, 2022 10:00 AM
---
PC Invasion - FeedDDD Tuesday, April 12, 2022 5:00 PM
Open-world game design has been a subject of debate over the recent years. Some, who remember the halcyon days, have grown tired of seeing game UI drenched in waypoint markers and icons. Others, I'm sure, would get forever lost without them. For the fans of the former, who enjoyed the open nature of games like Elden Ring and Breath of the Wild, there's another game on the horizon that might suit your tastes. Nacon and Jonathan Jacques-Belletête, who worked on games like Deus Ex: Mankind Divided, has revealed Hell is Us, a semi-open world game that eschews those tedious markers. The game is coming from Jacques-Belletête, now a part of developer Rogue Factor, as the project's creative director. Under publisher Nacon, the team is crafting Hell is Us as a game that seeks to set the player in the world before patting their butt and sending them meandering on. Hell is Us is an action-adventure game that sets you in the middle of a civil war-torn country. There are...
---
PC Invasion - FeedDDD Tuesday, April 12, 2022 4:15 PM
Fans of PlayerUnknown's Battlegrounds and Dead Space have likely heard of The Callisto Protocol, the survival horror game announced during The Game Awards 2020. Taking place in the same universe as PUBG, The Callisto Protocol promises to offer a fresh new take on the IP. And since Glen Schofield, the creator of Dead Space, has assumed the role of director for this project, it could serve as an unlikely, yet welcome, palate cleanser for Dead Space fans, at least until the remake comes out. Fortunately, it looks like the development of The Callisto Protocol has progressed smoothly judging by a recent tweet posted by Schofield. The tweet in question contains a picture of an actor in a motion-capture suit, with Schofield saying that he loves it when "the design starts coming together." He praised the work that his team has devoted to bringing the game's "characters to life" in its motion-capture studio. He went on to thank fans for waiting patien...
---
PC Invasion - FeedDDD Tuesday, April 12, 2022 3:30 PM
WolfEye Studios' Weird West has become a big success for the developer and publisher Devolver Digital. Earlier today, the companies celebrated 400,000 sales. And by celebrate, I mean they launched a zombie horde on each and every cowboy who owns the game. The Weird West community is getting a zombie event, and that's only the first step on its newly released roadmap. It seems inevitable that zombies end up invading the Wild West. Doesn't it? That's what happened before with Rockstar's Red Dead Redemption. And there are other games in which the shambling undead turned dusty settlements into blood-soaked ghost towns. In the case of Weird West, which already dabbles in the supernatural, it was truly a state of "when," and not "if." Regardless, a zombie event has begun for Weird West players. Towns, caves, and other areas are rife with brain-eaters, and it's up to you to clear the area. Luckily, zombies aren't all tha...
---
PC Invasion - FeedDDD Tuesday, April 12, 2022 3:00 PM
Developer Vertigo Gaming has confirmed that Cook Serve Forever will launch on Steam in 2023. It is the successor to Cook, Serve, Delicious!, a management game series all about running a restaurant. The initial announcement trailer is for a Steam launch but Vertico Gaming does state that other platforms and storefronts are "set to be announced soon!" This new IP will feature hundreds of different food recipes for players to experiment with. Also, the developer promises it will deliver a dramatic fully-voiced narrative, compelling sidequests, and gorgeous artwork. Those interested can now add Vertigo Gaming's latest adventure to their Steam wishlist in order to not miss out on any future updates. The Steam page entry for Cook Serve Forever provides some extra insight as to what to expect. This includes the allure of a story that offers "dozens of hours of gameplay." One unique selling point that will appeal to some people is the inclusion of local co-...
---
PC Invasion - FeedDDD Tuesday, April 12, 2022 2:30 PM
A new update for Halo: The Master Chief Collection has added substantial new content to the game. In a detailed post on Halo Waypoint, developer 343 Industries described the full list of changes that players can now experience in Halo: MCC. Chief among these is a new variant on Firefight called Floodfight. For the first time in the series, Halo players can take on waves of Flood in Halo 3: ODST's Firefight mode. In a neat touch, the Flood variant of Firefight brings some new features to the Halo mode. Flood waves are paired with creepy fog to add a spookier atmosphere to maps. Players who fall to the Flood will return to attack their old teammates. Hazards like Flood Dispersal Pods, Flood Stalkers, and Flood-controlled vehicles are also available to toy around with in custom settings. Custom games now allow both Flood and Elites to be added to Firefight game variants. All told, Halo fans of Firefight have a lot of Flood-related content to dig into. What else is new with Halo: ...
---
Tabletop Gaming News Tuesday, April 12, 2022 5:00 PM
---
Tabletop Gaming News Tuesday, April 12, 2022 4:00 PM
---
Tabletop Gaming News Tuesday, April 12, 2022 3:00 PM
---
Tabletop Gaming News Tuesday, April 12, 2022 2:00 PM
---
Tabletop Gaming News Tuesday, April 12, 2022 1:00 PM
---
Tabletop Gaming News Tuesday, April 12, 2022 12:00 PM
---
Tabletop Gaming News Tuesday, April 12, 2022 11:00 AM
---
Player Assist | Game Guides & Walkthroughs Tuesday, April 12, 2022 3:00 PM
Are you about to begin your journey across The Lands Between? Elden Ring offers ten unique starting classes and the option to choose a "Keepsake" as a starting gift. Some classes might be vaguely familiar to gamers who have experienced FromSoftware's Dark Souls franchise. Still, there are enough new options here that it is understandable […]
---
Player Assist | Game Guides & Walkthroughs Tuesday, April 12, 2022 1:00 PM
Viper's Poison Cloud can be used as a one-way smoke on Ascent. Smoke off entryways and score cheap and easy kills with these Viper One-way Smokes on Ascent. Ascent is one of the more traditional VALORANT maps regarding bombsite positioning and layout. The floating Italian town ruins sport a map layout that every tactical shooting […]
---
Player Assist | Game Guides & Walkthroughs Tuesday, April 12, 2022 12:00 PM
One of the Shrines in The Legend of Zelda: Breath of the Wild is the Toh Yahsa Shrine or the Buried Secrets. This shrine requires Link to uncover a way to reach the altar by destroying a bunch of breakable concrete cubes. However, before Link can access the shrine, you must first complete the Trial […]
---
Player Assist | Game Guides & Walkthroughs Tuesday, April 12, 2022 11:00 AM
With three bomb sites to defend on Haven, you will need a Controller/Sentinel hybrid Agent who can solo-defend any bombsite on this beautiful Bhutanese map. In any VALORANT match, teams are limited to five players per side. The traditional A-site-Middle-B-site map layout that many Tactical FPS games have employed is a tested and proven formula that works […]
---
Gaming Instincts – Next-Generation of Video Game Journalism Tuesday, April 12, 2022 4:23 PM
---
Gaming Instincts – Next-Generation of Video Game Journalism Tuesday, April 12, 2022 3:00 PM
---
Gaming Instincts – Next-Generation of Video Game Journalism Tuesday, April 12, 2022 1:19 PM
---
Gaming Instincts – Next-Generation of Video Game Journalism Tuesday, April 12, 2022 12:48 PM
---
MonsterVine Tuesday, April 12, 2022 12:38 PM
In this episode of The Wrap-Up, Spencer and Diego talk about the strange and intriguing Weird West! The Wrap-Up is a MonsterVine original audio series where our reviewers discuss the games they've been playing and to get a more personal perspective. iTunes – Google Play – Soundcloud 
---
Level Up Tuesday, April 12, 2022 12:00 PM
Magic: The Gathering's next set takes players to New Capenna, a city controlled by five…
---
Level Up Tuesday, April 12, 2022 11:30 AM
After a years-long wait, Stranger Things' penultimate fourth season kicks off this summer. Releasing in…
---
Level Up Tuesday, April 12, 2022 11:14 AM
A new update for Halo: The Master Chief Collection is now live and it includes…
---
Level Up Tuesday, April 12, 2022 10:28 AM
It is important to keep in mind what is going on within Activision Blizzard at…