---
Kotaku Monday, July 11, 2022 4:26 PM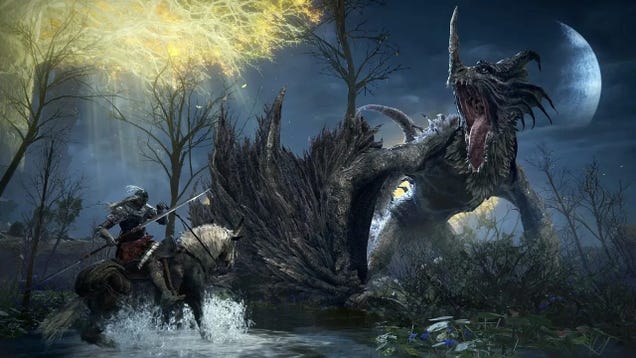 Bandai Namco, the Japanese publisher behind the Ace Combat, Dragon Ball Z, and Dark Souls games, appears to be the latest major gaming company to suffer a major hack. The ransomware group BlackCat added the Elden Ring publisher to its list of victims earlier today, though it's not yet clear the extent of the damage or…
---
Kotaku Monday, July 11, 2022 4:05 PM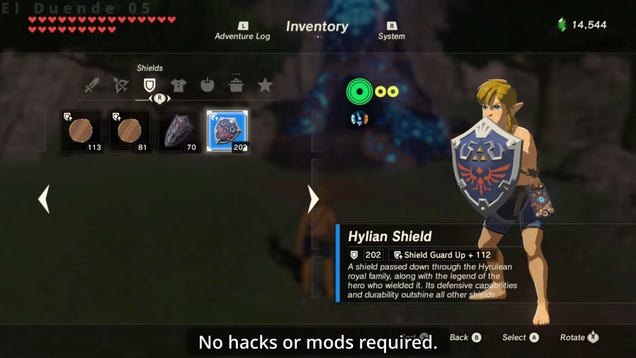 A sequel might be on the horizon, but there's still a lot of game left in The Legend of Zelda: Breath of the Wild. Half a decade after its release, players are still finding new ways to crack Nintendo's open-world RPG wide open. Just this week, glitch hunters have discovered what might be the most game-breaking…
---
Kotaku Monday, July 11, 2022 3:55 PM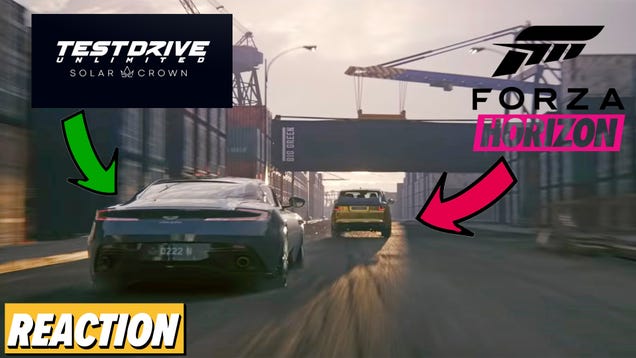 ---
Kotaku Monday, July 11, 2022 3:10 PM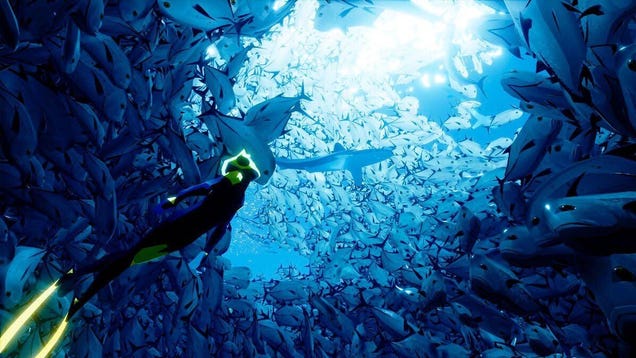 I know your mind is racing, so why don't you sit down tonight with your Nintendo Switch and try out one of these six relaxing games?
---
Kotaku Monday, July 11, 2022 3:00 PM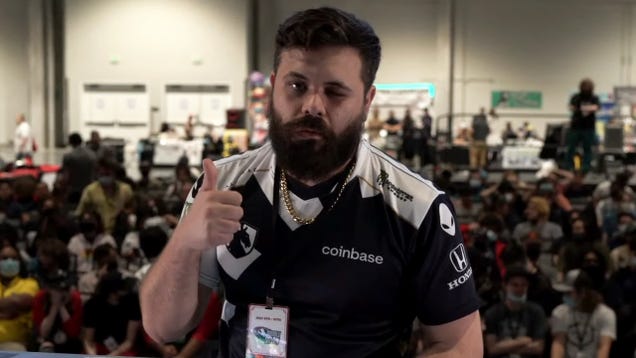 After courting controversy for playing in a major Super Smash Bros. tournament over the weekend despite being seriously ill, world-class competitor Juan "Hungrybox" Debiedma is now apologizing for his "incredibly selfish" decision.
---
Kotaku Monday, July 11, 2022 2:00 PM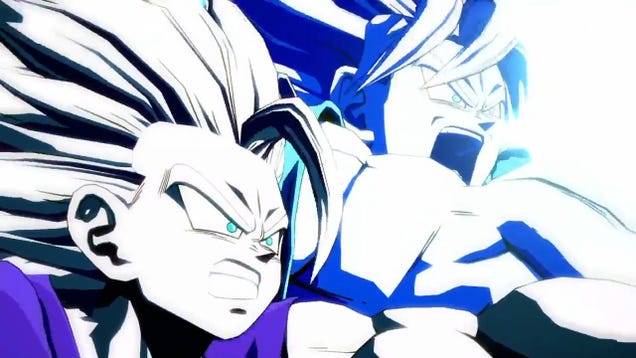 Over the weekend, life imitated art in the grandest way imaginable at a fighting game tournament and folks, it's a tear-jerker.
---
Kotaku Monday, July 11, 2022 11:40 AM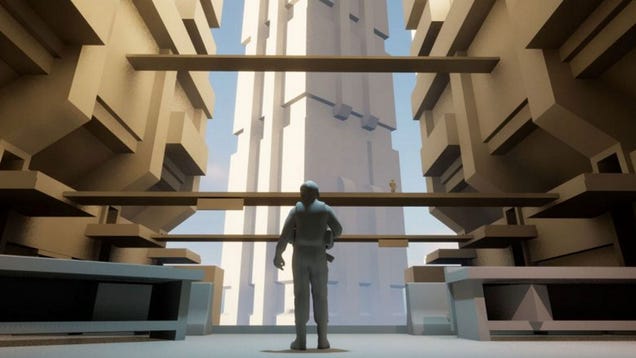 The democratization of game development has long been touted as a fresh, original idea, each and every time a developer does it. From releasing daily public builds to frequently updated Early Access editions, it's been done many times for many years. The difference with Dr "Herschel Beahm IV" Disrespect's upcoming FPS…
---
Kotaku Monday, July 11, 2022 11:15 AM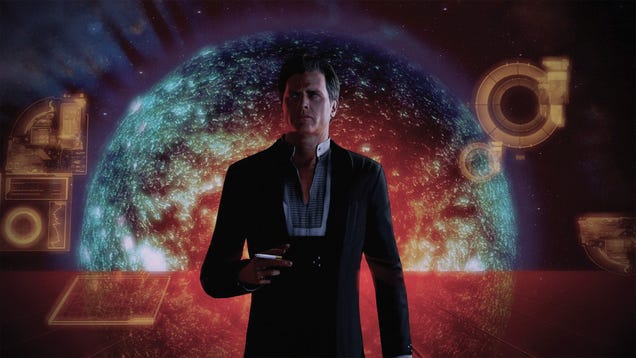 Mass Effect Legendary Edition is free for members of Amazon's Prime Gaming service this week. It's one of six games being given out by the e-commerce giant—which has struggled, despite pouring gazillions into various projects, to produce an acclaimed game of its own—for Prime Day, its annual ritual about bleeding you…
---
Kotaku Monday, July 11, 2022 11:12 AM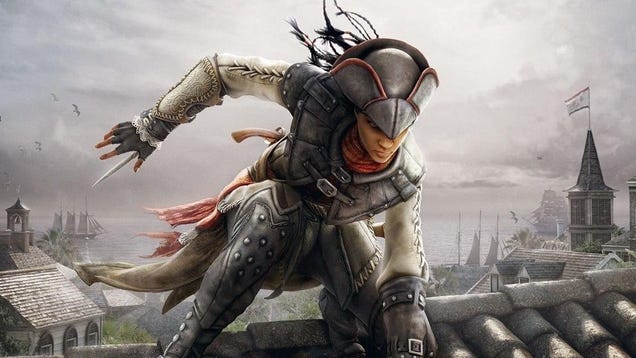 When games started making the switch from physical to digital, everyone knew there were trade-offs. Digital downloads were quicker and more convenient, but also meant you didn't entirely own the game you bought. You were just licensing it, making you subject to the whims and future solvency of the company behind it.…
---
PCGamesN Monday, July 11, 2022 5:25 PM
Ubisoft has revealed some additional details about its upcoming pirate game Skull & Bones. The latest update gets into the nitty-gritty on ship loadouts, and how you'll be able to outfit your pirate vessel with everything you need for a specific job or a particular combat role.
In the latest devblog, the Skull & Bones developers talk about the careful preparation you'll need to make before heading out on the high seas. Depending on whether you're raiding forts or taking on rival gangs of pirates, you'll need a ship that's set up for the task. The devs say that your first chief considerations should be the ship's size, its category, and its associated perks.
Ubisoft says every element of ship customisation, including hulls, weapons, and attachments, will be craftable at the blacksmiths, shipwrights, and carpenters that you'll find in each pirate den. You'll just need to bring along the blueprints and raw materials for each component.
---
PCGamesN Monday, July 11, 2022 4:29 PM
Valve has just rolled out its latest Steam Labs Experiment, and it's an overhaul for the storefront's Discovery Queue. The elegant new format floats over the rest of the interface, and lets you flip through recommended Steam games in a way that Valve says is designed to work on a variety of screen sizes and device types.
The new layout for the Discovery Queue, which originally launched way back in 2014, will allow you to pull it up without leaving the page you're on, and it provides additional details about the games it recommends, as well as why it's recommending them. Overall, it's a simpler and more lightweight presentation, but you get more information about each title a lot faster and more clearly.
Steam FAQ
,
Steam family sharing
,
Steam in-home streaming
---
PCGamesN Monday, July 11, 2022 2:00 PM
July 11, 2022 Ubisoft has clarified that current owners of Assassin's Creed Liberation will retain access to the game when online features are 'decommissioned' September 1.
The only Assassin's Creed game with a black female protagonist has been pulled from Steam. Ubisoft has delisted the Assassin's Creed Liberation Steam edition, so the action-adventure game can no longer be purchased on Valve's storefront.
After confusing language led players to believe the game would become unavailable even for people who had already purchased it, Ubisoft made a clarification, and now says current owners will continue to be able to play the base game, but that online features and DLC will not be available after they are 'decommissioned' September 1.
Assassin's Creed Liberation HD, the remastered version of the PS Vita game that ties into the events of Assassin's Creed III, was released in 2014 and is unlikely to be anyone's favourite Assassin's Creed game. Ubisoft didn't include it in the list of games it's pulling support from in 2022, but it has now been delisted from Steam "at the request of the publisher."
Now, normally when a game gets pulled from sale, you can still play it if you already own it. Rockstar's GTA trilogy, for example, can be downloaded and played by anyone who bought them. The Assassin's Creed Liberation HD Steam page, on the other hand, states that the game "will not be accessible following September 1st, 2022."
---
PCGamesN Monday, July 11, 2022 1:32 PM
The official Genshin Impact YouTube account recently released a video that reveals all of the remaining Fatui Harbingers. This is the first time that we're seeing designs and hearing voices for several of these characters, so this new audio leak has come just in time for fans who are looking for even more specifics. The leak lets us hear several new Childe voice lines coming in version 2.8 that focus on the other Fatui Harbingers.
In each voice line, Childe gives his thoughts on one of the members of the mysterious group. There are 11 Fatui Harbingers in total and, in the image above, from right to left, the Harbingers are Dotore, Pantalone, Arlecchino, Tartaglia (Childe), Pierro, Damslette, Pulcinella, Marionette, and Capitano. Scaramouche is off wandering Teyvat alone, and those who have completed Inazuma's main Archon questline know that Signora is inside the silver and gold coffin in the middle of the room.
Genshin Impact 2.8 release date
,
Genshin Impact character tier list
,
Genshin Impact leveling guide
---
PCGamesN Monday, July 11, 2022 1:10 PM
The gritty near-future world of Night City is full of expert hackers, and there's a new Cyberpunk 2077 mod that lets you lean into that side of the fantasy a bit more fully. The breach takedown mod adds an option during stealth takedowns that allows netrunners to upload all their devious hacks right into an unsuspecting enemy's skull.
With the breach takedown mod for the RPG game installed, you'll find a third option when you grapple enemies. Along with the standard 'non-lethal takedown' and 'kill' options, players who have a cyberdeck equipped will also have the opportunity to 'breach network.'
Picking that option will open up the familiar breach protocol minigame screen. However, since you're physically interacting with the target instead of breaching remotely, you won't need to solve the puzzle - all your breach protocol daemons will automatically upload.
Cyberpunk 2077 review
,
Cyberpunk 2077 lore & universe
,
Buy Cyberpunk 2077
---
PCGamesN Monday, July 11, 2022 12:47 PM
Of course you want to know if Harry Potter is in Hogwarts Legacy. After all, The Boy Who Lived is the reason we Muggles even know about the magical School of Witchcraft and Wizardry. Hogwarts itself was introduced to us through his own eyes all the way back in 1997 (feel old, yet?). And let's not forget those incredible Harry Potter RPG games from the early noughties, and their hilarious, clunky graphics which will never be forgotten. All of this of course leads us to wonder whether our favourite bespectacled wizard will join us at Hogwarts this time around.
So, is Harry Potter in Hogwarts Legacy? Will his now famous friends Ron and Hermione appear as playable characters or NPCs in the long-awaited action RPG? Or will we meet an entirely new ensemble of wand-wielding witches and wizards?
Hogwarts Legacy release date
,
Upcoming PC Games
,
Best PC RPGs
---
PCGamesN Monday, July 11, 2022 12:40 PM
World of Warcraft runs like a well-oiled machine, nearly two decades into its existence - but it's not without its share of bugs. Most of these are unremarkable, and some are disruptive, but once in a blue moon, they actually create a temporary unfair advantage - although sometimes you can have too much of a good thing, like this WoW Felguard bug.
It's this kind of bug that Reddit user cc4s2b9x (no doubt named after their paternal grandfather) encountered. The bug started when our alphanumerical warlock friend visited Torghast, Tower of the Damned, an ever-changing, procedurally generated dungeon. Said dungeon has a mechanic called Anima Powers, temporary buffs that improve abilities and buff stats - which their Felguard pet Rinnrike received, beefing up its damage and health.
However, when the warlock and their companion left Torghast, the buffs persisted. Running Mists of Tirna Scithe afterward, Rinnrike the Felguard logged a DPS of over 12k, hitting for 10k on average and critting for 22k. While this may seem like a dream come true, exploiting a bug to gain an advantage can easily see you getting slapped with a suspension or ban.
Best MMORPGs on PC
,
The best WoW addons
,
WoW Classic leveling guide
---
PCGamesN Monday, July 11, 2022 12:36 PM
The Intel Core i9 13900K will be the best gaming CPU in team blue's Raptor Lake lineup when the company launches its new LGA 1700 processors later this year, and it's finally popped up on Geekbench. New chips typically make an appearance on the benchmarking website ahead of release, revealing core and thread counts as well as clock speeds.
Arc Alchemist GPUs - everything we know
,
Raptor Lake CPUs - everything we know
,
Best gaming CPU
---
PCGamesN Monday, July 11, 2022 11:54 AM
Epic's battle royale game has a huge array of weapons that can often be used for more than just taking out other players - as is the case with the new Fortnite Ripsaw Launcher, which players are discovering some inventive uses for.
Sure, sometimes it's just about looking cool while taking out someone shooting at you while wreathed in lightning as Thor, but creativity with Fortnite's weapons is often key - as found in the aptly-named Creative mode, where players messing around with the new Ripsaw Launcher have discovered you can do a lot more with it than just destroy stuff.
For example, you can, if you're able to get the timing just right, actually ride it forwards until the projectile breaks as Redditor Caelum124 shows. This makes for some very fun traversal and could be one heck of a surprise for enemy players too.
Fortnite V-Bucks
,
Fortnite Skins
,
Fortnite Creative Codes
---
PCGamesN Monday, July 11, 2022 5:28 PM
Blizzard has confirmed that their once-popular MOBA, Heroes of the Storm, will not be receiving any new content – but that hasn't stopped HoTS players from trying to save it.
Heroes of the Storm requirements
,
Best Heroes of the Storm Heroes
,
Heroes of the Storm loot chests
---
PCGamesN Monday, July 11, 2022 11:48 AM
Call of Duty: Modern Warfare 2 leaks just keep coming, with datamining of the mobile version of Warzone now suggesting some new, Rainbow Six: Siege-style field upgrades in the shape of a reviving stimpistol, and a mysterious mask and gas canister called "battle rage".
Call of Duty: Modern Warfare 2 aims to kick off a "new era"
,
Call of Duty: Modern Warfare 2 release date, maps, and more
,
All the Call of Duty: Modern Warfare 2 guns revealed so far
---
PCGamesN Monday, July 11, 2022 11:42 AM
Curious about the Diablo Immortal Lord Martanos spawn location? The Zakarum paladin is buried in his tomb, but his afterlife is proving far from peaceful. If his reanimated skeleton wasn't bad enough, he also shares Mount Zavain with another world boss that's far deadlier than him. The Ancient Nightmare is a powerful demonic entity that rampages through the zone on a regular basis, and unsuspecting players who stumble upon it will be in for a quick death. Thankfully, vanquishing Lord Martanos provides you with the item you need to put the Ancient Nightmare to sleep.
While the Diablo Immortal Lord Martanos fight isn't as complex an encounter as some of the other world bosses roaming around Sanctuary, he can still pack quite a punch. Take the time to snap up all the best Diablo Immortal set items, charms and legendary gems for your character to ensure a clear victory against this once-fallen foe.
Diablo Immortal tier list
,
Diablo Immortal system requirements
,
Best Diablo Immortal builds
---
PCGamesN Monday, July 11, 2022 11:46 AM
Final Fantasy 7 Remake part 2 was finally confirmed back in June for an initial winter 2023 release, but there are questions about the FF7 Rebirth story. According to Square Enix, the "axis of the story" will remain unchanged from the classic JRPG game, but there will be new twists to make it "a fresh new experience."
Anyone who played the excellent Final Fantasy 7 Remake knows that strictly speaking, it isn't a full remake of the original RPG game - as while the plot follows the same beats, the story goes off in some wildly different directions. Fans, therefore, have wondered how the next chapter will address things.
According to a new interview at Gamer JP (translated by @aitaikimochi on Twitter) with director Tetsuya Nomura, the "axis of the story" in FF7 Rebirth "will not change from the original game." The team's goal is that it will be a "new experience with new developments" like with Remake, and that "players new and old will be able to enjoy this story."
---
PCGamesN Monday, July 11, 2022 11:58 AM
While building the best gaming PC isn't too difficult these days, going with a prebuilt machine instead is undeniably convenient. Better still, the market is positively brimming with rigs of every size and spec, meaning you're basically guaranteed to find a system out there that'll perfectly cater to your particular needs and budget.
Down below, you'll find our personal picks for the best gaming PC from big system manufacturers like HP, NZXT, and Corsair to smaller specialist builders such as iBuyPower, Origin PC, and Maingear. All of these options have particular strengths and weaknesses, but all of them are leaders in their fields in one way or another.
Don't forget that a rig is only part of a gaming PC setup, and it's no good spending four figures on a new system if you connect it to a subpar display. Investing in the best gaming monitor can really transform how it feels to sit at your gaming desk, but don't forget to invest in the best gaming chair you can get your hands on too
Best SSD for gaming
,
How to build a gaming PC
,
Best gaming CPU
---
PCGamesN Monday, July 11, 2022 11:26 AM
The popular AI General mod is now available for the latest in the Total War: Warhammer series. The AI General 3 Total War: Warhammer 3 mod takes off some of the pressure during large battles by letting you delegate control of some of your units to the game's own planning AI, allowing you to focus on what's really important: snapping epic screenshots of the fantasy strategy game.
Modder paperpancake, who created AI General 2 and AI General 3 with fellow modders Decomposed and Hambango, says the mods simply use Total War's own AI planners to plot moves for the player's units.
Total War: Warhammer 3 DLC
,
Total War: Warhammer 3 races
,
Total War: Warhammer 3 review
---
PCGamesN Monday, July 11, 2022 11:08 AM
Since its initial worldwide release in 2013, War Thunder has brought people together from all over the world to participate in highly accurate naval, aerial, and ground-based battles. Frequent updates are nothing new for War Thunder, and this time around Gaijin Entertainment has outdone itself. Fans of the military MMO game have plenty to sink their teeth into with the new 'Danger Zone' update that contains heaps of content including brand new vehicles, locations, and weapons.
'Danger Zone' brings a long list of fresh vehicles, as well as the addition of napalm that sticks to an entire area for up to one minute, slowly destroying any lightly armoured or open-topped vehicle in its path.
We've also been treated to improved graphics; smoke trails for missiles as realistic effects for shells hitting surfaces. Tracer rounds have been polished, and an overhaul of TAA has helped brighten up and smooth out the entire look of the game. We've also had some more quality of life improvements, with the aircraft heads-up display being streamlined and a lot clearer.
Play War Thunder for free
,
Tank games
,
Best WW2 games
---
PCGamesN Monday, July 11, 2022 10:46 AM
Prime Gaming is one of the latest additions to the Amazon empire, and if you're curious to learn more about this service, you've come to the right place. Not only can Amazon Prime Gaming be a useful avenue for expanding your gaming library, but it can also provide neat little bonuses in the games you already have.
What you may not be aware of is the fact that Prime Gaming is actually included as part of an Amazon Prime membership. You might already have access to all of its benefits without even knowing. If not though, here's an overview of everything you'll get if you sign up.
Best SSD for gaming
,
How to build a gaming PC
,
Best gaming CPU
---
PCGamesN Monday, July 11, 2022 10:29 AM
Looking for the Monster Hunter Rise Sunbreak weapon tier list? Since the dawn of this RPG game series, hunters have argued which weapons are the best. Some prefer the Insect Glaive's high mobility, while others such as the Great Sword, are attractive for their sheer power. Debuting in Monster Hunter Rise, the Wirebugs shook up the status quo with typically slow weapons receiving some much-needed agility.
Of course, if you're a veteran hunter used to any one of these types, a Monster Hunter Rise Sunbreak weapon tier list such as this may serve as nothing more than confirmation bias. In fact, there's always going to be a little bit of bias in every tier list. I love nothing more than becoming a whirling dervish with the Dual Blades, stacking status ailments onto even the toughest Monster Hunter Rise Sunbreak monsters with every hit. Is it actually the best, though? Probably not, but it's what I'm used to.
That said, perhaps you're a more adventurous hunter seeking to find that perfect weapon for speedruns, or you want to coordinate with teammates to make a perfectly balanced hunting party? If so, look below to see how the very best Monster Hunter Rise Sunbreak weapons rank when pitted against each other.
Monster Hunter Rise Sunbreak monsters
,
Monster Hunter Rise Sunbreak Awegite locations
,
Monster Hunter Rise Sunbreak prized pelt locations
---
PCGamesN Monday, July 11, 2022 10:28 AM
Escape from Tarkov has so far dominated the fledgling extraction battle royale genre, but will soon have a fight on its hands courtesy of Marauders, the new space-based survival shooter which now has a new trailer confirming beta and pre-order details.
Marauders alpha impressions
,
The best survival games on PC
,
The best space games on PC
---
PCGamesN Monday, July 11, 2022 10:22 AM
Just about any AMD Ryzen processor you slot into your gaming PC is bound to give you great performance in a wide variety of applications, but you'd struggle to find one as capable as a recently unearthed chip. In the hands of a capable overclocker, the unreleased AMD Ryzen Threadripper 5990X was able to accomplish a six digit score in Cinebench R23.
Zen 4 CPUs - everything we know
,
RDNA 3 GPUs - everything we know
,
Best gaming CPU
---
PCGamesN Monday, July 11, 2022 10:37 AM
Since People Can Fly's epic sci-fi shooter first launched last year, players have been delighting in the grind for better loot and stronger characters as they explore Outriders' endgame. Now, the Worldslayer expansion is here and makes the world of Enoch a whole lot bigger and more dangerous.
The expansion adds a huge amount of new content to the game including an entirely new campaign, complete with an immersive story driven by new villain, Ereshkigal. The new campaign will undoubtedly be a thrill for players new and old, but as many looter-shooter fans know, the real fun begins when the campaign is finished. And Worldslayer doesn't disappoint in this department.
That's right, there's a huge new endgame introduced in Outriders with this expansion and today, we're taking a peek at what lies in store for you. The Worldslayer endgame adds more new content than you can shake a Body Snatcher shotgun at – new weapons, armour pieces, abilities, and of course, plenty of gruesome new enemies that are hungry for your blood.
Outriders review
,
Outriders legendary weapons guide
,
Purchase Outriders
---
PCGamesN Monday, July 11, 2022 10:34 AM
Red Dead Redemption 2 updates are likely a thing of the past, as Rockstar shifts focus away from its western opus and towards Grand Theft Auto 6, but there's life in the sandbox shooter yet, as this new mod completely overhauls the game's environment and weather.
Red Dead Redemption 2 PC review
,
RDR2 PC legendary animal hunts
,
RDR2 money guide
---
Rock Paper Shotgun Latest Articles Feed Monday, July 11, 2022 12:44 PM
I had expected to dislike Riders Republic because Ubisoft's marketing made the open-world xtreme sports game look like it was about gnarly middle-aged dudes with sikk lingo and twatty hats. And it is, and they are awful. But behind the rude 'tude and Fortnite-grade fashion, Riders Republic makes riding a virtual bike feel like riding a real one in a way few video games manage. Switch to the first-person camera, turn off the music and HUD, and just cycle through American national parks with your bike humming beneath you. Bliss.
---
Rock Paper Shotgun Latest Articles Feed Monday, July 11, 2022 12:00 PM
I have long been on the "eh, seems okay" side of the fence regarding Valve's newest lil child. To me, the Steam Deck did not do anything not already covered by the four different video game boxes I already own. The largest advantage afforded by the Steam Deck, the ability to play cool games on a handheld device, was surely the domain of the Nintendo Switch - a console that I personally use about once a year. Usually the process is that I go "Oh yeah!", pick up the Switch, and contemplate buying Breath Of The Wild before I see that it has not depreciated in value whatsoever since it came out five years ago. Then I turn off the Switch.
Last week, though, I picked up the Switch, saw that Tangle Tower was on sale, and played it through in one go. "This is great!", I thought, marvelling at how I could play a game while sitting on the sofa, but leaving the TV free for my partner to watch whatever stupid TV show he wanted. I went to look for other cool indie games that might be on sale on the Switch, and that's when I discovered that the Switch eshop is hot garbage unless you know specifically what you're looking for. So now I want a Switch.
---
Rock Paper Shotgun Latest Articles Feed Monday, July 11, 2022 11:51 AM
After over a decade of game development, Last Call BBS is the curtain call for prolific indie studio Zachtronics. Released only a month after the studio casually announced it would be disbanding, Last Call BBS will be the last game the studio releases. It's a bittersweet feeling for fans, but this final game is not just a goodbye, it's a retrospective dive into the studio's ten-year-plus run making games. It also acts as a reminder of how flipping good Zachtronics is at making puzzle games, even if they do melt my brain into a puddle.
---
Rock Paper Shotgun Latest Articles Feed Monday, July 11, 2022 11:38 AM
The revamped co-op mod for Bethesda's classic fantasy RPG The Elder Scrolls V: Skyrim only launched on Friday, but it's already been downloaded more than 59,000 times. The past three days have been very kind to Skyrim Together Reborn, which has been put together by mostly student modders in their spare time. They've even made a video guide on how to install, create a server and start playing with your Dragonborn mates, which you can watch below.
---
Rock Paper Shotgun Latest Articles Feed Monday, July 11, 2022 10:53 AM
In a bizarre turn of events, development studio Kojima Productions has threatened to sue people making suggestions online that their founder Hideo Kojima was involved in the assassination of former Japanese prime minister Shinzo Abe. Abe was shot dead on Friday. Online commenters making some very bad-taste jokes about the identity of the shooter led to a Greek media outlet and French politician misidentifying him as Kojima.
---
Twinfinite Monday, July 11, 2022 5:37 PM
Today Naughty Dog announced that its remake of The Last of Us, simply titled The Last of Us Part 1 has gone gold.
---
Twinfinite Monday, July 11, 2022 4:59 PM
shroud has been retired from competitive play for four years. So why did he suddenly decide to restart his competitive career?
---
Twinfinite Monday, July 11, 2022 4:51 PM
It's hard to go wrong with zombies.
---
Twinfinite Monday, July 11, 2022 4:32 PM
A Wordle a day keeps the... word doctor away?
---
Twinfinite Monday, July 11, 2022 4:27 PM
"What were you the God of again?"
---
Twinfinite Monday, July 11, 2022 4:22 PM
Breaking down who played Hercules!
---
Twinfinite Monday, July 11, 2022 2:19 PM
Can you help Ciri's friend?
---
Twinfinite Monday, July 11, 2022 2:16 PM
When does Thor come out?
---
Twinfinite Monday, July 11, 2022 2:08 PM
Level Infinite released another trailer of the upcoming RPG Tower of Fantasy, providing a look at its world that you can run across.
---
Twinfinite Monday, July 11, 2022 1:46 PM
Remember Sammy Jankis!
---
Twinfinite Monday, July 11, 2022 1:33 PM
2K Games revealed another trailer of the turn-based tactical game Marvel's Midnight Suns, dedicated to one of its playable superheroes.
---
Twinfinite Monday, July 11, 2022 12:57 PM
The 10 Most Pressing Questions We Have After Watching Thor: Love and Thunder
---
Twinfinite Monday, July 11, 2022 12:45 PM
Five Port-a-Forts was too many.
---
Twinfinite Monday, July 11, 2022 12:17 PM
There's something in the mist!
---
Twinfinite Monday, July 11, 2022 11:56 AM
Anime fisticuffs.
---
Twinfinite Monday, July 11, 2022 11:28 AM
Just who is the blue-haired pirate girl and wolf lady?
---
Twinfinite Monday, July 11, 2022 11:28 AM
Minecraft Championship (MCC) 23 teams are set!
---
Twinfinite Monday, July 11, 2022 11:23 AM
Get ready to explore a new region, character and much more.
---
Twinfinite Monday, July 11, 2022 11:02 AM
We have all of the known answers for the One of the 12 tribes of Israel crossword clue to help you solve today's puzzle.
---
Twinfinite Monday, July 11, 2022 11:02 AM
We have all of the known answers for the Rapper with the most Grammy nominations (83) of any artist in history crossword clue to help you solve today's puzzle.
---
Siliconera Monday, July 11, 2022 3:00 PM
I remember receiving the first Rune Factory game as a gift, and I was eager and excited to cut my teeth on the hybrid dungeon-crawler/farming simulator. It became an immediately memorable experience. It managed to dabble in both genres effectively, proving that a more involved Harvest Moon (now Story of Seasons) was possible. Rune Factory 5 is the latest entry in the series, with the Nintendo Switch version arriving in North America and Europe in March 2022. However, its initial release was plagued with technical issues, and the PC version of the game isn't exactly free of them.
Immediately, I noticed several visual errors that resulted in lighting dispersed over character models in large, triangular chunks that would flash in and out of existence. This became a source of pain some hours in, with the light flashing from this glitch proving to be more than just an annoyance. While there are several graphics options available that you can select before loading the game, none of these feel particularly significant. Not to mention textures for outfits on certain characters looking pixelated and extremely rough around the edges. Switching between these options and fiddling with the menus didn't alleviate my initial issue.
With ports, I never expect anything to be significantly different from its original release - be it PC or console. And this illustrates a lot of issues Rune Factory 5 has. It goes beyond visual issues, but more or less with the structure of the game itself.
Areas feel over-large and populated by unusually large furniture. Most spaces remain empty, which leaves the village feeling barren compared to previous Rune Factory games. It feels like the transition to this new direction wasn't given enough time to be fully realized. Even buildings in the village lack that certain kind of distinction and charm one might expect from Rune Factory. Everything feels infinitely less fantastical, lacking the soft pastel and painterly look of previous games and charming cottage-core designs. Even certain character designs don't feel particularly interesting, which is a shame. Because they're mostly just drawing from the same archetypes already experienced in previous Rune Factory games.
However, what I appreciated most about my time with Rune Factory 5 was the immediate availability of same-sex marriage options. I was glad to know I could pursue any of the bachelors and bachelorettes regardless of the gender of my player avatar. (I decided to marry Murakumo, because of course I did.) It's genuinely hard to describe it as anything other than just feeling nice, as simple as that sounds. It's just a good feeling knowing I can be myself in a series that I've enjoyed. The lack of this option honestly damped my interest in more recent farming simulators that incorporated a "family building" mechanic. I didn't enjoy feeling like I had to engage with a system I wasn't invested in to progress the game. I remember feeling a bit disappointed the Rune Factory 4 remaster didn't incorporate this option. But I'm glad that Rune Factory 5 allows for it, going so far as to include additional animated cutscenes for same-sex marriages, which are honestly quite sweet.
Admittedly, this feels like the most significant step forward for the Rune Factory series. Yes, the gameplay and visuals don't particularly stand-out. The gameplay is mostly the same, with players crafting weapons, adventuring, farming, and living out their provincial lives while helping out the locals. But all of these things can be improved with time or subsequent sequels. I suppose I'm someone that's easy to please. But the same-sex options feel significant to me as a gay man that has been playing these titles since I was a pre-teen. While it may just be the developers catching up with titles like Stardew Valley, it's an improvement I hope they will keep moving forward. Because this signals a great change for a cult classic.
Rune Factory 5 is available on Nintendo Switch and will release for the PC through Steam on July 13, 2022.
The post Going Over the Rune Factory 5 PC Experience appeared first on Siliconera.
---
Siliconera Monday, July 11, 2022 12:00 PM
HoYoVerse uploaded a trailer video titled "A Winter Night's Lazzo" that teases an upcoming Chapter Interlude about the Fatui Harbingers in Genshin Impact. While the trailer does not fully spoil the Inazuma Archon Quests, players should finish Inazuma's plot before watching. As such, both this article and the video will have some spoilers.
https://www.youtube.com/watch?v=TmaAOV4SJNQ
At just over four minutes long, "A Winter Night's Lazzo" gives a peek at all of the Harbingers who will appear in Genshin Impact. Signora and Scaramouche are not there due to Signora's death and Scaramouche's disappearance following the events of Inazuma. In the trailer, everyone has gathered to mourn Signora. It also sheds some light on some of the dynamics within the Harbingers. At the end of the trailer, there is a brief scene of Collei, who will be one of the upcoming Dendro characters from the Sumeru region.
Not all of the Harbingers present are completely new to the player. Childe, of course, is a familiar face due to his significant role in the Liyue chapter, on top of being a playable character. Meanwhile, Dottore (albeit with a newer design) has previously appeared in the Genshin Impact webtoon. More information on the skills and personalities of the other Harbingers will appear in the future. They will likely also play an important role as either a unit you can pull or a boss you have to fight.
Genshin Impact is readily available on PlayStation 4, PlayStation 5, Windows PC, and mobile devices. The upcoming Version 2.8 will go live on July 13, 2022, with Kazuha and Klee appearing on the first banner.
The post Fatui Harbingers All Appear in Genshin Impact Interlude Trailer appeared first on Siliconera.
---
Siliconera Monday, July 11, 2022 11:00 AM
DAMTOYS is releasing a new version of its Resident Evil 2 Remake Leon and Claire action figures, this time featuring both characters in their original costumes. In addition to removable clothing, the 1/6 scale action figures will also include guns and iconic items from the game. Pre-orders are currently open, with each figure costing ¥32,000 (about $233). Both figures will ship sometime in Late 2022. [Thanks, 4Gamer!]
The Leon figure is based on a previously released action figure that Nauts and DAMTOYS released back in 2020. The previous version of the figure featured the character in his default outfit from Remake. Similarly, Claire is also getting a default figure in the near future. Much like the latest release, those figures have over 30 points of movement and posability, as well as a variety of weapons and items to hold.
Each figure will come with a different set of weapons. Leon, for example, will come with Matilda and the M19 handgun with removable stock, magazine, and muzzle brake, as well as the W870 shotgun, LE5 machine gun, grenades, and combat knives. Unlike the standard figure, however, Leon's classic version will come with the ATM-4 rocket launcher rather than the standard Anti-tank Rocket.
[gallery columns="5" link="file" ids="932051,932049,932048,932047,932046"]
Claire, on the other hand, comes with the SLS 60 handgun with a speed loader and reinforced frame, Quickdraw Army and JMB Hp3 handguns, MQ 11 submachine gun with a suppressor and magazine, GM79 grenade launcher, grenades, and combat knives. Claire's classic figure will also come with the ATM-4. Furthermore, both figures will include items such as the four keys from the RPD building, first aid spray, a flashlight, and an assortment of ammo boxes.
[gallery columns="6" link="file" ids="932054,932053,932052,932057,932055,932056"]
The Resident Evil 2 Remake Leon and Claire figures are available for pre-order via the Nauts website. Each figure costs ¥32,000 (about $233) and will ship sometime in Late 2022.
The post Resident Evil 2 Remake Leon and Claire Action Figures Come in Classic Costumes appeared first on Siliconera.
---
Siliconera Monday, July 11, 2022 10:00 AM
While Genshin Impact is still a whole Version away from Sumeru, HoYoVerse has teased three characters from the region: Dori, Collei, and Tighnari. Collei will be a Dendro Archer, while Tighnari will be a Dendro Catalyst user. Dori will be an Electro character. They will likely debut in Version 3.0.
For those who read the Genshin Impact prequel webtoon, Collei should be a familiar figure. She is the main character of the story, and her mission to take revenge on the Fatui drives the plot. As the webtoon takes place a few years before the start of the game, Collei is younger and has a different appearance in that media.
https://twitter.com/GenshinImpact/status/1546347989836345345
As for Tighnari, he is a completely new character in Genshin Impact. He will follow Heizou as the second officially confirmed male Catalyst user. The name of his constellation, Vulpes Zerda, is the scientific name for the fennec fox.
https://twitter.com/GenshinImpact/status/1546346856858324992
Finally, unlike Tighnari and Collei, Dori will be of the Electro element. It is unclear from the Genshin Impact splash art what weapon Dori will use. We do know from Tighnari's quote that she will be a merchant, which may mean that her passive Talent has something to do with Mora.
https://twitter.com/GenshinImpact/status/1546348857428045824
Though Dendro has been a part of Genshin Impact since launch, Sumeru and Version 3.0 will expand on the element. It will react with more elements, and Sumeru will involve many puzzles and mechanisms that will require a Dendro character to complete. HoYoVerse previously released a short video explaining how the development team designed Dendro.
Genshin Impact is readily available on PlayStation 4, PlayStation 5, Windows PC, and mobile devices. Version 3.0 has no confirmed release date. Version 2.8 will go live on July 13, 2022, with Klee and Kazuha appearing on the first banner.
The post HoYoVerse Teases Tighnari, Collei, and Dori For Genshin Impact appeared first on Siliconera.
---
PC Invasion - FeedDDD Monday, July 11, 2022 4:35 PM
Respawn Entertainment is now hiring for a new single-player, first-person shooter set in the Apex Legends universe (or the Titanfall universe, depending on who you ask). The job posting is asking for a senior engine/systems designer for a "Apex Universe FPS Incubation Title." Based on the listing's description (spotted by Dexerto), the new single-player Apex Legends game is still incredibly early in production. The duties for the aforementioned role include being in charge of a "variety of systems, including collision, physics, audio." It's a new game from the company, using Apex Legends as the foundation for the story. "Join us for the opportunity to create groundbreaking games with some of the best developer talent in the industry," reads the job post. "As a Senior Systems Engineer (Apex Universe FPS Incubation Title) you will design, build, and maintain technology that enables the team to create engaging gameplay and fant...
---
PC Invasion - FeedDDD Monday, July 11, 2022 4:00 PM
If you want a new 1990s-style point-and-click adventure featuring a cast of sleuthing felines, Nine Noir Lives aims to offer exactly that. Developed by Silvernode Games, Nine Noir Lives has several sources of influence, which include film noir, Taika Waititi, Shakespeare, and games like Broken Sword and Grim Fandango. This eclectic variety of inspirations combined with the universal appeal of cats promises to make Nine Noir Lives quite the novel experience for those interested. Fortunately, players can jump into Nine Noir Lives relatively soon, as it releases on both Steam and GOG on September 7. According to a press release, you'll take control of a feline detective named Cuddles Nutterbutter as he works to solve a murder mystery in the city of Meow Meow Furrington. This mystery will present a stiff challenge for Cuddles, as it "threatens to upset the tenuous relationship between the paw-erful Montameeuw and Catulet crime families." Fortunately, Cuddles has str...
---
PC Invasion - FeedDDD Monday, July 11, 2022 3:30 PM
The ambitious mod that turns Skyrim into a multiplayer experience launched over the weekend. Skyrim Together Reborn allows players to enjoy Bethesda's classic RPG with each other in co-op. To say it's popular is an understatement, as it has garnered over 90,000 downloads since its release on Friday. Skyrim Together has been around in some form for quite a while. The older version of the mod is called Harbor and is likely the one most are familiar with. Reborn is in some ways a sequel to Harbor and features rewritten code and offers an experience that is "significantly better." You can find specific details about Skyrim Together Reborn via the mod's FAQ page. It's impressive how fans are still doing cool things with Skyrim over a decade after its release. Just a few months ago, we saw what the game could look like in Unreal Engine 5. Experience Skyrim with a friend If you've ever wondered how fun Skyrim would be with someone else, this is...
---
PC Invasion - FeedDDD Monday, July 11, 2022 3:00 PM
Baldur's Gate: Dark Alliance will be joined by its sequel later this month. Dark Alliance II has a release date of July 20, bringing more than 80 levels filled with monsters to slash your way through. Like with the original, this will mark the first time Dark Alliance II is available on PC. It arrives on both Steam and GOG, with all the modern upgrades. Dark Alliance II is getting the remastered treatment when it reaches its release date. The action RPG ditches its native 4:3 aspect ration for widescreen and supports resolutions up to 4K. It's also verified on Steam Deck, so you can take the fight to hobgoblins on the go. However, due to its age, the upgrades won't be too robust. The original game could only manage 60 fps after it was ported to PC. It also plays a bit rough with the mouse and keyboard, and favors controller input. And, like the first game, Dark Alliance II will only have local co-op support for two players. It will support Remote Play, but my e...
---
PC Invasion - FeedDDD Monday, July 11, 2022 2:30 PM
Warner Bros. Interactive Enteratinment's Smash-like fighting game may soon see a familiar, evil face. The game's roster is already full of well-known characters from multiple franchises, but a slip-up may have revealed that both Gandalf and Sauron are on the way to MultiVersus. Twitter user @DwonkT noticed this in an official tweet from the MultiVersus account. The account showed an image revealing the Trophy's Edge map and its alternative version. However, the image for Trophy's Edge 2 shows something sinister in the water's reflection. While it's hard to make it out, it does bear a resemblance to the Eye of Sauron from Lord of the Rings. The images cleverly crop out the top and bottom of the map, so we can't know for sure what's in the background. But it's hard to mistake the bright orange reflection as anything other than the Eye of Sauron. This isn't far out of the realm of possibility, either. A few months ago, a l...
---
Tabletop Gaming News Monday, July 11, 2022 5:00 PM
---
Tabletop Gaming News Monday, July 11, 2022 4:00 PM
---
Tabletop Gaming News Monday, July 11, 2022 3:00 PM
---
Tabletop Gaming News Monday, July 11, 2022 2:00 PM
---
Tabletop Gaming News Monday, July 11, 2022 1:00 PM
---
Tabletop Gaming News Monday, July 11, 2022 12:00 PM
---
Tabletop Gaming News Monday, July 11, 2022 11:00 AM
---
Player Assist | Game Guides & Walkthroughs Monday, July 11, 2022 5:00 PM
Rockstar Games tried really hard to land at that magic number. Back in the day, GTA 5 was lauded for its then-next-gen graphics, interactive open-world environment, and, of course, its wonderful storyline. 10 years later, Grand Theft Auto 5 remains a very popular game that many players enjoy thanks to the game's awesome online content […]
---
Player Assist | Game Guides & Walkthroughs Monday, July 11, 2022 4:00 PM
One of the Shrines in The Legend of Zelda: Breath of the Wild is the Saas Ko'sah Shrine or A Major Test of Strength. This shrine requires Link to, as the title suggests, prove his strength by defeating a Guardian Scout and completing the shrine. This shrine may seem a little intimidating, but it is […]
---
Player Assist | Game Guides & Walkthroughs Monday, July 11, 2022 3:02 PM
One of the Shrines in The Legend of Zelda: Breath of the Wild is the Dila Maag Shrine or Dila Maag's Blessing. The shrine itself is no challenge at all. As you enter the Dila Maag Shrine, Link will be able to access the shrine's chest, and he will be able to access the altar […]
---
Player Assist | Game Guides & Walkthroughs Monday, July 11, 2022 2:00 PM
Riot Games' tactical shooter is one of the hottest FPS games on the market. Learn how to download and play VALORANT through this guide. Riot Games' Tactical FPS game is one of the most popular online FPS games right now. According to ActivePlayer.io, VALORANT boasts an impressive 15.6 million Average Monthly Players and 1.5 million […]
---
Player Assist | Game Guides & Walkthroughs Monday, July 11, 2022 1:10 PM
Pokemon Legends: Arceus is set in the old times in the Pokemon world at a time when it was rare to find harmony between people and Pokemon. Set in the land of the Hisui region, known as the Sinnoh region in modern times, you'll join the Galaxy Expedition Team (or just Galaxy Team for short) […]
---
Player Assist | Game Guides & Walkthroughs Monday, July 11, 2022 12:00 PM
The Chasm's Bounty is a world quest in The Chasm, a region in Liyue. This quest involves a miner and will have you witness the mysterious and somewhat creepy phenomenon occurring in the underground mines. In this side story, a miner from Liyue Harbor has somehow gone missing and seeing as the Chasm is a […]
---
Player Assist | Game Guides & Walkthroughs Monday, July 11, 2022 11:00 AM
In My Time at Portia, you can get help from various residents in all shapes and forms, whether getting a tip from a friend to help you finish a task or receiving assistance from the Civil Corps in dungeon raids. It's nice to have friendly NPCs that always have your back in this sandbox-like building […]
---
Gaming Instincts – Next-Generation of Video Game Journalism Monday, July 11, 2022 4:59 PM
---
Gaming Instincts – Next-Generation of Video Game Journalism Monday, July 11, 2022 3:39 PM
---
Gaming Instincts – Next-Generation of Video Game Journalism Monday, July 11, 2022 2:55 PM
---
Gaming Instincts – Next-Generation of Video Game Journalism Monday, July 11, 2022 2:34 PM
---
Gaming Instincts – Next-Generation of Video Game Journalism Monday, July 11, 2022 2:06 PM
---
Gaming Instincts – Next-Generation of Video Game Journalism Monday, July 11, 2022 11:00 AM
---
Gaming Instincts – Next-Generation of Video Game Journalism Monday, July 11, 2022 10:30 AM
---
MonsterVine Monday, July 11, 2022 12:00 PM
Disgaea 6 Complete is the best possible way to play the latest insane SRPG. The performance issues from the original Switch release are gone, and the added content is great for series fans as well as newcomers. If you want to play Disgaea 6, do it with the Complete version. Disgaea 6 Complete Developer: Nippon […]
---
Level Up Monday, July 11, 2022 12:34 PM
Prime Day is just around the corner, meaning Prime Gaming members are in for several…
---
Level Up Monday, July 11, 2022 11:19 AM
According to some recent job postings on Respawn Entertainment's <a href="https://www.respawn.com/careers/senior-environment-artist-singleplayer-incubation-team" target="_blank" rel="noopener">career webpage</a>, a…