---
Kotaku Saturday, February 5, 2022 4:30 PM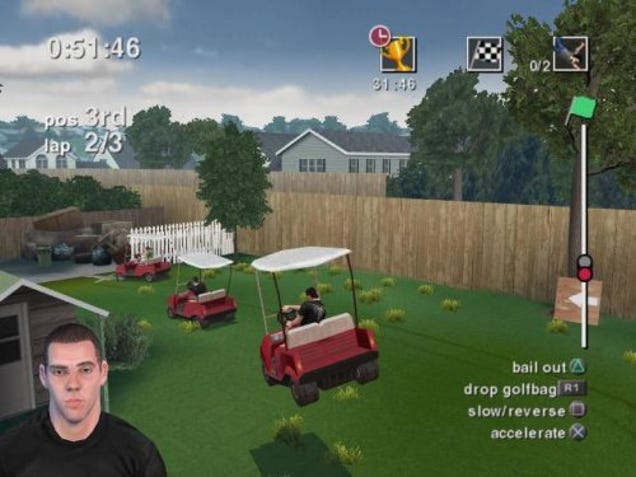 Yesterday, the world got a new Jackass film. After two years of covid-19, I'll admit I'm happy to see the old gang back, wild and dumb as ever. It feels like a small piece of normality, one which I'm happy to have in 2022. But back in 2007, following the release of the second film and five years after the show ended,…
---
Kotaku Saturday, February 5, 2022 1:25 PM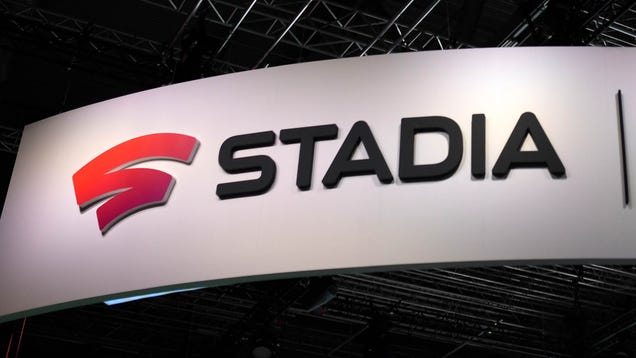 Bad news for all the Stadians out there: A new report claims that Google is trying to salvage its Stadia streaming service by not focusing on video games but instead looking to make deals with companies like Peleton to create playable experiences and online demos.
---
PCGamesN Saturday, February 5, 2022 1:15 PM
It's been over a year since the reveal of a new Factorio expansion, which developer Wube Software opted to do instead of smaller DLC packs, and fans haven't heard anything since. Now, the team has finally provided an update, confirming that it will be a full-priced release as big as the original game - although it might still be a ways off a release.
The Factorio expansion was announced in February 2021, along with the news that the Steam release would mark the end of updates for the game - so the expansion would be Wube Software's focus from that point on. It also said that the expansion wouldn't "take less than a year to develop".
That statement was correct, as a year later the Factorio DLC still isn't out - but Wube has released a blog post to update fans on its status. The developer plans to make the expansion $30, the same as the main game, and "put in enough content to make it well worth the price". "The general goal," the blog post states, "is to make the expansion feel like as big an addition as the whole vanilla game".
---
Rock Paper Shotgun Latest Articles Feed Saturday, February 5, 2022 6:44 PM
Path Of Exile's latest expansion Siege Of The Atlas is out - and smoothly, it seems. It simplifies the Atlas endgame while making it more customisable, while also adding new eldritch bosses to smash through.
---
Rock Paper Shotgun Latest Articles Feed Saturday, February 5, 2022 5:56 PM
Meta is adding a new system called "Personal Boundary" to Horizon Worlds and Horizon Venues, two of their virtual reality apps. It's designed to curb creepy behaviour within the company's much-hyped metaverse by preventing other player's from invading your personal space.
---
Rock Paper Shotgun Latest Articles Feed Saturday, February 5, 2022 5:22 PM
Wordle is a genre now. Its rapid success has caused a proliferation of browser games in which all players are presented with the same puzzle each day, limited guesses, and easy options to share their results.
My new favourite is Worldle. It meets all the criteria, including being free and playable in your browser, but instead of guessing a word you're attempt to identify a country by its silhouette.
---
Rock Paper Shotgun Latest Articles Feed Saturday, February 5, 2022 4:39 PM
My eyes unfocused partway through the trailer for Genshin Impact's 2.5 update. There was some sort of mystical calamity and it was all very dramatic. Then, almost after the real trailer was finished, there was a minute or more of the actual game, as a character gathered herbs in a pretty field at night, mixed a drink, and unlocked some items.
I was immediately focused back in. Update 2.5, "When the Sakura Bloom", will launch on February 16th with three new characters.
---
Rock Paper Shotgun Latest Articles Feed Saturday, February 5, 2022 3:55 PM
Developers offer free weekends with their games all the time, but it feels more like a trap when the game is The Sims 4. Become immersed in EA's dollhouse creation kit and what awaits you is a world of costly DLC.
But then heck, I like the game and I've only bought a handful of content packs because I liked the look of the kitchen cupboards. So play The Sims 4 for free on Steam this weekend, and buy it at 88% off if you like it.
---
Siliconera Saturday, February 5, 2022 5:00 PM
Older iPhone Masters take heed: Fate/Grand Order may no longer support the version of iOS on your device. As of February 4, 2022, the game has officially ended support for devices still running iOS version 10.2 and below. If you're playing FGO on an iOS device, you'll need to upgrade iOS to 10.3 or better to continue playing. Further details can be found at this page on the official site.
The announcement of the change to Fate/Grand Order iOS support was first made on January 13, 2022. Prior to the change, FGO required iOS version 10.0 or higher. Given that iOS 10.0 released back in 2016, long prior to the global release of Fate/Grand Order, it's unlikely that even fairly old devices will be completely unable to play FGO. Fate/Grand Order's oldest supported iPhone model, the iPhone 6S, can still upgrade as far as iOS 15, the latest version of the operating system. Meanwhile, Fate/Grand Order supports Android devices running version 4.1 and above. The game works with any version of the OS, including the latest Android 12.
Fate/Grand Order is immediately available on devices running iOS 10.3 or Android 4.1 and above. The game is currently running its Valentine's Day 2022 limited-time event. Aniplex is acquiring the game's development team from DelightWorks, with the purchase wrapping in Spring 2022.
The post Fate/Grand Order Ends Support for iOS Version 10.2 and Below appeared first on Siliconera.
---
Siliconera Saturday, February 5, 2022 3:00 PM
It's 2022. The COVID-19 pandemic is still a problem. Nobody's life is what they expected it to be. Which is why now is the perfect time for Life Lessons with Uramichi Oniisan. The show follows an approaching middle-aged man in his not-ideal job with often idiotic coworkers. He can put on a happy face, but sometimes he's just barely getting by. Just like us! Except with the juxtaposition of a children's show star making do, it becomes a bit easier to laugh at the situation. (Even if sometimes it does get a little too real.)
Life Lessons with Uramichi Oniisan is a slice-of-life show. But it isn't necessarily one filled with heartfelt, sweet moments. Rather, it's more about what life might actually be like for people in their 30s. Things aren't as they expected. Uramichi Omota is a talented gymnast. But instead of doing something in sports… he's one of the cast members on Together with Maman and tends to handle the exercise segments. Both Iketeru Daga and Utano Tadano hoped to find major roles as singers. But the former failed as a musical actor and the latter couldn't make it in a variety of other genres like idol or enka. Tobikichi Usahara and Mitsuo Kumatani went to college with Uramichi and also went into athletics. Now? They wear animal costumes and play Usao-kun and Kumao-kun on the show. They're also all dealing with other issues, like being unmarried, buried in debt, depressed, or immature. They have to be "cheerful," because it is a kid's show! But stuff bleeds through! (And is often ironic, given that the failed singers are played by Nana Mizuki and Mamoru Miyano in Japanese!)
It's how Life Lessons with Uramichi Oniisan handles things that makes its dark humor really come through. There are some serious issues there. Uramichi is genuinely depressed. His work situation also isn't great, as an original character he created and used in a skit is then turned into merchandise his employers can profit off of, due to his contract. This isn't exclusive to him, as both Uramichi and Iketeru end up with bad costumes too. The Bacterian and Germinator outfits are a good example. But the tone and way it is handled somehow makes it more palatable. While he might get real with the kids about his loneliness, job, and life, he's never cruel or mean. He's more genuinely letting them know what's going on. But it's handled in a way where the kids wouldn't necessarily catch on, but an older viewer absolutely would and probably find it hilarious. Which means that we, the viewers, are "in" on the joke. We get that their lives aren't genuinely terrible. They're just not what they expected. And that makes it all, well, really funny sometimes!
See, even though things aren't ideal, there's hope in Life Lessons with Uramichi Oniisan. For example, there are the children themselves. All of the cast members are working with kids on Together with Maman. They're genuinely sweet! While they do sometimes really land some great and pointed digs (unintentionally), they really do mean well. And even though Uramichi's lessons and Utano and Iketeru's songs might not always be "appropriate," they do genuinely care about the kids too. Using the Germinator and Bacterian skit as an example again, Uramichi goes out of his way to ensure the kids can hit him.
There are also the relationships between the Together with Maman cast. Even if people seem to be annoying or angering each other, they do care about each other and get along. Usahara might be absolutely terrified of Uramichi, but they do hang out together. Kumatani looks after both Iketeru and animals. Everyone also works well together. Sure, sometimes this involves Uramichi threatening Usahara or Kumatani, but there's a chemistry and rapport that works. Once again, going with Bacterian and Germinator—since it keeps there from being too many spoilers—Iketeru comes to Uramichi with a genuine apology for getting too into pelting him with toy balls during the segment.
Life Lessons with Uramichi Oniisan nails its landings. Former gymnast Uramichi is doing his best. So his mask slips sometimes. Given what he's dealing with, it's understandable! Also, it's often pretty darn funny. We know him. We could be him. And if we aren't, then maybe we're in the same situation as one of his coworkers. While everyone's arguably doing "well," none of them are doing what they always wanted. But there's still some happiness and hope there. Which highlights that even if things aren't the way the viewer wanted them, especially in times like these, they might appreciate the good in their own lives.
Life Lessons with Uramichi Oniisan is streaming on Funimation. Kodansha is handling the English localization of the manga.
The post Life Lessons with Uramichi Oniisan Shows Life Doesn't Go as You Plan appeared first on Siliconera.
---
Siliconera Saturday, February 5, 2022 1:30 PM
Developer miHoYo released a trailer for the new Honkai Impact 3rd Palatinus Equinox battlesuit for Durandal. The battlesuit is set to release alongside the upcoming Honkai Impact 3rd 5.5 update scheduled to launch February 24, 2022. The S-rank battlesuit will have a Guardian and Knight form, which allows Durandal to ride on a mechanical horse named Krishna. Furthermore, the trailer gives fans a brief glimpse into Durandal's life before the events of the game.
Note: The trailer contains major spoilers for Chapter 28 of Honkai Impact 3rd.
The trailer shows Durandal aka Bianka Ataegina watching a vision of her childhood. Titled "Forever True to Yourself", the trailer shows the Kaslana family enjoying a normal day at home. Kiana Kaslana appears as a child with her father Seigfried Kaslana and mother Cecilia Schariac. Towards the end, Kiana uses an umbrella as though it's the Abyss Flower and prompts Durandal to hold it. The Palatinus Equinox battlesuit then appears and Durandal heads into battle.
The battlesuit itself also appeared in a making-of video released earlier this week. In the video, developers at miHoYo went over the Guardian and Knight versions as well as each form's abilities. Similarly, the video also gives some exposition about Durandal's mysterious background.
You can check out the Honkai Impact 3rd Palatinus Equinox Durandal battlesuit trailer below.
https://youtu.be/4OVCHBkk4d8
Honkai Impact 3rd is immediately available for PC and mobile devices. The Palatinus Equinox Durandal battlesuit will release with the 5.5 update on February 24, 2022.
The post Watch the Honkai Impact 3rd Palatinus Equinox Durandal Battlesuit Trailer appeared first on Siliconera.
---
Latest Games on Play iDev Games Saturday, February 5, 2022 2:44 PM
Dr. Driving is a single player game. In this game, player needs to save the car and prevent it from other cars which are coming from the opposite direction. The...