---
Kotaku Thursday, January 27, 2022 3:27 PM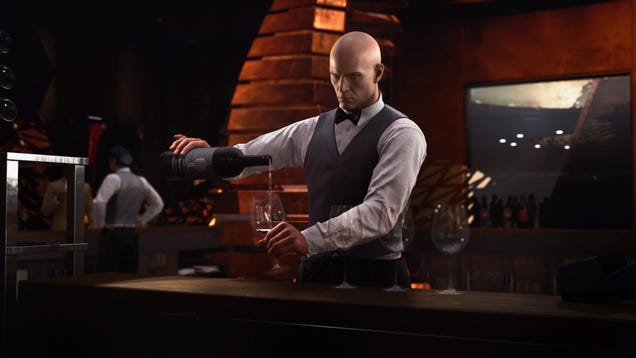 The news here isn't that IO Interactive—which has historically been reticent in doling out a bevy of publicity screenshots for its hit stealth game, Hitman 3—published a decadent 4K screenshot of suave hero Agent 47 pouring a glass of Argentinian Malbec. No, no, that's just icing on the cake: IO Interactive is handing…
---
Kotaku Thursday, January 27, 2022 3:15 PM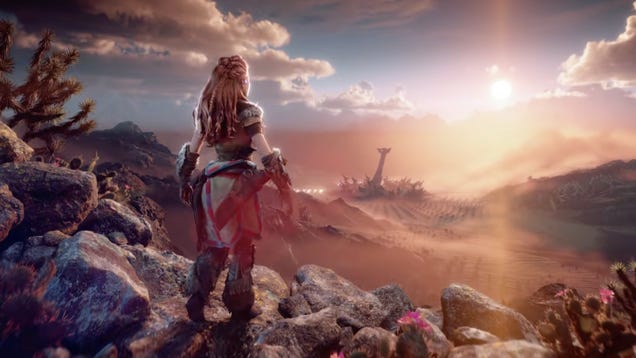 IGN has published a new comparison video for Guerrilla Games' Horizon Forbidden West. The four-minute clip, a rundown of the biggest changes made between the upcoming action-adventure game and 2017's Horizon Zero Dawn, showed how similar the two appear to be side-by-side. One particular moment has a subset of Very…
---
Kotaku Thursday, January 27, 2022 2:55 PM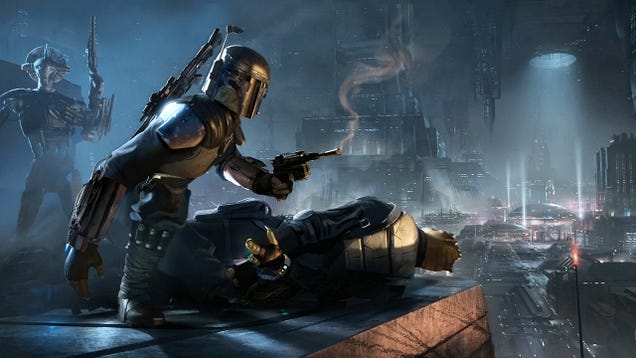 Star Wars 1313 footage was recently discovered wiling away in an animator's online portfolio, providing us with yet another brief glimpse at the canceled game.
---
Kotaku Thursday, January 27, 2022 2:00 PM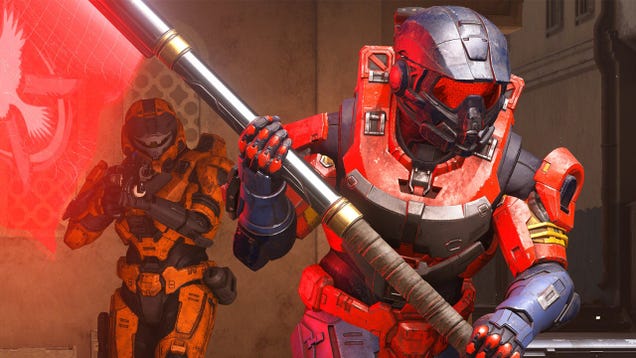 Yesterday, developer 343 Industries shook up Halo Infinite's ranked playlist. For the foreseeable future, matches of capture the flag, specifically on the Behemoth map, will no longer appear in the playlist's rotation, effectively nixing one of the most widely hated maps. Players of the hit multiplayer shooter widely…
---
Kotaku Thursday, January 27, 2022 1:10 PM
Founded way back in 1972, Atari celebrates its 50th anniversary this year. The all-but-defunct company doesn't really make games anymore, but it does like to plaster its recognizable logo over everything it can find—from hotels to PCs. And to celebrate that the company is still clinging to life, Atari has finally…
---
Kotaku Thursday, January 27, 2022 12:50 PM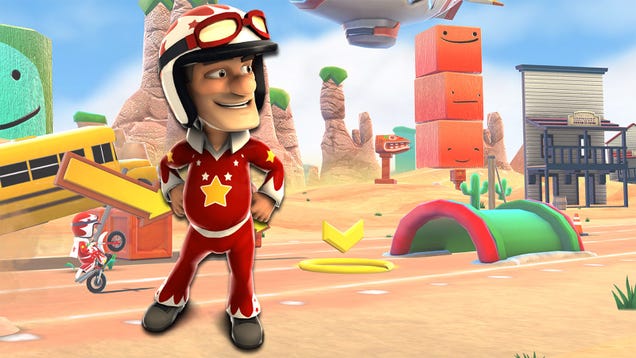 Before Hello Games made a name for itself with the procedurally generated space adventure No Man's Sky, its developer was all about Joe Danger, a cartoonish motorcycle stuntman racing through an eponymous series of console and mobile games. After years of being defunct due to iOS updates, the Joe Danger mobile games…
---
Kotaku Thursday, January 27, 2022 12:05 PM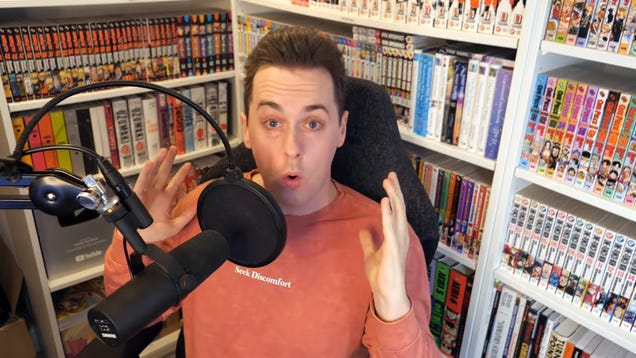 In a new video, Mark Fitzpatrick of the anime YouTube channel Totally Not Mark revealed he not only won a battle in his copyright strike war with Toei Animation but also influenced YouTube to create a new copyright rule for content creators.

---
Kotaku Thursday, January 27, 2022 11:20 AM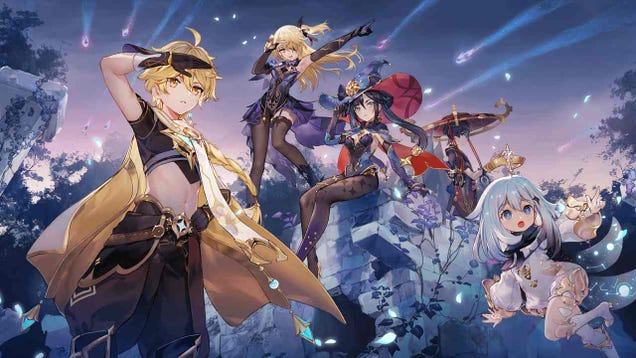 According to a Japanese research study, only 2-5% of players spend money in gacha games like Genshin Impact. This means that the vast majority of players are subsisting on free gacha rolls from various in-game activities. With a little bit of persistence, you can improve your odds and save a pretty significant number…
---
PCGamesN Thursday, January 27, 2022 4:37 PM
Sea of Thieves is in for another action-packed year, with all new seasonal adventures lined up for the open-world pirate game. Two of the most significant changes on their way in the upcoming season are new solo-friendly raid dungeons, and the retirement of Sea of Thieves' dedicated PvP mode, Arena.
When Season Six begins in March, Sea of Thieves players will be able to explore six all-new Sea Forts. These dungeons have been pulled through from the Sea of the Damned, and are patrolled by phantoms who guard the treasures hidden within them. You'll have to hunt down each Sea Fort's set of keys in order to take on the toughest defenders, and doing so will grant access to the treasury.
One thing that sets these Sea Forts apart from the coastal variety is the fact that their difficulty will scale with the size of your group. You can take them on as a full crew, or if you're playing solo - either way, Sea Forts should offer just enough pushback to make for a fun encounter.
Sea of Thieves tips
,
Sea of Thieves quests, guilds, and raids
,
Sea of Thieves endgame
---
PCGamesN Thursday, January 27, 2022 3:34 PM
It's a big day for The Elder Scrolls Online. Zenimax Online Studios has just unveiled the MMORPG's next chapter, High Isle, along with its new year-long adventure, Legacy of the Bretons, in its 2022 reveal livestream. Among all the details on what's to come in the months ahead - which is a lot - there's some exciting news for those fans who enjoy kicking back in-game and rattling through some decks. That's because there's a collectible card game coming to the MMO this year.
The Elder Scrolls Online's CCG is called Tales of Tribute, and it's played entirely within the game - think The Witcher 3's Gwent rather than the standalone app. "You're generally going to be able to play it anywhere," creative director Rich Lambert explains in the livestream (below). "You''ll find it in taverns throughout Tamriel, you can also just go up to somebody and challenge them directly, or you can find a match in the group UI."
Additionally, there's a storyline you can advance by taking on certain NPCs found throughout Tamriel. Tales of Tribute also has its own ranking system, so you can battle it out against other players if you like. So, there'll be both single-player and multiplayer offerings.
ESO Elsweyr release date
,
ESO Necromancer skills
,
ESO Elsweyr Skyshard locations
---
PCGamesN Thursday, January 27, 2022 3:48 PM
The Elder Scrolls Online's next year-long chapter has been unveiled. Zenimax Online Studios has lifted the lid on High Isle during the MMORPG's big 2022 reveal livestream, and the coming year will take us to a place that's never yet been explored in the Elder Scrolls series. This year's adventure is called Legacy of the Bretons, which means a leap into the High Rock descendants' lore and culture - as well as a return to the series' storytelling "roots".
Following the pattern of recent years, 2022's year-long adventure will be chunked into four major updates, starting with the Ascending Tide DLC on March 14, which adds two new dungeons and sets the scene for the year ahead. On June 6 (June 21 for consoles), the major High Isle chapter will arrive, with a dungeon and then a story DLC coming as parts three and four after that. Unlike the game's more recent chapters, however, High Isle will hinge less on demonic invasions and more on "political intrigue and subterfuge", as Bethesda comms chief Pete Hines and Zenimax creative director Rich Lambert explain in the stream.
"This is going to feel like a classic Elder Scrolls game," Lambert says. "The Bretons are this traditional, medieval, feudal society with knights, noble houses, and of course all the politics that surround that." So, think Athurian knights, dastardly knaves, and everything in between. The adventure takes place in the midst of the Three Banners War, which is fracturing the region of High Isle - and players will need to act to bring about peace, and an end to the conflict.
ESO Elsweyr release date
,
ESO Necromancer skills
,
ESO Elsweyr Skyshard locations
---
PCGamesN Thursday, January 27, 2022 3:23 PM
Death Stranding's Director's Cut edition will launch on PC March 30, publisher 505 Games has announced. The Director's Cut of the world's first 'strand'-based open-world game will be available on both the Epic Games Store and Steam, and existing owners of Death Stranding on PC will be able to purchase an upgrade, similar to the way the new version was offered on PlayStation consoles.
Furthermore, existing owners will have the option to transfer any progress they've made in the vanilla version of Death Stranding over to the Director's Cut. The developers say they'll provide additional details about this process closer to the release date.
As for pricing, the standalone edition of Death Stranding Director's Cut will cost $39.99 / £43.99. The upgrade is priced at $9.99 (or your regional equivalent). 505 Games says you'll have to have Death Stranding installed for the upgrade pricing to appear when you purchase the Director's Cut. However, they point out that Death Stranding is currently available for 70% off as part of Steam's Lunar New Year sale, putting it at a slim $17.99 / £16.49.
Death Stranding PC release date
,
How long is Death Stranding
,
Death Stranding Steam
---
PCGamesN Thursday, January 27, 2022 1:02 PM
Ubisoft has announced that it is ending development on its free-to-play battle royale game, Hyper Scape. The company says it will shut down Hyper Scape servers April 28, just a few weeks shy of the two-year anniversary of its open beta.
"We have made the difficult decision to end development of Hyper Scape and shut the game down as of April 28th," the Hyper Scape team says in a brief statement posted to the Ubisoft website today. "We set out to create a vertical, close-quarters, and fast-paced shooter experience and we are extremely grateful to our community for joining us on our journey."
Ubisoft adds that lessons learned from Hyper Scape's development and period of live service will be used to inform future projects, and extends its thanks to the community of players. "Thank you for your passion and dedication to the world of Neo Arcadia both inside and outside of the game," Ubisoft says. "Your devotion to the game we built will always be cherished."
---
PCGamesN Thursday, January 27, 2022 12:56 PM
IO Interactive is offering free upgrades to Steam users who own the Hitman trilogy or Hitman 3's standard or deluxe edition. The gesture follows Hitman 3's launch on Valve's storefront earlier this month, which was met with backlash from certain fans due to pricing and VR implementation.
"Our Hitman 3 launch on Steam didn't go as planned," the developer says in a blog post. "We were excited to bring Hitman 3 to Steam with new content and we knew that anticipation and excitement levels amongst our Steam players was high, especially as the game had been an Epic exclusive for a year. Ultimately, we didn't meet our own expectations of a launch experience and we don't like that our Steam community is beginning their Hitman 3 journey in this way."
To remedy the situation, IO is offering everyone on Steam who has already bought Hitman 3 a free upgrade. If you haven't purchased the game yet, but do so before February 19, you'll also get a courtesy upgrade. That means anyone who owns Hitman 3's standard edition will be upgraded to the deluxe version and that all Hitman Trilogy and Hitman 3 deluxe edition owners will get bumped up to the Seven Deadly Sins collection.
Hitman 3 review
,
The best stealth games on PC
,
Hitman 3 system requirements
---
PCGamesN Thursday, January 27, 2022 1:46 PM
Final Fantasy VII fans were expecting the 2020 Remake to be a faithful retelling of the original story. Square Enix had other plans: the final few chapters of Final Fantasy VII Remake wildly diverge from the original's ending, introducing far-reaching consequences for the lore and inciting plenty of outrage from some players as a result. 'It's a cop-out', they complain; 'just a cheap way to extend the narrative'. They're wrong. The new ending is utterly inspired, a perfect reimagining of a historic title.
Before we dig through all the details, we should flag that there are some major plot spoilers for both FF7 and its remake ahead - you've been warned. And in case you're still on the fence about picking this up, you can read our Final Fantasy 7 Remake review here.
The plot of Final Fantasy VII Remake mostly follows that of the original game until the team escapes from Shinra headquarters. But along the way, there are inklings that something is different this time around, there are forces at work that we've never seen before: the Whispers of fate.
---
PCGamesN Thursday, January 27, 2022 11:19 AM
Are you looking for GTA 5 car cheats? Be honest, if you could spawn any type of vehicle right at your feet, you'd have a sports car on every corner in GTA. Sure, you could steal a car from a random pedestrian, but where's the fun in that? Only the most expensive vehicles are worth your time, and if you use GTA 5 car cheats, you never have to drive a cheap car ever again.
The beauty of playing GTA 5 on PC is that you have three options for entering car cheats: the cheat console menu, your in-game mobile phone, and using old school cheat inputs with a controller. The easiest method depends on what input device you're using - even if you're using a pad, it might be faster to keep a keyboard nearby as the PC cheats are easier to remember.
Entering GTA 5 cheats disables achievements, so we highly recommend making a backup of your save before proceeding. Here's every GTA 5 car cheat to instantly spawn cars, motorbikes, and much more.
GTA 5 mods
,
GTA 6
,
Buy GTA V
---
PCGamesN Thursday, January 27, 2022 11:14 AM
It's Thursday, and you know what that means – another round of free PC games from the Epic Games Store. This week, you can grab the post-apocalyptic action game Daemon x Machina, and as ever, Epic has revealed next week's freebie, too, which isn't to be missed if you like platform games or Donkey Kong Country.
You'll be able to grab Yooka-Laylee and the Impossible Lair from the usual Epic Games Store promotion page on Thursday, February 3 at 8am PST / 11am EST / 4pm GMT. It'll be there for one full week, at which point it'll be replaced by another freebie. As always, you'll 'purchase' the game at a price of zero dollars, and it'll remain in your library just like any game you might pay money for. It's been available once before, so this is a good chance to pick it up if you missed out last time.
Here's the Yooka-Laylee and the Impossible Lair blurb from the Epic Store: "Yooka-Laylee and the Impossible Lair is a platform adventure from some of the key creative talent behind 'Donkey Kong Country'. With their arch-nemesis Capital B up to no good the buddy duo needs to spring into action once again to save the day!"
---
PCGamesN Thursday, January 27, 2022 11:04 AM
Apex Legends' Olympus map is going to look pretty different next season. Following some teases, Respawn Entertainment has now shown off a new trailer that puts Olympus's newly wrecked state front and centre.
The trailer starts with Mad Maggie being thrown from a dropship into the map for a typical battle royale game. After fleeing from one team, she soon stumbles across a mysterious figure below the surface, who you may recognise from Maggie's reveal trailer. The man soon initiates a sequence on a terminal before sending the new tooth-spitting fighter back to the surface of Olympus. Things start to go wrong as the floating map then teleports to a new location before it begins to plummet from the sky. The floating mass of land soon stabilises to avoid smacking the floor below, though it's not enough to stop everything from being tossed about the place.
The trailer also all but confirms that the mysterious man is Octane's father, Eduardo Silva - the CEO of a pharmaceutical company. Maggie manages to swipe the mysterious man's glasses before meeting with Octane later, who asks "papa?" when noticing the green spectacles.
Apex Legends characters guide
,
Apex Legends skins
,
Apex Legends map guide
---
PCGamesN Thursday, January 27, 2022 10:43 AM
It's official – the Oculus Quest is now called the Meta Quest, and fans of the VR headsets aren't pleased. The brand's retirement was announced using a metaverse themed two buttons meme on Twitter, alongside the caption "New Name. Same Mission."
Meta acquired Oculus for $2 billion USD in 2014, following the success of the original Oculus Rift headset. Since then, the company has used the brand to establish itself within the VR space and establish a foundation for its metaverse ambitions. While the Oculus Quest 2 is primarily designed with VR gaming in mind, upcoming products like Project Cambria aim to offer a high-end mixed reality experience.
The social media giant also intends to release an Oculus Quest 3, but its recent announcement means it'll likely be called the Meta Quest instead. It's worth noting that the company hasn't announced official names for its next-gen VR headsets, so we'll need to wait and see whether Meta's new moniker belongs to one device or its entire lineup of metaverse accessories.
Best VR games
,
Build yourself a VR-ready PC for $793
,
How to set up your Oculus Rift
---
Rock Paper Shotgun Latest Articles Feed Thursday, January 27, 2022 1:47 PM
Mostly, I want people to shut up about NFTs and cryptocurrency and the metaverse and play-to-earn games. Maybe if we turn away and pretend they're not there, it'll all burn out when scammers grow tired of being scammed by other scammers. However, one of the few people I do want to hear talk about it all is Yanis Varoufakis, who was Valve's in-house economist before becoming Greece's finance minister then an MP. In a wonderfully long new interview, he is not impressed by much of the hype, and it is DELIGHTFUL.
---
Rock Paper Shotgun Latest Articles Feed Thursday, January 27, 2022 12:00 PM
Mercifully, voice comms in PC games aren't all about being lambasted by strangers. Whether giving a quick thanks to a helpful teammate or settling into an hours-long Discord session, some games are just better with a bit of a chinwag going on – and adding one of the best gaming microphones to your setup will make sure you always come through loud and clear.
---
Rock Paper Shotgun Latest Articles Feed Thursday, January 27, 2022 12:00 PM
Be honest with me: when you read the words "Lovecraftian dating sim", did your mind go straight to a joke about tentacle porn? Horror-themed dating sims are not exactly new, but it's rare to be given the opportunity to date the eldritch gods themselves, and taken at face value, it's hard to imagine where else this could be going.
Well, allow me to dispel your illusions right away: Sucker For Love: First Date is not an H-game. It is, in fact, the most chaste dating sim I think I've ever played, while also managing to be the most obscenely graphic. You often hear games that straddle different genres accused of not knowing what they're trying to be. Sucker For Love does not suffer from this issue: it knows exactly what it wants to be. The challenge is for you, the hapless player, to keep the hell up.
---
Rock Paper Shotgun Latest Articles Feed Thursday, January 27, 2022 11:14 AM
Until recently, Mad Maggie's main claim to fame in Apex Legends was that she had a surprisingly spry 80-year-old mum, and loved to tell people about it. Now we know she'll be emerging from the backstory and joining the playable Legend roster with Season 12 (Defiance), and a new trailer gives us our first look at her rather destructive set of abilities.
---
Rock Paper Shotgun Latest Articles Feed Thursday, January 27, 2022 11:00 AM
This week the Electronic Wireless Show podcast discusses some of our favourite (and least favourite) inventory configurations. A humble beast, the inventory, yet a feature of many games - sometimes even a necessity. Often we only notice one if it's terrible. But boy, a good inventory is worth a dozen mules. So lets talk about them today!
In other news this week, Nate thinks he has come up with an original premise for a Pixar film, only to discover he has invented Seth Rogan's nightmare film Sausage Party, and we are officially starting our campaign to get Henry 'Vitamin H' Cavill on the show. We will be mentioning him every week from now on. Plus: what we like doing on our birthdays, school plays, and pro-wrestling adaptations of Dickens.
---
Rock Paper Shotgun Latest Articles Feed Thursday, January 27, 2022 10:26 AM
After basically remaking Bullfrog sim Theme Hospital with their first game, Two Point Studios are preparing to return with a new comedy management game. Today they announced Two Point Campus will launch on the 17th of May, inviting us to build and run universities. All I need to know is that it seems one of the courses you can run involves cooking giant pizzas the size of a minibus. Is this real? Did I miss megapizza when I dropped out of university?
---
Twinfinite Thursday, January 27, 2022 1:49 PM
---
Twinfinite Thursday, January 27, 2022 1:26 PM
---
Twinfinite Thursday, January 27, 2022 12:23 PM
---
Twinfinite Thursday, January 27, 2022 12:21 PM
In a recent interview with Men's Journal, Dwayne "The Rock" Johnson — the burly mountain of muscle with a million-dollar smile — revealed that he intends to "bring one of the biggest, most badass games to the screen." The Rock stated that an announcement was coming but that he could not divulge which franchise he was referring […]
The post 6 Games We Think the Rock Is Totally Bringing to the Silver Screen appeared first on Twinfinite.
---
Twinfinite Thursday, January 27, 2022 11:59 AM
---
Twinfinite Thursday, January 27, 2022 11:52 AM
Last year, Odd Taxi took the anime world by storm, as its unique blend of pacing, storytelling, and characters made for a wild ride that resulted in one of the best anime of the year. And while no word has been revealed as to whether the show is getting a season 2, a film, Odd […]
The post Odd Taxi: In the Woods Anime Film Gets a Brand New Teaser appeared first on Twinfinite.
---
Twinfinite Thursday, January 27, 2022 11:40 AM
---
Twinfinite Thursday, January 27, 2022 11:34 AM
Today, Two Point Campus, the official follow-up to the hit title Two Point Hospital, got an official release date of May 17, 2022. The news came by way of a trailer, which also revealed that the upcoming simulation game is now available to pre-order, which you can do right here. You can check out the […]
The post Two Point Campus Enrolls on PC and Consoles May 17 appeared first on Twinfinite.
---
Twinfinite Thursday, January 27, 2022 11:20 AM
---
Twinfinite Thursday, January 27, 2022 11:16 AM
After a long wait, fans of Nekopara can finally pre-order the Coconut: Race Queen Ver. figure from the popular visual novel series. This 1/7 scale statue features everyone's favorite Main Coon catgirl Coconut in a race queen outfit and a full 360-degree recreation of the art by Nekopara creator and illustrator, Sayori. The Coconut: Race […]
The post Coconut: Race Queen Ver. From Nekopara Finally Available for Pre-order appeared first on Twinfinite.
---
Twinfinite Thursday, January 27, 2022 11:15 AM
Respawn is back at it again with another trailer to hype up a new season of their popular battle royale. Apex Legends Season 12: Defiance just received a cinematic launch trailer that gives us a look at Mad Maggie's introduction to the Apex Games along with some changes to the Olympus map. Defiance goes live […]
The post Apex Legends Season 12 Launch Trailer Teases Changes to Olympus Map appeared first on Twinfinite.
---
Twinfinite Thursday, January 27, 2022 11:02 AM
---
Twinfinite Thursday, January 27, 2022 10:50 AM
There are a ton of great games currently scheduled to release in 2022. From Sony's Gran Turismo 7, God of War Ragnarök and Horizon Forbidden West, through to Saints Row, Starfield and Stranger of Paradise, this year is set to have something for everyone. Despite the best efforts of developers to get their games out […]
The post 6 Games That Will Probably, Definitely, Get Delayed in 2022 appeared first on Twinfinite.
---
Twinfinite Thursday, January 27, 2022 10:43 AM
---
Twinfinite Thursday, January 27, 2022 10:36 AM
Even though Hello Games is most well known for its planet-hopping sci-fi adventure game, No Man's Sky, the UK-based studio's arcade race-'em-up, Joe Danger, was in fact the team's debut. And today, the side-scrolling racing platformer has received a shiny, new remaster on iOS devices. The news comes by way of a tweet from Sean […]
The post No Man's Sky Dev's Debut, Joe Danger, Gets a Shiny New Remaster on iOS Today appeared first on Twinfinite.
---
Twinfinite Thursday, January 27, 2022 10:32 AM
Guerilla Games' anticipated upcoming sequel is no longer in danger of any delays. The developer has today announced that Horizon Forbidden West has gone Gold, a term that was originally coined to describe the process of the final data file being ready for print on CD. Today's digital era has slightly muddied the water on […]
The post Horizon Forbidden West Has Gone Gold appeared first on Twinfinite.
---
Twinfinite Thursday, January 27, 2022 10:21 AM
In some interesting news, it has just been announced that the Kao the Kangaroo series is returning this summer. One of the more obscure platforming series released on Sega Dreamcast and Game Boy Advanced, the franchise has been on hiatus for over a decade. After a recent revival for its 20th anniversary, Nintendo has decided […]
The post Kao the Kangaroo Returns for a New Adventure Summer 2022 appeared first on Twinfinite.
---
Siliconera Thursday, January 27, 2022 3:00 PM
The next Fire Emblem Heroes Mythic Hero banner will begin on January 28, 2022 and add Elimine to the game. She might look unfamiliar to folks. This is because she was only mentioned in Fire Emblem: The Blazing Blade and the Japan-exclusive GBA game Fire Emblem: The Binding Blade. (However, she did make a cameo in The Blazing Blade under certain conditions.)
Elimine is a five-star healer in Fire Emblem Heroes. This means she is a colorless unit that uses a staff. She's also classified as a flier. Her Staff of the Saint offers both buffs and debuffs. Allies within two spaces of her get +6 to their defense and resistance. It also keeps foes from counterattacking when they face her in battle. Enemies in cardinal directions also can't use select start of turn skill effects. Her default moveset also includes the A/S Far Trace 3 skill with Canto and Nudge+, which can push an ally after healing them.
Here's her full moveset.

These are the other characters that will be focus units on the banner.
Ashera: Order Goddess
Claude: King of Unification
Constance: Fallen Noble
Eitri: Youthful Sage
Fjorm: Ice Ascendant
Hapi: Drawn-Out Sigh
Julia: Crusader of Light
Otr: Kingsbrother
Peony: Sweet Dream
Seliph: Scion of Light
Volke: Man of Mysteries
Here's the Fire Emblem Heroes Elimine trailer. It confirms Feh Pass subscribers who pull 40 times will get to pick one character for free.

Fire Emblem Heroes is available on Android and Apple iOS devices, and Elimine will appear in the Mythic Hero banner until February 7, 2022.
The post Elimine Will Be the Next Fire Emblem Heroes Mythic Hero appeared first on Siliconera.
---
Siliconera Thursday, January 27, 2022 2:00 PM
Ghibli Park, a theme park inspired by the works of legendary anime studio Ghibli, will open on November 1, 2022 in Japan. The opening date was announced by Governor of Aichi Prefecture Hideaki Omura, where the park is located, and Studio Ghibli Producer Toshio Suzuki. The announcement was accompanied by photos of the construction site. [Thanks, ANN]
Here's how it looks.
https://twitter.com/ghibliparknet/status/1486560764148154370
The Aichi Tourism Bureau also took the occasion to promote tourism to the area. It shared a promotional video.
https://www.youtube.com/watch?v=NygxxFKWTtU
The four-minute trailer called "Play Along with the Wind" shows off areas in Aichi proper. It ends on a visit to Satsuki and Mei's House. The house is an attraction within Ghibli Park that replicates the residence of the characters Satsuki and Mei. They appeared in the Ghibli film My Neighbor Totoro.
Located within Aichi's Expo Memorial Park, the attractions in Ghibli Park will recreate iconic locations from the studio's catalog of films. On opening day, three of the planned areas will be open to the public: Ghibli's Giant Warehouse, the Hill of Youth, and Dondoko Forest. The Giant Warehouse is built from a former public swimming pool. It is an indoor area with shops, exhibition spaces, and a dining area patterned after the town area from Spirited Away. The Hill of Youth will serve as the entrance to the park. It will house a replica of the antique shop from Whisper of the Heart. Dondoko Forest replicates the rural landscape of My Neighbor Totoro. It contains Satsuki and Mei's House. Development on Ghibli Park will continue past opening day. Late 2023 will see the opening of the Mononoke Village and Witch's Valley areas.
Ghibli Park will open in Japan on November 1, 2022, though the Studio Ghibli Museum in Tokyo continues operations. The studio's films are available on streaming services and via online and physical retailers. Its latest film is Earwig and the Witch.
The post Studio Ghibli Park Opening Day Set appeared first on Siliconera.
---
Siliconera Thursday, January 27, 2022 1:30 PM
The Sonic Sessions latest remix once again involves the Persona 5 singer. Lyn Inaizumi appeared for her take on a track without words. It is a jazz rendition of the Sonic the Hedgehog 3 Continue music.
The full video offers extra details about the Sonic the Hedgehog 3 "Continue - 30th Sessions Version." Jun Senoue handled the arrangement for it. (This was one of the first Sega games Senoue composed music for back in the 1990s.) S.A.M.E. is performing on the track alongside Lyn. It is also a more lengthy take on the tune. It lasts for almost two minutes.
Here's the "Continue - 30th Sessions Version" Lyn Sonic Sessions song. At the end of the video, Knuckles also appears. This is a nod to the fact that people can make the game into Sonic the Hedgehog 3 (& Knuckles).

As mentioned before, this is the second time Lyn performed music from the Sonic series. In December 2021, Sega shared another track. In it, the Persona 5 singer performed the Sonic Adventure 2 theme "Escape from the City."
These are only two of the Sonic Sessions remix tracks so far. The series is designed to offer new takes on classic songs. It is unknown how many pieces of music will be a part of this collection.
The post Hear Persona 5 Singer Lyn Sing the Sonic 3 Continue Music appeared first on Siliconera.
---
Siliconera Thursday, January 27, 2022 1:00 PM
Yet again, PlayStation Plus in Japan will get an additional game that isn't available worldwide. The announcement for the region included a fourth Atlus title. In February 2022, the Japanese PlayStation Plus lineup also offers Dragon's Crown Pro. People with a subscription there can claim it until February 28, 2022.
It appears alongside EA Sports UFC 4 (PS4), Planet Coaster: Console Edition (PS5), and Tiny Tina's Assault on Dragon Keep: A Wonderlands One-shot Adventure (PS4). All three of those will be available worldwide.
【#PSPlus】2022年2月提供コンテンツ情報!
フリープレイに『EA SPORTS UFC 4』や『ドラゴンズクラウン・プロ』『タイニー・ティナとドラゴンの城塞 ~ワンダーランズで一発限りの大冒険!』など4タイトルが登場!

詳しくはこちら⇒ https://t.co/POAIEYDlTx#フリープレイ pic.twitter.com/Alnp5b6PxJ

— プレイステーション公式 (@PlayStation_jp) January 27, 2022
Dragon's Crown Pro is the PS4-exclusive, updated version of the beat'em up. It looks and sounds different, due to a 4K upgrades and rerecorded soundtrack. It is also compatible with the PS3 and Vita versions of the game. This means someone can take part in cross-play regardless of platform. The DLC, like the additional narrators, is also included in it.
This is the second recent month in which Japan got a fourth game and other regions didn't. In December 2021, Judgment appeared in the lineup. It wasn't available in other regions.
The original Dragon's Crown did appear as a PlayStation Plus game before. Back in August 2014, the PS3 and Vita version were a part of the lineup.
Dragon's Crown Pro is available for the PS4 worldwide. It will be a Japanese PlayStation Plus game in February 2022.
The post Dragon's Crown Pro is a Japanese PlayStation Plus Game Next Month appeared first on Siliconera.
---
Siliconera Thursday, January 27, 2022 12:30 PM
People will have a reason to visit the Epic Games Store each week again in 2022. The company announced how 2021 went for the storefront and what people can expect from 2022. In it, it confirmed that Epic Games Store free games will continue in 2022 too.
How it works is that each week on Thursday, Epic Games offers at least one free game. People have a week to claim it. Once they get it, they own it forever. All they need is an Epic Games Store account to claim it. During special events like the weekly winter holiday sale, the company will offer a free game each day. In 2021, it led that campaign with free copies of Shenmue 3.
In addition to more free games, other 2022 plans came up. There will be more download options. Game Hubs will be introduced. There will be rating and poll systems introduced.
As for Daemon X Machina, this is the mech action game that originally debuted on the Nintendo Switch. A PC version followed in 2020. Originally, that was only available via Steam. But now it is on Epic Games Store as well.
Daemon X Machina is the Epic Games Store free game for January 27, 2022 through February 2, 2022. Yooka-Laylee and the Impossible Lair will be available February 3-10, 2022.
The post There Will Still Be Epic Games Store Free Games in 2022 appeared first on Siliconera.
---
Siliconera Thursday, January 27, 2022 12:00 PM
When KOF XV debuts, people who get a day one physical or special edition will also get a Garou: Mark of the Wolves DLC outfit for Terry Bogard. To help call attention to it (and some gameplay details), SNK shared a new trailer. In it, people can see Terry wearing the Fatal Fury look while fighting or talking to other members of the cast.
Here's a full look at the Garou Terry KOF XV DLC. The trailer starts with a conversation between Terry and Blue Mary. It hints at the relationship between the two characters. This also provides a chance to see the outfit up close. In-battle footage comes up after that. Then at the 47 second mark, the different color palettes for this costume are shown off. It's followed by him reuniting with King of Dinosaurs. However, he accidentally calls him by his Garou: Mark of the Wolves name.

As a reminder, Garou Terry isn't the only special KOF XV DLC. There will also be a Classic Leona outfit. While the Terry costume comes with the day one edition, Leona's look will be a part of the Digital Deluxe Edition and Omega Edition.
KOF XV will come to the PS4, PS5, Xbox Series X, and PC on February 17, 2022.
The post KOF XV Garou Terry Costume Trailer Shows Off the DLC appeared first on Siliconera.
---
Siliconera Thursday, January 27, 2022 11:30 AM
Konami announced downloads for Yu-Gi-Oh Master Duel exceeded 4 million worldwide. The title launched on January 19, 2022, following a brief delay out of 2021. This means it hit the milestone after only a week. [Thanks, 4Gamer!]
Yu-Gi-Oh Master Duel offers over 10,000 cards, which players can obtain through spending in-game currency or crafting. The in-game currency can be obtained by playing the single-player story mode. This mode is intended to help players learn the various rules and systems before jumping into online play. In addition, players can dismantle cards they do not want to obtain "Craft Points." These points can be used to craft cards. Players can also buy pre-built decks or cosmetic accessories through the in-game shop. There are also some free packs that people can get.
Konami plans to eventually host official tournaments through Yu-Gi-Oh Master Duel. This could include the title potentially appearing at the Yu-Gi-Oh World Championships in some capacity. Leaks also suggested that some more single mode stories will appear for people who want more single-player options in the game.
Yu-Gi-Oh Master Duel is available for the Nintendo Switch, PS4, PS5, Xbox One, Xbox Series X, PC, and mobile devices. It is available to download entirely for free.
The post Yu-Gi-Oh Master Duel Downloads Exceed 4 Million Worldwide appeared first on Siliconera.
---
Siliconera Thursday, January 27, 2022 11:00 AM
The latest My Hero One's Justice 2 DLC is here and adds villain Kurogiri to the game. People can get him alone for $3.99. He's also part of the $19.99 Season Pass 2. He arrives about a week after Bandai Namco announced he'd join the roster.
Kurogiri is known for his Warp Gate Quirk. This can be used to teleport or attack. You can see the full Kurogiri trailer below. It contains in-game footage of him in a match.
Kurogiri and his warp abilities have just arrived to MY HERO ONE'S JUSTICE 2 season pass 2! #MHOJ2

Order today: https://t.co/X79gb6LBvb pic.twitter.com/3sgxUmbnYE

— Bandai Namco US (@BandaiNamcoUS) January 27, 2022
Here are some screenshots showing Kurogiri in-game. He looks pretty much exactly as he does in My Hero Academia.
[gallery columns="9" ids="914297,914299,914300,914301,914302,914303,914304,914305,914306" link="file"]
There are still two more My Hero One's Justice 2 DLC characters on the way with Season Pass 2. Hitoshi Shinso appeared as its first add-on. Present Mic followed. Bandai Namco didn't offer any hints as to who the ninth and tenth characters could be.
My Hero One's Justice 2 and its Kurogiri DLC are available for the PlayStation 4, Xbox One, Nintendo Switch, and PC. People can stream My Hero Academia on services like Crunchyroll and Funimation. Viz Media handles the manga.
The post Kurogiri DLC Comes to My Hero One's Justice 2 appeared first on Siliconera.
---
Siliconera Thursday, January 27, 2022 10:30 AM
There's a chance to see exactly how Horizon Forbidden West will look on a PS4 Pro. In addition to PlayStation Blog clips, there is a new trailer. It spends under a minute showing off how it looks there.
Here's the PS4 Pro clip.

In addition, the game went gold. This means the master version is complete. It also means there shouldn't be any delays.
Horizon Forbidden West PS4 Pro gameplay showcases more of Guerrilla's vibrant world as the game goes gold.

Join Aloy on her new adventure on PS5 and PS4 on 18th February: https://t.co/8ZBkzGKc3J pic.twitter.com/vb0aIDEZta

— PlayStation Europe (@PlayStationEU) January 27, 2022
As for perhaps seeing more, there are quite a few Horizon Forbidden West trailers out now. One video looked at the tribes living in the new region. Another went over its story. One trailer featured the voice actors talking about their roles. Among them is Carrie-Anne Moss, who plays a new character in this installment.
Should someone get a Horizon Forbidden West PS4 version, they can always upgrade. Initially, Sony wasn't going to offer a free path to a PS5 copy. However it changed its stance in September 2021. So now someone who does get the last generation version can also get a next-gen one.
Horizon Forbidden West will come to the PS4 and PS5 on February 18, 2022.
The post See the Horizon Forbidden West PS4 Pro Gameplay Teaser appeared first on Siliconera.
---
Siliconera Thursday, January 27, 2022 10:00 AM
The Genshin Impact alternate outfits for Amber, Jean, Mona, and Rosaria will be distributed starting January 27, 2022. People will get them for free. MiHoYo went over the process. All someone needs to do is log in between January 27, 2022 and the launch of the 2.5 update for them. They will be included via an in-game letter. However, after 2.5 they will be unlocked in a different way.
The letter with the costumes will be available for 30 days after you get it. Once you do, you can change the way they look from the character menu. On the main page there, you can press a button to choose between available outfits. Amber, Jean, Mona, and Rosaria's original outfits and alternate costumes will all be available there when you get them. (So will any paid outfits if you have them and are available.
After 2.5, the costumes will unlock once you get the characters. Of the four characters, Amber is the only person who is earned for free. As people go through the Genshin Impact tutorial, they unlock the four-star Pyro archer. Rosaria is a four-star Cryo character who uses polearms and is available via banners. Both Jean and Mona are five-stars available all the time via Wanderlust Invocation standard and event wishes. (Jean is an Anemo swordswoman, while Mona is a Hydro catalyst-wielder.) So once people would pull one of those three from a banner for the first time, they'd get them and the extra outfit.
MiHoYo also announced that the alternate outfits will be used for the characters in the banner, in-game, and for animated cutscenes after 2.5. The NPCs and banner will show them in the outfits after 2.5. After 2.6, they'll be in animated scenes. This is due to these outfits becoming the default in China.
Genshin Impact is available for the PS4, PS5, PC, and mobile devices. It will also come to the Nintendo Switch. People can claim the alternate outfits for Amber, Jean, Mona, and Rosaria immediately in Genshin Impact.
The post Genshin Impact Alternate Outfits Will Be Distributed Today appeared first on Siliconera.
---
Destructoid Thursday, January 27, 2022 4:30 PM
---
Destructoid Thursday, January 27, 2022 3:30 PM
---
Destructoid Thursday, January 27, 2022 3:00 PM
---
Destructoid Thursday, January 27, 2022 2:30 PM
---
Destructoid Thursday, January 27, 2022 2:00 PM
---
Destructoid Thursday, January 27, 2022 2:00 PM
---
Destructoid Thursday, January 27, 2022 1:30 PM
---
Destructoid Thursday, January 27, 2022 12:45 PM
---
Destructoid Thursday, January 27, 2022 12:30 PM
---
Destructoid Thursday, January 27, 2022 12:00 PM
---
Destructoid Thursday, January 27, 2022 11:30 AM
---
Destructoid Thursday, January 27, 2022 11:00 AM
---
PC Invasion - FeedDDD Thursday, January 27, 2022 4:45 PM
In the latest Valorant dev diary, Executive Producer Anna Donlon takes a look back at the hero-based shooter's last year and reveals some details about the next big update, Episode 4 Act II. It sounds like Riot Games has a lot planned for Valorant over the next year. However, before we get more agents and maps, the developer wants to solidify the foundation of the game. While 2021 was a year of madness for many, it was excellent for Valorant. The tactical shooter went from strength to strength. It released a unique new map in the form of Facture, as well as a few new agents. The latest agent, Neon, has only just dropped in to blow the meta open with her speed. Instead of continuing to ride that content wave and deliver instant gratification, Riot is going to take some time to improve elements that will secure the future of the game. Essentially, it wants to make Valorant more enjoyable to play. That includes balancing agents, tweaking maps, improving the ranked experience, an...
---
PC Invasion - FeedDDD Thursday, January 27, 2022 4:30 PM
Being subscribed to Prime means a steady flow of free(ish) games, as February's lineup of perks for Prime Gaming has been revealed. These range from free games to exclusive content for multiple titles. First and foremost, since Lost Ark is launching soon, Prime Gaming is naturally offering some tie-in rewards. These include a Battle Pack Item, Battle Chest Bundle, and Amethyst Shard Pack. The game is launching for everyone on February 11, so there'll be a bit of time before most can make use of these items, but they'll be waiting for you all the same. As for free games, the biggest of these is Stellaris. Paradox's space-based Grand Strategy game launched back in 2016 and has since received some beefy expansions. People with Prime will be able to claim the base game. Next up is Ashwalkers: A Survival Journey. This is a much smaller game that released in April of last year. It sees you leading a group of survivors through a ruined black-and-white landscape. The...
---
PC Invasion - FeedDDD Thursday, January 27, 2022 4:15 PM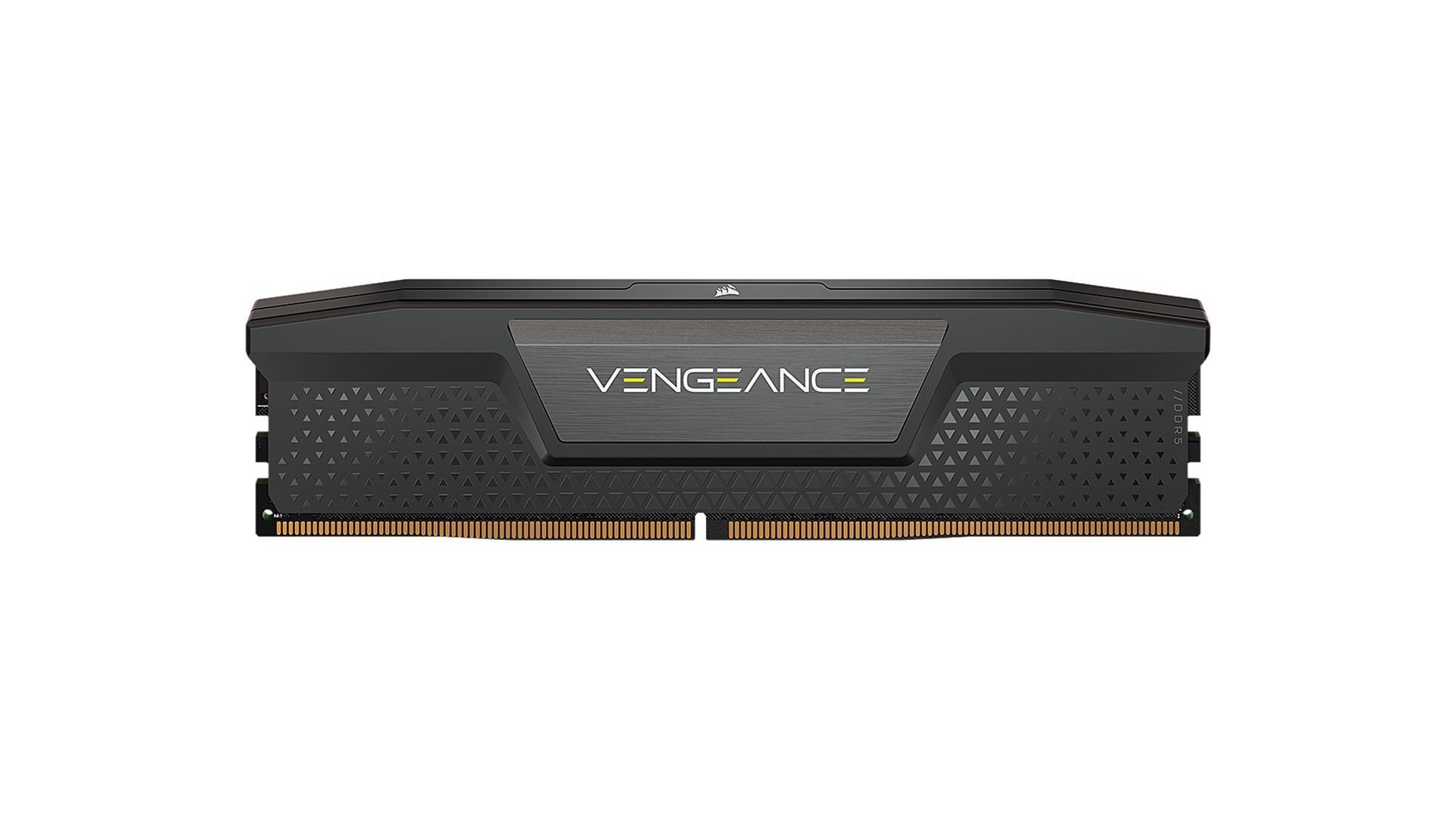 It looks like the availability of DDR5 memory seems to be improving. Stores are now showing DDR5 memory in stock and the prices are far more reasonable than just a few months ago. Towards the end of 2021, Intel's release of its 12th generation Alder Lake CPUs sparked a surge in demand for the new DDR5 memory platform. As a result, the availability dwindled and the cost of DDR5 modules skyrocketed. But now, things seem to be looking better. Stock is improving and the prices have fallen dramatically. Without further guidance from memory manufacturers, it's hard to say how long this trend will last. The hope is that prices will continue to fall slowly and eventually become competitive with the pricing for DDR4 memory in relation to performance. Global logistics conditions are subject to change regarding pricing and availability though due to the ongoing pandemic, so it's anyone's guess as to what could happen in the months to come. Where to look for DDR5 ...
---
PC Invasion - FeedDDD Thursday, January 27, 2022 4:00 PM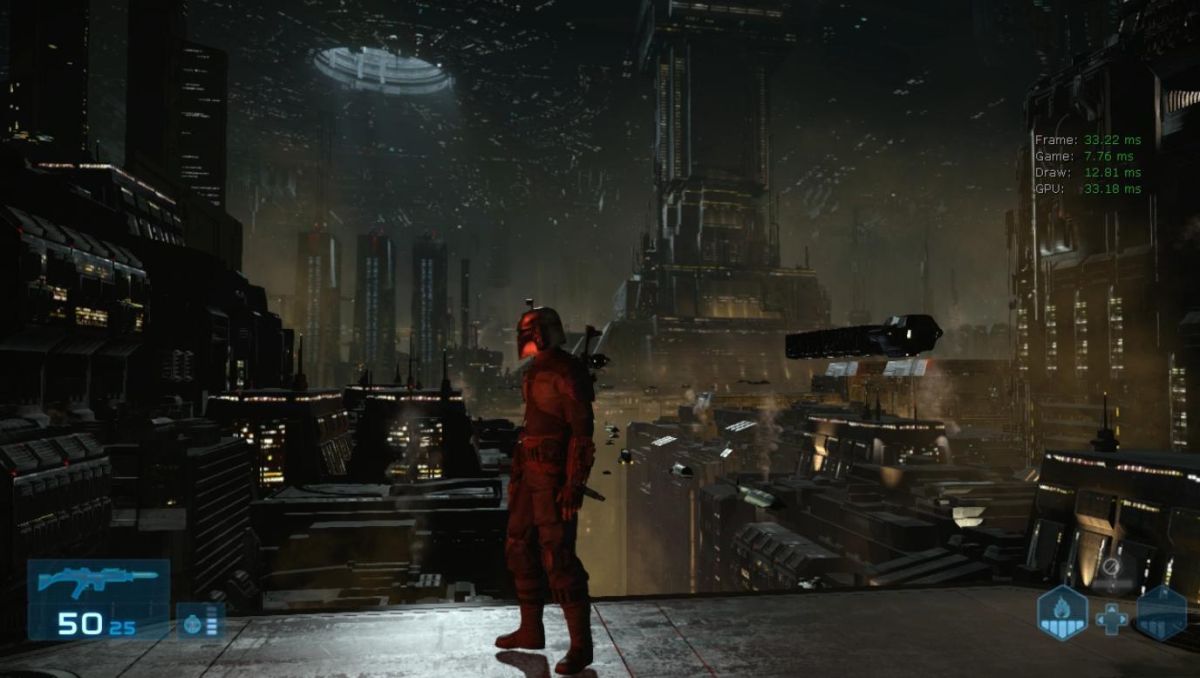 All the way back at E3 2012, developer LucasArts revealed Star Wars: 1313, a grittier take on the eternally popular IP that would revolve around bounty hunters rather than Jedi. Unfortunately, the Walt Disney Company would acquire LucasArts near the end of that year, which led to the megacorporation reportedly putting the development of Star Wars: 1313 and all other LucasArts projects on hold. Although the game never became officially canceled, it might as well have been. Disney didn't even renew the game's trademark in 2014. However, those interested in the Star Wars: 1313 project can check out some long-lost footage that just now surfaced, which allegedly features the iconic bounty hunter Boba Fett in action. This newly released footage comes courtesy of the YouTube channel "The Vault," which chose to unveil it to commemorate the channel's 6th anniversary. The early portion of the video depicts Boba Fett walking through crowded alleyways featuring rep...
---
PC Invasion - FeedDDD Thursday, January 27, 2022 3:15 PM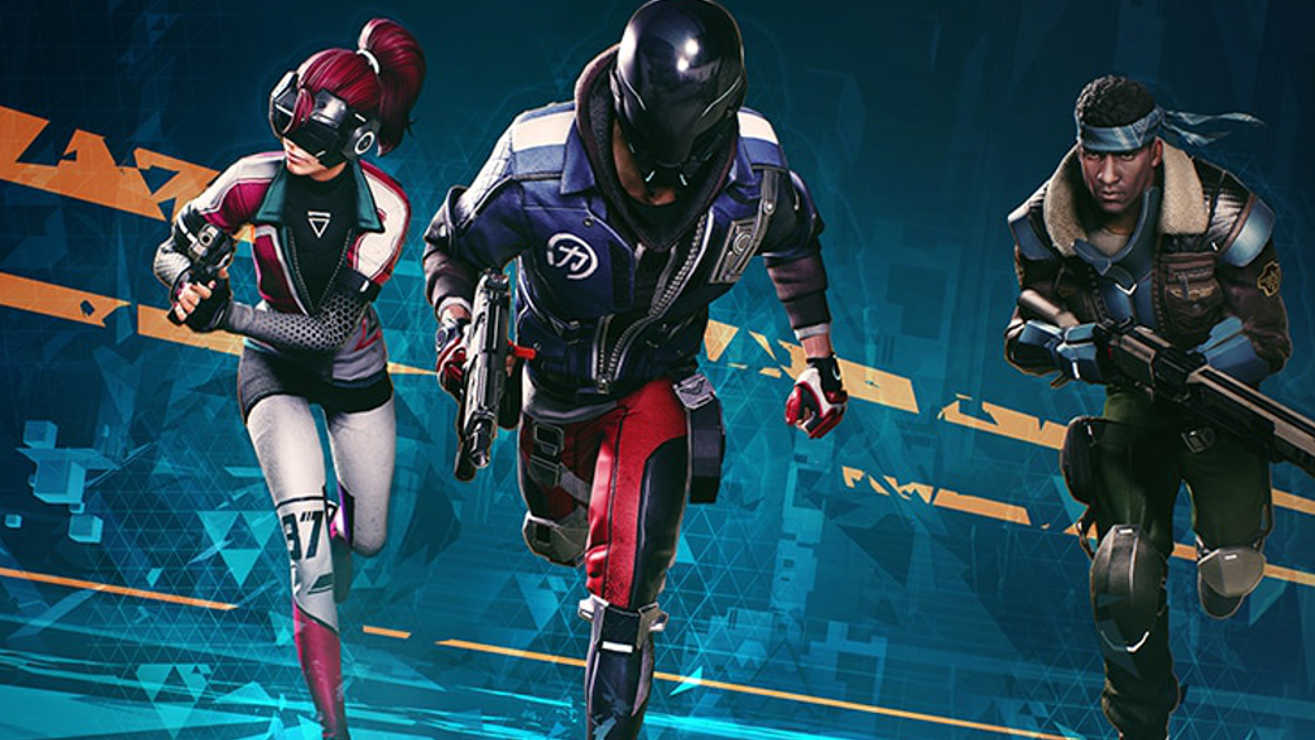 Remember Hyper Scape? You'll probably need a moment to dredge up the memory. Ubisoft's battle royale was unveiled back in July of 2020, and for a short while it seemed to have good momentum. A lot of content creators were playing the multiplayer shooter, and it looked as if Ubisoft had a new hit on its hands. But it didn't take long before interest fell off, either due to lack of support or other reasons. Eventually, its creator stopped officially supporting it last year. Hyper Scape has lingered on, but it won't for much longer — the game will shut down for good this April. Ubisoft quietly made the announcement earlier today. As of this writing, the news of Hyper Scape's eventual shuttering didn't even make the company's Twitter news cycle. That's rough. As posted by the Hyper Scape team, the game will shut down on April 28. It's kind of a sad ending for the colorful, bombastic battle royale. But in a sea of other games i...
---
Gamer Empire Thursday, January 27, 2022 11:30 AM
This article was taken from https://gamerempire.net/ from the Gaming Guides category: https://gamerempire.net/category/gaming/. It was written by Jack Roque. Few video game series are more synonymous with fun than Mario Party. With their combination of thrilling minigames and tabletop strategy, these games always bring life to the party. So naturally, you might wonder if there are any other titles like […]
The post 7 Best Nintendo Switch Games Like Mario Party appeared first on Gamer Empire. It was written by Jack Roque.
---
Tabletop Gaming News Thursday, January 27, 2022 4:00 PM
---
Tabletop Gaming News Thursday, January 27, 2022 3:00 PM
---
Tabletop Gaming News Thursday, January 27, 2022 2:00 PM
---
Tabletop Gaming News Thursday, January 27, 2022 1:00 PM
---
Tabletop Gaming News Thursday, January 27, 2022 12:00 PM
---
Tabletop Gaming News Thursday, January 27, 2022 11:00 AM
---
Player Assist | Game Guides & Walkthroughs Thursday, January 27, 2022 4:09 PM
Random Events are what make simulation games more exciting, and Stardew Valley has a ton of them! This article will go into some of the strangest occurrences you might experience in the game, especially if you plan on pouring so many hours playing it. Stardew Valley is notorious for having Random Farm Events that will […]
---
Player Assist | Game Guides & Walkthroughs Thursday, January 27, 2022 2:22 PM
Here are the top 5 easiest and quickest enchantments to obtain in Minecraft 1.18. Minecraft is filled with all kinds of mobs—half of which are hostile towards the player. The player's ultimate goal in playing the game is to survive the countless hazards thrown at them. Thus to make survival easier for players, the game […]
---
Player Assist | Game Guides & Walkthroughs Thursday, January 27, 2022 1:16 PM
The Shee Vaneer Shrine and Shee Venath Shrine, both called the Twin Memories, are two of the many shrines of Hyrule in The Legend of Zelda: Breath of the Wild. This shrine requires Link to solve a puzzle to get to the altar and talk to the monk. The shrines may seem confusing, but they […]
---
Player Assist | Game Guides & Walkthroughs Thursday, January 27, 2022 11:41 AM
At least a hundred different warships are available for play in World of Warships. Just about any warship known to man is in WarGaming's Online Naval Warfare game. From humble Destroyers such as the Sampson from the United States of America to behemoths of the old war such as the legendary Japanese Battleship Yamato. While […]
---
Player Assist | Game Guides & Walkthroughs Thursday, January 27, 2022 10:14 AM
Like many RPGs, Genshin Impact is built around a party system where each character plays a specific role. In addition to damage dealers and healers, there are shield users. Similar to tanks in other RPGs, shield users specialize in absorbing damage. To effectively use each character's shield, you need to understand the characteristics of their […]
---
Latest Games on Play iDev Games Thursday, January 27, 2022 2:54 PM
In PIXEL JUMP your goal is to get an as high as possible score by bouncing on the platforms. You control your square by moving your cursor......
---
Pivotal Gamers Thursday, January 27, 2022 11:35 AM
What's up all? Steam holds a new giveaway for Neon Abyss. Their message follows. Get Neon Abyss – Chrono Trap on Steam for Free! This content requires the base game Neon Abyss on Steam in order to play. A few words about Neon Abyss Neon Abyss is a frantic, roguelite action-platformer where you run 'n' gun your way into the Abyss. Featuring unlimited item synergies and a uni...
---
Pivotal Gamers Thursday, January 27, 2022 11:20 AM
What's up folks? We have another remarkable offer from Epic Games for DAEMON X MACHINA. Their message follows. Get DAEMON X MACHINA for FREE! A few words about DAEMON X MACHINA Download and play DAEMON X MACHINA at the Epic Games Store. Check for platform availability and price! Last minute notes Login with your Epic Games account, follow the on-screen instructions to add it to your library....
---
Level Up Thursday, January 27, 2022 12:45 PM
Today marks the first day of Kamigawa: Neon Dynasty preview season for Magic: The Gathering,…
---
Level Up Thursday, January 27, 2022 12:15 PM
Fans of 2000s platformers may remember Kao the Kangaroo. The punching marsupial first graced North…
---
Level Up Thursday, January 27, 2022 11:33 AM
The Tripartite Alliance for Fair and Progressive Employment Practice in Singapore launched an investigation into…
---
Level Up Thursday, January 27, 2022 10:40 AM
After years of radio silence and then a sudden, long-awaited update, Dying Light 2 Stay…