---
Kotaku Tuesday, March 22, 2022 7:35 PM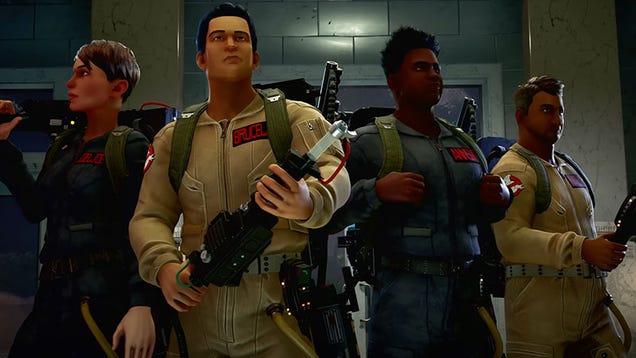 A new Ghosbusters game has been announced. Called Ghostbusters: Spirits Unleashed, it's an asynchronous, 4v1 multiplayer shooter where four Ghostbusters can take on one player controlling the ghosts.

---
Kotaku Tuesday, March 22, 2022 5:55 PM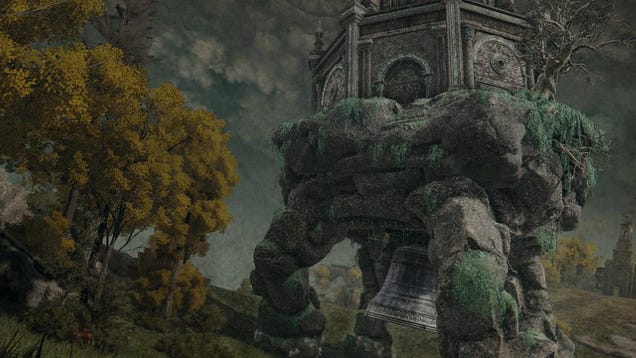 Elden Ring's "spirit ashes" are one of its standout new features, letting you summon ghostly monsters to fight by your side. But now one Elden Ring modder, known as King Bore Haha, has taken the concept to a new extreme.
---
Kotaku Tuesday, March 22, 2022 5:10 PM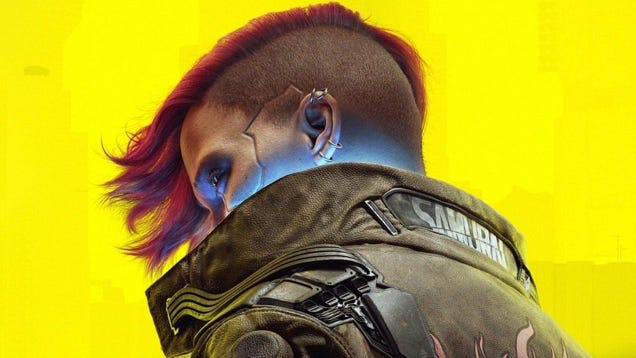 Yesterday CD Projekt Red announced a "new saga in The Witcher franchise." As part of a new multi-year collaboration with Epic Games focused on open-world design, the game will be made in Unreal Engine 5 rather than the studio's own REDengine. It won't be The Witcher 4, but that's what people are calling it in the…
---
Kotaku Tuesday, March 22, 2022 4:35 PM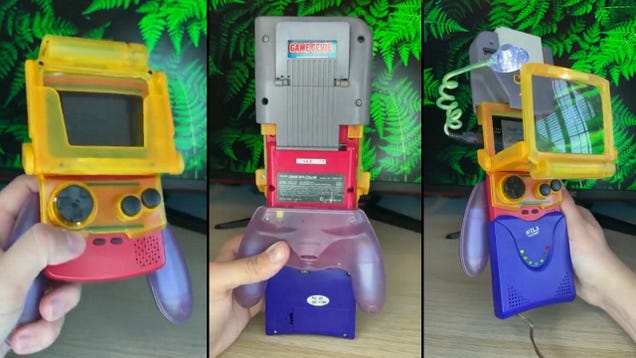 A video making its way around the internet shows just how many attachments can be connected to a single Game Boy Color at one time.

---
Kotaku Tuesday, March 22, 2022 4:20 PM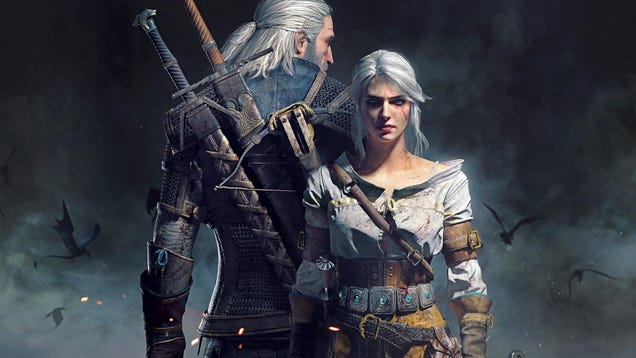 It seemed inevitable, but yesterday CD Projekt Red made it official: it's working on a new open world Witcher game. The company didn't say anything about what the game would be about, but it did send fans into speculation mode with teaser art showing a medallion covered in snow. Now some of them are relying on one…
---
Kotaku Tuesday, March 22, 2022 4:00 PM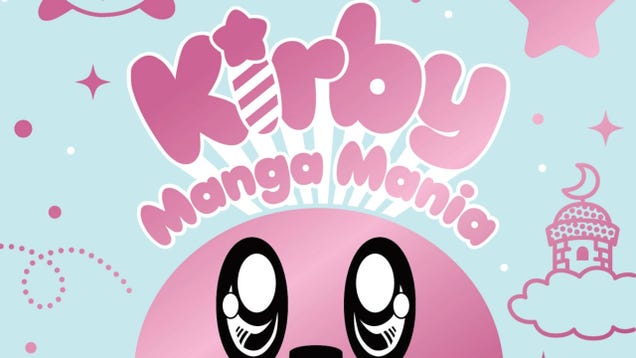 With Kirby and the Forgotten Land coming out later this week, I decided to do some reading up on Nintendo's pink puffball by checking out a wacky collection of his manga aptly titled Kirby Manga Mania. Going into this venture I expected to be overwhelmed by Kirby in all his babble-talking glory, but found something…
---
Kotaku Tuesday, March 22, 2022 2:35 PM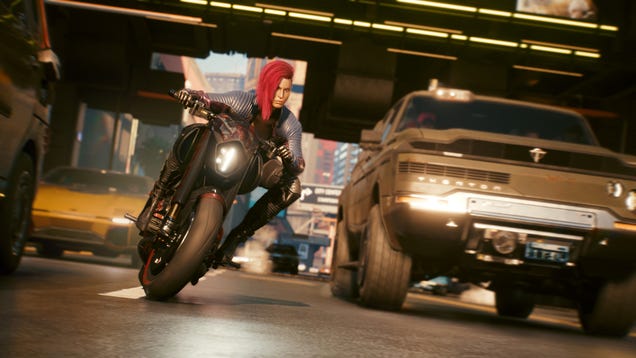 Cyberpunk 2077's road to perfection continues apace. Fresh on the heels of a massive update that made the open-world snarkfest feel complete and functional, or closer to it, developer CD Projekt Red is rolling out a smaller patch purporting to fix a litany of minor issues.
---
Kotaku Tuesday, March 22, 2022 1:00 PM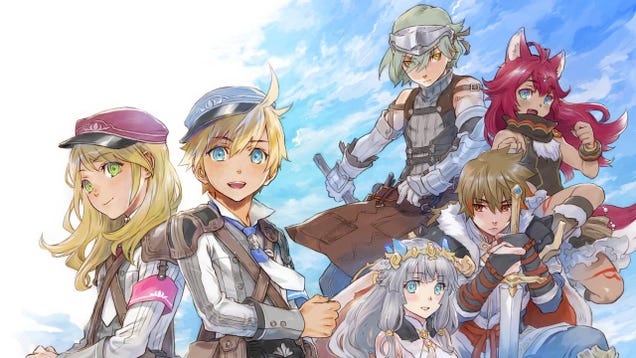 Straight up, Rune Factory 5 on Switch was my most anticipated game of 2022. I loved how earlier games in the Harvest Moon spinoff series seamlessly incorporated fantasy worldbuilding into a farming simulator. Obtaining milk from weird-looking monster cows and harvesting leather off goblins was always a lot more…
---
Kotaku Tuesday, March 22, 2022 12:45 PM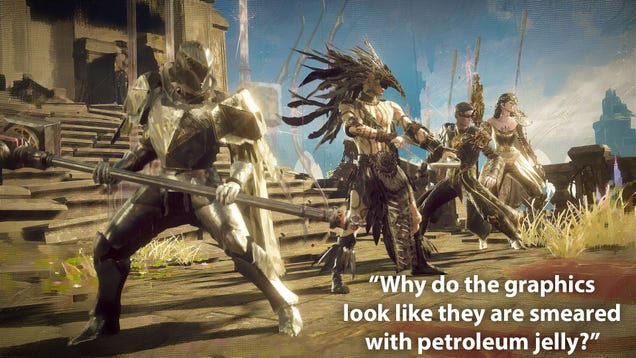 Babylon's Fall doesn't have far to fall. The loot game, developed by the makers of such hall-of-fame action games as Nier: Automata and Astral Chain, is getting widely panned, referred to by some as the "worst" game currently out on PS5. But it's also playable on PC. Let's check in and see how that's going, shall we?

---
PCGamesN Tuesday, March 22, 2022 7:00 PM
American Truck Simulator has added the International 9900i as part of a free update available today. This model is a lovely addition to the roster of in-game truck models, but it's particularly notable as the 9900i itself is defunct - International hasn't manufactured one since 2017.
Here's the sexy catalogue description from the devs: "Built with all your needs in mind, this truck delivers on both style and performance. It begins under the hood with the high horsepower Cummins ISX, providing the brute power needed to haul the heaviest of loads with fuel economy that your bottom line will appreciate. And comfort will never be an issue with features like the iconic Eagle interior, extra-wide bunk, and easy-to-read gauges and switches. Whether you're barreling down the highway or polishing up the chrome, one thing's for certain - the International 9900i will make heads turn."
The update introducing the 9900i is now live, and you can head to the nearest in-game dealership to pick it up. As you'd expect, there's an array of customization options, letting you go for daycabs, various sleepers, different air filters and stacks, and different interior looks, too.
---
PCGamesN Tuesday, March 22, 2022 6:22 PM
The first bits of Dying Light 2 DLC have already started to arrive, but there's much more to come. The devs at Techland have promised a five year roadmap of free and paid content, but we don't yet know what form those larger content releases will take. It seems it's safe to expect things as big as The Following - but beyond that, the devs want to break your expectations,
Dying Light 2 DLC will be at a "similar scale" to that of the first game, lead designer Tymon Smektała tells us in an interview at GDC. "You can surely expect that the game will take you to new environments, with their own new traversal challenges. And I think you should also expect - maybe this is a stupid phrase - but expect the unexpected.
"This is something that we want to do with the post-launch support. We want to surprise people. We want to create an emotional anticipation for our players. 'What will they drop next?' The plan is to not make the content too formulaic. The idea is that every new one should surprise you, should feel fresh, should feel new, because we feel this is the way to engage players."
Dying Light 2 release date
,
Dying Light 2 factions
,
Dying Light 2 trailer reveal
---
PCGamesN Tuesday, March 22, 2022 5:35 PM
Epic is currently donating all Fortnite proceeds to humanitarian relief efforts in Ukraine. This initiative raised $36 million USD in its first day, and $50 million in its second. and a top Ukrainian official has offered some words of thanks to Epic. Proceeds from all real-money Fortnite purchases will continue to support charity work through April 3.
"Thank you Epic Games for understanding that people's lives are not a game," Ukrainian vice prime minister Mykhailo Fedorov says in a tweet. "Your support is crucially important for us." Fedorov also serves as the minister of digital transformation of Ukraine, and since Russia's invasion began a few weeks ago, has been calling on tech companies to halt trade with Russia and support Ukraine.
Epic is donating Fortnite proceeds to Direct Relief, UNICEF, the UN World Food Programme, and the UN Refugee Agency. This effort began alongside the launch of the new Fortnite season, which - though certainly designed long before Russia's invasion - features a poorly-timed military invasion theme.
Fortnite V-Bucks
,
Fortnite Skins
,
Fortnite Creative Codes
---
PCGamesN Tuesday, March 22, 2022 1:51 PM
The top-down take on the Terraria concept had all the makings of a hit, and the Core Keeper player count continues to reach new highs. The folks at developer Pugstorm and publisher Fireshine Games have announced that Core Keeper has now sold over 500,000 units in Steam Early Access, just two weeks after launch.
Core Keeper previously reached 100,000 sales in its first two days, and 250,000 sales in its first week. Judging by the concurrent player counts on SteamDB, the pace of the sandbox game's success is accelerating, too. Core Keeper reached a record concurrent player count of 34,508 just this past Sunday.
As Core Keeper is in Early Access, we know more updates are on the way. Marketing director Sarah Hoeksma says in a press release that there are "some exciting plans for the game's future", and the devs "can't wait to share more in the weeks and months ahead". So it seems we can expect more explicit detail on those updates in the near future.
---
PCGamesN Tuesday, March 22, 2022 1:36 PM
Riot Games is nerfing Brimstone's stim beacons in Valorant patch 4.05. While the developer had buffed him as recently as update 4.04 at the start of March, he's now a bit too good, so the team is stepping in again.
"Some call him 'Brimmy with the stimmy.' And while it's been exciting to see you all leverage Brimstone's recent Stim Beacon balance in fresh ways, we think having two stims reduced the importance of deploying it at the right moment," community strategist Jeff Landa explains. "The changes below are our attempt to address this while still retaining Brimstone's refined identity as a 'bursty' excellence of execution."
Brimstone now has one stim beacon charge instead of two, and the cost to replenish them has increased to 200 from 100. It's not all bad news, though, as many Brimstone buffs from the previous patch are still intact. If you've been out of the loop, the agent's stim beacon now applies a 15% speed boost in addition to RapidFire. Sky Smoke, meanwhile, remains untouched. Riot recently decreased deploy time to one second from two, and deploy radius was increased to 5,500 from 5,000.
Valorant - all you need to know
,
Valorant system requirements
---
PCGamesN Tuesday, March 22, 2022 1:28 PM
Want to know how to get Fortnite Omni Chips? It's an all-out war in the popular battle royale game, as the Imagined Order invades the otherwise calm island. One of the early unlocks in this season's Fortnite battle pass is the Omni sword, a customisable harvesting tool that costs seven battle stars.
So, where can you find Fortnite Omni Chips? As soon as you unlock the new sword, you get four Omni Chips to spend immediately and can earn more by completing season challenges. You use these chips to unlock new styles, and each individual style costs anywhere from four to six chips. However, after unlocking the Omni Sword, you'll also get quests that require you to find more chips at specific locations on the new Fortnite map. Finding these chips is easier said than done, especially when everyone's running around using the new Fortnite sprint mechanics.
To help you collect these chips as painlessly as possible and help you to unlock all of the Omni Sword styles, we have put together some maps showing all the Fortnite Omni Chip locations, starting with the nine Omni Chips you can get in week 1 of Chapter 3 Season 2.
Fortnite V-Bucks
,
Fortnite Skins
,
Fortnite Creative Codes
---
PCGamesN Tuesday, March 22, 2022 1:28 PM
Want to know where to find and how to use Fortnite tanks? Chapter 3 Season 2 is all about the full-scale Imagined Order invasion. They mean business, bringing an arsenal of new technology to the battle royale game, including siege cannons and airships. They've also got tanks, a new type of vehicle capable of unleashing salvos of high-velocity shells. To make matters worse, we're prevented from building structures - at least for the time being - so any opponent driving a tank is a deadly adversary.
So where do Tanks spawn in Fortnite, and how do you destroy them? The tank spawn locations are easy to find throughout the Fortnite map, and the best place to look for them is inside territory controlled by the Imagined Order, within the red lines. Once you've found a tank, you'll want to know how to use it; the UI that appears when you enter the tank is slightly confusing at first, and it'll take some time to get used to.
If you're having trouble controlling a Fortnite tank, you've come to the right place. We jumped into the hot seat to get to grips with the Fortnite tank's controls, so think of us as your driving instructor for these colossal war machines. We'll also tell you how to eliminate an opponent driving a tank to level the playing field as quickly as possible.
Fortnite V-Bucks
,
Fortnite Skins
,
Fortnite Creative Codes
---
PCGamesN Tuesday, March 22, 2022 1:26 PM
Guild Wars 2 expansion 4 is confirmed - the next big addition to the MMO game after last month's End of Dragons, which developer ArenaNet says is in development now. Furthermore, the team is preparing the Guild Wars 2 Steam release and is "set on launching this year".
The excellent Guild Wars 2: End of Dragons expansion finally released in February this year, and the fantasy game is already being prepped for the future. In a new blog post, ArenaNet says that "Guild Wars 2 has a bright future ahead of it". Along with the return of Living World Season One from the MMO's earlier days and the increase of support to World vs. World, the developer also makes two big release reveals.
For starters, ArenaNet says that "one of our top priorities as a studio is getting Guild Wars 2 ready for release on Steam" and the team wants to ensure it's done right. At the moment there is still work to be done, such as Steam integration and cleaning up the game for a new platform launch. "We're not ready to commit to a hard date for Steam quite yet," the post reads, "but our hearts are set on launching this year."
Play Guild Wars 2 for free
,
Guild Wars 2 expansion
,
Best MMOs
---
PCGamesN Tuesday, March 22, 2022 1:20 PM
Valve's new handheld gaming PC has the largest catalogue of launch games we've ever seen, but you'll find it tough fitting many of them on your device without popping in the best SD card for Steam Deck. Of the three Steam Decks available, 512GB is the most internal storage you'll get, which will just about fit Call of Duty: Warzone, Red Dead Redemption 2, and Assassin's Creed: Valhalla with enough room for SteamOS.
Fortunately, you can expand storage easily enough. Those of you that don't want to deep dive under the hood to install an NVMe SSD into your Steam Deck can use the microSD card slot on the bottom to cram up to 1TB of storage - at least until a 2TB card finally hits shelves. You might even get away with one you've previously used with your smartphone if you don't mind formatting it, but you'll need to make sure it has good read speeds and enough storage first - fast write speeds are a bonus.
Generally speaking, microSD cards are a little slower than the eMMC storage found in the base Steam Deck, so you'll want to keep all your favourite games on the device itself. That said, microSD cards let you take more games, movies, TV shows, and software on the go.
Best SSD for gaming
,
How to build a gaming PC
,
Best gaming CPU
---
PCGamesN Tuesday, March 22, 2022 1:02 PM
The Total War: Warhammer 3 alt-tab crash fix is now available in beta on Steam. It's been a surprisingly long saga. The fix was supposed to be in update 1.0.2, but the devs found it was causing additional graphical issues, so it was delayed. Now, at last, it appears the relief is finally in sight - as long as there are no issues with the beta test, at least.
If you want to try the beta for the Total War: Warhammer 3 alt-tab crash fix, you can opt in on Steam by right-clicking the game title, choosing properties, then betas, and then selecting 'wh3_public_test – WH3 Public Test'. The beta patch will be a download of around 588MB. You will only be able to play with fellow beta users while you're opted in, however, so if you want to play multiplayer, be aware.
Assuming no major issues are discovered with the beta, the fix will hit the live game as part of update 1.1, scheduled to launch in early April. That update will also introduce Steam Workshop support, as well as an array of balance changes across the RTS game.
Total War: Warhammer 3 DLC
,
Total War: Warhammer 3 races
,
Total War: Warhammer 3 review
---
PCGamesN Tuesday, March 22, 2022 12:45 PM
Tiny Tina's Wonderlands needs less Borderlands and more DnD, but it looks like we're getting more of the same from a technical standpoint as 2K reveals the Tiny Tina's Wonderlands system requirements. Chances are if your gaming PC can run Borderlands 3, it should be able to play 2K's latest without much issue, but there's a slight jump in the minimum specs.
The first difference is that you'll need to run at least Windows 10 on the latest service pack, as the developers don't mention Windows 7 support at all. The second is a higher barrier to entry, as your rig needs to pack either an AMD Radeon RX 470 or Nvidia GeForce GTX 960 - two generations newer than Borderlands 3's GPU requirements. This isn't ideal in a climate where it's difficult to upgrade your graphics card, but it's still quite modest.
Other than these changes, the two games ask for identical specifications: at least a ten-year-old gaming CPU, 6GB of RAM, and 75GB of storage space. The developers don't specifically recommend that you put the game on one of the best SSDs for gaming, but speedier loading times certainly won't hurt.
Best SSD for gaming
,
How to build a gaming PC
,
Best gaming CPU
---
PCGamesN Tuesday, March 22, 2022 12:42 PM
For any strategy game fans hoping to find out the Dune: Spice Wars release date, we've got good news - the reveal is coming very soon, along with the announcement of the game's fourth faction. The Dune: Spice Wars Steam Early Access release is planned first, and a recent leak suggests that it'll launch as soon as next month.
Dune: Spice Wars was announced as a hybrid RTS-4X game in January this year, and developer Shiro Games - the creators of Northgard - confirmed that the latest Dune game would release in Steam Early Access first. Various factions will be available in this early access release, including the Atreides, Harkonnens, and the newly-revealed Smugglers - however, Shiro neglected to reveal when fans would get to play it.
Shiro Games' Adrien Briatta tells us in an interview that the team will announce Dune's Early Access release date and its next faction "soon". More specifically, the reveal is coming in "something like two weeks".
---
PCGamesN Tuesday, March 22, 2022 12:40 PM
Blizzard Entertainment is bringing back World of Warcraft's Mage Tower, but this time permanently. You'll be able to access the solo-focused content whenever you fancy once it returns to the Broken Shore on March 29.
The Mage Tower initially came to WoW during the Legion expansion in 2016. It's remained popular with fans since, with Blizzard bringing it back in a limited capacity during a Shadowlands patch last year as a result. The problem with the Legion Timewalking event, though, is that the Mage Tower would only be available when it came into rotation every now and then.
"When we originally developed the Legion Timewalking bonus event, we were looking for other fun features from Legion we could add to it," the WoW devs explain. "Timeworn Keystones were part of that, and the Mage Tower as well. Having heard feedback and seen how it has played out, we agree that a personal skill challenge being available only for a short window of time every few months isn't in the spirit of these types of events. As such, starting on the week of March 29, the Mage Tower will be accessible at any time, no longer tied to the Legion Timewalking bonus event."
WoW Shadowlands review
,
The best WoW addons
,
WoW Classic leveling guide
---
PCGamesN Tuesday, March 22, 2022 12:03 PM
Sea of Thieves: Forts of the Forgotten is the next limited-time, story-driven adventure for the pirate game, and developer Rare has lifted the veil on the content with a new cinematic trailer. The event begins this Thursday and will last for two weeks, and will have you assaulting the new Sea Forts and working against a faction led by Captain Flameheart.
Forts of the Forgotten will run from March 24 through April 7. As Rare explains in the official description: "The denizens of Golden Sands outpost need your help, before it's too late! Sharpen your swords and prepare to lay siege to the Sea Forts in the next Sea of Thieves adventure."
A new cinematic trailer offers a story setup that's setting the hearts of lore fans aflutter. A pair of Spanish ghosts are chatting about their service to Flameheart, while the Servant of Flame shows up to threaten Wonda - the Golden Sands weaponsmith - in a prison cell. Then we cut to the Warsmith - also known as Wonda's sister, Wanda - sailing the seas toward a Sea Fort.
Sea of Thieves tips
,
Sea of Thieves quests, guilds, and raids
,
Sea of Thieves endgame
---
PCGamesN Tuesday, March 22, 2022 1:25 PM
Microsoft is looking into a potential security breach involving an extortionist hacker group. Known as LAPSUS$, the gang previously compromised Nvidia, Samsung, and Ubisoft, and a new statement suggests they have now breached the Windows 11 company's internal systems and data.
Highlighted by Vice, a screenshot shared to a private Telegram channel suggests LAPSUS$ has gained access to an Azure DevOps account. The image specifically details source code linked to the Bing search engine and Cortana. In a statement, Microsoft confirmed that it's "aware" of the claims and that it's investigating the situation.
LAPSUS$ hasn't issued any demands to Microsoft yet, but it's known for attempting to force companies to fulfil its wishes. For example, it previous asked Nvidia to unlock its best graphics cards in an effort to enable crypto mining on GPUs with a hash rate limiter. That's not to say the hackers aren't interested in money, however, as it has also held data ransom and issued leak threats to its victims.
Microsoft DirectX Raytracing
,
Microsoft Hololens hands-on
,
Windows Game Mode preview
---
PCGamesN Tuesday, March 22, 2022 1:11 PM
Want to know about how Fornite's tactical sprint works? Now that Fortnite Chapter 3 Season 2 has removed building, there's a new way to quickly traverse the map and grab onto just-out-of-reach places thanks to a new sprint mechanic. Your default running speed has been increased in the new season, but in addition to that, now you can go even faster when the occasion calls for it, using the new tactical sprint.
Fortnite tactical sprint lets you move quickly and even bust through doorways, but it also removes your ability to shoot. You may need to check that the ability is bound to a key when you next boot the game, but once you do you'll be able to make full use of the new dash.
This will likely come in handy for upcoming weekly challenges, and there may even be parts of the new Fortnite map that are designed with this new feature in mind. So without further ado, let's get into everything you need to know about Fortnite tactical sprint.
Fortnite V-Bucks
,
Fortnite Skins
,
Fortnite Creative Codes
---
PCGamesN Tuesday, March 22, 2022 1:24 PM
Internet Explorer's retirement has been a long time coming, but Microsoft warns it's finally time to say goodbye to its longstanding browser. While the software isn't a part of the Windows 11 arsenal of apps, it'll soon cease to exist on most versions of Windows 10 and will be subsequently eradicated from every iteration of the operating system soon after.
According to a fresh wave of notices issued to Windows 10 users, Internet Explorer will first be removed from newer builds of the OS in June. If you like to avoid Windows updates, you might find that the browser will exist for a little longer, but it's safe to say the software is ready to be properly consigned to history.
Microsoft Edge has been patiently waiting at the sidelines to replace Internet Explorer since its 2015 debut, and it'll start properly filling in for its elder shortly. As a result, legacy IE shortcuts should launch the new Chromium-based browser, something that could come as a shock if you're not used to the newcomer's cleaner aesthetic.
Microsoft DirectX Raytracing
,
Microsoft Hololens hands-on
,
Windows Game Mode preview
---
Rock Paper Shotgun Latest Articles Feed Tuesday, March 22, 2022 7:40 PM
Some friends recently put together a combined list of the top 50 movies of the millennium, of which it seems I've seen just eight. This does not bode well for my chances in Framed, a new Wordle-like puzzle game that challenges you to identify a movie from stills. You can play it in your browser for free.
---
Rock Paper Shotgun Latest Articles Feed Tuesday, March 22, 2022 7:14 PM
Ghostbusters seems almost perfectly designed for a four-player co-op game, and so here one comes. Ghostbusters: Spirits Unleashed is in development by IllFonic, the makers of recent asymmetric Friday The 13th and Predator games, and will pit four-players and their proton packs against one player controlling a ghost.
---
Rock Paper Shotgun Latest Articles Feed Tuesday, March 22, 2022 6:36 PM
Current and former developers of Moon Studios have alleged that the company is an "oppressive workplace", citing offensive language, harsh feedback and inconsistent direction by its founders. Several developers also alleged that the founders encouraged crunch. Moon Studios are the creators of Ori And The Blind Forest and Ori And The Will Of The Wisps, both critically lauded and commercially successful platformers published by Microsoft.
---
Rock Paper Shotgun Latest Articles Feed Tuesday, March 22, 2022 4:00 PM
Cantata, the upcoming game from Afterschool Studio, is releasing in Early Access on the 12th of May. It's a turn-based strategy game set during a surreal and futuristic war, where, shocker, the aim is to kill your opponent. The twist is that while you're building your base in each encounter, you'll also need to manage logistics. The maps in Cantata are bigger than most other strategy games, so you'll have to construct a supply chain alongside your army to keep your base expanding. And it's all wrapped up in a unique and colourful aesthetic too.
---
Rock Paper Shotgun Latest Articles Feed Tuesday, March 22, 2022 1:08 PM
As is tradition by now, Cyberpunk 2077 has released its latest extremely long list of fixes. This time it focuses on cleaning up quests, and a miscellaneous number of other bugs.
---
Rock Paper Shotgun Latest Articles Feed Tuesday, March 22, 2022 1:00 PM
Well, well, well. Last night CD Projekt said they're working on a new Witcher game. All we've got to go on is a cryptic image of a lynx-like Witcher medallion sitting in a bed of snow. Some of us from the Treehouse ran through what we'd like to see from The Witcher 4, including some truly insightful quotes about leg muscles from myself. One thing I failed to mention, though, was Roach, Geralt's horse.
I'm sure Roach has a great personality, I'm sure he's very kind. But from a purely professional standpoint, I can't stand him. He's hardly smooth in the stirrups, nor can he really climb anything substantial. That's why I'd like Roach swapped out for Elden Ring's Torrent, a horse-goat that corners like Colin McCrae and double jumps like Super Mario. The Witcher 4 deserves a super horse like Torrent.
---
Twinfinite Tuesday, March 22, 2022 6:59 PM
Rapper, actor, and entrepreneur Snoop Dogg will soon be a playable character across Call of Duty: Warzone, Vanguard, and Mobile starting next month. In an announcement from the Call of Duty blog, Snoop Dogg will first become playable in Season 3 of Call of Duty: Mobile starting on April 1 through the Lucky Draw, a […]
---
Twinfinite Tuesday, March 22, 2022 5:45 PM
Today Rabbit & Bear Studios and 505 Games released a video showcasing 25 minutes of gameplay of Eiyuden Chronicle Rising.
---
Twinfinite Tuesday, March 22, 2022 3:45 PM
Much to the simultaneous dismay and delight of Mario Kart fans around the world, the latest Nintendo Direct revealed the Mario Kart 8 Deluxe Booster Course Pass instead of a brand-new title. Despite the fact that 48 remastered tracks are coming, that doesn't necessarily mean they'll all be equally enjoyable. These four courses rise above […]
---
Twinfinite Tuesday, March 22, 2022 3:25 PM
Today, Crunchyroll officially unveiled their Spring 2022 anime lineup, which is set to feature some of the biggest new and ongoing shows in the medium. Those titles include fan favorites, like SPY x FAMILY, The Rising of the Shield Hero Season 2, and Kaguya-sama: Love is War -Ultra Romantic- just to name a few. You […]
---
Twinfinite Tuesday, March 22, 2022 2:17 PM
Twinfinite interviews Kadokawa Games CEO and Relayer director Yoshimi Yasuda on the inspiration behind the game, its development, and more.
---
Twinfinite Tuesday, March 22, 2022 1:41 PM
Tooday Activision released the gameplay trailer of the Season 2 Reloaded of Call of Duty Vanguard and Warzone.
---
Twinfinite Tuesday, March 22, 2022 1:18 PM
The rise of Brimmy with the stimmy has been halted somewhat today following the launch of Valorant's latest patch 4.05. The nerf sees his Stim Pack, which was buffed at the start of Act II to increase movement speed, reduced to just a single usage, and it's also more expensive. Elsewhere in the patch, a […]
---
Twinfinite Tuesday, March 22, 2022 12:43 PM
Microsoft announced today that it has partnered with Paramount Pictures to give away a limited-edition package of a custom Xbox Series S console and two controllers themed after the upcoming Sonic the Hedgehog 2 movie. The package includes a customized black Xbox Series S console with a golden ring surrounding the air vent and the […]
---
Twinfinite Tuesday, March 22, 2022 12:26 PM
Nintendo and Cygames announced that the mobile JRPG Dragalia Lost is due to shut down about four years after its release in September 2018.
---
Twinfinite Tuesday, March 22, 2022 12:01 PM
Sega released a new trailer of the upcoming major Lost Judgment DLC The Kaito Files, focusing on Kaito's personal approach to stealth.
---
Siliconera Tuesday, March 22, 2022 12:35 PM
Crunchyroll announced its Spring 2022 anime lineup, which will include new series like Spy x Family and Tomodachi Game and returning series like Kaguya-sama and Date a Live. While some shows are coming up now and in March 2022, many of the new series and seasons will start coming on April 1, 2022.
Here's the full schedule so far for the Crunchyroll Spring 2022 anime lineup. Legend of the Galactic Heroes: Die Neue These season three is already running via the service.
March 23, 2022: Estab Life: Great Escape
April 1, 2022: Mahjong Soul Pon and Science Fell in Love, So I Tried to Prove It r=1-sinθ
April 2, 2022: Build-Divide -#FFFFFF- Code White, Fanfare of Adolescence, and Love All Play
April 3, 2022: Magia Record: Puella Magi Madoka Magica Side Story Final Season and Trapped in a Dating Sim: The World of Otome Games is Tough for Mobs
April 5, 2022: Tomodachi Game
April 6, 2022: The Greatest Demon Lord is Reborn as a Typical Nobody and The Rising of the Shield Hero
April 7, 2022: The Dawn of the Witch and Skeleton Knight in Another World
April 8, 2022: Dance Dance Danseur, Date a Live IV, Love After World Domination, and Kaguya-sama: Love is War Ultra Romantic
April 9, 2022: Aoashi, In the Heart of Kunoichi Tsubaki, Shikimori's Not Just a Cutie, and Spy x Family
April 10, 2022: Don't Hurt Me, My Healer!
April 11, 2022: Ascendance of a Bookworm
April 23, 2022: A Couple of Cuckoos
There is also a list of shows that appeared in the Crunchyroll Winter 2022 and beyond that will continue in the Spring 2022 lineup. Here's what else people can expect.
Boruto: Naruto Next Generations
Case Closed
Cue!
Delicious Party Pretty Cure
Digimon Ghost Game
Dragon Quest: The Adventure of Dai
One Piece
Requiem of the Rose King
Shenmue the Animation
New anime series and seasons will come to Crunchyroll as part of its Spring 2022 lineup in March 2022 and April 2022.
The post Crunchyroll Spring 2022 Lineup Adds Spy x Family, Kaguya-sama appeared first on Siliconera.
---
Siliconera Tuesday, March 22, 2022 12:00 PM
Sega's been gradually showing how Masaharu Kaito is different as a detective and investigator than Takayuki Yagami in Lost Judgment DLC trailers. The latest one focuses on another one of his ways of handling cases. In it, we see how stealthy he can be.
As shown in the Lost Judgment video, Kaito tends to rely on tactics that temporarily distract someone so he can beat them up. In the first situation, he hides behind some conveniently placed cardboard boxes. He tosses a coin to distract an opponent. Once they are focused on it, he comes up behind them and strikes. In the second situation, he knocks on the door. When it opens, he briefly hides behind it before then using it to beat another person up.

The last few videos all focused on his unique capabilities. In one, his Bruiser and Tank styles appeared. These are the two options you have when fighting foes. Another looked at how Kaito uses his senses to find clues.
Lost Judgment is available on the PS4, PS5, Xbox One, and Xbox Series X, and The Kaito Files DLC will arrive on March 28, 2022. You can get it alone or as part of a $34.99 season pass that includes other DLC.
The post Masaharu Kaito Gets Sneaky in a New Lost Judgment DLC Trailer appeared first on Siliconera.
---
Destructoid Tuesday, March 22, 2022 7:00 PM
---
Destructoid Tuesday, March 22, 2022 6:00 PM
---
Destructoid Tuesday, March 22, 2022 5:00 PM
---
Destructoid Tuesday, March 22, 2022 4:00 PM
Spring, Summer, Fall, Winter… and Spring Last month, I posted a preview of Rune Factory 5 detailing its first two hours...
The post Review: Rune Factory 5 appeared first on Destructoid.
---
Destructoid Tuesday, March 22, 2022 3:00 PM
---
Destructoid Tuesday, March 22, 2022 2:00 PM
---
Destructoid Tuesday, March 22, 2022 1:00 PM
---
Destructoid Tuesday, March 22, 2022 12:30 PM
---
Destructoid Tuesday, March 22, 2022 12:00 PM
---
PC Invasion - FeedDDD Tuesday, March 22, 2022 7:34 PM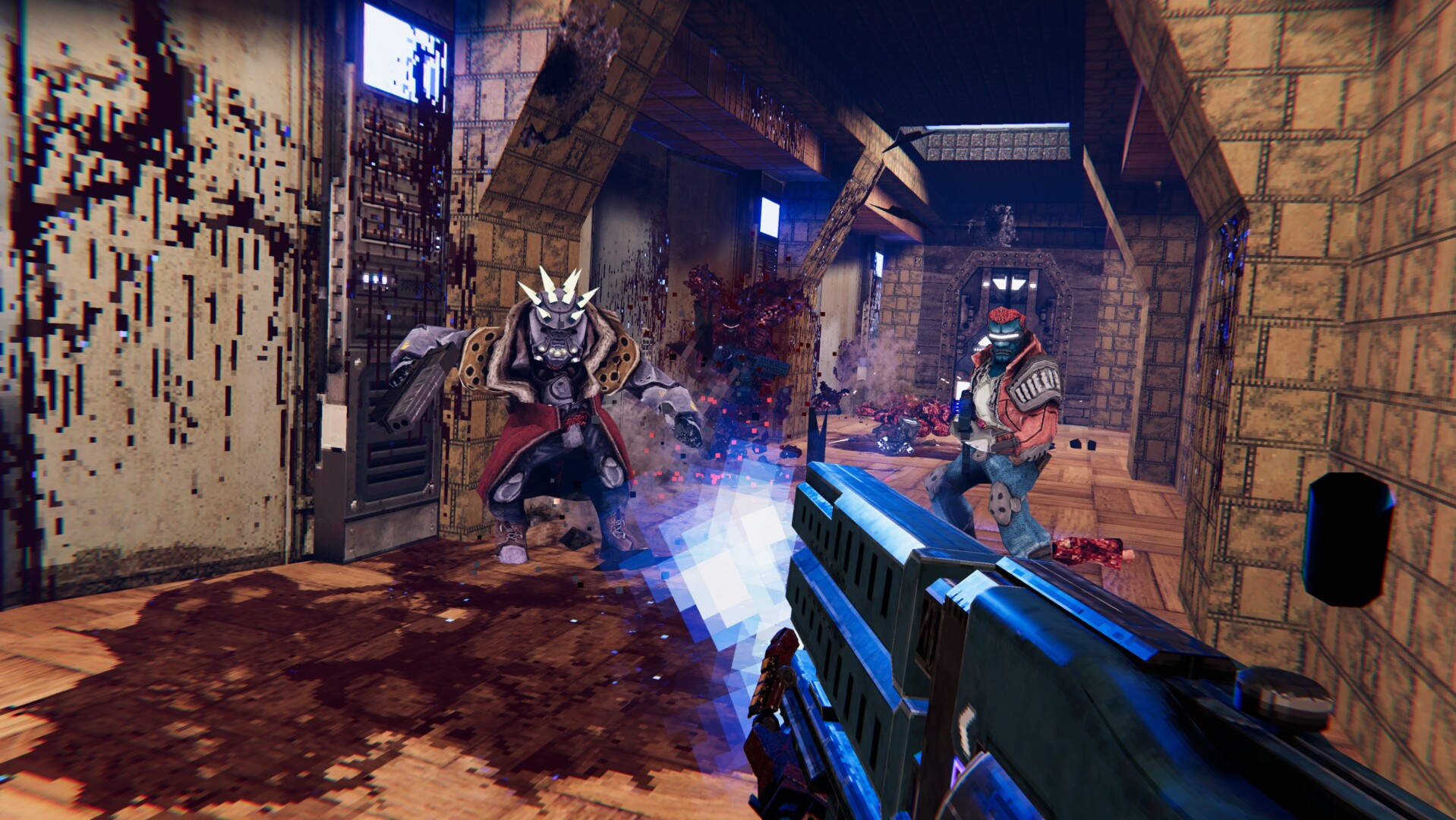 Aside from head-turning games like the new Lego Star Wars and the Chrono Cross remaster, April seemed set to be a pretty quiet month. Well, scratch that. The end of the year's first quarter just got a whole lot louder and more ridiculous. Shooter hivemind Apogee Entertainment has announced that its highly-anticipated retro shooter Turbo Overkill is getting an Early Access release date in April. This version of the game will encompass the first episode, housing eight levels of laughing and blasting, with roughly five to eight hours of content for FPS fans to chew through. Sounds invigorating, doesn't it? Turbo Overkill is releasing onto Steam Early Access on April 22. So we're just a month out from seeing just how hectic things will get with this high-octane shooter. The plot concerns the aptly named Johnny Turbo, who returns to his hometown of Paradise only to find that it's been taken over by a rogue AI named Syn. The digital antagonist has forcibly corrupte...
---
PC Invasion - FeedDDD Tuesday, March 22, 2022 5:30 PM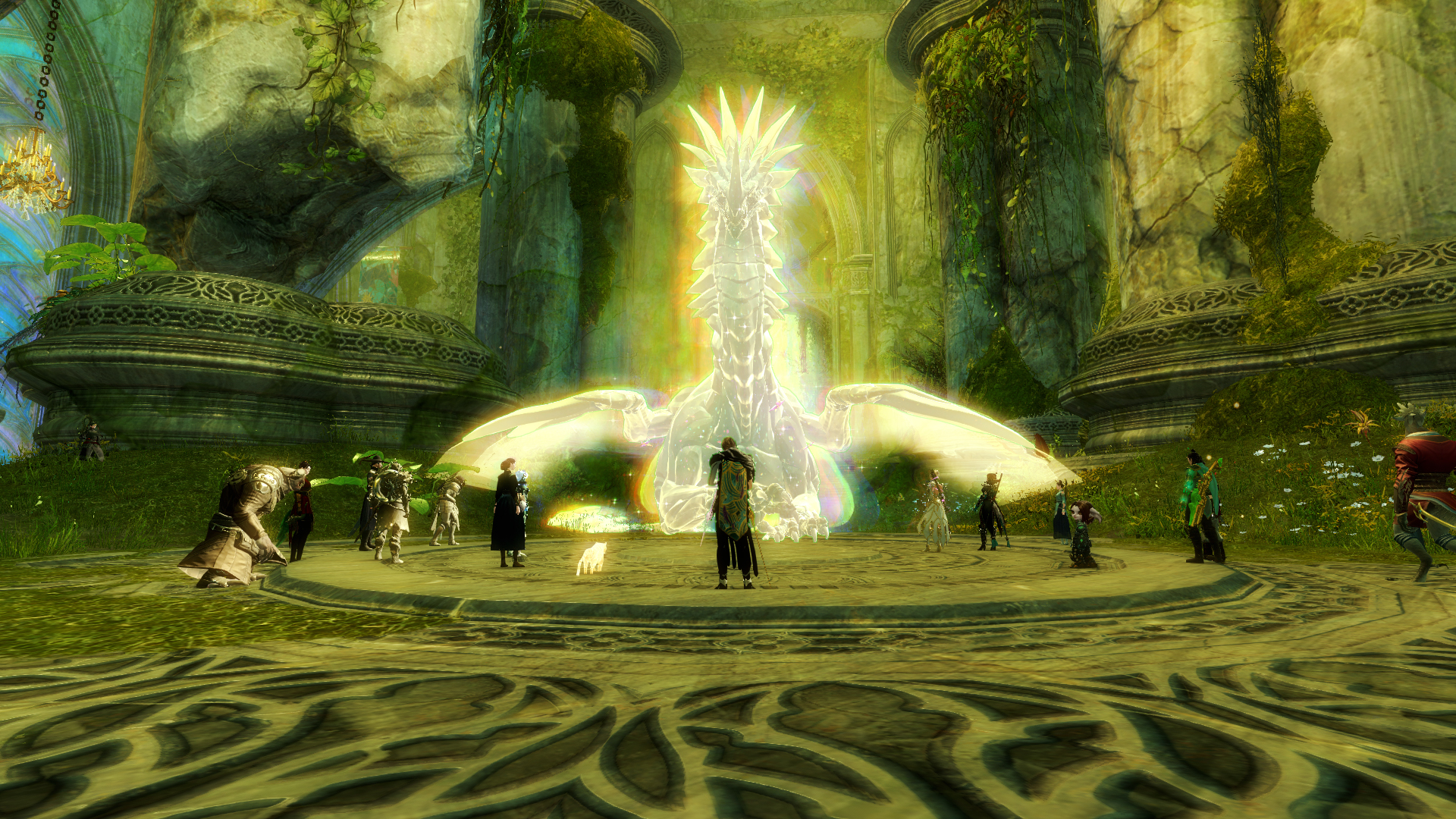 It hasn't been a month since ArenaNet released Guild Wars 2: End of Dragons, but it's already talking about Season 1 while hinting at the next expansion. Yes, the next expansion. Even though End of Dragons finished a story "10 years in the making," that doesn't mean Guild Wars 2 doesn't have more to its world. Fans should be happy to hear that Living World Season 1 is heading to Guild Wars 2: End of Dragons soon. The developer admits that it's "hard to get into the Elder Dragon storyline without the context." To help, Season 1, Scarlet's War, is coming back to the game as a permanent feature. There will be five episodes released throughout the year, with the first going live on April 19. It begins with the Flame and Frost episode, which will soon lead into Battle for Lion's Arch. The latter will include both a Challenge Mode as well as a new Strike Mission. And as a cherry on top, it'll all be free. ̶...
---
PC Invasion - FeedDDD Tuesday, March 22, 2022 4:30 PM
Last year, former Bioware developer and general manager Casey Hudson announced the formation of his new independent studio, dubbed Humanoid Studios. He intended the studio to function as a safe working environment where creative ideas can flourish and an "all-new IP" can be developed. At the time, Hudson did not reveal any concrete information about this new IP, only saying that he considers it "something awesome." Although he remains tight-lipped on the project, the official Humanoid Studios website does contain a brief description regarding the basic idea behind its first game. According to the website, the project will function as "a multi platform AAA game, focusing on character-driven narrative in an all-new science-fiction universe." Additionally, the website goes into some detail regarding the studio's primary goals. It states that higher quality gaming experiences result from the developers having more independence and freedom, a not...
---
PC Invasion - FeedDDD Tuesday, March 22, 2022 3:45 PM
Ghostwire: Tokyo is out in just a few days, and recently, we learned of its PC requirements and launch times. Bethesda and developer Tango Gameworks went into detail with the specs, which range from minimum at 720p all the way to 4K with ray tracing enabled. The launch times are also nice and clear, including when you can pre-load the game on Steam. It's nice when you know, you know? Ghostwire: Tokyo is a gorgeous-looking game, and as such, its requirements are a bit steep. Based on 720p and 30 fps, you'll need at least a GTX 1060 or RX 5500XT GPU, as well as an i7-4770K or Ryzen 5 1600 CPU at minimum settings. It's not terrible, mind, but those still rocking a GTX 970 may have a rough go with the game. On the far end, you need an RTX 2060 or RX 6700XT GPU paired with an i7-8700 or Ryzen 5 3600 CPU for 1080p at 30 fps and with ray tracing. If you're looking into playing at 4K, that goes up to an RTX 3080, RX 6900, and an i7-8700 or Ryzen 5 5600 respectively. ...
---
PC Invasion - FeedDDD Tuesday, March 22, 2022 2:45 PM
It's been just over a month since Cyberpunk 2077's previous 1.5 patch was released. It fixed a lot of problems while adding in purchasable apartments and new weapons. The patch also managed to deal with some of issues that held the game back for a lot of players. However, there's still a lot that needs to be done, and luckily CD Projekt Red knows this. So, now we have Cyberpunk 2077's 1.52 patch to delve into, and there's some good stuff here. The latest patch for Cyberpunk 2077 is much smaller than the previous 1.5 update. In fact, it looks like the 1.52 patch mostly squashes a few of the smaller bugs that still plague the game, from quests not working properly to various issues affecting gameplay. It may not be as exciting as the last patch, but updates like these are just as important as the bigger ones. Despite the problems addressed in Cyberpunk 2077's 1.52 patch seeming quite small, any fixes are more than welcome. Smaller gameplay is...
---
Gamer Empire Tuesday, March 22, 2022 4:07 PM
Guardian Raids is the first end-game content where you get to fight powerful bosses in Lost Ark. The loot that you get from Guardian Raids includes powerful accessories and honing material, which you need to make your character stronger, so you can move on to harder bosses and other end-game content. Recommended Read: Lost Ark […]
The post Lost Ark – Guardian Raid Guide: How to Raid, Unlock, Wiki appeared first on Gamer Empire. It was written by Tim Stadel Clausen.
---
Tabletop Gaming News Tuesday, March 22, 2022 6:00 PM
---
Tabletop Gaming News Tuesday, March 22, 2022 5:00 PM
---
Tabletop Gaming News Tuesday, March 22, 2022 4:00 PM
---
Tabletop Gaming News Tuesday, March 22, 2022 3:00 PM
---
Tabletop Gaming News Tuesday, March 22, 2022 2:00 PM
---
Tabletop Gaming News Tuesday, March 22, 2022 1:00 PM
---
Player Assist | Game Guides & Walkthroughs Tuesday, March 22, 2022 4:04 PM
Improve visual fidelity with these simple Assetto Corsa mods. Back when it was initially released in 2014, Assetto Corsa featured next-gen graphics that looked awesome for its time. These days, however, without third-party mods, Assetto Corsa is starting to look dated and dull compared to current-gen titles such as the newly released Gran Turismo 7. […]
---
Player Assist | Game Guides & Walkthroughs Tuesday, March 22, 2022 3:00 PM
Pokemon Legends: Arceus is set in the old times in the Pokemon world at a time when it was rare to find harmony between people and Pokemon. Set in the land of the Hisui region, known as the Sinnoh region in modern times, you will join the Galaxy Expedition Team (or just Galaxy Team for […]
---
Player Assist | Game Guides & Walkthroughs Tuesday, March 22, 2022 3:00 PM
One of the Shrines in The Legend of Zelda: Breath of the Wild is the Monya Toma Shrine or the Drawing Parabolas. This shrine requires Link to bring a glowing orb to its glowing orb socket using platforms that push out at an angle then retract back and complete the shrine. This shrine is very […]
---
Player Assist | Game Guides & Walkthroughs Tuesday, March 22, 2022 2:00 PM
Unlike most passive mobs in Minecraft, the chicken is—by far—considered the most farmable animal mob in the game as it does not require any food to enhance its growth and to reproduce. And it also do3es not matter where a player keeps their chickens as everything happens automatically. On a side note, building egg and […]
---
Player Assist | Game Guides & Walkthroughs Tuesday, March 22, 2022 1:00 PM
One of the Shrines in The Legend of Zelda: Breath of the Wild is the Daag Chokah Shrine or the Daag Chokah's Blessing. The Shrine itself is no challenge at all. As you enter the Daag Chokah Shrine, Link can access the Shrine's chest, he will be able to access the altar, and he will […]