---
Kotaku Monday, June 20, 2022 7:15 PM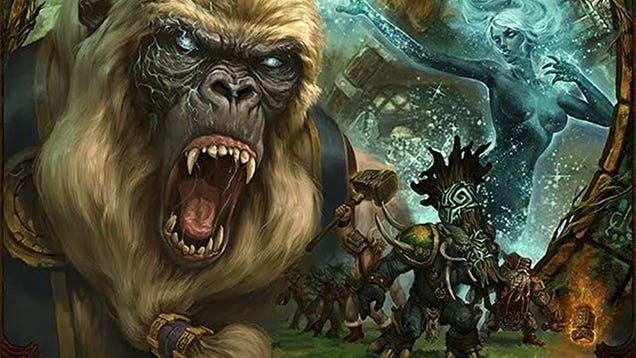 It was so long ago, and the space is now so thoroughly dominated by two games that it's almost impossible remembering any other way things could be, but for a brief window of time the MOBA genre—basically any and every game that was copying WarCraft III's DotA map—was a warzone.

---
Kotaku Monday, June 20, 2022 4:20 PM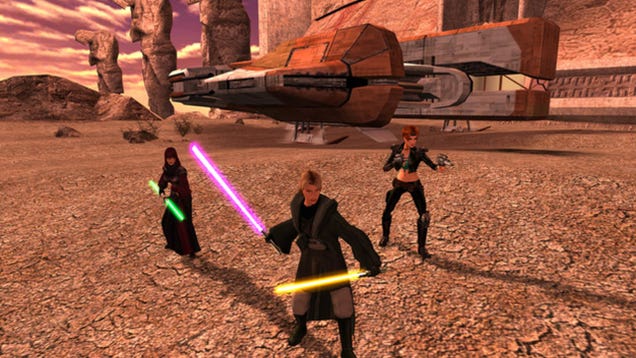 Er, whoops. Aspyr, the developer/porter behind the recent release of Knights Of The Old Republic II on Nintendo Switch, has tweeted that it's aware the game is currently impossible to finish.

---
Kotaku Monday, June 20, 2022 3:10 PM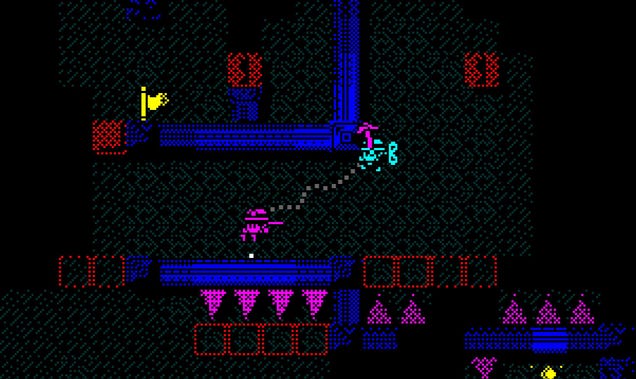 There's a reason you subscribe to some developers' Itch.io feeds. Ismael Rodriguez is an excellent example, who released the wonderful Below The Ocean last year. Into my emails pinged an update for a new, free game, Toy Cavers, and I'm just so pleased it did.

---
Kotaku Monday, June 20, 2022 1:30 PM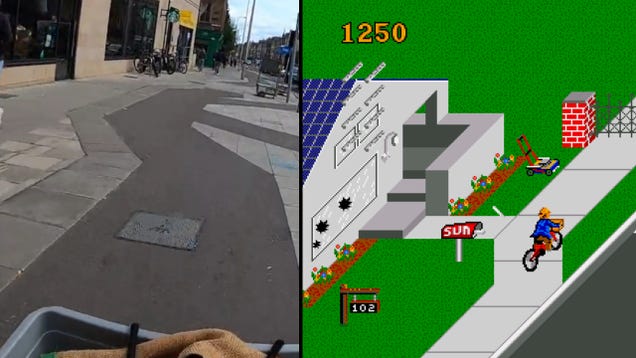 There's a street in Edinburgh, Scotland, that offers a real-life version of Paperboy's zigzag cycling routes, and I'm here to celebrate it for just that. As part of the city's £207 million ($253m) project to run trams through the famous road, a new section of cycle lane has been put in, which, as a recently tweeted…
---
Kotaku Monday, June 20, 2022 12:20 PM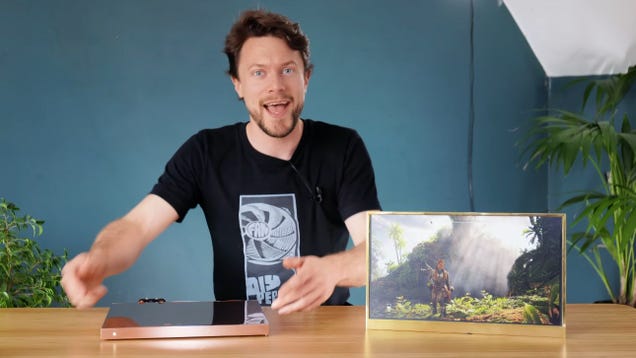 There is, inevitably, going to be a PS5 Slim. Not least because the current PS5 is the size and shape of a Dubai skyscraper, but also because Sony always releases a thinner version of their consoles after a few years. But we're at least a couple of years away from that, meaning we need instead to turn toward modern…
---
PCGamesN Monday, June 20, 2022 7:13 PM
It seems like only yesterday, Raven Software removed the option to edit Warzone loadouts in the pre-match lobby to fix a potentially game-breaking glitch, and now it's happened again. Raven announced on Twitter that it disabled the option to edit loadouts if you're joining or matchmaking with another player's party, and the general response is less than enthused. Raven didn't actually provide a reason for disabling the feature, but most commenters assumed Raven wanted to stop players from exploiting a recent glitch that let them put camos from Cold War and Vanguard on Modern Warfare weapons.
Warzone loadouts
,
Best AR in Warzone
,
The best guns in Warzone
---
PCGamesN Monday, June 20, 2022 6:14 PM
Outriders is gearing up for its first big DLC release, and that means the base game is free to play for the next couple of days. From June 20-23, you can play Outriders completely free on Steam, and take advantage of a steep discount if you decide to stick around for the launch of the co-op game's upcoming Worldslayer expansion.
Outriders review
,
Outriders legendary weapons guide
,
Purchase Outriders
---
PCGamesN Monday, June 20, 2022 5:05 PM
The Hunt: Showdown community hates the LeMat Mark II revolver right now, thanks to an exploit that makes the pistol incredibly overpowered. Crytek says it's working on a fix, but that in the meantime, taking advantage of the exploit can get you in trouble and potentially banned from the multiplayer game.
To understand the problem with the LeMat, it's important to know why it's a unique weapon. The LeMat Mark II is a cap-and-ball revolver with nine chambers, but the way they're arranged is what makes the pistol special. In the centre of the cylinder there's another chamber, which accepts a shotgun shell. This fires out of a second, smooth-bore barrel that lines up underneath the main barrel.
Hunt: Showdown review
---
PCGamesN Monday, June 20, 2022 3:58 PM
As promised during the PC Gaming Show earlier this month, Dune: Spice Wars multiplayer has arrived. The latest Dune: Spice Wars update adds competitive multiplayer modes to the Early Access RTS game, allowing you to team up with friends or battle them to the death over control of the planet Arrakis.
Dune: Spice Wars multiplayer currently consists of two modes, 2v2 and free-for-all. In either mode, AI players can fill any slots, and these each have customisable difficulty levels ranging from 'easy' to 'insane.' You can also set parameters for each multiplayer map, including the activity levels of sandworms, storms, and Sietch. Shiro Games says you can also customise victory conditions.
---
PCGamesN Monday, June 20, 2022 3:29 PM
It may have launched less than a week ago, but Final Fantasy 7 Remake on Steam is already the most popular game in the series on the platform. The RPG was the best-selling game on the platform in the week ending June 19, and it's holding that place as of June 20 as well, followed by Monster Hunter Rise and Rise's upcoming expansion, Sunbreak. Twitter user Benji-Sales, industry analyst and content creator, compared FF7 Remake's concurrent players with the rest of the series, and it slides into the number two spot with roughly 13,800 players, second only to Final Fantasy XV.
---
PCGamesN Monday, June 20, 2022 2:17 PM
Fortune's Keep, the new Call of Duty Warzone map slated to release on June 22 with Season 4, might look like someplace you've seen before. It's not a Call of Duty spin on Hitman levels, though, and while it shares some elements with Rebirth, High Moon says it went the extra mile to create something wholly unique. High Moon wanted to create something new for Warzone Season 4's take on Resurgence, with the same scale as Rebirth Island and a classic, timeless feel, so they looked to the Mediterranean Sea for inspiration and settled on a "smuggler's paradise" theme to guide their design.
Warzone loadouts
,
Best AR in Warzone
,
The best guns in Warzone
---
PCGamesN Monday, June 20, 2022 1:49 PM
Way back in March, eager World of Warcraft raiders got their first chance to tackle the final 'big bad' of the WoW Shadowlands expansion, The Jailer, in his sinister lair, the Sepulcher of the First Ones. It's been about three and a half months since Mythic difficulty was unlocked for this final raid, but to date, only 264 guilds world-wide have successfully beaten the entire raid at the hardest difficulty. To put that into context: the final raid of the MMORPG's Battle for Azeroth expansion, Ny'alotha, the Waking City, had been beaten on Mythic by over 700 guilds by this point in its life, nearly three times as many.
Blizzard has clearly noticed how much even dedicated raiders worldwide are struggling, and has announced a slate of heavy nerfs to some of the more problematic bosses (by which we mean they're difficult, as far as we know they haven't been accused of anything). You can find the full notes here, but here's a broad rundown.
Best MMORPGs on PC
,
The best WoW addons
,
WoW Classic leveling guide
---
PCGamesN Monday, June 20, 2022 12:58 PM
The airspace over Tarkov is a bit busy these days. If you jump into an Escape from Tarkov raid right now, odds are good that you'll see a few planes overhead. Players have spotted up to six at a time, and they're all dropping supplies into the multiplayer survival game. It could only mean one thing: it's pre-wipe season.
The increased supply drops made some players think a new bug had appeared in Escape from Tarkov. However, a tweet from the official Battlestate Games account confirmed that this is an intentional phenomenon. The tweet shows a digital radar display with 15 aircraft detected in range.
Escape from Tarkov system requirements
,
Escape From Tarkov Steam
,
Best battle royale games
---
PCGamesN Monday, June 20, 2022 12:55 PM
The recent gameplay reveal confirmed there are numerous different Gotham Knights skins and outfits to unlock in the eagerly-anticipated Batman-less superhero game, but it didn't show how many will be available. Now, Gotham Knights developers confirm not only how many costumes will be available to each hero, but that they have customization options too - even the Bat-bikes.
While the Nightwing and Red Hood gameplay showcase in May showed how players will be able to equip different character skins during the co-op game's campaign, as well as some of the options available, it didn't really go deep into the workbench itself and what players can do with those outfits - other than wear them, of course - nor how many there are.
In a new interview with Game Informer, executive producer Fleur Marty confirms that "each of our knights has 11 different suit styles" - making for a total of 44 general skins in Gotham Knights, although they can be customized. "Within a style, you can have customization with different pieces and different colorways," adds Marty.
The best superhero games on PC
,
The best RPGs on PC
,
What if Batman: Arkham Knight 2 had happened?
---
PCGamesN Monday, June 20, 2022 12:29 PM
The Ark Andrewsarchus may sound like a friendly chap by name alone, but learning the locations it can spawn, how to tame one, and the various controls will soon teach you these warthog-like creatures are mean beasts - and they can get a lot meaner. For example, you can mount a turret on its back once you've tamed it, so befriending an Andrewsarchus or two should come as a high priority because it's a force to be reckoned with.
While the Ark Andrewsarchus isn't capable of taking on the toughest Ark dinos, and it may struggle against the airborne Ark Desmodus, it's a nimble, ferocious fighter. We've got all the details on its spawn locations, plus everything you need to tame one, and how to control it once you've got one under your spell.
Ark dinosaurs taming guide
,
Ark mods
,
Ark console commands
---
PCGamesN Monday, June 20, 2022 12:19 PM
With all the updates, versions, builds, and mods, it's hard to believe how far Minecraft has come. The full game was released all the way back in 2011, but even before that, it had been in Early Access since 2009. It's easy to forget just how much has been and gone in that time, especially if you've not actually played it since it first came into the world. Thankfully, this new trailer gives a beautiful insight into all that's changed.
Minecraft console commands
,
Minecraft skins
,
Minecraft mods
---
PCGamesN Monday, June 20, 2022 12:13 PM
The Nvidia RTX 4000 rumour mill has been swirling for months now, with countless reports that upcoming GPUs likely won't so much sip power as they will gorge on it. This increased consumption apparently isn't limited to gaming PCs either, with team green's gaming laptop graphics cards seemingly having a larger appetite for watts too.
RTX 4000 - everything we know
,
GeForce Now RTX 3080 review
,
Best graphics card
---
PCGamesN Monday, June 20, 2022 12:06 PM
The Batman-less Batman game Gotham Knights will release in October but there are still enough questions remaining about the superhero game to confound the Riddler. Most notably, how big is Gotham Knights compared to Batman: Arkham Knight? According to the developers, it's "the biggest version of Gotham" ever made.
A recent Gotham Knights gameplay reveal showed off more of Batman's home of Gotham City than ever before, clearly showing that the open-world game boasts an expansive play area. However, other than a few brief shots of the map, fans haven't had confirmation on how it compares to previous Batman games.
In a new interview with Game Informer, executive producer Fleur Marty confirms that "it's the biggest version of Gotham that has been represented in video games," and the team particularly focused on "density and verticality." "It has a lot of layers," Marty adds.
The best superhero games on PC
,
The best RPGs on PC
,
What if Batman: Arkham Knight 2 had happened?
---
PCGamesN Monday, June 20, 2022 12:03 PM
Looking for all the V Rising admin commands? If you're getting tired of finding and unlocking new materials and recipes to advance in this survival game, then here are all of the console commands to easily generate materials or cut down on travel time by teleporting across the map.
First, you need to enable admin commands in V Rising before using them. In some cases, you may need to complete an extra step - depending on the server you're using - to give you admin permissions to use commands. We've included exactly how to enable admin commands in V Rising and a list of all cheats available. You can also use the console command 'list' to quickly access a full list of all console commands available in the hit vampire game.
V Rising server settings
,
V Rising tips
,
The best V Rising base locations
---
Rock Paper Shotgun Latest Articles Feed Monday, June 20, 2022 6:28 PM
The Acter Nitro 5 is a strong if unremarkable gaming laptop, offering excellent performance for the money in a rather typical gamer-y design. It doesn't look quite as cool as a Razer Blade or as beautifully thick as an XMG Apex 15, but it's got it where it counts: inside. Right now, you can pick up a Nitro 5 laptop with an RTX 3080 graphics card, Ryzen 7 5800H processor, 1TB NVMe SSD and 1080p 360Hz screen for just £1499 at Ebuyer - a nearly £400 reduction from its original UK RRP.
---
Rock Paper Shotgun Latest Articles Feed Monday, June 20, 2022 5:33 PM
The Arctic P12 is one of the best value high-performance case fans - and now you can get five for £23, some 20% off their usual (already good!) price.
These fans come in black without RGB for a stealthy look, can be daisy-chained to make cable management easier and can be controlled via PWM from 200 to 1800RPM. In terms of performance, every review I've found mentions their great value, but they also detail whisper-quiet performance at low RPMs.
---
Rock Paper Shotgun Latest Articles Feed Monday, June 20, 2022 2:24 PM
One of the best parts of Cyberpunk 2077 is Night City itself, a loud and colourful place full of interesting details and decorations. I explored loads on foot, I explored more with the mod adding trains V can ride, and today I've explored even more with a mod adding hovercars. It's very cool, and I have only crashed about a hundred times.
---
Rock Paper Shotgun Latest Articles Feed Monday, June 20, 2022 12:25 PM
I realised earlier that today was the last day of Steam Next Fest, and I panicked. I remembered seeing one particular demo on Steam which made my ears prick up and my eyes expand to thrice their usual size, and until now I hadn't the time to try it out. So today I carved out a small portion of the day to download and play the demo for Dome Keeper, a wave-based survival game about protecting your glass dome home from alien invaders using a gigantic laser.
Unfortunately, I ended up playing it a little too long, and now I've left myself no time at all to write about why it was so great. Argh. Let me try anyway.
---
Rock Paper Shotgun Latest Articles Feed Monday, June 20, 2022 12:14 PM
The blue hedgehog is back! He goes very fast in his latest instalment, Sonic Frontiers! And lots of fans – naturally – think it looks terrible! The scepticism is understandable. But having gone hands-on with it at Summer Geoff Fest, I'd like to pose a counter argument: the game needs to be played. Just seeing it with your eyeballs doesn't do it justice. Yes, it's a weird departure for Sonic, but I am here for it.
---
Twinfinite Monday, June 20, 2022 7:03 PM
A Wordle a day keeps the... word doctor away?
---
Twinfinite Monday, June 20, 2022 4:36 PM
Third-party developers have shared new assets and released new airport addons for Microsoft Flight Simulator.
---
Twinfinite Monday, June 20, 2022 3:00 PM
Today Square Enix released a new video dedicated to its popular MMORPG Final Fantasy XIV, featuring the "Close in the Distance" song.
---
Twinfinite Monday, June 20, 2022 2:25 PM
Today Bandai Namco is celebrating the 20th anniversary of the .hack series of JRPGs developed by CyberConnect2.
---
Twinfinite Monday, June 20, 2022 2:06 PM
Who ever let a shambling corpse keep them from some cash?
---
Twinfinite Monday, June 20, 2022 1:00 PM
Seriously, I can only hope they make more of these because I am pretty sure I will never be getting another Zero Escape for as long as I live.
---
Twinfinite Monday, June 20, 2022 12:57 PM
Hype Performance Group is working on one of the first helicopters for Microsoft Flight Simulator and Twinfinite interviewed Steve Daniels.
---
Siliconera Monday, June 20, 2022 5:00 PM
Bandai Namco and CyberConnect2 announced a .hack// 20th anniversary exhibit will be held in Japan in August 2022. It will appear at Yurakucho Marui in Tokyo, Japan. The .hack// 20th anniversary exhibit will feature special commemorative goods and a look back at the history of the series. People can attend between August 9-28, 2022. Tickets will cost 1,000 yen (or roughly $10). [Thanks, Dengeki!]
More information about the merchandise attendees will be able to obtain will be shared in the future. These announcements will also include purchase benefits and what kinds of displays will appear at the exhibit. However, a special illustration feature major protagonists from the series has been shared leading up to the event.
Bandai Namco also shared that it plans to release more merchandise to commemorate the anniversary of the series. This included the announcement of an artbook that will feature illustrations from the various game entries of the .hack series. Additionally, the physical edition of the 20th anniversary book will release in July 2022.
A 3 disc collection of music from the .hack series will also be released sometime in December 2022. It will include over 30 songs from titles such as:
.hack//Infection Vol. 1 - Vol.4
.hack//GU series
.hack//GU Trilogy
.hack//Link
.hack//Beyond the World + Versus Hybrid Pack
Guilty Dragon: The Sin and the Eight Curses
.hack//New World
The post .hack// 20th Anniversary Exhibit to be Held in August appeared first on Siliconera.
---
Siliconera Monday, June 20, 2022 4:00 PM
Famitsu announced physical editions of the .hack 20th anniversary book will release on July 19, 2022. The .hack 20th anniversary book will cost 3,250 yen (or roughly $24), which is close to the price that was previously announced. [Thanks, Famitsu!]
The anniversary book will feature developer interviews, the results of a reader survey, and a special manga. There will also be concept art not limited to the release of the games. Things from the anime will appear too. Pre-orders for the book are still available through the Japanese retailer Ebten.
Additionally, Bandai Namco entertainment released a short video to commemorate the 20th anniversary of the .hack series. You can watch it below.
[embed]https://www.youtube.com/watch?v=OHr2hkhAYU0&ab_channel=BandaiNamcoEntertainment[/embed]
The video reveals that a .hack commemorative 20th anniversary artbook will release in December 2022. A price for the artbook has yet to be shared, with more information to appear in the future. It will feature artwork specifically created for the .hack video game series. It will also feature entirely new illustrations. It will include artwork from the following titles:
.hack//Infection Vol. 1 - Vol.4
.hack//GU Series
.hack//GU Trilogy
.hack//Link
.hack//Beyond the World + Versus Hybrid Pack
Guilty Dragon: The Sin Dragon and the Eight Curses
.hack//New World
.hack//GU Last Recode
The physical edition of the .hack 20th anniversary book will release on July 19, 2022.
The post .hack 20th Anniversary Book Physical Edition to Release in July appeared first on Siliconera.
---
Siliconera Monday, June 20, 2022 3:00 PM
It's said that one person's trash is another person's treasure, and nowhere is that expression more apt than in the aftermath of the apocalypse. From Fallout's bottle cap currency to the precious bullets of The Road Warrior, everyday items become valuable resources wherever the world as we know it has collapsed into myth and ruin. So it goes with Metal Max Xeno Reborn, where yesteryear's vehicles of war and destruction are the future-present's platforms of hope. One could also say the same for the game itself, salvaged over the course of years and redeveloped into something quite different — and much better - than before.
Metal Max Xeno Reborn is essentially a reboot of 2018's Metal Max Xeno. Though I didn't play more than a few hours of the original release, I went back to it prior to taking up Xeno Reborn for this review to see what's changed. While I can't speak comprehensively as to the differences, what I did see was substantial enough for me to consider Metal Max Xeno Reborn the definitive version of the game and recommend it above the original release for any curious newcomers. This might actually be some cold comfort for people who own the original, seeing as they'd have to pay again to experience a more complete realization of Metal Max Xeno's vision.
https://www.youtube.com/watch?v=VnLA0Yo4eaI
The most noticeable change in Metal Max Xeno Reborn is to the visuals. The somewhat low-fi, flat-shaded look of the original has been replaced by a detailed aesthetic. It's one that boasts more graphical bells and whistles, though it still won't compete with top-line AAA games. There's also a better sense of scale between the vehicle and character models. For example, your first vehicle in Metal Max Xeno was a cartoonish tank that was about the same size as a compact car. The Reborn version hands you a properly-sized model of Japan's real-life Type 10 main battle tank. Your Iron Base home no longer looks like a huge LED-festooned PC tower. It is now a structure that blends in more with the game's post-apocalyptic setting of Dystokyo. The interior's been remodeled to one less reminiscent of a Mega Man Reploid base, as well. Similarly, the character cutouts used in dialog have been replaced with ones drawn by Gravity Rush artist Takeshi Oga. The original cutouts by artist Oda Non can still be unlocked by clearing the story. Though relatively minor in the grand scheme of things, these visual changes, combined with better-detailed environments and a longer draw distance in the field, help sell Reborn's more consistent sense of atmosphere. No one will mistake it for being "realistic," though. This is still a game where you can take that Type 10 MBT, outfit it with five cannons, and use them to blow away a giant dinosaur with missile launchers on its back.
The second most obvious change was leveled at Metal Max Xeno's combat system and vehicle controls. Vehicles now control similarly to ones in open-world titles, with acceleration and braking mapped to the shoulder buttons by default. Additional physics behavior has also been applied in some cases, with tanks and buggies handling noticeably differently when bouncing over Dystokyo's dunes. Don't expect the driving experience to hold a candle to the likes of a dedicated racer or even the 2015 Mad Max action game, but it does add a lot of character. There's also a great touch where your dog and any dismounted characters will ride atop the currently controlled vehicle.
The most famous thing about the series, which is Metal Max Xeno Reborn's combat, is mostly focused on vehicle engagements. You and your party are in various tanks, buggies, and even a few mecha. All enemies spawn directly on the field, roaming around and noticing your party as you drive past. Stay in an enemy's sights long enough, and it transitions to combat. However, rather than a separate battle screen, fights now happen in quasi-real-time, similar to some Final Fantasy games' ATB system. Once engaged, you can bring up the menu at any point and queue up a shot with your equipped weapons. You can also enhance your attacks with various skills learned through skill point allocation and leveling up.
The implementation of real-time movement and on-field foes adds an extra dimension to combat that wasn't there before: cover. It's now possible to move your vehicle behind buildings and convenient corners to block enemy fire or hide from their sight and break off combat. Once you get weapons with longer range you can even start sniping entire groups of foes, clearing whole maps without them ever noticing you. You can even cheese some boss enemies, as you can fire a shot, run around the corner to break contact, then go back and fire again, chipping away at their health. This is useful, as the enemies are tougher overall and your vehicles are more fragile. Especially if you stress their engines and thin their armor to fit a lot of heavy weaponry. Thankfully, dying poses little risk, simply dumping you back at Iron Base for a heal before heading back out. Some might resent the loss of the sense of struggle, but I personally enjoyed the more casual pace this enabled. Even with these accommodations and convenient fast travel and save-anywhere systems, it can still be a real grind. It can take a lot of time to gather up enough money, materials, and skill points to upgrade your tanks enough to take on the "Wanted" enemies, whose deaths are necessary to bring down the game's "Extinction Meter."
The Extinction Meter also demonstrates how the storytelling's been adjusted to accommodate Metal Max Xeno Reborn and its newfound appreciation for more freeform play. The meter represents how close humanity, represented by its last remaining stronghold in Iron Base, is to being annihilated by the Catastropus. That's a mechanical kaiju created by Noah, the AI that decided mankind was Earth's biggest problem. Your job as Iron Base's newest and only hunter is to to bring that meter down by destroying Catastropus' minions, accomplishing quests, and killing off the Wanted monsters that form the forefront of Noah's ongoing assault on humanity. The Extinction Meter was present in the original release, but didn't mean much since the whole game was pretty linear. Now the meter rises in semi-real time, ticking up if you while away the days without killing off a Wanted monster or progressing through the main story. It's not a time limit. You'd have to deliberately try to not play the game and just rest constantly to induce a fail state, but it is an interesting reflection of your actions. Especially since you have more freedom to determine where you go and in what order you tackle the challenges before you.
What storytelling and world-building Metal Max Xeno Reborn does is concentrated in the few survivors you find and bring back to Iron Base. They're mostly bleak fragments of backstory doled out in conversation. Cutscenes are few and far between, and character relationships are generally left at the surface level. Hilariously, getting into a romance ends the game, leaving you to reload the last save. Kadokawa Games rightly realized that some games are better served by a story that gets out of your way and has tuned Xeno Reborn to reflect that philosophy.
Unfortunately, a philosophy that could have been better reflected by Metal Max Xeno Reborn is one that prioritizes a smooth user experience and player onboarding. Despite years of work and what amounts to a comprehensive overhaul, Metal Max Xeno Reborn is as janky as the ramshackle wasteland buggies you drive across the ruins. Driving physics have been improved, but the environment is full of invisible walls and unclimbable barriers that stop your 30-ton tank dead in its tracks because it clipped the corner of a random rock. Many critical functions are buried behind multiple menus and vague item or skill descriptions. Further, the localization suffers from oversights in editing, like inconsistencies, spelling errors, and odd word choices. It's not unplayable, but it amounts to a set of new problems introduced by the effort solve the problems of the original release. A step back despite the multiple steps forward accomplished by the reboot.
Nevertheless though, these issues are relatively easy to overlook in light of the fact that there's really nothing quite like Metal Max Xeno Reborn in the JRPG space. It may still be a bit spartan and feel undercooked compared to its better-known, more lavishly produced contemporaries, but its focus on vehicle combat and spare, understated storytelling makes it unique and rarely boring. Appreciating what Metal Max Xeno Reborn does in spite of itself feels kind of like digging an old relic out of a pile of junk, dusting it off, and finding that it's still got some life in it. It's not quite a treasure, but it's farther from being trash than it's ever been.
Metal Max Xeno Reborn is available for the PS4, PC, and Nintendo Switch. Metal Max Xeno is available for the PS4.
The post Review: Metal Max Xeno Reborn is the Definitive Version of Dystokyo appeared first on Siliconera.
---
Siliconera Monday, June 20, 2022 2:00 PM
Dusk Diver 2 Release Date Set
We now know the Dusk Diver 2 release date. Idea Factory International confirmed it will bring the game to North America and Europe on August 30, 2022. Previously, the game had a general Summer 2022 release window.
There's also a new trailer to accompany the announcement. People can see Yang Yumo again attempt to save the world. The video begins with a bit of exposition. It also shows Yumo running through the streets while she's being watched. She again finds herself facing Chaos Beasts. From there, the trailer shows how the action-RPG works. People can see Yumo, Leo, Le Viada, and Bahet fight enemies.

As a reminder, the launch edition of Dusk Diver 2 will come with bonus items. In North America, the $49.99 version comes with a soundtrack CD and art book. Pre-orders already opened for it there. However, the European pre-orders aren't open yet. Idea Factory International hasn't announced when they will be available.
The North American and European release date for Dusk Diver 2 is August 30, 2022. It will come to the Nintendo Switch, PlayStation 4, and PlayStation 5 . It is immediately available in Japan. People can already get the PC version of Dusk Divers 2 worldwide via Steam.
The post Dusk Diver 2 Release Date Set appeared first on Siliconera.
---
Siliconera Monday, June 20, 2022 1:00 PM
Square Enix shared more Final Fantasy VII Remake art and images on Twitter. This time, it also references Crisis Core FFVII's Banora. When Cloud is heading from the train station to the Mako Reactor in the beginning of FFVII Remake, Banora White apple juice advertisements appear. The latest concept art drop offers a closer look at these materials.
The backstory regarding Banora White apples and apple juice comes up during Crisis Core FFVII. As Zack is going about the adventure, he learns that fellow Soldier 1st Class Genesis Rhapsodos is from the town where they are grown. Genesis is the one who created the drink. They're also called dumbapples in-game.
As for the FFVII Remake art, there are two pieces of Banora White apple juice promotional material. The first is the poster. This appears in multiple locations in-game. Though it is most obvious during the introduction. It shows a young woman drinking the juice. The second piece of art looks more like a label and features a better look at a dumbapple.
This latest share comes after the reveal that Crisis Core FFVII is coming back. During the 25th anniversary stream, Square Enix announced a Reunion version of the game would appear on all current platforms. This version of the game will feature things like new character models and a changed UI.
Final Fantasy VII Remake is available on the PlayStation 4, while FFVII Remake Intergrade is available on the PlayStation 5 and PC via Epic Games Store and Steam. The Crisis Core FFVII Reunion remaster will appear on the Nintendo Switch, PS4, PS5, Xbox One, Xbox Series X, and PC in Winter 2022.
The post FFVII Remake Banora White Apple Juice Promotional Materials Shared appeared first on Siliconera.
---
PC Invasion - FeedDDD Monday, June 20, 2022 2:00 PM
When it comes to FromSoftware games, there's usually plenty left on the cutting room floor. As is the case in a lot of games, actually. Elden Ring is no different either, and now a cut questline involving everyone's favorite merchant has been discovered. At this point, it's clear that Elden Ring has a ton of cut content left to discover. As spotted by Eurogamer, Elden Ring's latest piece of cut content was discovered and restored by dataminer Sekiro Dubi. You may remember them as the one who delved deeper into the mysterious colosseums dotted around the map. This time around they've managed to restore an entire questline for a character after months of hard work. Another cut questline in Elden Ring The cut questline is centered around Merchant Kalé, the first merchant most players are likely to meet in Elden Ring. Beyond having a few useful items for sale, Merchant Kalé doesn't have a very big role in the game. However, the cut questline ind...
---
PC Invasion - FeedDDD Monday, June 20, 2022 1:05 PM
As soon as Call of Duty: Warzone launched, cheating became a huge problem in the battle royale. So far, measures to combat cheaters have included multiple ban waves, the introduction of cloaking, which allows players targeted by a cheater to turn invisible, and more. As the fight continues, Activision has upgraded its Ricochet anti-cheat with another mitigating feature. Cheaters will now be disarmed in Warzone, and it's quite amusing for us legitimate players to see. Activision explained the new Ricochet Disarm feature for Call of Duty: Warzone in a blog post. Cheaters having lethality and the potential to ruin another player's game is the main and most frustrating issue. Therefore, the solution is to take everything away from cheaters. Once a cheater is detected in a match, they'll lose all their weapons, even their fists. A clip is provided on the blog post to show the Disarm feature in action. As you can see, the cheater is moving around before getting their weapon...
---
Player Assist | Game Guides & Walkthroughs Monday, June 20, 2022 6:05 PM
Pokemon Legends: Arceus is set in olden times in the Pokemon world when it was rare to find harmony between people and Pokemon. Set in the Hisui region, modern-day Sinnoh, you will join the Galaxy Expedition Team (Galaxy Team for short) as a member of the Survey Corps stationed in Jubilife Village. You will be […]
---
Player Assist | Game Guides & Walkthroughs Monday, June 20, 2022 5:00 PM
Smoke here, smoke there, smoke everywhere. Here is how to play VALORANT's designated smoker Agents. Controller Agents are equipped with abilities that can help them secure various areas around maps with relative ease. These agents work best when they can stay alive and use their abilities to help their team and limit the enemies' options. […]
---
Player Assist | Game Guides & Walkthroughs Monday, June 20, 2022 4:00 PM
Is dungeon-crawling starting to feel a little too easy? Challenge yourself by increasing game difficulty in Diablo Immortal. Forget the typical Easy, Normal, and Hard difficulty levels found in most games on the market – Diablo Immortal gives players five additional difficulty levels to shoot for in the endgame. Completing the Main Campaign is the […]
---
Player Assist | Game Guides & Walkthroughs Monday, June 20, 2022 3:00 PM
The Raiden Shogun, her Excellency, the Almighty Narukami Ogosho, and the one who promised the people of Inazuma an unchanging Eternity is none other than the Electro Archon. It is known through tales that the Raiden Shogun is a warrior who slew many gods and conquered other races. Her true name is "Raiden Ei" Before […]
---
Player Assist | Game Guides & Walkthroughs Monday, June 20, 2022 2:00 PM
We've seen Pearl's map layout and a few things that struck us the most – the number of corners, lanes, and cubbies scattered around the map. Pearl is due for release in just a few days (June 22), and if you've seen some of the leaks and teasers around VALORANT's newest map, you probably already […]
---
Player Assist | Game Guides & Walkthroughs Monday, June 20, 2022 1:00 PM
One of the Shrines in The Legend of Zelda: Breath of the Wild is the Gee Ha'rah Shrine or the Tandem. This shrine requires Link to overcome various puzzles that involve pushing large buttons using concrete spheres hanging from the ceiling to access certain parts of the shrine, reach the altar, and complete the shrine. […]
---
Player Assist | Game Guides & Walkthroughs Monday, June 20, 2022 12:02 PM
So you want to crawl dungeons in high-res and smooth framerates? Diablo Immortal on an Emulator is the key. This guide will show you how to play Diablo Immortal on Emulators. Diablo Immortal is out now on iOS, Android, and PC. Now you are probably wondering: "Wait. What? Diablo Immortal, a mobile game, is also […]
---
Gaming Instincts – Next-Generation of Video Game Journalism Monday, June 20, 2022 4:59 PM
---
Gaming Instincts – Next-Generation of Video Game Journalism Monday, June 20, 2022 3:56 PM
---
Gaming Instincts – Next-Generation of Video Game Journalism Monday, June 20, 2022 3:06 PM
---
Gaming Instincts – Next-Generation of Video Game Journalism Monday, June 20, 2022 2:45 PM
---
Gaming Instincts – Next-Generation of Video Game Journalism Monday, June 20, 2022 2:21 PM
---
Pivotal Gamers Monday, June 20, 2022 2:40 PM
What's up all? MMOBomb is giving you the chance to win on World of Warships. Their message follows. Wargaming and MMOBomb have partnered up to get our users a free gift pack key with in-game items for World of Warships including old and new Players. A few words about World of Warships World of Warships is a free to play MMO game, centered on epic naval battles during the World War II era. Yo...
---
Pivotal Gamers Monday, June 20, 2022 1:05 PM
What's up all? We have another remarkable offer from itch.io for Blades Adrift. This is what they say. Get Blades Adrift for FREE! A few words about Blades Adrift After dying in battle you are sent to the 10 layers of warrior limbo with nothing but your blade and bow… With precision, speed, skill and tactical decision will you make your way to the heaven of warriors or be trapped in li...
---
MonsterVine Monday, June 20, 2022 12:00 PM
Souldiers can be a fun and creative exploratory platformer, but the Switch version is bogged down by quite a few intense technical issues and brutal load times. These could be improved going forwards, but for now, they make recommending Souldiers a bit difficult. Souldiers Developer: Retro Forge Price: $20 Platform: PS4, PS5, Xbox One, Xbox […]