---
Kotaku Saturday, December 4, 2021 5:50 PM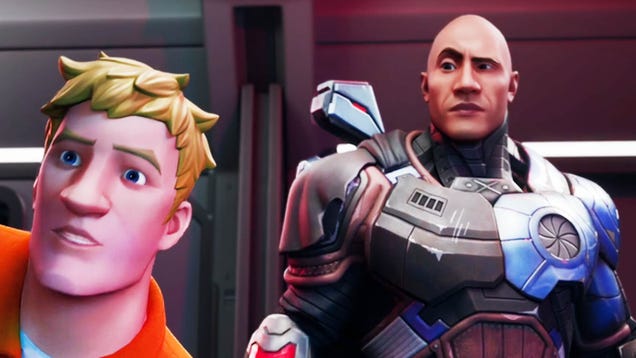 After months of speculation and a sly Instagram tease, Dwayne Johnson is revealed as the voice of The Foundation in the dramatic conclusion to Fortnite chapter two. Watch The Rock turn the entire island upside-down, literally.
---
Kotaku Saturday, December 4, 2021 4:15 PM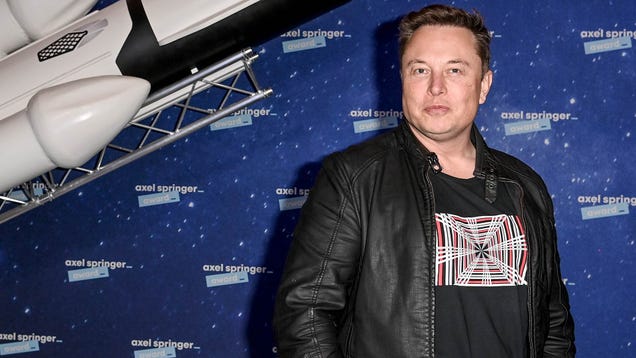 Grimes released a new song off her upcoming album Book 1. The track is titled "Player of Games" and appears to be a not-so-subtle song about the musician's four-year relationship and recent break up with 50-year-old Tesla CEO and internet troll Elon Musk.
---
PCGamesN Saturday, December 4, 2021 5:56 PM
Fortnite Chapter 3 launches in just a few days and now we have a good idea of what it'll look like. A leaked Fortnite Chapter 3 Battle Pass trailer has hit the internet, revealing some major map changes, modes, skins - and at least two major crossovers for Marvel's Spider-Man and Gears of War.
The whole of the year-long Fortnite Chapter 2 comes to a crashing conclusion tonight with a big ending event cunningly titled "The End", after which Epic Games will presumably debut the first details and trailer for Chapter 3 - which launches on December 6.
Despite Epic asking the community not to leak any Chapter 3 info - and then proceeding to accidentally leak part of the trailer itself in a TikTok ad - the full Battle Pass trailer for Fortnite Chapter 3 Season 1 has completely leaked online ahead of The End event. The trailer reveals massive changes coming to the game, including a completely revised map, new locations, new skins, a racecourse, a giant statue of Dwayne "The Rock" Johnson's character The Foundation, and at least two major collabs.
Fortnite V-Bucks
,
Fortnite Skins
,
Fortnite Creative Codes
---
Rock Paper Shotgun Latest Articles Feed Saturday, December 4, 2021 5:31 PM
A side effect of fatherhood is that I now see everything through my five-year-old's eyes. Hot Wheels Unleashed is, to me, most likely a middling racing game and lesser Trackmania - but then, if I think about it, I know my kid would love it.
Hot Wheels Unleashed's Batman expansion, featuring a handful of cars and a Batcave? To me, meaningless licensed tie-in. But my kid... My kid must never know this exists.
---
Rock Paper Shotgun Latest Articles Feed Saturday, December 4, 2021 4:43 PM
It feels at times as if, over a long enough timeline, all first-person shooters trend towards becoming the same game by cribbing modes from one another. Case in point: Quake now has a horde mode. It comes as part of a new update for Quake Remastered, Bethesda's recent spit-and-polish of the classic 3D shooter. The horde mode is made by MachineGames for 1-4 players - and the update also includes a new (or "new") singleplayer add-on.
---
Rock Paper Shotgun Latest Articles Feed Saturday, December 4, 2021 4:26 PM
Despite being a Forza Horizon 4 mega fan and having played it three times, I've yet to dig into Forza Horizon 5. I'm relishing the experience of still having it to play, like keeping a big chocolate bar on a high shelf in case of an emergency.
When I do decide to head down Mexico way, I'll get a better experience for having waited. Playground Games' second patch for the game went live this week, bringing tons of fixes.
---
Rock Paper Shotgun Latest Articles Feed Saturday, December 4, 2021 4:10 PM
'Tis the season of charity bundles, in which developers urge you to perform the generous act of giving their videogames a new home in exchange for a fraction of their true value. Next up: a bundle of 66 games on Itch.io. Are you big hard-drived enough to let A Good Snowman Is Hard To Build, Old Man's Journey, Lieve Oma, A Normal Lost Phone, Secrets Of Raetikon, Cosmic Express, Fugl, Botanicula, Hacknet, The Stillness Of The Wind, The Hex - *deep breath* - Art Sqool, Hidden Folks, Cloud Gardens, Signs Of The Sojourner, Wide Ocean Big Jacket, Coffee Talk, Ynglet and many more onto your computer?
Go on, have a heart. It'll cost $5 and 100% of the money goes to the World Land Trust.
---
Rock Paper Shotgun Latest Articles Feed Saturday, December 4, 2021 3:38 PM
The Steam Deck has been delayed until February 2022, but a new update from Valve says that they've now completed their final prototype of the handheld PC before it enters full production.
They're now sending out a new wave of dev kits to creators, and as part of that they're also testing their final packaging. That includes the neat-looking case pictured above.
---
Twinfinite Saturday, December 4, 2021 7:25 PM
---
Twinfinite Saturday, December 4, 2021 3:30 PM
---
Twinfinite Saturday, December 4, 2021 3:27 PM
---
Twinfinite Saturday, December 4, 2021 2:43 PM