---
Kotaku Friday, April 1, 2022 7:25 PM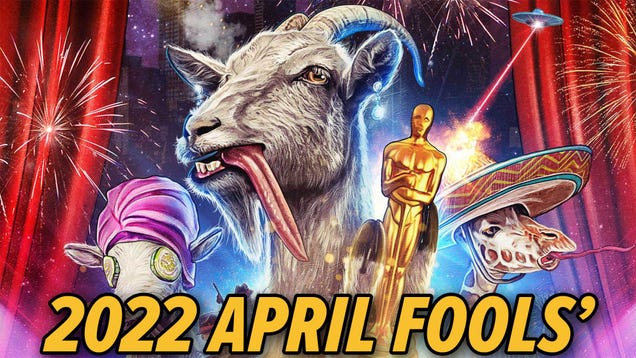 ---
Kotaku Friday, April 1, 2022 4:40 PM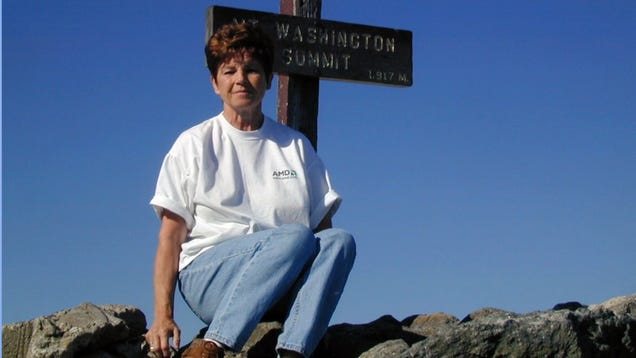 WowGrandma78, the elderly streamer who's been broadcasting on the platform since January 2020, celebrated her 80th birthday last month. To honor her eight decades around the sun, WowGrandma78 is hosting a multi-day sub-athon on Twitch, which entered day 15 as of this writing. It's unclear whether she plans to stop…
---
Kotaku Friday, April 1, 2022 4:25 PM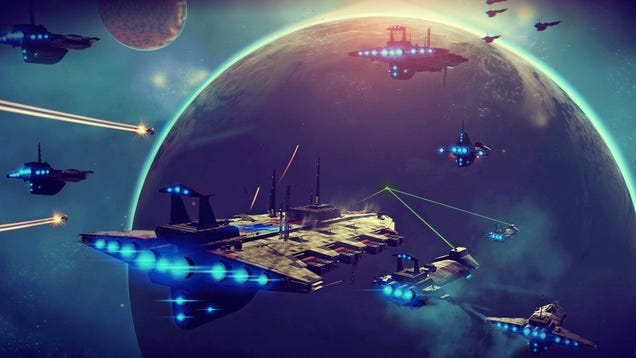 18 quintillion planets, and you still can't get away from the worst people on Earth. To wit: The central nexus of No Man's Sky, a region of charted space known as the Galactic Hub, was recently menaced by a troll who players say is a "neonazi." Developer Hello Games has banned the griefer, permanently, but players…
---
Kotaku Friday, April 1, 2022 4:10 PM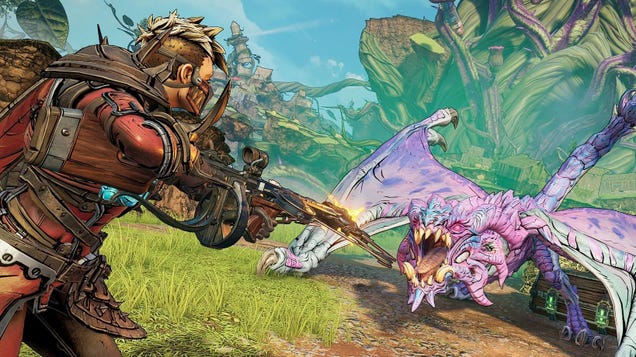 Loot shooter series Borderlands is about picking up a shiny new gun one minute and throwing it away for something more powerful the next. TIny Tina's Wonderlands continues this trend, but with a few added wrinkles that can end up trolling unsuspecting players who aren't paying close enough attention.
---
Kotaku Friday, April 1, 2022 3:48 PM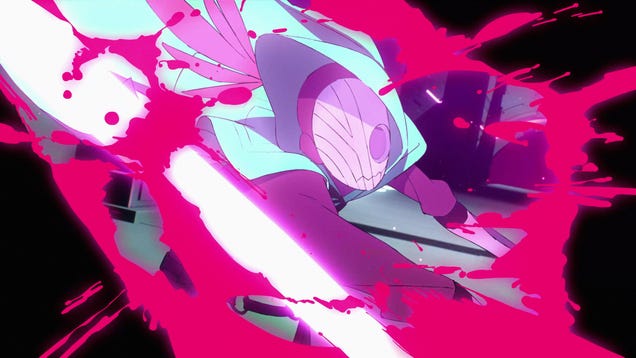 It's been nearly nine years since the evocative pixel-art action RPG Hyper Light Drifter first took my breath away in its Kickstarter teaser. Now developer Heart Machine has a successor planned and it's just around the corner. It's called Hyper Light Breaker, it will be 3D instead of top-down, and it's coming to Steam…
---
Kotaku Friday, April 1, 2022 2:10 PM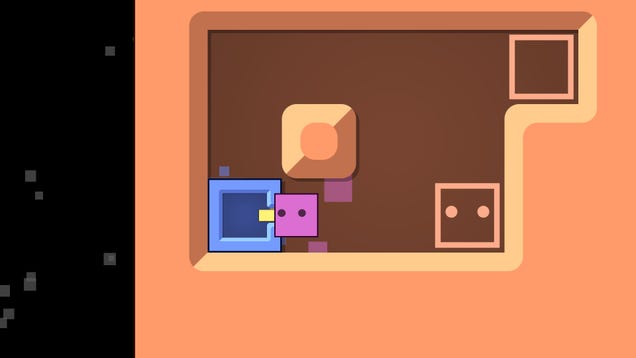 The best moment of any good puzzle game is when it rewires your brain and you suddenly feel like the smartest person in the world. That moment when you look at a puzzle and think to yourself, "Oh…that would work!" and then it actually does and you feel amazing. But a great puzzle game should also be filled with…
---
PCGamesN Friday, April 1, 2022 7:24 PM
Final Fantasy XIV players have been waiting for more Hrothgar hairstyles for ages. The catlike folks have tended to have more limited cosmetic options than other playable races - we're still awaiting female Hrothgar, too - so today's reveal of new hairstyles had fans of the MMO excited. Until the devs actually showed off those hairstyles, that is.
You can see an example above, but suffice to say, something about that hair with those leonine faces just doesn't quite seem right. Live Letter 70 happened to land on April Fools Day, and that's led some players to speculate - or hope - that these looks are, in fact, pranks. But there's no real indication here that that's the case.
A big part of why these hairstyles seem so uncanny is down to the ears. Or, rather, the lack of them. Director Naoki Yoshida provided a few comments on that in the livestream, as translated by iluna minori of the FFXIV Discord. Yoshida says the "ears and the head are integrally moulded" for the Hrothgar, so the team has "no choice" but to implement the hair this way.
The best MMOs on PC
,
FFXIV Reaper job guide
,
FFXIV Sage job guide
---
PCGamesN Friday, April 1, 2022 5:51 PM
There have been more than a few Pokémon-like indie games over the years, but Coromon has had us charmed since we got to play an early version last year. Now it's available on Steam, and it looks to be charming everyday players, too - it's hit SteamDB's trending games list, and is enjoying a warm reception from early player reviews.
The devs bill Coromon as a "modern take on the classic monster-taming genre" and a "tribute to the classics of this RPG sub-genre". Which, uh, yes. That definitely means it's a Pokémon game. This is a top-down JRPG where you collect monsters as you adventure through a lengthy single-player story, and can then build a powerful team to challenge your friends with.
Coromon has features like randomisers and a Nuzlocke mode built in to please hardcore Pokémon fans, as well as a variety of difficulty options to tailor the experience however you like. It launched just yesterday, but it's already enjoying a 'very positive' rating from early Steam user reviews, which compare it favourably against its more famous Nintendo-published big brother.
---
PCGamesN Friday, April 1, 2022 5:48 PM
The Death Stranding Director's Cut has arrived, and if you've played the original edition, you may have been tempted by the low price tag on the Director's Cut upgrade. However, since the Director's Cut shows up in your library as a separate game, you might think you've got to start Sam's journey all over again. Fortunately, there's a solution. Here's how to export your old save files from Death Stranding and use them in the Director's Cut.
To export your save, you'll need to launch the original Death Stranding and load the file you want to move over to the new Director's Cut edition. Once you're in, head to any delivery terminal, which you'll find located in all the facilities scattered around the open-world game. Open your cuff links, and select system, and then select "export save data."
You'll save a new copy of your file to your PC's local storage. At this point, you can launch Death Stranding Director's Cut, and select "Load game (Death Stranding save data)" on the title screen.
Death Stranding PC release date
,
How long is Death Stranding
,
Death Stranding Steam
---
PCGamesN Friday, April 1, 2022 4:17 PM
The Halo show, starring The Wire actor Pablo Schreiber as Master Chief, Jen Taylor as his AI assistant Cortana, and Natascha McElhone as Dr. Catherine Halsey, aired its first episode, 'Contact,' on March 24 on the premium Paramount+ service. That debut episode has now been made available to watch for free on YouTube for users in the United States.
While this is only a tease of the full series, which has already been renewed for a second season prior to its debut, it does mean people will easily be able to see the much-talked about choice to show Master Chief's face in action. Previously, John-117's face has always remained hidden or obscured in the games during scenes where his helmet was removed, keeping his features ambiguous.
343 Industries community manager Alex Wakeford discussed this decision at length in a breakdown of the first episode (which should be avoided before watching the episode in question if you're worried about potential spoilers). Wakeford called the decision "not a plot point… it's a mission statement," speaking to the creative team's desire to emphasise the humanity of the iconic Spartan.
Halo Infinite release date
,
Halo Infinite system requirements
,
Halo Infinite ranks
---
PCGamesN Friday, April 1, 2022 4:05 PM
Rejoice, Graveborn Fatemakers! The first hotfix for Tiny Tina's Wonderlands is out today, and it includes a welcome buff to the fantasy game's Dark Magic damage type. Going forward, Dark Magic damage will better match other elemental damage types you can find on all the best Tiny Tina's Wonderlands weapons.
In Wonderlands, Dark Magic returns a percentage of the damage it deals to enemies back to the player who caused it, essentially working as a lifesteal effect. In theory, that's a great element to invest heavily in if you're playing a squishier character, since it adds some survivability during firefights. However, players reported that the amount of life they were stealing wasn't keeping up with the punishment they'd take in combat.
Hotfix 1.0.1.0b addresses this issue to bring Dark Magic in line with other elemental scaling on weapons. The patch also includes updates to legendary spells - they'll now show up in a colour that matches their element type and with an icon that matches their casting style when you look at them in item inspection.
Tiny Tina's Wonderlands review
,
Tiny Tina's Wonderlands legendary weapons
,
Tiny Tina's Wonderlands best builds
---
PCGamesN Friday, April 1, 2022 2:12 PM
You've played Doom Eternal with ray tracing, you've played Quake 2 with ray tracing, and now it's time to reach even further into the past and play the original 1993 Doom with ray tracing. Yes, today is April Fools Day, but this falls into the best category of April 1 gags - a sudden update that brings a cool, weird, and very real new feature to a classic game.
Modder sultim-t has added real time path tracing to the PrBoom source port of the original Doom, which will let you enjoy the beauty of bleeding-edge lighting techniques through the game's first three episodes. You can download sultim-t's modded PrBoom for yourself on GitHub, though you will, of course, need to provide your own copy of the DOOM.wad file.
The results are… weird, but undeniably striking, as you can see in the trailer below. The simple textures and basic geometry of these old levels help the advanced lighting stand out even better than it does when applied to more complex modern games.
Doom PC release date
,
Play Doom
---
PCGamesN Friday, April 1, 2022 2:06 PM
There are countless ways for dwarves to get themselves injured in Dwarf Fortress, and thanks to the upcoming graphical Steam version of the subterranean management game, you'll be able to see some of that in rather grisly detail. But you'll also be able to easily review each dwarf's medical records, thanks to some welcome updates the developers are making to the menu systems.
Dwarf character sheets in the Steam edition of Dwarf Fortress are going to be much more usable than in the old ASCII-based DOS version. You can pull up a sheet for each dwarf in your settlement, and look over tabs for personality, health, thoughts, and loads more. One tab gives you an in-depth look at each of a dwarf's relationships and how they've impacted their life.
You'll also be able to review not only a comprehensive list of wounds and ailments a dwarf has suffered, but also a complete history of the treatments they've received. As Dwarf Fortress creator Tarn Adams outlines in the latest Steam update, you might notice that a dwarf has various sutures included in their personal items - and a trip over to the health history tab will reveal when these were done and by whom.
---
PCGamesN Friday, April 1, 2022 4:03 PM
The latest Minecraft snapshot is here, and it's a good one. Each snapshot shows off new features, mobs, building types, and whatever else the devs feel like. It's a good way to test out how the proposed updates interact with the game without disrupting people too much, and the 22w13a snapshot adds in the adorable Minecraft allay mob.
The allay is a new creature that is a sort of adorable blue sprite. They're not just friendly, but actively useful too. You can hand them items, which will gain you a new friend who will help collect that item from the nearby area. They're an oddity, for sure, but we think they'll rapidly become one of the internet's favourite mobs.
You can see how much potential they have as partners by looking at how great they look while holding a book, but you can also see other uses by looking at how they act in the dark. We're sure to see more examples of players using them and their unique characteristics soon too.
Minecraft console commands
,
Minecraft skins
,
Minecraft mods
---
PCGamesN Friday, April 1, 2022 2:05 PM
April Fools 2022 is here, and that means squinting at everything that flashes across your screen as you try to decipher what's fact from fiction. That's not unlike a typical day on social media, mind you, though it's a really tough time if you practise the humble trade of news regardless. The Friends set has come to House Flipper, everyone in Among Us is now a horse, and Steve-O is directing a movie musical based on Goat Simulator. If you told me that last one on any other day, I'd probably still believe you.
The land of hardware isn't exactly safe, either. Razer is up to its usual tomfoolery with a vibrating suit that looks like it belongs on the set of the next Tron movie, Kingston wants to tap into your emotions in order to power its RGB lighting, Corsair's done away with all those useless keys your keyboard has by making a 1%, and OverclockersUK has yeeted RGB out the window entirely by revisiting the land of beige gaming PCs.
Anyway, we need somewhere to dump all the duds we've stumbled across during our trips down to the news mines. So without further adieu, here are the best April Fools jokes across PC gaming and hardware in 2022.
PUBG new map
,
PUBG weapons
,
Play PUBG
---
Rock Paper Shotgun Latest Articles Feed Friday, April 1, 2022 2:19 PM
Steel yourself for more stylish exploration and violence next year with Hyper Light Breaker, a follow-up (but not a sequel) to 2016's Hyper Light Drifter. The "action rogue-lite adventure" will explore a new land in the same world, and this time in fancy 3D-o-vision. Plus, online co-op! Check out the announcement trailer below.
---
Twinfinite Friday, April 1, 2022 8:04 PM
New additions and changes will be coming in the upcoming Season 2 for Halo Infinite, developer 343 Industries announced in a Halo Waypoint blog post today. The blog post details much of the feedback given during the game's first season, and how the studio plans to implement desired features or fixes into the game. As […]
---
Twinfinite Friday, April 1, 2022 7:55 PM
Today Microsoft and third-party developers had news to share about Microsoft Flight Simulator and its add-ons.
---
Twinfinite Friday, April 1, 2022 4:35 PM
Today Square Enix released a new trailer of the upcoming Mana mobile game Echoes of Mana, showing gameplay, characters, and more.
---
Twinfinite Friday, April 1, 2022 4:29 PM
Last week, the official website for Masamune-kun's Revenge confirmed that the anime had been renewed for a second season. Today, just a little while after an April Fools prank regarding a third season, a brand new promotional trailer for the sophomore season of the anime has been released. You can check out the trailer and […]
---
Twinfinite Friday, April 1, 2022 4:16 PM
Kirby and the Forgotten Land on Nintendo Switch I've been a big Kirby fan for a while now; he's always been my main in Smash (down b brick spam 4-life), and previous games have always been simple yet enjoyable. Despite also being pretty easy itself, Kirby and the Forgotten Land is the first time I've […]
---
Twinfinite Friday, April 1, 2022 4:10 PM
Paramount+'s Halo television show is now in full swing, already featuring plenty of action between The Master Chief and the alien Covenant race. While the combat is thrilling and intense, something seems like it is missing. After you watch the edited clip of lore accurate weapon sounds below, you'll know exactly what that missing element […]
---
Siliconera Friday, April 1, 2022 3:00 PM
We here at Siliconera aren't much for tricks — after all, we're a news site! — but April 1 is still a great time to be a little silly. So let's talk about our most foolish game moments! When in games have you made the biggest mistakes? Or overlooked obvious solutions? Here are some of our lowlights.
---
I love to speedrun Resident Evil games. Specifically Resident Evil 0! And anyone who knows about infamous "one shot" or "instakill" enemies within the franchise can probably already predict what this foolish moment might be.
I was practicing the knife-only no-save category, well aware that there was a chance a frog might completely end the run. Which happened to potentially be my personal best! And lo and behold... I took the risk of crossing a bridge where one of these infamous enemies spawn, and lost my entire run of under two hours to getting eaten by a frog.
This could have been completely avoided too! Now I'm a lot more cautious when running the game. — Kazuma
I probably have a brand-new foolish gaming moment every time I turn on a console. I've gotten rid of extremely precious items because I was mashing the X button out of impatience, bought region-locked items without taking into consideration if I could even use them, and utterly failed at math puzzles. You name it, I've probably somehow managed to do it!
But the one that stands out to me the most is when I was in seventh grade. I started up a new Final Fantasy X save file to test my friend's claim that you could somehow defeat Geosgaeno when you first encounter it. (Spoiler alert: You can't.) "Oh, it didn't work. Maybe I'll try again," I thought, so I went to a save point and started mashing X as per usual, only to save over a file I had that was right at the final dungeon. Cue me losing a year's worth of progress.
I didn't beat FFX until the remaster! I was just too in shock from that. You'd figure, then, after such a horrible accident, that I no longer mash buttons so fast when in menu screens. Unfortunately? I still do. — Stephanie
I like to think I'm a careful, methodical sort of person. (Perhaps to a fault?) But I did have my foolish game moments when I was younger. One that sticks with me? My first play of a Japanese Fire Emblem game. I had just grabbed my first Super Famicom imports, including a copy of Mystery of the Emblem, and I wanted to play! So what if, uh, I hadn't learned much Japanese yet? I can figure out menus!
So I started the first map. And I moved my units from the east side of Talys to the enemies in the west. I walked Jagen up to the first foe — he got there the fastest — and selected a weapon to attack. Except... nothing happened? So I tried again, this time using the other weapon because it was the only option. Nothing happened again! Because... I was throwing them away instead of attacking with them.
I waited a few years (and took some more Japanese courses) before trying again. — Graham
---
What are your most foolish game moments? Let us know in the comments or on Twitter! And read our other handy roundtables for more thoughts from the Siliconera team.
The post Our Most Foolish Game Moments appeared first on Siliconera.
---
Siliconera Friday, April 1, 2022 2:30 PM
Bandai Namco revealed a That Time I Got Reincarnated as a Slime Pac-Man crossover game for April Fools' Day. People can play Maoryu x Pac-Man in their browsers. It is free-to-play and will presumably be online until April 2, 2022.
In particular, the That Time I Got Reincarnated as a Slime Pac-Man is designed to promote the mobile game Isekai Memories. Instead of Pac-Man, people send Rimuru around the map after ghosts. Instead of Power Pellets, there are Hipokute Herbs. The typical fruits are replaced with other items. Also, if you manage to beat level 4, you will see a little event scene with Rimuru, Milim, Shuna, Shion, and Benimaru as they're chased by ghosts. If you clear the game, Ranga also shows up.
The SlimeIM x PAC-MAN collaboration is now on!

Play it now: https://t.co/hLmYEkLY7N
Download today: https://t.co/7G6YsQ7NDD

*Not currently recommended on iOS 15.4 pic.twitter.com/a5kyfK9cep

— Bandai Namco US (@BandaiNamcoUS) April 1, 2022
As for how Isekai Memories normally looks, people can watch the trailer to see gameplay footage. People can encounter and recruit various characters from the series and fight alongside them.
That Time I Got Reincarnated as a Slime: Isekai Memories is available for mobile devices. The crossover Pac-Man game is playable in browsers on April 1, 2022.
The post That Time I Got Reincarnated as a Slime Pac-Man Game Appears appeared first on Siliconera.
---
Siliconera Friday, April 1, 2022 2:00 PM
Classic mecha anime Tengen Toppa Gurren Lagann first aired in Japan on April 1, 2007. Thus, Good Smile Company's announcement of a new figure set to commemorate the series' 15th Anniversary was not, in fact, an April Fools' Day 2022 prank. The The Gattai Infinite Combining Gurren Dan Lagann figure set is a real product. It has a product page on Good Smile's online store. Its pre-order period will last until June 2, 2022. Its estimated release window is November 2022.
Check out a promo video for the figure set below.
https://www.youtube.com/watch?v=Ts2ohxbwd2k&
The Infinite Combining Gurren Dan Lagann figure set's design is based on a combination of the nine "Gunmen" mecha making up Team Dai-Gurren (a.k.a. "Dai Gurren Dan" in Japanese). The first two mecha are actually a single figure. There's the Gurren Lagann, a combo of Kamina's and Simon's mecha. The others are Jorgun and Balinbow's Twinboekun, Zorthy's Sawzorthn, Kid's Kiddknuckle, Iraak's Einzer, Makken's Mo-Shogun, Dayaka's Dayakkaiser, and Kittan's King Kittan Deluxe. The whole team combines to make a bigger, much more powerful Gunmen called Gurren Dan Lagann.
The figure is articulated and can strike various poses. One shown is the iconic Giga Drill Breaker super move. The core figure stands about 150mm tall (about 5.9"). The combined figure stands at 240mm tall (about 9"). The set includes multiple drill-shaped effect pieces and chest pieces shaped like Kamina's angular shades. Other than the Gurren Lagann, the other Gunmen have some amount of articulation as well.
Good Smile Company also posted a video featuring Youtuber wotafa showing off a completed prototype of the figure set. This trailer demonstrated the combination gimmick.
https://www.youtube.com/watch?v=WUf3sXViouI
The Gurren Dan Lagann figure set is available to pre-order until June 2, 2022. The full set costs ¥24,900/$248.99. The series is available to stream on Netflix and Hulu. The Gurren Lagann also made a cameo appearance in Hardcore Mecha for the Switch and PS4.
The post Gurren Lagann Gurren Dan Lagann Figure Set Announced appeared first on Siliconera.
---
Destructoid Friday, April 1, 2022 9:00 PM
---
Destructoid Friday, April 1, 2022 7:00 PM
Welcome to a dystopian take on New Orleans When I played a preview of NORCO last year, I was tentatively...
The post Review: NORCO appeared first on Destructoid.
---
Destructoid Friday, April 1, 2022 6:00 PM
---
Destructoid Friday, April 1, 2022 5:30 PM
---
Destructoid Friday, April 1, 2022 5:00 PM
---
Destructoid Friday, April 1, 2022 4:30 PM
---
Destructoid Friday, April 1, 2022 3:30 PM
---
Destructoid Friday, April 1, 2022 3:00 PM
---
Destructoid Friday, April 1, 2022 2:30 PM
---
Destructoid Friday, April 1, 2022 2:00 PM
---
PC Invasion - FeedDDD Friday, April 1, 2022 8:30 PM
Remember Margit, the Fell Omen? You should, as he was likely the first main boss you ever faced in Elden Ring. Well, turns out he was playing around in your initial encounter. Now, in Leyndell, near the mighty Erdtree, you meet his true form. Morgott, the Omen King is a main boss of Elden Ring, and here's how you can beat him (again, technically). Note: For more information, check out our Elden Ring guides and features hub. Elden Ring boss guide – How to beat Morgott, the Omen King Morgott uses some of the same moves he did before, but has a lot more nasty surprises in store. He isn't messing around, this time. Morgott hits like a truck, uses Incantations, and even gets new behaviors and moves after half his health is gone. But he isn't unbeatable. Elden Ring Morgott, the Omen King boss fight Morgott shatters his cane, revealing his Cursed Sword. Prepare for slash attacks, while also dodging his usual holy hammer, sword, and throwing knives. He's ...
---
PC Invasion - FeedDDD Friday, April 1, 2022 6:30 PM
Malenia, Blade of Miquella is an optional boss fight in Elden Ring, but one you shouldn't miss. She'll likely go down in history as one of the toughest fights in Elden Ring, but also the most memorable. I mean, who can possibly get her catchphrase out of their head? After hearing it 125 times? Hopefully, this handy guide will help you figure out how to beat Malenia, Blade of Miquella — that way it won't be 126. Note: For more information, check out our Elden Ring guides and features hub. Elden Ring boss guide – How to beat Malenia, Blade of Miquella I cannot overstate that the Malenia fight is one of the hardest scraps of Elden Ring. In fact, one could argue that she is the toughest challenge you'll face. Not only is Malenia fast, agile, and capable of dishing out massive damage, but she heals every time her blade meets your flesh. In my many years of playing FromSoftware games, I don't recall another boss that can heal itself as it atta...
---
PC Invasion - FeedDDD Friday, April 1, 2022 4:00 PM
It has been nearly five months since Halo Infinite went live with its free-to-play multiplayer component. However, in that stretch of time, the game hasn't received major updates like new maps. While more cosmetics have been added, and fan-favorite modes have made a comeback, the community desires something more substantial. Developer 343 Industries' Brian Jarrard took to Reddit recently to address the Halo Infinite community, saying the team understands that folks are frustrated waiting for more major updates for the game. "There are indeed a lot of challenges and constraints," Jarrard wrote in the Halo subreddit. "We're certainly not happy to be unable to meet player and community expectations, it's a difficult situation that's going to take the team time to work through. Right now the focus is on S2 and we'll have more to share on that in the coming weeks." Jarrard wrote on Twitter recently, saying that more news is ...
---
PC Invasion - FeedDDD Friday, April 1, 2022 3:30 PM
It's been just over a week since the first episode of Halo's TV adaptation aired. Whether you like it or not, it's undeniable that it'll leave a lasting impression on both fans and the franchise itself. And it looks like we'll be seeing content inspired by the TV show making its way to Halo Infinite some time soon. As of now, we don't have any dates for when this content will arrive, but we shouldn't have to wait too long to see it in the game. The news regarding Halo Infinite merging content from the TV show was revealed earlier today when 343 Industries' community director Brian Jarrard spoke to The Washington Post about it. Jarrard stated that, "We will have some content that is inspired by the show that will be coming out in the game a little bit further down the road." A little something for everyone While the interview didn't highlight anything specific, it did give us some interesting tidbits. Jarrard point...
---
PC Invasion - FeedDDD Friday, April 1, 2022 3:00 PM
For the most part, Borderlands 3 was not a good game. The innovations made to movement mechanics and visuals were appreciated, but undermined by the game's woeful storytelling. To this day, remembering any plot point involving Ava still makes me shudder. So I had my expectations set before going into Tiny Tina's Wonderlands. To get you up to speed, Tiny Tina's Wonderlands is Gearbox Software's latest title. It is a spin-off of Borderlands and a successor to the popular Borderlands 2 DLC, Tiny Tina's Assault on Dragon Keep. Tiny Tina's Wonderlands is also built on the same Borderlands 3 engine, which is by no means a bad thing. For all of its writing, the problems with Borderlands 3 had nothing to do with the engine, though. The gunplay, physics, and aesthetics were all excellent. Some of the vaults were pretty epic, too, thanks to the gorgeous special effects that illuminated their interiors. Tiny Tina's Wonderlands achieves much the sa...
---
Tabletop Gaming News Friday, April 1, 2022 6:00 PM
---
Tabletop Gaming News Friday, April 1, 2022 5:00 PM
---
Tabletop Gaming News Friday, April 1, 2022 4:00 PM
---
Tabletop Gaming News Friday, April 1, 2022 3:00 PM
---
Player Assist | Game Guides & Walkthroughs Friday, April 1, 2022 4:24 PM
The Knight in Team Cherry's Hollow Knight has a few abilities at his disposal like the dash by obtaining the Mothwing Cloak, clinging to walls by obtaining the Mantis Claw, and super dash by obtaining the Crystal Heart. In this guide, you'll learn how to get the double jump ability. In order for the Knight […]
---
Player Assist | Game Guides & Walkthroughs Friday, April 1, 2022 3:00 PM
A ton of returning players from Forza Horizon 4 will expectedly make their way to the newest installment to the Forza Horizon Series. However, for players new to the Forza Horizon franchise, here are some important tips you should know before diving headfirst into Forza Horizon 5's Mexican Paradise. The New Horizon Forza Horizon 5 […]