---
Kotaku Sunday, January 23, 2022 7:30 PM
For the post month Reddit user Dragon_GameDev2 has been working on a little side project imagining a Pokémon game, built using Unreal Engine, that you played on a PC in first-person.

---
Kotaku Sunday, January 23, 2022 5:25 PM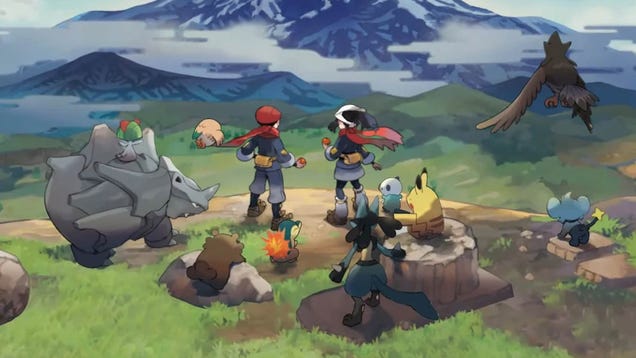 Pokémon Legends: Arceus is nearly here. The next big entry in the franchise, set in the past, releases on January 28 for Nintendo Switch.
---
Kotaku Sunday, January 23, 2022 3:30 PM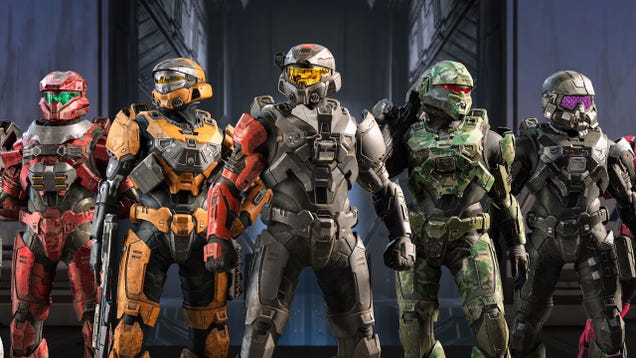 Some Halo Infinite players are frustrated that they wasted useful XP boosters by activating them right before server outages knocked the Xbox shooter offline and now it sounds like 343 Industries won't reimburse players wasted boosts.
---
PCGamesN Sunday, January 23, 2022 1:09 PM
Does 1993's original Doom take place in 2022? There's a rumour going round that this is the case, with the evidence pointing to reference material mentioning the first Doom's setting - however, according to one of the game's creators, this isn't the case at all.
It's now the far-off futuristic year of 2022, and we're starting to catch up to a lot of older movies, TV shows, and games set in the future. We've already passed Blade Runner (2019) and the tabletop game Cyberpunk 2077 was originally based on (2020) - and now, according to internet legend, we're in the year of Doom.
Supposedly, the original Doom's storyline takes place in March 2022, which of course is spreading around the internet. The source of this date can be traced back to the manual for the SNES version of the game, which clearly shows March 15, 2022, on the cover. However, this date is not mentioned in the PC version of Doom.
Doom PC release date
,
Play Doom
---
PCGamesN Sunday, January 23, 2022 1:23 PM
Open-world fantasy game The Wayward Realms is an upcoming "grand RPG" from several of the developers behind The Elder Scrolls series. Now, OnceLost Games has released a creepy new trailer that conjures at atmosphere somewhat reminiscent of fantasy greats like Skyrim - or perhaps even The Lord of the Rings.
It's been over ten years since Skyrim and there's still no real sign that The Elder Scrolls VI will be out anytime soon - so now's the perfect time for The Wayward Realms, a more Daggerfall-like fantasy RPG with a massive procedurally-generated world, from several of the original developers behind the first two The Elder Scrolls games.
It's been over five months since the first teaser trailer and now developer OnceLost has a new, creepier glimpse at the RPG with the "Lullaby" trailer below. It's a little bit like a spookier version of the Skyrim teaser, or even Amazon's recent Lord of the Rings series title reveal - only with more undead nightmares.
---
Twinfinite Sunday, January 23, 2022 6:25 PM
In their last update, Valve stated that the Steam Deck was still on track for its February release this year, pandemic and supply issues notwithstanding. In a new update, the company has also announced that their new platform will be able to support Steam games that also use Easy Anti-Cheat software. EAC is a popular […]
The post Steam Deck Will Be Able to Support Games that Use Easy Anti-Cheat appeared first on Twinfinite.
---
Twinfinite Sunday, January 23, 2022 6:15 PM
---
Twinfinite Sunday, January 23, 2022 6:03 PM
Halo Infinite released at the tail end of 2021, and while it's been lauded for being an outstanding open-world game and a return to form for the series, there have been complaints about its in-game store and microtransaction prices. 343 Industries had addressed some of these issues on Twitter previously, stating that they were looking […]
The post Halo Infinite Will Let Players Earn Credits Through Battle Pass Progression appeared first on Twinfinite.
---
Twinfinite Sunday, January 23, 2022 4:52 PM
---
Twinfinite Sunday, January 23, 2022 4:06 PM
---
Twinfinite Sunday, January 23, 2022 2:43 PM
---
Twinfinite Sunday, January 23, 2022 1:36 PM
---
Siliconera Sunday, January 23, 2022 7:00 PM
Bandai will release One Piece Eternal Pose capsule toy compasses from the end of January 2022. They will appear in gachapon machines around Japan, costing 500 JPY ($4.40) per spin. There are a total of six variations that you can get, and you will need to assemble the Eternal Pose first. [Thanks, Hobby Watch!]
In this collection, you can get Eternal Pose compasses that can lead you to: Ohara, Enies Lobby, Wholecake Island, Sabaody Archipelago, Impel Down, and Amazon Lily. After you put all the pieces together, the Eternal Pose will stand at around 90 millimeters tall.
Here are some examples of what the One Piece Eternal Pose toy compasses will look like:
[gallery ids="913827,913826,913825" link="file"]
This is the third round of One Piece Eternal Pose capsule toys from Bandai. Earlier rounds included Eternal Poses to locations such as Alabasta and Skypiea. However, it is difficult to find retailers who still have these particular capsule toys available online.
In the One Piece series, an Eternal Pose is a special type of compass. The needle inside only ever points to the specific location for that Eternal Pose. For example, if you have an Eternal Pose for Sabaody Archipelago, the compass will only lead you there.
The One Piece Eternal Pose capsule toys from Bandai will appear in machines around Japan from the end of January 2022. One Piece is available on streaming services such as Funimation and Crunchyroll.
The post One Piece Eternal Pose Toy Compasses Will Appear in Capsule Machines appeared first on Siliconera.
---
Siliconera Sunday, January 23, 2022 5:00 PM
Bandai Fashion opened up pre-orders for Gigi Andalucia-themed Mobile Suit Gundam Hathaway items, including her iconic earrings. You can also purchase a sweater or jacket depicting her name and appearance. Pre-orders opened on January 20, 2022 via the Bandai Fashion website and will close on January 31, 2022. The items will come out in February 2022. [Thanks, Famitsu!]
In total, there are three items:
Earrings (22,000 JPY)
Zip-up hoodie (8,250 JPY)
Long-sleeved shirt (4,950 JPY)
[gallery ids="913804,913805,913806" link="file"]
You can also buy clip-on earrings if you do not have your ears pierced. The zip-up hoodie has a picture of Gigi as she appears in Gundam Hathaway, whereas the shirt has her name on the front like she's a brand or fashion designer. The earrings do not have any mention of Gigi or Gundam Hathaway, which means that those who are unfamiliar with the movie may not immediately recognize them as anime merchandise.
Gundam Hathaway first aired in June 2021. Within the same month, Sunrise announced that the movie made over a billion yen in Japan. Mobile Suit Gundam Hathaway is the movie adaptation of the Hathaway's Flash novel. Hathaway Noa, son of Bright Noa, is the main character while Gigi is the main female lead. The movie is available via streaming services such as Netflix.
The Gigi Andalucia Gundam Hathaway clothing and earrings are available for pre-order via Bandai Fashion until January 31, 2022. They will ship out some time in February 2022.
The post Dress Like Gundam Hathaway Gigi With These Earrings appeared first on Siliconera.
---
Siliconera Sunday, January 23, 2022 3:00 PM
Sometimes, I like to pick up a low effort model kit. I want something relatively simple to build over an afternoon. I especially love when the finished product comes out looking like, well, I spent actual effort on it. Bandai's various kits tend to be good at this. You don't need glue. You often can get pieces out of runners without nippers. Paint ends up being optional. The Bandai Spirits Demon Slayer model kit, however, goes a step above when it comes to creating this Tanjiro Kamado figure.
Right off the bat, the box lets you know you don't need a lot of effort. It shows no glue or painting is required. However, the extent it goes to is admirable. Aside from a few stickers, almost everything arrives completely done. Tanjiro's face? The actual runner has the different colors and parts for his eyebrows and Demon Slayer Mark. His eyes, teeth, and tongue? intricate parts jammed together to form a cohesive unit. His earrings? Stickers that perfectly cover plastic parts. It means when everything comes together, the finished face is seamless.
I also appreciated that in instances where stickers are required, it's a very subtle accent. You might not even see them. The "metsu" kanji on the back of the uniform for this Tanjiro figure is a good example. As you build this Demon Slayer model kit, you'll eventually cover up his uniform's shirt with his happi. However, the kit includes the stickers for the kanji. This is because if you did happen to look at him from below, you could actually still see it. It's a nice touch that this element is acknowledged and included, even though someone might not see it. While I used tweezers to ensure certain stickers, like 7, 8, and 11 in particular, were properly placed, it's incredibly easy to apply. (The button stickers are much more delicate.) But they're handled in a way that, well, makes it difficult to notice they are stickers.
What's also great is that the extra effort to ensure the colors are correct expends to his coat. Like Tanjiro's face, the Demon Slayer model kit ensures the parts for the happi are already pre-colored. They're also packaged separately, due to their poses. The checkerboard pattern is perfectly recreated. Which is fantastic, because it would have been a pain otherwise. The angles depicted and way the pieces are handled would have made painting difficult. The lines might have been off, and it could have been hard to position them so they'd dry properly. With stickers, the folds and recreation of fabric's positions would also mean they might not stick properly. The execution means it looks great even before you assemble it.
The only downside is that the kit doesn't include a stand. Often manufacturer's model kits will provide parts to assemble one. Even if a figure is capable of balancing, it's a nice security blanket. This Tanjiro figure can stand on its own. The ankles are even articulated. This means you can arrange the positioning properly. And to its credit, even with the dynamic pose, I've yet to see an issue with him toppling over. But I do have that concern due to the arrangement and wish there'd been even a flat base with foot holes to offer that sense of security.
The result is a pretty impressive Tanjiro figure. It doesn't take too long to build. I'd say mine was finished in between an hour and an hour and a half. (I did spend some time filing down a few edges, though.) It looks incredible. The way the parts and molding are handled with the model kit, you can't tell someone put it together unless you really get in close. (Or look at the earrings too closely, due to potential application issues. It's a lot of fun and looks great on a shelf.
The Bandai Spirits Demon Slayer model kit of Tanjiro Kamado is available worldwide. It can be found for between $26-38, depending on the store.
The post Demon Slayer Tanjiro Model Kit Makes an Elaborate Figure appeared first on Siliconera.
---
Siliconera Sunday, January 23, 2022 1:00 PM
Broccoli unveiled its new 3D model of Di Gi Charat's Dejiko as part of the character's YouTuber debut. In a short pre-recorded video, the character introduced herself to fans and showed off her new model and room. The new YouTuber project will be active for a limited time, and the next episode will air sometime in the near future. [Thanks, Famitsu!]
Notably, the five-minute-long video features a high-quality Dejiko model rendered with full-body motion. Dejiko wears her signature maid costume from the original Di Gi Charat anime. The room in her background also features plenty of references from the original anime series. At one point, the video pans around to show the bedroom, revealing an Akihabara train station sign and Dejiko's own PC. Di Gi Charat creator Koge Tombo supervised the creation of both the 3D model and background.
You can check out the Dejiko 3D model debut episode below.
https://youtu.be/Lyzeomh5Bvg
The limited-time YouTube channel is part of the Reiwa Di Gi Charat project. The primary goal of the YouTube channel is to promote the new Reiwa Di Gi Charat mini anime series in development. However, Dejiko also stated that publisher Broccoli is accepting offers from companies looking to advertise. In the debut episode, Dejiko even showed off an acrylic stand of Iori Yagami from the King of Fighters series. Additionally, Broccoli is open to fan suggestions outside of daily uploads and livestreams.
The post New Dejiko 3D Model Makes YouTuber Debut appeared first on Siliconera.
---
Latest Games on Play iDev Games Sunday, January 23, 2022 1:09 PM
You are an assasing and you are trying to find your friend Greg that the italian pirates kidnapped him....