---
GamersHeroes Friday, June 30, 2023 8:12 PM
---
GamersHeroes Friday, June 30, 2023 7:17 PM
---
GamersHeroes Friday, June 30, 2023 6:37 PM
---
GamersHeroes Friday, June 30, 2023 4:21 PM
---
Kotaku Friday, June 30, 2023 6:30 PM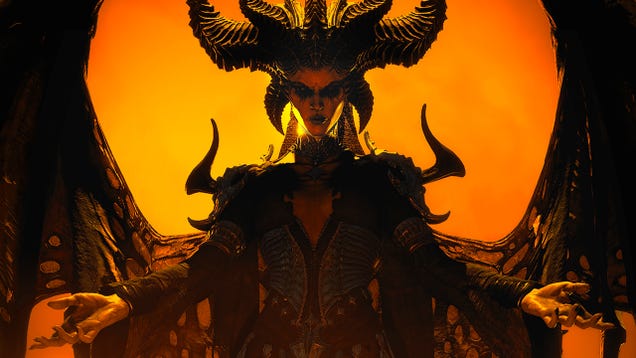 With so many skill trees and loot combinations, Diablo IV has no shortage of ways to eviscerate your foes and make them fear your mathematical superiority. Players are still finding all sorts of incredible Unique-rarity items, and certain of these weapons and armors are proving to be exceptionally worth hunting down.
---
Kotaku Friday, June 30, 2023 6:01 PM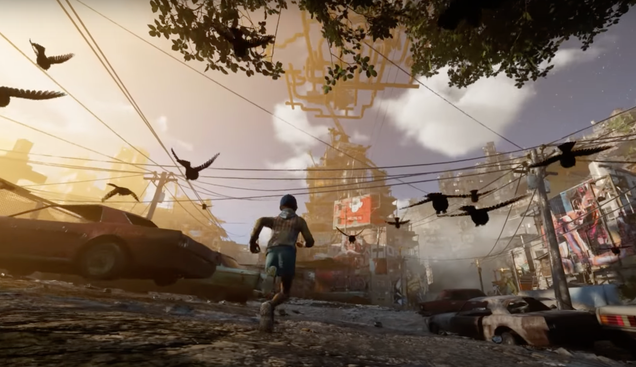 Only Up!, a not-so-endless runner that recently took off on Twitch, has been inexplicably removed from Steam with no warning, but there's reason to believe it might've been removed due to a copyright dispute with an artist claiming the game uses one of their assets.

---
Kotaku Friday, June 30, 2023 5:10 PM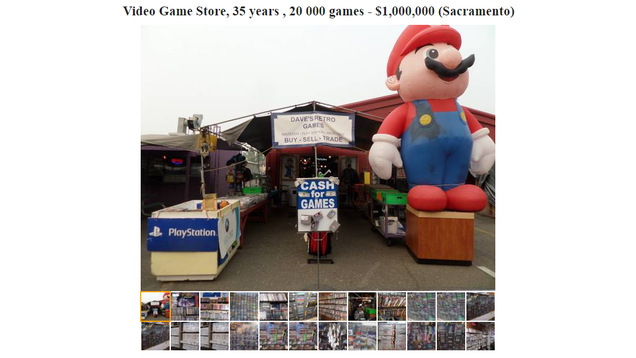 Hey, do want to own a retro video game store in California? And (this is important) are you not Elon Musk? Well, good news, someone is selling a game store, its entire stock, and even its 15-foot-tall Mario effigy on Craigslist right now, all for a cool $1,000,000. Why? Because the current owner just wants to retire…
---
Kotaku Friday, June 30, 2023 5:05 PM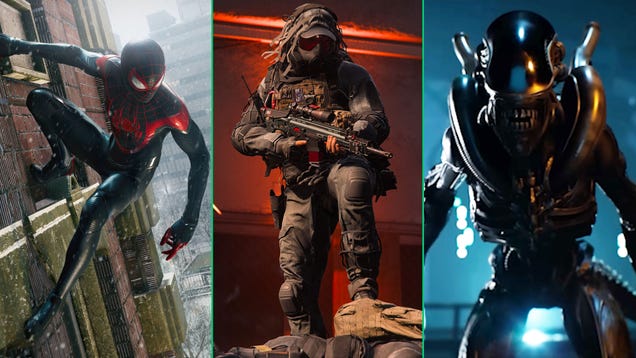 This weekend is a weird one: We've got Saturday, Sunday, then a normal workday for most of us, and then a holiday here in the States with July 4. And if you find yourself lacking any barbecue or other outdoor activity plans, that means it's time for more games.
---
Kotaku Friday, June 30, 2023 4:45 PM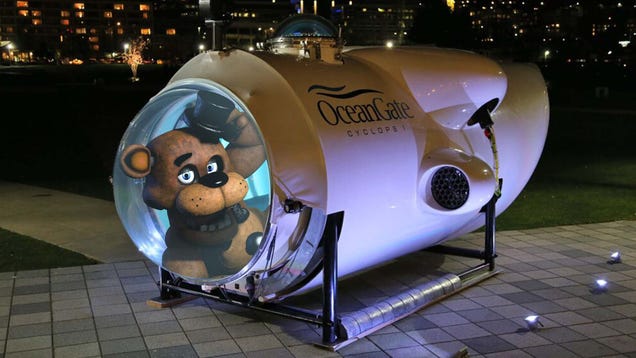 If there's one thing the internet loves, it's spreading misinformation for the memes. In the midst of news flooding (sorry) through the internet about the OceanGate Titan submersible implosion, Five Nights At Freddy's ended up becoming a part of the story on TikTok. It's all thanks to a viral audio clip from the games…
---
Kotaku Friday, June 30, 2023 4:22 PM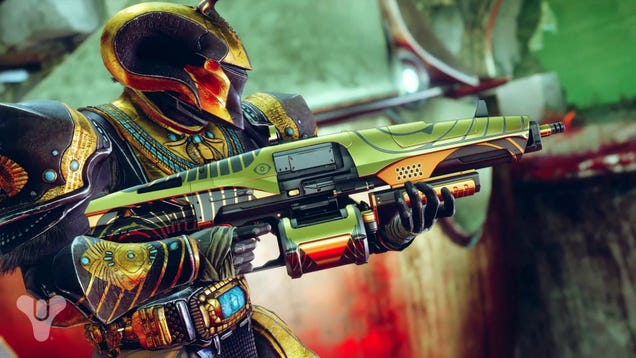 Destiny 2 used to have very little downtime. Now, the sci-fi MMO goes offline at least once a week, sometimes more, as error codes and unplanned outages prevent players from logging on and completing their weekly quests, challenges, and loot drops. Now Bungie has finally provided some answers, and they're about as…
---
Kotaku Friday, June 30, 2023 4:15 PM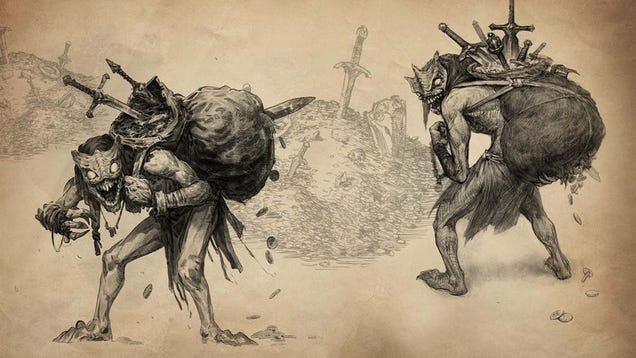 Treasure goblins in Diablo IV aren't particularly scary or dangerous. In fact, most players get excited when one of these little weirdos appears, because they can't attack and drop good loot when killed. However, some high-level players are dying to treasure goblins due to what some players believe is a bug.
---
Kotaku Friday, June 30, 2023 3:37 PM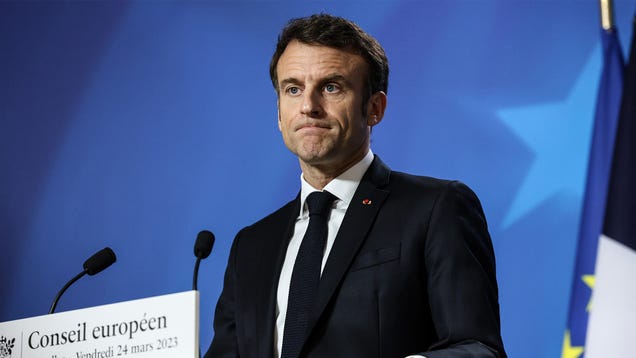 French President Emmanuel Macron has a few theories as to why riots have spread across France in the wake of the fatal police shooting of a 17-year-old delivery driver: TikTok, Snapchat, and video games, mostly.
---
Kotaku Friday, June 30, 2023 2:40 PM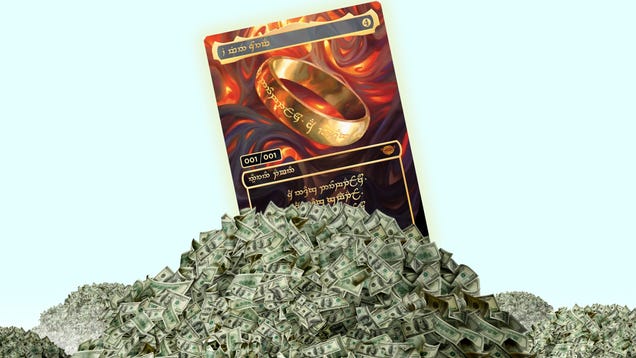 Magic: The Gathering, the popular fantasy-themed collectable card game from Wizards of the Coast, has recently launched an official Lord of the Rings expansion. And in the midst of the millions of printed cards, the Frodos and Saurons and Aragorns and all the rest, the publisher included a special one-of-a-kind card…
---
Kotaku Friday, June 30, 2023 2:30 PM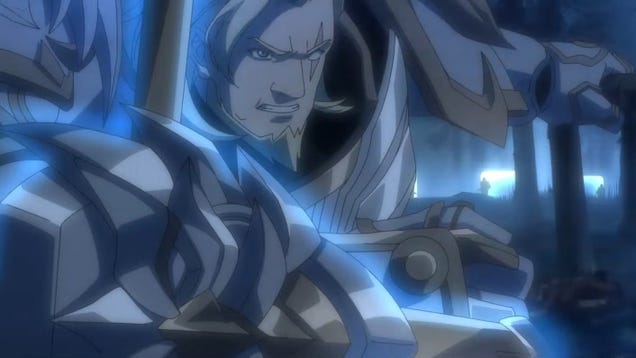 Overwatch has been struggling to get its narrative off the ground since it launched, and while the story missions are finally coming to Overwatch 2 in August to move the plot forward, Blizzard is also taking a look at its past with a new animated mini-series.

---
Kotaku Friday, June 30, 2023 2:20 PM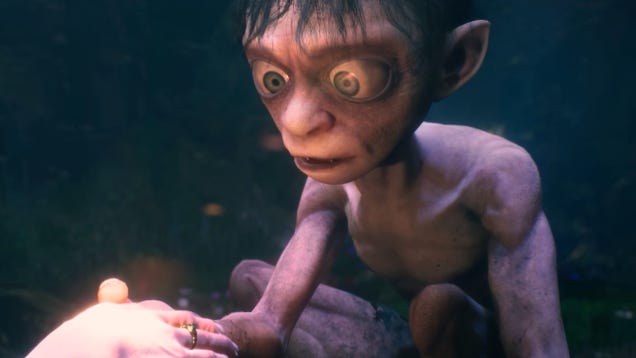 After apologizing for the dismal state of The Lord of the Rings: Gollum, Daedalic Entertainment is now shuttering its development arm to instead focus on publishing games since Gollum didn't meet the studio's expectations.
---
Kotaku Friday, June 30, 2023 2:10 PM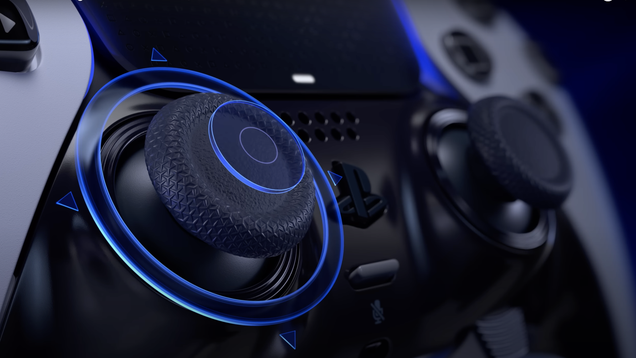 On Thursday, we went over how PC gamers were clearly superior to their console ilk. Just kidding, that's elitism. But now we're back to talk about all the major consoles and their merits. Reliable, sturdy, and won't break your bank for chasing the graphics, what's not to love about picking a console?

---
PCGamesN Friday, June 30, 2023 6:12 PM
Stardew Valley is arguably the best farming game out there right now, featuring many of my favorite elements from its cozy aesthetic to its wholesome gameplay. While ConcernedApe's pixel-art game is more than charming enough on its own, player-created mods make the already stunning game even more so. The Alchemist's Apothecary is a new Stardew Valley mod that sees you become a cottagecore witch, gathering minerals and gems to craft all sorts of artisan goods.
MORE FROM PCGAMESN:
Stardew Valley multiplayer
,
Stardew Valley realism
,
The best Stardew Valley mods
---
PCGamesN Friday, June 30, 2023 5:19 PM
What are the new Punch a Skibi codes? Punch a Skibi looks shockingly similar to a few other recent Roblox hits, so we understand if you've mistaken it for something entirely different. To reduce the chances of confusion, we've thoroughly tested all the working Punch a Skibi codes to ensure you're not chasing any rewards that actually don't exist.
While we're on the subject of codes to redeem in Roblox, check out the latest Roblox promo codes for UGC freebies, or the best Roblox games in 2023 if you're after something new to play. For specific recommendations right now, Punch Wall Simulator codes and Arm Wrestle Simulator codes are a good shout. GPO codes, Blox Fruits codes, and Anime Fighters Simulator codes are great options if you're after a certain anime fix, too.
MORE FROM PCGAMESN:
Best Roblox games
,
Roblox promo codes
,
Roblox music codes
---
PCGamesN Friday, June 30, 2023 5:12 PM
Trepang2 has been absolutely crushing it since its recent release, garnering massive amounts of positive ratings and topping people's wishlists all over the globe. The FPS game feels like an unofficial sequel to FEAR for many, as Trepang2 carries the same action-packed thrill fans had missed. After just a week of being on sale, the shooter published by Team17 has reached a wide audience and received thousands of positive reviews on Steam.
MORE FROM PCGAMESN:
Best horror games
,
Best FPS games
,
Best PC Classics
---
PCGamesN Friday, June 30, 2023 3:59 PM
June 30, 2023: We detailed Diablo 4's six rarest items in our uniques list.
What are all the Unique items in Diablo 4? You can find Unique items while defeating tough monsters on the higher world tier Nightmare and Torment campaign difficulties. They are as rare as they are powerful, making them the hardest to find – and hardest to catalog – items in the game.
Luckily though, we've been able to put many hours in Diablo 4's Sanctuary seeking out these hard-to-come-by items. If you're looking to take the best Diablo 4 class into the game with your ultimate Diablo 4 build, make sure to check our extensive D4 Unique item guide before jumping in.
MORE FROM PCGAMESN:
Diablo 4 builds
,
Diablo 4 review
,
Diablo 4 classes
---
PCGamesN Friday, June 30, 2023 3:50 PM
June 30, 2023: We added new Striker Odyssey codes to our list.
What are the new Striker Odyssey codes? This anime-themed, skill-based Roblox game has blown up in popularity since its launch earlier in the year. If you're looking for free spins to get ahead of the competition, we've got a list of the latest Striker Odyssey codes down below.
If you're a Striker Odyssey fan, you might also want to check out our Project Slayers codes and Blox Fruits codes. If you're looking for something with a tactical edge on Roblox, maybe our All Star Tower Defense codes are more your speed. Now, let's get you some freebies in Striker Odyssey.
MORE FROM PCGAMESN:
Best Roblox games
,
Roblox promo codes
,
Roblox music codes
---
PCGamesN Friday, June 30, 2023 3:49 PM
June 30, 2023: We added two new AUT codes to our list.
What are the new AUT codes? If you're trying to get ahead of the competition in A Universal Time, we've collated all the latest codes for free skin crates. We'll also run you through exactly how to redeem all the active A Universal Time codes and where you can find more for the action-packed, anime-themed hit.
A Universal Time has been around for a while, but it's erupted in popularity recently following a major update. If you're searching high and low for further Roblox freebies, we also keep regularly updated lists of Blox Fruits codes, Project Slayers codes, and even Anime Adventures codes. Now, let's run through all the A Universal Time codes and the rewards they'll net you.
MORE FROM PCGAMESN:
Best Roblox games
,
Roblox promo codes
,
Roblox music codes
---
PCGamesN Friday, June 30, 2023 5:07 PM
Are you looking for Destiny 2 Xur? Xur is Destiny 2's Exotic gear merchant, and he appears every weekend to sell coveted items in exchange for Legendary shards. But, if you're a casual player with limited shards to spend, it can be hard to know which items you should purchase from his inventory. That's where we come in.
The Exotic merchant provides plenty of excitement in the free PC game due to his ever-changing inventory and the hope that he might arrive with a god roll. Read on to learn a little about the Destiny 2 Xur schedule, where you can typically find him, and what you'll usually find in his inventory.
MORE FROM PCGAMESN:
Destiny 2 classes
,
Destiny 2 Lightfall review
,
Destiny 2 builds
---
PCGamesN Friday, June 30, 2023 2:40 PM
Assassin's Creed Black Flag is one of Ubisoft's most beloved entries in its iconic RPG game series, standing strong as a fan-favorite pirate adventure even a decade after its initial release. Much to our pleasant surprise, it seems that we may be getting an Assassin's Creed Black Flag remake sometime soon as Ubisoft has been said to have a remastered version in the early stages of development. This news comes amid the hype of the upcoming game Assassin's Creed Mirage, and it may just be what we all needed to hear after so long without a word on Skull and Bones.
MORE FROM PCGAMESN:
Assassin's Creed Mirage release date
,
Best RPG games
,
Best sandbox games
---
PCGamesN Friday, June 30, 2023 2:01 PM
It's no secret that The Lord of the Rings Gollum didn't release to a strong critical reception. The stealth game fell short of expectations across its design, gameplay, and story, leading to a mass of negative feedback soon after its release. While The Lord of the Rings Gollum did disappoint, a development studio shutting down is never good news and it unfortunately seems that Daedalic Entertainment is closing its dev department for good.
MORE FROM PCGAMESN:
Best fantasy games
,
Lord of the Rings Gollum review
,
Best RPG games
---
PCGamesN Friday, June 30, 2023 2:27 PM
Following chatter that Sega could be the next studio on Microsoft's acquisition list, the publisher of upcoming strategy game Total War Pharaoh has confirmed that it is not in talks with Phil Spencer and co. Despite this, we can still expect to see Total War Pharaoh on Game Pass; rejoice, my fellow strategists!
Total War Pharaoh release date
,
Best Total War games
,
Best strategy games
---
Rock Paper Shotgun Latest Articles Feed Friday, June 30, 2023 5:40 PM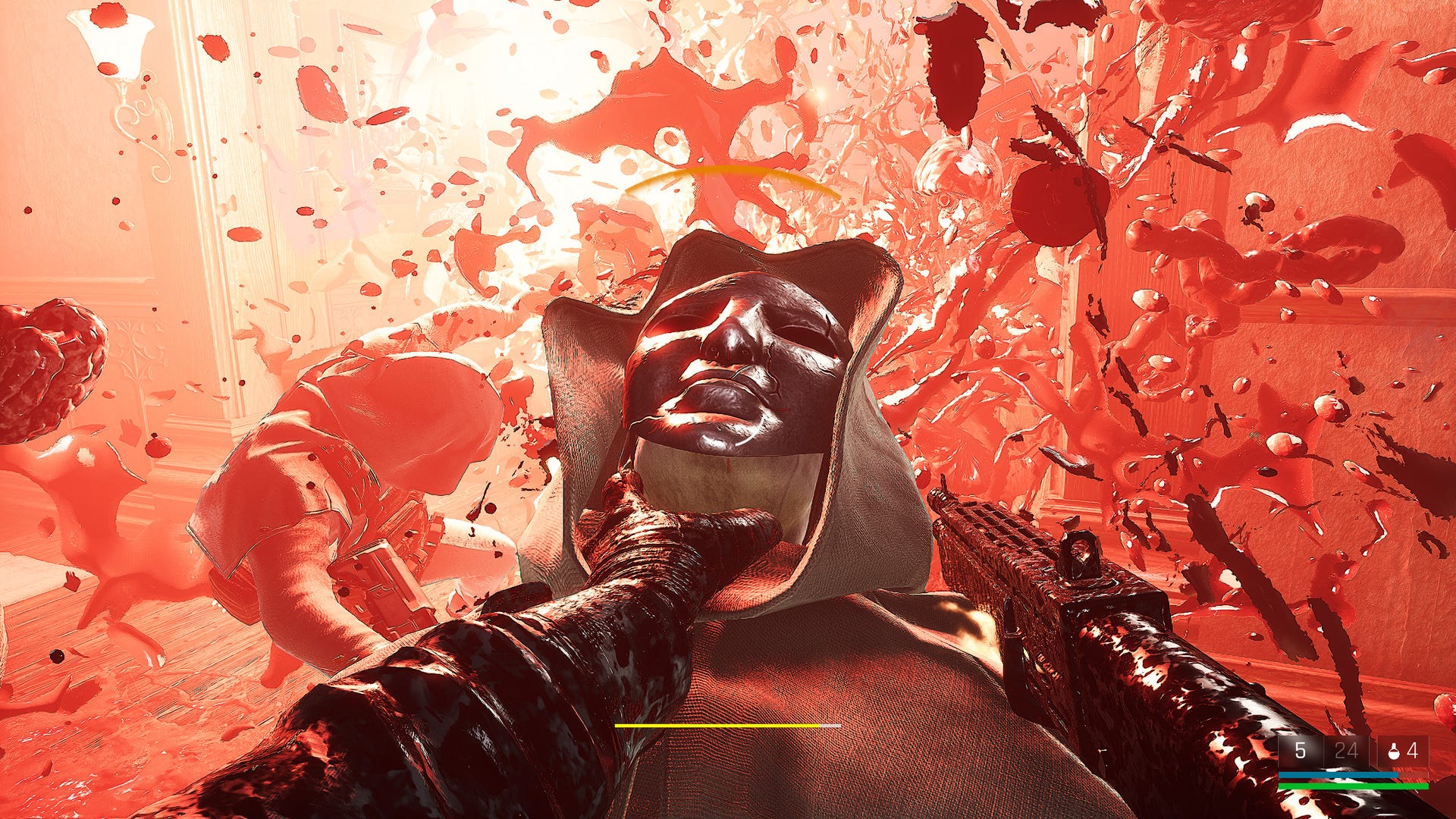 Here's a move I pull in most gunfights in Trepang2: slidekick into an enemy, grab them out of mid-air, briefly hold them in front of me as a human shield, only to pull the pin on their vest's grenade and hurl them into a group of their pals, who do try to scatter before this meaty bomb bursts but sadly forget that they also need to avoid me and my chunky shotgun. Often this is all in slow-motion. Trepang2 is unashamedly aiming to be a new F.E.A.R. and does a pretty great job of it for a game made by a core team of only four people (plus external artists and such). Give me a shotgun, a slidekick, and slo-mo, and I'm happy.
---
Siliconera Friday, June 30, 2023 7:15 PM
Everyone who attends the Final Fantasy XIV Fan Festival in Las Vegas gets a goody bag, and it turns out that will include the infamous Endwalker grapes. Square Enix revealed the contents of the bonus given to all attendees. A squishable recreation of the polygonal fruit will be among the six items in the bag.
Here's the full list of all of the physical items that will be in the Final Fantasy XIV Fan Festival 2023 goody bag. If someone was able to purchase a ticket and attend, they will get one.
Azem's Crystal keychain with Festival 2023-24 logo.
Endwalker grapes that can be squished like a stress ball
Fan Festival 2023-24 crossbody bag with 10th anniversary logo
Final Fantasy XIV 10th anniversary pin
Grebuloff magnet.
Loporrit carrot pen with a Loporrit head at the top.
Here's a closer look at the smaller items.
[caption id="attachment_971113" align="alignnone" width="1200"]
Image via Square Enix[/caption]
The squishable Final Fantasy XIV grapes are a reference to ones in the Labyrinthos area. They initially didn't look correct. While this was fixed in patch 6.01 after Endwalker's launch, they've still become rather famous. For example, we even saw Line stickers that acted as a callback to them.
Final Fantasy XIV is available for the PS4, PS5, and PC. The Las Vegas Fan Festival will be held July 28-29, 2023.
The post Final Fantasy XIV Fan Fest Goody Bag Includes the Grapes appeared first on Siliconera.
---
Siliconera Friday, June 30, 2023 6:00 PM
Square Enix revealed a new Bright Arts Gallery figure of the iconic Chocobo from the Final Fantasy series. The figure costs 3,960 JPY (or about $27.43), and it is now available for pre-order from the Japanese Square Enix online eStore. The figure is set to release in Japan on November 11, 2023. Square Enix's Bright Arts Gallery line of figures includes die-cast metallic colored figures of a variety of popular Square Enix characters. We typically see them in the worldwide storefront as well, though this one hasn't appeared there yet.
The specific design chosen for this new figure is inspired by the art direction from the Chocobo subseries of games, which includes entries like Chocobo's Dungeon and the Final Fantasy Fables titles. The figure is made of zinc alloy, and the die-cast manufacturing gives it a shiny and colorful metallic finish.
You can check out the new Bright Arts Chocobo figure in more detail in the gallery below.
[gallery columns="4" size="medium" ids="971074,971075,971076,971077" link="file"]
Other Final Fantasy metallic figures from the Bright Arts Gallery series include Tonberry and a Cactuar figures, which came out earlier in January 2023.
The new Bright Arts Chocobo figure from the Final Fantasy series is now available for pre-order from the Japanese Square Enix online eStore. The figure costs 3,960 JPY (~$27.43), and it is scheduled to release in Japan on November 11, 2023.
The post Bright Arts Gallery Chocobo Figure Rides Out in November appeared first on Siliconera.
---
Siliconera Friday, June 30, 2023 5:30 PM
The newest teaser trailer for Fate/strange Fake focuses on Rider and his Master Tsubaki Kuruoka. Like with Berserker, while we know that Tsubaki's Servant is Rider, we do not actually see him in the teaser. This is due to the nature of this particular Rider's appearance and personality when it manifests as a Servant.
In Fate/strange Fake, the messed up version of the Holy Grail War ritual means that it's calling upon figures who would never appear in a normal War. Rider is one of these Servants. Though it's unclear from Tsubaki's trailer how she gets her Command Seals, they seem to manifest on her while she's asleep. So her participation in the Grail War does not seem to be something of her own choosing.
We can watch the Fate/strange Fake Rider teaser here:
https://www.youtube.com/watch?v=Y2W5ZsMtHKg
Aoi Koga will voice Tsubaki Kuruoka in Fate/strange Fake. Koga has previously voiced Qiao Ling in the Japanese dub of Link Click, Paimon in Genshin Impact, and Kriemhild in Fate/Grand Order. Since Rider does not talk, he does not have a voice actor.
Fate/strange Fake premiered at Anime Expo on July 1, 2023. It will air on July 2, 2023. Other teasers in the past have shown off Assassin, Berserker, and Caster.
The post Fate/strange Fake Teaser Introduces Rider and Tsubaki appeared first on Siliconera.
---
Siliconera Friday, June 30, 2023 5:00 PM
When the creative minds behind Danganronpa announced Master Detective Archives: Rain Code, it was hard not to notice the similarities between their previous Danganronpa trilogy and this upcoming standalone title. The assets all look very familiar, the genre is virtually the same, and the way you go about solving mysteries is even reminiscent of the minigames of yore. It's pretty much impossible to play this game if you're a Danganronpa veteran and not compare the two in your head. However, despite lots of callbacks to Too Kyo Games', it still manages to develop its unique identity and voice.
The story of Master Detective Archives: Rain Code follows Yuma Kokohead, an amnesiac detective who is a trainee at the World Detective Organization (WDO). He doesn't remember anything about who he was or why he wanted to be a detective. But he quickly discovers that his amnesia is the result of a contract with the death god Shinigami. Through his pact with her, he can access the Mystery Labyrinth. In the Labyrinth, he uses various clues he discovered in the real world, as well as Shinigami's arsenal of bizarre powers, to solve the unsolved in Kanai Ward. Kanai Ward is under the authoritarian rule of Amaterasu Corporation, which is full of weird megalomaniacs. With the aid of his peers at the WDO, Yuma attempts to figure out the greatest mystery of Kanai Ward.
I personally really like the story, as well as the cases. Though the cases are fairly easy, the way you go about solving them with the Mystery Labyrinth and various Fortes is fun. The story itself never gets too stagnant either. There's always something hinting at the bigger picture or something behind the scenes. So it can get hard to put down, especially once you start getting to the root of Kanai Ward's secrets. The colorful cast of characters are all generally likable. I particularly loved Yakou, Halara, and Shinigami. Admittedly, Shinigami's antics toed the line between "haha, this is funny" and "what fetish is this and who put it in here?" The sheer amount of voice acting is really impressive as well.
[gallery columns="2" ids="971043,971044" link="file"]
It's hard to say if Danganronpa fans or people who didn't care for the series would enjoy Master Detective Archives: Rain Code more. The game obviously pulls a lot of cues from its predecessor. Like in Danganronpa, you explore to answer questions about the crime at hand. In Rain Code, there is an in-game justification for this (the Mystery Labyrinth), whereas in Danganronpa, they were just the random delusions of the protagonists during trials. Though the pool of mini-games is actually fairly small, each Labyrinth presents them in a different way. So it feels like there are more variants than the reality. They're fun and stylish enough that it's not that detrimental though.
What makes Rain Code fun to play is in the Reasoning Death Match segments (RDM). This is Yuma's version of a Nonstop Debate from Danganronpa. Phantoms throw their arguments at you, which you must dodge using the joystick. When you find a contradiction, you can use your Solution Blade to slash through the Mystery Phantom's assertions and deal damage. It can take a bit of time to find the right moment for the perfect dodge. But once you get the hang of it, it's not bad. You just have to be patient in the beginning; I took a lot of dumb hits because I felt pressure from deadlines.
[caption id="attachment_971046" align="alignnone" width="1200"]
Screenshot by Siliconera[/caption]
This is a really fun evolution of the more text-based system from before. Not to sound like a literal infant, but the extra act of having to dodge or cut things up is a nice distraction, since a lot of the actual mystery-solving can be easy. It's hard to feel impatient or irritated at why I have to prove something so simple when I'm more focused on cutting up as much noise as I can for a higher score. However, if you're hankering for a game that'll really make you use your noggin, Rain Code might not be for you. The cases are all a bit on the easy side. This is probably due to how quick you have to be with your reactions and thinking due to the action-oriented nature of the game.
Because Rain Code's cases are ones that are supposed to be unsolvable, they feel a lot more elaborate. The lack of connection to the culprits and victims can feel a little lacking. I suppose that's the way it is for detectives in real life though. Another positive for Rain Code compared to Danganronpa is that there is a lot less nonsense. The game still has tasteless jokes (Yuma's out-of-pocket insinuation about Desuhiko "committing a crime" after he makes a comment about Fubuki is one example I can think of) and in-your-face female fanservice (I wouldn't mind it so much if guys got a turn shoving their chest in the camera). But they're a lot less constant than in Danganronpa, where it could get grating and tiring. Ironically, you'd figure that Rain Code would have more since these characters are all adults.
[caption id="attachment_971047" align="alignnone" width="1200"]
Screenshot by Siliconera[/caption]
The main issue for me with Rain Code is the fact that it's a Switch exclusive. I don't know if this is the best console for it. The load times were fairly long, and some of the animations felt like they lagged. There were some odd errors as well. Peacekeepers hold down Yuma in a scene in Chapter 1. We pan away for a bit, but when we pan back, Yuma is crouching on the ground alone and the Peacekeepers who were supposed to be restricting him are some distance away. This is obviously a weird bug. However, the main thing I immediately noticed is that the game can look really blurry. It looks like someone needs to run a sharpness filter over the whole thing.
I can't tell if this is on purpose or not to suit the rainy aesthetic of the game. The art in the dialog boxes and Yuma's cut-ins look great. But everything else looks like it's in 720p. The visual bloom combined with the somewhat outdated-looking 3D when you're looking at the neon lights or the rainbows of the Mystery Phantoms make it look like an older game than it is. It's a bit unfortunate. Danganronpa V3 was so sharp and beautiful in comparison. But then again, that game was a lot less graphically demanding. I will say that I played the whole thing without docking my Switch. Since my screenshots look fine, I think you should play it on a bigger screen.
[caption id="attachment_971049" align="alignnone" width="1200"]
Screenshot by Siliconera[/caption]
If you're into mysteries, humorous writing, and a story full of twist and turns, then Master Detective Archives: Rain Code has everything for you. Yuma's reactions to all of the wacky nonsense that goes on around him make him a hilariously relatable protagonist. Shinigami was a pleasant surprise as well. I thought she would be the annoyingly lewd fanservice mascot when I first saw her. But she quickly grew on me through her interactions with Yuma, as well as her ineffective attempts to be helpful. Its unique combination of action RPG with puzzle solving works to provide a really fun and mentally stimulating experience. However, it being in between these two genres can be unsatisfying for certain players.
Master Detective Archives: Rain Code is readily available on the Nintendo Switch.
The post Review: Master Detective Archives Rain Code Is Danganronpa on Steroids appeared first on Siliconera.
---
Siliconera Friday, June 30, 2023 4:30 PM
A new Halloween Pokemon event will be held at Osaka's Universal Studios Japan in Fall 2023. This new Halloween party will feature a variety of Ghost type Pokemon, and will be hosted by DJ Pikachu and DJ Gengar. This will be the first ever Halloween event for USJ, as well as the second time that Pokemon characters are featured at the theme park. [Thanks, Famitsu!]
The USJ Pokemon Halloween event will be a daytime show and it will include live music and a dancing venue for people of all ages to enjoy. Additionally, USJ in collaboration with Nintendo shared a newly drawn illustration of DJ Pikachu and DJ Gengar alongside various Ghost Type Pokemon.
Pokemon characters appeared for the first time at Universal Studios Japan on March 2023, as part of the theme park's "No Limit!" parade, alongside a variety of Mario Kart characters. Additionally, a new No Limit Summer event is set to appear at USJ between July and August 2023, and it will feature a variety of Mario characters.
The first ever Halloween event at Universal Studios Japan will be a Pokemon-themed music and dancing event, and it will be held in Fall 2023. More information on the event will come in the future.
The post Pokemon Halloween Event Will Be Held at Universal Studios Japan appeared first on Siliconera.
---
Siliconera Friday, June 30, 2023 4:00 PM
Square Enix announced a release date for Encyclopaedia Eorzea: The World of Final Fantasy XIV Volume III. The newest volume in the series of lore books will launch in both Japan and North America on December 19, 2023. It will cost 4,400円/$49.99, depending on your region.
Like all entries in this series, the third volume will go over the game's lore, art, and design. This entry specifically covers content from the two most recent expansions. So people will learn more about the development of Shadowbringers and Endwalker. They'll also see more insight into the background of the world, races, locations, equipment, and history in those two areas.
Square Enix's official English site also shared a number of pages as a preview of what to expect from this installment. The ones that appeared go over the Ancient World, the Warriors of Light, the Hrothgar, the Crystarium, various organizations in these two expansions, notable NPCs like Ryne and Gaia, the Gunbreaker class, and a few locations. In total, it will be a 304 page, hardcover book.
[gallery columns="4" size="full" ids="971057,971058,971059,971060,971061,971062,971063,971064" link="file"]
Encyclopaedia Eorzea: The World of Final Fantasy XIV Volume III will appear in both Japan and North America on December 19, 2023. Final Fantasy XIV is available for the PS4, PS5, and PC.
The post Encyclopaedia Eorzea: The World of Final Fantasy XIV III Covers Shadowbringers and Endwalker appeared first on Siliconera.
---
Siliconera Friday, June 30, 2023 3:30 PM
Furyu Hobby Mall opened pre-orders for F:NEX Re:Zero Ram and Rem figures. However, they're a bit different than usual. While both characters are wearing their traditional maid uniforms, they're also armed with guns and military equipment. They both will ship out in March 2024. Each one is ¥23,650 (~$164), and they are made-to-order figures.
These Ram and Rem figures are designed to be posed alone or together. Each one is a 1/7th scale model. Ram is 200mm tall (almost 8 inches), while her twin sister is 160mm (just over 6 inches). Both are equipped with guns, wearing headsets, and have accessories to hold additional equipment. Both are static figures with no additional faceplates or parts for different poses.
This is how the two figures look alone:
[gallery columns="2" size="full" ids="971039,971038" link="file"]
And here's how the two look when posed together:
[caption id="attachment_971036" align="alignnone" width="750"]
Image via Furyu Hobby Mall[/caption]
The last figures of the twins to appear involved more peaceful poses. We'll see ones of Ram and Rem holding versions of themselves as children later in 2023 worldwide.
The Furyu F:NEX Re:Zero Ram and Rem military figures will appear in March 2024. People outside of Japan can order them via Buyee. Pre-orders are open until September 1, 2023. The anime adaptation is available to stream via Crunchyroll. Yen Press handles the light novels and manga outside of Japan.
The post Re Zero's Ram and Rem Get Guns in New Figures appeared first on Siliconera.
---
Siliconera Friday, June 30, 2023 3:00 PM
Cocoon is a game not interested in explaining itself. The game opens in a desert, a beam of light rains down and activates some ancient circuitry in the cliffs. This awakens the titular cocoon, and out pops our protagonist, beginning the game. That's about all you're getting in the way of explanation, as I found upon playing the demo.
It's not surprising, since the lead designer of Cocoon is Jeppe Carlsen, who is also responsible for Limbo and Inside. Those games were equally obtuse about their setting, featuring a young boy in either a dangerous monochrome forest or a dystopian city with little else to go on. Cocoon's ambiguity is even more striking, as very little of this game resembles the real world.
You are a small bug person of some kind. You have wings, but you can't even jump, let alone fly. The start of the game sees you wandering through the desert until you emerge from an orb that this world is contained in. Something angry and large wakes up and enters the orb you just left. You can now move this orb (and the world it contains) around.
[caption id="attachment_970915" align="alignnone" width="1200"]
Image via Annapurna[/caption]
During my time playing through the demo of Cocoon, I was able to see three worlds. There was a desert one, contained in an orange orb, a swamp one, contained in a green orb, and a world that houses the orbs that is a strange facility full of odd machinery. These three worlds are about as alien as they come, full of biomechanical devices blending rigid metal with fleshy tendrils. Even the protagonist looks to be partially plastic. It's a strange place to be, with no context for where all this is happening. An alien world, maybe? We may never know.
Cocoon doesn't just avoid explaining its setting or story, it also just drops you into gameplay without any explanation of its mechanics. You're left to figure it all out yourself. However, while there are no text boxes explaining how to use an orb, Cocoon does an excellent job of helping you intuit what you need to do. You have two abilities, walking and touching things, so every puzzle boils down to you touching whatever you find until something useful happens.
The key mechanic in Cocoon is the world-switching ability. The orbs containing the swamp and desert worlds are used for a ton of different purposes. They're used to activate machinery, hold down switches, and each orb can gain a unique ability. The orange orb can reveal hidden crystal paths within a certain radius, while the green orb can make certain pillars switch between solid or transparent. You can even take an orb inside another orb and use it to solve puzzles there.
This got especially interesting as the demo went on, as I had to move in and out of the worlds to solve different puzzles. I had to dodge an obstacle at one point simply by leaving the world, watching the obstacle pass by through the portal, then jump back in at the right time. Another puzzle required manipulating multiple exit portals to get an orb past an obstacle it couldn't pass by normally.
[caption id="attachment_970916" align="alignnone" width="1200"]
Image via Annapurna[/caption]
I also got to fight two of Cocoon's bosses. The protagonist doesn't have a weapon, so each fight requires you to find one in the arena. These encounters were inventive, especially the one in the swamp. That fight briefly turned into a bullet hell with the protagonist flying around on a watery jetpack. That was unexpected but a lot of fun.
What I played of Cocoon was fascinating in so many ways. Its ambiguity and lack of explanation for anything appealed to my love of mystery. Meanwhile, the puzzles were impressively complex for a game with such simple controls. It hooked me in so much that when the words "End of demo" flashed up on screen I audibly protested. That's probably the highest praise a demo can receive.
Cocoon has a strong start, and I can't wait to see how much further the concepts on display here can be taken. It's a mysterious world that will no doubt be left open to player interpretation, and I can see the worlds-within-worlds concept expanding out to brain-melting proportions. If you're a fan of puzzle games, Cocoon is looking like one to watch.
Cocoon will come to the PC, Xbox One, Xbox Series X/S and Nintendo Switch on September 29, 2023, and a demo is out now.
The post Preview: Cocoon Is Vague, Yet Compelling appeared first on Siliconera.
---
Siliconera Friday, June 30, 2023 2:30 PM
The iconic Game Boy console that survived a bombing during the Gulf War is removed and no longer on display at the Nintendo New York store. Twitter user VideoGameArt&Tidbits shared this information online after asking a Nintendo NYC Store staff member about the console. It is unclear whether the scorched Game Boy unit will return to the store or not. [Thanks, Game Watch!]
When asked about the console, a staff member from the Nintendo NYC store informed Twitter user VideoGameArt&Tidbits that the burnt Game Boy was no longer at the store, as it had been returned to the Nintendo US headquarters in Redmond, Washington.
You can check out the original tweet by VideoGameArt&Tidbits (@VGArtAndTidbits on Twitter) here:
https://twitter.com/VGArtAndTidbits/status/1674357378790170624
The console originally belonged to Dr. Stephan Scoggins, a medic that was deployed during Operation Desert Storm in 1990–1991. While the front of the Game Boy was completely burnt during the Gulf War, it could still turn on. After returning from the war, the Game Boy unit was displayed at the Nintendo NYC store as a testament of the system's durability. Nintendo gave Dr. Scoggins a replacement Game Boy "as a special 'Desert Storm' courtesy."
The Game Boy console remained turned on at the Nintendo NYC store for over 30 years, after only receiving a screen replacement and new batteries when needed. The game that the console played was Tetris.
While the iconic Game Boy console might be removed, users of the Nintendo Switch Online service can play a selection of Game Boy and Game Boy Color games, as well as Game Boy Advance games for users of the NSO Expansion Pack.
The post The Gulf War Game Boy Says Goodbye to Nintendo New York Store appeared first on Siliconera.
---
Siliconera Friday, June 30, 2023 2:00 PM
Bandai's Tamashii Nations confirmed that there will be new One Piece SH Figuarts figures based on the Netflix live-action show. The announcement didn't include a look at any prototypes or announce any characters that will appear. However, it did reveal that people will get to see the in-development figures at Anime Expo 2023.
Here's the announcement. It only shared the logo for the live-action adaptation of the series. Given that the Straw Hat Pirates in this first season include Luffy, Nami, Sanji, Usopp, and Zoro, it could be possible that one or all of them could appear in the line up. This would likely mean One Piece SH Figuarts figures that will bear a resemblance to Inaki Godoy, Emily Rudd, Taz Skylar, Jacob Romero Gibson, and Mackenyu.
We're thrilled to announce a very special collaboration! Combining the creative forces of NETFLIX ONE PIECE and TAMASHII NATIONS action figure brand S.H.Figuarts! A world's first sneak peek is set to be revealed at ANIME EXPO 2023!#netflixonepiece #shfiguarts #tamashiinations pic.twitter.com/yq46t8UOHp

— TamashiiNations (@TamashiiNations) June 29, 2023

As a reminder, the Luffy and Zoro standard SH Figuarts figures will return this year.
The One Piece live-action show will appear on Netflix on August 31, 2023. The anime is streaming on Crunchyroll, with some movies on Netflix. The manga is localized by Viz Media. There's no release date for the One Piece SH Figuarts figures based on the live-action adaptation yet, but they'll be on display at Anime Expo at the Los Angeles Convention Center July 1-4, 2023.
The post One Piece SH Figuarts Figures Based on Live-Action Show Coming appeared first on Siliconera.
---
PC Invasion - FeedDDD Friday, June 30, 2023 8:53 PM
The Make It Rain Event is now live until July 17 at the Gold Saucer in FFXIV. That means not only do we get an event quest, but all Manderville Gold Saucer Points are doubled for the duration of the event. It's time to get grinding, but first, we've an event quest to do. Here's the Make It Rain 2023 guide and rewards overview. Make It Rain 2023 Start Quest To start the event quest, you have to have completed the Main Scenario Quest 'The Gridanian/Limsan/Ul'dahn Envoy' depending on your starting city. With that requirement checked, pick up 'A Golden Opportunity' from Kipih Jakkya just outside of the Ul'dah Aetheryte at (9.4, 9.2). If you've seen her in previous events, you'll even get dialogue options. Screenshot by PC Invasion She explains The Raven is asked to write a piece on the Gold Saucer festivities and asks you for help. Off to the Gold Saucer! Make your way to the Entrance and Card Squar...
---
PC Invasion - FeedDDD Friday, June 30, 2023 7:04 PM
Figuring out how to find all of the collectible locations at the Mountain Ascent on Koboh doesn't have to be a mountain of a task while playing Jedi: Survivor. The size of the area is relatively small compared to other locations, and it takes a fraction of the effort required to find all the collectibles at the Arid Flats on Jedha. Nevertheless, some quick tips along with a handy map certainly turn the task of getting everything at the Mountain Ascent into an easier affair. How to find all Mountain Ascent collectibles in Jedi: Survivor We've included a map to help you find all of the Mountain Ascent collectibles in Jedi: Survivor along with individual walkthroughs for each item. This guide handles all of the collectibles by category, so you should read through the entire guide before starting to save time as you move around each part of the Mountain Ascent. Note that you'll also need Merrin's Charm which allows you dash through ray shields in order to access mos...
---
PC Invasion - FeedDDD Friday, June 30, 2023 6:52 PM
The ocean hosts an entire kitchen's worth of tasty treats just waiting to be munched and crunched. Just below the waves are a million flavors and textures to explore. Dave the Diver allows you to take on the role not only of harpoon fisherman but also of sushi restaurant mogul. Adventuring into the deep, dark, and beyond rewards you with treasures for the table to entice and excite your customers. One of the many ingredients you will need to procure is the Sea Grapes to go with the jellyfish dish in Dave the Diver. Where to find Sea Grapes in Dave the Diver Screenshot by PC Invasion These Sea Grapes will be used to please the second critic to come through your doors. Along with Salt and Jellyfish, this tasty treat of Sea Grapes astounds and results in your sushi bar being upgraded once again. Finding the Grapes is a bit of a trick as Dave the Diver prefers you to make your own discoveries rather than hand-holding. To find the Sea Grapes in Dave the Diver, you should ...
---
PC Invasion - FeedDDD Friday, June 30, 2023 6:50 PM
For most caves in The Legend of Zelda: Tears of the Kingdom, you can simply spot the entrance and head inside without much resistance. But of course, some caves require you to complete some kind of task or puzzle before you can unlock the entrance. The Coliseum Ruins Cave serves as one such example, but it goes beyond that, as the method required to access it makes for one of the more obscure overworld puzzles in Tears of the Kingdom. And you'll definitely want to solve it if you want the rewards that lay inside. Here are the steps for both finding and unlocking the Coliseum Ruins Cave. What to do to access the Coliseum Ruins Cave As the name suggests, the Coliseum Ruins Cave rests below the Coliseum Ruins, which sits slightly to the southwest of the Hyrule Field Skyview Tower. Screenshot via PC Invasion You can't just waltz in and look for the cave right away, however, as a Thunder Gleeok stands in the coliseum ready to attack you. Its electric breath deals ...
---
PC Invasion - FeedDDD Friday, June 30, 2023 6:08 PM
From Lovecrafts Call of Cthulhu to tales from ancient mariners, the giant underwater squid monster is a myth that has lasted the ages. In Dave the Diver, this fearsome beast once again rears its ugly head. The 8-Bit rendition of the tentacled leviathan creeps around in the background of the 8-bit water wonderland, hinting at an attack. When its layer is finally found, a battle is unavoidable, especially as it had ahold of Duff's questionable figurine… Here's how to beat the Giant Squid in Dave the Diver. How to beat the Giant Squid in Dave the Diver Beating the Giant Squid in Dave the Diver is more a game of skill and patience. You can't rush into it, as the battle seems to be time and animation based rather than damage. Let's face it, anything you have equipped is barely fit for large flounders at this point, let alone a Giant Squid. Take your time and time your takes. Screenshot by PC Invasion The Giant Squid will require 4-5 attacks directly to that huge eye. ...
---
Tabletop Gaming News – TGN Friday, June 30, 2023 7:00 PM
Mordred, the enigmatic figure often portrayed as the antagonist in Arthurian legend, is taking center stage in the gaming world. Renowned board game publisher CMON has announced the upcoming Kickstarter campaign for their new project, Mordred, an innovative area control game set in the realm of King Arthur. "Mordred" is developed by acclaimed game designer …
---
Tabletop Gaming News – TGN Friday, June 30, 2023 6:00 PM
Infinity announced the release of several new additions to their roster of game miniatures. The release includes units for multiple armies, offering a host of options for players looking to enhance their gaming experience. O-Yoroi Kidobutai for the JSA army is one of the highlighted releases, with the box including an injected thermoplastic O-Yoroi and …
---
Tabletop Gaming News – TGN Friday, June 30, 2023 5:00 PM
Warlord Games announced the release of "Tough Gut," a sequel to the Bolt Action campaign book "Soft Underbelly," on their official website. The newly released book was authored by Robert Vella and propels the timeline into 1944, focusing on the invasion of mainland Italy. "Tough Gut" narrates the gripping tale of the first five months …
---
Tabletop Gaming News – TGN Friday, June 30, 2023 4:00 PM
Fantasy Flight Games has announced the release of Marvel D.A.G.G.E.R., its latest co-operative board game now available for purchase in the United States. Fans can grab their copies from local retailers or online through the Fantasy Flight Games webstore. Marvel D.A.G.G.E.R. plunges players into a world where Earth's very survival hangs in the balance. Amid …
---
Tabletop Gaming News – TGN Friday, June 30, 2023 3:30 PM
A monumental collection of vintage Warhammer kits is currently up for grabs on eBay, with a whopping price tag of $63,000. The impressive stash of miniatures belongs to a fan named Jamie Hutber, who owns about 1,400 sealed out-of-print Warhammer Fantasy and Warhammer 40k kits. Despite the sizable asking price, Hutber has estimated that the …
---
Tabletop Gaming News – TGN Friday, June 30, 2023 3:00 PM
The latest releases from Paizo are ready to whisk players away to mysterious cities, celestial realms, and conspiratorial underworlds in their renowned Pathfinder and Starfinder Roleplaying Games. These products, available at friendly local game stores, bookstores, or directly on paizo.com, are sure to enthrall fans and newcomers alike. Pathfinder Lost Omens Highhelm First in line …
---
WGB, Home of AWESOME Reviews Friday, June 30, 2023 6:47 PM
It seems that Daedalic Entertainment has made the radical decision to cease developing games, choosing to focus purely on publishing, licensing, marketing and sales. German website Games Wirtschaft broke the story.