---
Kotaku Friday, February 4, 2022 5:50 PM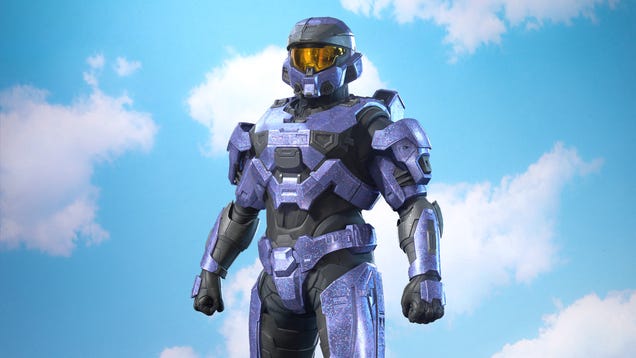 An unrewarding battle pass. Big Team Battle. The freakin' mangler. Halo Infinite's most hardcore fans have long had minor gripes with the shooter, but here's a new one: Cross-promotional tie-ins. Some players say they recently bought beauty products solely for the purpose of scoring cosmetics for use in Halo Infinite.…
---
Kotaku Friday, February 4, 2022 5:05 PM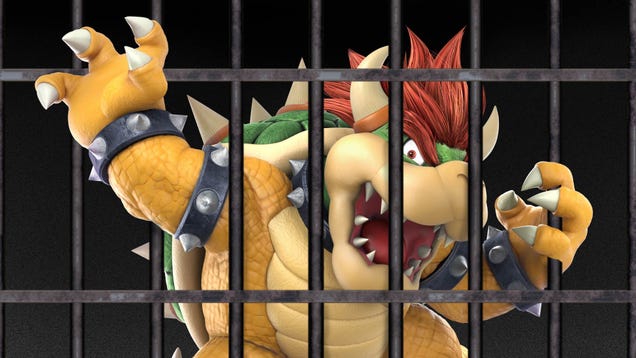 The U.S. government suggested to a federal judge on Thursday that Nintendo hacker and modder Gary Bowser receive five years in prison after he pled guilty to two charges involving the selling and creation of mod chips that could allow people to play pirated games on their Nintendo Switch.
---
Kotaku Friday, February 4, 2022 4:45 PM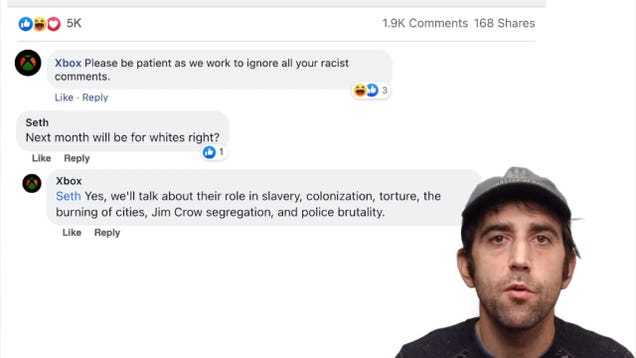 It would be so satisfying if corporations and brands more often called out racism and other ills in their comments sections on social media. In the responses to a recent Xbox post on Facebook, it appeared at first glance that the console-maker had done exactly that. And while it's not quite what it initially appears…
---
Kotaku Friday, February 4, 2022 4:30 PM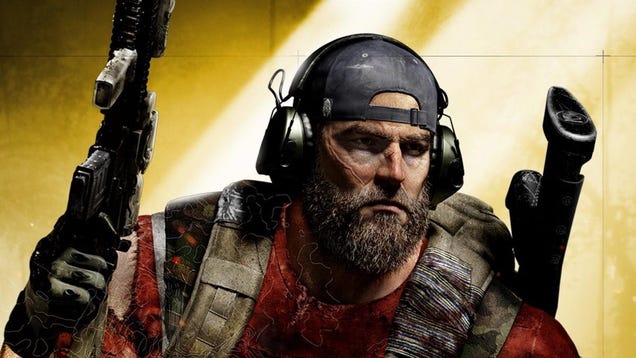 Ubisoft's ongoing NFT odyssey continues to bewilder and demoralize not just longtime fans but also its own developers. The company recently held another workshop aimed specifically at addressing the concerns of skeptical employees, yet also started giving out special NFTs to some members of the Ghost Recon team to…
---
Kotaku Friday, February 4, 2022 2:55 PM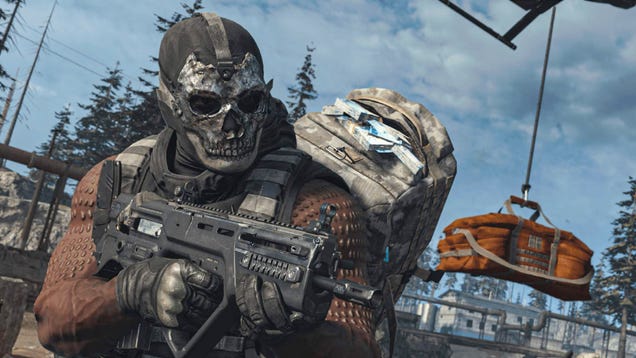 Activision Blizzard, a publisher under a government investigation revolving around sexual harassment at the company, allegedly stopped a Call of Duty personality from leading her own team within a tournament held by her own organization. The reason? She's claiming that the publisher was uncomfortable with her…
---
Kotaku Friday, February 4, 2022 1:45 PM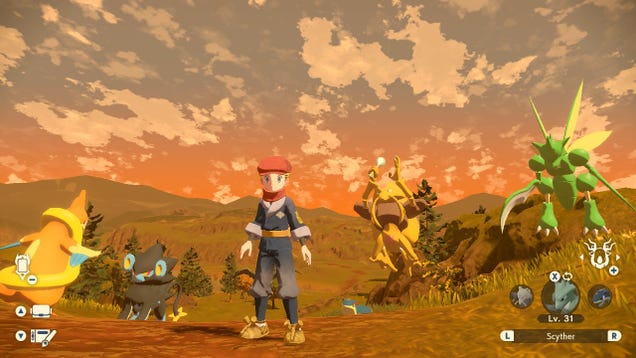 Game Freak's first stab at a semi-open world Pokémon game is quite good. In some ways it's shockingly so. How do I know this? In part because I and a bunch of other players got immediately hooked on Pokémon Legends: Arceus' first area and wasted hour after hour there doing tons of stuff without even a thought as to…
---
Kotaku Friday, February 4, 2022 1:20 PM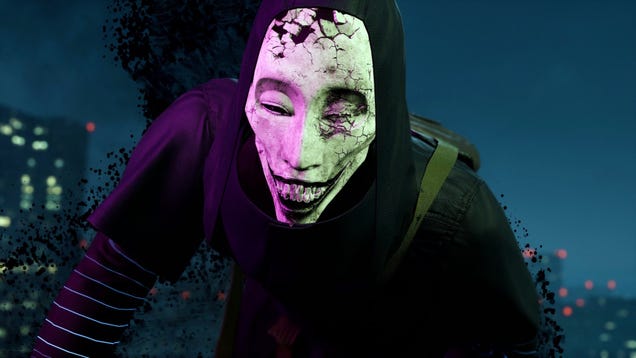 Last night, developer Tango Gameworks delivered an in-depth look at the gameplay and narrative of its upcoming supernatural action-adventure game Ghostwire: Tokyo. We saw some tight abilities, some cool exploration, and some adorable kitties. We also now know that the March 25 release date that's been floating around…
---
Kotaku Friday, February 4, 2022 12:40 PM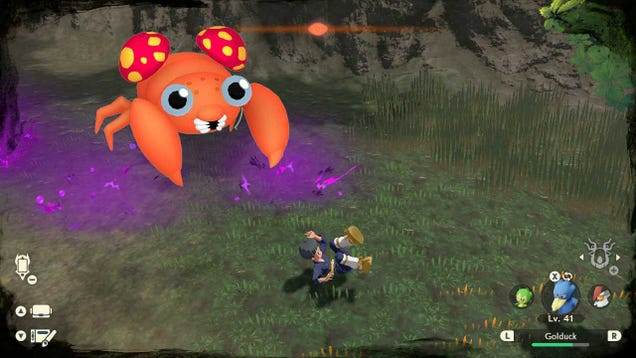 You've probably been trying to catch 'em all in Pokémon Legends: Arceus, but sometimes the Pokémon just want to catch you. And kill you. It's probably fair, since I'm trying to put their friends and family in Pokéballs. But in the heat of running away from a weirdly aggressive Paras, I just want these fuckers to eat…
---
Kotaku Friday, February 4, 2022 12:05 PM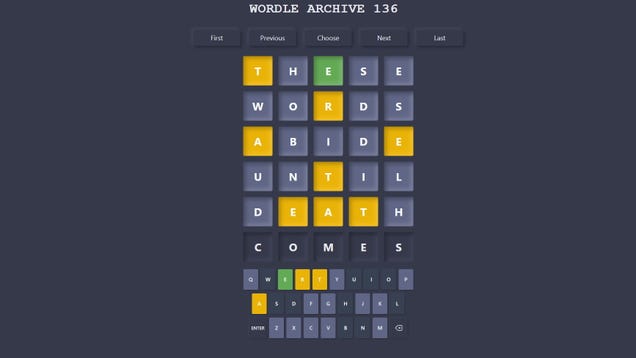 The magic behind Wordle is, of course, that there's only one puzzle a day. Combined with the ease with which players can paste their spoiler-free results to social media and group chats, it's that the whole world is all playing the same puzzle, the same day, that makes it so alluring. But screw that! You can now play…
---
Kotaku Friday, February 4, 2022 11:30 AM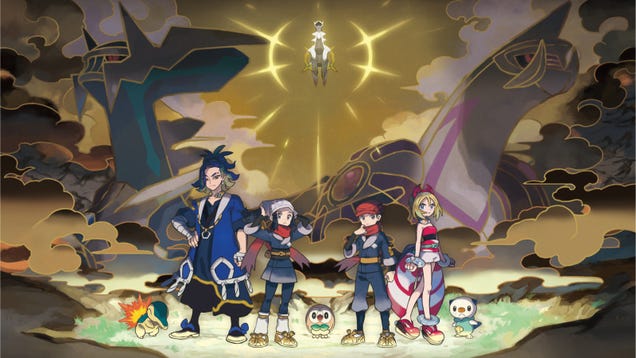 For years now, Pokémon fans have been begging Game Freak for a more "mature" monster-collecting video game, ideally one that's more difficult than the mainline games in the franchise. With Pokémon Legends: Arceus, it seems that folks might have finally gotten what they wanted–and it's kinda unsettling. Let me explain.

---
PCGamesN Friday, February 4, 2022 5:00 PM
Rockstar officially announced the next Grand Theft Auto today, though the studio stopped short of even officially naming it Grand Theft Auto 6. We know nothing concrete about it. You know who does know something about it? Jim Jagger, vice president of animation at Rockstar. He says it's going to be "special". And he'd know, right?
"This is going to be special," Jagger says in a retweet of the announcement of the new GTA. I'm sure you're all making shocked Pikachu faces at the prospect of a developer being excited about their own game, but look. You've all been Googling and reading news about fake GTA leaks for nearly a decade now. This one sentence might not be much, but it's real.
If you missed today's Grand Theft Auto news, Rockstar confirmed development on the next GTA game in the most unceremonious way possible. "With every new project we embark on, our goal is always to significantly move beyond what we have previously delivered," the studio says, "and we are pleased to confirm that active development for the next entry in the Grand Theft Auto series is well underway."
---
PCGamesN Friday, February 4, 2022 4:45 PM
There's a new patch out for God of War on PC today, updating the action-adventure game to version 1.0.5. The patch makes some small but very welcome tweaks, mainly focusing on UI/UX elements, that makes Kratos and Atreus more pleasant to have around.
With the latest patch installed, you can fully disable DLSS sharpening by setting the sharpening slider to zero, and TAA should no longer lead to blurriness on render scales less than 100%. Another nice touch is that the game window's behaviour has been fixed - it'll now interact correctly with the Windows taskbar, and the borderless fullscreen mode won't cover up the task switcher. In other words, you are now free to alt-tab your way around God of War as you please.
There are additional welcome fixes: the game audio will now mute while the app is in the background, and the HDR brightness level is no longer affected by the SDR brightness settings. You'll now see button prompts in-game that match the controller type you've selected in Steam.
---
PCGamesN Friday, February 4, 2022 3:31 PM
A hotfix is out for brand new co-op game Dying Light 2, which launched less than 24 hours ago. The small patch is aimed at addressing issues players have run into when playing co-op - specifically, unreliable connections and the inability to join other players' games. The team says it's also working on fixing the Techland website, where players who pre-ordered Dying Light 2 have to go to redeem their in-game rewards.
"Two things on the top of our list: disconnects in co-op mode and problems with redeeming awards, codes, and other in-game content, including Twitch Drops from TechlandGG," a Techland community manager posted on the Steam forums earlier today, February 4. "Our team is on it. We will update you on the progress."
About five hours later, a hotfix was ready to download. Techland says it should improve the stability of co-op mode connections, but advises players to shut down and re-launch Steam once the patch is downloaded, "just in case". The patch itself is around 260MB, so you won't have long to wait once it appears in the queue.
Dying Light 2 release date
,
Dying Light 2 factions
,
Dying Light 2 trailer reveal
---
PCGamesN Friday, February 4, 2022 2:17 PM
Way back in 2020, the developers announced a major change to Minecraft: Java Edition, as players would soon be required to swap from a Mojang account to a Microsoft account in order to keep playing. That's 'soon' in relative terms, as we still haven't actually hit the deadline, but the developers have just confirmed the date and put out the final call for account migration.
As of March 10, you will no longer be able to play Minecraft: Java Edition with a Mojang account. The devs want everyone to switch over to Microsoft accounts for "improved security and player safety", and they're enticing people to make the change with the promise of free Minecraft capes.
You can get all the details on how to migrate your account here. Java Edition will continue to be supported as normal following the change, and will continue to be a separate entity to Bedrock. This is purely a unification of the account system. You'll be able to keep your old username, too - you'll just need to have an Xbox gamertag to go with it.
Minecraft console commands
,
Minecraft skins
,
Minecraft mods
---
PCGamesN Friday, February 4, 2022 1:51 PM
Ghostwire: Tokyo finally received an official release date earlier this week, but before you place your pre-order and net yourself a swanky outfit in the process, you should make sure your gaming PC is ready for the paranormal romp. Fortunately, it doesn't take much to meet the Ghostwire: Tokyo system requirements, but you might need to upgrade your gaming RAM if you're still a member of the 8GB crew.
Standards have shifted over the last few years, with games asking for more memory than ever. It probably won't surprise you to see 16GB of RAM recommended here, but entry-level and ageing systems might feel some pressure from the higher barrier to entry, as Tango Gameworks suggests a minimum of 12GB of RAM to play the action-adventure horror game. This is something we'll probably see more of throughout 2022 and beyond, so choose your next upgrade wisely.
It also continues the trend of recommending an SSD over a mechanical hard drive for faster loading times, but you can take comfort knowing it won't take up too much storage space at just 20GB.
Best SSD for gaming
,
How to build a gaming PC
,
Best gaming CPU
---
PCGamesN Friday, February 4, 2022 1:31 PM
When you crack open the core rulebook for Dark Souls: The Roleplaying Game, you'll have access to just about every piece of gear that appeared in Dark Souls 3, thanks to what the designers are calling a "genuine beast of an equipment chapter." So if you like to rock the Black Witch armour set along with the Demon's Scar, you're probably covered with a set of stats and tables for each.
In an interview with our sister site The Wargamer, lead writer and designer RIchard August says that Dark Souls 3 was the jumping off point for most of the members of the design team, and that just about all the gear from that game has made its way to the tabletop version - which itself uses rules from Dungeons & Dragons Fifth Edition.
"Nearly every individual weapon, shield, and armour set" in Dark Souls 3 has been included in the chapter that covers gear, August explains. You can bet on seeing entries for notable items like the Black Iron Greatshield, the Farron Greatsword, and perhaps the Lothric War Banner - a spear whose attached skill rallies everyone beneath its banner.
Dark Souls 3 PC review
,
Dark Souls 3 gameplay
,
Dark Souls 3 PC port review
---
PCGamesN Friday, February 4, 2022 12:57 PM
After a teaser in January suggested a wedding game pack was on the way for the Sims 4, we now have a whole lot more detail on what to expect. It's just not official yet. A new game pack called My Wedding Stories has leaked complete with a host of screenshots, a cover image, and a release date, so these early details are already looking pretty solid.
The title and a February 17 release date for My Wedding Stories game pack initially leaked through Aggiornamenti Lumia on Twitter (via Sims Community), an account which has accurately leaked other Sims 4 DLC packs in the past, including the recent Carnaval Streetwear Kit.
According to a store description leaked and translated by Britney Lunar on Twitter, the pack will let you plan an entire wedding, from choosing the sims of honour to hosting engagement dinners and wedding rehearsals. You'll be able to choose the menu and decorations, and go through all the usual Western wedding traditions, like exchanging vows, smooching at the altar, and then making awkward speeches and cutting an overly decadent cake at the reception.
Best Sims 4 mods
,
Best Sims 4 sex mods
,
Play The Sims 4
---
PCGamesN Friday, February 4, 2022 12:55 PM
For the past few weeks, headlines in the United Kingdom have been dominated by revelations that several parties were held at 10 Downing Street during the UK's various national lockdowns. While many people could not visit loved ones, staff at Number 10 - allegedly including Prime Minister Boris Johnson - were reportedly 'aving a few drinks with the gang. It turns out, though, that the citizens of Appalachia are now facing a similar problem. Someone has rebuilt 10 Downing Street in Fallout 76, and the party isn't stopping there either.
A Twitter user called Steve stumbled across a build of 10 Downing Street in Fallout 76. Aside from the name being plastered to the side of the building, you also have the phrase "party central" above the doors, some disco lights that illuminate the windows, and clowns that stare at those who walk by. While not intentionally part of the build, you also have the sound of crickets in the background, which adds something eerie to the ambience.
The UK government's so-called 'partygate' scandal is the subject of ongoing investigations both by the Metropolitan Police and the civil service, so we don't know how it's all going to shake out, but it's already been the cause of much drama in recent weeks' headlines. At one point, Johnson said that no one had told him a garden party at 10 Downing Street would be "against the rules" - the ones he wrote - and Westminster SNP leader Ian Blackford was told to leave the House of Commons for saying Johnson had misled Parliament.
Fallout 76 Mutations
,
Fallout 76 Perk Cards
,
Buy Fallout 76
---
PCGamesN Friday, February 4, 2022 12:26 PM
There sure are a lot of people heading to Villedor to test their wits - and parkour skills - against the infected hordes of Dying Light 2. The new zombie game has already quintupled the all-time peak player count of the original Dying Light, and the weekend has yet to get underway.
According to SteamDB, at the time of writing this, some 228,495 players were in-game in Dying Light 2. That puts it in the top five most-played games of the moment, just below perennial crowd favourites like Counter-Strike: Global Offensive, Dota 2, and Apex Legends. It's around five times the all-time peak concurrent player count that Dying Light hit shortly after launch, which topped out at 45,876 shortly after its own launch in 2015.
It's fair to say that Dying Light 2 has had a roaring debut. Right now, it's tracking at 30th in the list of highest concurrent player peaks on Steam, ever - and the figure above is only going to rise as we head into the weekend.
Dying Light 2 release date
,
Dying Light 2 factions
,
Dying Light 2 trailer reveal
---
PCGamesN Friday, February 4, 2022 12:19 PM
Looking for inhibitor locations in Dying Light 2? If you want to survive in the city of Villedor, you're going to need to upgrade your health and stamina bars right away. These upgrades drastically improve your survivability, allowing you to withstand tougher foes and spend more time swinging your weapon or climbing tall buildings. Inhibitors are the key to improving your physical stats, but they can be tricky to find if you don't know what to look for.
Most of the inhibitors you find in Dying Light 2 are tucked away in the corners of buildings, so you've got to stay alert as you hunt these items down. Inhibitors are typically found in GRE Crates, but they can also appear outside these containers in rare circumstances. GRE Anomalies also drop inhibitors, but you may want to avoid these boss fights in the early game as they can be difficult.
Permanently upgrading either your health or stamina requires three inhibitors. Upgrading either of these stats also improves your immunity, giving you more time to explore without having to rely on immunity boosters. Here's everything you need to find every inhibitor in Dying Light 2.
Dying Light 2 release date
,
Dying Light 2 factions
,
Dying Light 2 trailer reveal
---
PCGamesN Friday, February 4, 2022 12:10 PM
Xûr is Destiny 2's Exotic gear merchant. He appears every weekend to sell the game's most coveted items in exchange for Legendary shards, but if you're a casual player with limited shards to spend, it can be hard to know which of his wares is most worth your investment. That's where we come in.
As of June 12, 2020, it appears that Xûr is back to providing random rolls - so the Exotic merchant is providing more excitement than he has in a long time. Xûr appears every Friday at 9am PST / 12pm EST / 5pm GMT, and will stick around until the Tuesday reset. We'll update this guide shortly after he arrives, so if you're reading this, you need only read on to learn where he is, and which are the best items he's selling this week.
Now we're in Beyond Light territory, but Xûr's first appearances have been at the usual spots - so maybe don't expect too many surprises from the merchant in the new year of Destiny content.
Destiny 2: Beyond Light review
,
Destiny 2 exotics
,
Play Destiny 2
---
PCGamesN Friday, February 4, 2022 12:07 PM
Bungie's pinnacle PvP activity is back in rotation with a major revamp, and if you're looking for details on the Destiny 2 Trials rewards this week, you've come to the right place. Before you start working your way up through the ladder, you'll want to know what you're actually working for - so here's a breakdown of what's available each week, and what map you'll be playing on.
If you're not familiar with Trials of Osiris, it's a weekly PvP challenge where you enter a competitive gauntlet of 3v3 elimination matches. Your rewards are now doled out with a reputation system, so it's not about pure wins anymore, but you will still get special rewards if you can manage to go flawless.
Trials lands with the reset every Friday at 9am PST / 12pm EST / 5pm GMT, and lasts until the Tuesday reset at those same times. Each week provides a new set of rewards and a new map to play on, so here's what you can expect for the latest rotation.
Destiny 2: Beyond Light review
,
Destiny 2 exotics
,
Play Destiny 2
---
PCGamesN Friday, February 4, 2022 11:25 AM
Want to know what the Dying Light 2 safe codes are? The long-awaited sequel to the first-person parkour zombie game has tons of loot that you can find just about anywhere. Like in the first game, you can find plenty of useful items inside safes.
Safes can contain valuable items such as journals, quest items, medkits, and Dying Light 2 inhibitors that you can use to upgrade your abilities. Finding these safes and their combinations are just one of the many reasons the developers claimed in January that Dying Light 2 takes 500 hours to completely unlock.
So far, we know the locations and code combinations of seven safes hidden across the two regions. Rather than have you waste time hunting for clues in the safe room for each corresponding combination of numbers, we will list all Dying Light 2 safe codes below and inform you where you can find every safe in the game.
Dying Light 2 release date
,
Dying Light 2 factions
,
Dying Light 2 trailer reveal
---
PCGamesN Friday, February 4, 2022 11:28 AM
So you want to know how to repair weapons in Dying Light 2? Unfortunately, you'll need to reckon with the fact that your favourite rusty pipe or two-handed glaive is going to break eventually. Weapons in Dying Light 2 have a durability stat and unlike the first game it's not a simple case of just slapping on a repair kit to keep it going.
Repairing weapons in Dying Light 2 is not a formal mechanic as there are so many weapons available. The general assumption is that when you find a weapon you use it until it breaks, and then move on. But what if you find one you really like and want to keep using it as long as possible?
We've got some good news and some bad news. The good news is that it is possible to repair weapons. The bad news is that not all weapons are repairable, and even those that are have a limit on how many times they can be patched up. Here's everything we know about repairing weapons in Dying Light 2.
Dying Light 2 release date
,
Dying Light 2 factions
,
Dying Light 2 trailer reveal
---
Rock Paper Shotgun Latest Articles Feed Friday, February 4, 2022 3:58 PM
Nine years and over $434,000,000 (£320m) after starting crowdfunding, space sim Star Citizen and its singleplayer spin-off Squadron 42 are still very far from completion. They're sustained by fans' hopes and dreams of what the games might one day become but this is a double-edged sword. The developers, Cloud Imperium Games have now decided to make their public development roadmap for future updates more vague, because some players get dead narked about delays. I can see that happening after nine years.
---
Rock Paper Shotgun Latest Articles Feed Friday, February 4, 2022 11:46 AM
Last year, Ed wrote about how he wished Ian Hitman could skip in IO Interactive's big shiny assassin sim. Well, Agent 47 clearly needs to make the next stop on his international mission list a nice, relaxing retreat on the Mediterranean island of Pinar del Mar. Not to murder anyone, of course. But to hang out with Alba for some all important frolicking lessons. She's a pro at this skipping marlarkey. If she's not throwing her arms out like an aeroplane when she's running up and down the yellowing hills of this sleepy little island village, she's doing a jolly little skip that is probably the most delightful thing I've ever seen in a video game. In fairness, the whole game is just pure joy distilled into a chill wildlife photography adventure, but man alive, the skipping is something else. More of this please, developers.
---
Twinfinite Friday, February 4, 2022 3:44 PM
The Genshin Impact 2.5 Special Program stream has come and gone, so we have a ton of new info on what's on the way when the new version arrives on Feb. 16. Yae Miko is finally joining the roster as a playable character alongside a new world boss, weapons, and events. Here's a rundown of […]
The post What's New in Genshin Impact 2.5 Update? Everything We Know So Far appeared first on Twinfinite.
---
Twinfinite Friday, February 4, 2022 3:29 PM
Earlier today, Crunchyroll confirmed that the English simuldub of Attack on Titan Final Season Part 2 is almost here. Fans of the dubbed version of the series will only have to wait for a little over a week, as it will air on Funimation and Crunchyroll Sunday, Feb. 13, 2022. The news came by way […]
The post Attack on Titan Final Season Part 2 English Dub Begins This Month appeared first on Twinfinite.
---
Twinfinite Friday, February 4, 2022 3:13 PM
Developer Hazelight Studios celebrated yet another sales milestone for its award-winning co-op action/adventure game It Takes Two. As of today, the game has officially sold over 5 million copies. The news comes courtesy of a recent tweet from the developer's official account, which you can check out for yourself right down below. If you're keeping […]
The post Hit Co-Op Platformer It Takes Two Surpasses 5 Million in Sales appeared first on Twinfinite.
---
Twinfinite Friday, February 4, 2022 2:17 PM
---
Twinfinite Friday, February 4, 2022 12:38 PM
Japan definitely loves Pokemon, and Kagawa Prefecture on the island of Shikoku has a unique affinity with Slowpoke. The Pokemon Company and the prefectural government have an agreement to promote local tourism since 2018 and the special project "Yadon Paradise Kagawa" has just been announced today with a press release. If you're wondering, "Yadon" is Slowpoke's […]
The post Japan's Pokemon Mania Continues With Adorable Slowpoke Ferry Ship, Hotel Rooms, & Buses appeared first on Twinfinite.
---
Twinfinite Friday, February 4, 2022 11:41 AM
---
Siliconera Friday, February 4, 2022 4:00 PM
There's a new Calliope Mori x Gura Gawr song out now, and Vocaloid music producer Deco*27 is involved. Mori and Deco*27 worked together on the lyrics for "Q," while Deco*27 handled the music. The music video is immediately available. However, it won't be available to purchase or stream via various services until February 5, 2022. When the song is available, it will cost ¥250 (~$2.20) for the single song or ¥500 (~$4.30) for the single that includes an instrumental version.
Here's the full "Q" music video. The lyrics appear in English and Japanese while the two Hololive Vtubers "fight."

This is the second recent Calliope Mori x Gura Gawr track. They also did a cover of Kanaria's "King" back in August 2021.

The song debuted ahead of a new concert performance that will include both Hololive En Myth members. At the end of January 2022, Cover announced the five would be a part of the Hololive 3rd Fes Link Your Wish concert. Gura will perform on March 19, 2022 during the first part of the show. Then Mori will appear during the second part on March 20, 2022. Amelia Watson, Kiara Takanashi, and Ina'nis Ninomae haven't shared any new music ahead of the performance yet.
The Calliope Mori and Gura Gawr "Q" single will go on sale on February 5, 2022.
The post New Calliope Mori x Gura Gawr and Deco*27 Song Debuts appeared first on Siliconera.
---
Siliconera Friday, February 4, 2022 3:00 PM
Nintendo mobile hit Fire Emblem Heroes is celebrating its fifth anniversary this week. It's a great time to look back at what it's accomplished, good and bad, and what we'd still like to see from the game. Let's hear from you too! Drop by the comments and share your thoughts.
---
The Good
STREAMLINED STRATEGY: Heroes strikes a good balance between the tactics of traditional Fire Emblem and a friendlier, mobile simplicity. Battles are short and fit easily on a phone, but they also still feel tactical. This wasn't the easiest thing to manage. — Graham
GACHA THAT WORKS: Fire Emblem Heroes really distilled the key appeal of Fire Emblem — its characters — into that most character-focused of games: The gacha hero collector, and made it work. The latter chapters also introduced a number of interesting wrinkles to its multiversal lore, and added appealing original characters of its own. — Josh
DISCOVERING CHARACTERS: I love that Fire Emblem Heroes exposes people to characters from games we didn't get. The Binding Blade? Roy's our boy and here! Thracia 776? Leif's leading his army into our lives! By doing so, maybe it is also encouraging players to look up details about the Japan-exclusive titles. — Jenni
SUSTAINED DEVELOPMENT: Has every addition been a hit? Not remotely. But you can tell that Intelligent Systems and Nintendo are at least trying new things, and that's given the game legs! In ways the rest of the Nintendo Mobile offerings really haven't. — Graham
The Bad
THE MONETIZATION: For as many gacha games as I play, make no mistake: gacha monetization is inherently predatory, which is automatically bad! — Josh
MODE EXECUTION: After years of some truly abysmal new "mode" efforts that didn't add any interesting gameplay, recent Fire Emblem Heroes efforts have seen fun ideas like Pawns of Loki and Summoner Duels. These have tried players' patience, though, as power creep and nigh-broken units have made them a lot more frustrating to play. Hopefully we can see some work to remedy these. (And hey, maybe fixing some of the old stuff would be good, too! Like merge-and-skill-dependent scoring, which limits creativity and favors whales.) — Graham
FEH PASS CHOICES: I hate the Feh Pass-exclusive spark system. Some banners now give you a guaranteed character if you pull 40 times... if you subscribe. It feels quite predatory and I'm not a fan. Don't lock that behind a subscription, Intelligent Systems. — Jenni
MORE FEH PASS CHOICES: Honestly, in principle, I don't hate Feh Pass. The idea of paying a small amount and getting a good set of bonuses? More palatable to me than the normal, pay-a-bunch-for-very-little microtransactions. But quality-of-life features like more auto-battling and balance problems like summoner support boosts? That's less great. — Graham
The Still Missing
HOLDING OUT FOR A HERO: We're missing male original characters who are the free, focus units for each book. So far we've had Fjorm, Peony, Reginn and now Ash. Heroines are great! But I need a hero. — Jenni
MORE SPINOFF LOVE: While there was a brief nod at Tokyo Mirage Sessions a few years ago, spinoff heroes have otherwise been left out in the cold. We want Cipher! We want Warriors, sort of, though those characters weren't particularly special! — Graham
A TRADITIONAL RELEASE: I wouldn't mind a full-fledged, single-player Fire Emblem game that uses the original characters and elements of Fire Emblem Heroes! When's that happening? — Josh
KELLAM: At least I think so? I suppose he might be in there somewhere and I'd never know it. — Graham
---
What are your thoughts on Fire Emblem Heroes? Let us know in the comments or on Twitter! And read our other handy roundtables for more thoughts from the Siliconera team.
The post Five Years of Fire Emblem Heroes: The Good, Bad and Still Missing appeared first on Siliconera.
---
Siliconera Friday, February 4, 2022 2:00 PM
With telecommuting and video conferencing prevalence increasing due to the COVID-19 pandemic, a number of developers and publishers shared backgrounds for services like Zoom. The latest is Bandai Namco. It offered an assortment of Tales of Arise backgrounds with Lords' thrones designed to appear behind a person while perhaps in a Google Meeting or Zoom call. There are also no spoilers in any of them.
Each of the Tales of Arise backgrounds features thrones like the one the Renan Lords on Dahna sit in. While each one will be recognizable to those who played the game, there are no "hints" as to who they belong to. There aren't any spoilers regarding regions or people's identities. Rather, they seem like a series of elegant chairs from throne rooms. For example, one of the more recognizable ones is the Glanymede Castle throne from Calaglia
[gallery columns="4" ids="915131,915132,915133,915134" link="file"]
In the past, other Zoom backgrounds for games and series like Bleach, Naruto, Final Fantasy XI and Kingdom Hearts appeared.
Tales of Arise is available for the PS4, PS5, Xbox One, Xbox Series X, and PC. People can also now access a Gallery App for the game. It features art, screenshots, and the Ufotable video that acts as an Introduction Animation.
The post Tales of Arise Zoom Backgrounds Feature Lords' Thrones appeared first on Siliconera.
---
Siliconera Friday, February 4, 2022 1:00 PM
Yet another Persona figure appeared at Megahouse's MegaHobby Plus 2022 Winter showcase. This one is Thanatos from Persona 3. The company confirmed it would rerelease the Game Characters Collection DX statue that first appeared back in January 2020. There's no price or release window for the rerelease, however the original release was 23,000円 (~$200).
The rerelease of the Persona 3 Thanatos figure is being described as an Anniversary Edition. Like the first run, it will still be almost 12 inches tall. Though that height does take into account the Persona's sword. Translucent effect parts appear to make it look as though he is in the middle of an attack. The Persona plays a major role in the game.
Here's how it looks from various angles.
[gallery ids="915124,915125,915126" link="file"]
This is one of two Game Characters Collection DX figures from the series to show up in the second phase of the event. Megahouse also revealed a Persona 5 Loki figure. That one is quite early in development. As such, only concept art appeared.
Persona 3 is available on the PlayStation 2 both in standard and enhanced FES editions. Persona 3 Portable appeared on the PlayStation Portable. The Persona 3 Thanatos figure doesn't have a release date yet.
The post Megahouse Persona 3 Thanatos Figure Shown appeared first on Siliconera.
---
Siliconera Friday, February 4, 2022 12:00 PM
The Yurukill: The Calumniation Games release date changed in every region. It will be pushed back about a month. The new Japanese release date is May 26, 2022. It originally was supposed to be out in the region on April 14, 2022. People in North America will get it on July 5, 2022, rather than June 7, 2022. Instead of showing up on June 10, 2022 in Australia and Europe, it will appear on July 8, 2022.
NIS America's announcement also offered details about why the game is being pushed pack. Put simply, the Yurukill release date ended up delayed for quality control purposes. It specifically mentioned G. Rev is experiencing "development challenges." The goal is the extra month should help the team overcome the issue.
[Change of Release Date]

Yurukill: The Calumniation Games, originally scheduled for release in Japan on 4/14, will now be released on 5/26 in Japan, as we continue to improve the game's quality. We apologize to everyone that has been looking forward to the release.#yurukill https://t.co/G9wBNLSU36

— ユルキル公式 冤罪執行遊戯ユルキル Yurukill: The Calumniation Games (@yurukill) February 4, 2022
As a reminder, Yurukill is a mashup of genres. It involves shoot'em up and visual novel elements. People accused of crimes are sentenced to either prison or attempting to escape the Yurukill Land amusement park's deadly attractions. As you go through it, you'll learn what everyone did or didn't do.
Yurukill: The Calumniation Games will show up first in Japan on May 26, 2022 on the Nintendo Switch, PS4, and PS5. It will show up worldwide in July 2022. North America will get it first on July 5, 2022, followed by Australia and Europe on July 8, 2022.
The post Yurukill Release Date Delayed Worldwide appeared first on Siliconera.
---
Siliconera Friday, February 4, 2022 11:30 AM
Megahouse is continuing its MegaHobby Plus 2022 Winter reveals, and among them are new Persona 5 Royal figures. Two are in the works. Each one isn't far along in development, however. One is a figure of Haru "Noir" Okumura as she appears in Persona 5 Royal, while the other recreates the Persona Loki.
Editor's Note: The Loki figure art will be a spoiler for people who didn't play the game.
The Haru figure is a part of the Lucrea line. She also doesn't appear alone. Morgana shows up as well. He's on the base in his van form. A concept model for it also shows she will hold her grenade launcher.

As for Goro Akechi's Persona, the Loki figure concept art appeared. It will be a part of the Game Characters Collection DX line. The announcement for it also reminded people that a Loki Goro figure is part of the Lucrea line.

These aren't the only Persona 5 figures announced at this event. The Noir figure was teased in January 2022 alongside a Yusuke "Fox" Kitagawa one.
Persona 5 is available for the PS3 and PS4, while Persona 5 Royal is available for the PS4. There are no release dates for the Persona 5 Royal Haru and Morgana or Loki figures.
The post Persona 5 Royal Haru and Loki Figures Announced appeared first on Siliconera.
---
Siliconera Friday, February 4, 2022 11:00 AM
The next Pokemon Unite character will debut next week. The Pokemon Company International and Timi Studio revealed another ghost-type is on the way. Though actually, it is a ghost and steel type. Aegislash will show up in Pokemon Unite on February 10, 2022.
Aegislash is a unique sort of Pokemon. In the mainline series, it is known for being able to shift its form. So say it would use Iron Defense. It would then shift into the Shield Forme to prioritize defense. But any attack move would use Blade Forme.
The initial Pokemon Unite trailer for the character suggests this will carry over into this game. In the footage, both Blade and Shield Formes appear when certain moves are used. The announcement also confirmed the character will be an "All-Rounder" type that can work in offensive and defensive situations.
This melee All-Rounder is as sharp as they come! Aegislash joins #PokemonUNITE on 2/10! pic.twitter.com/SIqdaX2DhR

— Pokémon UNITE (@PokemonUnite) February 4, 2022
This is the second ghost-type Pokemon to come to Pokemon Unite in a row. In January 2022, Trevenant joined the cast. It is a Defender character.
Pokemon Unite is available on the Nintendo Switch, Android devices, and Apple iOS devices, and Aegislash will join its character roster on February 10, 2022.
The post Aegislash is the Next Pokemon Unite Playable Character appeared first on Siliconera.
---
Destructoid Friday, February 4, 2022 5:30 PM
---
Destructoid Friday, February 4, 2022 5:00 PM
---
Destructoid Friday, February 4, 2022 4:30 PM
---
Destructoid Friday, February 4, 2022 4:00 PM
---
Destructoid Friday, February 4, 2022 3:15 PM
---
Destructoid Friday, February 4, 2022 2:30 PM
---
Destructoid Friday, February 4, 2022 1:30 PM
---
Destructoid Friday, February 4, 2022 1:00 PM
---
Destructoid Friday, February 4, 2022 12:00 PM
---
Destructoid Friday, February 4, 2022 11:30 AM
---
Destructoid Friday, February 4, 2022 11:00 AM
---
PC Invasion - FeedDDD Friday, February 4, 2022 1:30 PM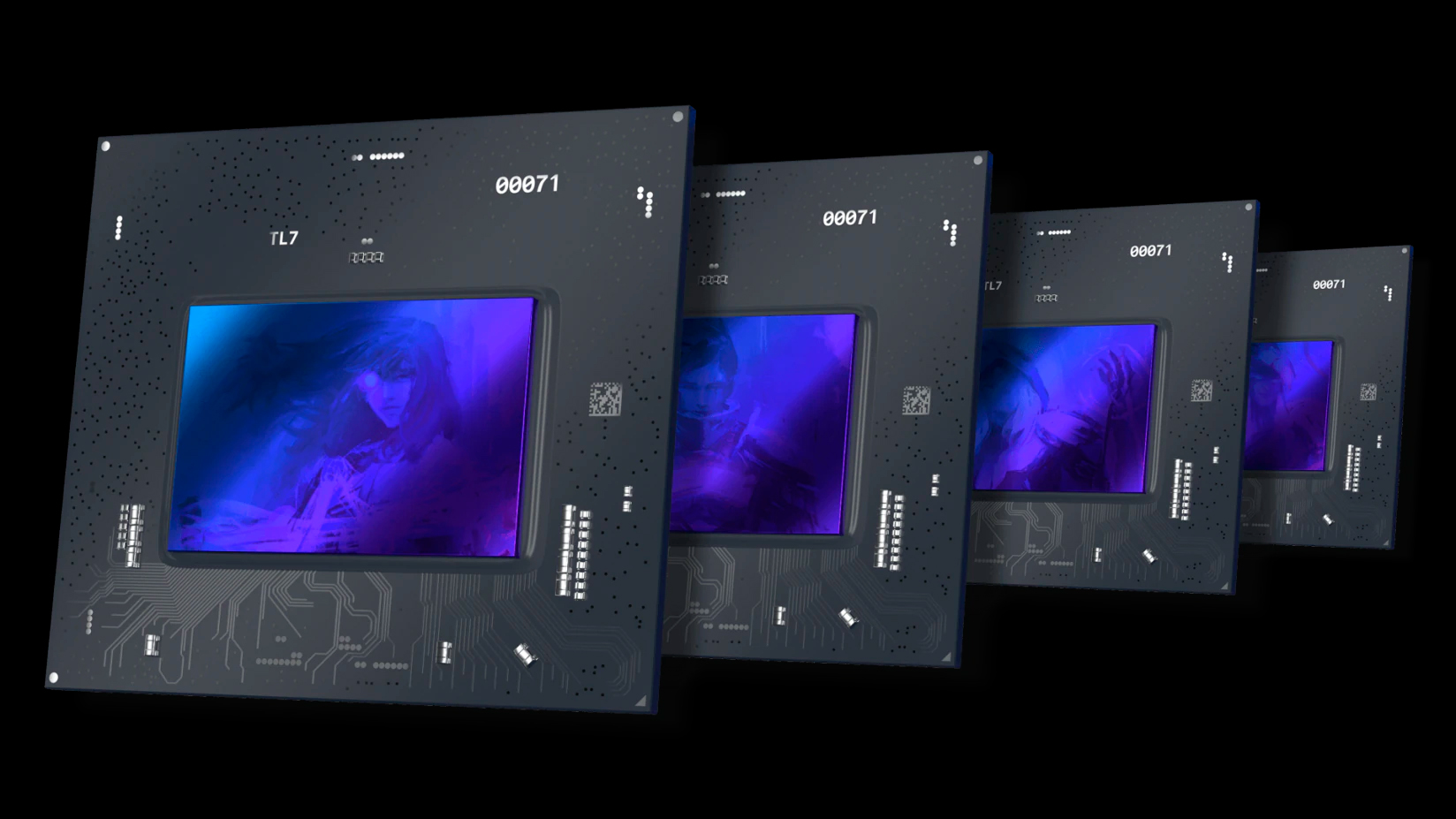 For those who have been looking out for info on Intel's ARC desktop GPU graphics cards, get ready for some details on the specs. Images containing an engineering sample have leaked for the Intel Arc Alchemist lineup, courtesy of VideoCardz. The images show off many features of an unlabeled graphics card and point to what we could expect at release. It is worth noting that these are pictures from an unfinished engineering sample though, so take some of this information fairly lightly. Over the last few months, there's been quite a lot of information coming out surrounding Intel's ARC Alchemist graphics cards, from leaks that showed off early renders, to information that suggested it matches the RTX 3070 Ti in benchmarks. It's safe to say that there is a lot that can be assumed about the upcoming lineup. The latest images reaffirm some of the specs, at least for one of the full size Intel ARC GPU models. A closer look at the Intel ARC Alchemist graphics ...
---
PC Invasion - FeedDDD Friday, February 4, 2022 1:00 PM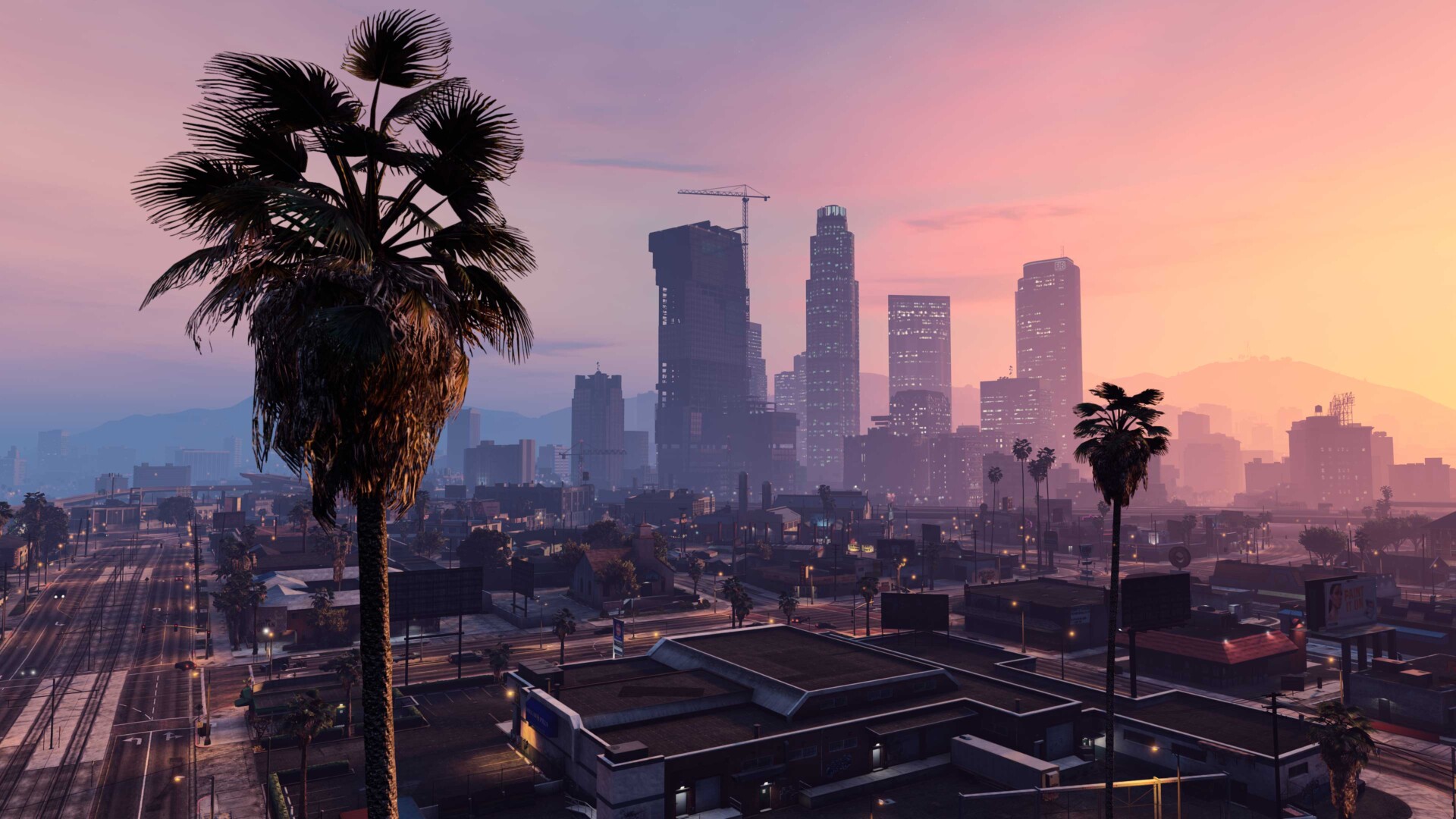 It's been nearly a decade since the Grand Theft Auto V launched. What was the next chapter in the franchise's story became a lucrative money-printing machine for Rockstar, which continued to update GTA Online for years. Fans have wondered just exactly when we'll see a new game in the series. It's been speculated that a new GTA game was in the works, but the company has kept mum on the subject — until now. Rockstar has, at last, confirmed that GTA 6 development is "well underway." The news was revealed near the bottom of today's GTA community update. Rockstar provided an update on the most recent story in GTA Online, The Contract. It also confirmed that GTA V is heading to current-generation consoles this March. And yes, your online characters will make the transition, so rejoice. Improvements to GTA Online are also on the way. But, of course, it's the final segment that lifted everyone's eyebrows: the first news on the next...
---
PC Invasion - FeedDDD Friday, February 4, 2022 12:30 PM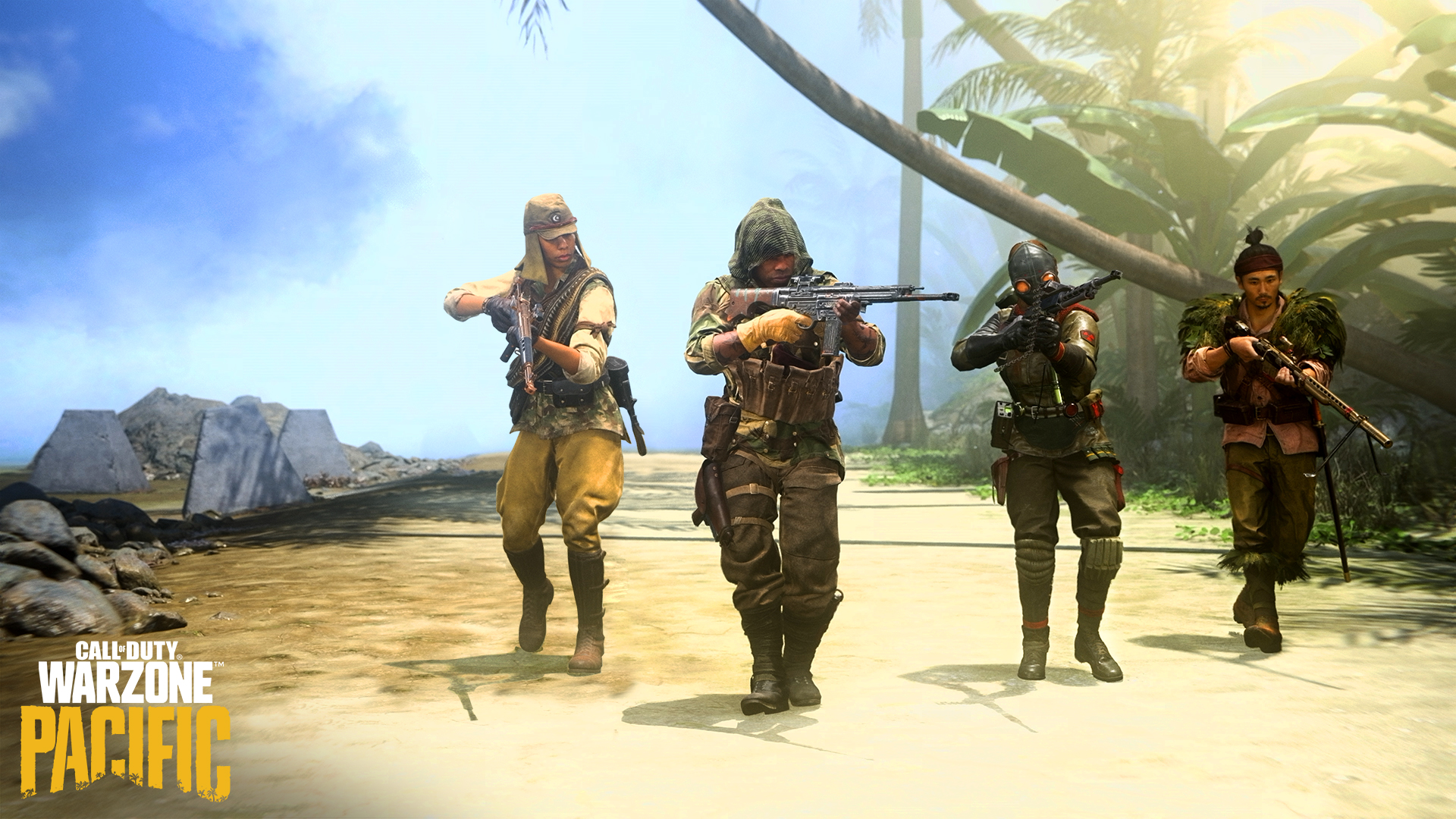 If you've played Call of Duty: Warzone Pacific recently, there is a chance that you have come across various bugs and gameplay issues. In January, Activision shared a statement with the Call of Duty community promising to fix the battle royale along with Vanguard and Modern Warfare 2019. Since then, Raven Software has been making due with their promise by rolling out regular patches. Just over a week ago, Warzone Pacific got a patch that focused on bug fixes, and this week another patch arrived. The latest Warzone Pacific update makes a highly requested gameplay change to loadouts and squashes bugs. One of the most important parts of Warzone Pacific is getting your loadout. In Verdansk, a strategy for many players was to gather money as soon as they landed to buy a loadout as quickly as possible. However, when Caldera made its debut, players quickly realized that you could no longer buy a loadout straight away. You had to wait until the first free loadout dropped, meaning you ...
---
Tabletop Gaming News Friday, February 4, 2022 5:00 PM
---
Tabletop Gaming News Friday, February 4, 2022 4:00 PM
---
Tabletop Gaming News Friday, February 4, 2022 3:00 PM
---
Tabletop Gaming News Friday, February 4, 2022 2:00 PM
---
Tabletop Gaming News Friday, February 4, 2022 1:00 PM
---
Tabletop Gaming News Friday, February 4, 2022 12:00 PM
---
Player Assist | Game Guides & Walkthroughs Friday, February 4, 2022 3:30 PM
Any activity that involves a high level of mechanical skill and precision will require hundreds upon hundreds of hours of practice to perfect. The world's greatest athletes all dedicate most if not all of their time to their craft. The late great Kobe Bryant could never have won all of his five NBA Championships if […]
---
Player Assist | Game Guides & Walkthroughs Friday, February 4, 2022 2:14 PM
Out of the many characters available in Genshin Impact, only a few have Hangout Events released for them. For the fans of Chongyun, it is a nice treat to get a chance and spend time with their favorite young exorcist who possesses a Cryo Vision. Chongyun came from a renowned family of exorcists, but ironically, […]
---
Player Assist | Game Guides & Walkthroughs Friday, February 4, 2022 1:17 PM
There exists a demand for roguelike 2D platformer games, and Dead Cells fulfills the niche perfectly. It appeals to hardcore gamers who like a challenge, as they don't retain loot after death. In Dead Cells, there are many areas to explore, including the Cavern. The Cavern is part of the Rise of the Giant DLC, […]
---
Player Assist | Game Guides & Walkthroughs Friday, February 4, 2022 11:54 AM
Forza Horizon 4's Winter races are some of the most challenging events in the game. Because of how snow and ice affect handling in Forza Horizon 4, many of the races you are so used to winning back in Autumn can prove to be quite difficult in the Winter. Cars tend to have less overall […]
---
MonsterVine Friday, February 4, 2022 12:46 PM
Pokémon Legends: Arceus is brilliant in some ways, and disappointing in others. The revamped combat and new action-based gameplay loop are enormous and welcome changes to the Pokémon formula. On the other hand, the world and textures look rough and could use a few more secrets to encourage exploration. This is an amazing new step […]
The post Pokémon Legends: Arceus Review – Gotta Catch A Lot of Em appeared first on MonsterVine.
---
Level Up Friday, February 4, 2022 12:05 PM
In addition to revealing the release date of the PS5 and Xbox Series X/S versions of…
---
Level Up Friday, February 4, 2022 11:40 AM
After suffering a delay last year, Rockstar Games confirmed that Grand Theft Auto V and…