---
Kotaku Sunday, March 27, 2022 7:30 PM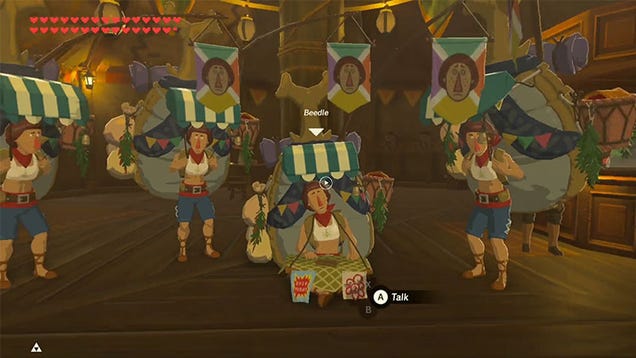 Beedle, the friendly travelling merchant from The Legend Of Zelda: Breath of the Wild, sure does get around, managing to cover almost every corner of the map during your adventures. Turns out he's got a secret to his breadth of coverage: there are more than one of them.

---
Kotaku Sunday, March 27, 2022 6:45 PM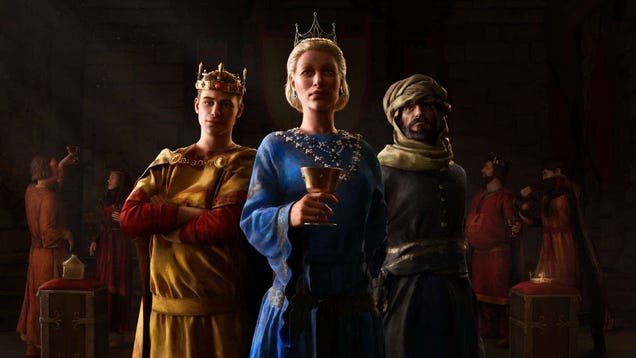 A wide variety of games, both big and small, are out this week across everything from PS5 to Switch to Mac. Possibly the biggest and most interesting release is the next-gen console ports of Crusader Kings III. Very curious to see how that plays on a TV with a controller!
---
Kotaku Sunday, March 27, 2022 5:05 PM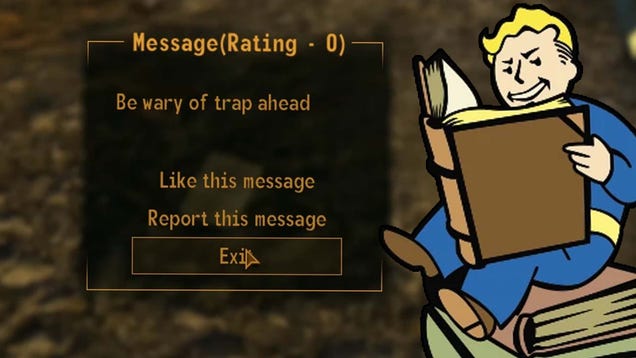 One of the coolest parts of Elden Ring is the ability to leave messages for other players in the game's large open-world environment. You can warn folks of enemies, hint towards a treasure, or troll people with silly jokes or lies. And now someone has added this feature into Fallout New Vegas via a mod for the PC…
---
Kotaku Sunday, March 27, 2022 2:30 PM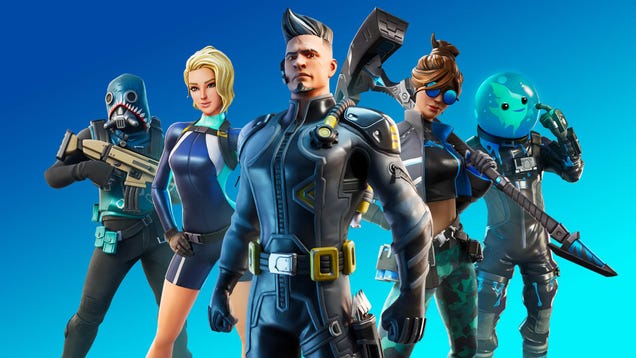 Fortnite continues to provide millions of dollars in immediate aid for Ukraine. The latest update from Epic is big, announcing that as of March 25 it has raised over $70 million in aid for charities and groups supporting Ukrainians during the ongoing and horrific Russian invasion of the country.
---
Kotaku Sunday, March 27, 2022 12:45 PM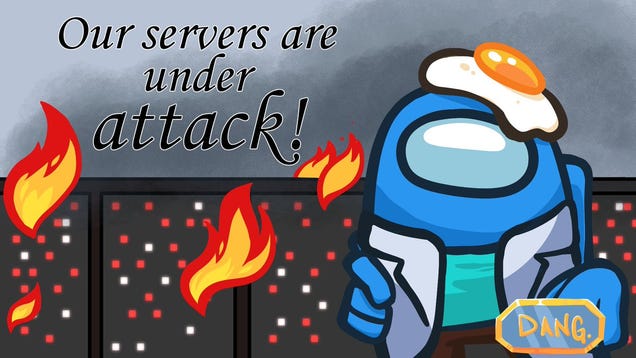 Popular online indie sneak-and-stab simulator Among Us is currently facing an ongoing DDoS (distributed denial of service) attack. According to Among Us developers Innersloth, the game has been offline in both North America and Europe for over two days due to the attack.
---
PCGamesN Sunday, March 27, 2022 4:32 PM
After a busy 18 days, a group of players have won the race to complete World of Warcraft's Sepulcher of First Ones raid on the mythic difficulty. Blizzard Entertainment confirms on Twitter that esports outfit Echo has pulled off the feat, wrapping up one heck of a marathon.
While Sepulcher of First Ones has been available on lower difficulties for a wee bit, teams have had new mythic mechanics to deal with to keep them on their toes. One of the trickier hidden phases comes during the Jailer encounter, as he would get 14.4% of his health back alongside a shield at one point. As Wowhead notes, one Echo player swapping to an Arms warrior from Fury made a massive difference as the boss is subject to the Mortal Strike spell.
The hardest part of the raid, though, was the sheer length of the race. Blizzard typically issues fixes and balance passes to keep things ticking at a decent pace, though 18 days is no mere weekend away. Another one of WoW's top guilds decided to pause its progress and pick things back up on another day. Team Liquid initially flew to Massachusetts to raid together in one room, though fatigue and real-life commitments eventually caught up.
WoW Shadowlands review
,
The best WoW addons
,
WoW Classic leveling guide
---
PCGamesN Sunday, March 27, 2022 1:16 PM
Developer Endnight Games confirms a Sons of the Forest release date delay that pushes the anticipated horror survival game sequel to late 2022. The game, which is basically The Forest 2, will no longer release in May as planned.
Sons of the Forest is the follow-up to the survival-horror game The Forest, where the player is the survivor of a plane crash and has to stay alive in the mysterious titular forest, with creepy cannibals and starvation just a couple of the dangers in store. It sold really well, so it's no surprise that the team is working on a sequel.
Endnight Games hasn't said much about Sons of the Forest, other than a creepy teaser trailer that dropped alongside the announcement of a May 2022 release date. Unfortunately, the developer now says that this date was "overly ambitious" and the team won't be able to make it. Endnight confirms a delay for Sons of the Forest - it's still coming this year, but not until the spookier autumn time.
---
PCGamesN Sunday, March 27, 2022 12:20 PM
A player has beaten the LEGO games speedrun record, completing the first ten TT Games-developed action-adventure games in under 20 hours - including the first four LEGO Star Wars games, on the eve of the release of LEGO Star Wars: The Skywalker Saga.
In the speedrunning community, it's called the Grunt% challenge - a race to play through the first ten LEGO games created by TT Games/Traveller's Tales as quickly as possible. It's called the "grunt" challenge because these are all the LEGO games made without voice acting, where the characters only spoke in unintelligible grunts. The list includes most of the LEGO Star Wars games, including The Complete Saga - a remixed version of the first two games - and the open-world game Clone Wars.
Speedrunner Chimkin actually completed the challenge last year with 21 hours 15 minutes but decided to go back and try again. This time he broke his own record and completed all ten games in under 20 hours, with a final time of 19 hours and 33 minutes - a new world record for the Grunt% challenge.
Lego Star Wars: The Skywalker Saga
,
Star Wars Jedi: Fallen Order gameplay
,
Best space games on PC
---
Twinfinite Sunday, March 27, 2022 7:37 PM
Developer Qbit released a new video focusing on showcasing the progress done on its freeware Boeing 737-800 for Microsoft Flight Simulator.
---
Twinfinite Sunday, March 27, 2022 6:45 PM
Good Smile Company announced that the popular Pop Up Parade figures portraying Joker and Crow will be reprinted.
---
Twinfinite Sunday, March 27, 2022 6:08 PM
If you're eagerly awaiting the second season of Ghost in the Shell: SAC_2045, today Netflix revealed a new trailer and the air date.
---
Twinfinite Sunday, March 27, 2022 1:45 PM
Today third-party developers had new assets and releases to share about scenery-addons for Microsoft Flight Simulator.
---
Twinfinite Sunday, March 27, 2022 12:05 PM
Today, during the celebratory livestream of the 10th anniversary of Sword Art Online, Bandai Namco announced a new dedicated mobile game.
---
Siliconera Sunday, March 27, 2022 7:00 PM
The conclusion of The Quintessential Quintuplets is coming in feature film form, and TBS Animation shared a second "wedding" trailer for the movie ahead of its May 20, 2022 release date. The trailer comes as part of the Anime Japan 2022 event, an industry affair promoting new series and productions. It features new footage and voice acting from the final release.
The trailer begins by teasing images of the Nakano sisters in wedding dresses, before moving to a montage of the girls interacting with Futaro. Playing in the background is a the theme song for the Quintessential Quintuplets film, "Quintuple Paths." The song is performed by Ayana Taketatsu, Ayane Sakura, Inori Minase, Kana Hanazawa, and Miku Ito, who play the Nakano quintuplets.
https://www.youtube.com/watch?v=8cQH4CELCSw&t
Based on creator Negi Haruba's original manga, The Quintessential Quintuplets film closes out the story of Futaro Uesugi and the Nakano sisters. Futaro is hired to tutor the quintuplets, who happen to be his classmates. They're also infamous for their troublemaking and poor grades, making the first hurdle in his tutoring gig just gaining their trust. Similar to live-action series like How I Met Your Mother, The Quintessential Quintuplets reveals early on the Futaro marries one of the sisters, but hides the wedding and just whom he tied the knot with. The film will show this, though the manga story concluded in back in 2020. The film was originally planned as a third season of the anime (its first two seasons aired in 2019 and 2021). TBS Animation announced the decision to move from series to feature film in April 2021.
The Quintessential Quintuplets feature film will debut in Japan on May 20, 2022. The anime series streamed on Crunchyroll in North America and Europe. A second game adaptation from Mages, The Quintessential Quintuplets: The Five Memories Spent With You, goes on sale in Japan for PS4 and Switch on June 2, 2022.
The post Quintessential Quintuplets Film Trailer Teases the Wedding appeared first on Siliconera.
---
Siliconera Sunday, March 27, 2022 5:00 PM
Japanese figure manufacturer Phalaeno shared new images of a prototype Ann Takamaki figure based on her appearance in Persona 5: Dancing in Starlight. The figure is in development, with an unspecified release date and price.
Specifically, the figure is based on Ann's corset dress from Dancing in Starlight. The figure also has Ann in the same pose as she appears in-game. In addition to a detailed leather-like corset and long boots, the figure also features stockings made of realistic fishnet material. While the prototype is unpainted, the final product will likely have her appear in red and black.
You can get a better look at the Persona 5 Dancing in Starlight Ann figure prototype and concept design below.
[gallery columns="4" ids="921802,921801,921800,921803" link="file"]
Persona 5: Dancing in Starlight was a spin-off rhythm game released for the PS4 and PlayStation Vita in 2018. It features popular characters from Persona 5 dancing to original and remixed music from the original game. It is a recurring spin-off series, with other iterations including Persona 4: Dancing All Night and Persona 3: Dancing in Moonlight.
The upcoming figure isn't the only example of Dancing in Starlight's continued popularity. Back in 2020, Good Smile Company released a Dancing Ann figure based on her key visual appearance. Amakuni also released a similar 1/7 scale figure of Makoto Niijima from the same game.
The Persona 5: Dancing in Starlight Ann Takamaki figure is in development. There is no confirmed release date or price.
The post Persona 5 Dancing Ann Figure Prototype Images Shared appeared first on Siliconera.
---
Siliconera Sunday, March 27, 2022 3:00 PM
We're at that weird point in gaming history when games we'd normally never see worldwide do show up everywhere. It's especially fun when that happens with something quite unexpected. You know, like with Phantom Breaker: Omnia. This is one of those fighting games we didn't get for a long time. It's reasonably obscure. And yes, by modern standards, it is lacking a lot of the fighting game niceties. There's no rollback netcode, for example, and it might not be as pretty or mechanically tight as an Arc System Works game. But even though it isn't perfect, I can't help feeling like there's still something special about it.
The first is that Phantom Breaker: Omnia continues that tradition of a developer building on a game over a period of years, refining it to make it better. So yes, the original did show up in 2011. In Japan, it ended up rebalanced and with additional characters in arcades (Another Code) and on consoles (Extra). This incarnation means rebalancing, the new characters Artifactor and Maestra, new audio options thanks to English or Japanese voice acting and new or old soundtracks. But more importantly, it's the only opportunity people outside Japan had to easily play it. Yes, people could have imported. But this is the easiest way to hop into the fighters. Which is great!
Sure, there is a downside that most people didn't get a chance to see it grow into its current form firsthand. But there's a lot of goodwill that comes from a game not only making a worldwide debut 11 years after its initial release, but doing so it perhaps its best and final form. It's definitely exciting!
Especially since it expands on one of Phantom Breaker's key elements. After you pick a character, you choose your style. In the past, Hard and Quick Styles would be available. One is hard hitting, and the other involves quick responses. This version brings in Omnia Style, which feels like an all-rounder option. It is a midpoint between the two. It omits Hard's Solid Armor option and Quick's Clock Up for the sake of generally boosting a character's average stats. Which the game clearly shows you with attack, defense, and speed icons and bars showing how each one will change depending on the other styles chosen. Combine this with the game flat out telling you exactly what sort of fighter each character is when you select them, and it's incredibly approachable. It is okay if you don't know anything about the game! Phantom Breaker: Omnia will help you!
There's also the way that its story mode feels like a lot of older fighters. Odds are, players who come to Phantom Breaker: Omnia will be as clueless about what's going on as Mikoto is when Shiro-Mikoto comes from another universe and decides she needs to die. "What's an F.A.?" "Who's Phantom?" "Why is everyone fighting?" Since this is building on past games, there is a text-based Phantom Breaker: Extra Prologue packed in. This explains that the various competitors are Breakers with Fu-mension Artifacts fighting to apparently earn the right to have Phantom grant a wish. (It is never that easy or simple, as you might imagine.) But the organization has this classic feel to it, which is very welcoming in its way.
So is the fact that Phantom Breaker: Omnia, in this version, offers every mode you'd expect from a fighter. Major, original characters have storylines. You get Arcade, Endless Battle, Score Attack, and Time Attack modes. You can compete locally or online. Heading online means casual player match options, while you also can improve your ranking. Training is a bit more barebones than folks might expect. You can go into its options to set if a second player or AI will control the opponent and determine how the foe will act. (You can determine their actions, if they perform counter hits or guard, and determine if air recoveries or throw breaks are possible.) It's as well rounded as the Omnia Style, basically.
But perhaps what I was most excited about is what this does for characters not original to Phantom Breaker. Yes, GameLoop and Rocket Panda are handling it. However, this was a 5pb product. Which means it and the Phantom Breaker Battle Grounds spin-off include Steins;Gate's Kurisu Makise. And she's not the only Science Adventure person showing up. Rimi Sakihata is here too. Since Chaos;Head won't be appearing worldwide for the first time until 2022, I'll spare the spoilers. But Kurisu is perfectly in-character here. She has the right look. She's equipped with Future Gadgets. (Including multiple versions of certain types.) There's a reference to Mayuri Shiina in one of her attacks. Like the rest of the game, it's fun.
Phantom Breaker: Omnia is one of those games I look at and go, "You know, I'm glad you're here." Because for so many years, it wasn't! This is a fun opportunity. It's executed well for what it is. We did get what is probably the best version of it. At this point, it's a novel piece of history that could be enjoyable to play around with alone or with a friend locally.
Phantom Breaker: Omnia is available on the Nintendo Switch, PS4, Xbox One, and PC.
The post Phantom Breaker: Omnia Isn't Perfect, but Still Feels Special appeared first on Siliconera.
---
Siliconera Sunday, March 27, 2022 1:30 PM
During the first day of AnimeJapan 2022, Max Factory and Good Smile Company unveiled the painted prototype figure of the Shirogane Noel figma. Shirogane Noel is one of the VTubers in hololive. In the picture, the Noel figure is standing in her normal outfit and extending one hand. As a figma though, you will be able to move her limbs to pose her any way you like.
Here's a closer look at this Shirogane Noel figure.
https://twitter.com/MXF_official/status/1507500577344917504?t=3KTzkzndcxMu_mo1SbxJPQ&s=19
There is no announcement or release window as of yet for when it will come out. However, as the prototype appears to be in the final stages of development, Good Smile Company will likely announce one soon. The Noel figma is holding a mace, and it is unknown if that is the only optional part that the figure will come with. There will also be a Nendoroid version of Shirogane Noel soon, though Good Smile Company has not yet shown off a prototype.
Good Smile Company first announced a Shirogane Noel figma during WonHobby 34 in October 2021. During the same event, Good Smile Company revealed that it would release figma figures of Rushia and Flare. As the Rushia figure came out in 2021, the takedown of her merchandise does not affect sales of this product.
The Shirogane Noel figma is in development and Good Smile Company will announce the release window, as well as pricing, in the near future.
The post Max Factory Reveals Shirogane Noel Figma Prototype appeared first on Siliconera.
---
Gamer Empire Sunday, March 27, 2022 1:08 PM
The first end-game PvE content you'll encounter in Lost Ark is Chaos Dungeons. You'll get your first set of end-game equipment from Chaos Dungeons, which you can upgrade to increase your item level to unlock more end-game content. Recommended Read: Lost Ark – Complete Guardian Raid Guide In Chaos Dungeons, you'll fight huge waves of […]
The post Lost Ark – Chaos Dungeon Guide: How They Work, Unlock, Wiki appeared first on Gamer Empire. It was written by Tim Stadel Clausen.
---
Latest Games on Play iDev Games Sunday, March 27, 2022 3:02 PM
FERGGHANA PRIMARY ENGLISH GRAMMAR DRONES GAME 1 has 20 sentences. The students are to choose the correct adjective in each sentence by clicking on the drone con...
---
Latest Games on Play iDev Games Sunday, March 27, 2022 2:34 PM
2021 INFORMATION AND COMMUNICATION TECHNOLOGY 1 is a 40 objective questions and optional answer buttons that will enable you to choose correct answers. This i...
---
Latest Games on Play iDev Games Sunday, March 27, 2022 1:59 PM
This ABCD Game Lesson helps the kids to learn how to arrange the mixed letters of the Upper-Case alphabet in their right alphabetical order....
---
Latest Games on Play iDev Games Sunday, March 27, 2022 1:16 PM
This ABCD Game Lesson helps the kids to learn how to arrange the mixed letters of the Lower-Case alphabet in their right alphabetical order....
---
Latest Games on Play iDev Games Sunday, March 27, 2022 12:54 PM
The Math Lesson for KG 1 helps kids to develop interest in addition and in mathematics as well. The press buttons have multi-choice answers to help the child ...
---
Pivotal Gamers Sunday, March 27, 2022 1:27 PM
What's up all? We have another excellent giveaway from Giveaway.su for KEO. Let's hear them out. Attention! Hurry up to get a free Steam copy of "KEO"! This giveaway is limited in time. A few words about KEO KEO is a team-based online multiplayer vehicle combat game set in a sci-fi post-apocalyptic world. Build your loadout to suit your playstyle and balance your team to do...