---
Kotaku Saturday, January 22, 2022 2:15 PM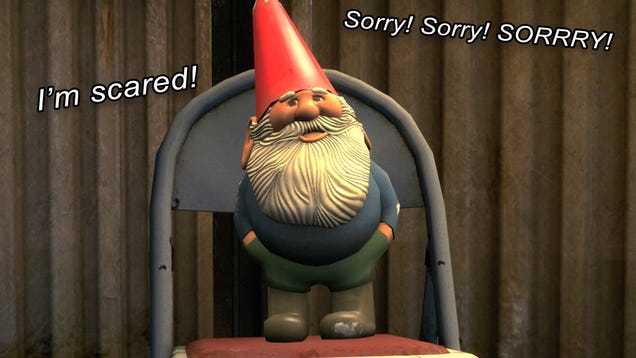 Half-Life: Alyx is great. One of the best virtual reality games I've ever played and one of my favorite games of 2020. Hard to improve on that. Yet, a new let's play series has found one way to make Valve's VR hit even better: Add a really weird and annoying self-aware gnome to the adventure.
---
Kotaku Saturday, January 22, 2022 12:15 PM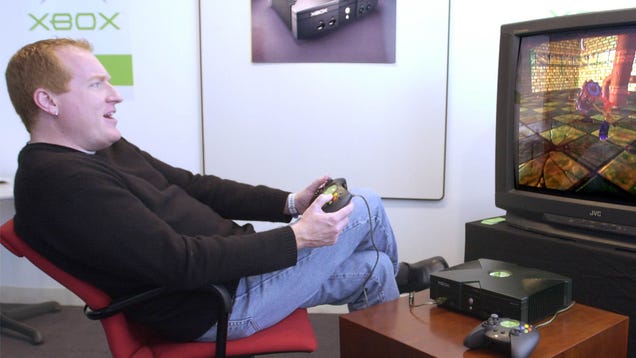 Back in 2001, one of the key creators behind the original Xbox console, Seamus Blackley, compared gaming to masturbating. Apparently, this didn't go over well with Bill Gates and other high-ranking Microsoft execs. According to Blackley, he nearly got fired for the quote.
---
PCGamesN Saturday, January 22, 2022 1:35 PM
There are a lot of great things coming to Minecraft in 2022, including the new The Wild 1.19 update with mud and boats with chests - but the one thing fans may not have expected is a Minecraft x Puma collaboration. Well, one's just been announced anyway, despite the game not having any pumas. Or feet.
Collaborations between games and companies can come in all shapes and sizes. The king of crossovers, Fortnite, can run the gamut between properties as wide-ranging as Naruto and Radiohead, with the popular battle royale even offering collaborations with fashion outlets and art galleries.
Despite also being popular, Minecraft generally doesn't go in for collabs as often as something like Fortnite - at least, not officially - although the building game has seen crossovers with the likes of Sonic The Hedgehog in the past. Now the official Minecraft Twitter account has revealed a brand new collaboration with German design company Puma - who, of course, are best known for their range of footwear and sportswear.
Minecraft console commands
,
Minecraft skins
,
Minecraft mods
---
PCGamesN Saturday, January 22, 2022 12:58 PM
Into the Echo is an upcoming MMORPG with a distinct twist. Described as a "time travel odyssey" by Toronto-based developer Etlok Studios, the game is set in the fantastical world of Raava, whose inhabitants have been living with a powerful magical ability called Qen for centuries. The arrival of a new, dark power has brought unrest to the land, and after a brush with this new force the player finds themselves able to travel through time.
With New World's massive launch, the ongoing success of FFXIV, and plenty of buzz around the upcoming Lost Ark, MMORPGs are enjoying something of a renaissance in recent months. Into the Echo aims to deliver something a little different. Details have been sparse since the MMO was revealed with a teaser trailer and some stunning concept art, but the official website lists some pretty lofty goals: time travel to multiple eras, a revolutionary progress system that emphasises player differences, and community-based story progression.
It also seems the game will focus on bringing its playerbase together, with community challenges requiring a collective effort to move the world forward.
Best MMOs and MMORPGs
,
Upcoming PC games
,
Best fantasy games
---
PCGamesN Saturday, January 22, 2022 12:18 PM
Just a month before Valve's handheld console is due to ship, at last, Steam Deck has finally confirmed support for the two biggest pieces of anti-cheat software around - Easy Anti-Cheat and BattlEye, clearing the path for the likes of Fortnite, Rainbow Six Siege, and Halo: The Master Chief Collection to run on the new hardware.
While Epic and Valve previously announced all the way back in September that Easy Anti-Cheat would be made compatible with the Steam Deck at launch, some developers remained unconvinced as recently as this month - including Fatshark, the developer of Warhammer: Vermintide 2, and Dead By Daylight's Behaviour Interactive. DayZ developer Bohemia Interactive echoed these concerns with the BattlEye software on Steam Deck.
Well, according to the Steamworks team's latest update, it "is now a simple process" to add Steam Deck and Proton support to games running Easy Anti-Cheat and BattlEye - and offer instructions on how developers can do this.
Best SSD for gaming
,
How to build a gaming PC
,
Best gaming CPU
---
PCGamesN Saturday, January 22, 2022 11:10 AM
It's been just over a month since the release of the Final Fantasy XIV Endwalker Raid's first tier Pandaemonium: Asphodelos and a Warrior player has already beaten the first major boss encounter of it solo - which took them over an hour to do.
While the eagerly-anticipated Endwalker expansion finally launched last month to much acclaim, especially from us, although it was initially lacking the much advertised new high-tier Raid, Pandaemonium. This will be rolled out slowly but the Raid's beginning part, Asphodelos, came out just before Christmas - with the tougher Savage difficulty hitting earlier this month.
The various Circles of this Raid are a tough challenge for a group of players - the whole reason Raids exist - but some players have already beaten The First Circle of the Raid in single-player. It's not a quick thing to do, either - the current record is held by player Aka_Ada, who beat it solo as a Warrior in just over an hour with a lot of preparation time.
The best MMOs on PC
,
FFXIV Reaper job guide
,
FFXIV Sage job guide
---
Rock Paper Shotgun Latest Articles Feed Saturday, January 22, 2022 5:08 PM
Blizzard Entertainment head Mike Ybarra says their top priority is to "rebuild your trust in Blizzard." In a new blog post, Ybarra outlines the steps the company is taking, including new senior positions dedicated to improving their culture.
These moves come in the wake of several lawsuits alleging a culture of harassment and discrimination within the company. The post announcing the plans also comes days after Microsoft announced their intent to buy Activision Blizzard.
---
Rock Paper Shotgun Latest Articles Feed Saturday, January 22, 2022 3:59 PM
"Palworld looks like Pokémon until you see the guns and sweatshop", wrote Alice O last year. Palworld has now returned with a second trailer, which continues in kind. The pals are again seen crafting machineguns in a sweatshop - but also crafting space rockets, being strapped to beds in nightmare hospitals, and dragged while tethered to the backs of moving trucks.
---
Twinfinite Saturday, January 22, 2022 3:51 PM
---
Twinfinite Saturday, January 22, 2022 1:31 PM
---
Twinfinite Saturday, January 22, 2022 11:58 AM
---
Twinfinite Saturday, January 22, 2022 11:13 AM
---
Siliconera Saturday, January 22, 2022 5:00 PM
Sanrio announced an upcoming collaboration with Pretty Guardian Sailor Moon in commemoration of the series's 30th anniversary. The collaboration will feature six Sanrio mascots dressing up and posing alongside the Senshi. Products will launch in Summer 2022. [Thanks, Famitsu!]
The Sanrio Sailor Moon pair-ups are:
Hello Kitty x Sailor Moon
My Melody x Sailor Chibi Moon
Cinnamoroll x Sailor Mercury
Kuromi x Sailor Mars
Marroncream x Sailor Jupiter
Pom Pom Purin x Sailor Venus
[gallery columns="6" ids="913764,913759,913760,913761,913762,913763" link="file"]
This collaboration is actually one with the Sailor Moon Eternal movies. Both parts of the movie came out in 2021. The first part aired on January 8, 2021, while the second part debuted on February 11, 2021. Eternal focused on the "Dream" arc, and is a direct sequel to the Crystal anime series. According to the article, the concept behind the project is "bringing together everyone's hopes and dreams." If you don't get along with your friends, then in the name of the moon, they'll punish you.
Sanrio is not the only company that will release goods for the Sailor Moon 30th anniversary and Eternal movie. For example, according to the Sailor Moon website, companies such as Uniqlo, Anna Sui, and Maison de FLEUR will also have limited merchandise. More information on particular products will appear in the near future.
The Sanrio Sailor Moon collaboration will commence in Summer 2022.
The post Sanrio Sailor Moon Collaboration Celebrates 30th Anniversary appeared first on Siliconera.
---
Siliconera Saturday, January 22, 2022 3:00 PM
I appreciate when games try to offer something to do every day. I like when they try to keep things concise. Not being overwhelming can help a lot. Pupperazzi, unfortunately, ends up being a game with control issues. It dictates how much you can do in a not very satisfying way. Sadly, what's there doesn't feel as well-rounded as other recent photography games like New Pokemon Snap, Toem, or Beasts of Maravilla Island.. While it offers the basics a person might expect, its pace limits a person and I encountered bugs both when playing on Windows and Mac.
Pupperazzi is, as the name suggests, a game about taking pictures of dogs. Everything you do is in the name of that goal. Getting new camera equipment. Sharing pictures. Taking care of simple tasks like cleaning up a skate park. It's all about those canines. You can go to five places at different times of days to snap those pictures. Fulfill requests. Make a name for yourself. Maybe even pet all of the dogs. As you gain followers, you earn the ability to do things like take selfies, dress up dogs, buy different lenses, and collect extra varieties of film. You can also get access to different times of day.
Sadly, it isn't always good at letting you get into that. Pupperazzi's pacing disappointed me. Take the introduction, for example. After taking photos of the Sea Dog, you get a few requests. You can unlock the shop. Explore a small area. The problem is if you take photos, it doesn't matter how cute or good you might think they are. Share too many and, rather than encouraging or helpful comments, you'll get "spam." It will tell you that you're posting too much and you need to stop. It's discouraging. (Going to a new area does let you post again, but you'll eventually hit that cap once more.) Since it seems like this should be a freeform game you play at your own pace, it is frustrating.
Speaking of "at your own pace," it controls that too. You are capped when it comes to how much you can do per day. You can't move through the quests at your own pace. They don't automatically populate when you finish one. Real-world time needs to pass. Only then can you do more. Again, it's frustrating. There is a lot you could do. But you can't. Because the game won't let you. Which means you might already have photographed things you would need for later days, but don't have them for that time. You just get your about three requests per day per area. Once you're done, you are done.
I also lament the lack of, say, a comprehensive dogoopedia. In games like Beasts of Maravilla Island or New Pokemon Snap, you are building up a collection. You gather together galleries of good shots. You're learning a bit about what's there. You might see details about, say, birds in an area of Maravilla. Pupperazzi has a Puppypedia, but it didn't work in the build I was playing. It is supposed to keep track of species, actions, and even hats. But it didn't automatically add these entries as I took photos. So I have no idea what level of detail it offers regarding them.
I'd also caution people on Macs against buying Pupperazzi at launch. I've been playing it on a Windows PC and (attempted to) play it on a MacBook Air. Now, granted I am using Big Sur. This means it can have issues with 32-bit games. However, ahead of launch I kept running into all sorts of issues in the development build. Photos wouldn't display properly sometimes or text might not show up. If you use a PC, you'll be fine. But my Mac experience ended up being mostly unplayable. (You can see one of the screenshots I took on it below, complete with error codes in the box at the bottom.)
The idea is sound enough. Pupperazzi is amusing. Dogs are everywhere. They're being cute and silly. I just don't appreciate the degree of control it exerts over the player. It's letting us loose in a colorful world with lots of places to explore and dogs to see. It seems counter-intuitive to not let us be free to enjoy all of that however and whenever we want.
Pupperazzi is available on the Xbox One and PC via Steam. It is also on Xbox Game Pass.
The post I Wish Pupperazzi Let Me Do More appeared first on Siliconera.
---
Siliconera Saturday, January 22, 2022 2:00 PM
The Japanese Genshin Impact YouTube account uploaded a short interview with Ayako Kawasumi, who provides the Japanese voice for Shenhe. In the interview, she commented on her impressions of Shenhe and Teyvat, as well as how Shenhe changes as a character through her experiences with the Traveler.
https://www.youtube.com/watch?v=sBDeOlhEPxI

When discussing Shenhe, Kawasumi said that it is hard to get a read on her personality. A lot of her lines feel like what someone who lived in total isolation would say, which also leads to her giving off an ethereal impression. According to Kawasumi, her voice direction involved portraying Shenhe as someone who is distinctly "human" despite her difficulties fitting in with human society. Though she is a calm character, her actions can be extreme due to her uniquely sheltered upbringing. In Kawasumi's opinion, Shenhe is, though awkward, someone who deeply loves humanity.
As for Kawasumi's personal opinions on Genshin Impact, she noted that, aside from Shenhe, she is interested in Ningguang. She likes Ningguang's design. As well, she felt that Ningguang would be a reliable boss, which left a deep impact on her. Kawasumi also mentioned that, if she were to travel in Teyvat, she would spend more time exploring than fighting.
miHoYo often uploads cast interviews when a new character appears. Like the Shenhe one, however, they are generally in Japanese and without any subtitles. In late 2021, it uploaded an interview with Itto's Japanese voice actor, T.M. Revolution. There are also interviews with the voice actors for Keqing, Ayaka, and Hu Tao.
Genshin Impact is available on PC, PS4, PS5, and mobile devices. The Genshin Impact Shenhe and Xiao banners will end on January 25, 2022.
The post Ayako Kawasumi Discusses Shenhe in Genshin Impact Interview appeared first on Siliconera.
---
Siliconera Saturday, January 22, 2022 12:30 PM
The Kumamoto Prefectural government unveiled a new One Piece statue of Roronoa Zoro. The bronze statue is located at the Ozu Central Park in Kumamoto Prefecture, Japan. The official One Piece account broadcast the unveiling live on YouTube. In addition to the unveiling, the broadcast also featured themed dance and music performances from the local residents.
https://twitter.com/Eiichiro_Staff/status/1484718975481434112
Zoro is one of the main protagonists of One Piece and a founding member of the Straw Hat Pirates. As in the anime and manga series, Zoro's statue shows the character wielding three katanas, one of which is in his mouth. Specifically, the statue is based on the character's post-time-skip appearance. It even features minor details such as the scar on his left eye and chest stitches.
The unveiling stream featured children from the local area dancing in One Piece-themed costumes, playing music from the anime, and practicing Kendo. Towards the end, a professional Iaido swordsman demonstrated how to cut down a tatami pole.
You can check out the unveiling broadcast below.
https://youtu.be/h8wkAHKICTI
Like the bronze Nami statue before it, the Zoro statue is part of an ongoing effort to revitalize the prefecture after a large earthquake struck the area in 2016. The deadly earthquake resulted in many dead or injured, with thousands forced to evacuate. The project began when One Piece creator Eiichiro Oda, a Kumamoto native, decided to help his home prefecture through a collaboration with Shueisha. The Zoro statue is the ninth in the series, with Jinbe being the next and final statue.
The One Piece Zoro statue can be seen at the Ozu Central Park in Kumamoto Prefecture, Japan.
The post One Piece Zoro Statue Unveiled in Kumamoto appeared first on Siliconera.
---
Siliconera Saturday, January 22, 2022 11:00 AM
The Japanese PlayStation Twitter account announced that Kenshi Yonezu will appear in an upcoming commercial for PlayStation. Reissue Records, which is the official Twitter account for Kenshi Yonezu, also announced this news. In addition, Reissue Records mentioned that Yonezu's new song is in development. [Thanks, Famitsu!]
In PlayStation's tweet regarding the collaboration, the PlayStation shapes transform into Kenshi Yonezu's name. The so-called 'PlayStation shapes' are the triangle, circle, square, and cross buttons on the PlayStation controller.
https://twitter.com/PlayStation_jp/status/1484797989164134400
https://twitter.com/reissuerecords/status/1484797965839790084
"1, 2, 3 is PlayStation's password. Please activate on January 23," both PlayStation and Reissue Records say on their announcement tweets. While little detail is given from both accounts, this could mean that the new commercial will debut on January 23, 2022. Both Reissue Records and PlayStation will post more information on social media in the near future.
Kenshi Yonezu is a musician who started as a Vocaloid producer under the name "Hachi." He performed "Peace Sign," which is the opening for the second season of My Hero Academia. As well, his song "Lemon" won multiple awards in 2018. Yonezu himself is a fan of video games. In December 2021, he was one of the many creators who posted a congratulatory message for Ico's 20th anniversary.
Kenshi Yonezu will appear in an upcoming Japanese PlayStation commercial, with more details coming out on January 23, 2022.
The post Kenshi Yonezu Will Appear in PlayStation Commercial in Japan appeared first on Siliconera.
---
Destructoid Saturday, January 22, 2022 5:00 PM
---
Destructoid Saturday, January 22, 2022 4:00 PM
---
Destructoid Saturday, January 22, 2022 2:45 PM
---
Destructoid Saturday, January 22, 2022 2:00 PM
---
Destructoid Saturday, January 22, 2022 1:00 PM
---
Destructoid Saturday, January 22, 2022 12:00 PM