---
Kotaku Thursday, April 21, 2022 3:50 PM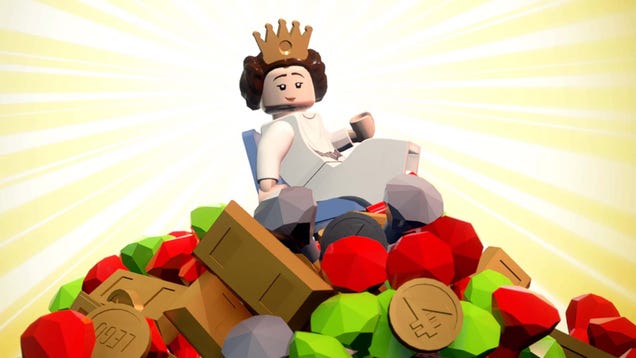 WB Games announced today that Lego Star Wars: The Skywalker Saga had a massive launch, selling through over 3 million copies worldwide, and has set new records for Lego games across all platforms around the world. To put it another way: This latest Lego Star Wars game is one of the biggest releases of the year, and…
---
Kotaku Thursday, April 21, 2022 3:35 PM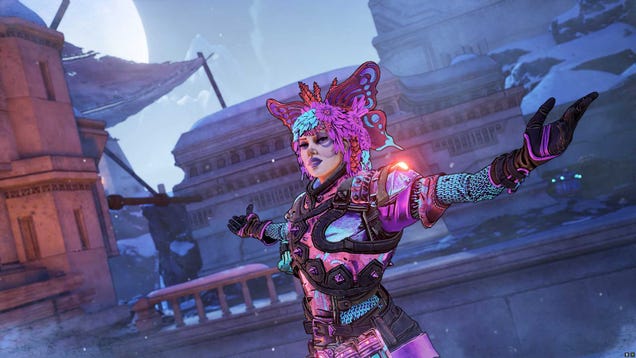 Tiny Tina's Wonderlands hasn't even been out a month, but fresh on the heels of releasing the game's first expansion, developer Gearbox has rolled out the biggest patch yet for its buzzy loot-shooter. Let's break it down.
---
Kotaku Thursday, April 21, 2022 2:45 PM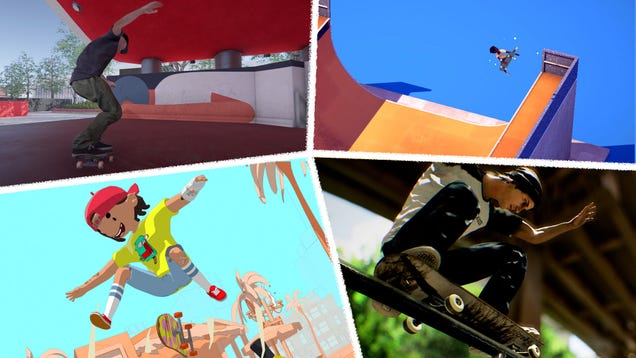 Skateboarding games have changed a lot since the 1980s. With new hardware comes new engines, which leads to better physics, fancier graphics, and new innovations like the genre-changing dual-stick controls seen in games such as Skate. But while the genre is seeing a resurgence thanks to SkateBird and a new Skate…
---
Kotaku Thursday, April 21, 2022 12:52 PM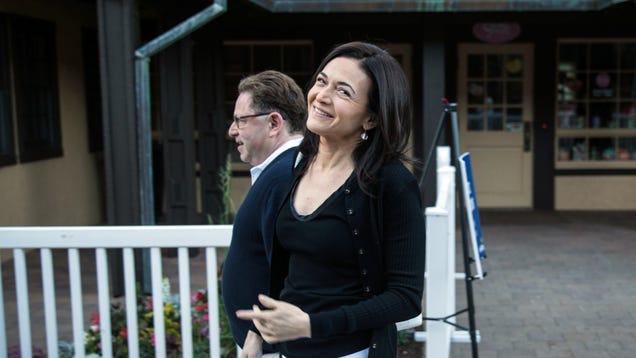 Between 2016 and 2019, Facebook exec Sheryl Sandberg used her political clout to bury two news stories about a restraining order filed against Activision Blizzard exec Bobby Kotick, according to a bombshell report this morning from The Wall Street Journal. Sandberg was dating Kotick at the time.
---
Kotaku Thursday, April 21, 2022 11:15 AM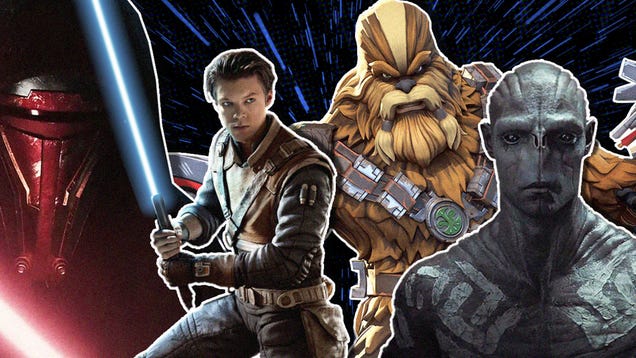 Earlier this week, we learned that Amy Hennig would get another chance to help make a Star Wars game following the infamous shutdown of her previous attempt with EA and Visceral. A big announcement to be sure, but have you noticed? There are a lot of Star Wars games being announced this past year or so. And it's a…
---
Kotaku Thursday, April 21, 2022 10:55 AM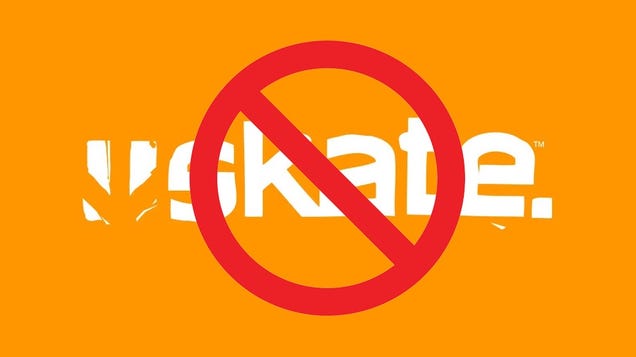 EA appears to have quickly sniped leaked footage of Skate 4 before it can make the rounds. In other news, have you heard of the Streisand Effect?
---
Kotaku Thursday, April 21, 2022 10:45 AM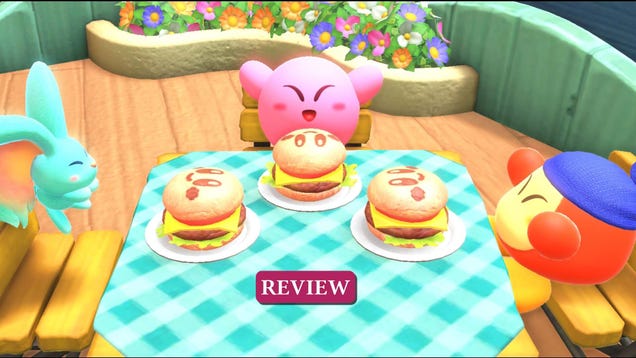 Kirby and the Forgotten Land puts to bed any doubt that Nintendo's pink puffball can more than carry his own 3D adventure game.
---
PCGamesN Thursday, April 21, 2022 2:24 PM
W.A.S.D took place earlier this month, and even if you couldn't make it down to London's Tobacco Dock to join us in person, that doesn't mean you've missed out. (Or at least not entirely.) We're uploading the talks from the event to our YouTube channel so you can catch anything you didn't get to see, and today that's a session with the folks at London Game Festival's Ensemble showcase.
Ensemble is a showcase that highlights UK video game developers from Black, Asian and underrepresented ethnicities. (You can check out more details about the annual showcase on the London Games Festival website.) Hosted by University of the Arts London game design lecturer Thom Kaczmarek, the panel offers three current and former Ensemble members a chance to talk about their work and their experiences in the industry.
Those panellists are Jade Leamcharaskul, audio producer at Silver Rain Games, Leah Muwanga-Magoye, story lead at Die Gute Fabrik and narrative designer at Netflix, and Taiwo Omisore, a mobile app and videogame developer.
Best indie games
,
What is W.A.S.D.?
,
Upcoming PC games
---
PCGamesN Thursday, April 21, 2022 1:07 PM
Call of Duty: Warzone's Caldera is about to be the stage for an even bigger fight than the usual battle royale. Activision has revealed that Godzilla and King Kong will be duking it out on the volcanic island during Season 3 as part of an event called Operation Monarch, which kicks off May 11.
In a teaser trailer revealed today, Captain Price explains in voiceover that at some point, the operatives on Caldera realised that a "storm" was approaching, which he says was "something more powerful than anything we could hope to comprehend." The clip shows King Kong snatches a plane out of the sky, smashing it into the ground. Kong thumps his chest, but over his shoulder notices an approaching wake on the ocean surface - it's none other than Godzilla, who we've been seeing hints of in the lead-up to this reveal.
The two iconic movie monsters then prepare for battle, leaving us all to imagine how we're going to conduct a battle royale amid the chaos. It seems clear that having King Kong and Godzilla punching each other all over Caldera will have major implications for aircraft combat, and there's always the issue of getting stepped on to consider.
---
PCGamesN Thursday, April 21, 2022 12:51 PM
Learning how to overclock your CPU and GPU is one of the easiest ways to improve your gaming PC's performance. While overclocking used to be something only liquid-nitrogen equipped techies did, the practice is more user-friendly than ever in 2022, thanks to recent advancements in software and technology.
For those looking to make the most out of their silicon, knowing how to overclock is one of the most valuable things you can learn. Yes, you could always perform a CPU upgrade to boost fps, but why do that when you can increase performance for free instead?
With component prices continuing to rise, the argument for overclocking the best gaming CPU and best graphics card is stronger than ever right now, and there's very little reason not to. Just follow the steps below to get yourself started, and after a bit of work (and maths) you'll be wondering why you didn't learn how to overclock sooner.
Best SSD for gaming
,
How to build a gaming PC
,
Best gaming CPU
---
PCGamesN Thursday, April 21, 2022 12:35 PM
Looking for some cool Minecraft skins? Fashion faux pas are serious business and it is not just a case of following the latest trends or knowing this season's wardrobe essentials. Instead, it is an ongoing battle to turn up wearing one of these cool MC skins to make all your friends jealous.
Whether it is superheroes like a Minecraft Spider-Man skin, characters from your favourite games, film icons, or creative mashups you need, we have sourced some of the very best threads for your sartorial pleasure. So, to ensure you are the talk of the server the next time you log in, we have the very best Minecraft skins for you.
There's no point messing around in the amazing worlds created by the best minds if you're not looking just as special. If you're playing on the Bedrock Edition of Minecraft, the new character creator lets you customise your character model with numerous free and premium Minecraft skins, so you can roam around the coolest play areas generated by Minecraft seeds as the pixel version of yourself.
Minecraft console commands
,
Minecraft skins
,
Minecraft mods
---
PCGamesN Thursday, April 21, 2022 12:30 PM
Here are two indisputable facts: Wu-Tang is for the children, and many children play Fortnite. Maybe with that in mind, the Wu-Tang Clan coming to Fortnite isn't so weird, but… okay, no, it's definitely very weird. A group of Wu-Tang-themed outfits hit Fortnite this week, alongside real life merch based on those outfits.
But hey, don't take my word for it. Listen to the RZA, who has provided an all time quote for the press release: "Fortnite has been in my household for years. It's been a pleasure and joy watching the game evolve, while becoming the go to pastime. This collaboration is a multigenerational 'drip' of swag and cool. If what you say is true, Fortnite and Wu-Tang could be Fortangerous…."
The Wu-Tang gear goes live in the Fortnite item shop on Saturday, April 23 at 5pm PDT / 8pm EDT, or April 24 at 1am BST. You can buy the Throwback BG and B.R.I.T.E. outfits on their own, or grab the Wu Wear bundle, which includes an emoticon, banner, spray, and loading screen. You can also pick up the Wu-Tang is Forever emote, because of course you can.
Fortnite V-Bucks
,
Fortnite Skins
,
Fortnite Creative Codes
---
PCGamesN Thursday, April 21, 2022 12:28 PM
What are the best Minecraft shaders? More importantly what are Minecraft shaders? The popular crafting game has a lot of things in its favour: infinite replayability, massively varied gameplay, and a constantly changing and improving online game. Where Minecraft draws criticism compared to other modern games is its graphics. Fortunately, as with everything in Minecraft, the graphical fidelity can be tweaked to incredible effect with the help of Minecraft shaders.
From photorealistic lighting to uncanny motion blur, shaders are capable of bringing your Minecraft experience to life. Every Minecraft shader has its own unique qualities, whether that's injecting some serious style or providing a boost to Minecraft's base visuals without too much lag. So, in order to set you on your way to crystal-clear vistas we've put together a collection of the best Minecraft shaders out there.
Getting a Minecraft shader or shader pack up and running is a simple enough process. Before you get started trying to install a shader pack though, you'll want to download and install either Forge or Optifine. Bear in mind that these aren't always kept up to date, so your options are limited if you want to run shaders on the latest version of Minecraft Java. Likewise, you need to make sure whichever shaders you're downloading are for the same version of Minecraft Java you're running.
Minecraft console commands
,
Minecraft skins
,
Minecraft mods
---
PCGamesN Thursday, April 21, 2022 12:00 PM
The next expansion for Stellaris, Overlord, is going to give players the chance to outdo Emperor Palpatine and assume total control of the galaxy. Developer Paradox Interactive has announced that the release date for Overlord has been set for May 12, and we had a chance to talk with Stellaris' new game director about what the expansion is adding to the 4X game's impressive suite of interstellar empire management tools.
"With Overlord, we started it with wanting to revamp subject-overlord interactions," explains game director Stephen Muray, who assumed the role in March from departing director Daniel Moregård. "Becoming a subject was kind of like a delayed game over, and I hated that. It came as a surprise to new players. And it just kind of grew as we explored some of the fantasies we could see, like, if you were an intergalactic overlord, what are some of the things that you could do? How can we make this interesting, how could we make this fun, both as the overlord and as the subject?"
Overlord adds new vassalisation mechanics to Stellaris, allowing rulers to shape their subject states into specialist empires that can be industrial super-producers or military powerhouses. As the overlord, you'll be able to broker contracts between your subjects, shaping their growth, development, and relationships with each other.
Stellaris review
,
Stellaris mods
,
Stellaris DLC guide
---
PCGamesN Thursday, April 21, 2022 11:20 AM
It's Thursday, and you know what that means – another round of free PC games from the Epic Games Store. This week, you can grab the the voxel-based co-op game Riverbond, and as ever, Epic has revealed next week's freebies, too. Just Die Already - nice - is a battle royale stuffed with the elderly, while Paradigm is a "surreal adventure game set in the strange and post apocalyptic Eastern European country of Krusz".
You'll be able to grab Just Die Already and Paradigm from the usual Epic Games Store promotion page on Thursday, April 28 at 8am PDT / 11am EDT / 4pm BST. It'll be there for one full week, at which point it'll be replaced by another freebie. As always, you'll 'purchase' the game at a price of zero dollars, and it'll remain in your library just like any game you might pay money for.
The store page describes Just Die Already as "an old people mayhem sandbox game created by the designers of Goat Simulator". Paradigm, meanwhile, is described as "a surreal adventure game set in the strange and post apocalyptic Eastern European country of Krusz". You "play as the handsome mutant, Paradigm," whose past comes back to haunt him in the form of a candy-vomiting Sloth. It's real wild, y'all.
---
PCGamesN Thursday, April 21, 2022 11:00 AM
The Intel Arc Alchemist GPU lineup might feature an additional entry-level desktop graphics card, and its specs apparently match the recently released AMD Radeon RX 6400. According to reliable hardware leaker Enthusiastic Citizen, the A310 is set to be the lowest tier card within the range, wielding 4GB of GDDR6 memory.
The latest Intel Arc Alchemist GPU leak places the A350 below the lineup's A380, a graphics card that supposedly boasts 6GB of VRAM and eight Xe cores. In a sense, the featherweight blue team contender is a successor to the Iris Xe, which made its debut back in 2020. While this likely won't appeal to enthusiasts looking for the best graphics card available, it provides another modern low-spec graphics option for gaming PCs above and beyond the Radeon RX 6400.
The AMD Radeon RX 6400 tiptoed onto the GPU scene this week, and AMD compares the card to the likes of the Nvidia GeForce GTX 1650 and GTX 1050 (via Videocardz). Just like the AMD Radeon RX 6500 XT, its lower-spec counterpart faces similar issues linked to the fact it only supports four PCIe 4.0 lanes. On a positive note, you won't need the best power supply to fire the RX 6400 up, as its 53W TDP means it can fetch power from your motherboard.
Arc Alchemist GPUs - everything we know
,
Raptor Lake CPUs - everything we know
,
Best gaming CPU
---
PCGamesN Thursday, April 21, 2022 10:45 AM
W.A.S.D has come and gone, but that doesn't mean all the knowledge shared has been lost to time. We're uploading all the talks to our YouTube channel so you can dip back in and catch something you may have missed. Those of you with aspirations for content creation, for example, might want to check out this chat with YouTube star Alastair 'Ali-A' Aiken.
The prolific content creator appeared at the PCGamesN Theatre for a fireside chat with The Loadout's Aaron Down on April 9 to talk about how content creators can make a name for themselves in a highly competitive space. Aiken has been in the game for a while, notching up 17.5 million subscribers on his main YouTube channel. Safe to say, then, that he has a few tips.
Aiken also spilt the beans on a new YouTube talent show called uTure. Ten fresh-faced hopefuls will complete weekly content creation challenges over nine weeks starting in June. A judging panel of familiar folk like Lachlan 'Lachlan' Power, Kayla 'LilSimsie' Sims, and more will run the rule over what you see. If you're interested in getting involved, find out more here.
Best indie games
,
What is W.A.S.D.?
,
Upcoming PC games
---
PCGamesN Thursday, April 21, 2022 10:18 AM
For those who enjoy a social gaming session, it's time to talk about the best Game Pass games to play with friends. With such a vast library available for subscribers, there are plenty of wonderful games just waiting for you and your squad to play and enjoy.
We've picked out six of the best Game Pass games to play with friends to get you started. We've tried to go for a bit of variety here, including games that can be enjoyed by casual and hardcore gamers alike. Whatever your taste in games, we're sure we'll have at least one game on this list that suits your preferences.
On the one hand, we have the epic pirate adventure, Sea of Thieves, which you and your friends can easily pour hours and hours into, and on the other hand, we have the likes of Gang Beasts, which can give you some zany activities to fill up short spaces of time. Whether you're playing locally with friends nearby, or playing with mates across the country, there's a game for every occasion.
Sea of Thieves tips
,
Sea of Thieves quests, guilds, and raids
,
Sea of Thieves endgame
---
PCGamesN Thursday, April 21, 2022 12:18 PM
What is the GTA podium car this week? GTA Online vehicles are expensive things, so we're happy to take a spin on the Diamond Casino's Lucky Wheel to get a discount. Winning isn't guaranteed, sure, but it isn't out of the question either. Look, we don't have a problem - leave it alone.
Finding out what the GTA Online podium car is simple enough - it's winning it that's the challenge. You can spin the Diamond Casino's Lucky Wheel once a day, and each Podium Car refreshes after seven days on a Thursday. Basically, you have seven shots to get the vehicle of that given week. If you own a Penthouse, you can spin it for free, but if you don't it's $500 a spin. Don't fret if you don't win, as you can try for something else.
You have a one in 20 chance of getting the podium vehicle, a car discount, or a mystery prize. There's a four in 20 chance of getting clothes, chips, and cash. Finally, there's a five in 20 chance of getting RP. On that note, here's everything you need to know about this week's GTA podium car.
GTA 5 mods
,
GTA 6
,
Buy GTA V
---
PCGamesN Thursday, April 21, 2022 12:21 PM
Want to know about the GTA Online Prize Ride challenge? The Los Santos Tuners update introduced plenty of new content, all focused on the city's underground tuner scene. There's a new 'social space', called the LS Car Meet, where you can show off your souped-up cars, race with fellow gearheads, and take on jobs - here's how to join the LS Car Meet in the Los Santos Tuners update.
If you want to know what the GTA Prize Ride reward is, there are some other things you need to know first. Throughout your time spent in the Car Meet, you can level up your reputation and unlock new benefits as you progress. There's also a huge Test Track inside the warehouse, where you can try out Test Rides - a great opportunity to take different vehicles for a spin.
Becoming an LS Car Meet member sets you back $50,000 in-game bucks, but it grants you access to a bunch of underground shops - the Merch Shop, Tattoo Shop, and a Modding Area where you can tweak your car in real time. At higher levels, you can create your own customised area in the Car Meet, called a Private Takeover. LS Car Meet members can also compete in Prize Ride challenges, in order to be in with a chance to win a Prize Ride.
GTA 5 mods
,
GTA 6
,
Buy GTA V
---
PCGamesN Thursday, April 21, 2022 11:23 AM
So, you want to know about the best Warhammer games in 2022? Games Workshop has a complicated history with licensing their tabletop worlds. The company has been quite reserved about it in the past, despite some very high-profile successes in the early days. Even when it finally started to open the gates it took a while for the quality to match the demand
Thankfully, Warhammer games are getting better, and as things get better more Warhammer and Warhammer 40,000 titles are starting to appear. From action-packed RPG games, to battle-hardened turn-based strategy games, there are plenty worth checking out if you're fans of either of Games Workshops' iconic tabletop settings.
With that in mind, we've compiled a round-up our top picks of games from fantasy land, as well as the grim darkness of the far future. We were going to keep it 50/50 but to be honest there are far less fantasy games than 40K games, and far more mediocre choices at that. We've also not strictly speaking gone for the 'best of the best', although most of these options are considered pretty good; we've chosen notable titles that are worth highlighting for more specific reasons as well.
Total War: Warhammer 3 DLC
,
Total War: Warhammer 3 races
,
Total War: Warhammer 3 review
---
PCGamesN Thursday, April 21, 2022 11:53 AM
What are the best Minecraft seeds? These seeds are codes that the game uses to generate worlds for you - worlds full of interesting landscapes and key landmarks ripe for exploration. They cover everything from jaw-dropping vistas and landscapes to thrilling dungeons filled to bursting with loot.
Your job is simple: pick the one you want to play around in, whether that's a great spawn location or an idyllic landscape. To get the best Minecraft seeds up and running, all you have to do is grab the digits and place them into the seed field when you're next creating a Minecraft world. The game will do all the heavy lifting, leaving you to explore and create beautiful Minecraft seeds to your heart's content.
Regardless of whether you're a professional miner or someone about to load up their first world, there's something you can't control in Minecraft: the terrain itself. While your mind may be brimming with possibilities, all too frequently you'll spawn in a bland, uninspiring world full of flat grassland and the odd chicken. Hardly the canvas for your masterpiece. Hence this article, a complete collection of the best Minecraft seeds, from the inspiring to the functional and everything in between.
Minecraft console commands
,
Minecraft skins
,
Minecraft mods
---
PCGamesN Thursday, April 21, 2022 9:28 AM
The gaming PC accessory brand Glorious PC Gaming Race is ditching its controversial meme-inspired name, according to a recent announcement. In a blog post, the company reveals it'll now go by "Glorious", while an accompanying rebrand switches out its logo for a simplified silhouette.
The Glorious brand was founded back in 2014, and its original name is a spin on the popular "PC gaming master race" meme. The gag itself originates from an episode of The Escapist's video review series Zero Punctuation, with journalist Ben "Yahtzee" Croshaw using the expression to mock the elitist attitudes of PC gamers. Of course, "master race" is also a reference to Nazi ideology, which inherently added racial overtones to the company's branding.
Glorius says that the brand has "matured" since its "community has expanded to nearly every country in the world, and includes people from all walks of life." The gaming keyboard and mouse maker also say its refined name is more than just a meme, as it "represents much-needed positivity in the world today."
Best SSD for gaming
,
How to build a gaming PC
,
Best gaming CPU
---
Rock Paper Shotgun Latest Articles Feed Thursday, April 21, 2022 3:58 PM
Google's Ngram Viewer suggests references to "vassals" have been in steady decline for almost two hundreds years, yet Google Trends suggests a doubling or even tripling of interest over the past twenty. The culprit can be found among the "related topics" list at the bottom, which includes Crusader Kings 2 and Europa Universalis 4.
The relentless PR campaign in favour of feudal obligation continues in the next Stellaris expansion, Overlord, which will add new "vassalization mechanics" when it launches on May 12th.
---
Rock Paper Shotgun Latest Articles Feed Thursday, April 21, 2022 3:25 PM
It Takes Two is being adapted into a movie, with the Dwayne "The Rock" Johnson attached to produce and the screenwriters of the recent Sonic movies attached to pen the script. There's also a chance The Rock may star in the movie as well - presumably as the perverted book.
---
Rock Paper Shotgun Latest Articles Feed Thursday, April 21, 2022 1:10 PM
Lots of people (Katharine) said how much they liked Tunic. An isometric action game about a fox dressed as Zelda who goes an ickle wickle adventure. How good could it really be? Good apparently. Fine, sorry Tunic fans (mainly Katharine) I was very wrong.
Brendy's Tunic review (oh, and sorry Brendy) goes into why the game is an isometric treat. But there's another thing I'd like to highlight: the music. It's a magnificent work companion or study aid or meditative ascent to nirvana enabler.
---
Rock Paper Shotgun Latest Articles Feed Thursday, April 21, 2022 12:30 PM
Square Enix have announced tonight that People Can Fly's online sci-fi co-op looter shooter Outriders will get its first paid expansion, Worldslayer, on June 30th.
Worldslayer is adding in new story content to the Outriders' world of Enoch – always good to hear – and a new endgame. It all centres around the creepy original Altered, Erishkigal, who exudes some serious Zuul vibes and is named after the Sumerian goddess of the underworld. I googled it. With Worldslayer, People Can Fly say they're delving more into the extraterrestrial shenanigans of Enoch's backstory.
---
Rock Paper Shotgun Latest Articles Feed Thursday, April 21, 2022 11:00 AM
As I mention on the episode, we've now organised our podcast recordings with a big spreadsheet, which means that (in theory) repeat topics on The Electronic Wireless Show podcast should be at a minimum. But for now we may have doubled up again, as we talk about games that have other, smaller games in them, like a Kinder Egg or a novelty casino.
Before that we have a big more egg chat to get out of the way, and a decent discussion on some of Henry Cavill's recent activities. Also I complain about how there are too many Marvel heroes now and they need to kill a load of them off. Plus, in exciting news Nate manages to do his first ever accurate impression, by accident. Stick around for another near miss for Matthew in this week's Cavern Of Lies.
---
Rock Paper Shotgun Latest Articles Feed Thursday, April 21, 2022 10:00 AM
Smilegate's formerly mega-popular RPG Lost Ark receives its April update, the dramatic sounding Battle For The Throne Of Chaos today, bringing with it a new class, continent and a rewards system for those who love the grind.
Glaivier is the new advanced class and she's proper into orchestral djent judging by the trailer. The Glaivier features two skill sets, Focus and Flurry, linked to one of the ridiculously huge pointy sticks she wields: spear for fast attacks in Focus and glaive for sweeping hits in Flurry. Smilegate say a successful Glaivier can maximise their effectiveness by building up energy with one skill set for a stat boost when swapping to the other. It looks like she can really tear things up with superfast twizzles and dazzly stabbiness.
---
Rock Paper Shotgun Latest Articles Feed Thursday, April 21, 2022 10:00 AM
Turbo Overkill is a retro-inspired FPS that's still in early access but already feels complete. Not in the sense that is has nothing left to give, but that it feels ready to give even more. It's a rip-roaring blast through a cyberscape that doubles as a skatepark for your chainsaw leg. And amidst the sick grinds and spilling of guts you're drip fed weapons and power-ups that only serve to keep the momentum ticking over. You won't concentrate on anything harder in your lifetime. That's a guarantee.
---
Twinfinite Thursday, April 21, 2022 3:42 PM
During the Gearbox Software panel at PAX, a partnership between Gearbox Software and Dark Horse Comics was announced by Licensing Director Erica Stead. This collaboration will take the form of a Borderlands lore book that covers all the background story in the Borderlands series. Any fans out there know there is plenty of lore to […]
---
Twinfinite Thursday, April 21, 2022 3:14 PM
Earlier today at PAX East, Gearbox announced a brand-new atmospheric platformer titled Eyes in the Dark. The black and white visuals look very similar to older titles like Closure and Inside. However, the art is a bit more detailed and playful than those relatively dark and somber games. Eyes in the Dark This trailer for […]
---
Twinfinite Thursday, April 21, 2022 3:05 PM
Today, during its show from PAX East, Gearbox Publishing revealed the Collector's Edition of the highly-anticipated Homeworld 3.
---
Twinfinite Thursday, April 21, 2022 1:57 PM
Announced today, cosmetic items from the massively popular hip-hop group Wu-Tang Clan will be headed to Fortnite's Item Shop on Apr. 23. Not only that, but Fortnite will be offering physical versions of some of the in-game gear as well. Their announcement says: One of the most influential hip-hop groups of all time, Wu-Tang Clan brings a […]
---
Twinfinite Thursday, April 21, 2022 1:14 PM
Today third-party developers had news to share about upcoming and newly released add-ons for Microsoft Flight Simulator.
---
Twinfinite Thursday, April 21, 2022 12:38 PM
Announced in the trailer is an event dubbed Operation Monarch, and the trailer confirms Godzilla and King Kong will both be coming to the Battle Royale on May 11. You can watch the gigantic trailer here and below: It is worth noting that these are the same Godzilla and King Kong found in the recent […]
---
Twinfinite Thursday, April 21, 2022 12:26 PM
Earlier today, Pixar and Disney dropped a brand new trailer for its upcoming Toy Story spin-off film. Simply dubbed Lightyear, the much-anticipated animated family pic is currently locked in for a June 17 theatrical release and will serve as an origin story for everybody's favorite space ranger toy. Go ahead and check out the brand […]
---
Twinfinite Thursday, April 21, 2022 12:20 PM
Today Square Enix and People Can Fly revealed the upcoming expansion for their game Outriders, titled Worldslayer.
---
Twinfinite Thursday, April 21, 2022 11:42 AM
Today EA Sports and Codemasters unveiled the next game of the F1 franchise, F1 22, including a release date and details.
---
Twinfinite Thursday, April 21, 2022 10:38 AM
Mages released the first trailer of Alice Gear Aegis CS: Concerto of Simulatrix, showcasing the title's first gameplay in action.
---
Twinfinite Thursday, April 21, 2022 10:20 AM
Today Marvelous Entertainment announced a new zombie crafting game titled Deadcraft developed by Marvelous First Studio.
---
Twinfinite Thursday, April 21, 2022 10:19 AM
Publisher Dotemu has just released a brand-new gameplay overview for Teenage Mutant Ninja Turtles: Shredder's Revenge, and it gives us a good look at 11 minutes of uninterrupted gameplay along with a release window announcement. It's also been revealed that the original 1987 cartoon's voice cast for the turtles will be reprising their roles here […]
---
Twinfinite Thursday, April 21, 2022 10:03 AM
Today THQ Nordic and Slovakia-based studio Nine Rocks Games announced a brand new hunting IP, Way of the Hunter.
---
Siliconera Thursday, April 21, 2022 3:00 PM
Describing The Kaito Files as a bite-sized Yakuza story may feel redundant, given that Lost Judgment draws heavy inspiration from its predecessor. But it includes content some Yakuza fans may missed in the Judgment series. While the same procedural crime drama elements are still present in this spin-off, Kaito's connection to the underground and the yakuza take centerstage. This DLC feels more personal as a result, as it fleshes out Kaito's background. However, this may come as a detriment to those who may be burned out on the series.
The Kaito Files begins with a bang. Players are immediately introduced to what will be the crux of the story, which is locating a woman who was presumed dead. Cases like this are par for the course for the Judgment series, and the more unbelievable elements of the story are easier to swallow for it. Kaito accepts the case and investigates the disappearance and suicide of Mikiko Natsume. The DLC immediately clues the player into their past relationship and Kaito's closeness to her. At moments during the DLC story, players are given a glimpse into his fraught past and how his ties to the yakuza ultimately strained his relationship with Mikiko. It makes for a predictable, but sad, story.
It's what fans will potentially expect. That doesn't make it bad. The narrative is gripping when it needs to be, and Kaito's relationship with Mikiko's son is endearing. He serves as a mentor figure to Jun. Jun is young and inexperienced in comparison, as he literally faints after having a knife drawn on him during one of their first interactions. But it serves the overall tone of the narrative well and keeps the story light when it needs to be. Naturally, the DLC has several twists and turns that will keep players at the edge of their seats as they unravel the true mystery surrounding Mikiko's disappearance and just how tangled the threads around it really are.
The only real issue is that The Kaito Files is more of the same. Yes, the gameplay offers some deviation. Kaito uses a different method of sleuthing out clues with his "primal instincts." I mean this very literally, as players use his "Primal Ears" and "Primal Eyes" during the investigative elements of gameplay. But players will be going through the same motions of solving the mystery for the most part. The twists and turns may be shocking at first, but predictable if you think about them too long. Several different organizations are at play, with each trying to cover up some connection to Mikiko's disappearance. One plot twist I could almost smell a mile away, and its execution wasn't as effective as I'd hoped it would be. It left me feeling a bit lukewarm towards the experience. I can't elaborate on much, since one thing leads to another in terms of spoilers.
But in terms of combat, it's exactly what I'd expect when playing as a character like Kaito. Unlike Yagami, Kaito throws brutal punches with the same kind of power as former Yakuza series protagonist Kazuma Kiryu. He has two different fighting styles, with one allowing for players to deal out massive amounts of damage. The other relies on countering enemy attacks to make it effective, but does a good enough job of softening the blows of bosses. This was probably the most enjoyable aspect to me of the DLC. While I enjoyed my time with Yagami in Lost Judgment's main scenario, I like it when a man can throw a mean punch.
Overall, The Kaito Files is more of the same. Those who were looking for something different from the main scenario may be pleased, as Kaito has enough variation in his gameplay to set him apart from Yagami. But if you're looking for something more compelling or different from other Ryu Ga Gotoku narratives, then you may be a bit disappointed. That isn't to say The Kaito Files isn't worth your time. It's a nice, bite-sized experience and will no doubt fill the gap stories like Yakuza: Like a Dragon and Yakuza Kiwami 2 have left behind in the hearts of series fans.
Lost Judgment and its The Kaito Files DLC are available for PlayStation 4, PlayStation 5, Xbox One and Xbox Series X.
The post Lost Judgment's The Kaito Files is a Bite-Sized Yakuza Story appeared first on Siliconera.
---
Siliconera Thursday, April 21, 2022 2:35 PM
SNK announced that the SNK Online Shop will be closing in 2022. The last day to create an account or make purchases will be May 31, 2022 at 1 a.m. PT/4 a.m. ET/10 a.m. CET/5 p.m. JST. All services will close at that same time on June 17, 2022. SNK didn't note how it might handle continued sales of exclusive merchandise.
The SNK Online Shop carried various merchandise tied to some of its largest franchises. For example, the outlet currently still sells items based on Fatal Fury, The King of Fighters, Metal Slug, and Samurai Shodown. It also would carry exclusive products, though that category is empty at the moment. Among the possible items people could get would be acrylic stands of characters, plush toys, clothing, books, and games.
It hasn't been too long since SNK announced new merchandise pre-orders for the storefront. At the end of March 2022, it opened pre-orders for Metal Slug X acrylic stands of Eri, Fio, Marco, and Tarma. Those cost ¥1,222 (~$10) each and are expected to ship in May 2022. Other recent additions included Samurai Shodown VI acrylic stands, KOF acrylic smartphone stands, and NeoGeo merchandise.
People can place orders at the SNK Online Shop until May 31, 2022, and the store will close for good on June 17, 2022.
The post SNK Online Shop Closing appeared first on Siliconera.
---
Siliconera Thursday, April 21, 2022 1:00 PM
The Helltaker Lucifer Pop Up Parade figure is on the way. Good Smile Company opened up pre-orders for it. She'll cost ¥4,800/$43.99. People who pre-order her from the official storefront will also get a postcard showing art of the figure.
Lucifer is over six and a half inches tall. She's wearing her typical suit. The pose features her with her hands on her hips.
Here's a closer look at the Lucifer from various angles.
[gallery columns="4" ids="924805,924806,924807,924808" link="file"]
And this is the promotional postcard.

Good Smile Company already released one Helltaker figure, which is a Lucifer Nendoroid. Pre-orders for her opened back in 2021. She's now in the shop for $61.99. She comes with wine she can "drink" and pancakes she can "eat."
More Helltaker Nendoroids are on the way too. Good Smile Company held a survey asking who people would like to see become figures. As a result, ones based on Cerberus, Justice, and Modeus are in development. Of the three, it seems Justice is furthest along. When the announcement came up, an unpainted prototype of her also appeared.
The Helltaker Lucifer Pop Up Parade figure will appear in Japan in August 2022 and North America in October 2022. Pre-orders are open until May 18, 2022. Helltaker is available for free on PCs.
The post Helltaker Lucifer Pop Up Parade Figure Will Appear in 2022 appeared first on Siliconera.