---
Kotaku Sunday, May 21, 2023 9:30 PM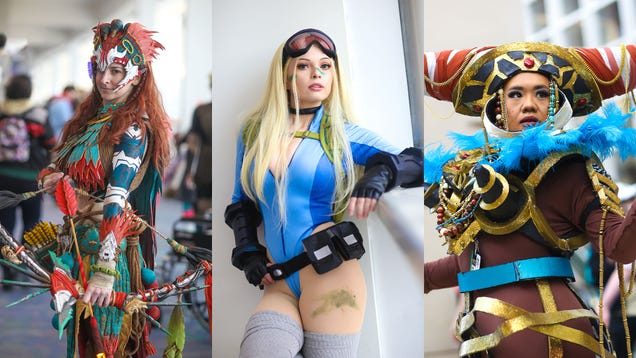 The Chicago Comic & Entertainment Expo, better known as C2E2, was held a few weeks back and brought in nearly 100,000 attendees over its three days.
---
PCGamesN Sunday, May 21, 2023 6:22 PM
Taking risky action hoping for a desired result. That's the definition of gambling, and if you're a CSGO skin lover with a credit card, it's something you might have done pretty regularly. Buying a CSGO cheap case, spinning the slots, praying to the RNG gods for that rare, glittering skin you can sell for a pretty penny later. I'm not complaining. After all, who doesn't like some extra cash through risky means? But it all changes when you're a parent, and your kids' favorite FPS game potentially exposes them to softcore gambling.
MORE FROM PCGAMESN:
Best FPS games
,
Counter-Strike 2 release date
,
Best multiplayer games
---
PCGamesN Sunday, May 21, 2023 2:15 PM
May 21, 2023: We checked for new Honkai Star Rail codes and tested our list to see if any have now expired.
What are the active Honkai Star Rail codes? If you're just starting your adventure through developer Hoyoverse's latest anime epic, you might be wondering if there are any codes for freebies to give you a headstart. Thankfully, Hoyoverse has delivered, and we've got the complete list of active Honkai Star Rail codes right here to prove it.
Honkai Star Rail codes are released periodically and typically appear in promotional livestreams ahead of major updates. These codes can net you some high-value currency, including Honkai Star Rail Stellar Jade, which you can use to pull the best characters from Honkai Star Rail banners. To save you time, we've collated all the latest HSR codes and how to redeem them in Honkai Star Rail, so be sure to check back regularly before they expire.
MORE FROM PCGAMESN:
Honkai Star Rail review
,
Honkai Star Rail codes
,
Honkai Star Rail tier list
---
PCGamesN Sunday, May 21, 2023 2:05 PM
Want to know who is at the top of the Street Fighter 6 tier list? With a sizable roster coming and more characters arriving on the scene after release, it's time to rank them in order of who will most consistently be the best pick as the champion of World Warriors.
Right now, this list comes with a big caveat. Given that only eight characters of the 16 are available in the fighting game's full release and will be available during the Street Fighter 6 beta, we can only judge which of those members of the Street Fighter 6 roster are worth playing. Naturally, this will be an ever-evolving SF6 tier list as we get to grips with each character.
MORE FROM PCGAMESN:
Street Fighter 6 release date
,
Street Fighter 6 tier list
,
Street Fighter 6 roster
---
Siliconera Sunday, May 21, 2023 3:00 PM
Enjoyment of a series can often depend on how successful an author is at getting you to connect with certain characters. In the case of Aka Akasaka's manga, the stakes are high in the first volume because of how it portrays Ai Hoshino. Given the way the story goes and the parts her children Aqua and Ruby Hoshino will play over the rest of the series, it's critical to establish why not only they love her, but we should too. It's wonderful to see firsthand exactly how it accomplishes it.
Editor's Note: There are Oshi no Ko volume 1 spoilers regarding Ai Hoshino below.
Before we even get to meet Ai Hoshino in Oshi no Ko volume 1, the manga kicks off by letting us see why others care so much about her. In the case of Sarina, we see the hope that she offers. Even though that young girl was sick, she was essentially able to live vicariously through the idol by watching her performances. With the doctor Gorou, there's the initial connection due to his patient, but then we also see how he appreciates her talent.
By the time she shows up pregnant at Gorou's hospital, we've gotten to see her built up to be something special. But instead of staying on a pedestal, everything happening humanizes her. She's 16 and pregnant. She isn't sharing who the father is, even with her business contact and official guardian Ichigo Productions President Ichigo Saitou. She's very aware of what the idol industry is like and the lies that need to be told to get ahead, and even considers herself selfish for wanting to maintain her career and have her children. Seeing through Gorou's eyes as we hear from this girl who grew up without a family, determined to raise her children and do what she loves, is so motivating. He wants to help her do it, and it's the first moment in which the first volume of Oshi no Ko made me hope she could do it too.
[gallery columns="1" size="full" ids="964179" link="file"]
Once the viewpoint shifts to show things through Aqua and Ruby's perspective, we get to feel even more for what Ai is going through in Oshi no Ko. She's a young mother who's doing her best. She isn't always perfect. She almost gives away the fact that she did have twins during her first interview back. The weight of the job gets to her, as she'll see negative comments from people online and show concerns about how the position she's in won't properly provide for the twins. Both of her children idolize and adore her, in part because of their past lives, but with Aqua especially we're seeing how she's struggling and the toll it takes.
Especially as Aqua gets older and sees how the entertainment industry works. We watch as she gets sidelined in a show because she's too cute. How deals need to be made to get her more attention. Even more importantly, Oshi no Ko never shies away from the more horrifying aspects of the job. The foreshadowing and flash forwards hint at what's coming before it happens, and when the terrifying moment does arrive, it's heartwrenching. Because leading up to that second, we see how Ai keeps essentially winning. Things are working out for her. Even as she shows concerns about her family life and connections to her children, she's on the verge of greatness, and we see everything fall away. Yet even as we do, we get this moment where she still gets to enjoy this last, formative moment with Aqua and Ruby.
The first volume of the Oshi no Ko manga is really a testament to Akasaka's characterizations and storytelling efforts, as both really ensure Ai Hoshino matters to the reader by the end of it. The way we get to see all sides of her from different perspectives sets up the series perfectly. The connections formed help us bond with her, while also reinforcing why Aqua and Ruby's journeys going forward will seem so plausible.
Yen Press is handling the English localization of the Oshi no Ko manga. Volume 2 arrives on May 23, 2023. The anime is streaming on HIDIVE, and the original Japanese and an English dub are available.
The post The Oshi no Ko Manga Makes Sure You Identify with Ai Hoshino appeared first on Siliconera.
---
Gamer Empire Sunday, May 21, 2023 8:37 PM
Fire Emblem Engage has many different Emblems for you to unlock during your progression of the main story, allowing for endless potential combination pairings with your Units. However, some Emblem and Unit pairings work together much more effectively than others. Recommended Read: What Are Relay Tickets in Fire Emblem Engage? With over 30 different Units […]
---
Gamer Empire Sunday, May 21, 2023 2:01 PM
Though you get to do many things in Stardew Valley, at heart, it is still a farming simulator. Many forget this as they pursue romantic relationships with some of the most interesting characters in Pelican Town or when they fight demonic creatures in the deep Skull Cavern. However, farming can be a bit annoying back […]
---
Tabletop Gaming News – TGN Sunday, May 21, 2023 5:00 PM
Knight Models has announced the introduction of several new miniatures for their popular Batman Miniature Game. The new roster of characters promises to bring fresh dynamism and interesting tactics to the game. One of the most intriguing miniatures introduced is Red Hood, the outlaw. This character holds a unique position in the DC Universe, navigating …
---
Tabletop Gaming News – TGN Sunday, May 21, 2023 4:00 PM
Catalyst Game Labs, the creator of the legendary BattleTech and Shadowrun games, alongside Leviathans: The Great War, is branching out further into the world of board games. The company, which has already produced popular titles such as The Duke, Crossfire, and Dragonfire, announced the formation of a dedicated board game division. This division will not …
---
Tabletop Gaming News – TGN Sunday, May 21, 2023 3:00 PM
Get ready to showcase your artistic flair to the professionals! Paizo, the renowned RPG company, is offering a unique opportunity for illustrators to receive insightful feedback on their work from their expert art directors during PaizoCon Online 2023. This initiative is set to assist budding artists to refine their talents and to provide them a …