---
Kotaku Monday, April 25, 2022 7:00 PM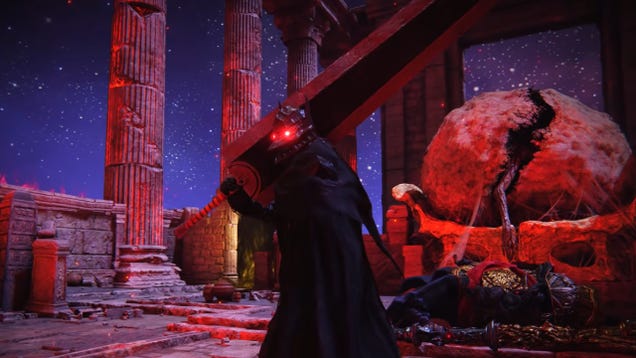 It's no secret that many aspects of FromSoftware's Soulsborne games are inspired by Kentaro Miura's popular manga Berserk. In fact, Elden Ring already pays homage in many ways, right down to Blaidd the Half-Wolf's uncanny likeness to Berserk protagonist Guts. Now, Elden Ring's cycle of manga refs has come full circle…
---
Kotaku Monday, April 25, 2022 5:40 PM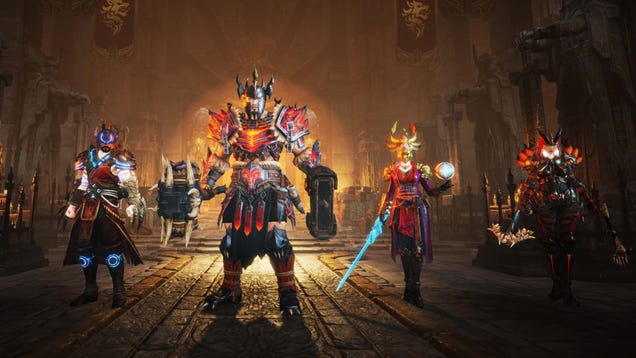 Today, Blizzard announced that Diablo Immortal will be out on June 2 for iOS, Android, and PC. The PC version was a surprise as Blizzard had previously said that this new entry in the ARPG dungeon-crawlin' franchise was built for mobile devices from the ground up. But according to the Warcraft developer, creating a…
---
Kotaku Monday, April 25, 2022 5:30 PM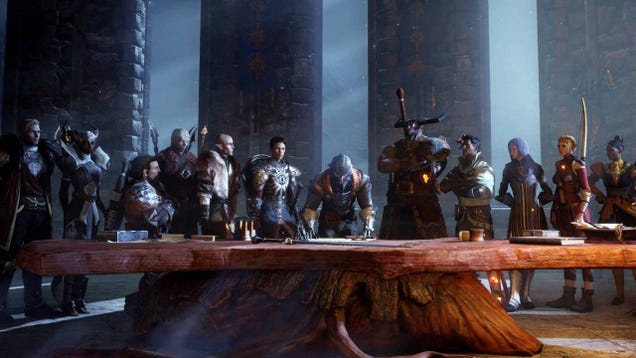 Keywords Studios developers working in support of Dragon Age 4 maker BioWare are seeking to unionize. That's according to an April 20 application filed with the Alberta Labor Relations Board. The staff is preparing for a union vote following recent labor organizing efforts at other game studios.

---
Kotaku Monday, April 25, 2022 5:00 PM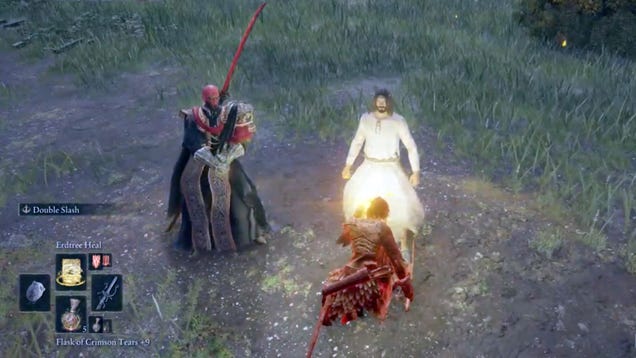 There's no shortage of bizarre players to encounter in Elden Ring. From "Will Smith" invading just to slap people to nightmarish multiplayer confrontations, the Lands Between is full of curious and strange discoveries. But I wasn't expecting to stumble upon the most blasphemous run-in yet: a Redditor had a chance,…
---
Kotaku Monday, April 25, 2022 4:30 PM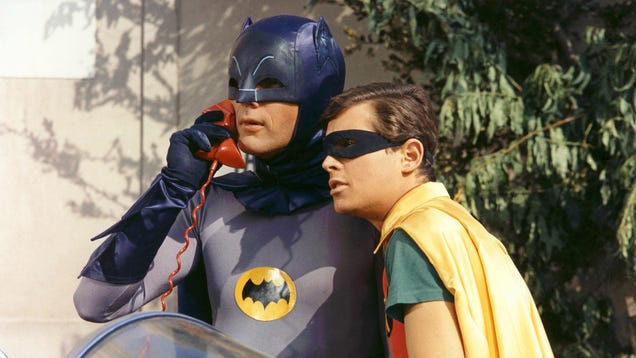 Did you know that the "let's go" voice clip in Street Fighter III: 3rd Strike was pulled from the 1960s Batman television series? I sure didn't, and being confronted with this apparently well-known fact over the weekend sent me tumbling down a rabbit hole of video game sample usage.
---
Kotaku Monday, April 25, 2022 2:55 PM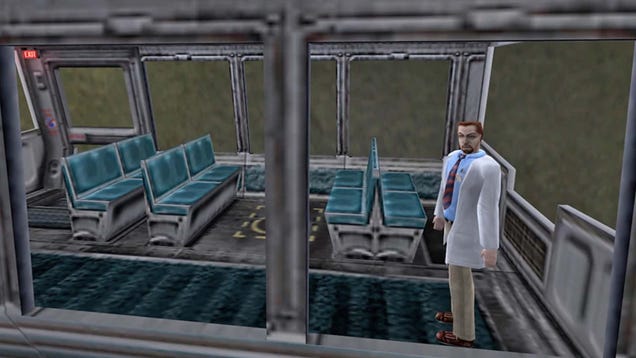 Half-Life is widely considered one of the best video games ever made for a host of reasons. Among them, its intro is perhaps one of the most memorable video game openings of all time, a masterclass in establishing a game's particular tone while also organically introducing you to its world. As Gordon Freeman, new…
---
Kotaku Monday, April 25, 2022 2:45 PM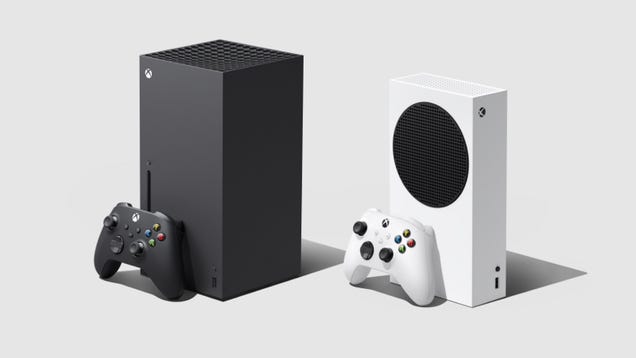 After an astonishing 17 months since release, Microsoft's latest generation of Xboxes is finally more easily available. As a result, the publisher is seeing its first good month for sales in a very long while, with the Xbox Series S and Series X bringing in more money in March than even Nintendo's Switch.

---
Kotaku Monday, April 25, 2022 2:10 PM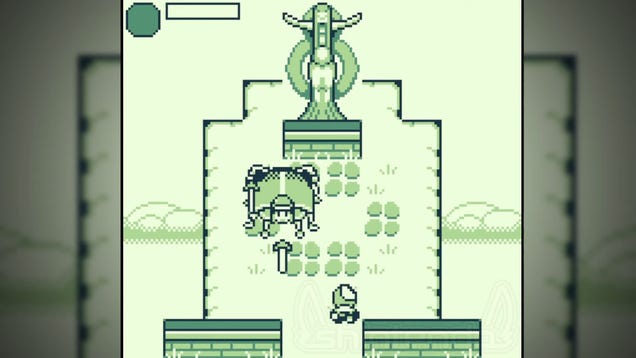 Elden Ring is a colossal open-world game full of unique bosses, esoteric quests, and mysterious secrets. What would the Game Boy version of that play like? One fan is determined to find out.
---
Kotaku Monday, April 25, 2022 1:55 PM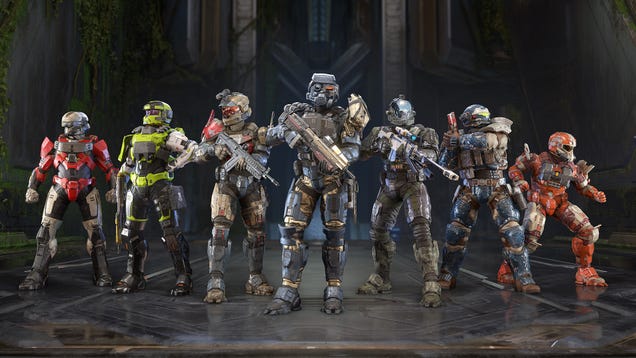 It's rare to see a video game developer publicly acknowledge crunch, let alone cite its avoidance as a reason for delays. On Friday, developer 343 Industries revealed the long-anticipated roadmap for Halo Infinite, replete with a number of pushed-back features alongside a frank acknowledgement that such decisions were…
---
Kotaku Monday, April 25, 2022 1:05 PM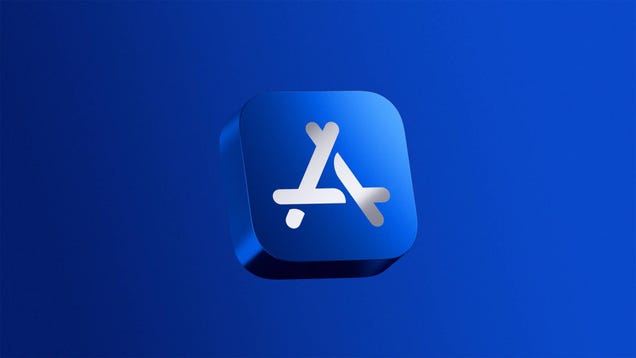 Although the mobile gaming ecosystem is known for hosting live-service games that monetize more aggressively than standalone console games, there's no shortage of creators making mobile games that don't call for constant updates. Now, some indie developers are finding out what can happen when you put your finished…
---
Kotaku Monday, April 25, 2022 12:50 PM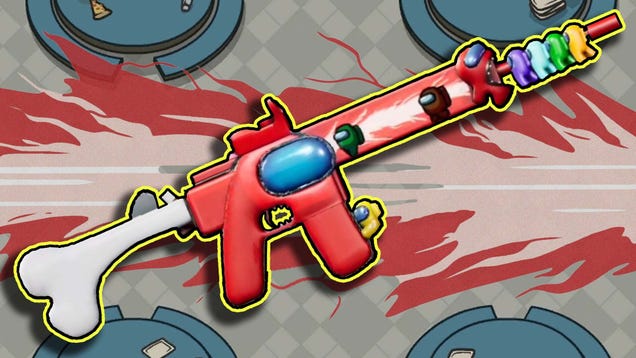 The popular social deduction game Among Us has snuck its way onto the free-to-play PUBG Mobile sequel you might not have heard of. In a limited-time event that runs until May 19 in the battle royale shooter New State Mobile, you can get a sus-looking gun that has my imposter senses tingling.

---
PCGamesN Monday, April 25, 2022 7:16 PM
Farm Together takes the best of idle games and farming games to give you the best of both worlds - a casual take on the Stardew Valley formula where your crops keep growing even when the game is closed. It launched to a positive response in 2018, and the combination of a fresh round of updates and a 50% off Steam sale is bringing it more players than ever.
In Farm Together, you build a farm, and you can open that farm up to your friends online so you can build it together. Your crops grow according to a real time clock, so you might have to wait minutes or days for a given harvest to mature, but nothing will wither while you're away, so you can keep occasional tabs on your farm without fear of missing out.
For about 18 more hours after this post goes live, Farm Together is available at a 50% discount on Steam, bringing the price down to $9.99 / £7.74 / €9.99. In the wake of the sale, the game's player counts have reached all-time records, including a peak of 6,455 concurrent players last night, as SteamDB shows. Sure, that's not Elden Ring, but it is a solid count for a smaller indie game.
---
PCGamesN Monday, April 25, 2022 6:21 PM
The long-awaited Yu-Gi-Oh: Master Duel banlist is here, and it doesn't ban much. In fact, it doesn't outright ban anything. The affected cards are all moving either to the limited or semi-limited lists, and while pretty much all of the top tier decks will suffer some nerfs as a result of the changes, the early response from fans suggests that Konami might be playing it too conservatively here.
Two cards are getting knocked to the limited list: Cyber Angel Benten and Conquistador of the Golden Land. Those will affect Dryton and Eldlich decks, respectively, both of which rank among the top decks on tier trackers like Master Duel Meta. The community's response to the list has been, uh… well, the main discussion post about the banlist on the Master Duel subreddit is simply titled "LMFAOOOOOOOOOOOO".
The banlist goes into effect on May 9. You'll get a bonus of 20CP for dismantling cards added to the limited or semi-limited lists until June 9. Again, there are no forbidden cards in this banlist, and one card is coming off the list, back to full unlimited: Red-Eyes Darkness Metal Dragon.
Upcoming PC Games
,
The best card games on PC
---
PCGamesN Monday, April 25, 2022 5:35 PM
Set among the colourful jungles, beaches, and villages of Mexico, Forza Horizon 5 is gearing up to celebrate Cinco de Mayo this year with a slew of new events, clothing, and decorations. The Series 7 update for the motorhead's open-world game arrives April 26, bringing with it a bunch of new seasonal content, as well as some tightening up under the bonnet.
For Cinco de Mayo, Forza Horizon 5 is adding a new set of unlockable clothing items, which are inspired by the vibrant murals and the city of Puebla - the historic site of the Franco-Mexican War battle that the holiday commemorates. You'll also see decorations set up all around Guanajuato, and there's even a new festive T-rex sculpture to place in your EventLab creations.
The update adds more than 200 new Horizon Tour championships for Series 7. Playground Games says these include S2 class races that will allow you to unlock the Power Trip accolade. You can jump into a Horizon Tour event - a co-op adventure across multiple races - by heading over to the Horizon Tour meeting zone at the festival site.
Forza Horizon 5 review
,
The best racing games on PC
,
The best open-world games on PC
---
PCGamesN Monday, April 25, 2022 5:13 PM
Blizzard has confirmed the Overwatch 2 beta release time, and unveiled a big list of streamers you can follow to get access via Twitch drops. If you've not yet signed up, you can do so on the official site. The beta will initially only be available in English, and will begin in North America, Europe, Latin America and Brazil, Korea, Japan, Australia and New Zealand, Taiwan, and Southeast Asia.
The Overwatch 2 beta release time is set for Tuesday, April 26 at 11am PDT / 2pm EDT / 7pm BST. You will not receive a beta invite before that time - Blizzard says that once launch time hits, invites will begin rolling out, and those emails will continue throughout the day. All players selected for the first round will receive their invites on the first day. If you don't get your invite in that first wave, Blizzard says it "may" send out further invites later on in the test, which runs until May 17.
You can also get guaranteed access by watching four hours of a participating Twitch channel between 10am PDT / 1pm EDT / 6pm BST and 6pm PDT / 9pm EDT on April 27. (That's 2am BST on April 28 if you're on the other side of the date line.)
Overwatch 2 heroes
,
Overwatch 2 release date
,
Overwatch 2 talents
---
PCGamesN Monday, April 25, 2022 3:46 PM
It seems like Techland really was "seriously thinking about" New Game Plus mode for its new open-world game Dying Light 2 last month: NG+ mode rolls out this week, giving players the option of a second, more challenging run through Villedor. Techland says it's added a host of new challenges and rewards to NG+, and while you get to keep the gear and character boosts you unlocked in your first playthrough, you'll have to collect the nightrunner tools all over again.
Nightrunner tools include gadgets like Aiden's binoculars, paraglider, and UV flashlight. You'll need to collect these again during a NG+ run for the simple reason that the campaign is built around Aiden getting them at specific times. Apart from that, however, you'll keep the progress you've made and gear you've collected. That's good, because a NG+ run is going to be substantially tougher - and there's the option to take on even greater challenges.
Infected enemies will scale to Aiden's character level, but Techland says NG+ also offers special 'golden marked' encounters that offer an even greater challenge. You'll also need to deal with new infected that have unique attacks, and you'll find that special infected spawn a lot more frequently.
Dying Light 2 release date
,
Dying Light 2 factions
,
Dying Light 2 trailer reveal
---
PCGamesN Monday, April 25, 2022 2:22 PM
Minecraft mobs run the gamut from kind of annoying to legitimately horrifying. You've got every kind of enemy you could possibly desire in the game, but you don't often get to look at them unless they're actively trying to kill you, or they're stealing your blocks. We all hate the Endermen, right?
If you've ever thought about trapping every mob in Minecraft, then you'll be happy to know that it's already been done, and in Hardcore mode. That includes the mighty Ender Dragon too, who's the focus of this Sandiction video. You see, Sandiction had already captured every other mob in Minecraft, and so he set his sights on the biggest and baddest of them all.
Trapping the Ender Dragon takes a little bit more effort than any of the other mobs too, especially as Sandiction seems to have a thing for style. The video goes into full detail on how he managed it, including minor details like having to kill the Ender Dragon 17 times. We've never felt bad for an Ender Dragon before, but hey, times are strange.
Minecraft console commands
,
Minecraft skins
,
Minecraft mods
---
PCGamesN Monday, April 25, 2022 1:41 PM
You have a chance to try out an upcoming RTS game that harkens back to the real-time heyday of classics like Warcraft II: Tides of Darkness. In The Purple War, you'll take command of a race of fantasy combat units, build a town, and wipe out your enemies - or at least try to get some defences up before that early cheese rush arrives.
The Purple War is an obvious homage to the Warcraft RTS games, with an artistic style that draws heavy inspiration from the exaggerated designs of Azeroth. In The Purple War, you have elves, humans, and orcs locked in conflict after the emergence of a strange volcanic mountain that split the land into four segments. That disaster wreaked havoc on the livelihoods of everyone, and now the once-peaceful neighbours are at each other's throats over the scarce remaining resources.
When The Purple War is ready for release, developer Warlogics says it'll include campaigns for each race. However, the playtest only features the competitive multiplayer component. The developer says it's looking for player feedback on unit balancing and ease of use.
---
PCGamesN Monday, April 25, 2022 1:39 PM
The Valheim Mistlands release date has remained a mystery since the game's launch in Early Access over a year ago, but it seems the launch of the survival game's first new biome is finally in sight. As part of a press release announcing that Valheim has sold 10 million copies so far, the devs have confirmed that the Mistlands update is scheduled to launch in 2022.
"As the development of the next major content update continues," the official statement reads, "fans of the survival genre can look forward to more Valheim goodness coming this year, including a brand-new biome to explore, enemies to fight and new weapons to craft."
The Valheim roadmap has been substantially shuffled since it was first revealed, though the devs at Iron Gate have made clear they're ramping up work on the Mistlands with the reveals of new creatures and weapons. A patch in 2021 stripped the placeholder Mistlands locations, which you can already visit in-game, of all their trees and other objects.
Valheim system requirements
,
Valheim building tips
,
Valheim progression guide
---
PCGamesN Monday, April 25, 2022 12:31 PM
An Elden Ring enemy randomizer mod is in the works that randomly changes the location and strength of all enemies in the RPG game, so it'll be possible to head into the fight with Margit and face someone like Malenia or Starscourge Radahn instead.
There are many fantastic game randomizer mods on PC already but the most terrifying have to be the ones for FromSoftware games like Dark Souls and Sekiro, seeing as even the most basic enemies are already capable of killing the player in a few hits.
Well, there's one in the works for Elden Ring now, courtesy of modder Matt 'thefifthmatt' Gruen. He's the creator of the Elden Ring item randomizer mod, which changes the location of every single item in the game - everything from items in the world to important enemy drops. That was chaotic enough already, but the modder confirmed he was also working on a combined enemy and item randomizer mod too. Now Gruen's released the first look at a randomized Elden Ring boss encounter, and it's just as scary as you might expect.
Best Elden Ring settings
,
Elden Ring bosses guide
,
The best Elden Ring classes
---
PCGamesN Monday, April 25, 2022 12:31 PM
A new Apex Legends cinematic gives us a pretty good look at those Newcastle abilities, but if you've been paying attention to recent leaks, then… Well, please act surprised, at least. The trailer for the new season, Saviors, also immediately puts to rest a point of lore speculation: Newcastle is, indeed, Bangalore's brother Jackson.
Newcastle's abilities leaked in a video posted to Reddit a month ago. His tactical has him toss out a movable drone that holds an energy shield. His passive allows him to downed teammates away while protecting them with a personal shield. His ultimate has him leap into the air and slam into a targeted spot on the ground, creating a large piece of cover at the landing point.
If you had any doubt whether that leak was accurate, Newcastle uses all of those abilities in the new cinematic trailer. The trailer also features the crew taking down a giant crustacean that looks a whole lot like Godzilla foe Ebirah - the official site notes that a 'downed beast' will soon appear on Storm Point. You can also expect a reworked ranked system as part of the new season.
Apex Legends characters guide
,
Apex Legends skins
,
Apex Legends map guide
---
PCGamesN Monday, April 25, 2022 12:31 PM
We finally have confirmation that Newcastle is the new Legend joining Apex Legends in Season 13. There were rumours long before the leak that pointed towards Bangalore's brother, Jackson Williams, potentially joining the Apex Games. Jackson was a IMC Pilot before he went missing in action, though Bangalore always had faith that he was alive and well.
While there were leaks showing off Newcastle's abilities, it was unclear whether the man behind the mask was in fact Jackson. Though the Stories from the Outlands video released in January doesn't explain what happened to Jackson, it does give us a glimpse of his fighting abilities and how he could hold his own against the fighters in the Apex Games. The Apex Legends new Legend follows Mad Maggie, the shield-destroying soldier from Salvo who joined the roster in Season 12.
The official Season 13 launch trailer shows Newcastle fighting along Bangalore for the first time since his disappearance years ago. Bangalore spotted enough signs throughout their match to confidently identify her own brother as the newest Legend in the Apex Games. Here's everything you need to know about Newcastle, the next Apex Legends character.
Apex Legends characters guide
,
Apex Legends skins
,
Apex Legends map guide
---
PCGamesN Monday, April 25, 2022 12:42 PM
Nvidia DLSS (Deep Learning Super Sampling) is a rendering technology that uses AI-assisted upscaling techniques to boost fps with minimal impact to visual quality. It works by rendering frames at a lower resolution which reduces the stress placed on your GPU, before reconstructing the final image to your chosen output resolution.
You'll need one of best graphics cards from the GeForce RTX lineup in order to use Nvidia DLSS, as it requires team green's Tensor Cores in order to for it to work. This is one of the key differences between DLSS and AMD FidelityFX Super Resolution (FSR) and other methods of hardware-agnostic anti-aliasing.
While Nvidia DLSS was originally created to make ray tracing more accessible by reducing the performance hit that comes with it, the technology has since taken on a more encompassing identity. It can help transform lower-spec gaming PCs into deceptively powerful machines, allowing you to more easily enjoy the best PC games at high refresh rates.
Best SSD for gaming
,
How to build a gaming PC
,
Best gaming CPU
---
PCGamesN Monday, April 25, 2022 12:09 PM
Want to know how to unlock secret characters in Vampire Survivors? When you start your first run you only have a handful of characters and a few weapons available. However, on each playthrough, more items, weapons, and characters unlock for you to use in future attempts.
These items are vital if you wish to use Vampire Survivor weapon evolutions to maximise a weapon's damage output. The game also locks new characters behind requirements, such as leveling up your gear to a certain threshold, finding items in a level, or slaying a quota of monsters. Later on, you can also find Arcana to give your weapons unique bonuses to annihilate your foes.
Some of these unlock conditions are vague and confusing, so we thought we'd list how you can get all of the Vampire Survivors characters, weapons, items, and levels. We also have a cheat code that you need to type to get another hidden vampire slayer and steps to access a secret character that requires you to tinker with the game's code.
---
PCGamesN Monday, April 25, 2022 12:02 PM
When I first saw the AOC Agon Pro AG275QXL League of Legends Edition gaming monitor in its reveal trailer, I felt compelled to try it out. This is something different that could at the very least spice up the market. I've spent the past month or so with it, and it's certainly one of the more unique panels that's made its way to my gaming desk.
On the surface, it's pretty usual stuff in terms of specs: 1440p resolution, 170Hz refresh rate, IPS panel, 1ms GtG response time, G-Sync compatible. Where the AG275QXL differentiates itself from its brethren is its ability to dynamically adjust game-integrated RGB LEDs and respond to your in-game actions while playing League of Legends.
As someone who's played League of Legends since 2012, this certainly piqued my interest. Could this be the best gaming monitor for fans of LoL, or would it ultimately feel as gimmicky as a game of URF? The answer is a bit more complicated.
AOC G2590FX review
,
AOC AGON AG322QCX review
,
Best gaming monitor
---
PCGamesN Monday, April 25, 2022 12:23 PM
Looking for a list of Sims 4 cheats? Whether you're after that all-important Sims 4 money cheat, need something more specific like a character instantly zapped to a new location, or even some fresh items unlocked in your catalog, there are heaps of handy Sims 4 cheats to make the lives of your virtual family much, much easier.
Cheats are by no means new to The Sims series, but if you've never played a game in this beloved series or don't fancy memorising the cheat code then allow us to step in with the list of Sims 4 cheats below. We'll walk you through how to enter Sims 4 cheats, give you a list of the very best Sims cheats to use, and explain exactly what each one offers you.
So, if you need a few thousand more simoleons to finish of your dream house, or you simply want to stop certain Sims from dying then this list of Sims 4 cheats should ensure your family are healthy and prosperous no matter how carelessly you act.
Best Sims 4 mods
,
Best Sims 4 sex mods
,
Play The Sims 4
---
PCGamesN Monday, April 25, 2022 12:21 PM
Looking for the best Genshin Impact Yelan build? Although Yelan hasn't been confirmed for the upcoming Genshin Impact 2.7 update, it's likely she'll appear on the next Genshin Impact banner. Yelan's abilities have already been datamined, so we have a good idea of how to build this five-star character. It also looks like Yelan could arrive alongside one of the next Genshin Impact characters, Kuki Shinobu, a four-star sword user.
You can already get a headstart on collecting all of Yelan's ascension materials to level her character and fully maximise her talents to create the best Genshin Impact Yelan build. Many of the materials can be found in the new area, so be sure to check out our guide on how to unlock The Chasm in Genshin Impact.
Yelan is set to be a Hydro bow user, but that could change once she's officially announced in the next livestream. From what we've seen from her abilities, Yelan's attacks scale with HP, so we want to use weapons and artifacts that make the most of her charge attack, and elemental skill and burst to build her into a lethal sub DPS character.
Play Genshin Impact for free
,
Genshin Impact character tier list
,
Genshin Impact leveling guide
---
Rock Paper Shotgun Latest Articles Feed Monday, April 25, 2022 2:58 PM
The RTX 3070 Ti is a great mid-range to high-end GPU, with excellent performance in rasterised games plus DLSS and RT support, but it's been hard to find at a good price if you haven't lucked out with a Founders Edition restock. Prices for third-party cards are slowly falling, and now have reached within £100 of the £549 UK RRP - an important milestone for GPUs that cost £1000 or more at the beginning of the year.
The cheapest RTX 3070 Ti model we've found is a Zotac RTX 3070 Ti Trinity at Ebuyer, who are asking £649 with a despatch date of April 26th(tomorrow!). If you want the cheapest model that's in stock right now, then that'll be the Inno3D RTX 3070 Ti X3 at Overclockers for £10 more. Either way, you'll be left with a performant graphics card that requires only a modest 750W PSU, less than Nvidia's higher-end GPUs and much less than the company's next-gen products rumoured to arrive towards the end of this year.
---
Rock Paper Shotgun Latest Articles Feed Monday, April 25, 2022 1:27 PM
SK Hynix aren't a company that most folks have heard of, but this Korean firm produces a sizeable percentage of the world's flash memory and DRAM chips alongside the likes of Samsung, Kioxia and WD. They've also started making their own tightly integrated consumer SSDs, and today one of them is heavily discounted at Amazon.com. That makes it a great time to upgrade your PC with 1TB of fast storage for a historic low price.
---
Rock Paper Shotgun Latest Articles Feed Monday, April 25, 2022 12:15 PM
Who doesn't want to go to wizard school? In fairness a few people, probably, and they'd best steer clear of Sega and Two Point Studios' Two Point Campus when it launches later this year, because there's going to be a canny few wizards kicking about being all magical. Two Point Studios have shown off a new trailer for one of the courses to expect when you arrive on campus, which has a lot of the potion brewing and casting of spells that you'd expect from even a magical academic establishment.
---
Twinfinite Monday, April 25, 2022 6:06 PM
Earlier this month, Riot Games returned to Iceland's capital, Reykjavík, as a venue for its inaugural LAN esports event of the year, Valorant Masters Stage 1. The competition saw 12 teams from around the globe showdown in a double-elimination tournament to crown a winner and earn the lion's share of a $650,000 prize pool. Yesterday […]
---
Twinfinite Monday, April 25, 2022 4:53 PM
In what is somewhat of a backward order, it was revealed today that two of Star Wars' most popular spinoff series, The Mandalorian and Star Wars: Visions, would each be getting their own manga adaptation. This news comes courtesy of Anime News Network, by way of the Square Enix's Big Gangan magazine's May issue and website. […]
---
Twinfinite Monday, April 25, 2022 4:33 PM
Tooday El Shaddai: Ascension of the Metatron creator Takeyasu Sawaki released a video announcing new information about the Switch port.
---
Twinfinite Monday, April 25, 2022 3:56 PM
After months of speculation and rumors, Twitter has officially agreed to sell itself to Elon Musk, the richest man in the world. The social media platform's board of directors unanimously agreed to the offer, which sees the company being bought out for the price point of approximately $44 billion. The news broke earlier today, as […]
---
Twinfinite Monday, April 25, 2022 3:23 PM
Today third-party developers had news to share related to upcoming Microsoft Flight Simulator add-ons, including the Maddog.
---
Twinfinite Monday, April 25, 2022 12:59 PM
Respawn has been giving us more info on Bangalore's past for some time now, and it's all culminating in this rollout for Apex Legends Season 13: Savior. This new launch trailer confirms that Bangalore's long-lost brother, Jackson, has returned as the new Legend, Newcastle. Also, another Stories From the Outlands will be coming on April […]
---
Twinfinite Monday, April 25, 2022 12:32 PM
Today Yostar hosted a livestream from Japan to reveal the next major event that will launch in the popular mobile game Azur Lane and more.
---
Siliconera Monday, April 25, 2022 4:00 PM
The worldwide Splatoon 3 Twitter accounts shared details about the Ink Vac, a new weapon that seems inspired by a leaf blower. The item seems like one that could be used both defensively and offensively. It can counter enemies by vacuuming up enemy ink and using it against them.
First, here's the English reveal of the Splatoon 3 Ink Vac weapon. It shows a teal variant of it, but doesn't specify a particular model. It is from the Dolphin brand. Said "company" has been a part of the series since the original Splatoon.
Squid Research Lab here with breaking news! We've identified another new weapon—the formidable Ink Vac! This special device is equipped with a massive nozzle capable of inhaling the ink from an enemy's attack and sending it back via a powerful counterattack. pic.twitter.com/JnxNWBV4Gv

— Splatoon North America (@SplatoonNA) April 25, 2022
The Japanese Twitter account took things a step further. It actually shows how the Ink Vac weapon works in Splatoon 3. Initially, people see it without any enemy ink involved. In the second portion, it shows how it sucks up ink from two opponents' attacks.
キューインキを使っている様子を撮影した映像を入手した。
相手の攻撃を吸い込めば吸い込むほど、反撃弾が大きく強力になるようだぞ!
うまく使えば仲間を守ることもできそうだ。 pic.twitter.com/hfPAFFYo9l

— Splatoon(スプラトゥーン) (@SplatoonJP) April 25, 2022
The last new weapon revealed is the Stringer bow.
Splatoon 3 will appear on the Nintendo Switch on September 9, 2022.
The post Splatoon 3 Ink Vac Weapon Showcased appeared first on Siliconera.
---
Siliconera Monday, April 25, 2022 3:00 PM
Some of the earliest farming games didn't offer all the same activities as modern ones. You woke up, tended your crops, sold your harvest, and maybe had rather perfunctory relationships. Bit Orchard: Animal Valley calls back to the days when min-maxing your farm and schedule mattered most. It is bare bones. You have freedom and goals. However, everything comes together to encourage you to focus on a task.
Things began as they do in many farming games. Your character abandons a city life for one on a farm. Specifically, they bought an orchard. You start with a small plot of land with one apple tree, a work bench, a home, a skittish rabbit, and a flock of crows. Controls? You have a bar at the bottom with a handful of actions. You can plant seeds, use a scythe on weeds to collect fibers, water trees with a bottomless watering can, and use your hand to pet animals or interact with things. A small to-do list appears at the upper right with a handful of actions that can take days or weeks, depending on your pace. You can check your inventory, but it's small. As for crops, all you need to worry about are apples, big apples, and golden apples.
This means initially, all you focus on is getting more apples. You start with a bit of seed money, which is best put toward seeds. Because some of your first tasks involve planting 20 trees and harvesting 20 apples. (Big apples and golden apples don't count. Both seem to come up randomly, once you have trees planted.) Harvesting is as simple as walking past a tree. However, when apples are on trees, there is a very good chance crows will be too. If you take too long to get there or don't have a scarecrow nearby, the bird can eat it before you get there. Also, as you run about, you might be able to corner the rabbit by a sapling or tree so you can pet and befriend it.
Gradually, things open up more. Your priorities change to be more efficient. To grow more trees without sacrificing crops and productivity. You get enough money to invest in sprinkler parts, so you can craft sprinklers. That means you don't waste time, which passes swiftly. on watering. Perhaps you cut down, then replace, trees to ensure the greatest area is covered by the sprinklers and eventual scarecrows. The latter of which is a necessity, as otherwise you'll never get those sweet, sweet apples before the crows do. However, unlike the sprinklers, you don't see a sphere of influence when placing scarecrows. Which means you have to guess at which trees will be protected.
Granted, you can eventually start to relax. Maybe after you reach the third land expansion and build a bridge. At that point, you probably have more than enough money to invest in extras like cosmetics. That means you can start interacting more with those around you. It's like a reward. You did good. You figured out how to earn enough. Now you can dress up and meet folks.
So yes, Bit Orchard: Animal Valley is one of those farming games that teases you with expansion after expansion. After an in-game week, you'll know how to make the most of your initial plot. Likely before a month is done, you'll own two fields. If luck is with you and you grow a golden apple, you could gain access to a wider area by a month. Keep doing well, and who knows how far you can go?
Bit Orchard: Animal Valley is available on the Nintendo Switch, Xbox One, and Xbox Series X. Bit Orchard is also available on PCs.
The post Bit Orchard: Animal Valley is Farming Game That Stresses Efficiency appeared first on Siliconera.
---
Siliconera Monday, April 25, 2022 1:00 PM
Another otome game is going to eventually head to the Switch, as The Silent Kingdom RPG hit a stretch goal for a port. It needed to raise €50,000 on Kickstarter to make that possible. It is now at over €51,000 (~$55,000). This means the indie Lucky Cat title will eventually show up on the system. There's no guaranteed release date yet. However, the full release is tentatively set to appear on PCs via Steam and the eShop in 2024.
In The Silent Kingdom, players follow Princess Erinys. Her kingdom is cursed, and it is up to her to potentially save it. However, what happens depends on the choices players make during the otome RPG. This also means an opportunity to romance companions.
Here's a trailer, to help give people an idea of what this PC and Switch otome RPG will be like.

Ahead of the accomplishment, Lucky Cat released an estimated roadmap for The Silent Kingdom that anticipated the Switch stretch goal being hit. Here's what people can expect to happen. This is an in-progress and tentative schedule, however. For example, the Early Access Beta Test and things after it will rely on RPG Maker Unite, which isn't available yet, due to the upcoming remake of the full game in Unity.
July 2022: Small Steam Beta Test with 30-60 minutes of Chapter 1.
Late 2022/Early 2023: Early Access Steam Beta Test of Chapter 1.
Late 2022/Early 2023: Early Access Steam release of everything up to the end of Chapter 1 will come one month after the Early Access Steam Beta Test.
2024: Steam and Switch full release.
2024: The Gladiator extra romance option will appear "some months" after launch.
The Silent Kingdom is expected to come to the Nintendo Switch and PC in 2024. The Kickstarter will end on May 10, 2022. The minimum amount someone can contribute to get a copy of the game is €18 (~$20). A demo is available on itch.io and Steam.
The post The Silent Kingdom Otome RPG Kickstarter Hits Its Switch Stretch Goal appeared first on Siliconera.
---
Siliconera Monday, April 25, 2022 12:30 PM
People can get a better look at the One Piece Odyssey RPG, as new screenshots show off Straw Hat Pirates characters, the new enemies they'll face, and locations around Waffle Island. That's the place where everyone is stranded after the Thousand Sunny sinks. Bandai Namco shared 14 in Japan, with each set designed to showcase a different part of the adventure.
The first batch of screenshots from the official One Piece Odyssey site featured characters like Luffy, Nami, Zoro, Robin, Sanji, Usopp, and Chopper. There's also a map with an "X" on it and a tipped over ship. This could be referencing the Sunny sinking due to the storm.
[gallery columns="4" ids="925177,925178,925179,925180" link="file"]
The second assortment focuses on new One Piece Odyssey enemies. This set offers a look at some of the new characters, which series creator Eiichiro Oda helped design.
[gallery columns="5" ids="925181,925182,925183,925184,925185" link="file"]
Finally, the last four show what players will experience inside Waffle Island ruins. These seem like they will be the game's dungeons. The screenshots shared hint at some puzzles characters will encounter in One Piece Odyssey. In one image, it seems Luffy is actually manipulating a device to unlock a door.
[gallery columns="4" ids="925186,925187,925188,925189" link="file"]
One Piece Odyssey will come to the PS4, PS5, Xbox Series X, and PC via Steam in 2022.
The post One Piece Odyssey Screenshots Show Characters and Enemies appeared first on Siliconera.
---
Siliconera Monday, April 25, 2022 12:00 PM
Banpresto is working on Q Posket figures of Tales of Arise heroes Alphen and Shionne. While they aren't available yet, people can get a peek at how they look. Both Alphen and Shionne are the first two in this line. Each one is available in two versions. Some retailers, like Tokyo Otaku Mode, are already taking pre-orders for the figures. [Thanks, Abyssal Chronicles!]
Each of the Tales of Arise Q Posket figures features the characters in their default outfits, as well as a color swap of that design. So Alphen Version A shows the character in the Sincleaver Armor and with his mask on. Version B is an alternate look that makes the armor look silver, rather than black.
[gallery columns="2" ids="925171,925170" link="file"]
The Shionne Tales of Arise Q Posket figures match the Alphen ones. Version A involves her Noble Scarlet attire. Version B is a black version of Noble Scarlet. (Though, due to the color scheme, it does look a little like Noble Azure.)
[gallery columns="2" ids="925173,925174" link="file"]
So far, Connexe Toys and Tokyo Otaku Mode are offering pre-orders for the figures. Each expects them to appear in February 2023. At Connexe, each one is $22.99. Tokyo Otaku Mode is selling them for $19.95 each.
These aren't the only Alphen and Shionne figures on the way. Kotobukiya is working on one of Alphen. A Spiritale Shionne one is in development too.
Tales of Arise is available for the PS4, PS5, Xbox One, Xbox Series X, and PC.
The post New Q Posket Tales of Arise Figures Shown appeared first on Siliconera.
---
Destructoid Monday, April 25, 2022 6:20 PM
---
Destructoid Monday, April 25, 2022 5:35 PM
---
Destructoid Monday, April 25, 2022 4:45 PM
---
Destructoid Monday, April 25, 2022 4:00 PM
---
Destructoid Monday, April 25, 2022 3:07 PM
---
Destructoid Monday, April 25, 2022 3:00 PM
---
Destructoid Monday, April 25, 2022 2:30 PM
---
Destructoid Monday, April 25, 2022 2:00 PM
---
Destructoid Monday, April 25, 2022 1:30 PM
---
Destructoid Monday, April 25, 2022 1:00 PM
---
Destructoid Monday, April 25, 2022 12:30 PM
---
PC Invasion - FeedDDD Monday, April 25, 2022 5:00 PM
Back in 2016, Bethesda aimed to circumvent Steam's 30% revenue cut by putting out the Bethesda Launcher. This alternative to more generalized digital gaming storefronts naturally offered all the games published under Bethesda, but it ditched modding support, which wasn't ideal considering the company is infamous for its buggy releases. The unpopularity of the Bethesda Launcher led to the company announcing in February that the service would shut down sometime in May. Just recently, Bethesda revealed the shutdown will specifically take place on May 11, and thankfully, players' wallets and purchased games do not have to go along with it. According to a blog post on Bethesda's official website, players will have the opportunity to transfer their purchased games and wallet to Steam starting April 27. Although Bethesda did not immediately provide thorough instructions regarding how players can accomplish this, it promised that those instructions will also drop on the...
---
PC Invasion - FeedDDD Monday, April 25, 2022 2:30 PM
Developer 343 Industries has been quite vocal about what Halo fans can expect from Halo Infinite in 2022. The studio released a new roadmap last Friday, and it brings with it the unfortunate news that Halo Infinite's campaign co-op will not arrive until August. Joseph Staten, Head of Creative at 343, said that the studio is prioritizing "team health" and finding "a sustainable development rhythm." Campaign co-op was one of several features missing from Halo Infinite at launch. It was initially delayed to the start of Season 2, but that season was then delayed by a further three months to May 3 of this year. Halo fans who enjoy playing campaign co-op in split-screen are also out of luck, as this has been delayed until some point during Season 3. 343 is extending Season 2 into another 6-month season to work on quality-of-life improvements. This means that split-screen co-op will not make it to Halo Infinite until November 8 at the earliest. The roadma...
---
PC Invasion - FeedDDD Monday, April 25, 2022 2:00 PM
Diablo Immortal became infamous when Blizzard's Wyatt Cheng dropped the gem that was, "Do you guys not have phones?" That was in response to a hostile Blizzcon crowd that wasn't happy about its mobile exclusivity. Even though the developers downplayed the role a PC port would have, it turns out that they were wrong. At least that is what Blizzard now feels, since it has confirmed that Diablo Immortal will launch on PC. An open beta for the PC version is planned for June 2. However, the reason for the complete flip around is probably not what you expect. According to a new developer blog post, the deciding factor that encouraged Blizzard to launch Diablo Immortal on PC was the fear of emulation. More specifically, Blizzard believes that even if it doesn't release a PC port fans will emulate Immortal anyway. Rather than having its fanbase settle for unoptimized emulation, developing an official release was thought to be the better option. Interesting...
---
PC Invasion - FeedDDD Monday, April 25, 2022 1:30 PM
An Elden Ring dataminer has managed to access the game's cut colosseum content. Sekiro Dubi has made plenty of videos on Elden Ring and the possibilities of what could have been, but their coverage of the game's colosseums raise a few interesting questions. Many are wondering whether this truly is cut content or a nod to future DLC. FromSoftware titles are no stranger to cut content. From the Land of the Giants' removal from Demon's Souls to the numerous boss fights that didn't make the cut in Dark Souls, the developer tends to leave a lot of interesting ideas behind during development. That isn't an uncommon practice when making games. Elden Ring is a special case in this instance, if only because the colosseums in question are dotted across the game. A deep dive into Elden Ring's cut colosseums In total, you can find three different colosseums on the map in Elden Ring. There's one in Limgrave, another in Caelid, and a final one i...
---
PC Invasion - FeedDDD Monday, April 25, 2022 12:00 PM
Rumors have been making the rounds that suggest AMD's AM5 platform for next-gen Ryzen CPUs will only support DDR5 memory. This news comes from Tom's Hardware, which got in contact with several sources that supported this. As always, be reasonably skeptical about this sort of thing until we see confirmation from either AMD or other board manufacturers. If this does end up being the case, it could make the upgrade to Ryzen 7000 Series CPUs more expensive (unless memory prices drop off a cliff over the next few months like graphics cards). However, there could be some potential positives to this on the performance side of things. Overall, it isn't surprising to hear that AMD may want to focus on using DDR5 memory for its AM5 platform. Intel already made the jump with Alder Lake, after all. Moving on from DDR4 memory The motherboards in question are the X670 and the B650, with the aforementioned sources allegedly confirming that these will support AMD's AM5 p...
---
Tabletop Gaming News Monday, April 25, 2022 6:00 PM
---
Tabletop Gaming News Monday, April 25, 2022 5:00 PM
---
Tabletop Gaming News Monday, April 25, 2022 4:00 PM
---
Tabletop Gaming News Monday, April 25, 2022 3:00 PM
---
Tabletop Gaming News Monday, April 25, 2022 2:00 PM
---
Tabletop Gaming News Monday, April 25, 2022 1:00 PM
---
Player Assist | Game Guides & Walkthroughs Monday, April 25, 2022 6:30 PM
Survival is necessary to beat the game and obtain the end-game rewards in Minecraft. But to do that, one must keep themselves healthy by consuming food items in the game. Meat items obtained from animal mobs are among the best food items players can consume or sustain themselves sufficiently. These meaty food items are obtainable […]
---
Player Assist | Game Guides & Walkthroughs Monday, April 25, 2022 5:04 PM
Creating a shelter or a base is one of the most crucial parts of every player's playthrough in a survival game mode in Minecraft. Unfortunately, choosing a base design can be quite difficult. Moreover, choosing one as an effective temporary shelter for your first night in the game can be tricky. Since you have limited […]
---
Player Assist | Game Guides & Walkthroughs Monday, April 25, 2022 4:16 PM
Razor is a mysterious and agile Wolf Boy who lives among the wolves of Wolvendom, away from human civilization. The wolves took in Razor as part of their "Lupical"—a word the boy was taught by someone else, which means family. Razor lived a simple life in the wild until a man came to the mountains […]
---
Player Assist | Game Guides & Walkthroughs Monday, April 25, 2022 3:00 PM
GTA V mods can be written in various script languages, making it one of the easiest games to mod and write scripts for. No wonder hundreds of mods exist for this old classic. OpenIV and OIV-based mods are a dime a dozen in GTA V modding forums, making it one of the more popular modding […]
---
Player Assist | Game Guides & Walkthroughs Monday, April 25, 2022 2:00 PM
Pokemon Legends: Arceus occurs in olden times in the Pokemon world when it was rare to find harmony between people and Pokemon. Set in the Hisui region, modern-day Sinnoh, you will join the Galaxy Expedition Team (Galaxy Team for short) as a member of the Survey Corps stationed in Jubilife Village. You will be tasked […]
---
Player Assist | Game Guides & Walkthroughs Monday, April 25, 2022 1:00 PM
Riot Games has finally officially revealed Agent 20, the newest addition to the ever-growing VALORANT roster. We will go over her abilities in this article. The image above is from the Official VALORANT Twitter Page. All credits go to Riot Games. The days can not seem to come much faster for us die-hard VALORANT fans […]
---
Player Assist | Game Guides & Walkthroughs Monday, April 25, 2022 12:53 PM
Every generation of kids has their version of the Teenage Mutant Ninja Turtles, but Dotemu is going retro with their upcoming game Teenage Mutant Ninja Turtles: Shredder's Revenge. The game is set to come out this summer, and we have some new gameplay footage featuring the four main Heroes in a Half-Shell. Watch this: Fresh […]
---
Player Assist | Game Guides & Walkthroughs Monday, April 25, 2022 12:28 PM
Sonic the Hedgehog 2 just blazed into theaters last month, and SEGA has decided to release the remaster of classic Sonic titles with Sonic Origins. We just got a new trailer and some promise of some more original animation. Check this out: Celebrate the games that started it all. Sonic Origins is a brand new […]
---
Player Assist | Game Guides & Walkthroughs Monday, April 25, 2022 12:01 PM
God of War: Ragnarok had already been pushed back from last year, and since we have not been getting any updates on the game, some fans are worried it will not come out this year either. The good news is that someone on the inside is confident that it will make its 2022 release. Sony […]
---
MonsterVine Monday, April 25, 2022 5:09 PM
Teardown is a ridiculously fun and satisfying game that, despite some questionable campaign design choices, will keep you entertained for hours upon hours. The sandbox mode and mods add infinite life to the game because its core premise of breaking stuff truly never gets old. Teardown Developer: Tuxedo Labs Price: $20 Platform: PC (reviewed) MonsterVine […]
---
Level Up Monday, April 25, 2022 12:47 PM
March 2022 was a great month for Microsoft because the Xbox Series X/S was the…
---
Level Up Monday, April 25, 2022 12:02 PM
Techland has announced that Update 1.3.0 will hit Dying Light 2 Stay Human this week,…
---
Gaming on PC Monday, April 25, 2022 2:34 PM
Diablo Immortal is coming to PC, with an Open Beta scheduled for release on June 2nd, 2022. More details after the jump.