---
Kotaku Tuesday, June 21, 2022 5:50 PM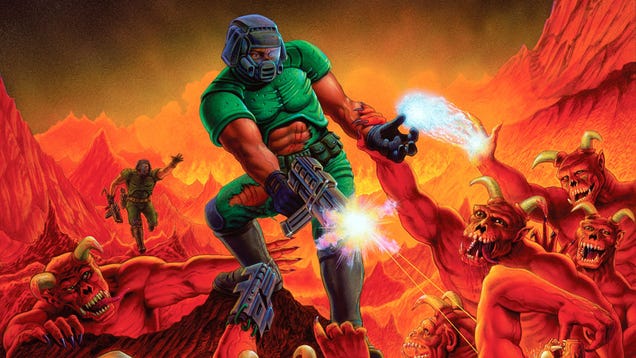 OG Doom is everywhere at this point. It's on consoles and phones and computers. Someone's put it on a rotary phone and a calculator. I mean, jeez, you can even play it on Twitter now. But in case you thought folks ran out of ways to play Doom, guess again. It turns out there's still plenty of creative methods to rip…
---
Kotaku Tuesday, June 21, 2022 4:45 PM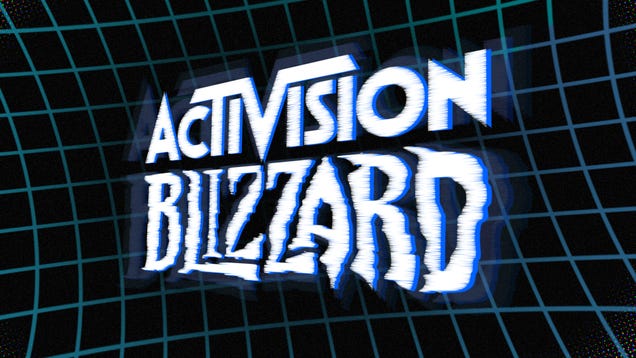 Today, Activision Blizzard shareholders voted to approve a proposed annual report that would document the company's ongoing efforts to stop workplace abuse and harassment as well as catalog the company's total number of sexual harassment settlements and pending complaints.
---
Kotaku Tuesday, June 21, 2022 3:35 PM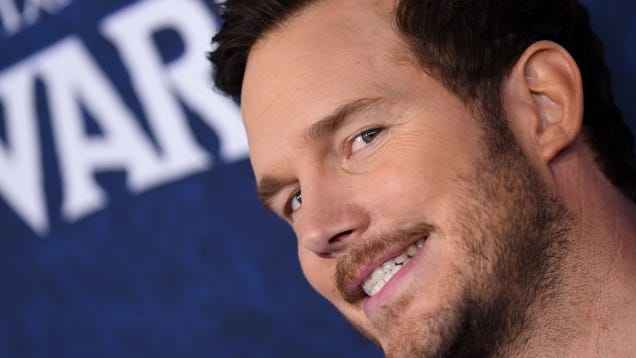 Illumination CEO Chris Meledandri is apparently under the assumption that his studio is being criticized for casting Chris Pratt as the eponymous plumber in its upcoming Mario movie due to concerns over Italian representation and not because, you know, Chris Pratt sucks.
---
Kotaku Tuesday, June 21, 2022 3:20 PM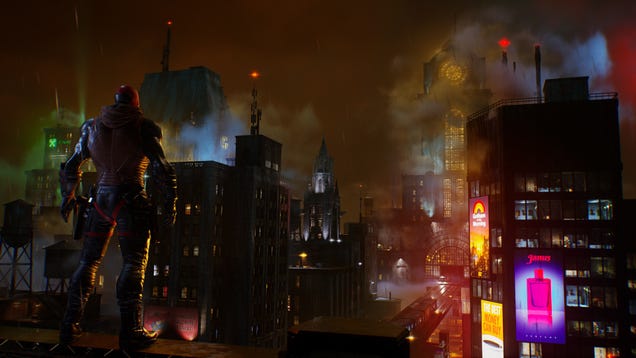 Online co-op superhero action game Gotham Knights is set in an open world. And as with all recent open-world games, people are asking: Just how big is the map? Ignoring that this is a pointless piece of information—both big or small maps can work if what's in them is good and interesting—WB Montreal devs recently…
---
Kotaku Tuesday, June 21, 2022 2:25 PM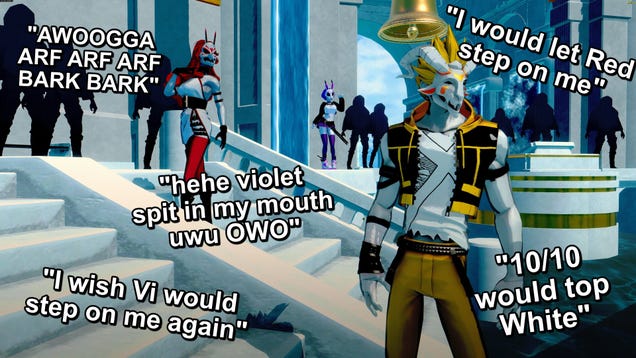 You wouldn't believe this from reading its reviews on Steam, but Neon White is squarely a T-rated game. Seriously, people, keep it in your pants!

---
Kotaku Tuesday, June 21, 2022 2:10 PM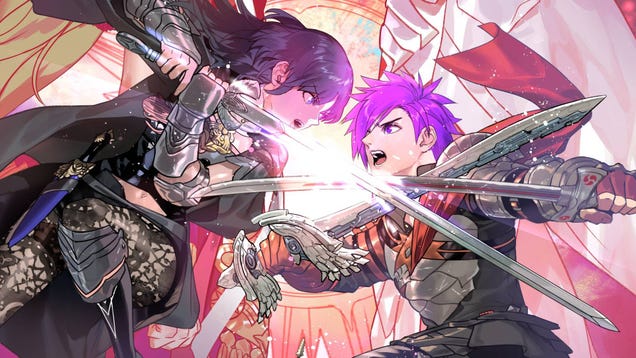 The embargo just lifted on Fire Emblem Warriors: Three Hopes, the musou-based follow-up to Nintendo's critically acclaimed strategy game, Fire Emblem: Three Houses. Most reviewers seem to agree that Three Hopes is a worthwhile successor to Three Houses, though many seemed to burn out on the repetitive-feeling combat.…
---
Kotaku Tuesday, June 21, 2022 12:55 PM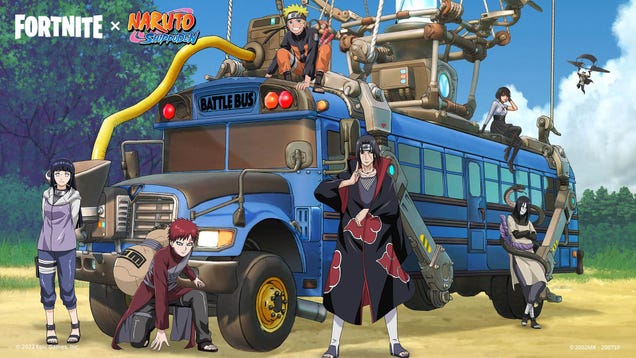 Hope you're still a fan of battle royale games with a penchant for cognitively dissonant crossovers because Epic Games has announced that more Naruto characters are airdropping their way into Fortnite.
---
Rock Paper Shotgun Latest Articles Feed Tuesday, June 21, 2022 5:40 PM
The Razer Basilisk Ultimate is one of the best wireless mice on the market, offering a comfortably wide design with plenty of buttons and a fancy scroll wheel - a popular recipe that could also describe the Logitech G502. The Basilisk Ultimate normally oscillates between $140 and a sale price of $90, but today it's gone lower - it's $80 at Amazon. That's a pretty solid price for what you're getting!
---
Rock Paper Shotgun Latest Articles Feed Tuesday, June 21, 2022 5:27 PM
Bō: Path Of The Teal Lotus launched on Kickstarter back in February and quickly cleared its funding goal for a Metroidvania based on Japanese folklore. It has gained even more attention in the last day or so, because its creation reunites some of the people who worked on AM2R, the well-liked unofficial Metroid 2 remake that Nintendo DMCA'd out of existence in 2016.
---
Rock Paper Shotgun Latest Articles Feed Tuesday, June 21, 2022 5:16 PM
Ebay is offering 15% off on a range of a products, allowing you to get the AMD Ryzen 9 5900X 12-core processor for a historic low price: £342. To get the discount, use code BIG15 at the checkout.
---
Rock Paper Shotgun Latest Articles Feed Tuesday, June 21, 2022 4:54 PM
I am continually on the lookout for the next management game to obsess me, and Good Company looks like a good candidate. It's a tycoon factory builder about forming a technology company and leading it, from product design through hiring staff and all the way to replacing those staff with robots. It looks cute and, as of its departure from Steam Early Access today, robust.
---
Rock Paper Shotgun Latest Articles Feed Tuesday, June 21, 2022 4:22 PM
The Hunter: Call Of The Wild took Avalanche's technical expertise in creating open worlds, gained by making the Just Cause series, and employed it instead to create an open world hunting sim. Well, now Call Of The Wild: The Angler is intending to do it again, with an open world fishing game in which you walk or drive in search of the perfect spot to cast your line.
---
Rock Paper Shotgun Latest Articles Feed Tuesday, June 21, 2022 3:43 PM
A new patent filing might offer the first look at designs for Valve's next VR headset, a rumoured standalone device codenamed "Deckard". The filing, made last year and published this past week, describes a head-mounted display with a rear housing, and the mechanisms by which that display could be adjusted. It's not thrilling stuff - but it is further confirmation that Valve continue to work on designs for VR hardware.
---
Twinfinite Tuesday, June 21, 2022 7:26 PM
Japanese manufacturer Kotobukiya is continuing its mission to bring back the old but gold Muv-Luv Alternative plastic model kits.
---
Twinfinite Tuesday, June 21, 2022 6:03 PM
The adventure of the Arendelle sisters continues!
---
Twinfinite Tuesday, June 21, 2022 6:03 PM
Today Atlus released one of its daily trailers of the upcoming JRPG Soul Hackers 2, focusing on the demons that will appear in the game.
---
Twinfinite Tuesday, June 21, 2022 5:44 PM
Third-party developers have announced a major new aircraft family and shared new assets for Microsoft Flight Simulator.
---
Twinfinite Tuesday, June 21, 2022 4:57 PM
Let's fix this issue of falling down this endless pit of despair.
---
Twinfinite Tuesday, June 21, 2022 4:56 PM
The moonlight brings out a great beast in The Quarry.
---
Twinfinite Tuesday, June 21, 2022 4:44 PM
Today Creative Assembly had a reveal to make about the upcoming Immortal Empires campaign that will be added to Total War: Warhammer 3.
---
Twinfinite Tuesday, June 21, 2022 4:16 PM
Here is how to watch Berserk: The Golden Age Arc Memorial Edition.
---
Twinfinite Tuesday, June 21, 2022 3:37 PM
Beat the competition in Fall Guys new Free for All!
---
Twinfinite Tuesday, June 21, 2022 1:30 PM
The King's Rock is an important evolution item in Pokemon GO that can be used to evolve Poliwhirl into Politoed or Slowpoke into Slowking.
---
Twinfinite Tuesday, June 21, 2022 1:21 PM
Free stuff is always good.
---
Twinfinite Tuesday, June 21, 2022 12:54 PM
Today Blizzard Entertainment released a new gameplay trailer of the upcoming hero shooter Overwatch 2 all about Junker Queen.
---
Twinfinite Tuesday, June 21, 2022 12:47 PM
Keep a safe distance from him!
---
Twinfinite Tuesday, June 21, 2022 12:44 PM
Sorry to be the bearer of bad news!
---
Twinfinite Tuesday, June 21, 2022 12:33 PM
This exclusivity was for a solid bit of time.
---
Twinfinite Tuesday, June 21, 2022 12:30 PM
Here is when high on life comes out.
---
Siliconera Tuesday, June 21, 2022 3:00 PM
We finally have a Dragon Quest X Offline release date for Japan. Square Enix confirmed that version of the game will come to the Switch, PS4, PS5, and PC on September 15, 2022. It also confirmed its The Sleeping Hero and the Guiding Ally Offline expansion will show up in Spring 2023. [Thanks, Gematsu and Game Watch!]
This news comes after multiple delays. Initially, Square Enix said the Dragon Quest X Offline release date would be February 26, 2022. However, that was pushed back in December 2021. At the time, Producer Takuma Shiraishi cited quality concerns. Shiraishi noted a desire for the offline version of the game to appear in "perfect condition."
At the time, the new release window was Summer 2022. Given that the season ends on September 22, 2022, it will just be making the cut-off.
In Japan, Dragon Quest X Offline will appear both digitally and physically. The deluxe edition of the game will include the The Sleeping Hero and the Guiding Ally Offline with it, as well as some other items.
The new Dragon Quest X Offline release date is September 15, 2022. It will show up on the Nintendo Switch, PlayStation 4, PlayStation 5, and PC in Japan. There's no word regarding a worldwide release for it yet.
The post Dragon Quest X Offline Release Date Set appeared first on Siliconera.
---
Siliconera Tuesday, June 21, 2022 2:30 PM
Square Enix will release the Final Fantasy XIV Myths of the Realm raid soundtrack on June 22, 2022. Composer and Sound Director Masayoshi Soken revealed that he had been working on putting together the soundtrack behind the scenes. However, he did not disclose which tracks from the raid will appear on the EP. A link to the Apple iTunes store was provided through the announcement Tweet.
[embed]https://twitter.com/SOKENsquareenix/status/1539264123866710016[/embed]
The Myths of the Realm raid in Final Fantasy XIV centers on the mythology surrounding The Twelve, the major deities of Eorzea. The first series of the raid appeared in Final Fantasy XIV Patch 6.1, and featured boss fights against several of these figures. Each of the arenas reflect the iconography of the deities, and have provided a glimpse into how these figures actually appear.
More content concerning the Myths of the Realm raid will appear in the future through subsequent updates, like previous raid content. However, unlike the Final Fantasy Tactics and NieR: Automata raids, this content is completely original. Meaning that the story for this raid content has been made with the greater world of Eorzea in mind.
Final Fantasy XIV is immediately available on the PlayStation 4, PlayStation 5, and PC.
The post Final Fantasy XIV Myths of the Realm Soundtrack to Appear Soon appeared first on Siliconera.
---
Siliconera Tuesday, June 21, 2022 2:10 PM
Epic Games announced the next round of Naruto characters heading to Fortnite will include Itachi Uchiha, Orochimaru, Gaara, and Hinata Hyuga. On June 23, 2022, their cosmetics will show up in the game's Item Shop. The Nindo Community Battles will also be back as of June 21, 2022, with the Akatsuki Wrap and Manda Glider as rewards there.
The Naruto Itachi, Orochimaru, Gaara, and Hinata Fortnite outfits each feature two styles. Itachi appears in his Black Ops Anbu and Akatsuki styles. Orochimaru has standard and Hidden Leaf Era styles. Gaara wears his typical attire and fifth Kazekage. Hinata comes with both Byakugan and Hinata Uzumaki styles. As for back bling, Gaara's Sand Gourd, Hinata's Backpack, and the Black Ops Mask will be there. People can also get the Minato Kunai Pickaxe, Sword of Kusanagi Pickaxe, Gaara's Sand Cloud Glider, a Rasenshuriken emote, and a Striking Shadow Snakes emote.
Some bundles will also appear. People can get the Itachi and Orochomaru outfits, Black Ops Mask like the Anbu ones, and an Islandbound Ninja loading screen in one. The other bundle features Gaara and Hinata items, like their outfits, the Gaara Sand Goard Backbling and Sand Cloud Glider, and the Hinata Backpack Backbling. That also comes with a Shinobi Lineup Loading Screen with all four new characters.
Fortnite is immediately available to play for free on the PC, iOS and Android devices, PS4, PS5, Xbox One, Xbox Series X|S, and Nintendo Switch. The Naruto Itachi, Orochimaru, Gaara, and Hinata cosmetics will appear on June 23, 2022. The first crossover event added Naruto, Sakura, Sasuke, and Kakashi.
The post Next Naruto Fortnite Crossover Adds Itachi, Orochimaru, Gaara, and Hinata appeared first on Siliconera.
---
Siliconera Tuesday, June 21, 2022 1:30 PM
Kojima Productions opened pre-orders for a Ludens Peace Mark Unit charm, with all proceeds made from sales being directly donated to help Ukrainian refugees in Japan. The Ludens Peace Mark Unit charm will cost 5,000 yen (about $40) and will release in August 2022. The charm is made from duralumin and will come with a nylon strap. Kojima Productions will keep pre-orders for the Ludens Peace Mark Unit charm open until it has met the reserved quantity of stock.
The Ludens Peace Mark charm features the slogan "No War" and features the logo of the studio. The logo draws direction inspiration from the mascot of Kojima Productions. Which is a character in a futuristic space suit wearing a skull mask.
You can take a look at the charm below.
[gallery ids="930716,930717,930718" link="file"]
This isn't the first time Kojima Productions has released merchandise either based on their mascot or Death Stranding. Seiko partnered with the studio to release a series of Ludens inspired watches in February 2021. Several versions of the watch were available to purchase, alongside a special Japan exclusive release.
In October 2020, a Ludens figma was released. However, it features the mascot wearing an entirely black ensemble. The figma came with a handful of accessories, which includes hands and a flag. Additionally, the helmet for the figma can be opened.
The post Kojima Productions Sells Ludens Peace Mark to help Ukrainian Refugees appeared first on Siliconera.
---
Siliconera Tuesday, June 21, 2022 1:00 PM
Gawr Gura celebrated her "birthday" on June 20, 2022 and, as is common for Hololive Vtubers, that means new merchandise. The latest round involves things like a rubber mat and plush of Gura dressed up as a dinosaur. Pre-orders are open now, with the items expected to ship between late December 2022 and late January 2023. Things can be purchased together in an $82 bundle or separately.
The Gawr Gura birthday merchandise set consists of four physical items. People can get a rubber mat with Gura on it. The art is by Pan. That's $21 alone. People can also get a bowl for $18. There is a fork and chopsticks set to go with it for $18 as well. Finally, the Dino Gura plush toy is $24. It can be displayed with the hood up or down, and it is just over seven and a half inches tall. As for the digital item, people get a birthday voice notification pack. That is $4 alone. Should someone get the full bundle, they also get a bonus postcard.

Gura also performed a birthday stream for the occasion. At the 19 minute mark, she performed a short concert. This happened right after she hit four million subscribers.

The 2022 Gawr Gura birthday merchandise will ship between December 2022 and January 2023. Pre-orders are open until July 25, 2022.
The post New Gawr Gura Birthday Merchandise Revealed appeared first on Siliconera.
---
Siliconera Tuesday, June 21, 2022 12:30 PM
As the English edition of Fate/Grand Order closes in on its 5th Anniversary, Lasengle and Aniplex are finding ways to help players fill the time as they wait for the celebration to kick off. One of those ways is a new Main Interlude addition called The SERAPH event. Formally titled Abyssal Cyber Paradise, SE.RA.PH, the Fate/Grand Order SERAPH event is now part of the game's Main Interlude feature. That means any player, old or new, is free to replay its story portion and receive its unique reward, which is a 4-Star Mooncancer-class Servant BB.
Main Interludes are a way for FGO players to experience events that have already had a rerun and are thus removed from the game's content schedule. For English-language players of Fate/Grand Order, SERAPH landed first in 2019, and had its rerun in 2021. Without the Main Interlude, players who started playing after February 2021 would never have a chance to acquire BB or see the event storyline. The Main Interlude version of SERAPH is a stripped-down version of the original event. Things like free quests and the event reward shop aren't available, and some of the event's mechanics have been simplified. However, players can still receive BB as a playable Servant if they haven't done so before. Players who didn't finish the event will even have their progress carried over, so they can continue and experience the entire story.
To celebrate the addition, Aniplex is making the Main Interlude version of SERAPH playable to any Fate/Grand Order player that's completed the Part 1 main story campaign. This "special release period" lasts until June 27, 2022, after which the Main Interlude will become unlockable using Rare Prisms. Rare Prisms are gained whenever a player discards a 4-Star or 5-Star Servant, receives the 6th copy of a free event Servant (i.e. during a rerun), or from special campaign rewards.
The update also added Rank Up quests for three Servants connected to Fate/Extra CCC, the Fate subseries that served as SERAPH's source material. The Servants Kingprotea, Meltryllis, and Suzuka Gozen can all have some of their skills upgraded by completing these quests. And for players without them, a special summoning banner has the three Servants, plus the 4-Star Alterego Passionlip on rate up until July 4, 2022.
Fate/Grand Order is available on iOS and Android devices.
The post Fate/Grand Order SERAPH Event Added to Main Interlude appeared first on Siliconera.
---
Siliconera Tuesday, June 21, 2022 12:01 PM
There are certain otome games in which the romance is absolutely there, but might not always feel like the main focus. For example, Hakuoki is absolutely romantic, but it also a thriller offering an alternate, supernatural take on the Shinsengumi and Bakumatsu period. Birushana: Rising Flower of Genpei feels similar, due to it being a Heian period piece offering its own alternate take on the events after the Heiji rebellion. There are battles! Its heroine, posing as a man and last member of the Genji, is an incredible warrior! It can absolutely get romantic in routes. It's just that the action and drama can feel just as important.
Rumor has it Yoshitsune Minamoto, the youngest member of the Genji clan, is around and still ready and willing to face the Heike and Taira. And it is true. That individual does exist, training alongside Shungen at Kurama Temple. However, rather than a man, this heir is a woman. She's also about to step into her destiny. That can mean traveling alongside her vassal Benkei Musashibo and dealing with her Heike enemies Tomomori Taira and Noritsune Taira. Depending on the choices someone makes, she might find a happy ending or more violent, tragic ones.
Birushana is an otome visual novel. As usual, this means lots of text and reading as you go through. The localization feels like it is handled pretty well. The story is interesting. I noticed a few errors made it through the editing process. (For example, you may come across a "you're" instead of a "your.") But I really appreciate how approachable it makes the conflicts. It does so in the same way as Hakuoki did, which is encouraging.
It is also surprisingly complex! There are a number of things being taken into account when you make choices. Choices you make can influence Shanao's stats and her relationships with different characters. The decisions in the introductory shared route determine who you split off with for the larger story. Decisions you make can also increase her strength, knowledge, or kindness instead of bring her closer to another character.
While Birushana features the systems you'd expect to track such things, like a flowchart, glossary, and log, there are two additional elements that help keep things clear. Different effects appear after making choices. So throughout the story, red means Shanao got stronger. Blue means she's become more intelligent. Green is connected to kindness. But before that, a Love Catch system is in play. When enabled, as it is optional and on by default, flowers will appear in the common route. Five appear, each in the same shade connected to one of the love interests. When you make a choice, multiple flowers can "bloom" to show you're inching closer to someone's route. The bigger the blossom, the bigger the increase. Considering there's a branch at one point in the common route that locks you out of certain characters depending on the choice, it helps a lot!
As I mentioned before, I suggested how active and dynamic Birushana is for an otome. It's handled very well! Shanao, as a member of the Genji and trained warrior, ends up getting involved in conflicts. She also has an incredible sort of strength that can come up multiple times throughout the tale. I really appreciated how this meant her and her love interests had different portraits so we see them both in relaxed and while in battle. It means things feel more thrilling when we're reading about a conflict, because we'll see more aggressive poses from cast members as they fight foes or each other.
Also, Birushana feels like a really huge otome game. You have the happy and tragic endings for all five of the main love interests. Which is fairly typical and expected. Then, there are some additional supplemental characters who appear as "if" endings. For example, Shigehira can appear prominently in stories like Tomomori. But he's not a main bachelor. You would need to unlock his "if" smaller storyline. There's a lot to it, which is nice. It offers opportunities to get invested.
I'm genuinely impressed with Birushana: Rising Flower of Genpei. It presents an intriguing take on historical events in an easily digestible way. It presents players with love interests who are interesting both due to their backgrounds and nature as warriors, as well as romantic partners. Shanao is a strong heroine. It looks great. Not to mention with the "if" routes, it ends up feeling even fuller. It's another great Switch otome game.
Birushana: Rising Flower of Genpei will come to the Nintendo Switch on June 28, 2022.
The post Review: Birushana is an Active and Dynamic Otome Game appeared first on Siliconera.
---
PC Invasion - FeedDDD Tuesday, June 21, 2022 6:00 PM
Those who enjoy high-octane, challenging action games may remember the developer Treasure. Formed back in 1992 by Masato Maegawa, a former Konami employee, Treasure made itself known for games like Gunstar Heroes, Ikaruga, and Sin and Punishment. All served as incredibly imaginative action titles with a whole host of wacky ideas. But after 2014, the studio appeared to stop developing new projects entirely, instead opting to re-release its classic titles on modern platforms and gaming collections. Now that Treasure has reached its 30th anniversary, however, it seems that the studio aims to reverse this trend, as it has announced the development of an unknown gaming project. Treasure made this announcement on its official Twitter account. Although the studio did not reveal any information regarding what this new game will look or play like, it did say that fans have "highly requested" the project. This will naturally lead to plenty of speculation among fans, who may suspec...
---
PC Invasion - FeedDDD Tuesday, June 21, 2022 5:15 PM
The Junker Queen is a vehicle for carnage and chaos, the matriarch of Junkertown who rules with an iron fist. From the moment we heard her voice in the initial Junkertown trailer, fans were eager for the opportunity to see her in action. Junker Queen will be the second newest playable character as a part of Overwatch 2's official release, and she'll bring a much-welcomed Mad Max vibe to a game that needed a little more flavor. Junker Queen's gameplay trailer shows off all of her new abilities that were previously previewed in a tweet. Immediately, you get the vibe that Junker Queen doesn't mess around. Her punk-rock attitude is portrayed with a show-stopping introduction and a name card flying over her head through flames. Eagle-eyed viewers will also notice that Junker Queen is a tank, as she jumps into the fray alongside other Damage and Support heroes. Junker Queen's abilities Junker Queen can be seen wielding her Scattergun, a pump-action shotgu...
---
PC Invasion - FeedDDD Tuesday, June 21, 2022 4:30 PM
Since its launch in 2004, the ever-famous MMORPG World of Warcraft has received a new expansion roughly every two years. The last one, Shadowlands, launched for the game in November of 2020. Naturally, this should lead most fans to believe that the next expansion, Dragonflight, will release for WoW this year. Apparently, Blizzard also believes this to be true. In a store listing for the expansion, it's mentioned that Dragonflight should arrive "on or before December 31, 2022." This isn't an official announcement, mind. And there's a good chance Blizzard may change this. Generally, a release date of "December 31" is accepted as a placeholder, and not a promise. Still, saying that the game will come out "before" that time does lead us to believe we'll see Dragonflight soon — likely during the winter. Shadowlands did drop in November, after all. Obviously, this bit of release info was only revealed as Blizzard was de...
---
PC Invasion - FeedDDD Tuesday, June 21, 2022 3:00 PM
Possibly due to the hustle and madness of the 'non-E3' showcases, Microsoft is a bit delayed on announcing the next slate of games coming to Game Pass. And that may just explain the arguably less impressive offerings too. Microsoft has revealed that Far Cry 5 is the next Ubisoft game to hit PC Game Pass on July 1. But for the rest of June 2022, we have a small collection coming to PC Game Pass. That's not to say the games are bad. But after the news that Hollow Knight: Silksong and Riot Games titles are on the way, perhaps I'm not as enthused for Naraka: Bladepoint as others may be. Regardless, that is the beauty of Game Pass. If you want to play the games, you can. Otherwise, there are plenty of other options available. PC Game Pass titles for June 2022 gets started with Total War: Three Kingdoms. It's out and available starting today, along with the impressive Shadowrun Trilogy to play via the Cloud. The latter is a series of tactical RPGs based o...
---
PC Invasion - FeedDDD Tuesday, June 21, 2022 2:30 PM
One of the many benefits of playing games in Early Access is experiencing how they grow and improve over time. That's been the case with Kinetic Games' spooky, ghost-hunting title Phasmophobia, which has seen a deluge of updates since entering Early Access in 2020. And it's not slowing down yet. One of the more frustrating parts of the game is about to get a complete revamp. In a developer preview today, the Phasmophobia team unveiled its plan for an updated in-game shop and shed some light on the new asylum map. Now, I've been playing the game off and on for roughly two years, and this update has been a long time coming. The shop in Phasmophobia is where you pick up ghost-busting tools, purchasing them with cash earned after hunts. But currently, it's a bit tiresome to have to scroll through a list to buy things one at a time. And you have to do this often, as you can lost equipment after failed hunts. The updated shop menu will change how you get ...
---
Tabletop Gaming News Tuesday, June 21, 2022 6:00 PM
---
Tabletop Gaming News Tuesday, June 21, 2022 5:00 PM
---
Tabletop Gaming News Tuesday, June 21, 2022 4:00 PM
---
Tabletop Gaming News Tuesday, June 21, 2022 3:00 PM
---
Tabletop Gaming News Tuesday, June 21, 2022 2:00 PM
---
Tabletop Gaming News Tuesday, June 21, 2022 1:00 PM
---
Player Assist | Game Guides & Walkthroughs Tuesday, June 21, 2022 6:00 PM
Classes and jobs are just one of many ways players can customize their gameplay experience in Final Fantasy XIV. It's one of the reasons why the game has remained one of the most popular MMORPGs despite tough competition. One of the best aspects of FFXIV compared to some RPG models is that players can freely […]
---
Player Assist | Game Guides & Walkthroughs Tuesday, June 21, 2022 5:00 PM
Someone once said: "Happiness is only real when shared." We Animal Crossing fans agree with the sentiment. What's a great camp or island without a friend there to share the experience? If you're just starting the game, you're probably wondering how can this be done. Well, depending on whether you're playing the "New Horizons" or […]
---
Player Assist | Game Guides & Walkthroughs Tuesday, June 21, 2022 4:00 PM
Fort Zancudo is home to the only tank in-game and some of the best aircraft in GTA 5. Read on to find out where the Military Base is in GTA 5. We know precisely why you want to find out where the military base is located in GTA 5 – to steal the vaunted Rhino […]
---
Player Assist | Game Guides & Walkthroughs Tuesday, June 21, 2022 3:00 PM
Just sit back, relax, and let your character do the walking with Diablo Immortal's Auto Navigation feature. MMORPG players are used to running around humongous maps to complete objectives, slay enemies, and farm XP and loot. While most MMORPGs implement a "waypoint" system that helps players quickly spot the next main objectives on the map, […]
---
Player Assist | Game Guides & Walkthroughs Tuesday, June 21, 2022 2:00 PM
The Range lacks an important feature that could help players level up their peeking game in VALORANT. We work around that in this guide. Players of all ranks have been in The Range at some point in their VALORANT careers. And while there are a ton of training tools that players can use to train […]
---
Player Assist | Game Guides & Walkthroughs Tuesday, June 21, 2022 1:00 PM
Lost in a Foreign Land is a world quest in Genshin Impact that was included in the 2.7 version update of the game. It gives a little more detail about what happened in The Chasm: Underground Mines. How to Unlock the Lost in a Foreign Land World Quest To trigger this quest, you need to […]
---
Player Assist | Game Guides & Walkthroughs Tuesday, June 21, 2022 12:00 PM
One of the Shrines in The Legend of Zelda: Breath of the Wild is the Qaza Tokki Shrine or Qaza Tokki's Blessing. The Shrine itself is no challenge at all. As you enter the Qaza Tokki Shrine, Link will be able to access the shrine's chest, and he will be able to access the altar […]
---
Gaming Instincts – Next-Generation of Video Game Journalism Tuesday, June 21, 2022 5:15 PM
---
Gaming Instincts – Next-Generation of Video Game Journalism Tuesday, June 21, 2022 3:56 PM
---
Gaming Instincts – Next-Generation of Video Game Journalism Tuesday, June 21, 2022 3:27 PM
---
Gaming Instincts – Next-Generation of Video Game Journalism Tuesday, June 21, 2022 2:47 PM
---
Gaming Instincts – Next-Generation of Video Game Journalism Tuesday, June 21, 2022 1:59 PM
---
Gaming Instincts – Next-Generation of Video Game Journalism Tuesday, June 21, 2022 1:38 PM