---
Kotaku Tuesday, July 12, 2022 6:30 PM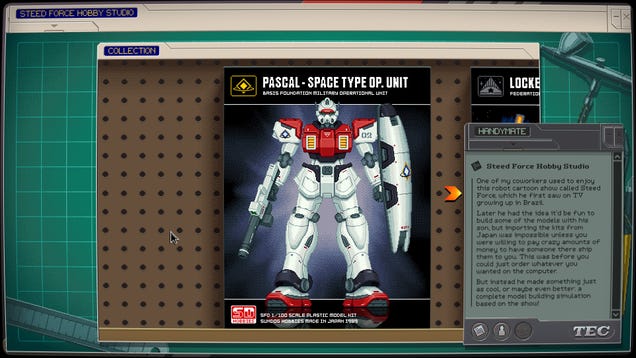 When I was a kid there was nothing more relaxing than sitting down for an afternoon with a model kit. Snipping the parts off the board, patiently gluing everything together, painting each careful brushstroke and delicately placing each decal was a process that was almost meditative, and after leaving the hobby behind…
---
Kotaku Tuesday, July 12, 2022 6:25 PM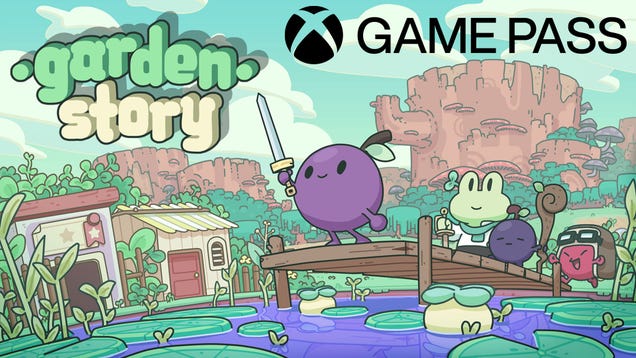 ---
Kotaku Tuesday, July 12, 2022 5:00 PM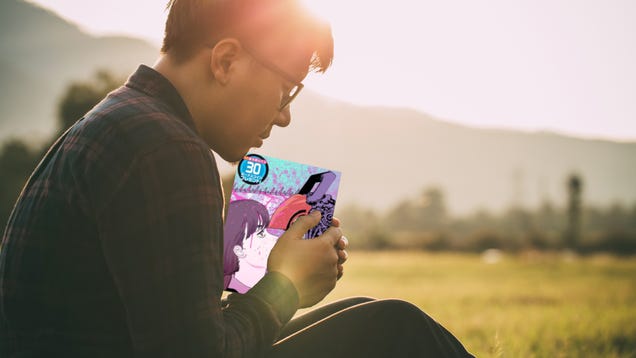 For two long years, manga readers have awaited the second coming of our lord and savior, Chainsaw Man. Finally, Chainsaw Man Part 2 is among us, and folks, its first chapter slaps.
---
Kotaku Tuesday, July 12, 2022 4:55 PM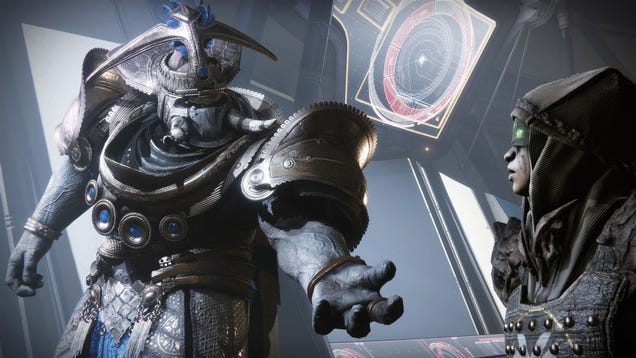 Bungie senior visual designer Signy Davis recently shared a blistering message on Twitter demanding that her company, along with the gaming industry at large, throw much-needed support behind inclusive health care for transgender workers.
---
Kotaku Tuesday, July 12, 2022 2:20 PM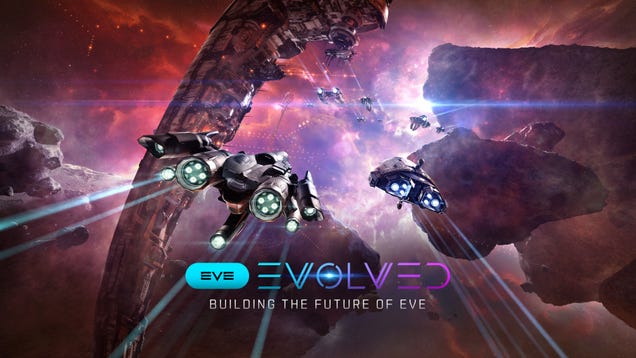 How do you keep a nearly 20-year-old game fresh and relevant? According to the team behind the colossal, space-based MMO EVE Online, you do it by constantly reinvesting in your infrastructure and by working to keep your new player experience–those early hours that introduce newcomers to the basics of the game's…
---
Kotaku Tuesday, July 12, 2022 12:20 PM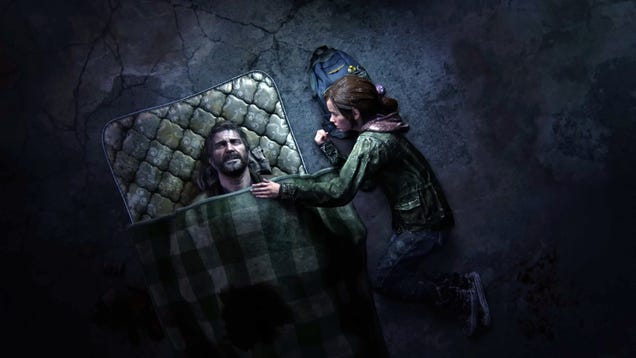 Since Naughty Dog's Summer Games Fest announcement that The Last Of Us is getting a PlayStation 5 remake, gamers have been up-in-arms on social media over whether or not the infection-killing dad simulator even needs a remake. According to two developers at Naughty Dog, the remake isn't the "cash grab" gamers have…
---
PCGamesN Tuesday, July 12, 2022 4:51 PM
There's a new Age of Empires 4 patch out now that heralds the arrival of Season 2, which focuses on the Age of Sail. Update 17718 does quite a bit more than usher in the new seasonal activities, however - there's a new map, new map selection options in multiplayer, and a brand new camera that will provide a grander and more sweeping view of the RTS game's medieval battlefields.
Age of Empires 4 release date
,
Age of Empires 4 review
,
The best RTS games on PC
---
PCGamesN Tuesday, July 12, 2022 3:31 PM
Hunt: Showdown will be dropping its leaderboards, at least for the time being, once update 1.9 rolls out. The developers say they'll be going back to the drawing board to come up with a "better solution" for "recognising the best of the best hunters" in light of recent exploits in the game and the survival game's general focus on things that aren't easily captured in a kill/death ratio.
Hunt: Showdown review
---
PCGamesN Tuesday, July 12, 2022 3:35 PM
A fresh Destiny 2 weekly reset is upon us. As a premier live service game, one of the main ways that Bungie keeps players coming back to Destiny 2 is with its weekly resets. These typically offer a content refresh across the space game's various planets, raids, and dungeons, along with minor bug fixes and changes to address outstanding player concerns. The reset often includes new seasonal mission content or updates to existing in-game activities for players who own the seasonal content. And, with ongoing weekly updates to the Nightfall, the Crucible playlist, campaign missions, in-game activities and bounties, there's more to track than ever.
The Destiny 2 weekly reset takes place at the same time each week. There's often some server downtime around the reset, so you should take note of that if you're unable to log into the game at precisely that time. Once the reset begins, you'll have a full week to explore all the changes before Bungie rolls out another set of changes on the same day and time the following week.
Here, we're offering Destiny 2 players a recap of all the weekly reset changes so you know what shiny new activities to prioritise while grinding for loot.
Destiny 2 classes
,
Destiny 2 exotics
,
Destiny 2 builds
---
PCGamesN Tuesday, July 12, 2022 2:00 PM
League of Legends' auto-battler spinoff Teamfight Tactics is getting a major patch soon. TFT Update 12.13 makes some key changes to the game's flow, tightening up match times by shortening several rounds. The update also includes a much-needed rework to astral dragon Aurelion Sol, tweaks the carousel experience in Double Up, and does the usual champion and trait balance upkeep players have come to expect with updates.
Riot says it'll be reducing match length by a total of 50 seconds by shaving 10 seconds off of augment rounds 2-1, 3-2, and 4-2, the treasure dragon stage 4-7, and stage 5-1, which comes immediately after the treasure dragon round. It's not a massive shift, but those some of the rounds in which most players find themselves twiddling their thumbs are being tightened up just a smidge, which is nice.
How to play Teamfight Tactics
,
Best Teamfight Tactics items
,
How to upgrade Teamfight Tactics champions
---
PCGamesN Tuesday, July 12, 2022 2:39 PM
Want to know what this week's Destiny 2 Nightfall weapon is? Each week you've got a chance at a different weapon for completing Nightfall Strikes, and ever since Season of the Lost, fan-favourite legacy weapons from the original Destiny have been added to the rotation. Two new weapons were introduced into the pool in Season of the Risen, so it's more important than ever to know in advance the Nightfall weapon schedule.
In case you don't know what the Destiny 2 Nightfall weapon means, Nightfall: The Ordeal is a playlist available in the Vanguard menu, alongside the basic Strike playlist. Each week, a different Strike is chosen as the Nightfall, and offered in five escalating difficulties, with harder enemies, challenging modifiers, and enemy power levels cranking up.
The coveted Nightfall weapons have a chance to drop from any Nightfall Strike difficulty, but it's far more likely at higher levels. Your best bet for farming each week's Nightfall weapon is to set the Strike to Master difficulty, according to YouTuber Aztecross. You should also note that there's no automatic matchmaking above Hero difficulty, however, so you'll need to get a squad together.
Destiny 2 classes
,
Destiny 2 exotics
,
Destiny 2 builds
---
PCGamesN Tuesday, July 12, 2022 4:48 PM
Upcoming strategy game Company of Heroes 3 is releasing in November, so of course now is the perfect time to talk about Company of Heroes 3 DLC and post-launch content. As part of the latest announcement, Relic revealed that anyone who pre-orders the WW2 game can get the Devil's Brigade pack, which will feature new cosmetic skins based on the "first elite commando units" of the conflict.
Company of Heroes 3 release date
,
Company of Heroes 3 pre-alpha impressions
,
Company of Heroes 3 pre-alpha system requirements
---
PCGamesN Tuesday, July 12, 2022 1:31 PM
The Company of Heroes 3 release date has been revealed, and come mid-November you'll be able to relive one of history's most dramatic conflicts with new, dynamic challenges built to test your mettle. Coming with today's announcement, Relic has also revealed the second campaign coming to the strategy game, as well as the final faction.
Company of Heroes 3 release date
,
Company of Heroes 3 pre-alpha impressions
,
Company of Heroes 3 pre-alpha system requirements
---
PCGamesN Tuesday, July 12, 2022 12:59 PM
It didn't take long for Outriders players to discover an exploit in the co-op game's first big expansion, Worldslayer. Developer People Can Fly says "a large number of players" have been using the exploit to skip straight to the final Arbiter in the Trial of Tarya Gratar dungeon and farm this boss repeatedly. The latest Outriders patch addresses this exploit, but does it in a somewhat surprising way.
Rather than closing the loophole that allows players to dash straight for the final Arbiter, the latest Outriders patch expands the farming options available in the Trial of Tarya Gratar. The update adds guaranteed Apocalypse Legendary RNG drops to the Cliffside Path, Daughter's Sanctuary, and The Arboretum Trove areas, giving players more reasons to play the complete dungeon.
Outriders review
,
Outriders legendary weapons guide
,
Purchase Outriders
---
PCGamesN Tuesday, July 12, 2022 12:52 PM
There's a new Fallout: New Vegas mod out for the beloved RPG game that helps to remove the least beloved part as violently and destructively as possible - specifically, any NCR soldier who tries to say that line at you. You know the one we mean.
There are some fantastic Fallout: New Vegas mods out there, but this one from creator Testudini might be the most satisfying of the lot. A lot of people are familiar with Skyrim's infamous "arrow to the knee" repeated line, but anyone who's played Obsidian's Fallout game will be familiar with NCR soldiers saying "patrolling the Mojave almost makes you wish for a nuclear winter." It's a meme.
The 'Wishes Come True' mod for Fallout: New Vegas grants the wish of NCR soldiers by immediately targeting anyone who says the line with a tactical nuclear missile. Unfortunately, as you might imagine, if you're close enough to hear the line you're undoubtedly close enough to be blown up in a nuclear inferno, but them's the breaks.
Fallout: New Vegas mods
,
Fallout 5 release date
,
The best RPG games on PC 2022
---
PCGamesN Tuesday, July 12, 2022 12:45 PM
Starfield might actually have a confirmed release date – so claims a bizarre fan theory, which points to some obscure hints in the RPG's first gameplay trailer, hints that, now we've looked into them ourselves, make an alarming amount of sense. So pull on your oxygen helmets, and fire up the Always Sunny clip of Charlie ranting about Pepe Silvia. We're going off the deep end.
Starfield release date
,
Starfield ship design
,
Starfield Game Pass
---
PCGamesN Tuesday, July 12, 2022 12:34 PM
A series of Steam localisation updates have hinted that Returnal's PC debut may be earlier than anticipated.
Best horror games
,
Returnal PC localised
,
Best gaming mouse
---
PCGamesN Tuesday, July 12, 2022 12:23 PM
Want to see an overview of every PUBG map? With a total of eight maps, PUBG Battlegrounds has no shortage of levels to play on. As fun as that may be, it also means that we need to learn the differences between Paramo's dangerous volcanic terrain and Vikendi's unique train system. After all, learning every map can help you rack up numerous chicken dinners if you use your knowledge to gain the upper hand in battle.
There's a lot of map knowledge to learn in this battle royale game, but it won't take long before you're blasting through rival squads with ease. To help you on your way, here's an overview of every PUBG map released so far. Get a quick breakdown of each map's size, terrain, maximum player count, special features, and the best landing spots.
Best battle royale games
,
Best PUBG weapons and guns
,
Best PC games you can play on mobile
---
PCGamesN Tuesday, July 12, 2022 12:20 PM
Looking for Roblox music codes? There are thousands of popular songs available to listen to in Roblox, simply by entering music ID codes into your boombox or the radio. Using song IDs, you can play your favourite TikTok songs in games with your friends.
So how do you play music in Roblox? The method varies depending on which game you want to blast your tunes in. Some games allow you free access to the boombox - simply equip and press it to bring up a text box in which you can enter a song ID code. Catalog Heaven is a great place to test the Roblox music codes you find, as it allows you to equip any boombox in the shop and try it out.
In most games, however, you'll need to use the radio to play music. This is usually part of a paid Game Pass - the price of a Game Pass is set by each game developer individually. Once you have access to the radio, you can use it in the same way as the boombox - simply enter the song ID code and press play. Occasionally, tracks are taken down by Roblox, so if a code stops working, you'll have to look for a replacement. Here are the best radio music codes in Roblox that work in June 2022:
Best Roblox games
,
Roblox promo codes
,
Roblox music codes
---
PCGamesN Tuesday, July 12, 2022 12:11 PM
There are a number of oddities scattered throughout the world of Genshin Impact, whether they be people, places, or items. Katheryne is one of said oddities. If you've ever spent a bit of time idling around her at any of the Adventurers' Guild locations, it's likely that you've seen or heard a few strange clues which support the fan theory suggesting that Katheryne is a robot.
Taking that theory one step further after the reveal of the Fatui Harbingers, we have another stating that Katheryne could, in fact, be controlled by Sandrone, The Marionette - a Harbinger who uses machine puppets.
Genshin Impact 2.8 release date
,
Genshin Impact character tier list
,
Genshin Impact leveling guide
---
PCGamesN Tuesday, July 12, 2022 12:11 PM
What are the best Roblox games? Games aren't just better than ever for kids, the means of creating them are, too. The best example of that is Roblox: a massively multiplayer online game creation platform and, since it is so easy to make something fun, there are millions of Roblox games to enjoy. User-generated creations allow you to weather the existential threat of a natural disaster, try your hand as a pizza maker, and take a break away from it all with a spot of peaceful scuba diving.
From sims to RPGs and adventure titles, we've highlighted the best Roblox games to enjoy with over 100 million other pals in online games. Think of it like Minecraft and LittleBigPlanet smooshed together and forged into an entire platform.
With more titles on the platform than you can possibly play, we're here to uncover the player-created diamonds in the rough and make sure they get the credit they deserve. Below you can find out the best Roblox games and more about this exciting platform.
Best Roblox games
,
Roblox promo codes
,
Roblox music codes
---
Rock Paper Shotgun Latest Articles Feed Tuesday, July 12, 2022 1:52 PM
Relic Entertainment has announced that Company Of Heroes 3 will parachuting onto Steam on November 17th. They also unveiled new details about its second North African campaign this evening, which will offer a more traditional, narrative-led single-player experience compared to its more open-ended Italian campaigh, which was revealed last year. We had hoped to bring you more hands on details of this new campaign this evening, but in classic RTS fashion, things didn't quite go according to plan. Sorry about that folks. Here are the headlines instead.
---
Rock Paper Shotgun Latest Articles Feed Tuesday, July 12, 2022 12:33 PM
Aside from our eternal love and gratitude, lovely folks who choose to support RPS at the premium tier get extra perks - and one of those is getting regular access to free game keys. Today I'm excited to tell you that we have two more games stepping up to the code plate, and you can choose one of them to take home for free later this week: The Longing or Ghost On The Shore, both beautiful and contemplative games.
---
Rock Paper Shotgun Latest Articles Feed Tuesday, July 12, 2022 12:10 PM
What's with all the cute frog-centered indie games right now? A Frog's Tale, Schim, Frog Detective, Paradise Marsh, Olliefrog Toad Skater, Teacup, Frogsong - it feels like we're in the middle of an (incredibly adorable) frog uprising. Not that I'm complaining, I'm more than happy that our amphibian friends are getting the love they deserve and one such game is Time On Frog Island, a cosy adventure where you play as a gruff sea captain who has been shipwrecked on an island that is chock-a-block with, you guessed it, frogs.
---
Rock Paper Shotgun Latest Articles Feed Tuesday, July 12, 2022 12:05 PM
Prime Day 2022 comes just as the global graphics card market slowly emerges from a devastating crypto-coma. That means some prices are back to normal, some aren't, and the entire concept of a deal becomes kind of nebulous and squishy. And yet, there will undoubtedly be people out there desperate for a new graphics card – any new graphics card – so let's take a look at what's out there.
The bad news is that the vast majority of Prime Day GPU "deals" still reach above the respective card's original retail price. The good news is that I've found a small handful of offers that are, if nothing else, good value by the incredibly whacked-out standards of the past two years. First up, there are a couple of Nvidia GeForce RTX 30 series cards worth considering in the UK, including an MSI-made RTX 3070 (that Ebuyer have price matched). Sticking with RTX cards, which can run both DLSS and DLAA, GameStop have a reasonable RTX 3060 deal for US buyers.
---
Twinfinite Tuesday, July 12, 2022 6:13 PM
A Wordle a day keeps the... word doctor away?
---
Twinfinite Tuesday, July 12, 2022 6:09 PM
Atlus released its daily trailer of the upcoming JRPG Soul Hackers 2, focusing on one of the demons that will be featured in the game.
---
Twinfinite Tuesday, July 12, 2022 5:52 PM
Following the announcement of the Lollipop Chainsaw Remake, producer Yoshimi Yasuda took to Twitter to explain some relevant points.
---
Twinfinite Tuesday, July 12, 2022 5:35 PM
The next Valorant skin bundle is here.
---
Twinfinite Tuesday, July 12, 2022 4:41 PM
The physical edition for Stray has finally been revealed, and it comes with a bunch of goodies that cat lovers will want their paws on.
---
Twinfinite Tuesday, July 12, 2022 4:09 PM
A whole new set up for cheap.
---
Twinfinite Tuesday, July 12, 2022 3:33 PM
Danny Loves Video Games.
---
Twinfinite Tuesday, July 12, 2022 2:19 PM
Spoilers; lots of death incoming.
---
Twinfinite Tuesday, July 12, 2022 1:46 PM
Become a tester for the game in Minecraft Preview.
---
Twinfinite Tuesday, July 12, 2022 1:32 PM
Relic Entertainment is bringing its World War II real-time-strategy franchise Company of Heroes back to PC with Company of Heroes 3.
---
Twinfinite Tuesday, July 12, 2022 1:32 PM
Sega and Relic Entertainment announced the release date of the upcoming RTS game Company of Heroes 3.
---
Twinfinite Tuesday, July 12, 2022 12:58 PM
Riot Games is continuing to reveal news about the upcoming Star Guardian 2022 event coming to its popular MOBA League of Legends.
---
Twinfinite Tuesday, July 12, 2022 12:30 PM
Map changes are always fun.
---
Twinfinite Tuesday, July 12, 2022 12:28 PM
Get all the free spins and coins in Coin Master!
---
Twinfinite Tuesday, July 12, 2022 12:23 PM
These goats sure are trouble.
---
Twinfinite Tuesday, July 12, 2022 12:19 PM
Get your hands on the latest unvaulted weapon in Fortnite Chapter 3 Season 3!
---
Twinfinite Tuesday, July 12, 2022 12:14 PM
Today Square Enix released a new trailer, screenshots, and release details of the upcoming tactics JRPG The DioField Chronicle.
---
Twinfinite Tuesday, July 12, 2022 12:10 PM
Redeem the codes as soon as possible.
---
Siliconera Tuesday, July 12, 2022 3:00 PM
Monster Hunter Rise was, perhaps, one of my favorite games of 2021. It's hard to believe that over a year has passed since its release on the Nintendo Switch. My original playtime for it totaled around 120 hours. So, as you can imagine, I was elated about the announcement of the Sunbreak expansion. Nothing had me more excited to sink my teeth back into the game and, after spending over 50 hours with Monster Hunter Rise Sunbreak, it feels like the expansion was well worth the wait.
Sunbreak builds upon an already solid foundation, extrapolating on what made Monster Hunter Rise so good. That was the range of movement players could now perform with the aide of the Wirebug. It's a mechanic I can't really see myself living without at this point, and Sunbreak adds to this through the implementation of "Morphed Wirebugs." This makes an already essential mechanic all that more useful.
There are a total of two Morphed Wirebugs available, Gold and Ruby, which have individual effects. The Ruby Wirebug increases the amount of damage done by Mounted Punishes, whereas the Gold Wirebug affects the amount of items a monster will drop when it is attacked during wyvern riding. Since I love to min-max, the Gold Wirebug became my evolution of choice, as it helped me farm items to craft and acquire better armor and weapons.
Thankfully, players can swap between Gold and Ruby Wirebugs. But only once the time allotted to having one of these "evolved" Wirebugs has depleted. Players can equip one or the other for roughly 3 minutes before needing to scour the map and potentially find a replacement. While this addition may seem incremental, it was nice having it there for those that do make copious use of endemic life.
There are also a handful of new Silkbind Skills, adding to a pretty decent list of skills that were already available. Having used the Dual Blades in Monster Hunter Rise, I loved the additional Silkbind Skills in Sunbreak. The Spiral Slash skill was my favorite, mostly because I'm the kind of player that dives headfirst into combat. This facilitated the way I played and allowed me to be even more aggressive when initiating a fight. And the ability to switch skills on the fly was particularly useful when using the Hunting Horn. This has honestly made combat way more engaging than before. It leans further and further into the more fast-paced action oriented elements of the Monster Hunter series that has been bleeding further into the formula since Monster Hunter: World.
However, what I was most excited about were Follower Quests, which didn't disappoint. These new quests are a great draw for single-player Hunters, as you can take NPCs with you on these excursions. This specific style of quest is unlocked through story progression, with each completed quest allowing for players to jump into Survey Quests. While Follower Quests are less freeform and tie players to specific NPCs, Survey Quests allow for a little more flexibility.
Players can choose which NPCs they want to accompany them on Survey Quests, and even get a wider range of what weapons specific NPCs can carry with them into combat. But outside of being a great way to stretch out how solo players want to interact with Monster Hunter Rise: Sunbreak, there is a secondary benefit to doing these quests. That's unlocking new armor and weapons.
While the Village and Hub Quest progression has disappeared in Sunbreak, with both being consolidated for a more concise experience, it feels like Follower Quests have occupied that slot held by Village quests. These feel significantly easier, especially with specific NPCs. And each NPC feels wholly unique, as they have their own behaviors that really shine through in hunts. My favorite NPCs appeared at the tail end of the Follower Quests, but that didn't stop me from taking them through Survey Quests just to feel what it would be like to fight alongside them.
Unfortunately, the one thing holding Sunbreak back is the roster of available monsters. I had burned through Monster Hunter Rise, grinding hours upon hours of hunts with the new additions feeling meaningful and unique. But Sunbreak doesn't have much to offer in that regard. A good portion of the roster consists of variants of monsters encountered in Rise.
While there is definitely a greater sense of mechanical complexity when dealing with the Malzeno for example, it doesn't make up for the small roster. It is great to see certain monsters return however, and I loved going toe-to-toe with the Astalos and tackling the Gore Magala for the very first time. The end-game is also fairly interesting, and incorporates a new kind of affliction (specifically concerning monsters, not players) in an interesting way.
But Capcom has already promised plans for post-game content. As it includes the addition of more variants through future updates, the future of Monster Hunter looks bright. Specifically Monster Hunter Rise: Sunbreak, as it's already managed to sell over 2 million copies since its release on June 30, 2022. Monster Hunter Rise: Sunbreak can really only get better from here. Like Rise, it provides a solid foundation for whatever direction future content updates or installments of the series go next.
Monster Hunter Rise: Sunbreak is available for Nintendo Switch and PC.
The post Review: Monster Hunter Rise: Sunbreak Adds to an Already Great Experience appeared first on Siliconera.
---
Siliconera Tuesday, July 12, 2022 12:00 PM
Zombies are a staple of video games, as are games based on zombie TV series. The latest in that latter trend is Kingdom: The Blood, a new game based on the hit Netflix horror series Kingdom. The game is in development for PC and mobile platforms.
IGN hosted the first Kingdom: The Blood gameplay trailer on their official Twitter account.
https://twitter.com/IGN/status/1546676044542902274
The trailer shows a Korean warrior slicing his way through various foes, both human and undead. According to IGN's preview, developer Action Square motion-captured a professional Korean sword dancer to inspire the combat animations and system. As Kingdom is also a period story, the team paid special attention to replicating historical details for clothing and locations for Kingdom: The Blood. Netflix bills the game as a "zombie RPG". It will feature a story mode, an arcade-like Conquest Mode, and PVP combat. Players can create their own character and customize them.
The Kingdom TV show premiered in 2019, and is based on the manhwa The Kingdom of the Gods by Kim Eun-hee and Yang Kyung-il. The story is set during Korea's Joseon period, roughly around 1595 A.D. The Crown Prince Lee Chang discovers an unnatural plague that resurrects dead people as zombies. Amidst the chaos, political conspiracies and dark secrets endanger the future of the land. Two seasons of Kingdom are available to stream on Netflix, along with Kingdom: Ashin of the North, a prequel spin-off.
Kingdom: The Blood is in development for PC and mobile platforms. Netflix has not specified a release window. Netflix is also working on a new Castlevania-based animated series.
The post Kingdom: The Blood is Based on the Netflix Zombie Series appeared first on Siliconera.
---
PC Invasion - FeedDDD Tuesday, July 12, 2022 6:30 PM
Teamfight Tactics' new 12.13 patch is live, and fans of the Astral trait and Aurelion Sol are going to be very pleased. Leading the major changes of this new patch are a set of Astral buffs, including an extensive Aurelion Sol rework that will make fans of the niche dragon happy. Aurelion Sol is a 10-cost unit with a 5-cost rarity so, naturally, players should expect the unit to deliver a great deal of power. Frankly speaking, he was not very good and needed a change to his kit. Aurelion Sol will keep the core identity of his kit, which is summoning black holes underneath enemies and dealing damage. However, Aurelion Sol is getting pushed into a larger utility role. Aurelion Sol will summon a black hole underneath a random enemy, which implodes after two seconds. This will deal plenty of magic damage (which has also been buffed) but, more importantly, enemies who are hit by Aurelion Sol's attack will now receive 20% more damage. Astral is stronger Additionally, Astra...
---
PC Invasion - FeedDDD Tuesday, July 12, 2022 5:30 PM
Amazon's Prime Day has begun, which means all the game downloads that were promised last month are now available. There are more than 30 games you can claim, so long as you're a Amazon Prime subscriber. Some of the juiciest picks include Mass Effect Legendary Edition and Grid Legends. There are caveats of course, one of which is that you only have so much time to claim most of the collection. Naturally, these games aren't technically free by any means. An Amazon Prime subscription is needed, and most games must be run downloaded via a separate launcher. Some of the games published by Electronic Arts also require you to connect the service to an Origin account, where they'll be activated. Mass Effect, Need for Speed Heat, and Grid Legends are among those to be added to Origin. It's not terrible, if you don't mind using Origin. However, it's understandable if you prefer a different storefront or launcher. Still, it's a lot of games y...
---
PC Invasion - FeedDDD Tuesday, July 12, 2022 5:00 PM
Giants Software has officially revealed the Platinum Edition of its latest hit, Farming Simulator 22. This new version sports over 40 new vehicles and tools, including new equipment from Volvo CE, and other real-world brands. Additionally, players will get to try their hand at building a farming empire on a new map called Silverrun Forest once the platinum expansion releases on November 17. Silverrun Forest will be the perfect proving ground for some of the new machinery, like the Volvo L200H High Lift wheel loader. This big boy will be able to grab a large quantity of logs to place neatly into a carrying trailer. The new John Deere 843L-II and John Deere FD55 wheeled feller buncher will also be on site to help cut trees and drag large logs to a staging area. With such a big focus on forestry, it comes as no surprise that Silverrun Forest is also home to new production chains and points of interest that center around the business side of things. There's even a new feature ...
---
PC Invasion - FeedDDD Tuesday, July 12, 2022 4:30 PM
If you're still on the fence about buying a new graphics card this summer, the latest campaign from Nvidia might convince you it's time. For the remainder of July, you can get an Nvidia RTX 3080 graphics card bundle containing codes for Bethesda's Doom Eternal and Ghostwire: Tokyo. That also includes both of The Ancient gods DLC expansions for Doom Eternal, which makes this a particularly enticing offer when combined with the substantially lower prices of today's graphic card market. If you've been paying attention to the news in recent weeks, really, months at this point, graphics card pricing has collapsed. Nvidia RTX 3080s now go for as low as $759.99 USD, even with this bundle thrown in. This campaign likely has something to do with that, with the obvious consumer incentive to increase sales before the RTX 40 Series launches later this year. No matter how you look at it, this is a great deal for a powerful graphics card that will be able to c...
---
PC Invasion - FeedDDD Tuesday, July 12, 2022 4:00 PM
Company of Heroes 3 has a release date of November 17, where it'll go live on Steam with two whole campaigns to blast through. The launch date was revealed earlier today during a livestream, which introduced the North African Operation — the second campaign of the game. November is quite the wait, of course, but fans can sign up for a new Company of Heroes 3 Alpha today. The new preview, Mission Alpha, allows you to try your hand at the North African Operation. Unlike the previously revealed Italian Dynamic Campaign, your trip to Africa is more akin to older games in the series. It's a "narrative led single-player experience," differing from the more open ended Italian campaign. In it, you take control of the Deutsches Afrikakorps (DAK). Yes, the bad guys. "A wealth of new mechanics has drastically changed the battlefield in North Africa, where tank-riding enables coordinated rapid-strike assaults that overwhelm the enemy," reads the pre...
---
Gamer Empire Tuesday, July 12, 2022 12:53 PM
Blessings are very important to your character's power in Legends Re:Written, as it gives your character abilities and stat boosts. Like in many other RPG-type Roblox games, there are quite a few different blessings you can get in Legends Re:Written. Recommended Read: Blox Fruits – Sword Tier List To help you get an overview of […]
The post Legends Re:Written Tier List (July 2022) – Best Blessings appeared first on Gamer Empire. It was written by Tim Stadel Clausen.
---
Tabletop Gaming News Tuesday, July 12, 2022 6:00 PM
---
Tabletop Gaming News Tuesday, July 12, 2022 5:00 PM
---
Tabletop Gaming News Tuesday, July 12, 2022 4:00 PM
---
Tabletop Gaming News Tuesday, July 12, 2022 3:00 PM
---
Tabletop Gaming News Tuesday, July 12, 2022 2:00 PM
---
Tabletop Gaming News Tuesday, July 12, 2022 1:00 PM
---
Player Assist | Game Guides & Walkthroughs Tuesday, July 12, 2022 4:00 PM
In Supergiant Games' Hades, certain NPCs give Zagreus items that can help him in his escape attempts called Keepsakes. These Keepsakes give Zagreus special benefits every time they are equipped on an Underworld escape run, but they can only be equipped one at a time. In this guide, you'll learn how to obtain these Keepsakes […]
---
Player Assist | Game Guides & Walkthroughs Tuesday, July 12, 2022 3:00 PM
A new Diablo Immortal Season is here. Check out Blizzard's exciting Battlepass rewards lined up for die-hard Diablo fans. Diablo Immortal Season 2 is live, and with it comes Battle Pass rewards for both the Empowered (Paid Battle Pass) and the Free Battle Pass rewards. The Diablo Immortal Battle Pass offers a variety of loot […]
---
Player Assist | Game Guides & Walkthroughs Tuesday, July 12, 2022 2:00 PM
We know you've free fallen from 10,000 feet to land face first because you didn't know how to use a Parachute in GTA 5. The Parachute is an item that's had players scratching their heads trying to figure out how not to kiss the ground at 150 KPH. But alas, the game does not give […]
---
Player Assist | Game Guides & Walkthroughs Tuesday, July 12, 2022 1:00 PM
Using a metered internet connection? Got slow download speeds? Just copy VALORANT from a friend's PC. Not everyone is blessed with blazing-fast internet speeds with unlimited data caps. While some regions will have no problems downloading a hundred gigabytes of data over a few seconds, others can barely download an MP3 file reliably. Fortunately, there […]
---
Gaming Instincts – Next-Generation of Video Game Journalism Tuesday, July 12, 2022 4:43 PM
---
Gaming Instincts – Next-Generation of Video Game Journalism Tuesday, July 12, 2022 3:25 PM
---
Gaming Instincts – Next-Generation of Video Game Journalism Tuesday, July 12, 2022 2:32 PM
---
Gaming Instincts – Next-Generation of Video Game Journalism Tuesday, July 12, 2022 1:50 PM
---
Gaming Instincts – Next-Generation of Video Game Journalism Tuesday, July 12, 2022 1:29 PM