---
Kotaku Thursday, April 14, 2022 3:40 PM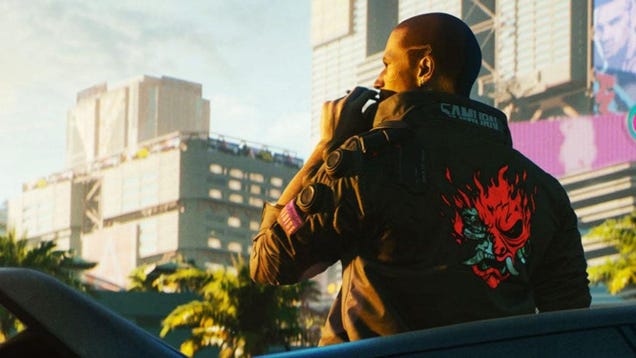 Cyberpunk 2077's best days may still be ahead but developer CD Projekt Red announced today it's now shifting focus and resources away to other projects, including its new open-world Witcher game. While the beleaguered sci-fi shooter will still get a story expansion in 2023, it doesn't sound like it will be getting any…
---
Kotaku Thursday, April 14, 2022 3:10 PM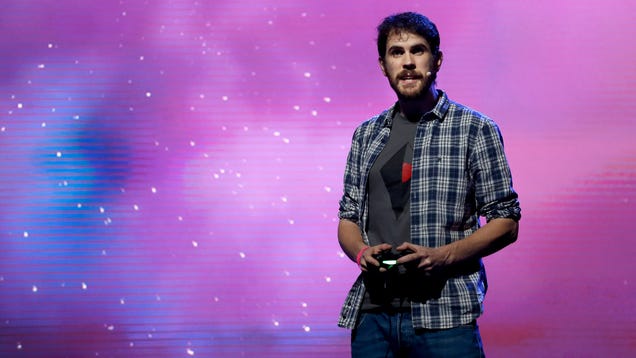 Stop me if you've heard this one before: During a recent IGN interview, Hello Games managing director Sean Murray talked up the studio's new venture as "something pretty ambitious."

---
Kotaku Thursday, April 14, 2022 2:40 PM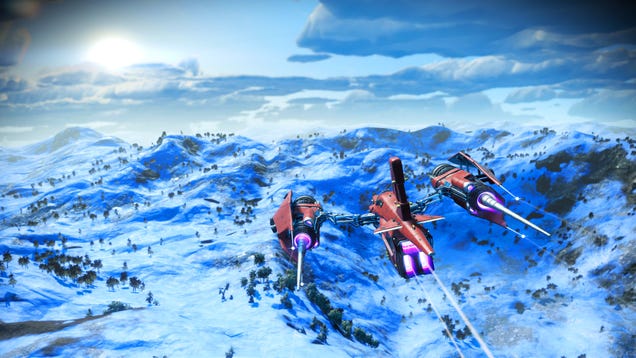 Yesterday, developer Hello Games rolled out the 4,521,781th free update for its popular simulation of the universe, No Man's Sky. Called "Outlaws," among other new features, it adds a "pirate underground," replete with an entire black-market economy. But some players say it's added too many pirates.

---
Kotaku Thursday, April 14, 2022 2:10 PM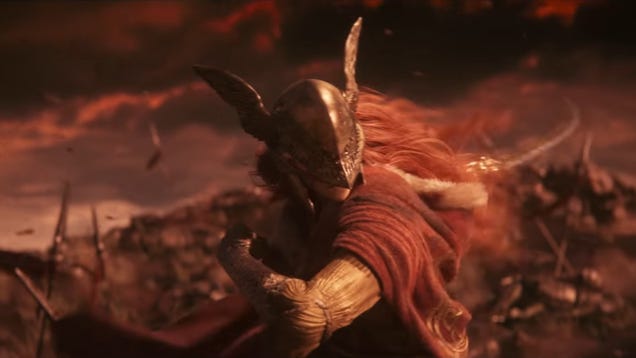 You've probably hit a number of Elden Ring bosses that just kick your teeth in. No matter how many times you leveled up or how reinforced your gear is, some enemies almost always beat you to a pulp. While Torrent is usually at the ready so you can flee a fight if the challenge becomes too tough, there are a few…
---
Kotaku Thursday, April 14, 2022 1:55 PM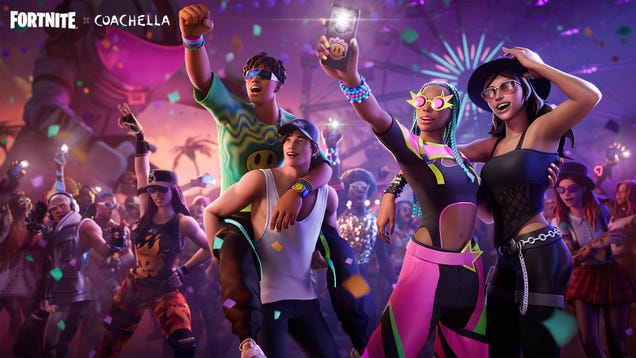 Epic Games, which is virtually only in competition with itself when it comes to wacky crossovers with franchises like Naruto, Silk Sonic, and whatever character Dwayne "the Rock" Johnson is playing this year, announced a collaboration between Fortnite and the Coachella Valley Music and Arts Festival.
---
Kotaku Thursday, April 14, 2022 1:35 PM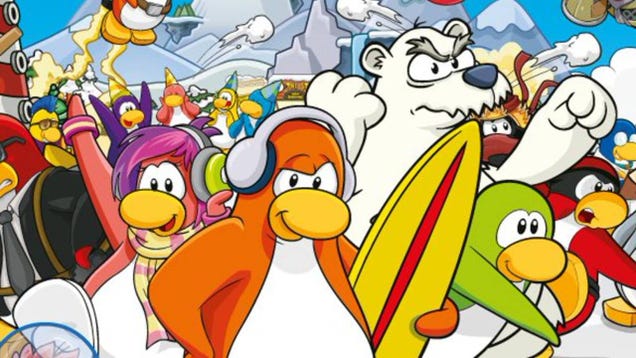 Club Penguin was a massively popular children's MMO that was eventually acquired (and later shuttered) by Disney. However, that hasn't stopped popular clones from amassing millions of users. Now the official website for the most popular clone, Club Penguin Rewritten, has been seized by the City Police of London.…
---
Kotaku Thursday, April 14, 2022 12:00 PM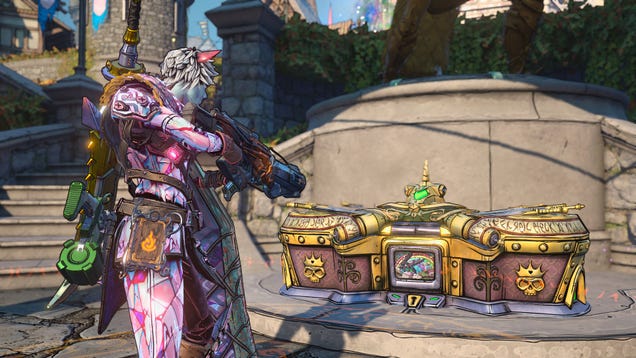 Yeah, sure, Tiny Tina's Wonderlands has an end goal. Ostensibly, you're tasked with completing a main story, something about saving the world and defeating the big bad villain and blah blah blah. But c'mon, we all know what the real point is: finding a ton of kickass loot. Let us help.

---
Kotaku Thursday, April 14, 2022 11:25 AM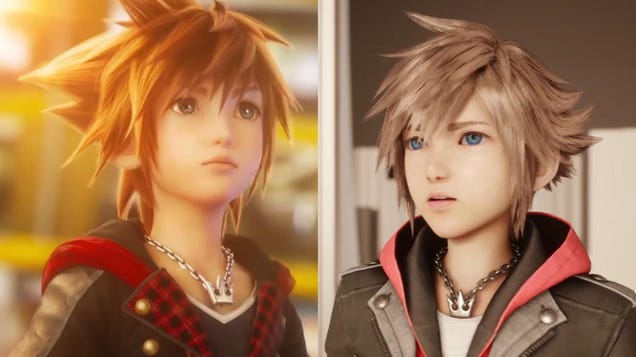 When Square Enix revealed Kingdom Hearts IV over the weekend, it looked…different. Hero Sora was looking realistically emo with nerfed kicks while hanging out in a Shibuya apartment that actually exists. But fans were quick to point out that there were likely lore reasons explaining the new graphical style, and now…
---
PCGamesN Thursday, April 14, 2022 5:48 PM
Two years to the day after the game's last new hero arrived, we've got the Overwatch Sojourn gameplay trailer and a host of details on the new playable character. Sojourn is playable as part of the Overwatch 2 beta, and today Blizzard has offered a more extensive look at what players can expect once the preview opens to a wide audience.
Some of the Overwatch 2 Sojourn abilities were teased as far back as the first gameplay trailer in 2019, but they've evolved for the hero's current form. Sojourn still has a railgun as her primary weapon. In its current form, the primary fire is a rapid machine gun-style attack that'll build up energy on hit. You can discharge that energy with the secondary fire, which is your traditional railgun shot.
Disrupter Shot is an AOE that can snare enemies and deal damage over time - the snare property, naturally, also helps Sojourn build up that railgun charge as enemies are slowed down. Her Power Slide works as advertised, but you can also cancel it at any time into a high jump for added mobility.
Overwatch 2 heroes
,
Overwatch 2 release date
,
Overwatch 2 talents
---
PCGamesN Thursday, April 14, 2022 4:32 PM
If you've ever felt that Skyrim's orcs just didn't have appealing enough mouths, one modder has got you covered. The mod scene for The Elder Scrolls V: Skyrim is a bustling place filled with everything you could dream of, from simple convenience to outright deviance and everything in between. While some of the grander offerings for the RPG such as the unofficial Enderal total conversion mod and the ability to transform the game into a city builder might garner the most attention, some modders are more content to set their sights on simpler fixes for issues that have been bugging them.
One such person is mod creator Fireapple, whose delightfully named Orcodontist mod focuses on fixing the look of the mouth and teeth for the Orsimer race. In their own words, "The vanilla orc mouth has many problems… the mods that do cover orcs have carried forward the same texture mistakes since Skyrim was released." Fireapple says that they aimed to strike a balance between a cleaner shade and a rough aesthetic to suit as many people's preferences as possible.
Among the features are the removal of "the fake extra two teeth in the lower front of the mouth" to better suit the lower teeth on the 3D models, whitening of the teeth to eliminate the "rotting look" while maintaining the realistic look of weathered teeth, shader and mesh fixes, custom cubemaps to improve the look of saliva and enamel, an adjusted gumline, and retexturing of the tongue to improve its look.
Best Skyrim mods
,
Skyrim: Special Edition mods
,
Skyrim: SE system requirements
---
PCGamesN Thursday, April 14, 2022 4:22 PM
Plenty of games get into the holiday spirit with in-game events, but one we definitely weren't expecting to join the party was Kenshi. If you're unfamiliar with Kenshi, it's a brutally difficult sandbox survival game, where life is hard and then you die. Well, Kenshi is holding an Easter Egg hunt this year, and the winner stands to bring home an exclusive t-shirt.
We need to establish the brutality of Kenshi's theme in order to convey just how hilarious it is for this particular game to be running a fun Easter event. Kenshi is what you might get if Cormac McCarthy had made World of Warcraft. It's set in a blasted, post-apocalyptic desert, and you play as a person with no special powers or strengths. The odds are pretty good that you'll be picked up by slavers and sold to break rocks for the rest of your life, and that's if the ravenous beak things out in the wilderness don't get you first.
Appropriately, then, the Kenshi Easter egg hunt is a pretty brutal affair. The task is to start a new game, find three varieties of eggs, and then sell them. The fastest player to do this will win a signed Beak Thing t-shirt, but to qualify, you'll need to be mindful of the rather strict entry criteria.
---
PCGamesN Thursday, April 14, 2022 3:43 PM
Zombies mode in Call of Duty: Vanguard will be getting the much-requested round-based maps fans have been clamouring for… eventually. The FPS game's developer, Treyarch Studios, says it's working on new round-based maps to add to Vanguard's zombies mode, but they won't be arriving until sometime after season three.
Call of Duty: Vanguard mixed things up with zombies mode when it arrived last year. Rather than surviving waves of undead, players travel through portals to various parts of the map to complete specific objectives. The next map, which Treyarch says is a "reimagining" of the Shi No Numa map that was featured in Call of Duty: World at War, Black Ops, and Black Ops III.
On Twitter, the studio says it'll feature all-new quests, remastered Easter eggs, and new camos for Pack-a-Punch. Plus, we'll be getting a new chapter of the Dark Aether narrative, because zombies explode much nicer when they're filled up with juicy lore. However, Treyarch says this all "will take time to bring to the game," and so current plans are to introduce it at some point after season three, which kicks off April 27.
---
PCGamesN Thursday, April 14, 2022 5:08 PM
It's snapshot day once again, and this week Mojang has decided we've had things easy for long enough, and it's time for the Minecraft Warden to fight back. Fight back even harder, that is. For players that have already fought the Warden, the prospect of an more dangerous enemy is difficult to fathom, but here we are, about to enter a world where the Warden is even stronger.
Minecraft snapshot 22w15a is the latest sneak peek into the future of this classic sandbox game, and it brings with it a bevy of changes. The biggest one is that Wardens now has a ranged attack where, and I quote, "their rib cages will open up to shriek a sonically charged ranged attack that can penetrate walls." Not only that, but they can now sniff you out from further away. I'd recommend bathing, but that's not going to solve the issue.
The good news is that there are already some strategies to deal with the new ranged attack. In fact, if you have a look at this Reddit post from thijquint, you'll see a demonstration of a new strategy. You'll need a good shield though, so make sure you're prepared before giving this a try.
Minecraft console commands
,
Minecraft skins
,
Minecraft mods
---
PCGamesN Thursday, April 14, 2022 1:39 PM
The big Cyberpunk 2077 expansion release date is set for 2023, developer CD Projekt Red has confirmed. The news comes as part of the studio's latest financial results call, alongside details on some of the company's upcoming efforts, including an unannounced project based on either The Witcher or Cyberpunk.
"As it was mentioned in the CD Projekt Red Investor Relations financial call moments ago," the devs say in a tweet, "Cyberpunk 2077's upcoming expansion will arrive in 2023. Please stay tuned for more details coming later this year." The devs have reaffirmed their plans to make this expansion multiple times in the past few weeks, but we still don't have any idea what the actual content of that expansion will look like.
In a big rundown of production plans for 2022, CDPR says "further support for Cyberpunk 2077" is coming on top of the new expansion - which should come as little surprise. The devs also reiterate that they're working on an "unannounced project based on one of our franchises" with The Molasses Flood, an indie game studio that CDPR acquired last year.
Cyberpunk 2077 review
,
Cyberpunk 2077 lore & universe
,
Buy Cyberpunk 2077
---
PCGamesN Thursday, April 14, 2022 1:36 PM
Fortnite was originally released as a tower defence game of sorts, where you have to save the world from the oncoming hordes of monsters by building traps to slow them down, and using weapons and teamwork to take them out. It's a far cry from the version of the game that the vast majority of us play now, because it was all about the PvE experience, not the battle royale game that would be added in later.
Well, one Redditor has taken it upon themselves to recreate that old-school experience in a new way, and has made their own tower defence map which you can play using the code 3696-2978-8063. A user on Reddit called DragonRage508 made the map, and the trailer for it looks great. The map casts you as a monarch trying to protect their castle when, surprise, zombies decide to invade.
You can fight back by not only shooting at them yourself, but also by purchasing knights to help you out. These knights have guns, and you can upgrade them as you go to make sure they can protect your castle. It's a really cool take on tower defence, and it's very well thought out. Along with upgrading your sentries, you can place traps and blockades to slow the monsters down, and you can recycle things you don't want as well.
Fortnite V-Bucks
,
Fortnite Skins
,
Fortnite Creative Codes
---
PCGamesN Thursday, April 14, 2022 11:59 AM
Searching for more information about Apex Legends Season 13? Datamined leaks are fairly common in Apex Legends, and this season is no exception, as we already have a good idea about what may be coming to the battle royale game. There was a large Apex Legends leak back in March, showing off several legends at different stages of development - we hope to see most of these characters at some point over the next two years, although we still have to wait for them to be officially confirmed
We've also found leaks regarding a special type of loot bin in Apex Legends Season 13 which has the potential to drastically change the early game. In addition to some much needed buffs to balance our Apex Legends tier list, we might be introduced to Newcastle, a support legend who may be Bangalore's brother. Out of all the leaked characters, Newcastle has the most complete move set and model which points to him arriving in the near future.
There's also a strong chance that a new energy weapon is joining the arsenal of guns in Apex Legends, though it could be held back for a later season. Here's everything we know about Apex Legends Season 13, including rumours about Newcastle, the new energy weapon, and much more.
Apex Legends characters guide
,
Apex Legends skins
,
Apex Legends map guide
---
PCGamesN Thursday, April 14, 2022 11:57 AM
Genshin Impact's ongoing Tale of the Five Kasen story has been given a standalone teaser with an animated short detailing the five legendary poets of Inazuma. If you've already been participating in the current Hues of the Violet Garden festival quests for MiHoYo's hugely popular open-world game, then you might already have encountered a summary of the Five Kasen during the event. However, this trailer offers a look at the narrative for people who might be out of the loop.
For those of you who haven't seen it, the tale talks of the Five Kasen (a name meaning "fairies of singing and poetry") known only by their pseudonyms as Suikou, Aoi no Okina, Akahito, Sumizome, and Kuronushi. In the Irodori Festival quests, Albedo portrays the Kasen as five other characters from the game - namely, Venti, Xingqiu, Kazuha, Ayaka, and Scaramouche respectively.
The tale talks of Suikou presenting their works to the Shogun, but questions arise when it comes to light that a page has been torn from the works. This leads to a dramatic retelling of Akahito's expulsion from the Five Kasen when a poem he had submitted was discovered to have been plagiarised. However, Sumizome and Aoi no Okina noted that the poem in question lacked Akahito's distinctive red seal, and that the ink on the page ran when submerged in water, calling its true nature into question.
Play Genshin Impact for free
,
Genshin Impact character tier list
,
Genshin Impact leveling guide
---
PCGamesN Thursday, April 14, 2022 11:26 AM
On the lookout for the best Warzone Pacific loadout? Warzone Pacific Season 2 Reloaded has combined the Vanguard Royale and Battle Royale playlists together, creating one unified battle royale game. This means there are over 100 different weapons to pick from to build your perfect loadout drop.
Despite the plentiful ground loot in Caldera's hot zones, you'll want a reliable build to help you take out the opposition as you try to outrun the encroaching gas cloud. Using create-a-class system from Vanguard's multiplayer mode in Warzone, you can customise your weapons with attachments, tactical equipment, and perks to create the best Warzone loadouts.
Our best Warzone Pacific setups differ from our favourite builds for Vanguard's multiplayer mode as they're optimised for Caldera's vast environments. Not only do the weapons in Warzone Pacific feature tweaked stats, we also have to take into consideration Warzone's armour plates and the additional player count. We've used our extensive knowledge of Warzone to pass on our victory prowess to you - use our best loadouts for Warzone Pacific to dominate the competition.
---
PCGamesN Thursday, April 14, 2022 11:05 AM
A new contender for the best VR headset crown by TikTok's sister company is heading to Europe, and it could take the Oculus Quest 2 head-on. Announced at the virtual reality showcase Laval Virtual 2022, The Pico Neo 3 will release in Germany, France, Spain, the Netherlands, and the UK, following its release in Asia last year.
The Oculus Quest 2 rival will release as the Pico Neo 3 Link across Europe, arriving with a price tag of £399/€449 (roughly $521 USD). While the Neo 3 Link is set to cost a chunk more than Meta's VR current-gen headset, it packs a 3664x1920 screen that could give even the rumoured Oculus Quest 2 Pro a run for its money.
The company behind the Pico Neo 3, Pico Interactive, was acquired by TikTok's parent company ByteDance in 2021. However, the company has released various VR headsets over the years, with the original Pico Neo making its debut back in 2016 (via UploadVR). In other words, the company has walked a similar path to Meta, as the social media giant used Oculus as a ticket to the realm of VR.
Best VR games
,
Build yourself a VR-ready PC for $793
,
How to set up your Oculus Rift
---
PCGamesN Thursday, April 14, 2022 11:00 AM
Congratulations, you have unlocked another Thursday! That means it's time for a new batch of free PC games on the Epic Games Store, as well as a peek on what'll be on offer next week. This week, you can pick up the excellent XCOM 2 and mountain-climbing roguelike Insurmountable. Next week, they'll be replaced by the voxel-based co-op game Riverbond.
Riverbond is about jumping into a brightly coloured voxel-based world and breaking things. Sure, there's always a mission to complete, but the odds are good that it involves breaking stuff. You'll face down hordes of cute enemies, as well as over-the-top bosses, and you can do that either solo or as part of a co-op team of up to four players.
It's good, clean fun - it's easy to jump into and immediately get into the action, and there's plenty of stuff to find, weapons and other power-ups are hidden around the maps in treasure chests, so if you want to go hunting for goodies, you'll definitely be rewarded.
---
PCGamesN Thursday, April 14, 2022 10:54 AM
Are you curious about the goings-on of the games industry, keen to tell the stories of the myriad communities of our native platform, and unashamedly enamoured with PC gaming? If so, you might just be who we're looking for. PCGamesN has a new full-time vacancy open for a UK-based news writer.
This position is available remotely, though we'll need you to head into our swanky new-look office in Bath from time to time - we promise it's worth the trip and to pay your travel expenses if you're a remote worker. It's also worth mentioning that the working pattern is weekends, plus three weekdays of your choosing.
You'll have a nose for finding exciting stories in everything, from press releases, to Reddit threads, to livestreams, and the ability to distil them into punchy headlines. You'll be able to write authoritatively on games across all genres, whether it's the latest triple-A shooter, a retro favourite, an indie breakout hit, or anything in between, and you'll be confident covering the wider industry topics behind them. You'll have the drive to dig for scoops, chase leads, and break stories alongside daily 'reactive' news. You'll be willing to work occasional, exceptional hours to cover major events, such as The Game Awards and similar livestreamed showcases.
---
PCGamesN Thursday, April 14, 2022 10:51 AM
Most gamers expect the AMD Radeon RX 6950 XT price to be high, but it could cost as much as an entire gaming PC. AMD has yet to announce its new flagship graphics card and its official price point, but leaked listings from online storefronts are sure to have your eyes watering and your bank account pleading for mercy.
Twitter user momomo_us discovered two Australian stores that have set the AMD Radeon RX 6950 XT price between $3,242-$3,320 AUD, which is around $2,409-$2,467 USD. This would make AMD's next best graphics card cost more than the Nvidia GeForce RTX 3090 Ti, which carries an whopping premium of $1,999 USD.
However, these listings only give us a general idea of what the AMD Radeon RX 6950 XT price will be, for a couple of reasons. Firstly, these aren't reference cards and GPUs manufactured by board partners like these Gigabyte ones typically carry a higher price point. We also still don't know what MSRP AMD plans to set for these cards in the US or anywhere else, and running these listings through an exchange rate calculator only provides an estimation.
Zen 4 CPUs - everything we know
,
RDNA 3 GPUs - everything we know
,
Best gaming CPU
---
PCGamesN Thursday, April 14, 2022 10:47 AM
Trying to find the best assault rifle in Warzone Pacific? The assault rifle is the weapon type with the most variation between each gun. You've got fast-firing, highly mobile assault rifles like the Volk, to hard-hitting battle rifles like the NZ-41. To make things even more complicated, the gunsmith gives players the ability to equip up to ten weapon attachments, introducing hundreds of ways to build the best Warzone Pacific loadouts.
When you throw the weapons from Black Ops Cold War and Modern Warfare into the mix, it can be difficult to choose the best assault rifle in Warzone given the sheer amount of options. We've already broken down the best SMG in Warzone and the best sniper in Warzone, so it's time to run through arguably the most widely used weapon type in Call of Duty's battle royale.
Warzone Pacific Season 2 Reloaded has drastically altered the battle royale game by merging the Vanguard Royale and Battle Royale playlists into one. This means you can bring your favourite classic guns with you as you soar through the skies in Caldera. Join us as we rank all of the best assault rifles in Warzone Pacific, starting with the pinnacle of the weapon type and working down to the weakest choice.
---
PCGamesN Thursday, April 14, 2022 10:44 AM
Thursday is here once again, and with it comes the GTA Online weekly update. The full notes will be due on the Newswire in a bit courtesy of Rockstar Games, but the details on the best ways to spend your time in Los Santos during this week's update are available now. It looks like VIP escort missions are the order of the day.
First up is triple the in-game cash and reputation points on the extraction adversary mode, first introduced in 2015's Executives and Criminals update. One team of players acting as bodyguards must protect a player-controlled VIP as they race to an evacuation point while avoiding the opposing hit squad of players.
There's also double in-game cash and reputation points to be earned from special vehicle work missions, which see players escorting some of GTA Online's more unique vehicles to designated safe zones. In addition to these reward boosts, any bunker research undertaken this week will progress at double the usual speed, making it a great time to get some of those weapon and vehicle mods unlocked.
GTA 5 mods
,
GTA 6
,
Buy GTA V
---
PCGamesN Thursday, April 14, 2022 12:35 PM
What is the GTA podium car this week? GTA Online vehicles are expensive things, so we're happy to take a spin on the Diamond Casino's Lucky Wheel to get a discount. Winning isn't guaranteed, sure, but it isn't out of the question either. Look, we don't have a problem - leave it alone.
Finding out what the GTA Online podium car is simple enough - it's winning it that's the challenge. You can spin the Diamond Casino's Lucky Wheel once a day, and each Podium Car refreshes after seven days on a Thursday. Basically, you have seven shots to get the vehicle of that given week. If you own a Penthouse, you can spin it for free, but if you don't it's $500 a spin. Don't fret if you don't win, as you can try for something else.
You have a one in 20 chance of getting the podium vehicle, a car discount, or a mystery prize. There's a four in 20 chance of getting clothes, chips, and cash. Finally, there's a five in 20 chance of getting RP. On that note, here's everything you need to know about this week's GTA podium car.
GTA 5 mods
,
GTA 6
,
Buy GTA V
---
PCGamesN Thursday, April 14, 2022 12:40 PM
Want to know about the GTA Online Prize Ride challenge? The Los Santos Tuners update introduced plenty of new content, all focused on the city's underground tuner scene. There's a new 'social space', called the LS Car Meet, where you can show off your souped-up cars, race with fellow gearheads, and take on jobs - here's how to join the LS Car Meet in the Los Santos Tuners update.
If you want to know what the GTA Prize Ride reward is, there are some other things you need to know first. Throughout your time spent in the Car Meet, you can level up your reputation and unlock new benefits as you progress. There's also a huge Test Track inside the warehouse, where you can try out Test Rides - a great opportunity to take different vehicles for a spin.
Becoming an LS Car Meet member sets you back $50,000 in-game bucks, but it grants you access to a bunch of underground shops - the Merch Shop, Tattoo Shop, and a Modding Area where you can tweak your car in real time. At higher levels, you can create your own customised area in the Car Meet, called a Private Takeover. LS Car Meet members can also compete in Prize Ride challenges, in order to be in with a chance to win a Prize Ride.
GTA 5 mods
,
GTA 6
,
Buy GTA V
---
PCGamesN Thursday, April 14, 2022 10:02 AM
Looking for the best SMGs in Warzone Pacific? Caldera, the new Warzone map, has completely changed the way the battle royale game is played. Compared to Verdansk's large open spaces spread throughout the map, Caldera is much tighter overall, packing each area with unique points of interest to keep things interesting. As a result, long range battles aren't as prevalent, causing weapons like the best assault rifles and SMGs to dominate the meta.
If you're still trying to pick off enemies from a distance using the best snipers, you need to have a reliable secondary weapon like the best SMGs in Warzone Pacific to immediately blast any flankers away. Don't forget to check out our best Warzone loadout guide to see which attachments you need to build these game-breaking setups.
Call of Duty Warzone Pacific Season 2 Reloaded introduces one of the biggest changes we've seen in the game for some time. The devs have merged the Vanguard Royale and Battle Royale playlists together, creating one playlist which includes weapons from Modern Warfare, Black Ops Cold War, and Vanguard. Players now have free reign to pick their favourite weapons through the years instead of picking the newest guns in the game.
---
PCGamesN Thursday, April 14, 2022 10:00 AM
Warhammer 40k: Chaos Gate - Daemonhunters finds the turn-based tactics genre at a weird point in its history. In the time between the original X-COM game back in 1994 and XCOM 2 in 2016, there wasn't that much evolution beyond the graphics and incremental but vital improvements that made the inherent artifice of taking turns to shoot at each other as flowing and naturalistic as possible. Now, another six years on, my hands-on with Warhammer 40,000: Chaos Gate - Daemonhunters shows not only how hard it is to build upon a formula that may well have already been optimised, but also that there's plenty of fun to be had within those familiar trappings.
Daemonhunters is technically a follow-up to 1998's Warhammer 40,000: Chaos Gate - one of the best strategy games to jump on the original X-COM's mechanical bandwagon way back in the day. But even though Daemonhunters' lineage is traceable to the very roots of the genre, this Warhammer 40K game isn't afraid to fool around a bit.
The aesthetic, for instance, follows a recent trend in Warhammer games like Shootas, Blood & Teef and even Total War: Warhammer 3 to imbue the quintessential grimdark setting with a bit of colour. Skies blaze with base reds and neon purples, ice maps have a clean cerulean hue, while the putrid lair of Aeger the Benevolent, a Nurgle warlord, oozes with toxic greens and gut-pinks. And the ruined cathedrals on these battlegrounds still somehow have their boldly coloured stained-glass windows intact at the start of each battle (though you can see to those fairly quickly).
---
PCGamesN Thursday, April 14, 2022 5:23 PM
Ghostlore is a self-stylised 'eastpunk' action-RPG that takes monsters from southeast-Asian folklore and sticks them in a gameplay experience inspired by Diablo 2 and Titan Quest. You've got an item and character customisation system, procedurally generated maps, and nostalgic 2D isometric art. The indie game is launching in Steam Early Access today if that has sold you. If you'd like to know more, though, then stay awhile and listen.
The world takes inspiration from developers Andrew and Adam Teo's home country of Singapore, alongside other neighbouring lands like Malaysia and Indonesia. While it's notable in Ghostlore's architecture, it's especially present in the food, which you can gobble up to boost your stats. The real treat, though, is the demons. The Penanggal, for example, is a monster from Malay folklore that "comprises nothing more than a disembodied head and dangling entrails".
Ghostlore has some excellent build potential, too. You can mix and match abilities from three-out-of-six character classes to create something truly busted. The Adept is your martial artist, the Hashashin is an assassin who relies on speed, and the Sentinel can communicate with animals, to name a few of them.
Upcoming PC Games
,
PC games like Diablo
---
Rock Paper Shotgun Latest Articles Feed Thursday, April 14, 2022 4:37 PM
Cyberpunk 2077's first expansion will arrive in 2023, according to the game's Twitter account. The tweet offers a little more detail after today's CD Projekt Red investor call, in which it was confirmed that development work on the expansion was on the docket for 2022.
---
Rock Paper Shotgun Latest Articles Feed Thursday, April 14, 2022 3:58 PM
Social deduction games are all the rage, but CrimeSight brings a lot of absurd, scifi anime energy to the idea. It's a player-vs-player murder mystery in which a murder is going to take place and players must uncover who-will-dunnit, unto-whom-it-dunn, and work either to prevent the crime or to make sure it takes place. It's out now and there's a launch trailer below.
---
Rock Paper Shotgun Latest Articles Feed Thursday, April 14, 2022 3:34 PM
Upon its initial, half-formed release, eFootball - Konami's renamed successor to PES - quickly became the worst rated game on Steam. It still now has a mere 15% positive reviews. Yet Konami haven't given up and have now released v1.0.0 of the limping kick 'em up, promising a "new gameplay approach."
---
Rock Paper Shotgun Latest Articles Feed Thursday, April 14, 2022 3:30 PM
We've covered quite a few graphics card deals for the UK market over the past couple of weeks, as nature slowly heals, but now it's time for the Americans to have a go. Right now Newegg are offering an EVGA RTX 3080 FTW3 Ultra for $999, a $300 reduction from MSRP.
That's a great deal, with the card costing less than any RTX 3080 I could find on Amazon, and it's from EVGA - widely considered to be among the most-trusted graphics cards brands out there, if not the best.
---
Rock Paper Shotgun Latest Articles Feed Thursday, April 14, 2022 2:31 PM
It's tempting to simply copy-paste the post I wrote last year, as again QuakeCon is going to be an online-only event in 2022. The annual celebration of Bethesda-published games has traditionally taken place in Dallas, but has been forced into cyberspace by Covid-19.
---
Rock Paper Shotgun Latest Articles Feed Thursday, April 14, 2022 1:56 PM
Oh sure, Dark Souls is a challenging game at the start, but at least your characters begin with enough stats to wear their starter outfit. That's not necessarily the case with the official licensed Dark Souls pen & paper RPG, which seems a touch sloppy. Along with giving one class starter gear it won't have the stats use, it has some spells and items which, going by the rules, seem unhelpful at best. The real Dark Souls starts here.
---
Rock Paper Shotgun Latest Articles Feed Thursday, April 14, 2022 1:27 PM
The downwards march in graphics card prices continues - oh, how I've longed to write those words! After posting a deal that had the Nvidia Founders Edition RTX 3080 Ti at its UK RRP of £1049 last week, third-party cards are now reaching the same levels. Right now, you can pick up a beefy KFA2 OC card for the same price, after a £50 discount at Overclockers.
If you'd prefer the better value RTX 3080, then there's also been movement - after appearing for £860 seven days ago, the cheapest card is now this Zotac Trinity OC model for £810. That's still a hefty chunk of change for a graphics card - and above the original RRP of £650 - but it's a damned sight better than the £1000+ these GPUs have retailed at for months.
---
Rock Paper Shotgun Latest Articles Feed Thursday, April 14, 2022 12:00 PM
Early on in my playthrough of CD Projekt Red's 7/10 NFT screensaver Cyberpunk 2077, I realised you could climb washing lines.
I'm a real sucker for verticality, so normally I'd be immediately trying to see how high I could get, but after tentatively scaling a few floors I decided to give the urgent main quest the benefit of the doubt. There would probably just be a disappointing invisible wall anyway. I climbed back down and did my best to engage with the expensive cutscenes filled with proper actors. 50 hours of mediocre Strange Days references later, I had most of the game under my belt and was ready to go searching for something more substantial - to try to find some actual cyberpunk in this retrowave moodboard. I set about pushing Cyberpunk 2077 to the vertical limit.
---
Rock Paper Shotgun Latest Articles Feed Thursday, April 14, 2022 11:11 AM
This week's headline free game on the Epic Games Store is a goodie: XCOM 2. You have one week to grab Firaxis's sequel to their alien-busting turn-based tactics game, the streamlined reboot of ye olde X-COM games. XCOM 2 is a good game, well worth grabbing for free! Also free right now is Insurmountable, a roguelikelike mountaineering game.
---
Rock Paper Shotgun Latest Articles Feed Thursday, April 14, 2022 11:00 AM
This week on The Electronic Wireless Show podcast there was some confusion, because I wanted us to do a part 2 best Easter eggs special, and Nate got confused, so here we are just talking about eggs in games. We also discuss real life eggs i.e. what are the best egg formats? Nate and I are both sad because we consider boiled eggs to be inherently funny but neither of us like eating them.
We also learn that Nate has dismantled his aquarium room (for a good reason) and that Matthew witness a car exploding the other night. Blimey! Plus, stick around for a Cavern Of Egg.
---
Twinfinite Thursday, April 14, 2022 4:30 PM
As a complete newcomer to Elder Scrolls Online, the biggest thing that I appreciated was the fact that I didn't need to have played through any of ESO's previous expansions and get to the right gear level to jump into High Isle. Unlike my main MMO, FFXIV, which demands quite a bit of time and […]
---
Twinfinite Thursday, April 14, 2022 3:19 PM
Ratchet & Clank: Rift Apart and music fans are in for a treat, as it was just announced that an official vinyl soundtrack for the game is now available for pre-order. Broken into two LPs, the upcoming release features 20 songs from the beloved Sony exclusive, all of which are perfect for taking on any […]
---
Twinfinite Thursday, April 14, 2022 2:29 PM
Prepare for a decent fight when facing Sojourn when Overwatch 2 launches. The character seem to wield an assault rifle that can easily fire like a railgun. Within the trailer it looks like a completely deadly one-shot kill. That's going to cause a few headaches for anyone but the most heavy defense characters. It's not […]
---
Twinfinite Thursday, April 14, 2022 1:41 PM
CD Projekt discussed upcoming move to Unreal Engine 5 for the next Witcher game, on top of the next-gen version of The Witcher 3: Wild Hunt.
---
Twinfinite Thursday, April 14, 2022 12:56 PM
During CD Projekt's financial conference call the developer's executives talked about the future of Cyberpunk 2077.
---
Twinfinite Thursday, April 14, 2022 12:48 PM
Today, Netflix revealed four key characters that have officially been cast for season three of The Witcher. The news came by way of a tweet from the Netflix Geeked Twitter account, which revealed that Robbie Amell (Upload), Meng'er Zhang (Shang-Chi and the Legend of the Ten Rings), Hugh Skinner (Fleabag), and Christelle Elwin (Bloods) all landed […]
---
Twinfinite Thursday, April 14, 2022 12:33 PM
Today, Drink Box Studio is celebrating the release of its newest game, Nobody Saves the World, as it releases on Nintendo Switch, PS4, and PS5 for the first time. To go alongside these new console releases, the developers have also released an accolades trailer to get fans hyped. You can check out the newest trailer […]
---
Twinfinite Thursday, April 14, 2022 12:18 PM
Earlier this week, three people were arrested in London for their involvement in creating Club Penguin Rewritten, a fan-made revival of Disney's hit MMO for PC. According to BBC, the arrests were made due to copyright offenses, as the site didn't have permission to run an unofficial version of the game. The suspects have since […]
---
Twinfinite Thursday, April 14, 2022 12:16 PM
CD Projekt published its report about its financial results for the fiscal year 2021, related to the period between April 2021 and March 2022.
---
Twinfinite Thursday, April 14, 2022 11:31 AM
Respawn has just dropped a new trailer announcing the next event in their battle royale. The Apex Legends Unshackled event will be adding plenty of new cosmetics while also bringing back the Flashpoint LTM when itt goes live on Apr. 19. There will be a grand total of 40 event-themed cosmetics that come alongside weekly […]
---
Twinfinite Thursday, April 14, 2022 11:13 AM
Capcom released two new trailers unveiling more gameplay of the "massive" Monster Hunter Rise expansion Sunbreak.
---
Twinfinite Thursday, April 14, 2022 10:59 AM
Epic Games has today announce that the Coachella music and arts festival is coming to Fortnite. The 'crossover' will include an Icon Radio takeover and two waves of cosmetic item drops in the Item Shop. The news comes via the official Fortnite blog, which reveals that the in-game Icon Radio station will air songs from […]
---
Twinfinite Thursday, April 14, 2022 10:41 AM
The popularity of the Steins;Gate series of visual novels is still quite strong, and FREEing made another figure available for pre-order.
---
Twinfinite Thursday, April 14, 2022 10:23 AM
The Mass Effect series is known for having a pretty wide arrange of romance options, especially once you get to the third game and same-sex options become available. Even inter-species alien love is on the table across all three games. Shepard (and Ryder too in Andromeda) is able to get freaky with just about every […]
---
Siliconera Thursday, April 14, 2022 3:00 PM
My interest in Japanese yokai and urban legends began long ago when I first discovered GeGeGe no Kitaro. Anytime I come across a piece of media focusing on the subject, I have to consume it. Which is why Ghostwire: Tokyo was so intriguing for me and struck all the right chords. After 50-something hours exploring every nook and cranny, tracking down every collectible and supernatural entity, there were still things I needed to know. Thankfully, Director Kenji Kimura took the time to answer a few of my burning questions about Ghostwire: Tokyo's otherworldly yokai inhabitants, accessibility, and making use of the DualSense controller.
Annette Polis: Due to the nature of Akito and K.K.'s partnership, players only get enough of each character's backstory to drive this unusual team through the plot. Were there ever plans to expand on their pasts in more detail?
Kenji Kimura: Urban legends in Japan allow for the listener to have their own understandings, their own interpretation of the characters involved, and we wanted to make Ghostwire similar in that way. We intentionally made the game so that it could be enjoyed as it is, without giving a ton of background information for Akito and KK. That said, we are seeing and receiving a lot of feedback from fans who want to know more about Akito and KK, and it would be great if we could find a way to address that feedback in the future.
With so many unique creatures in Japanese folklore and urban legends, was there a particular reason why most of the Visitors encountered during exploration were humanoid characters, while yokai were reserved for other types of interaction?
Kimura: In general, the Visitors are inspired by Japanese urban legends and folklore. Urban legends in Japan tend to not be about monsters that jump out to attack you. They are more about something moving subtly in the darkness, and you approach it to find out that there is something there, something familiar, but with a kind of unnaturalness, a spookiness, about them because they are unordinary but lurking within an ordinary setting or scenery. We wanted the game to give players a similar feeling and so we opted to make the visitors generally more humanoid in form. On the other hand, yokais are something we grew up with in Japan, seeing and learning about them in manga, anime and books, or hearing about them in stories to explain natural phenomena. So we wanted to respect their image but at the same time, update their image a bit to fit the world of Ghostwire.
Which yokai did you prioritize including in Ghostwire: Tokyo as characters? How did you work and write around them to ensure they'd be a good fit?
Kimura: We started off by picking up the more famous ones. The first one we started with was the Kappa, because we felt it was the most famous. There's even a novel by Ryunosuke Akutagawa titled "Kappa," and the content of that novel was close to what we had in mind for Akito's experience. In the book, a man chases after a Kappa and ends up wandering into another world where values are quite different from the human world. Players will also be able to find that novel in the game's archive menu.
The way Ghostwire: Tokyo takes advantage of the DualSense controller is just amazing. From the variations in rumble and the ways in which the audio coming from the speaker immerses you, making it really feel as though KK is an entity surrounding you. Was utilizing everything with the DualSense controller part of the original design process or something added into the game later in development?
Kimura: It was added during the development of the game, towards the middle of development. We had already been working on creating KK, the combat with ethereal weaving shots and core grabbing mechanics before the game became a PS5 exclusive. After we started experimenting with the dev kits and the early version of the DualSense controller, we were amazed by how great of a fit the DualSense controller functionality was for the game experience we were trying to make. From there, we really focused on making it a great, immersive experience with the DualSense controller.
I noticed that Ghostwire: Tokyo offers accessibility options to change fonts, color balance for color blindness, and adjust motion blur. How important was it to the team to incorporate these accessibility functions?
Kimura: We wanted to make the game enjoyable by a wide audience, as wide of an audience as we could, so that more and more gamers could have fun in the paranormal Tokyo that we created. But it was just as important and high of a priority to make other parts of the game accessible. We also had members of the team who were slightly color blind and others who were prone to feel camera dizziness/sickness. With the help and support from the team and the folks at Microsoft, we were able to find a way to implement those key functions.
Part of the design process means things are inevitably cut either because they just don't seem to fit or there isn't enough time to implement them. Was there anything the team really wanted to see in the game that didn't make the final cut? And is there any chance we could see future DLC bring that into Ghostwire: Tokyo?
Kimura: During development, one must take into consideration the quality of experience that is desired along with the amount of time available to create that experience. There's times where pivoting or changing direction are necessary, but for release of this game, as a developer, I am very pleased with what we were able to create. I feel like we did the best we could, and there isn't anything I can think of right now that I would consider as something I regret not making in the final cut. I do hear voices from the community though saying that we want to know more about the characters. I think it would be great if we could do something that would give a deeper view into the characters' backgrounds in the future.
Ghostwire: Tokyo is available now for the PlayStation 5 and PC.
The post Interview: Ghostwire: Tokyo Director Talks Yokai, Urban Legends appeared first on Siliconera.
---
Siliconera Thursday, April 14, 2022 1:00 PM
A special Digimon Adventure Greymon & Taichi "Tai" Kamiya figure is coming back. MegaHouse announced the return of a G.E.M. series figure. People will be able to get it again in November 2022. That's the Japanese release window, with other retailers like Big Bad Toy Store, Galactic Toys and Crunchyroll estimating an arrival between April 2023 and June 2023.
The Digimon Adventure Greymon and Tai figure was first created as a 10th anniversary piece of merchandise. It showed up in Japan in July 2017. At the time, it only cost ¥11,000 (~$87). The rereleased version will be more expensive. The official MegaHouse site offered a ¥13,200 (~$105) price tag.
Cost aside, the re-released version of Greymon and Tai will be identical to the original. Both are almost 10 inches tall. Each one features Tai riding on the back of Greymon's neck, pointing at where he'd like him to go.
Here's a closer look at the figure. In one picture, someone is holding it to provide a better sense of scale.
[gallery columns="7" ids="924173,924174,924175,924176,924177,924178,924179" link="file"]
People who want to watch Digimon Adventure will have a new option in 2022. Discotek announced it will release season 1 of Digimon: Digital Monsters on Blu-ray. This will be a remastered release.
The Digimon Adventure Greymon & Taichi Kamiya figure will appear in Japan in November 2022.
The post Digimon Adventure Greymon & Taichi Figure Will Be Back in November appeared first on Siliconera.
---
Siliconera Thursday, April 14, 2022 12:30 PM
Prototype released a new Switch otome visual novel in English. People can now find Taisho x Alice All in One on the eShop in North America and Europe. People can pick up the game for £48.59/$53.99. However, if someone wants to play Taisho x Alice in English on the Switch, they either need to buy the £4.49/$4.99 DLC or £49.49/$54.99 bundle. The PC versions of this otome game's episodes include the English, Japanese, and Simplified Chinese language options with a purchase.
Here's a photo of the UK eShop. Only the Japanese script is available in the 3.2 GB base game. To get the English Taisho x Alice All in One Switch localization, you need to purchase the additional 529 MB DLC and download it.

Here's the launch trailer for Taisho x Alice All in One English.

Taisho x Alice is an otome game in which iconic fairytale heroines and princesses are now heroes and princes for the player to romance. The game consists of three episodes and an epilogue. Episode 1 features Cinderella and Red Riding Hood. Episode 2 stars Kaguya and Gretel. You romance Snow White and The Wizard in the third episode. Alice's story is told in the epilogue. Each one only features Japanese voice acting. (Buying the English DLC only changes the text's language.)
Taisho x Alice All in One is now available on the Nintendo Switch in Japan, North America, and Europe. The full bundle is available for $62.96 for PCs on Steam.
The post Taisho x Alice All in One Switch Version's English Text Sold as DLC appeared first on Siliconera.
---
Siliconera Thursday, April 14, 2022 12:00 PM
There are three new Monster Hunter Rise Sunbreak videos looking at the Citadel region, the Garangolm monster that lives there, and your hunter's room in the new hub area. Each one offers a look around environments and ideas of what to expect.
First, here's the Monster Hunter Rise Sunbreak Citadel. The announcement said hunters will head here to complete Master Rank quests. It is so named for the ruins there. While the castle is the main point of interest and is in a more typical woodland area, there are also swamps and tundra areas here.

Next, there's the Monster Hunter Rise Sunbreak Garangolm hunt video. This is a fanged beast whose parts can be used to craft new Hunter, Palamute, and Palico equipment. People will find it in the Citadel. It shows both its standard attacks and how it will behave when it is enraged.

Finally, there is a brief video showing what your character's room in the hub will look like in Monster Hunter Rise Sunbreak. It shows that players will be "living" on the ship. People can see a Palico assistant sitting there, as well as places to relax and access their storage.
Why live in a house... when you can live in a houseboat? #Sunbreak pic.twitter.com/V8okKJO1kl

— Monster Hunter (@monsterhunter) April 14, 2022
Monster Hunter Rise is available for the Nintendo Switch and PC, and the Sunbreak expansion will arrive on June 30, 2022.
The post Capcom Shows Monster Hunter Rise Sunbreak's Citadel, Garangolm, and Your Room appeared first on Siliconera.
---
Siliconera Thursday, April 14, 2022 11:30 AM
Now that the Garo event is back in FFXIV, Square Enix went over where to go to get gear, mounts, and titles. People's first step is to earn Wolf Marks from PVP. After people use that to get full sets of gear, they can work on getting titles and mounts.
First, the FFXIV Garo gear, mounts, and titles are all inspired by the series. The Dancer, Gunbreaker, Reaper, and Sage all get their own armor sets. These might look familiar though. Dancers wear the Makai Marksman or Markswoman suits. The Sages can wear the Makai Moon Guide and Makai Sun Guide sets. While the Gunbreaker and Reaper equipment sets are newly added, they all appear to be based on existing ones.
If someone wants to get FFXIV Garo gear, there are two ways. One is to take the Wolf Marks to the Wolves' Den Pier's Disreputable Priest. She will give you an accessory for 1,000 WM, equipment for your character's head, hands, or feet for 2,000 WM, and will take 4,000 WM for chest or leg gear or a weapon. Note that you can't get Dancer, Gunbreaker, Reaper, or Sage Garo weapons. If you get a full set and wear it, then talk to her at (X:5.0 Y:5.3), she will give you a title. People can also spend Manderville Gold Saucer Points to get items. The Gold Saucer Attendant will let you exchange for Garo-inspired gear that can't be dyed or used to get the titles. The attendant is at (X:5.4 Y:6.6).
Finally, you can get the FFXIV Garo event mounts from Old Gridania's Jonathas. For each one, you need to get a Garo title and equip it first. Then, you need to take part in PVP matches in modes like Crystalline Conflict, The Feast, Frontline, and Rival Wings. The easiest one to get is Ginga. It is tied to the Frontline Fury one earned from 10 Frontline or Rival Wings wins. If you are on the winning side of 30 Crystalline Conflict or Feast matches, you get Fame Fatale and Goten. Finally, there's Raigo. You need to win 60 matches in any of the four modes to get Furious Fatalities and it. You can pick up your pipes at (X:10 Y:6) when you achieve any of those goals.
Final Fantasy XIV is available for the PS4, PS5, and PC, and the Garo event is once again live in-game.
The post Here's Where to Get FFXIV Garo Event Gear, Mounts, and Titles appeared first on Siliconera.
---
Siliconera Thursday, April 14, 2022 11:00 AM
Omega Rugal is now in KOF XV and a free addition to the cast, and there are more details about his new moves. On the official SNK Twitter account, commentary from Game Director Kaito Soranaka appeared. It specifically went over the character's Vanishing Rush, Violent Ray, and Desperate Ray attacks.
First, there's Vanishing Rush. Which is also referred to as Banishing Rush in the official commentary. That's a former boss attack that has light, heavy, and EX versions. Each one behaves differently. The light and EX versions both can be used for combos, with the latter connecting after a strong attack. With the heavy version is designed "to continue pressure".
Violent Ray is a projectile Special move. In the commentary about the three new KOF XV Omega Rugal moves, it is described as a possible aerial counter.
Desperate Ray is Omega Rugal's Super Special. Like Violent Ray, it is a ranged attack. However, it is an actual beam attack. The director's commentary suggested using it in conjunction with Violent Ray.
In addition to details about Omega Rugal's KOF XV moves, there's a new video. It leads up to him taunting an unseen foe.
【KOF XV】
Check out OMEGA RUGAL's idle pose and taunt!#KOF #KOF15 pic.twitter.com/JCHYS8x5fi

— SNK GLOBAL (@SNKPofficial) April 14, 2022
The King of Fighters XV and its update with Omega Rugal are available for the PS4, PS5, Xbox Series X, and PC.
The post KOF XV Game Director Discussed Omega Rugal's New Moves appeared first on Siliconera.
---
Siliconera Thursday, April 14, 2022 10:30 AM
Atlus announced that there will be a 13 Sentinels: Aegis Rim art exhibit held at Los Angeles' Gallery Nucleus to celebrate the Switch launch. It will only appear for two days. People in the area can attend for free between 5 p.m. and 8 p.m. PT each day. They can register their interest in attending on Eventbrite. However, there will also be a live stream with a giveaway at 6 p.m. PT/9 p.m. ET on April 15, 2022.
The live stream is something of a general 13 Sentinels: Aegis Rim Switch launch celebration. It will appear on Atlus' Twitch account. An unspecified voice actor from the game will show up for the presentation. There will also be 13 OLED Switch models given away. People will also get to see the 13 new pieces of 13 Sentinels: Aegis Rim art drawn by artists for the exhibition. Prints of them will be sold at the exhibit and, if supplies remain, online starting on April 18, 2022. Gallery Nucleus also noted that there is an "edition size of 13" for each one.
Here is the full list of artists whose works will appear in the exhibit and be available as prints.
Airi Pan
Alex Ahad
Alex Dos Diaz
Anna Cattish
Arthur Tang
Ava An
Bannister
Emely Pascual
Eirk Ly
Genice Chan
Konstantin Tarasov
Michelle Wong
Toni Infante
This is the second time Atlus and Gallery Nucleus hosted a 13 Sentinels: Aegis Rim art exhibit and event. One appeared for the PS4 release as well. At that time, only an online show appeared. However, there were still original pieces of art inspired by the game and prints sold.
There is also an exhibit in Japan in honor of the game. At JR Akihabara Station, people can see a Sentinel scale statue.
13 Sentinels: Aegis Rim is available on the Nintendo Switch and PlayStation 4.
The post 13 Sentinels: Aegis Rim Art Exhibit Opens in LA for Its Switch Launch appeared first on Siliconera.
---
Siliconera Thursday, April 14, 2022 10:00 AM
More than ten years after his debut in Persona 3, Good Smile Company announced a Nendoroid of the Protagonist is available to pre-order. In addition to optional parts, such as an Evoker, the box also has a Dark Hour motif inside. Pre-orders are open until June 2, 2022. He will ship out in October 2022 for those in Japan and December 2022 for those in North America. He will cost 6,100 JPY/$55.99.
Aside from the aforementioned Evoker, the Nendoroid also comes with an arcana card and a katana. These are all items that are common motifs and items in the game. In addition, the Yu Narukami Nendoroid also has him holding these items. (Yu Narukami was the anime and spin-off game name for the Persona 4 Protagonist. The Persona 3 hero is known as Makoto Yuki in other media.) While most Nendoroids have three face plates, the Persona 3 Protagonist only comes with two. He has a standard expression and one with him looking to the side.
Here are some more pictures of him:
[gallery columns="5" ids="924147,924146,924145,924143,924142" link="file"]
Good Smile Company first announced Nendoroids of characters from Persona 2 and Persona 3 during WonHobby 35 back in February 2022. During the event, Good Smile Company showed off unpainted prototypes of Tatsuya Suou and Maya Amano from Persona 2. The Nendoroids of the two will appear in the near future.
The Persona 3 Protagonist Nendoroid will come out in October 2022 in Japan and December 2022 in North America. Pre-orders will close on June 2, 2022.
The post Persona 3 Protagonist Nendoroid Comes With Evoker appeared first on Siliconera.
---
Destructoid Thursday, April 14, 2022 5:30 PM
---
Destructoid Thursday, April 14, 2022 5:15 PM
---
Destructoid Thursday, April 14, 2022 5:00 PM
---
Destructoid Thursday, April 14, 2022 4:30 PM
---
Destructoid Thursday, April 14, 2022 4:00 PM
---
Destructoid Thursday, April 14, 2022 3:30 PM
---
Destructoid Thursday, April 14, 2022 3:00 PM
---
Destructoid Thursday, April 14, 2022 2:30 PM
---
Destructoid Thursday, April 14, 2022 2:00 PM
---
Destructoid Thursday, April 14, 2022 1:00 PM
---
Destructoid Thursday, April 14, 2022 1:00 PM
---
Destructoid Thursday, April 14, 2022 12:45 PM
---
Destructoid Thursday, April 14, 2022 12:30 PM
---
Destructoid Thursday, April 14, 2022 12:00 PM
---
Destructoid Thursday, April 14, 2022 11:30 AM
---
Destructoid Thursday, April 14, 2022 10:00 AM
---
PC Invasion - FeedDDD Thursday, April 14, 2022 5:30 PM
Overwatch 2 is pushing the gas on news after an extended period of silence and lack of information. We got some background information on Sojourn just the other day, previewing her origins and giving us a glimpse at the identity of Vivian Chase. Now, we have a full gameplay trailer for Sojourn, which shows off her combat abilities in Overwatch 2. She slips and slides while shooting her cybernetic gun in the trailer, and it's a sign that Overwatch is truly coming back. Sojourn is a skilled gunslinger, shooting off bullets bringing her foes down. Her weapon is somewhat reminiscent of Soldier 76's gun. The most exciting thing about Sojourn is her new slide ability, which gives her tons of movement in a way we haven't really seen in Overwatch before, bringing her some evasiveness and power. The trailer shows her sliding underneath a Genji as he uses his ultimate ability in a very cool evasive action. A brand new Overwatch hero The hero brimming with "Canadi...
---
PC Invasion - FeedDDD Thursday, April 14, 2022 5:30 PM
Reviews and impressions are in for the Ryzen 7 5800X3D from AMD and the immediate feedback seems to be pretty impressive. Suffice to say, the new 3D V-Cache technology featured in the AMD Ryzen 5800X3D looks like a big win for gaming performance. Intel has been giving AMD serious competition again since the release of its Alder Lake processors. Intel's Core i9-12900K is an especially big powerhouse when it comes to performance. Then there's the more recent release of the Core i9-12900KS which boasts a 5.5 GHz boost clock. Of course, this CPU is also very expensive with an MSRP of $739 USD (originally priced at $800 USD until recently). Now though, according to some reviews, the 5800X3D may have helped AMD reclaim the gaming crown. Impressive gaming performance from AMD's newest CPU The Ryzen 7 5800X3D's strongest aspect is its performance in gaming. And it's important to note that you should place extra emphasis on the word gaming here. As expected,...
---
PC Invasion - FeedDDD Thursday, April 14, 2022 4:30 PM
In games, there are few things more cathartic than taking something imposing and smashing it to pieces. Perhaps the opposite of survival games such as Minecraft, "destruct 'em ups" exist to let us do a bit of rewinding. In this day and age, we can all enjoy a moment of tearing shit apart for fun. Hardspace: Shipbreaker fits that kind of mold, and it'll let you rip massive space vessels to bits when it hits PC and Game Pass on its May 24 launch date. The crux of Hardspace: Shipbreaker is, basically, as mentioned. Your job is to salvage derelict spaceships in zero-g. Armed with specialized tools, you peel away armor plating piece by piece, all the while minding dangers such as explosive decompression. And maybe some explosions. Either way, it's one way to get paid. Plus, it's fairly relaxing — save for the decompression. Taking apart ships in Hardspace: Shipbreaker is much like puzzle solving. You approach the procedurally generated ship...
---
PC Invasion - FeedDDD Thursday, April 14, 2022 4:00 PM
As games like Coffee Talk have proven, recreating a cafe atmosphere in a video game can make for an exceptionally comfy experience. But some may argue that when it comes to comfiness, cafes simply cannot compare to the sheer therapeutic power of cats. So what happens if you put cats and cafes together? Well, obviously you get cat cafes, but you also get Cat Cafe Manager, a new "restaurant management and feline adoption simulator" that cranks up the comfiness levels. Fortunately, Cat Cafe Manager just dropped today on PC, so those looking for an excuse to just chill out and vibe can immediately jump in. In Cat Cafe Manager, you reside in Caterwaul Village, a welcoming, wholesome community that boasts its own family business in the form of Granny's cafe. This business plans to hold a grand reopening, and you just so happen to serve as a perfect candidate for the job. To succeed, you need to cook up irresistible meals, familiarize yourself with the village's re...
---
PC Invasion - FeedDDD Thursday, April 14, 2022 2:45 PM
On the day developer CD Projekt Red revealed the next game in The Witcher saga, it also reminded us that, yep, Cyberpunk 2077 still has an expansion coming. The company likely had to pivot hard following Cyberpunk's release, sweeping up bugs and basically fixing a pretty broken game. However, work on the game's first story DLC continues. In an earnings report today, the company claimed that the Cyberpunk 2077 chapter will release next year. As reported by IGN, several "agile teams" are on station to get the expansion out the door. The creation of said teams was a result of the troubled development behind the game, CDPR President Adam Kicinski said. That's not all too surprising. The developer went under heavy crunch to get Cyberpunk 2077 shipped, so it makes sense that it would desire a change before the release of the expansion. Let's hope that's the reason. Kicinski reiterated in the call that the company is approaching the upcoming DL...
---
Tabletop Gaming News Thursday, April 14, 2022 5:00 PM
---
Tabletop Gaming News Thursday, April 14, 2022 4:00 PM
---
Tabletop Gaming News Thursday, April 14, 2022 3:00 PM
---
Tabletop Gaming News Thursday, April 14, 2022 2:00 PM
---
Tabletop Gaming News Thursday, April 14, 2022 1:00 PM
---
Tabletop Gaming News Thursday, April 14, 2022 12:00 PM
---
Tabletop Gaming News Thursday, April 14, 2022 11:00 AM
---
Player Assist | Game Guides & Walkthroughs Thursday, April 14, 2022 4:39 PM
One of the Shrines in The Legend of Zelda: Breath of the Wild is the Namika Ozz Shrine or A Modest Test of Strength. As the shrine's title suggests, this shrine requires Link to prove his strength by defeating a Guardian Scout and completing the shrine. This shrine may seem intimidating, but it is fairly […]
---
Player Assist | Game Guides & Walkthroughs Thursday, April 14, 2022 3:00 PM
League of Legends matches can be a real rollercoaster. Winning or losing mostly comes down to your team's skill, but your champions can also determine the outcome. Different patches buff certain characters and nerf other ones, meaning that not all of them will perform the same in any given lane. Naturally, you want to pick […]
---
Player Assist | Game Guides & Walkthroughs Thursday, April 14, 2022 2:00 PM
Some players might consider CS: GO replay controls a bit outdated, though they are still popular among numerous others. That is no wonder, as the replay menu lets players analyze their performance, re-watch old matches, and create video highlights of them. If you are wondering how to enable and use the CS: GO replay menu, […]
---
Player Assist | Game Guides & Walkthroughs Thursday, April 14, 2022 1:00 PM
Building a farm in Minecraft is an excellent way for players to gather needed resources quickly and efficiently. This enables players to obtain specifically targeted resources and items quickly in the game that otherwise would not be obtainable through normal means. And while farms often require a bit of effort and materials to build and […]
---
Player Assist | Game Guides & Walkthroughs Thursday, April 14, 2022 12:07 PM
One of the Shrines in The Legend of Zelda: Breath of the Wild is the Zalta Wa Shrine, or the Two Orbs Guide You. As the title of the shrine suggests, this shrine requires Link to put two glowing orbs into their respective orb sockets to reach the altar and complete the shrine. This shrine […]
---
Pivotal Gamers Thursday, April 14, 2022 1:56 PM
Hello fellow gamers. We have another excellent offer from MMOBomb for Dragon Raja. Let's hear them out. Archosaur Games and MMOBomb have partnered up to score YOU a special pack key with several in-game items for Dragon Raja (Including PC version and Mobile version). A few words about Dragon Raja A high-quality MMORPG with over 35 million registered players! A global hit you should not miss!...
---
GameDom Thursday, April 14, 2022 11:29 AM
The Minstrel's Ballad: Endsinger's Aria, one of the newest extreme trials in Final Fantasy XIV, has a complete list of weapons for every job. While the encounter is not an easy one in FFXIV, the Endsinger Extreme weapons list is not one to ignore. While the Endsinger Extreme weapons are not the best in the...
The post FFXIV Endsinger Extreme Weapons appeared first on GameDom.
---
Level Up Thursday, April 14, 2022 1:45 PM
Lost Ark has a handful of subclasses that didn't make it over from the Korean version…
---
Level Up Thursday, April 14, 2022 12:50 PM
South of the Circle is a newly announced narrative adventure centered on survival and romance…
---
Level Up Thursday, April 14, 2022 12:04 PM
Fireline Games has announced Fueled Up, its new four-player couch co-op game that looks like…
---
Level Up Thursday, April 14, 2022 11:39 AM
If you're excited about the new Saints Row, which was delayed last year to its new…
---
Level Up Thursday, April 14, 2022 10:47 AM
EA announced that it was working on a Dead Space remake back in 2021, sharing…
---
Gaming on PC Thursday, April 14, 2022 1:57 PM
Stunlock Studios revealed today that V Rising will bring its open world vampire survival action to Steam Early Access on May 17th. More details after the jump.