---
Kotaku Wednesday, June 29, 2022 3:35 PM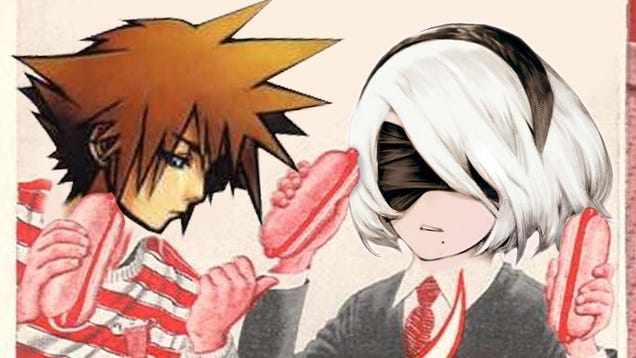 Following Nintendo's announcement that PlatinumGames' cult-favorite action-RPG Nier: Automata is coming to the Switch later this year, some gamers are demanding that Square Enix make native ports for the Kingdom Hearts games as well.
---
Kotaku Wednesday, June 29, 2022 2:00 PM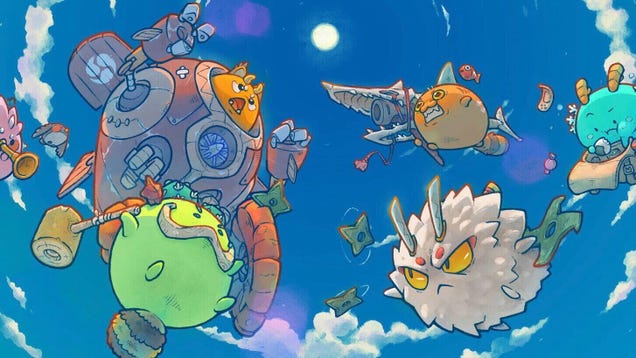 Axie Infinity, the play-to-earn, decidedly exploitative, crypto Neopets, has reopened its proprietary Ronin blockchain bridge after unintentionally exposing its users to a $600 million hack in March.

---
Kotaku Wednesday, June 29, 2022 1:05 PM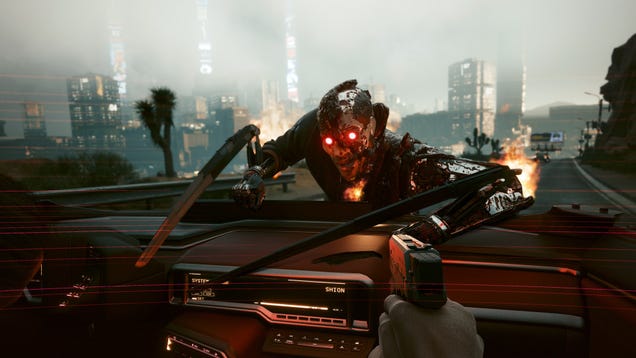 Cyberpunk 2077 will always be a cautionary tale of how not to make and release a game. It was notoriously marred by technical bugs and developmental woes and now, according to a new report from YouTuber Upper Echelon Gamers, a QA firm allegedly misled CD Projekt Red during the game's development. But in response, the…
---
Kotaku Wednesday, June 29, 2022 12:45 PM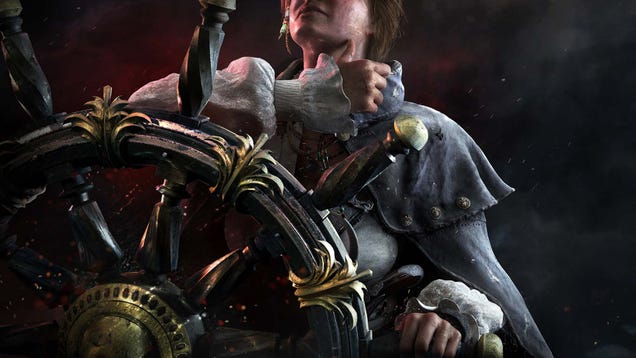 Thanks to some internet sleuthing, it seems the release date for Ubisoft's upcoming pirate game, Skull And Bones, has leaked online. According to data found on the Xbox store, the game is set to release this November, which lines up with information Kotaku has heard about the game's rocky development.
---
Kotaku Wednesday, June 29, 2022 11:50 AM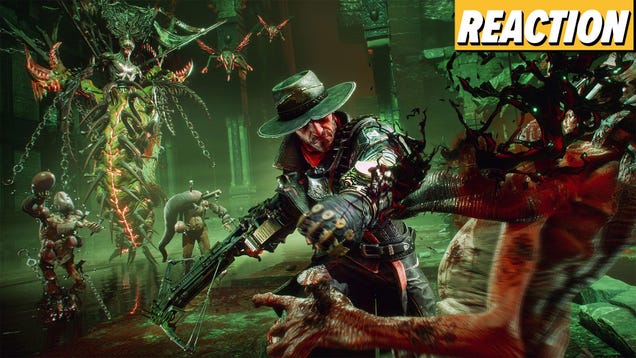 ---
Kotaku Wednesday, June 29, 2022 11:25 AM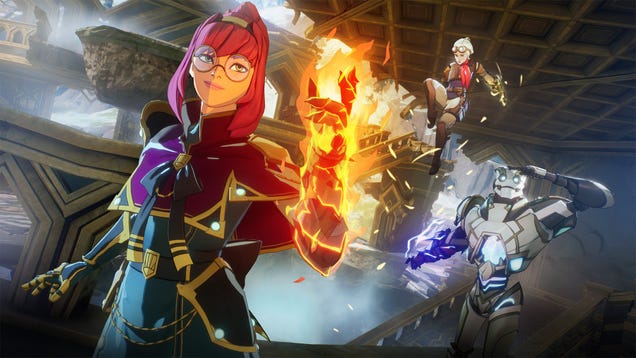 Spellbreak, the magic-based battle royale, is spellbroken, shutting down early next year, developer Proletariat announced in a blog post. Also, the whole studio is getting absorbed by Blizzard, the result of a recent acquisition intended to beef up development on World of Warcraft.

---
PCGamesN Wednesday, June 29, 2022 3:29 PM
Everyone loves Diablo 2's Horadric cube, the classic RPG game's evil transmogrification box. Diablo 2 Resurrected patch 2.4.3 makes it easier for both players and Deckard Cain himself to use the Horadric cube, and adds some nice quality of life updates to the matchmaking menu as well.
If you're playing Diablo 2: Resurrected on mouse and keyboard, the new update adds an option to bind a hotkey that opens your Horadric cube (assuming you have one in your inventory). For players using the newer gamepad control scheme, Blizzard has added a new controller skill called 'Loot to Cube" - using this picks up an item and places it directly into your Horadric cube.
Diablo 2: Resurrected review
,
The best RPG games
,
The best Diablo 2 Resurrected classes
---
PCGamesN Wednesday, June 29, 2022 3:08 PM
The Lost Ark update for June is finally set to go live June 30, and Amazon Game Studios made some welcome announcements in the update patch notes. Along with the features we already expected, including the Vykas Raid, the Kungelanium Guardian, and Thronespire single-player activity, Amazon and Smilegate are adding a couple of bot prevention measures to the MMO game in a bid to help address what the community considers one of the game's biggest problems.
Best MMORPG – top MMOs you should play
,
Best Lost Ark Glaivier builds for PvP and PvE
,
Best fantasy games on PC
---
PCGamesN Wednesday, June 29, 2022 1:47 PM
Back 4 Blood, the spiritual successor to the beloved Left 4 Dead zombie co-op games, is adding a new threat to its post-apocalyptic American landscape: bear traps. These will work the way you expect them to - they lock a target in place, and hurt a lot. But for the moment, Turtle Rock is being a bit cagey about who can get caught in them.
Turtle Rock announced the coming bear traps in a tweet, which included a suggestive caption: "I mean, if it's only for bears, we should be fine, right? ...Right?" This of course means that we will emphatically not be fine, which in turn suggests that these bear traps will likely be hazards that cleaners will have to look out for too.
Back 4 Blood review
,
The best co-op games on PC in 2021
,
The best zombie games on PC in 2021
---
PCGamesN Wednesday, June 29, 2022 12:54 PM
Ethiopia wasn't one of the major players in World War II, but it's a country just about every Hearts of Iron IV player has encountered - it's primary role in the grand strategy game to date has been to serve as a tutorial punching bag for Italy, which can force a white peace capitulation in a matter of weeks. However, Ethiopia will be getting its own focus tree and other enhancements in Hearts of Iron IV's upcoming By Blood Alone DLC, and the goals will be survival and modernisation.
In the latest Hearts of Iron IV dev diary, Paradox content designer wrongwraith explains some of the reasoning that underpins the Ethiopia rework. It's a tricky task: the team wants to make Ethiopia a unique playthrough, but the nation starts in 1935 in the midst of a war that it historically lost.
The best Hearts of Iron 4 mods
,
Hearts of Iron 4 DLC guide
,
The best grand strategy games on PC
---
PCGamesN Wednesday, June 29, 2022 12:33 PM
The League of Legends patch 12.13 notes are now available for the live update. Following the extensive LoL patch 12.12, thanks to the new update we now know what Riot Games is bringing to its popular MOBA game next – and it's got some stellar new skins and a lot of champion changes.
It seems Riot wasn't content with nerfing new champion Bel'Veth, the Empress of the Void in patch 12.12, now 12.13 is starting to go through the PBE patch cycle and it's already host to some big champion changes - such as a big range of buffs for Gwen and Katarina. There's undoubtedly more to come before the patch releases properly in mid-July.
While 12.12 went for some ice-themed skins, 12.13 is reaching for the stars instead. The new Star Guardian forms for Kai'Sa, Nilah, and Ekko are coming in the next patch - including an alternate Prestige version for Ekko.
Best LoL Champions
,
League of Legends patch 12.12 notes
,
LoL tier list
---
PCGamesN Wednesday, June 29, 2022 12:24 PM
Red Dead Redemption has the horses, the guns, the action, but if you're wandering through a deserted patch of frontier, and you feel it could use a saloon or two, there isn't much you can do. Likewise, Cities: Skylines lets you craft the ideal, bustling metropolis, but if you're citizens are getting on your nerves, it's not like you can grab a Winchester rifle and just, you know, shoot them.
---
PCGamesN Wednesday, June 29, 2022 12:34 PM
Few companies are going as hard in the handheld gaming PC market as Ayaneo, which has now revealed its seventh portable of the year. The Ayaneo Next 2 aims to be the first of its kind to sport a discrete graphics card under the hood rather than relying on the integrated GPU inside an APU. You might also notice a familiar-looking, Steam Deck inspired set of trackpads, too.
Best SSD for gaming
,
How to build a gaming PC
,
Best gaming CPU
---
PCGamesN Wednesday, June 29, 2022 11:32 AM
Looking to defeat the Diablo Immortal Hydra world boss? Well, you're in the right place. Blizzard Entertainment's free-to-play RPG game is full of ancient evils to fight, and while you can mash through most of them with ease - provided you're sporting one of the best Diablo Immortal builds - the multi-headed Hydra requires a suitably Herculean effort to defeat. Still, at least this serpent offers high rewards when you get the better of it. So, you'll want to know how to do it right.
Diablo Immortal tier list
,
Diablo Immortal system requirements
,
Best Diablo Immortal builds
---
PCGamesN Wednesday, June 29, 2022 11:29 AM
Persona is good. And Guitar Hero is good. So how great would it be if somebody put them together? Loud, an upcoming rhythm adventure from developer Hyperstrange seems to answer that question, and it's available now to add to your Steam wishlist.
---
PCGamesN Wednesday, June 29, 2022 11:10 AM
The Day Before is one of the most anticipated upcoming games on PC but it's currently embroiled in some controversy, as developer Fntastic revealed that it employed unpaid "volunteers" to work on the survival game. The developer now defends this practice, saying that each of its employees "works willingly for a common cause."
While open-world game The Day Before is the most wishlisted game on Steam, it has received criticism thanks to confirmation on developer Fntastic's website that it considers "every Fntastic member" as "a volunteer," with part-time volunteers being paid only with "cool rewards, participation certificates, and free codes."
In a statement provided to PCGamesN, Fntastic defends both its decision to call all of its workers volunteers, as well as using unpaid personnel to help its games. "Volunteering at Fntastic means that a person works willingly for a common cause," the developer says. "We consider all team members, including employees, volunteers."
Best PC survival games
,
Best PC open-world games
,
Best PC MMOs
---
PCGamesN Wednesday, June 29, 2022 10:56 AM
Want to know more about the Call of Duty Warzone Season 4 Reloaded release date? The mid-season update is slowly approaching, bringing with it new operators, weapons, and movie crossover content. Fortune's Keep was recently added to Warzone, a Rebirth Island-sized map filled with buried treasure for players to discover. Caldera was also updated to include Warzone Golden Keycards, giving players access to Mercenary Vaults filled with precious loot.
It's early days yet, but we do know about some of the content dropping on the Warzone Season 4 Reloaded release date. Two operators from the sci-fi classic Terminator series are coming to the battle royale game next month, alongside the Vargo-S assault rifle. Here's everything you need to know about Call of Duty Vanguard and Warzone Season 4 Reloaded.
Warzone loadouts
,
Best AR in Warzone
,
The best guns in Warzone
---
PCGamesN Wednesday, June 29, 2022 10:52 AM
The best The Forest mods will come in very handy if you're a veteran player from the initial launch in 2014 and need to change up the traditional gameplay, or if you're struggling to survive in this dense woodland environment. There's still a dedicated community for this survival game, so the best mods are continuously supported and updated.
Sifting through all the content on offer takes a while though, which is why we're here with the best The Forest mods on PC. Keeping those pesky cannibals away is imperative to getting anywhere in The Forest, so we can help you do that with things like God Mode, a bigger backpack, a map to show you where they all are, and more.
The Forest System Requirements
---
PCGamesN Wednesday, June 29, 2022 10:42 AM
Want to know how to complete the Fortnite Nindo challenges? In addition to Darth Vader's appearance on the island as part of the battle royale game's latest update, a new website has gone live with a list of challenges to complete. You can get some cool Naruto-themed rewards by catching fish, surviving storm circles, and eliminating opponents.
To start the Fortnite Nindo challenges, go to the official Fortnite Nindo website and sign in with your Epic account. It should automatically enrol you into the challenge page, and you can track your progress by clicking the Check My Stats button. Initially, it wasn't clear on the website which game modes you had to play to earn badges, but Epic has since updated these perimeters. You can now acquire them by finishing objectives in either Battle Royale or Zero Build modes in Solo, Duos, Trios, and Squads.
Fortnite V-Bucks
,
Fortnite Skins
,
Fortnite Creative Codes
---
PCGamesN Wednesday, June 29, 2022 10:40 AM
Want to know where the Fortnite Darth Vader boss location is? The latest update for the long-running battle royale game brings a new area to the Fortnite map, new and rebalanced weapons including the Fortnite Ripsaw Launcher, and new quests. However, it's the Sith Lord's appearance on the island that most people will be talking about; at least, he's supposed to be Vader, though he could be an NPC wearing a convincing Darth Vader Fortnite skin.
Either way, if you fancy trying to eliminate this Fortnite Darth Vader wannabe, we recommend you team up with at least one other person. One person should focus on taking down the Stormtroopers, while everyone else in your squad should shoot at Darth Vader. You'll need to face him at some point anyway because you need to wield a Star Wars weapon to complete one of the Vibin' challenges - and the Darth Vader lightsaber is certainly the best option. To give you a fighting chance, we'll go over where to find the Darth Vader location and how to beat him below.
Fortnite V-Bucks
,
Fortnite Skins
,
Fortnite Creative Codes
---
PCGamesN Wednesday, June 29, 2022 10:38 AM
Want to know where to find a Fortnite Ripsaw Launcher? It's been several weeks since the long-running battle royale game's latest season launched, and the roots of the giant tree in Reality Falls are spreading at an alarming rate across the Fortnite map. It's now taken over Butter Barn and will likely overrun the temple west of The Joneses.
Thankfully, the Seven are aware of the issue and are looking into it. For now, though, there are some weekly quests to complete. One of the challenges this week is to knock down Timber Pines with a Fortnite Ripsaw Launcher. This weapon has 12 blades and can hold three of them at a time before you need to reload. If the blade hits an enemy, it will deal 60 damage and knock them back a fair distance, but the best way to use the Ripsaw Launcher is to fire the blade at walls to shred any cover that your opponents are hiding behind, then shoot them with more conventional guns.
But where do you find them? Unlike other gadgets such as the Fortnite Grapple Gloves that you can find in plenty of locations around the map, the Ripsaw Launcher is only available in one place on the entire island.
Fortnite V-Bucks
,
Fortnite Skins
,
Fortnite Creative Codes
---
PCGamesN Wednesday, June 29, 2022 10:37 AM
World of Warcraft isn't just about questing, raiding, and hanging out with your guildmates - it's also about meaningless but strangely satisfying collect-a-thons. Who hasn't logged in once a week to gank the Sha of Anger in hopes of that 1 in 2000 chance for a Heavenly Onyx Cloud Serpent (which a certain author of this article received on their very first kill, just sayin')? Or trawled the Dalaran sewers with their finest rod for hours upon hours, hoping for a Giant Sewer Rat? Soulless jerks, that's who.
Recent years have given us even more stuff to collect in the form of transmogs and toys. Toys used to be standalone items that took up space in your bag, but these days they're accessible from a menu across all characters. Listing the weird and wonderful things that toys can do would take all day, but suffice to say that more than a few affect pets and mounts - making them bigger, making them look like you, forcing them to ride on a little magic saucer.
Reddit user Peterodox has a novel suggestion, however - a toy that combines both pets and mounts in a rather unique fashion. Their proposition, The Super-Sizer, would enlarge certain battle pets for a short time, allowing you to ride upon them like a mount.
Best MMORPGs on PC
,
The best WoW addons
,
WoW Classic leveling guide
---
PCGamesN Wednesday, June 29, 2022 10:28 AM
Searching for the best HDR setup in Warzone? There wasn't much of a debate over the best sniper rifle in Warzone for over a year due to the power of the Kar98k, but the update to Warzone Season 3 changed sniper rifles forever. For the first time in years, the new and improved HDR is rising up to claim the top spot.
This bolt-action sniper is capable of downing a fully armoured enemy in one shot, making it an extremely powerful piece of kit in the best Warzone loadouts. Getting the first shot onto an enemy squad can immediately put your team in a man advantage making the ensuing brawl much, much easier. So, what is the best HDR Warzone setup? We've assembled the following build with two key factors in mind: keeping that muzzle velocity and damage maxed out, and improving the handling stats.
Warzone loadouts
,
Best AR in Warzone
,
The best guns in Warzone
---
PCGamesN Wednesday, June 29, 2022 10:20 AM
Portal 2 beta levels have always been a tightly-held secret on Valve's part, with the Steam developer having kept a secure lock on development assets from their beloved puzzle game series. A previous leak occurred for the first Portal when Nvidia ported the game to their Nvidia Shield. Now, with Nvidia also handling the port of the Portal Companion Collection to Nintendo Switch, more prototype levels and tools have been uncovered.
As reported by Portal YouTuber Ossy Flawol (and spotted by GamesRadar+), the Portal Companion Collection's game files include several Portal 2 beta maps and other developer tools that have never been previously seen by the community.
In their video, Ossy walks through the datamined maps. Some are pre-production versions of levels which made it into the final game, which have unfinished art passes or assets that aren't present in the finished version. Others, such as devtest and fizzlertest are rooms seemingly used for basic testing. The latter, for example, seems to exist as a way to test the effects used when objects are dissolved by the game's restrictive energy barriers.
---
PCGamesN Wednesday, June 29, 2022 10:05 AM
The battle of the battle royale games has begun - or, more accurately, the friendly collaboration (that's no fun), as the much-teased and highly-leaked Fortnite Fall Guys crossover event has finally kicked off. Rocket League also seems to be part of the show, and players can earn free DLC in all three multiplayer games by finishing the Fall Guys Crown Clash challenges.
If you didn't know, Epic Games owns Fortnite, Fall Guys, and Rocket League, but there hasn't yet been a big collaboration between all three online games. Now, with the arrival of Fall Guys on the Epic Games Store as a free-to-play game, it's apparently time for a celebration.
The event itself is restricted to Fall Guys - simply complete the 'Crown Clash' challenges and you'll unlock Kudos points and "free rewards," which at the moment are all just based around playing matches up to a maximum of a hundred. While not fully confirmed by Epic right now, players are currently unlocking the various free DLC items in Fortnite and Rocket League right now.
Fall Guys review
,
The best battle royale games
,
Play Fall Guys
---
PCGamesN Wednesday, June 29, 2022 9:55 AM
At this point, gaming PC folks have mastered the art of using their hands with plenty of keyboards and mice to choose from, but two of our limbs just sit there, lifeless. With the introduction of the MSI Liberator, the folks over at Micro Star International envision a world where we don't simply let our legs atrophy and instead put them to use with a three-button pedal.
MSI Z370 Gaming Pro Carbon AC review
,
MSI GTX 1080 Ti Gaming X Trio review
,
Best gaming motherboard
---
PCGamesN Wednesday, June 29, 2022 9:37 AM
Following news that magical battle royale game Spellbreak is shutting its doors, Activision Blizzard has announced it is acquiring the game's developer Proletariat, who will be joining the World of Warcraft development staff in the lead-up to the MMORPG's next expansion, WoW: Dragonflight. Proletariat's CEO Seth Sivak says that "the level of ambition for what we want to do with World of Warcraft" was the big selling point for his team.
A report from GamesBeat details the acquisition, which WoW general manager John Hight says originated from talks back in December with Sivak. "I was really impressed with him," says Hight, "The team felt like he had a lot of shared values and had a lot of knowledge of World of Warcraft." With Blizzard now having shipped multiple expansions with a remote workforce, the team felt prepared to take on the Boston-based studio - many of whose employees are also still working remotely.
Sivak admits that, while the game received critical success, Spellbreak "just couldn't get the escape velocity necessary for us to continue to expand it." GamesBeat reports that the studios began working together in May, and that Proletariat "will be fully integrated into Blizzard Entertainment over the coming months." Hight says that some of the developer's work will be present in the Dragonflight expansion.
Best MMORPGs on PC
,
The best WoW addons
,
WoW Classic leveling guide
---
PCGamesN Wednesday, June 29, 2022 8:54 AM
Call of Duty: Warzone season 4 is well underway, with the launch of Fortune's Keep and some potential new skins, but players claim to have identified an increase in the amount of cheaters in the battle royale, and have taken to Reddit to voice their frustration.
Warzone loadouts
,
Best AR in Warzone
,
The best guns in Warzone
---
PCGamesN Wednesday, June 29, 2022 8:44 AM
The next Escape from Tarkov patch is here to wipe your account, but it gives just as much as it takes by introducing AMD FSR into the mix. It's far more accessible for your gaming PC than Nvidia DLSS, but Deep Learning Super Sampling likely has the edge considering it's only the first-generation of AMD FSR we're getting, not FSR 2.0.
Escape from Tarkov system requirements
,
Escape From Tarkov Steam
,
Best battle royale games
---
PCGamesN Wednesday, June 29, 2022 8:02 AM
The Minecraft marketplace has so much stuff to spend real money on, along with a few cool free things. It's got licensed DLCs, unique skins, and uh, whatever all of this stuff is. It's also been around now for five years, and to mark the occasion, there is a big sale going on between June 28 until July 12.
Minecraft console commands
,
Minecraft skins
,
Minecraft mods
---
Rock Paper Shotgun Latest Articles Feed Wednesday, June 29, 2022 12:34 PM
The excellent Kingston Fury Renegade PCIe 4.0 NVMe SSD has dropped in price on Amazon UK, from its regular price of £143 all the way down to £109.98. That's a significant reduction and equals the lowest price we've ever seen for this drive which is the fastest we've ever tested as of February 2022.
---
Rock Paper Shotgun Latest Articles Feed Wednesday, June 29, 2022 12:27 PM
Last time, you decided that an AI-controlled friend just running about helping me fight is better than air control. We're blowing up entire genres of video game, but at least we won't be alone. This week, we continue to whittle down all of the things with a question of intrinsic or extrinsic rewards. What's better: boss battles as skill checks, or secrets behind waterfalls?
---
Rock Paper Shotgun Latest Articles Feed Wednesday, June 29, 2022 12:24 PM
Aside from the many indies and Sonic Frontiers and this breakfast sandwich I got from Birdies, I must say that Street Fighter 6 was a major highlight of my time in LA for Summer Geoff Fest. Honestly, I went into my hands-on slot expecting to plaster a big "meh" on the game in my notepad. But the inclusion of a "modern" control scheme flipped this on its head. I'm telling you, it's an absolute game changer.
---
Rock Paper Shotgun Latest Articles Feed Wednesday, June 29, 2022 11:49 AM
Blizzard is buying the development studio responsible for magical battle royale Spellbreak, Proletariat, and moving their staff over to work on World Of Warcraft. The purveyors of all things Azeroth confirmed the buyout in a statement to VentureBeat. News of the acquisition comes just a day after Spellbreak's imminent demise was revealed by Proletariat on the game's website.
---
Rock Paper Shotgun Latest Articles Feed Wednesday, June 29, 2022 11:08 AM
Survival horror slash 'em up Dead By Daylight's progression and perks systems are being overhauled to dramatically reduce the amount of grind, developers Behaviour Interactive have announced. The changes to Dead By Daylight's progression and perks were first touted during the grindhouse game's sixth anniversary broadcast back in May, but are finally arriving in the mid-chapter update for the current 'Roots Of Dread' storyline in July.
---
Rock Paper Shotgun Latest Articles Feed Wednesday, June 29, 2022 9:45 AM
When action-adventure game Hell Is Us was first announced a couple of months ago, we thought it had Annihilation vibes and appreciated the team's attempts to invoke Annihilation... and its vibes. Developers Rogue Factor didn't provide many other details, besides a few buzz words: "semi-open world", "true adventure", "third person".
So, I sat down with the game's creative director Jonathan Jacques-Belletête in the hopes he could shed some light on the aforementioned vibes, perhaps even turning them from ethereal gusts of Annihilation-ness to concrete info on just how the game aims to be a "true adventure". Lo and behold, I think it worked!
---
Rock Paper Shotgun Latest Articles Feed Wednesday, June 29, 2022 8:01 AM
Fntastic, the studio developing Steam's most wishlisted game The Day Before, have issued a statement to RPS explaining their policy of using paid and unpaid volunteers to make up their dev team. Metaphorical alarm bells began ringing earlier this week when it emerged that Fntastic are composed entirely of "volunteers" – although full-time volunteers, kindly dubbed "employees" in the statement, do receive salaries.
---
Twinfinite Wednesday, June 29, 2022 3:39 PM
The ultimate war against Hawkins begins!
---
Twinfinite Wednesday, June 29, 2022 3:28 PM
Howdy, partner.
---
Twinfinite Wednesday, June 29, 2022 2:37 PM
News about Crunchyroll Expo 2022 inside.
---
Twinfinite Wednesday, June 29, 2022 2:08 PM
Buddy mons help find candies. But, if you're friendly enough with them then they can also get you some snazzy buddy souvenirs in Pokemon GO.
---
Twinfinite Wednesday, June 29, 2022 1:37 PM
While not as demanding as the Nindo challenges, these aren't simple.
---
Twinfinite Wednesday, June 29, 2022 1:14 PM
Who doesn't love a wacky sim?
---
Twinfinite Wednesday, June 29, 2022 1:08 PM
Who will take the top spot as the fastest-selling game of all time?
---
Twinfinite Wednesday, June 29, 2022 1:04 PM
Why Was Stranger Things Season 4 Split Into 2 Volumes? Explained
---
Twinfinite Wednesday, June 29, 2022 12:20 PM
Clash Royale lets you jump in with your friends for some 2v2 battles,
---
Twinfinite Wednesday, June 29, 2022 12:19 PM
Let us help you understand those numbers.
---
Twinfinite Wednesday, June 29, 2022 12:12 PM
Mario + Rabbids Sparks of Hope shows off new gameplay.
---
Twinfinite Wednesday, June 29, 2022 12:01 PM
Hoping this Star Ocean is better than the one before it.
---
Twinfinite Wednesday, June 29, 2022 12:00 PM
Sony Interactive Entertainment announced the games that will be granted to PlayStation Plus subscribers in July 2022 at no additional cost.
---
Twinfinite Wednesday, June 29, 2022 11:51 AM
Here's how long you will be spending to catch the end.
---
Twinfinite Wednesday, June 29, 2022 11:01 AM
Musou games are indeed great.
---
Twinfinite Wednesday, June 29, 2022 10:58 AM
Disney Dreamlight Valley is coming to early access.
---
Twinfinite Wednesday, June 29, 2022 10:54 AM
Square Enix released an additional video and images, on top of details and the digital deluxe edition of Star Ocean: The Divine Force
---
Twinfinite Wednesday, June 29, 2022 9:43 AM
Today Square Enix announced the release date of the next chapter of the Star Ocean series, Star Ocean: The Divine Force.
---
Twinfinite Wednesday, June 29, 2022 9:38 AM
Can you identify who said what in all of these Homer Simpson and Michael Scott quotes? Good luck and don't forget... that's what she said!
---
Twinfinite Wednesday, June 29, 2022 9:00 AM
If Westworld's season 4 premiere has left you wanting for video games that offer similar feelings, look no further than these releases.
---
Siliconera Wednesday, June 29, 2022 3:00 PM
Pocky & Rocky is back and, well, it is a slightly different take on a game people might be familiar with. It is all about playing with a familiar formula and adding to it. However, while this is definitely the run-and-gun game people remember, there are also some elements that feel like they're holding the overall experience back.
Pocky & Rocky Reshrined involves shrine maiden Pocky and Rocky the tanuki dealing with Black Mantle and his yokai minions. The duo are responsible for figuring out how to save the day over the course of eight stages. Though really, the plot is awkward and feels unnecessary. It can also come across as a bit stilted, due to the storytelling decisions and localization. But given the nature of the series and this installment, you don't really need to pay attention to the backstory. It all serves as an excuse to keep fighting through various levels.
Pocky & Rocky Reshrined is a run-and-gun game. You'll control one of the two lead characters, though it is also possible to be Ame-no-Uzume, Hotaru Gozen, and Ikazuchi during the adventure. You can freely move your character around the screen. As you progress and defeat certain enemies and boxes, you'll also power-up your projectiles. An additional move allows you to send certain sorts of enemy shots back at them. Survival becomes a delicate balance of knowing when to use certain sorts of attacks, collecting power-ups when you can, and recognizing the sorts of patterns various foes use when they attack.
Story implementation aside, there are a number of design decisions that are quite questionable. The first being that Pocky & Rocky Reshrined's multiplayer isn't immediately unlocked. If you want to play with someone else, you have to unlock Free Mode. Which means you have to beat the single-player Story Mode or get 10,000 coins in Story Mode. That's incredibly frustrating. Especially since, in the original SNES game, you could immediately hop in alone or with someone else.
The other one is that the easiest difficulty option is locked. Which is fine. I had no trouble getting through Pocky & Rocky Reshrined on Normal. But it seems like it would have been wiser to have Extra Easy immediately available for newcomers. Instead, someone has to earn 3,000 coins to open up that option. It would have made more sense, in my opinion, to put the Hard difficulty option behind that 3,000 coin wall.
Pocky & Rocky Reshrined also maintains the same sort of control scheme as the original. Which makes sense, given it is essentially an enhanced remake. But there's been a lot of progress in the run-and-gun realm since. This means you'll shoot in whichever direction you're aiming. I found it frustrating, since it meant needing to constantly move and readjust to ensure my aim would be true or I'd properly reflect certain shots. It isn't a game-breaker, to be certain. But when you get accustomed to more modern control schemes, it means relearning how to play.
Still, while some gameplay elements could use some tweaking, the atmosphere is great. Pocky & Rocky Reshrined looks incredible. The spritework is fantastic. It also has a fantastic soundtrack. It calls back to the chiptune original to create a wonderful sense of ambiance. I'd say its music is perhaps my favorite part.
As far as a revival goes, Pocky & Rocky Reshrined is fine. It offers an opportunity for a new audience to experience the run-and-gun game. It looks fantastic. It also does a good job of paying tribute to the original SNES game while slightly expanding on the adventure. But it also doesn't feel especially considerate of the player. It would have been more convenient to make the additional difficulty level and free mode immediately available. Still, it's entertaining enough.
Pocky & Rocky Reshrined is available for the Nintendo Switch and PlayStation 4. There are also Collector's and Limited Edition versions of it available through Gamesrocket.
The post Review: Pocky & Rocky Reshrined Keeps Running and Gunning appeared first on Siliconera.
---
Siliconera Wednesday, June 29, 2022 2:00 PM
Sony revealed the July 2022 PlayStation Plus games, and Crash Bandicoot 4: It's About Time is leading the pack. The PS4 and PS5 versions of it will be available. It will be joined by The Dark Pictures Anthology: Man of Medan (PS4) and Arcadegeddon (PS4, PS5).
Arcadegeddon showed up on the PS4 and PS5 in July 2021. It normally costs $19.99 for a digital copy. It is a PVP and PVE, third-person shooter for up to four people. You can play it alone and without friends, however.
Crash Bandicoot 4 appeared on the PS4 in October 2020 and on the PS5 in March 2021. It normally costs $59.99 via the PlayStation Store. It's a platformer starring characters like Crash, Coco, Tawna, Dingodile, and Dr. Cortex.
Man of Medan is a PS4 horror adventure game that debuted back in August 2018. It can be played alone or with another person. It normally costs $29.99 to download it.
PlayStation Plus subscribers will be able to claim Crash Bandicoot 4: It's About Time (PS4, PS5), The Dark Pictures Anthology: Man of Medan (PS4), and Arcadegeddon (PS4, PS5) on July 5, 2022. Until then, people can still claim the June 2022 games God of War (PS4), Naruto to Boruto: Shinobi Striker (PS4), and Nickelodeon: All-Star Brawl (PS4, PS5) until July 4, 2022.
<< PlayStation Plus June 2022 Games
The post PlayStation Plus July 2022 Update Include Crash Bandicoot 4 appeared first on Siliconera.
---
Siliconera Wednesday, June 29, 2022 1:00 PM
There will be an official English translation for Ultra Kaiju Monster Rancher. After being announced during the Japanese Nintendo Direct Mini on June 28, 2022, Bandai Namco's Southeast Asia branch released an additional trailer. It confirmed an Asia English version will appear. There's no exact release date offered in that video, but it does mention a 2022 debut. [Thanks, HDKirin!]
As a reminder, Ultra Kaiju Monster Rancher is a Monster Rancher game that involves characters from the tokusatsu series Ultraman. Both kaiju from the series and new characters will appear in the game. Folks will get to raise them and send them to fight other kaiju.
Here's the English Ultra Kaiju Monster Rancher trailer. It shows some of the translated menus, UI, and text. It also goes over a few of the notable kaiju people will be able to get, raise, battle, adventure with, and fuse over the course of the game.

Ultra Kaiju Monster Rancher is in development for the Nintendo Switch. It will launch in 2022. An English version of Ultra Kaiju Monster Rancher will appear, though it is unknown if it will show up worldwide yet.
The post Ultra Kaiju Monster Rancher English Version Will Appear appeared first on Siliconera.
---
Siliconera Wednesday, June 29, 2022 12:30 PM
There's a new Legend of Mana: The Teardrop Crystal anime trailer, and this video shows off its cast of characters and pins down a release window. While it previously had a tentative 2022 window, it is now confirmed to appear in October 2022. The new footage also shows off many familiar faces. Even though this story will follow the male version of the avatar, named Shiloh, and its Jumi arc, other people will appear too.
Of course, Elazul and Pearl feature prominently in the video. Elazul is the Jumi Knight who journeys alongside Pearl to find other members of the Jumi. That's a race of people who have a stone embedded into their chests tied to their health and well-being. We also see Shiloh talk about things with Lil' Cactus, who then records it in a diary. Bud and Lisa appear and refer to Shiloh as their "master." (In-game, they join after The Two Sorcerers event.) We also see Duelle and a Sproutling. At the very end, Seraphina, the female version of the protagonist, talking to a fairy. This teaser could mean another arc from the game may get an anime adaptation.

As a reminder, the last trailer for this adaptation appeared back in April 2022.
The Legend of Mana: The Teardrop Crystal anime will air in October 2022.
The post New Legend of Mana Anime Trailer Shows Off Its Characters appeared first on Siliconera.
---
Siliconera Wednesday, June 29, 2022 12:00 PM
Another Xander alt is heading to Fire Emblem Heroes, and this time he's Legendary. The June 30, 2022 banner will feature Xander: Gallant King. He'll appear alongside some returning Legendary and Mythic-type heroes.
Xander: Gallant King is a cavalry unit that wields an axe. His Ebon Bolverk axe can let him use his special trigger quicker and, if allies are around, increase the number of hits an enemy needs to deal to use theirs. He also can inflict Null Follow-Up if allies are nearby due to it. His new passive is Chivalry. It enables Canto for him and also inflicts Atk/Spd/Def-5 on enemies whose health is over 50%. The standard version of Xander appeared as a Grand Hero Battle unit.
Xander isn't the only focus unit for this banner. Here are the other characters who will appear.
August: Astute Tactician
Eitri: Youthful Sage
Freyja: Lady of Nightmare
Ishtar: Echoing Thunder
Leif: Unifier of Thracia
Lif: Lethal Swordsman
Niime: Mountain Hermit
Nott: Moon's Elegance
Reginn: Bearing Hope
Sigurd: Fated Holy Knight
Ullr: The Bowmaster
Here's the full Fire Emblem Heroes trailer showing off Legendary Xander and the other new characters who will be part of this banner. As usual, Feh Pass subscribers who pull 40 times on it will be able to get one focus unit of their choosing for free.

Fire Emblem Heroes is available for mobile devices, and Legendary Xander will be part of a banner in-game between June 30, 2022 and July 13, 2022.
The post Fire Emblem Heroes Legendary Xander Arrives Tomorrow appeared first on Siliconera.
---
Siliconera Wednesday, June 29, 2022 11:30 AM
As usual, Bandai Namco has another new JoJo's Bizarre Adventure: All-Star Battle R trailer for folks. This time, it's looking at a character who showed up in the original game. People can see what JoJo's Bizarre Adventure Stardust Crusaders' Iggy looks like in-game.
Though Iggy is a dog, a Boston Terrier to be exact, he's also one of Jotaro Kujo's allies in JoJo's Bizarre Adventure. He's also a Stand user. His is called The Fool, and it is able to shapeshift. This is due to it using sand to show up, which is visible in the footage.
The only fool around here is whoever decides to challenge Iggy in battle.

Get ready to forfit your coffee flavored gum when you face Iggy in JoJo's Bizarre Adventure: All-Star Battle R!#JJBA pic.twitter.com/291fd20vbU

— JoJo's Bizarre Adventure: All-Star Battle R (@jojo_games) June 29, 2022
Bandai Namco is regularly releasing JoJo's Bizarre Adventure: All-Star Battle R trailers. Each one shows how new or familiar faces look in this version of the game. Here's the list of ones that appeared so far.
JoJo's Bizarre Adventure: All-Star Battle R will appear on September 2, 2022. It will be available on the Nintendo Switch, PlayStation 4, PlayStation 5, Xbox One, Xbox Series X, and PC.
The post Watch Iggy in the New JoJo's Bizarre Adventure: All-Star Battle R Trailer appeared first on Siliconera.