---
Kotaku Wednesday, August 31, 2022 7:55 PM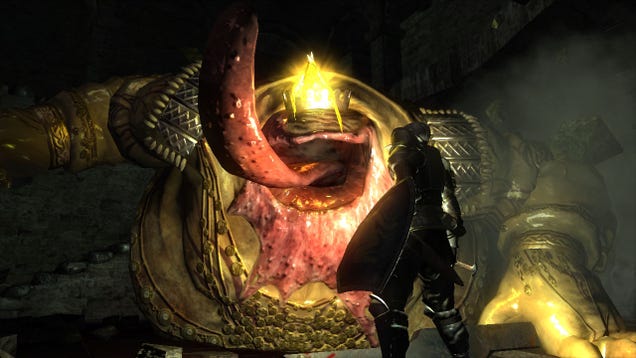 Elden Ring wasn't just a hit with fans of FromSoftware's notoriously difficult action-RPGs. Today Tencent Holdings and Sony announced they've acquired 30% of the Souls-series developer's shares, split in favor of Tencent. FromSoftware is expected to gain $260 million from the arrangement.

---
Kotaku Wednesday, August 31, 2022 6:10 PM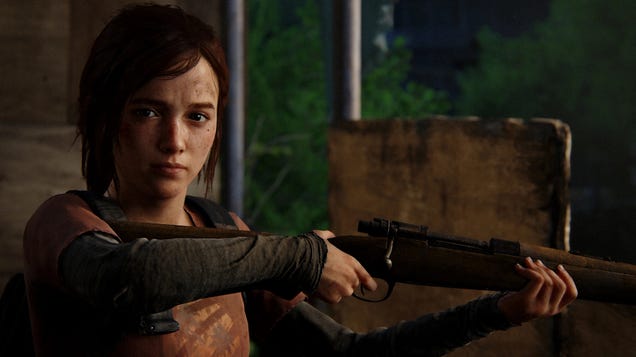 Well, here we are. The Last of Us Part I, the re-remake of 2013's legendary PS3 title of the same name (minus the "Part" bit) has arrived after plenty of skepticism and a chorus of gamers and critics alike asking: Do we need this (again)?

---
Kotaku Wednesday, August 31, 2022 6:00 PM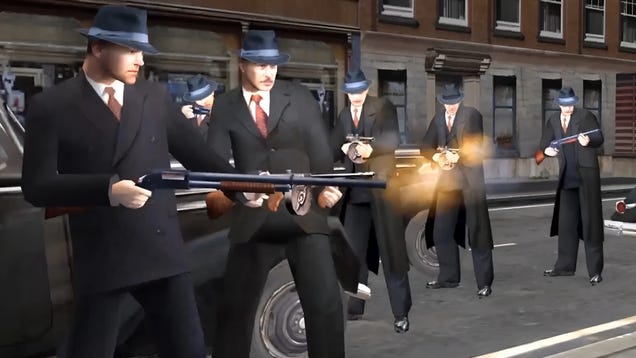 In celebration of Mafia's 20th anniversary, 2K Games is selling the original open-world game for the low price of free for a limited time on Steam, starting from September 1 through September 5.
---
Kotaku Wednesday, August 31, 2022 5:55 PM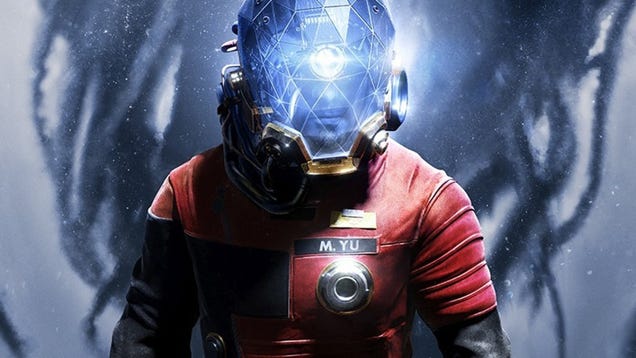 Prey (2017) is a very good game, one of my favorites from that year in fact. Yet its name always seemed…weird. It has no connection to the 2006 Prey or its never-released sequel. Now, in a new interview, the director of the game has explained how he and the team were forced by Bethesda to use that name and how "gross"…
---
Kotaku Wednesday, August 31, 2022 5:30 PM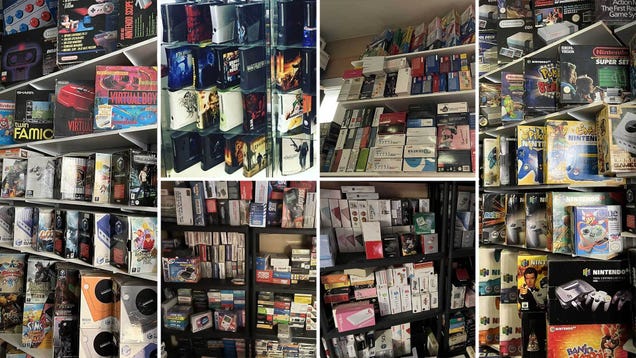 While many a collector can claim to have any number of rare video games and memorabilia, few, if any, actually own a majority of every console variation manufactured in the last 50 years. But that's exactly what one France-based collector has just put up for auction, some 2,400 different consoles—from standard-issue…
---
Kotaku Wednesday, August 31, 2022 4:30 PM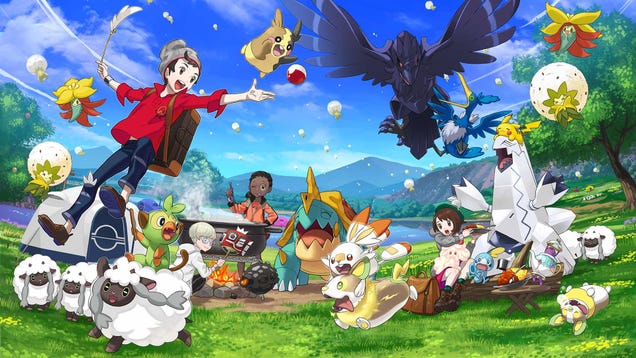 For as much as Pokémon has stayed the same, it's also changed quite a bit over the years. Nintendo's decades-long Ash Ketchum biopic (bio…game?) has stayed true to its turn-based, monster-collecting roots. But every new iteration comes with something that differentiates it from its immediate predecessor. We've…
---
Kotaku Wednesday, August 31, 2022 4:00 PM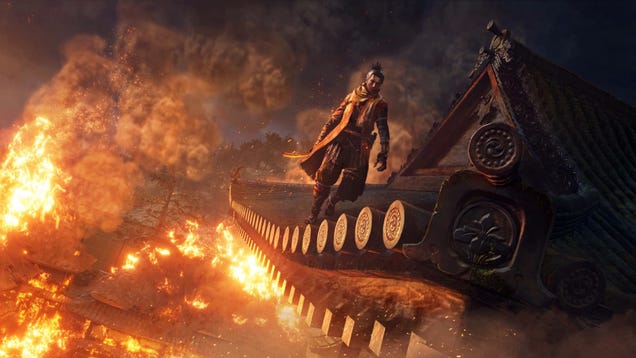 No-hit runs in games—a kind of self-imposed challenge where you take zero damage from enemies—are nothing new, especially for tough-as-nails titles like Dark Souls. But Sekiro: Shadows Die Twice Twitch streamer and YouTuber TheUrbanOrb has taken that feat to the extreme, and after more than three years of practice,…
---
Kotaku Wednesday, August 31, 2022 1:49 PM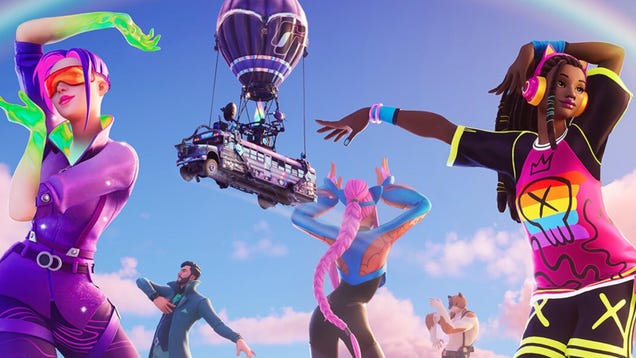 @FNLeaksAndInfo, a Twitter account dedicated to posting leaked information about the online battle royale Fortnite, discovered on August 30 what might be an even more huge cultural event than the making of the hydrogen bomb: Lady Gaga will have a virtual concert.

---
Kotaku Wednesday, August 31, 2022 1:30 PM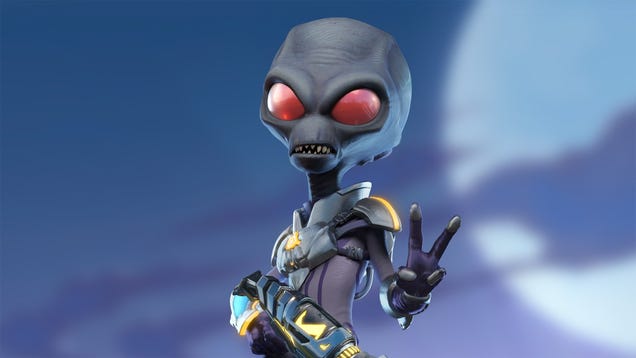 The PS2-era of video games was defined by wacky and original titles, especially compared to what we see in the gaming industry today. It was a wonderful time, and during that period of time is when the Destroy All Humans franchise appeared. Now, after remaking the first game in the series back in 2020, Black Forest is…
---
Kotaku Wednesday, August 31, 2022 12:06 PM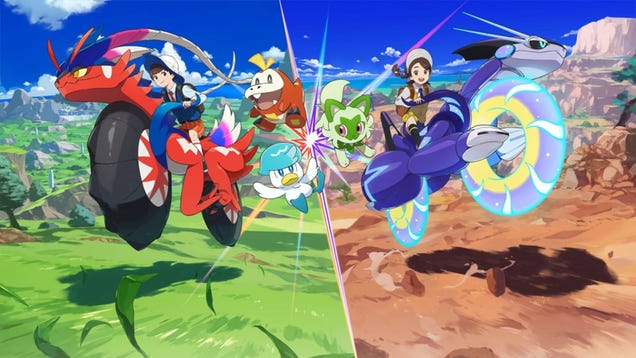 Gamer salt over preorder bonuses is nothing new. But this time, the Pokémon community's salt feels partially justified. Amazon recently showed an infographic that details what fans can get by ordering Scarlet and Violet digitally ahead of launch: A set that includes 10 potions, 10 antidotes, and three revives. The…
---
PCGamesN Wednesday, August 31, 2022 7:03 PM
The big Rust September update is just around the corner, adding a brutal new mode to the survival game and streamlining some of the crafting interfaces. There's also a few smaller changes on the way, such as alterations to how you access the clan menu and some model and texture improvements, including a more realistic-looking campfire and big flashing light switches, which is handy if you *checks notes* find yourself never being able to see light switches.
Best survival games
,
Rust commands
,
Rust vehicles
---
PCGamesN Wednesday, August 31, 2022 5:42 PM
Square Enix is gearing up for Japan's version of E3 with plenty of RPG games in store, but don't expect to see Final Fantasy 16 at the Tokyo Game Show. It's notably absent from Square Enix's meaty show lineup, which includes the likes of Final Fantasy 14, Forspoken, the life game Harvestella, Crisis Core: Final Fantasy 7 Reunion, and smaller to mid-tier titles, such as Star Ocean: The Divine Force and the Dragon Quest spinoff Dragon Quest Treasures.
The best RPG games on PC 2022
,
The best JRPGs on PC in 2022
,
Best Final Fantasy games on PC
---
PCGamesN Wednesday, August 31, 2022 5:27 PM
The Rainbow Six Siege reverse friendly fire penalty is now live, Ubisoft says. Following a warning for a friendly fire incident, a player will get sanctioned with the reverse friendly fire reputation penalty if they continue firing on teammates, and it'll last for their next 30 matches of the multiplayer game.
Rainbow Six Siege Year 7 roadmap
,
Best Rainbow Six Siege operators
,
Play Rainbow Six Siege
---
PCGamesN Wednesday, August 31, 2022 4:58 PM
People hate Roblox more than any other app in 21 countries, according to a sentiment analysis study from a community-driven tutorial and tech review company called Electronics Hub.
Best Roblox games
,
Roblox promo codes
,
Roblox music codes
---
PCGamesN Wednesday, August 31, 2022 4:32 PM
The Destiny 2 vaulting content issue is as much a pain for Bungie as it is for players, the FPS game's director Joe Blackburn said on Twitter. Blackburn was responding to Forbes' Paul Tassi, who, in turn, quoted a passage from PC Gamer's Tim Clark and his interview with Bungie following the announcement that Bungie would no longer sunset major content. In the interview, Bungie said the decision to keep or vault content is always a difficult balancing act and will continue to be so.
Destiny 2 classes
,
Destiny 2 exotics
,
Destiny 2 builds
---
PCGamesN Wednesday, August 31, 2022 4:06 PM
In July, Ubisoft caused a bit of a stir when it announced that it planned to 'decommission' the multiplayer components of older titles in several popular game series like Assassin's Creed and Far Cry. A confusing message on Steam led players to believe that the games and DLC were being pulled from their libraries - although Ubisoft quickly clarified that wasn't the case. The decommissioning was scheduled for September 1, but now the company says it's pushing the date back to October 1. Further, Ubisoft says that in most cases, you'll be able to keep playing affected DLC as long as you activate it prior to the new decommissioning date.
---
PCGamesN Wednesday, August 31, 2022 1:35 PM
The original soundtrack for Dwarf Fortress, as its creators explain, was simply Tarn Adams "noodling around on the guitar." It's an instantly recognisable tune for anyone who's played the Dwarven city builder, but the Steam edition is going to include a much more lavish soundtrack, which Kitfox Games and the Adams brothers have previewed in a new video.
---
PCGamesN Wednesday, August 31, 2022 12:52 PM
How is it that a squad-based FPS game like Hyenas, which is all about raiding vaults for rare treasure, is passing up the chance to add Escape From Tarkov's persistent loot to its class-based, Apex Legends style action? When the first trailer for Creative Assembly's forthcoming shooter arrived, it sounded like loot would be a foundational aspect of its gameplay loop, but after seeing it in action at Gamescom I'm surprised to discover that the merch you're stealing is a mostly superficial means of progressing through each match.
Here's how a Hyenas match plays out. You and a couple of friends pick characters from a roster of six, each with unique weapons, abilities, and play styles, and then you dock at a floating shopping mall called a Plundership with the goal of stealing as much pop culture merch as possible. You're not the only pack of Hyenas onboard though, and as you move between different stores you'll come up against rival squads who are competing for the same merch. There are a variety of different stores you can rob, and you'll need to hit up a few in order to meet the loot quota, at which point an exfil route opens up. You're effectively racing to fill a meter.
Best FPS games
,
Best multiplayer games
,
Best battle royale games
---
PCGamesN Wednesday, August 31, 2022 12:31 PM
If you tried the demo for the indie Terraria-meets-tower defense game Dome Keeper during the Steam Next Fest earlier this year, we have good news: the release date has now been announced. Dome Keeper will launch September 27, which means you'll be able to dig into the alien surface again in less than a month.
Best roguelike games
,
Best tower defence games
,
Best crafting games
---
PCGamesN Wednesday, August 31, 2022 12:19 PM
LG is cooking up a bendy OLED TV, and it could add an optional curve to your gaming PC living room setup. Dubbed the "world's first bendable, 42-inch OLED screen," the new panel features the same flexible tech as the recently announced Corsair Xeneon Flex, accompanied by specs that'll potentially put pricey gaming monitors to shame
Best SSD for gaming
,
How to build a gaming PC
,
Best gaming CPU
---
PCGamesN Wednesday, August 31, 2022 12:08 PM
The FIFA 23 player ratings are set to signal the end of an era. For the first time since FIFA 07, neither Lionel Messi or Cristiano Ronaldo are destined to sit atop the summit, with cover star Kylian Mbappe ready to grasp the crown as we head into EA's last 'FIFA' branded sports game before the license expires next season.
In truth, it's been coming. Both Messi and Ronaldo lost a certain spark after their 2021 moves to Paris Saint-Germain and Manchester United respectively, despite quality individual returns. The beginning of Mbappe's reign is likely to underline a year of pretty significant change among the top 100 rated players - though do note this doesn't include the FIFA 23 icons or FUT Heroes. Great seasons for the likes of Real Madrid, Liverpool, and Manchester City should be rewarded, while the numbers likely won't be so kind for those on the other side of Manchester.
---
PCGamesN Wednesday, August 31, 2022 12:08 PM
Genshin Impact fans have once again taken things too far by harassing Dori's English voice actor, Anjali Kunapaneni, following HoYoverse's introduction the character on Twitter before the version 3.0 update. It's no secret that the community has been displeased with how certain cultures have been represented in Sumeru, but a sizeable number of fans have taken that displeasure to the extreme by directing it at the wrong people - namely, the voice actors behind these characters.
Genshin Impact codes
,
Genshin Impact character tier list
,
Genshin Impact leveling guide
---
Rock Paper Shotgun Latest Articles Feed Wednesday, August 31, 2022 6:38 PM
If the CPU is the brain of your computer and the GPU is the heart, then the power supply are the muscles, turning those thoughts and feelings into concrete action. Wait, that doesn't make any sense...
In any case, power supplies are important, mm'kay, and this 550W 80+ Gold modular one from Corsair is discounted here in the UK. Normally you'd expect to pay £78 for this model - and at least £65 for one of this spec from a notable brand - but at Currys you can combine a price reduction with the code FNDDGAMING to get this PSU delivered for only £40.
---
Rock Paper Shotgun Latest Articles Feed Wednesday, August 31, 2022 5:56 PM
The RX 6950 XT is AMD's flagship card, a 4K gaming powerhouse that can put almost any game to shame - as long as you don't turn on ray tracing, anyway. The card launched at £1100 but often sold for far more, but now we're starting to see things slide the other way - and the top AMD GPU now costs only £800 at Overclockers in the UK. That's £300 below RRP and a new low-water mark.
---
Rock Paper Shotgun Latest Articles Feed Wednesday, August 31, 2022 12:30 PM
Nightdive's remake of 1994 classic System Shock hasn't had the smoothest development run, first having some money issues in its Kickstarter a while back, then having to reboot itself with twenty-twenty-something release dates chucked out there more as hopeful concepts than assurances.
Having gone hands-on with a short 20-minute-ish demo of the game at this year's Gamescom, I can confirm that the remake is real and seems faithful to the original despite some heavy tinkers in the modernisation station. For nostalgic fans it should make for an exciting revisit to cyberspace, but I'm unsure whether it'll land quite as well for newcomers seeking a showdown with Shodan.
---
Twinfinite Wednesday, August 31, 2022 7:50 PM
After falling into the public domain back in January, the first trailer for Winnie-the-Pooh: Blood and Honey has arrived!
---
Twinfinite Wednesday, August 31, 2022 7:49 PM
A guide that teaches you what Valorant player Mindfreak's in-game settings are.
---
Twinfinite Wednesday, August 31, 2022 7:45 PM
Arc 3.0 is in fully swing in Destiny 2 and today, we discuss what the best builds are for each class for it.
---
Twinfinite Wednesday, August 31, 2022 7:43 PM
Rocksmith Plus will be releasing on PC next week.
---
Twinfinite Wednesday, August 31, 2022 5:35 PM
Here's how you can watch the Lord of the Rings films in order.
---
Twinfinite Wednesday, August 31, 2022 5:34 PM
A guide that teaches you how to replay missions in Red Dead Redemption 2.
---
Twinfinite Wednesday, August 31, 2022 4:44 PM
A guide that reveals every platform Zombies 3 can be watched on and the main cast members.
---
Twinfinite Wednesday, August 31, 2022 4:19 PM
The fastest cars available in Forza Horizon 5.
---
Twinfinite Wednesday, August 31, 2022 4:11 PM
Get The Umbrella Academy: Cha-Cha Bundle to rise the ranks in Call of Duty.
---
Twinfinite Wednesday, August 31, 2022 4:08 PM
Here's all the known MCU characters that are currently in space and each of their missions are.
---
Twinfinite Wednesday, August 31, 2022 2:55 PM
Elden Ring developer FromSoftware will benefit from investment by Sony and Tencent.
---
Twinfinite Wednesday, August 31, 2022 2:06 PM
SNK is "definitely" going to do something about Metal Slug in the future.
---
Twinfinite Wednesday, August 31, 2022 2:00 PM
Three-quarters of the way through 2022, where are these M.I.A. games?
---
Twinfinite Wednesday, August 31, 2022 1:54 PM
How can Rockstar top their best selling game of all time?
---
Twinfinite Wednesday, August 31, 2022 12:32 PM
Armed Fantasia and Penny Blood are officially coming to consoles.
---
Twinfinite Wednesday, August 31, 2022 12:02 PM
Granblue Fantasy Versus, Need for Speed Heat, and Toem come for PlayStation plus in September.
---
Siliconera Wednesday, August 31, 2022 7:00 PM
Some more gameplay trailers have come out for Penny Blood and Armed Fantasia. The development teams and creatives behind Shadow Hearts and Armed Fantasia are working on these two games, and are crowdfunding on Kickstarter. Penny Blood is a gothic horror JRPG that uses a lot of familiar elements to Shadow Hearts players, while Armed Fantasia is a western punk-style title. The campaign met its initial funding goal of $721,520 USD within a day of launching. At the time of this writing, the current take stands at $968,939 USD, with 30 days to go in the campaign.
The trailer for Penny Blood shows how Matthew walking through New York in the 1920s. You can also see how battles work in this game. Like Shadow Hearts, there will be a Judgement Ring system where you have to perform skill checks before actions. There will also be a Fusion ability, though it is unclear how you will obtain them and what role they play in the lore.
You can check out the Penny Blood trailer here:
https://www.youtube.com/watch?v=rzi3WGzr_yY
Armed Fantasia doesn't have its own trailer. Instead, it is part of the double kickstarter announcement. The trailer starts with Akifumi Kaneko lounging around and spinning a wheel to see what he should do. After the short skit, it plays the trailer for Armed Fantasia. While there is a trailer for Penny Blood right after, it is the exact same as the one above.
https://www.youtube.com/watch?v=rJJ7Kbb8BQg
Armed Fantasia and Penny Blood are in development, and those interested can back the projects via Kickstarter. As of the time of writing, it has reached over $1,250,000 CAD, surpassing its goal.
The post New Gameplay Trailers Appear For Armed Fantasia, Penny Blood appeared first on Siliconera.
---
Siliconera Wednesday, August 31, 2022 6:00 PM
Konami will have a large presence at Tokyo Game Show 2022. The company has published a webpage detailing its appearance at the annual Japanese gaming event. The Konami booth at TGS 2022 will have many demos from both inside and outside the company. One of the examples of the latter will be Nihon Falcom's The Legend of Heroes: Kuro no Kiseki II.
Konami will place playable demos of Super Bomberman R 2, eFootball 2023, and four Yu-Gi-Oh! titles including the multiplatform Master Duel and the four-player game Cross Duel.
The company will also hold multiple events at its booth. One of the most notable ones will be the revelation of a new title on September 16, 2022, at 15:30 JST. Voice actor Yuki Kaji will also attend this event, but Konami has yet to confirm whether it will hold a live stream for this announcement.
Just like Sega, Konami's TGS 2022 booth will also feature demos of games from other partner companies. Also included in the list will be two games from Indonesian developers, of which Chorus Worldwide will help with the Japanese localization.
Here's the full list of demos in Konami's Tokyo Game Show 2022 booth:
Konami: Super Bomberman R 2, eFootball 2023, Yu-Gi-Oh! Cross Duel, Yu-Gi-Oh! Master Duel, Yu-Gi-Oh! Duel Links, Yu-Gi-Oh! Rush Duel: Saikyou Battle Royale!! Go Rush!!
Chorus Worldwide: Coffee Talk Episode 2, A Space for the Unbound, Read Only Memories: Neurodiver
Oizumi Amusio: Magicians Dead: Force of the Soul, Edge of Eternity, Dawn of the Monsters
Mebius: Steel Empire, Miasma Breaker
UGE: Wonder Boy Ultimate Collection, Cannon Dancer
Pixel: Horgihugh With Friends and Enryu Seiken Xiaomei
Teyon Japan: Human Fall Flat
Rocket Engine: Trouble Witches
Nihon Falcom: The Legend of Heroes: Kuro no Kiseki II - Crimson Sin
The last entry will have more than just a playable demo. Falcom jdk Band will perform a special live concert of Kuro no Kiseki II tracks on September 17, 2022, at 11:00-11:35 JST, and September 18, 2022, at 16:30-17:05 JST. Konami will also publish streams of the concerts on both days.
Nihon Falcom's cooperation with Konami in regards to Tokyo Game Show has gone on for a long time. Konami's booth in previous TGS years had often featured demos of Falcom's titles, such as the Trails of Cold Steel series. This will not be the first time for the Falcom jdk Band to hold a live concert at the booth either. The band had also performed in previous years, with the archives available on Konami's YouTube channel as early as 2014.
Tokyo Game Show 2022 will take place at Makuhari Messe on September 15-18, 2022.
The post Konami's TGS 2022 Booth Will Include Kuro no Kiseki II Live Concert appeared first on Siliconera.
---
Siliconera Wednesday, August 31, 2022 5:00 PM
D3 Publisher has updated the website for Samurai Maiden, adding new details about the game's characters and combat mechanics. In addition to revealing each character's backstory and voice actress, the website also dives into the game's Devoted Heart romancing system.
Touted as a "Girls Sword-fighting Action" game, Samurai Maiden features a cast of four main characters. The main playable character, Tsumugi Tamaori, is a schoolgirl from the 21st century. However, she is suddenly transported to the Sengoku period during history class. Luckily, she learned swordsmanship at her grandfather's dojo. The Japanese description of her character notes that she is "popular with girls, but is seemingly unaware of this fact." Her voice is Yuki Yomichi, who voiced Koguma in Super Cub.
Other characters include ninjas Iyo, Hagane, and Komimi. Miku Itou, who voices Miku Nakano in Quintessential Quintuplets, voices Iyo. Sumire Uesaka, who voices Hayase Nagatoro in Don't Toy with Me, Miss Nagatoro, voices Hagane. Miyu Tomita, who voices Miko Iino in Kaguya‑Sama: Love Is War, voices Komimi
Samurai Maiden's combat involves a combination of swordsmanship and ninjutsu. While slashing through monsters, Tsumugi is capable of summoning her ninja allies and using their abilities. Additionally, Tsumugi can also initiate the "forbidden" Devoted Heart technique. It's activated through physical contact, with kissing her ninja allies being the strongest way to boost her power. However, there is a caveat: players must start with the simplest forms of affection before graduating to full-blown kissing sessions.
Samurai Maiden is in development for the Nintendo Switch, PlayStation 4, PlayStation 5, and PC. The game will release sometime in Winter 2022. Owners of the PS4 version will be able to upgrade to the PS5 version for free.
The post Samurai Maiden Website Details Characters and Combat Mechanics appeared first on Siliconera.
---
Siliconera Wednesday, August 31, 2022 4:00 PM
Spike Chunsoft has released Zero Escape: Zero Time Dilemma on the Xbox store. At $19.99, buyers can access the game on Xbox Series X|S, Xbox One, and PC. The PC version requires a minimum spec of NVidia GeForce GTX 460 graphics card and Intel Core i7-3770 processor.
This release marks the debut of Zero Time Dilemma on Xbox platforms, and it follows the footsteps of The Nonary Games, which appeared earlier in March 2022. It also means the entire Zero Escape trilogy is now available on Xbox.
Zero Time Dilemma originally came out for PlayStation Vita, Nintendo 3DS, and PC via Steam in 2016. A PlayStation 4 port appeared later in 2017, with Aksys Games handling the Western release. However, Zero Time Dilemma was suddenly delisted from the western storefront.
Searching Zero Escape on the U.S. PlayStation Store as of this writing will only net The Nonary Games, a compilation of the first two games in the series that Spike Chunsoft had published directly in 2017. This does not affect the Japanese release of Zero Time Dilemma, as Spike Chunsoft self-published the original PS4 release in the country, and the game is still available on the Japanese PlayStation Store.
Spike Chunsoft has been going full gear in resurfacing Zero Time Dilemma. It is currently working with SweepRecord to release the title's original soundtrack in September 2022. The original composer Shinji "Sampling Masters MEGA" Hosoe will add six new tracks that never appeared in the game.
Zero Escape: Zero Time Dilemma originally appeared on the PlayStation Vita and Nintendo 3DS. The game is currently available worldwide on PC, Xbox One, and Xbox Series X. The PlayStation 4 version is still available in Japan.
The post Zero Escape: Zero Time Dilemma Has Appeared on Xbox Store appeared first on Siliconera.
---
Siliconera Wednesday, August 31, 2022 3:00 PM
PUBG Mobile will be holding a crossover with the Dragon Ball series. First revealed on the game's official Twitter account, little information about the crossover was given other than that it is "coming soon." By "soon", that means Dragon Ball will make its way to PUBG Mobile in 2023. The announcement included art from the Dragon Ball Super: Super Hero film, hinting that some of the crossover content could be specific to the movie.
You can check out the PUBG Mobile x Dragon Ball announcement tweet below.
https://twitter.com/PUBGMOBILE/status/1564417670346412033
The second Dragon Ball Super movie, titled Dragon Ball Super: Super Hero, was released in Japan on June 11, 2022. The movie is currently airing in theaters in North America and other regions worldwide, with even more regions and territories getting theatrical releases throughout September. It is already one of the top-grossing anime movies of all time.
As for PUBG Mobile, though it's also run by PUBG Corporation, it operates as a separate title with unique content compared with the console- and PC-based PUBG: Battlegrounds. Both titles were early popular pioneers of the battle royal subgenre. They spun off of mods created by Brendan "PlayerUnknown" Greene for the military sim game Arma II.
This is far from the first time PUBG Mobile has played host to an anime crossover event. Series such as Jujutsu Kaisen, Black Lagoon, Neon Genesis Evangelion, and even Sakura Wars previously made appearances in the mobile title. Interestingly, this isn't Dragon Ball's first crossover with a battle royal game, either. Fortnite ran a Dragon Ball event that took place from August 16 to August 30, 2022.
The PUBG Mobile x Dragon Ball crossover will appear in 2023. PUBG Mobile is available for download on Android and iOS devices.
The post PUBG Mobile to get a Dragon Ball Crossover in 2023 appeared first on Siliconera.
---
Siliconera Wednesday, August 31, 2022 2:00 PM
The Last of Us is back, although, in all honesty, it feels like it never left. In fact, now that I've had a chance to play The Last of Us Part I, it feels like this nine-year-old story's just arrived. Naughty Dog's 2013 post-apocalyptic saga comes to the PS5 looking like it was originally developed for that console instead of the one released two generations back. That's because it has been, effectively. Naughty Dog trumpets that the game is "rebuilt" for the PS5 (and eventually for the PC), and having played the thing, I believe them.
That leaves one question: Is it worth it?
The Prettiest of Us
Personally, I think so. On looks alone, The Last of Us Part I is a stunningly beautiful game. In a lot of ways, it looks exactly the way I remember the original looking in 2013 on the PS3. Where my memory and imagination filled in the gaps in texture resolution or water effects or fancy lighting, Naughty Dog's used modern hardware to make it "real". The result of nearly ten years of new know-how and lessons learned developing every game that came between The Last of Us and now expresses itself in this reincarnation. The game includes "Fidelity" and "Performance" graphical presets. I preferred Performance mode, as I don't have the fanciest TV and liked the additional smoothness of a 60fps framerate lock, but even then, Part I looked quite grand. Even little touches, like the way algae on the water's surface deforms around a character when they swim or the dense spores choking the air out of infested areas, added to the sense of atmosphere.
The same attention to detail's been given to character performances. Whereas the bells and whistles and fancy effects can get lost on you in the midst of gameplay, the cutscenes look top-notch (and indirectly put even more pressure on the upcoming live-action series to excel and stand out). Troy Baker and Ashley Johnson are as powerful as ever in the roles of Joel and Ellie. As far as I can tell, Naughty Dog didn't actually re-capture their performances for this remake. Instead, they re-did the scenes using the same motion capture data, updating character models and tweaking the end result to be an "enhanced" version of the original scene. Lighting, angles, and effects were changed, the better to achieve that "prestige TV" cinematic look they always wanted to go for.
Even a few character designs were changed, but I honestly didn't notice the differences until I did a side-by-side comparison against video of the original game. But whether or not Ellie looks more or less like a certain real-life Hollywood actor or not, the voices and performance capture were what sold the sell the many moments of The Last of Us nine years ago. Now, characters emote more visibly, tears welling up when they're agitated, skin flushing when they're mad. The Last of Us Part I renders cutscenes in real-time now, too. This means you can even mess around with them in the game's extensive photo mode, adding filters and effects, and even adjusting the lighting to get a different vibe.
The "prettiness" also extends to some of the game's heavier elements, particularly when it comes to violence. The Last of Us Part I might have some of the most jarring gore effects I've seen since 2002's Soldier of Fortune 2. Plenty of games have blood and guts, but Naughty Dog's devotion (fixation?) on cinematic realism lends a frankly unsettling quality to its battles, one made more unnerving by modern graphical bells and whistles. Bullets dismember enemies, while headshots actually deform characters' skull models, leaving wet-looking chunks and blackening bloodstains all over the aftermath of a gun battle. It's a small touch, but it was morbidly fascinating to notice that a dead body's blood pooled and flowed following the contours of the tiled floor. Thankfully, more squeamish players can turn that stuff off easily.
The story is the same as it's always been, one of a bad man bonding with a young girl in the most trying circumstances imaginable. There are some powerful moments in this ultimately melancholy tale, and while the novelty of it has worn off after nine years of tiresome discourse, riffs upon riffs (not to mention that the game itself is a riff on fiction like The Road et al), and the expanded context of its sequel, the heart of it still beats.
The Value-for-Money of Us
The Last of Us Part I is indisputably the definitive version of this story as far as visuals and "immersive" effects go, but when it comes to whether that's worth the purchase, the answer's a bit more complicated. From the perspective of pure consumer value, The Last of Us Part I is honestly a tougher sell than it looks. After all, if you own a PS5 and have a PS Plus subscription, you're already entitled to The Last of Us Remastered, free of charge as part of the PS Plus Collection. It and Part I - and by extension, the PS3-era original - are in terms of core content, exactly the same game. Same characters, same story, same wrenching plot twists. If you played the original (or Remastered) and don't feel the need to come back to it, a much prettier version of the same story won't tip the needle in that regard, either.
The team at Naughty Dog reworked the game's combat and pathfinding AI to behave more realistically, incorporating features and behaviors developed for the sequel. But combat is more than just AI behaviors, and with the map layouts and general encounter design largely being the same as the original, the differences in enemy and ally behavior come across as largely cosmetic. For example, allies will now behave more realistically and do better at hiding from enemies, but you'll still occasionally see them standing still in the sight of multiple foes and suffering no consequences. After all, no matter how smart their AI is, the game's designed not to penalize you for failing to escort Ellie or Sam or any other companion. After all, it would suck if you failed because an enemy managed to flank an NPC you had no control over. In this sense, AI and combat design innovations from 2020 and beyond end up constrained by 2013's level and encounter design. So even though they were much prettier and more atmospheric than before, my least favorite sections of The Last of Us were the same in 2022 as in 2013.
There are also some extra modes that could help change the value proposition of The Last of Us Part I, particularly for the type of fan that'll revisit the game again and again. Optional cosmetics allow players to play dress-up with Joel and Ellie. A character model viewer, art gallery, and even developer commentary to gain insight when replaying sections. Speedrun mode is also available, unlocking in-game timers and recordkeeping. For PS5-specific features, Activity Cards and Game Help is fully supported. The Activity Cards are particularly useful for players trying to earn the Platinum trophy, as they track and reveal locations for collectibles, without having to look that stuff up from an outside source.
The Most Definitive of Us
All my snarking about value goes out the window, though, if you happen to have disabilities and find yourself wanting to play the game. The Last of Us Part I is easily one of the most accessible games I've ever played. Naughty Dog took the already accessibility features developed for Part II and built on them to incorporate into Part I. Screen reader support, navigation and gameplay assistance, awareness indicators, and dozens of other options make the "quality of life" for a potential disabled player much smoother. You can customize the HUD, adjust effects for motion sickness and color blindness, and more. These accessibility options even extend to gameplay, allowing you to toggle off things like losing your breath while underwater, adjusting enemy accuracy, and even making stealth more forgiving. You can even set and customize audio cues for combat to make it easier to tell what's happening if you're vision-challenged.
This also goes for difficulty options as well. Separate from the accessibility menu, players can tweak the difficulty to their liking, setting presets for individual qualities of combat. Do you like the lethality of combat in the higher difficulties, but hate how miserly these modes are with resources? Ask no more, because you can adjust those settings in the menu. For the masochists, the "Grounded Mode" preset also makes a return, turning off most of the in-game aids like the HUD, the "listening mode", and other seemingly essential survival tools. In Grounded, you can even be detected in stealth by enemies that hear you trying to reload your weapon. In short, if you enjoy having a more customizable gameplay experience or need additional options to play smoothly, The Last of Us Part I is the must-play version.

Whether or not it truly needs to exist, the fact remains: The Last of Us Part I does exist, and it happens to be the best version of an already pretty good game. The additional accessibility options alone justify it for that section of players. Meanwhile, those who are interested in experiencing its story when it looks its best, whether as a first-timer or a veteran revisiting an old favorite, should strongly consider playing it. For everyone else, the other versions are available for less.
The Last of Us Part I will launch on the PS5 on September 2, 2022. A PC version is also in development but has no release window at this time.
The post Review: The Last of Us Part I Is a Worthy Revisit to a Classic appeared first on Siliconera.
---
Siliconera Wednesday, August 31, 2022 1:00 PM
Shimamura will start selling new Yu-Gi-Oh and Yu-Gi-Oh Go Rush goods from August 31, 2022. The line-up consists of acrylic stands of various Yu-Gi-Oh characters, as well as cushions that look like the Millennium Puzzle or duel disk In particular, you will be able to put the duel disk cushion on your hand. These items will be available from pre-order from August 31 to September 4, 2022. [Thanks, Famitsu!]
The line-up of goods is as follows:
Millennium puzzle die cut cushion: 1969 JPY (about $15 USD)
Duel disk die cut cushion: 1969 JPY (about $15 USD)
Acrylic stand (Yu-Gi-Oh Go Rush): 1419 JPY (about $11 USD)
Acrylic stand (Yu-Gi-Oh Duel Monsters): 1419 JPY (about $11 USD)
For the Duel Monsters acrylic stands, you can choose between Yami Yugi, Kaiba, Joey, and Tea. They are all with their signature monsters. Of course, these monsters are Dark Magician, Blue Eyes White Dragon, and Red Eyes Black Dragon. Dark Magician Girl is the monster that Tea stands in front of. As for Yu-Gi-Oh Go Rush, you can only get an acrylic stand of Yudias and Galactica Oblivion.
The duel disk design uses the one from Yu-Gi-Oh Go Rush. While the article notes that you can attach it to your arm, there are no pictures to show how it will look like. This is also not the first time that Shimamura has released anime or video game merchandise. In the past, for example, it teamed up with Kirby on items such as socks and boxers.
The Yu-Gi-Oh and Yu-Gi-Oh Go Rush Millennium Puzzle and duel disk cushions, as well as acrylic stands, will be available from Shimamura for pre-order until September 4, 2022. They will ship out in middle to late November 2022. Shimamura does not offer international shipping.
The post Check Out the Yu-Gi-Oh Millennium Puzzle, Duel Disk Cushions appeared first on Siliconera.
---
PC Invasion - FeedDDD Wednesday, August 31, 2022 5:00 PM
Steel Beasts is a tank simulator for anyone who has "built a replica T-72 commander's station in the living room" listed among the main issues in their divorce papers. For those of us who don't want to memorize more shortcuts than there are keys on a keyboard, comes Gunner, HEAT, PC! And yes, the exclamation mark is part of the title. (For context, Gunner: the guy who aims and fires the tank's canon. HEAT: Hight Explosive Anti-Tank, a type of tank ammo. PC: Personnel Carrier, so a soft target fitting for a HEAT round.) Gunner, HEAT, PC! is a tank sim set in the late 1980s. World War III is kicking off, and you're one of the lucky schmucks who gets to experience it from the inside of an armored vehicle — hopefully without getting welded inside it. Currently, the game features maps in the Fulda area, where the armored forces of the US and DDR slaughter each other in prime tank territory. Luckily for us, the Gunner, HEAT, PC! crew has produced a roadma...
---
PC Invasion - FeedDDD Wednesday, August 31, 2022 4:30 PM
Earlier today, developer Awaceb uploaded an extensive new gameplay trailer for its open-world adventure game Tchia. In this trailer, the game's director Phil Crifo commentates over the gameplay footage and gives viewers a general rundown on the mechanics thay can expect to see in the final game. If you like relaxing open-world games that allow for a wealth of unique interactions and traversal options, then you'll probably enjoy what Tchia has to offer based on this trailer. On her own, the titular protagonist can already navigate the game's New Caledonia-inspired tropical island fairly efficiently, as she can glide long distances and climb virtually any surface with enough stamina. But by utilizing her environment in novel ways, Tchia can make her way across the island at an even quicker pace. She can fling herself off of trees, for example, but her most powerful movement ability involves soul-jumping, one of the game's core mechanics. Essentially, Tchia can p...
---
PC Invasion - FeedDDD Wednesday, August 31, 2022 4:15 PM
Capcom has been a household name in video games for decades and, like many developers, it's had low and high points. The Japanese company has been riding high over the last few years, but it wasn't long ago that it suffered through its worst rough patch in quite some time. In the late 2000s and early to mid-2010s, the once-beloved video game giant was putting out a consistent stream of games with major issues. Some games lacked content and felt unfinished, such as Street Fighter V. Some games included egregious DLC, such as Street Fighter X Tekken. And worst of all, examples like Resident Evil 6 demonstrated that Capcom was designing its games in ways that flew in the face of everything that made those franchises special to begin with. Yet, despite it all, Capcom has made a monumental comeback. A streak of critically acclaimed games over the last few years has proven that Capcom has learned from its mistakes and is confidently charging ahead on a path that we can't wait to see un...
---
PC Invasion - FeedDDD Wednesday, August 31, 2022 3:30 PM
Out of all the recent games getting the delay treatment, this one probably hurts me the most. Bomb Rush Cyberfunk, which was scheduled for release later this year, has been delayed until summer 2023. I had been hoping to jet, grind, and listen to its radio before the year was up. Sadly, this was not to be. Its developer shared the news earlier today on Twitter. Team Reptile explains that the game just isn't quite at "a level where we would be personally satisfied with." Instead, Bomb Rush Cyberfunk will be delayed many months. We won't see it arrive until the summer. It's roughly a half-year delay, which suggests that the team still has quite a lot of work to do. And while the announcement is unfortunate, Team Reptile is prepping some new screenshots to show off where the game currently is in development. "We are convinced that releasing the game this year will not take it to a level where we would be personally satisfied with," Team Rep...
---
PC Invasion - FeedDDD Wednesday, August 31, 2022 3:15 PM
Tower of Fantasy is an open-world MMORPG by Chinese developer Hotta Studio. It brings the gacha business model to the MMO genre along with its beautiful anime-inspired visuals. As with any MMO, there's a lot to figure out and it can be overwhelming for new players. Our guides and features hub for Tower of Fantasy contains a range of useful guides to help you out. Note: We'll continue adding more tips to our Tower of Fantasy hub, so stay tuned. Tower of Fantasy guides and features hub Tier lists Characters tier list — Best SSR and SR Weapons – Our definitive tier list of the best SSR and SR weapons to use in Tower of Fantasy. Relic tier list — Best SSR and SR Relics – Our definitive tier list of the best SSR and SR relics to use in Tower of Fantasy. Tower of Fantasy Strategy guides The Best food recipes for healing and buffs – Eat up, everyone! These are the best food recipes for healing up and buffing yourself to takedown fierce opponents w...
---
Tabletop Gaming News Wednesday, August 31, 2022 6:00 PM
---
Tabletop Gaming News Wednesday, August 31, 2022 5:00 PM
---
Tabletop Gaming News Wednesday, August 31, 2022 4:00 PM
---
Tabletop Gaming News Wednesday, August 31, 2022 3:00 PM
---
Tabletop Gaming News Wednesday, August 31, 2022 2:00 PM
---
Tabletop Gaming News Wednesday, August 31, 2022 1:00 PM
---
Player Assist | Game Guides & Walkthroughs Wednesday, August 31, 2022 6:00 PM
Team Cherry's Metroidvania action-adventure game, Hollow Knight, follows the journey of a nameless warrior called the Knight as he travels through Hallownest, which is now a kingdom in ruins because of a supernatural disease. As the Knight journeys through Hallownest, he encounters various characters that will help fully unravel the story in the game. One […]
---
Player Assist | Game Guides & Walkthroughs Wednesday, August 31, 2022 5:00 PM
Shikanoin Heizou is a young prodigy detective from the Tenryou Commission who has clear thoughts and sharp senses. Whenever the commission tackles an unusually complicated case, be it a major one or a mysterious one, everyone regards Heizou as their last hope to crack the code. Even the head of the Police Station marvels at […]
---
Player Assist | Game Guides & Walkthroughs Wednesday, August 31, 2022 4:00 PM
Gamble your way to exciting gear in Diablo Immortal. The limited-time event – Fractured Plane – offers a ton of XP and Gold rewards as well as the chance to take home one of the Legendary Items you have picked up in one of the fifteen floors of the dungeon. The free XP and Legendary […]
---
Player Assist | Game Guides & Walkthroughs Wednesday, August 31, 2022 3:08 PM
Crypto is supercharged and ready to roll in Apex Legends Mobile. All that's left is for you to unlock the Legend in-game. Season 2.5 Hyperbeat brings Crypto in as the 13th Apex Legends Mobile roster member. While most Apex Legends fans will already be familiar with what Crypto can bring to the table, the presence […]
---
Player Assist | Game Guides & Walkthroughs Wednesday, August 31, 2022 2:00 PM
We've compiled a comprehensive list of all new and active Roblox High School 2 codes that will get you access to free credits and other game goodies. Roblox High School 2 is a Roblox platform game created by the Roblox High School Fan Club. You may play as a youngster or an adult in Roblox […]
---
Player Assist | Game Guides & Walkthroughs Wednesday, August 31, 2022 1:00 PM
To gain new bee workers, backpacks, and pets, you must collect honey at Roblox: Bee Farm! Simply wander your hive of bees around. When your backpack is full, go to the man waving in front of your bee colony and trade your honey for cash. Collect as many coins as possible to expand your backpack's […]
---
Gaming Instincts – Next-Generation of Video Game Journalism Wednesday, August 31, 2022 4:04 PM
---
Gaming Instincts – Next-Generation of Video Game Journalism Wednesday, August 31, 2022 3:49 PM
---
Gaming Instincts – Next-Generation of Video Game Journalism Wednesday, August 31, 2022 3:30 PM
---
Gaming Instincts – Next-Generation of Video Game Journalism Wednesday, August 31, 2022 3:01 PM
---
Level Up Wednesday, August 31, 2022 12:35 PM
After leaking in advance yet again, Sony confirmed September's line-up of PlayStation Plus monthly downloadable…