---
Kotaku Sunday, May 1, 2022 8:40 PM
Elden Ring can be tough enough as it is, but it's even tougher when you pick up too much crap and become overloaded. When this happens, as anyone who has played a Bethesda RPG will know, you go from being a nimble killing machine to a near-immovable lump of stone. It's supposed to be a temporary effect, designed to…
---
Kotaku Sunday, May 1, 2022 7:40 PM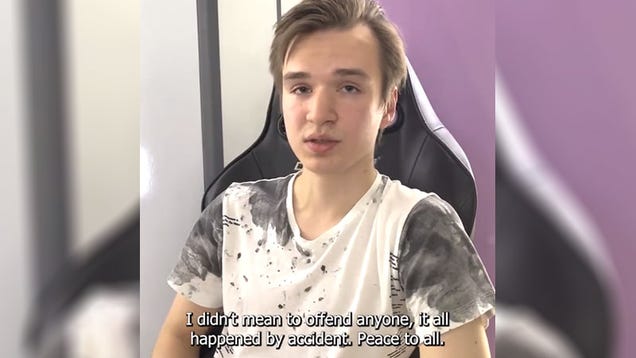 An otherwise unremarkable (at least for the wider public) weekend of DOTA 2 action got a lot more controversial on Saturday when Virtus.pro's Ivan 'Pure' Moskalenko was caught allegedly drawing a symbol of support for Russia's invasion of Ukraine over the in-game minimap.

---
PCGamesN Sunday, May 1, 2022 7:52 PM
Want to know what the best sniper rifle is in Warzone Pacific? There are plenty of options to pick from in the battle royale game, but there's nothing quite as satisfying as a sniper rifle. While this weapon type used to be a sure-fire pick for players back when Verdansk was around, that hasn't been the case since new Warzone map was introduced. That's not to say sniping is dead, far from it, but you do have to think carefully about your surroundings before calling in the best Warzone loadouts.
The latest Warzone Pacific Season 3 update drastically changes how one-shot kills work. Warzone now uses damage range to calculate each bullet's total damage when it hits an enemy player. As a result, you should avoid picking rifles without any potential for headshot kills with a single bullet, as they cannot compete with the best snipers in Warzone.
There are a lot of factors to consider, including which attachments you choose to equip your chosen Warzone sniper with, how confident you are at judging travel time, and what your peeking skills are like. We've analysed the lot to give you the definitive answer on which Warzone Pacific sniper is best for your playing style.
---
Twinfinite Sunday, May 1, 2022 5:54 PM
Twenty years ago today, Bethesda released The Elder Scrolls III: Morrowind, and the developers of the upcoming mod Skywind are celebrating.
---
Twinfinite Sunday, May 1, 2022 4:32 PM
Third-party developers had a few reveals to share about upcoming addons for Microsoft Flight Simulator, including aircraft and airports.
---
Siliconera Sunday, May 1, 2022 3:00 PM
When it comes to The Legend of Zelda: Breath of the Wild figures, there aren't a ton of options. You could pick up Good Smile Company's Nendoroids of Link and Zelda. Jakks Pacific released a Link figure. First 4 Figures stepped up with Link and Zelda ones based on their appearances. Each one is a substantial, tall figure with LED light elements, with the pair capturing the finer details for each character.
The first thing I appreciate about the First 4 Figures The Legend of Zelda: Breath of the Wild Link and Zelda figures is that they are slightly bigger than 1/8th scale. Each one is about 10 inches tall. This means extra detail when it comes to their accessories and clothing. It really pays off for both characters. For example, the Sheikah Slate hooks on Zelda's belt don't feel flimsy or like they could fall off. Link's arrows each are quite intricate. You can really see the lining on cloths and embellishments.
[gallery columns="4" ids="925773,925772,925775,925774" link="file"]
I also feel like this benefits the characters when it comes to the paint jobs. Each one of the figures' appearances is absolutely accurate. There are no overlapping areas or missed spots. People can appreciate accents like details on gloves or seams on pants. It means the different kinds of paints used stand out as well. For example, both Link and Zelda's eyes are glossy, making them seem more alive. Zelda has pearlescent paint used on parts of her shirt. Both Link and Zelda have metallic accents on things like belts, boots, shirts, and weapons. I think I would have appreciated some accents on their hair, to provide some shadows around Link's layers and Zelda's braid. But everything is completely accurate and evokes the same feel of the game.
This goes for their poses as well. In The Legend of Zelda: Breath of the Wild, Link is a more active and dynamic character and we see Zelda as something of an explorer and researcher, and the figures echo those sentiments. Link is equipped with his Soldier's Broadsword and Traveler's Shield on his back. He's wielding a bow, drawing an Ancient Arrow. It seems like he's running. It makes his figure feel more exciting. In comparison, Zelda is watching. She's standing in a dignified, regal way. She looks as though she is an authority figure. with her hair slightly billowing. Given that this isn't based on, say, her more active Hyrule Warriors: Age of Calamity appearance, it suits the situation. It also pairs well with Link, as she could be analyzing and watching while he runs, preparing to strike.
[gallery columns="4" ids="925776,925777,925779,925778" link="file"]
It also means both the First 4 Figures The Legend of Zelda: Breath of the Wild Link and Zelda figures are quite stable. With Link, even though he only has one foot planted, he's well balanced. The pose and position means you likely won't obviously see the black portion anchoring him to the Sheikah stand. The larger than usual size means there's less of a concern about damage being done to the bow's string or Ancient Arrow's shaft. As for Zelda, she's incredibly sold. Both feet are on the ground, there aren't any small or super delicate parts. She's standing tall and not going anywhere.
I also appreciated the nod to the technology in The Legend of Zelda: Breath of the Wild present in each of First 4 Figures' figures. Both are attached to LED bases that light up. They also each have one item they are holding that glows when you turn the switch on. In the case of Link, his Ancient Arrow he's drawing back will light up. For Zelda, the Sheikah Slate she's holding will glow. It is a very cool effect. Especially since there are two options for it. The first offers a continuous glow. The second makes it increase and decrease in intensity. Both options are fun. I did feel the constant glow seemed more effective for displaying. The one that pulsates feels only really effective when you're watching it.
[gallery columns="5" ids="925785,925782,925781,925783,925784" link="file"]
But while this is a very cool addition that enhances the figure, it doesn't feel as practical for Zelda. With Link, the glowing attribute is stunning. You really see the contrast both on the base and with the Ancient Arrow. It really does a good job of calling back to the game, because we see that happen in The Legend of Zelda: Breath of the Wild. With Zelda, it's much more subdued. The highlight from the base is great. But her pose isn't as dynamic. To see the glowing slate, you really have to be looking at her from both behind and above. It limits your posing options a bit, if you want to take advantage of that part.
It's just a detailed set. Both Link and Zelda's personalities come through in these figures. The paint jobs are excellent. The use of LEDs don't feel shoehorned in, as they're practical and make sense for each character. Link is a bit more dynamic and intricate, given his more active pose. Still, Zelda's does suit her personality. Both are quite well done and more intricate than I expected.
The First 4 Figures The Legend of Zelda: Breath of the Wild Link and Zelda figures are available separately or together in a Master Edition for $189.99.
The post First 4 Figures Breath of the Wild Link and Zelda Figures are Quite Detailed appeared first on Siliconera.