---
Kotaku Sunday, October 30, 2022 6:21 PM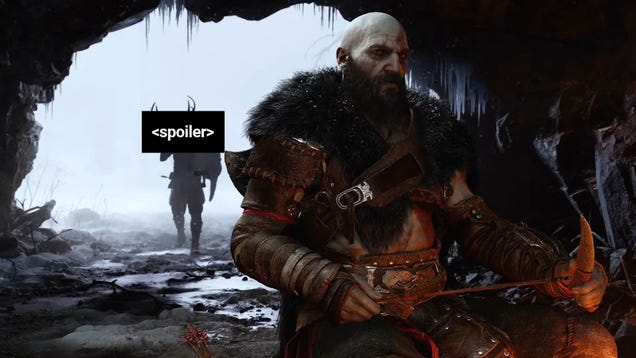 The upcoming God of War Ragnarök, one of the biggest PlayStation games of the year, isn't supposed to be out until November 9, but over the past 24 hours video and social media sites have been flooded with clips of people playing their way through the entire game.

---
PCGamesN Sunday, October 30, 2022 12:36 PM
A new Skyrim mod introduces dozens of nature-themed spells and magic abilities to the Bethesda RPG game. While The Elder Scrolls V is already packed with plenty of exciting magic across its various schools of Restoration, Alteration, Conjuration, Destruction, and Illusion, the best Skyrim mods include plenty of ways to spice up the fantasy game with all manner of new tricks.
Skyrim mods
,
Play Skyrim
,
Games like Skyrim
---
PCGamesN Sunday, October 30, 2022 12:29 PM
A new and improved Fallout: New Vegas mod stops power armour from being a bit of a visual letdown. Following on from how Bethesda RPG game Fallout 3 reintroduced the hulking masses of steel and strength into the series, as some regular apparel that requires some training, the retro-futuristic military armour left a lot to be desired in the open-world games. Power armour has been the visual shorthand for Fallout for 25 years, and now a revamped New Vegas treats them with the respect they deserve.
Fallout: New Vegas mods
,
Fallout 5 release date
,
The best RPG games on PC 2022
---
PCGamesN Sunday, October 30, 2022 12:10 PM
Do you play in an Overwatch 2 support role, and is it starting to lose its appeal? While support is supposed to be a valuable part of the team dynamic on paper in the competitive multiplayer game, many think Blizzard should focus on adding more diverse support characters to the FPS game's roster to help liven up team compositions and strategies.
All Overwatch 2 characters
,
Best Overwatch 2 settings
,
Overwatch 2 tier list
---
Twinfinite Sunday, October 30, 2022 7:23 PM
A Wordle a day keeps the... word doctor away?
---
Twinfinite Sunday, October 30, 2022 4:21 PM
Enhance the M4 Assault Rifle with these Modifications.
---
Twinfinite Sunday, October 30, 2022 2:30 PM
Boost your rank levels with these techniques in Modern Warfare 2.
---
Twinfinite Sunday, October 30, 2022 1:55 PM
With leaked copies of God of War Ragnarok out in the wild, its developers are disappointed.
---
Twinfinite Sunday, October 30, 2022 1:14 PM
The Willow TV show is coming soon on Disney+ and it's looking epic.
---
Siliconera Sunday, October 30, 2022 3:00 PM
Sometimes, anime adaptations can be hit or miss. Even if there's a good director, animation studio, and team involved, it might not capture the same feelings as the light novel or manga that inspired it. (Likewise, you might happen upon an anime that is far better than the original series that spawned it.) Fortunately with the Chainsaw Man anime created by MAPPA, it seems like we're seeing the makings of an excellent adaptation of the manga.
Editor's Note: There are minor spoilers for the first three episodes of the Chainsaw Man anime and volume of the manga below.
There are a number of reasons why this is already so clear, and it has a lot to do with how the Chainsaw Man manga story proceeded and the anime is already handling things. First, we're seeing that MAPPA took care when understanding the importance of character development. Even though Denji might seem simple, with his desire to get with a girl and eat some good meals, there's this sense of earnestness with him. There's a genuine love between him and the devil Pochita. And, to the credit of the studio and everyone involved in the show's creation, it doesn't rush that necessary development. The whole first episode focuses on Denji's roots and relationship with Pochita. Even though our time with the "mascot" of the series is short, we see the importance and value of the relationship between the two characters. It is constantly showing how much they matter to each other. We understand the sacrifices made.
https://www.youtube.com/watch?v=OatDU-PgJQE&ab_channel=CrunchyrollCollection
That first episode, as well as moments in following three, also show that the anime won't shy away from the series' gruesome, visceral battle. Once Denji transforms into Chainsaw Man for the first time, blood is everywhere. Organs are flying. He tears through bodies so acrobatically, it becomes this artistic dance. When Denji takes down a fiend in the second episode, we see the axe cut through it and the head drop to the floor. When Power drops onto the Sea Cucumber as the second episode ends, there's an explosion of various bodily juices and she's just exuberant about being drenched in it.
But perhaps the greatest indicator as to how well the Chainsaw Man anime is capturing the manga's tone comes in how it captures its humor and lighter moments. The second episode is a fantastic example of this. Once Aki and Denji need to start living together, there is the continuing series of incredible moments. We watch as Aki finds out how "close" Denji and Miss Makima got. We see Denji leaving this abominable piece of toast with every condiment and jam in the cabinet, with the evidence left behind. Aki has to deal with Denji's off-key "singing." When the episode begins, we're seeing how their clashing personalities makes for a The Odd Couple situation, but the fact that Aki is gradually, continually losing his mind as he realizes his nightmare coworker became his inescapable roommate and platonic life partner is comedy gold. MAPPA captures it perfectly.
The anime adaptation is also already doing a good job of highlighting the dynamic between characters, even though there's a limit on how much time they get. For example, we can clearly see Denji's desperation, his goofiness, his joy at getting the small luxuries he's never had before, and the way he relished his new abilities when he got to use them. Aki's seriousness and regrets come through, but we also get a sense of his youth when we witness his disgust and disbelief at Denji's behavior. Power's unrestrained nature comes through, even in her brief moments so far. Yet on top of it all, we have this stable, soothing, calm voice of Miss Makima over all of them, evening people out and keeping them in line. It's early days, but MAPPA and the team created a solid foundation.
It really seems like the Chainsaw Man anime is being set up for greatness. With MAPPA and the team's efforts so far, it feels like they really understood the manga and what matters about it. It gives me hope that we'll see all of the moments that stuck with us. The horrifying devils. The attempt to become a Super-Smart, Nobel Prize-winning Prime Minister. The relationships. The parts that break your heart. It's early days, but what we have so far is a sign of good times ahead.
The Chainsaw Man anime is streaming on Crunchyroll, and people can find the manga via Viz Media. New chapters of the manga appear for free for a time on Viz's site.
The post The Chainsaw Man Anime is an Admirable Adaptation of the Manga appeared first on Siliconera.
---
Gamer Empire Sunday, October 30, 2022 3:05 PM
Zoroark, the Melee Speedster, is now available on Pokemon Unite (available on iOS, Android, and the Nintendo Switch). This speedster can be yours for 14,000 Aeos coins or […]
---
Gamer Empire Sunday, October 30, 2022 3:04 PM
During IGN's Podcast Beyond, the team revealed that God of War Ragnarok is going to take well over 50 hours to reach 100% completion. This […]