---
Kotaku Tuesday, March 15, 2022 5:45 PM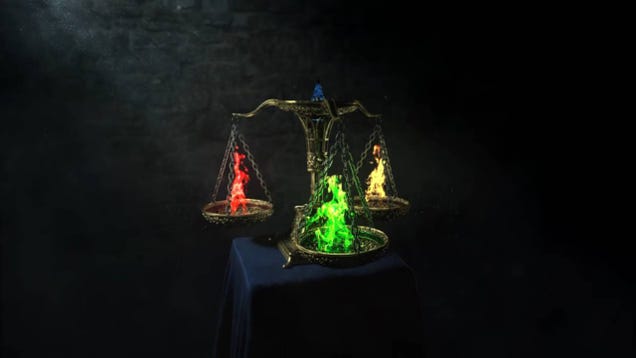 It's probably happened to you. You thought you'd made a great appeal in Triangle Strategy, only for your entire party to vote against the story route that you wanted to take. Don't worry. It's not you, it's literally them. The characters in Square Enix's new strategy game each have their own individual, personal…
---
Kotaku Tuesday, March 15, 2022 5:25 PM
With Elden Ring nearly a month old, plenty of people have done incredibly impressive things in FromSoftware's latest Souls-like. Some have beaten the action role-playing game without dying a single time while others are reaching the end credits in less than 30 minutes. Something I love watching, aside from…
---
Kotaku Tuesday, March 15, 2022 5:10 PM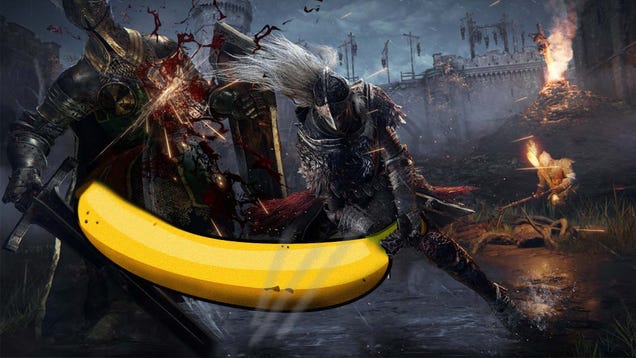 If you're playing Soulsborne bingo and desperately trying to cover that hard-to-fill "Elden Ring player defeats boss using a literal banana" space, well, I've got some good news for you.
---
Kotaku Tuesday, March 15, 2022 4:30 PM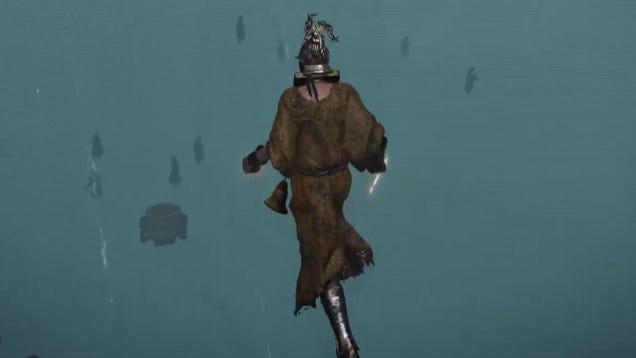 When they aren't making me laugh with lewd jokes, tricking me into hitting walls in search of hidden passages, or labeling every animal a dog, my fellow Tarnished are doing a great job of highlighting some of Elden Ring's weirdest bugs via the messaging system.

---
Kotaku Tuesday, March 15, 2022 2:10 PM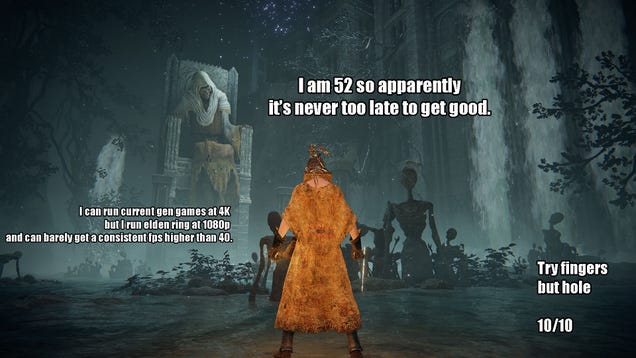 It's hard to overstate how popular the latest Souls-like game is. Elden Ring became Steam's most played game at 760,000 concurrents on launch day, which was unprecedented for a FromSoftware game. It's been nearly three weeks since the game launched, and interest hasn't died down. The PC port of Elden Ring has 226,106…
---
Kotaku Tuesday, March 15, 2022 1:20 PM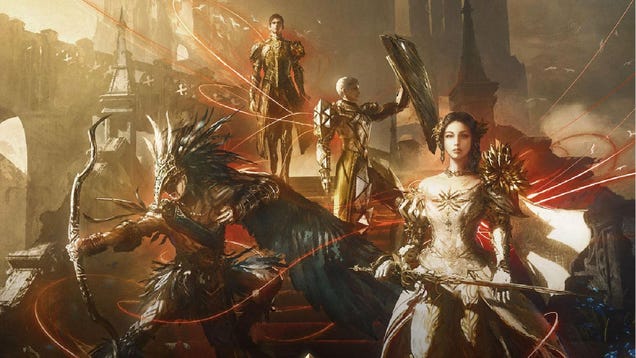 Some games surprise you. Others give you exactly what you expect. There are games that are really good at being completely mediocre, and ones that are so bad they're great. It takes all kinds. Which kind is Square Enix's aRPG Babylon's Fall? The kind everyone tells you is bad, but you play anyway because you don't…
---
Kotaku Tuesday, March 15, 2022 12:45 PM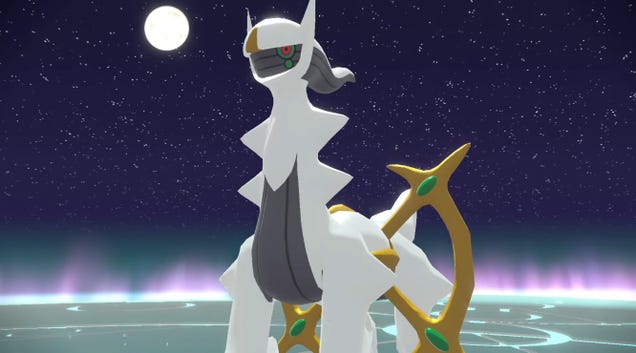 Fifteen years after their original release, it will finally be possible to get Arceus in Pokémon Diamond and Pearl via an update coming to the Brilliant Diamond/Shining Pearl remakes. But you'll need Pokémon Legends: Arceus to do it.

---
Kotaku Tuesday, March 15, 2022 12:30 PM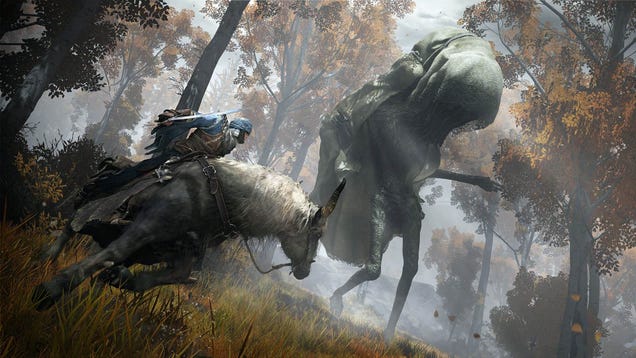 If you thought a 37-minute Elden Ring speedrun was the quickest time ever recorded for FromSoftware's latest Souls-like, think again. That fast run was just blown outta the water by a sub-30-minute completion, which has my head spinning in a jealous rage. What's especially wild about this new time, though, is that it…
---
Kotaku Tuesday, March 15, 2022 12:15 PM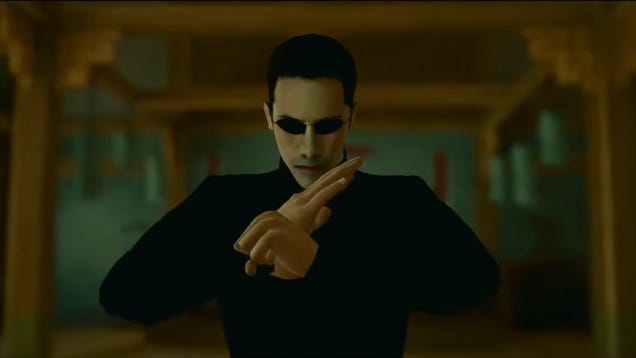 While The Matrix Awakens: An Unreal Engine 5 Experience was no doubt an impressive display of how far gaming technology's evolved since 2003, I'd argue that the true hotbed of gaming innovation comes from the gigachads known as PC modders. Don't believe me? Check out this Sifu mod that pits Neo against a horde of…
---
Kotaku Tuesday, March 15, 2022 11:55 AM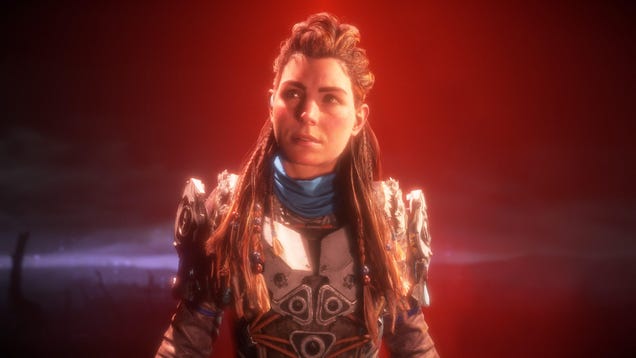 Partway through Horizon Forbidden West, you encounter a monster. It's not an animal-shaped robot, like the bulk of enemies you fight. It's a bona fide creature of the shadows, and a rare moment of terror in a series that largely avoids jump scares and nightmare fuel. According to the game's narrative director, the…
---
Kotaku Tuesday, March 15, 2022 11:40 AM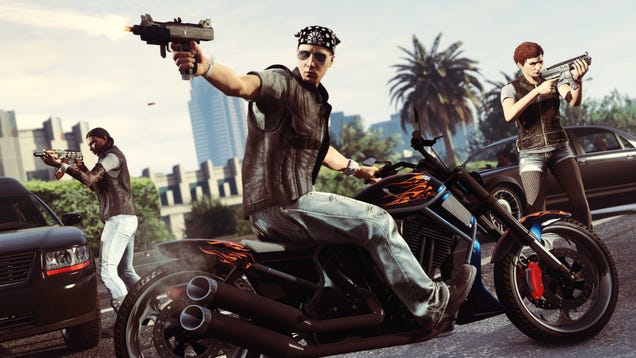 Having played Grand Theft Auto Online for nearly a decade, I don't think it will shock you to learn that I've recently felt…done with the game. While I've enjoyed some of the recent updates and events, my desire to sink hours of my life into GTA Online has mostly vanished. So I wasn't sure what to expect with the new…
---
Kotaku Tuesday, March 15, 2022 11:20 AM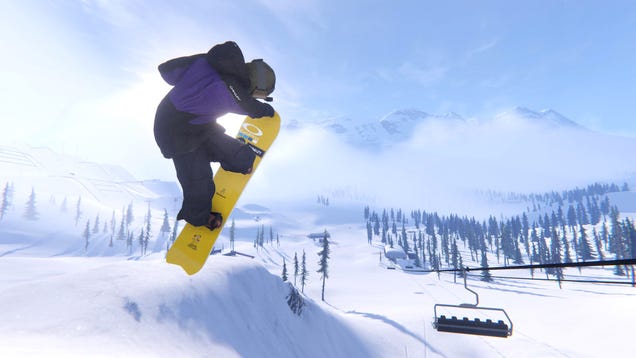 Game Pass started March off with a bang, adding a well-regarded blockbuster (Guardians of the Galaxy) less than six months after release, plus one of the best-written games ever (Kentucky Route Zero). The rest of the month, in comparison, lacks the big headline punch we've grown so used to, much as it did for the…
---
PCGamesN Tuesday, March 15, 2022 5:24 PM
Inscryption is one of 2021's best games, but it was hard to justify putting it into any specific category. It's a deck-building game, yes, but it's also a puzzle game and a horror game that blends genres and themes with an effortlessness that's quite profound. A mini-expansion for Inscryption, Kaycee's Mod, is now out of open beta, and ready for you to just keep playing that satisfying card-based roguelike game component forever.
Effectively, Kaycee's Mod lets you endlessly repeat the first segment of Inscryption, which is a series of increasingly challenging card battles against a spooky and mysterious opponent named Leshy. You'll have to manage your deck by making sacrifices, recruiting new units, and picking paths to follow on a map through a darkened forest.
Kaycee's Mod does more than simply make Inscryption's card-battler component endless, however. As we noted when it began its open beta, there are new options for increasing the difficulty of each run, plus new cards and items to use in battle, a new final encounter, and new bits of lore to uncover.
---
PCGamesN Tuesday, March 15, 2022 5:05 PM
EA Play 2022 will not be happening, which means that everything from Dragon Age 4 to Skate 4 will have to save their announcements for a different venue. EA's annual live show typically took place just ahead of E3 each summer, but today the publisher has confirmed that there will be no such event this year.
"We love EA Play Live as it's our way of connecting with our players and sharing what's new with all of you," an EA representative tells IGN. "However, this year things aren't lining up to show you everything on one date. We have exciting things happening at our world-class studios and this year we'll reveal much more about these projects when the time is right for each of them. We look forward to spending time with you throughout the year!"
Several EA studios have already made plans for announcements outside of EA Play known. The Dragon Age team intends to announce more "in the form of blogs and social content" this year. The Dead Space devs are running a series of dev-focused live streams. And insiders are hinting at a reveal for the Star Wars Jedi: Fallen Order sequel in May.
---
PCGamesN Tuesday, March 15, 2022 3:49 PM
Fleet carriers, the largest and costliest of ships in Elite Dangerous, now have their hotly anticipated interiors. Update 11 has arrived for the massive space game, allowing the truly elite to gather their friends and crewmates aboard their Drake-class carriers, which can function as mobile space stations and social hubs.
Each Drake-class carrier has a main concourse and hangar lobby, a command deck that includes special quarters for the commander-owner and their wing, and a seating area where you'll want to fasten your safety belt when the carrier prepares to make a jump to a new star system.
Commander-owners of carriers can optionally install additional modules, including a bar, a Vista Genomics service desk for turning in scanned genetic data, a Pioneer Supplies store, and a shipyard access point, where you can reach the shipyard area on foot. You can use all the seats and barstools throughout each concourse, and adjust the tariffs on each service offered in your carrier - in case you'd like to make a bit of profit off the Pioneer Supplies sold on board.
Elite: Dangerous mods
,
Elite: Dangerous Thargoids
,
Elite: Dangerous system requirements
---
PCGamesN Tuesday, March 15, 2022 2:26 PM
A Sims 4 Neighborhood Stories update makes a host of changes to allow for more dynamic things to happen to those sims that you're not directly controlling. The Neighborhood Stories system was introduced last year as a way for sims outside your household to experience life events like having a baby or develop a relationship, and this update will deepen that system dramatically.
NPC sims will now be able to die in "accidents", as the devs explain in a new blog, which will depend on "risk factors such as age, traits, and careers". (I'm just using the quote marks for dramatic effect, there's no implication of murder here.) Sims could already die of old age when you're not playing them, but this will make the causes of death much more potentially dramatic.
If you don't want dramatic deaths, however, new customisation options will let you decide which households can be affected by which types of Neighborhood Story option, and you'll also be able to disable Neighborhood Stories for a given save altogether. If you do want to use the feature, you'll be able to check in on recent interactions by looking at any mailbox.
Best Sims 4 mods
,
Best Sims 4 sex mods
,
Play The Sims 4
---
PCGamesN Tuesday, March 15, 2022 2:21 PM
A League of Legends player has managed to go from unranked to master in a single, 60-hour stream. What makes the gnarly feat even more surprising, though, is that Twitch streamer Nicklink did it in a solo queue without any buddies to help him.
The LoL fan kicked off the challenge on March 11 before finishing 60 hours and 30 minutes later on March 14. While he stopped for the odd bathroom and food break, though, Nicklink didn't sleep at any point, which is maybe not the healthy choice.
The stream essentially goes as you would expect. Nicklink starts strongly in the lower ranks, winning 18 games on the spin. Matches get more challenging, though, as he grows tired and comes up against the stiffer competition. Still, as Mais Esports points out, he finished with a win rate of 78% over 90 games, with 75 of those games being played on his champion of choice, Jax. The skirmisher is typically a good pick for jungle or top positions as they deal high amounts of damage, though the champ is a tad fragile as a trade-off - as fragile as one might feel after streaming for 60 hours.
Best LoL Champions
,
League of Legends patch 12.4 notes
,
LoL tier list
---
PCGamesN Tuesday, March 15, 2022 2:00 PM
Overwolf has announced the acquisition of Tebex (previously known as Buycraft), an end-to-end solution for game studios and creators looking to monetize private servers, which spans from managing the creation of web stores to game servers receiving payouts. Already well established in some of the biggest games on PC, Tebex has helped gamers earn over $500 million USD in games like Minecraft, ARK: Survival Evolved, Garry's Mod, CS:GO, and Rust. In December 2021 alone, Tebex paid out over $10.5m to creators.
Overwolf is at the forefront of the evolution of user-generated content, so the move is pretty natural. Originally established as a platform for sharing user-created apps for competitive games like League of Legends and Dota 2, the company has expanded its reach to cater to mod-makers, and now, server hosts. The company is now billed as the all-in-one platform to build, share, and monetize in-game apps and mods.
It's a great move for Overwolf, and a great move for players too. As private servers become more prominent and sought-after gaming spaces, their monetary value has also skyrocketed. From 2018 to 2019, Minecraft reports aftermarket sales of $50m, with an average purchase value of $18.39. One can only imagine how the increased popularity of online social spaces due to the pandemic has increased this number.
Minecraft console commands
,
Minecraft skins
,
Minecraft mods
---
PCGamesN Tuesday, March 15, 2022 1:44 PM
Last week it was rumoured that PUBG Nier skins were coming to Grafton's still-popular battle royale game. Now the developer confirms that the PUBG Battlegrounds x Nier Automata crossover is indeed happening, and it'll drop on April Fool's Day. For real, we think.
While Nier Automata was pretty successful for Platinum and Square Enix, the series doesn't seem to have made enough money to persuade the publisher or director Yoko Taro to make a Nier 3. Apart from a remake of the first game, Nier Replicant, the only way fans can play as 2B or the series' other characters are through crossovers with other games - like, er, Fall Guys.
The rumour last week from PlayerIGN suggested that the PUBG x Nier crossover would arrive on April 1 and would include skins based on 2B and 9S from Nier: Automata alongside Kainé and Nier himself from Replicant. This appears to be right on the money, as PUBG's developer confirmed today in its March Store Update.
PUBG new map
,
PUBG weapons
,
Play PUBG
---
PCGamesN Tuesday, March 15, 2022 1:43 PM
Getting your hands on some Core Keeper tin ore is likely the first real obstacle you'll face as you start upgrading your equipment in this adventure game. While the copper gear you find early on works well for the first slew of battles and adventures, it's not good enough to help you beat down some of the horrors that await in the dark depths.
So, grabbing tin ore is going to be one of the first things you'll want to do once you've got a basic base set up. The only trouble is, Core Keeper isn't exactly forthcoming with information on, well, anything. Core Keeper is so early in development that it doesn't have a tutorial yet. Instead, you're provided with a cutscene that says you're in trouble.
Lucky for you, we know all there is to know about Core Keeper tin ore, and we're always happy to help by sharing our wealth of knowledge with you. Here's what you need to know about finding tin ore in Core Keeper, why you need it, and what it can be used for.
---
PCGamesN Tuesday, March 15, 2022 1:41 PM
Looking for dragons in Elden Ring? These majestic creatures will rip your heart out at a moment's notice, so why not take theirs first?
You can use dragon hearts to buy powerful dragon-based incantations; these Elden Ring spells can be redeemed using dragon hearts at the Church of Dragon Communion in Limgrave, which can be found on a small island on the other side of Dissenter's Cave, and the Cathedral of Communion in southern Caelid. The spells vary from transforming into a dragon to claw through enemies, to inflicting a deadly AoE fire spell that burns enemies to a crisp.
These Elden Ring bosses won't go down without a fight, though, so make sure you have the best Elden Ring build and come equipped with the best Elden Ring summons. Here are all the dragon locations in Elden Ring and how many hearts you'll obtain from successfully killing each one. We've also listed how many hearts you need for each spell, including early spells obtainable in Limgrave and the more lethal spells you can get when you reach Caelid.
Best Elden Ring settings
,
Elden Ring bosses guide
,
The best Elden Ring classes
---
PCGamesN Tuesday, March 15, 2022 1:30 PM
When it comes to discussing which company produces the best graphics card for your gaming PC, Intel probably wouldn't even cross your mind, but that could all change in 2022. The company is set to take on both AMD and Nvidia this year, with its first generation Arc Alchemist GPUs.
Intel has managed to keep its Alchemist cards mostly under wraps, but this hasn't stopped benchmarks and spec sheets leaking ahead of the official launch date. First revealed in August, team blue was expected to pull back the curtain on its Xe-HPG based graphics cards during CES 2022, but unfortunately didn't share even a crumb of new details.
Alchemist GPUs face stiff competition from the likes of Nvidia's RTX 3000 and AMD's RX 6000 cards, but the rumoured 2022 launches of RTX 4000 and RDNA 3 loom large on the horizon. Regardless of how they end up performing, XeSS should help spice up proceedings against competing upscaling technologies like Nvidia DLSS and AMD FSR.
Arc Alchemist GPUs - everything we know
,
Raptor Lake CPUs - everything we know
,
Best gaming CPU
---
PCGamesN Tuesday, March 15, 2022 1:54 PM
Want to know how to unlock secret characters in Vampire Survivors? When you start your first run you only have a handful of characters and a few weapons available. However, on each playthrough, more items, weapons, and characters unlock for you to use in future attempts.
These items are vital if you wish to use Vampire Survivor weapon evolutions to maximise a weapon's damage output. The game also locks new characters behind requirements, such as leveling up your gear to a certain threshold, finding items in a level, or slaying a quota of monsters.
Some of these unlock conditions are somewhat vague, so we thought we'd list how you can get all of the Vampire Survivors characters, weapons, items, and levels. We also have a cheat code that you need to type to get another hidden vampire slayer and steps to access a secret character that requires you to tinker with the game's code.
---
PCGamesN Tuesday, March 15, 2022 1:22 PM
Want to know how to evolve weapons in Vampire Survivors? This roguelite indie game is rapidly gaining in popularity, as players discover the sheer joy of walking around a forest or library, slaying an ever-growing encroaching horde of monsters that just want to be very close to you.
It's a relatively simple game to play, but mastering it and unlocking Vampire Survivors characters can get a little tricky if you don't spec into the correct build from the start. To evolve an item in Vampire Survivors, you must first level up a weapon to its maximum level, collect its linked item when it appears on the level up screen, then kill a boss monster and open the chest it leaves behind. Unfortunately, you only have a few slots for weapons and items, so you must choose carefully.
The items that synergise well with a weapon aren't necessarily the items you need to evolve them, so while you'll want to pick up the candelabrador if you have the garlic weapon, you also need a pummarola to power it up. To help you figure out which items to keep, we've put together a list of all the possible Vampire Survivors weapon evolutions and which items you need to pick up when you level up.
---
PCGamesN Tuesday, March 15, 2022 1:12 PM
The Ghostwire: Tokyo release date will soon be upon us, but before you place your pre-order and net yourself a swanky outfit in the process, you should make sure your gaming PC is ready for the paranormal romp. Fortunately, it doesn't take much to meet the Ghostwire: Tokyo system requirements, but you might need to upgrade your gaming RAM if you're still a member of the 8GB crew.
Standards have shifted over the last few years, with games asking for more memory than ever, so it probably won't surprise you to see 16GB of RAM recommended here. However, entry-level and ageing systems might feel some pressure from the high barrier to entry, as Tango Gameworks suggests a minimum of 12GB of RAM to play the action-adventure horror game. This is something we'll probably see more of throughout 2022 and beyond, so choose your next upgrade wisely.
It also continues the trend of recommending an SSD over a mechanical hard drive for faster loading times, but you can take comfort knowing it won't take up too much storage space at just 20GB.
Best SSD for gaming
,
How to build a gaming PC
,
Best gaming CPU
---
PCGamesN Tuesday, March 15, 2022 12:56 PM
Want to know how to beat the Elden Ring bosses? The most defining moments in any of the best Soulslike games are the tough boss fights. They can be tricky for several reasons: some are hard to hit consistently, others can squash you with just one attack. Elden Ring is also an open-world game, so as you'd expect, there are plenty of formidable foes with big health bars waiting to be discovered.
So far, we've managed to find out which bosses are in several regions. Since any region can have up to 19 bosses, keeping track of which ones you've beaten can be tough.
In this guide, you'll find a list of all of the Elden Ring bosses we know of so far, where you can find them, which ones are mandatory, and what items they drop when you beat them. It's worth noting that, generally speaking, as you hunt them down, dungeon bosses are not as hard to kill as the major bosses. However, there are exceptions, so upgrading the Flash of Wondrous Physick with Elden Ring crystal tears can make all the difference.
---
PCGamesN Tuesday, March 15, 2022 12:27 PM
AMD has finally pulled back the curtain on when we'll be able to get our hands on the Ryzen 7 5800X3D, and just how much it'll cost to snag what the company is proudly touting as "the world's fastest gaming CPU." So, mark your calendars for April 20 and crack open your piggy bank and hope you've got $449 USD saved up for what could be the best gaming CPU money can buy.
First announced alongside AMD's Zen 4 CPUs during the company's Product Premiere Event earlier this year, the Ryzen 7 5800X3D is the first consumer processor to feature the company's 3D V-Cache technology. This clever bit of engineering has enabled AMD to pack a whopping 96MB of L3 cache into the new chip by vertically stacking it.
Despite the Ryzen 7 5800X3D's lower core and thread count compared to the Ryzen 9 5900X, AMD claims that the increased L3 cache helps boost its new CPU champion's gaming performance by up to 15% compared to its more expensive sibling.
Zen 4 CPUs - everything we know
,
RDNA 3 GPUs - everything we know
,
Best gaming CPU
---
PCGamesN Tuesday, March 15, 2022 12:15 PM
Overwatch never stays still for long, and so the question that is always on a Blizzard fan's lips is 'who is the next Overwatch hero?' The original 21 - now 32 - heroes won't keep everyone occupied forever, and Blizzard has always been upfront that Overwatch would grow, and for free, too.
Overwatch's most recently added hero, Echo, was released on April 14, 2020 - and according to Jeff Kaplan, Echo is Overwatch's last new hero until the Overwatch 2 release date, as the team is currently focused on making new heroes for the sequel instead. But that doesn't mean no new Overwatch heroes full stop - or that we don't have clues about who the next hero will be, when the time comes.
With Overwatch's lore told the way it is, through vague hints and out-of-game stories, teases come easily and often from the big blue. Be it a dossier buried in some notes on a map, a name slipped into a blog post, or a long-known character finally being added as a playable hero, there are always hints as to who's next - and we've gathered them all here.
Overwatch patch notes
,
Overwatch characters
,
Overwatch new heroes
---
PCGamesN Tuesday, March 15, 2022 12:05 PM
A number of additional free Monster Hunter Rise title updates are on the way, as Capcom prepares for the launch of the new expansion, Sunbreak, later this year. Both the Steam and Switch versions of Sunbreak will launch on June 30, 2022, as the devs have revealed in a new stream breaking down what players can expect from the expansion.
New event quests and "other content" will be added to base Monster Hunter Rise until March 25. A major free title update will launch alongside Sunbreak on June 30. This patch will require around 13GB of storage space, and will "adjust weapon balance, as well as add item packs and character edit vouchers, from the day Sunbreak is released".
If you haven't been keeping up with recent Rise updates, the devs also highlight title update 3.9.0.0, which launched in February and brought the PC and Switch versions of the game to parity with one another. This update introduced a host of additional armour and weapon sets designed to make progressing through the game easier, so you can quickly catch up with the content in Sunbreak.
Upcoming PC Games
,
Best PC RPGs
---
PCGamesN Tuesday, March 15, 2022 12:54 PM
Looking for the best Genshin Impact Venti build? Now that rumours are circulating that this popular Genshin Impact character might be getting a banner rerun in the 2.6 update, it's about time we took another look at this Anemo bow wielder to see how we make the most of his abilities.
The best Venti build needs to take into account this five-star fiend's primary role - keeping enemies suspended in mid-air while switching to other DPS focused characters to unleash the pain. Venti does this by using a combination of ranged attacks and Anemo-based skills (that's wind to the rest of us).
Once you have Venti, he will be invaluable when exploring new regions as his support skills can amplify other elements. You can easily pair him with Pyro characters to create burning tornadoes. Because of this, Venti is best played in a support role, although Venti has plenty of inherent DPS potential if you want to go in that direction. Here's what you need to get to create the best build for Venti in Genshin Impact.
Play Genshin Impact for free
,
Genshin Impact character tier list
,
Genshin Impact leveling guide
---
PCGamesN Tuesday, March 15, 2022 12:44 PM
I've never been much of an office worker - I hate sitting for long periods of time staring at two screens that never seem to change. But over the years, I've become accustomed to this life, plonking myself down each and every morning and cracking on with my work. It wasn't until a pain started shooting down my lower back and into my legs though that I realised I needed a change. I began looking at desk chairs with added lumbar support to soothe my aches and pains - but in reality, I should have been looking for a new gaming desk.
Standing desks are expensive products and it's this fact alone that puts so many people off - myself included. I bought one of the best gaming chairs to compensate for my pain all those years ago, and while it certainly solved the problem in the short term, I ended up with buyer's remorse. As someone who's put their body through the ringer over the years chasing an egg-shaped ball around a field, I realised I actually needed a break from sitting all the time - and the Flexispot E7 standing desk is the perfect antidote.
For the last month and a half, I've been using Flexispot's Pro Series desk and I can honestly say that I wish I'd picked one up earlier. I no longer feel lethargic at the end of a working day, my posture has improved, and the pressure on my back has been eased.
Flexispot BS10 office chair review
,
Best gaming desks
,
Flexispot E7 standing desk review
---
PCGamesN Tuesday, March 15, 2022 11:35 AM
Microsoft Flight Simulator is due for another big world update. World Update 8: Iberia, which was announced back in January for the simulator game, will add the usual tender loving care to Spain, Portugal, and surrounding regions when it arrives March 22.
As with past world updates, the Iberia patch will add a host of new points of interest, as well as enhancing the region with updated satellite imagery and elevation data. Airports, cities, and landmarks usually get nice visual enhancements, and Asobo typically creates some new discovery flights, landing challenges, and bush trips for the world updates. Asobo Studio still hasn't provided a detailed breakdown of exactly what the update will include, however.
The Iberian Peninsula includes Spain and Portugal, as well as Andorra, Gibraltar, and a slice of southern France. All told, it's more than 583,000 square kilometres, and it's home to the cities of Madrid, Barcelona, Lisbon, Valencia, and Seville. The update will add six cities, as well as the new two-metre resolution elevation maps that provide more realistic terrain.
Microsoft Flight Simulator review
,
The best PC simulation games
,
The best flight games on PC
---
PCGamesN Tuesday, March 15, 2022 11:31 AM
When Elden Ring's open world was revealed it did look a tiny bit formulaic. Bandit camps, crafting mechanics, tileset dungeons and catacombs, and light emergent gameplay in the form of moving caravans. Nothing new here, right? Now it's out, it's pretty clear that Elden Ring is something special. The kind of special that has us handing out perfect review scores (you can check out our Elden Ring review here) and endlessly poring over every tiny detail. Everyone is talking about it, almost uncontrollably. There are discussions on how to kill massive knights with names like Godrick, Godfrey, and Godwyn, ceaseless chatter about apocalyptic sorceries and impossibly large swords, and arguments about supposed reptiles that are definitely dogs.
This is, then, a fantastic opportunity to take stock. Open-world game development over the past decade has grown increasingly stale, dead-eyed, and predictable. There are crucial lessons that can be learned from Elden Ring's success.
If we could only convince other studios to internalise the spirit and intention of Elden Ring, the genre would be refreshed and revitalised. We wouldn't let out a heavy, involuntary sigh the next time someone on a conference stage proudly proclaims their game world is 8,000 thousand times bigger than Earth, and contains 900 missions. We'd trust again, like we once did, that open worlds are exciting places.
Best Elden Ring settings
,
Elden Ring bosses guide
,
The best Elden Ring classes
---
PCGamesN Tuesday, March 15, 2022 11:01 AM
Minecraft is already one of the most relaxing PC games out there for many people, but what if you throw some ASMR and clay sculpting into the mix? While there certainly are more chaotic ways to play the building game, it feels like it's been designed to gently massage your senses into a state of relaxed putty. The music is wonderfully calming, the rhythm of mining is fast enough to avoid frustration but slow enough not to feel hectic, and building your very own home is wonderfully gratifying.
It makes perfect sense, then, that Minecraft ASMR would exist. However, what we're showing you today isn't about the game, as such, but about the clay ASMR (ClaySMR) that a YouTuber called WUZU Clay has been putting out. These videos are so overwhelmingly relaxing that you'd have to actively go out of your way to stay stressed out while listening to them and watching them.
The YouTuber makes videos of themselves creating tiny sculptures from different materials that show their love for different game worlds. They've done eight videos on some Among Us builds, all of which are wonderfully whimsical, while also capturing some of the key moments from your average game.
Minecraft console commands
,
Minecraft skins
,
Minecraft mods
---
PCGamesN Tuesday, March 15, 2022 10:57 AM
Are you searching for the best armor sets in Elden Ring? In this RPG game, upgrading your armaments using Elden Ring smithing stones and Ashes of War is just as important as leveling up your character. Elden Ring armor, however, tends to be overlooked by comparison - many players spend several hours wearing the same equipment. Unlike in real life, however, not changing your clothes for days at a time is somewhat understandable in Elden Ring, as impressive gear is difficult to come by - particularly in comparison to other methods of upgrading your build, like Elden Ring talismans.
The best Elden Ring armour is far from useless, however. There are some armour sets out there which come with powerful abilities, though their usefulness largely depends on what type of character you're building towards. If you've got a fashion-conscious Tarnished, Elden Ring makes it difficult to find armour that is both protective and stylish, but it certainly can be done if you know where to look.
There are three ways to earn armour sets in Elden Ring: repeatedly kill the same enemies until they drop their entire set, kill a specific enemy to earn all of their items, or find the equipment in a hidden chest. Here's everything you need to know about the best Elden Ring armour sets, including where to find them and what bonuses they provide.
Best Elden Ring settings
,
Elden Ring bosses guide
,
The best Elden Ring classes
---
Rock Paper Shotgun Latest Articles Feed Tuesday, March 15, 2022 5:34 PM
A new Perfect Dark game was announced back in 2020, but it seems like development hasn't been going smoothly. A new report from VGC says that as many as half of the core development team have quit the project in the past year, including several people on the senior design team. Sources say these departures are partly responsible for Crystal Dynamics being drafted to work on the game late last year.
---
Rock Paper Shotgun Latest Articles Feed Tuesday, March 15, 2022 4:50 PM
Tencent have bought a majority stake in Tequila Works, the developers of Rime, Deadlight, The Sexy Brutale, and forthcoming League Of Legends tie-in Song Of Nunu. No fee was disclosed with the announcement, but Tequila Works co-founder Raúl Rubio said the investment would allow the company to focus on "original IPs".
---
Rock Paper Shotgun Latest Articles Feed Tuesday, March 15, 2022 2:24 PM
This weekend brought the second annual Video Game Accessibility Awards, a celebration of games which make an effort to welcome a wider range of players. Prizes came in ten categories covering everything from control and text options to friendly training spaces. It was a fun awards show too, with good hosts, chat from devs, and even a special appearance from Van Wilder star Ryan Reynolds.
---
Rock Paper Shotgun Latest Articles Feed Tuesday, March 15, 2022 1:11 PM
After making What The Dub?!, a game which is basically about cracking jokes over bad movies like you're on Mystery Science Theater 3000, Wide Right Interactive are now getting even Mistier. Today they announced RiffTrax: The Game, teaming up with the post-MST3K jokefest for an official new party game about making your pals laugh by cracking jokes over bad movies.
---
Rock Paper Shotgun Latest Articles Feed Tuesday, March 15, 2022 1:00 PM
It's been 45 minutes since we started our attempt to access the new co-op missions in Grand Theft Auto V and my friend is hiding behind a car while he furiously Googles a solution. He's on the cusp of figuring out the next required step when he's incinerated by a rocket launcher.
Every few months we hop into GTA Online with the intention of checking out some Hot New Content. Last time, we ended up running each other over with go-karts while the party leader tried to set up a mandatory LLC and email a tax return to Rockstar. We never did reach the High Octane Bank Heist.
---
Rock Paper Shotgun Latest Articles Feed Tuesday, March 15, 2022 11:07 AM
PC component makers NZXT continue expanding beyond the confines of cases, having just launched two lots of desktop peripherals: the Function mechanical keyboard series, and the Lift gaming mouse. Thanks to a shipping slip-up I've only been getting acquainted with the Function family, but so far its three models have proven to be adept at games and typing alike – with a big bonus for customisation in the form of easily hot-swappable switches.
---
Rock Paper Shotgun Latest Articles Feed Tuesday, March 15, 2022 10:39 AM
Capcom today confirmed a release date of June 30th for Monster Hunter Rise: Sunbreak, the first expansion for the latest in their monster-mashing series. In a livestream they also get into the expansion's story, its world, and many of the big dogs you'll be killing then skinning. Watch on for all the dog-destroying deets.
---
Twinfinite Tuesday, March 15, 2022 5:42 PM
---
Twinfinite Tuesday, March 15, 2022 5:00 PM
Each summer, EA traditionally hosts a press conference or broadcasts in tandem with E3 with an event they call EA Play. This event centers around previously announced, upcoming, and new games that the company is working on, as they showcase trailers, gameplay footage, and much more. Unfortunately, it has been revealed that EA Play won't […]
The post EA Play Won't Happen This Year; More Games to be Revealed "When the Time is Right" appeared first on Twinfinite.
---
Twinfinite Tuesday, March 15, 2022 4:23 PM
---
Twinfinite Tuesday, March 15, 2022 4:21 PM
Crunchyroll has officially completed its original Dragon Ball series collection, as it was announced earlier today that, for the first time ever, Toei Animation's Dragon Ball is now available on the site for fans in the United States, Canada, Australia, and New Zealand. You can check out the official press release and trailer down below: […]
The post Dragon Ball is Now Available to Watch on Crunchyroll appeared first on Twinfinite.
---
Twinfinite Tuesday, March 15, 2022 3:54 PM
Today, Level Infinite and Tencent announced a brand new open-world RPG title is coming in 2022, as they revealed the debut trailer for Tower of Fantasy. The game is set hundreds of years in the future on a distant planet known as Aida. In order to help colonize this new planet, players must solve the […]
The post RPG Tower of Fantasy Confirmed for 2022, Closed Beta Announced appeared first on Twinfinite.
---
Twinfinite Tuesday, March 15, 2022 3:28 PM
---
Twinfinite Tuesday, March 15, 2022 2:06 PM
Microsoft revealed more games coming to its Xbox Game Pass service across cloud, consoles, and PC for the rest of March in an Xbox Wire news post. The first title to come is snowboarding game Shredders on March 17. It is simultaneously launching on that date and will be available day one on Xbox Game […]
The post Xbox Game Pass Adds Shredders, F1 2021, and More in March appeared first on Twinfinite.
---
Twinfinite Tuesday, March 15, 2022 1:45 PM
Mediatonic was last year acquired by Epic Games, and as such, the developer's games are set to install and play via the Epic Games launcher moving forward. That, of course, includes Fall Guys, the popular party game, and today Mediatonic has detailed exactly how the process works ahead of the transition on May 9. Here […]
The post Mediatonic Details Fall Guys PlayStation Launcher Install Process appeared first on Twinfinite.
---
Twinfinite Tuesday, March 15, 2022 1:16 PM
---
Twinfinite Tuesday, March 15, 2022 12:26 PM
---
Twinfinite Tuesday, March 15, 2022 12:17 PM
Today, Tango Gameworks has just unveiled a brand new trailer for their upcoming supernatural adventure game, Ghostwire: Tokyo. In the video, fans can see everything they can expect from the title and how it takes full advantage of the PS5's powerful hardware to help fully immerse you in the experience. You can check out the […]
The post Ghostwire: Tokyo Shows off Its PS5 Capabilities in New Immersion Trailer appeared first on Twinfinite.
---
Twinfinite Tuesday, March 15, 2022 11:35 AM
Developer Tactical Adventures has today revealed a new, premium campaign expansion for its acclaimed CRPG Solasta: Crown of the Magister. Called Lost Valley, it's set to deliver a new story arc that runs parallel with the original campaign that players can jump right into at level 1. Lost Valley will launch next month, April 14, alongside […]
The post Solasta: Lost Valley Expansion Revealed, Coming Next Month Alongside appeared first on Twinfinite.
---
Twinfinite Tuesday, March 15, 2022 11:30 AM
Around 15 years ago, there were images of a portable GameCube floating around that had fans losing their minds, as the idea of getting to play this console and all its great games on the go was unheard of at the time. Unfortunately, it turned out to be fake, breaking the hearts of Nintendo fanboys […]
The post A Nintendo Fan Has Made the Fake Portable GameCube Into a Reality appeared first on Twinfinite.
---
Twinfinite Tuesday, March 15, 2022 10:51 AM
Today, Marvel has unveiled its first official trailer for Iman Vellani's debut as Kamala Khan, aka Ms. Marvel, in the MCU. The character is based around a Pakistani American teenager from New Jersey who idolizes Carol Danvers, better known as Captain Marvel. The series was originally introduced back in 2013 in comic format and has […]
The post Fantasy Becomes a Reality When Ms. Marvel Arrives on Disney+ in June appeared first on Twinfinite.
---
Siliconera Tuesday, March 15, 2022 5:00 PM
Pre-orders finally opened for the much teased SMT III Nocturne Demi-fiend figma figure. In December 2022, it will show up in Japan. Then in February 2023, it will come to North America. It will cost ¥11,000/$109.99.
The reveal also means details about what people get with it. There are two face plates with articulated eyes. One is an emotionless expression. The other is more angry. He also comes with items like the Menorah and effect parts to make it look like he's using Deadly Fury or Magma Axis. A stand is included with it as well. A number of additional hands are included for preparing various poses.
Here's a full gallery looking at the SMT III Nocturne Demi-fiend figma.
[gallery columns="4" ids="920170,920171,920172,920173,920174,920175,920176,920177" link="file"]
This is actually a second figure inspired by SMT III Nocturne. Years ago, a Pixie figma appeared too. In addition, a Raidou Kuzunoha XIV figma is on the way. While he's namely from the Devil Summoner series, people might also recognize the character from a SMT III Nocturne appearance.
The SMT III Nocturne Demi-fiend figma figure will come to Japan in December 2022 and North America in February 2023. SMT III Nocturne is available on the Nintendo Switch, PlayStation 4, and PC.
The post SMT III Nocturne Demi-fiend Figma Figure Will Appear in 2023 appeared first on Siliconera.
---
Siliconera Tuesday, March 15, 2022 4:00 PM
The Uzumaki movie will appear in a new format soon. The evening of March 14, 2022, Discotek Media announced it picked up the film. It is planning to release Uzumaki on Blu-ray in 2022. It will be the first in a line of Nihon Nights live-action movies.
There are still few details about the film. For example, it didn't bring up what sorts of special features might be on the disc. It did confirm this will feature a new English translation for its subtitles.
Here's a clip from the Uzumaki movie that appeared alongside the Blu-ray announcement.
A clip from a live action film we are releasing...

From the mind of @junjiitofficial it's Uzumaki! pic.twitter.com/SdLQvsFxtf

— Discotek Media (@discotekmedia) March 15, 2022
This is appearing ahead of the Uzumaki anime. That is set to appear sometime in 2022. Like the movie, it will be an adaptation of Junji Ito's manga. As for Ito himself, he will appear in some way in the anime adaptation. His role in it isn't confirmed, but footage was shared of him recording for the show.
Uzumaki debuted in Japan in 2000. The DVD showed up outside Japan in 2009, and people can also purchase digital copies
The post Uzumaki Movie Heading to Blu-ray in 2022 appeared first on Siliconera.
---
Siliconera Tuesday, March 15, 2022 3:00 PM
Triangle Strategy, the second new game showcasing Square Enix's "HD-2D" tech, brings the distinctive look to a new sort of game. The tactical role-playing game renaissance has brought a lot of new and returning players to the subgenre! So it's good timing for Triangle Strategy's release. Does it capitalize on the opportunity?
In Triangle Strategy, you control Serenoa, heir of House Wolffort and one of the military leaders of his nation. You're pinned between two powers, each controlling a vital resource. Inevitably, of course, you're thrust into conflict! How things go from there depends on periodic voting sequences. The "scales of conviction," a central piece of the game's marketing, let Serenoa's companions vote about which path to take. The gameplay, then, is in convincing your friends to make the decision you want, as well as traditional tactical combat.
The playable units of Triangle Strategy all perform distinct roles. Some players may miss the custom unit crafting of games like Final Fantasy Tactics! But retaining strict classes means each feels very different. Precisely one unit can fly for most of the game. Exactly one can attack twice. It doesn't quite reach the puzzle-like nature of Into the Breach, but it's a step in that direction. You can augment units with stat upgrades and equippable accessories, but these don't fundamentally change how they function.
While you can't break a map with a devious character build, you can occasionally do so with knowledge of the game's tactics. We won't spoil any more than we must! But we found that we could render one near-hopeless map trivial if we flew our flying archer up to a roof. No one could reach her! And since the game doesn't feature "permadeath" or any penalties for falling in combat, she could sit up there and pick off foes by herself for 25 turns.
Triangle Strategy is very proud of its narrative. There's some merit to it — it does craft some interesting dilemmas — but you definitely need to prepare yourself for a lot of text. All the exposition makes for a very slow start, one a lot of players noticed in the pre-release Prologue Demo. This does get better with time, and those looking for more battling between narrative segments can take advantage of the legitimately interesting barkeep maps.
If you're looking to limit your reading time, you can stick to the main story beats. The character stories and green side scenes are interesting if you have the temperament to enjoy them! But skipping all of the story is going to detract from enjoying the decisions you make, so at least pay attention to those.
In your first playthrough, you'll see a message when you earn points toward the game's three narrative-related stats, but it obscures which you're boosting. (You can see more information in a New Game+ campaign.) We'd recommend playing the first just trusting your own judgment, as all the paths have something interesting to see. Aiming for the "true ending" takes away from making decisions and seeing their consequences, something this game does better than a lot in its genre.
A big selling point of Triangle Strategy is its "HD-2D" aesthetic. The look, which started with Octopath Traveler, takes pixel art and coats it with all sorts of filters and effects. It's handled fairly nicely here, but the subgenre does make things more difficult. Camera control's sort of important in a tactics game with elevation and 3D presentation, as you regularly need to see around things. (Also, hey, people have preferences about height and default positioning!) So you definitely see the seams more often in Triangle than Octopath.
The game also seems to struggle to run at times on the Switch. As a result, the dev team appears to have dialed back the resolution, making for a blurrier experience even in handheld mode. We started to ignore it after a while! It's tolerable! But if Triangle Strategy makes its way to other platforms like Octopath before it, it might see a significant visual upgrade.
You'll get the most out of Triangle Strategy if you bring a little patience to the proceedings. It starts slow. It throws a lot of story at you. The most interesting tactical powers show up in later levels. And you only see some of its compelling narrative beats in a second or third play. It's destined to be a game you either shrug off in the early hours or add to your list of favorites.
Triangle Strategy was developed by Artdink and Square Enix, and published in the West by Nintendo. It's available now on Switch.
The post Review: Triangle Strategy Showcases Sharp Writing, Fuzzy Pixels appeared first on Siliconera.
---
Siliconera Tuesday, March 15, 2022 2:30 PM
People might not be able to see the Stranger of Paradise: Final Fantasy Origin ending online easily. Square Enix announced its video and streaming guidelines for the game. Among them are various restrictions and warnings about what can and can't be shown. One of the points is mentions that Stranger of Paradise: Final Fantasy Origin streams can't show what happens after the "final battle."
Here are the exact details about the Strangers of Paradise: Final Fantasy Origin ending restrictions when someone makes a video or streams.
Do not livestream, post videos, or post anything from the ending of the Game – including, without limitation, the content following the final battle up until "The End", "To be Continued", "Fin" or similar messaging is displayed.
Most of the other guidelines deal with some common sense topics. People aren't allowed to only share the cutscenes, for example. If an area says someone can't stream, that isn't allowed. It says people can't share the music alone. You can't profit off of the content. Not to mention it asks that spoiler warnings be used when appropriate.
Such guidelines aren't uncommon. For example, Atlus released similar video and streaming rules for Persona 4 Arena Ultimax.
Stranger of Paradise: Final Fantasy Origin will come to the PS4, PS5, Xbox One, Xbox Series X, and PC on March 18, 2022. People who pre-ordered can begin playing today via early access. A demo is available for consoles.
The post Stranger of Paradise Videos and Streams Can't Show the Ending appeared first on Siliconera.
---
Siliconera Tuesday, March 15, 2022 2:00 PM
More people can now get a taste of a Bleach game. Originally scheduled for launch on home consoles in 2021, Bleach: Brave Souls is now available for download to PS4. A PC version was released in 2020 [Thanks, 4Gamer!].
There's also a special launch campaign in effect for new players to promote the game. Players who log in before April 15, 2022, will receive a 5-Star Summons Ticket. They'll also get a Power-Up Set containing Coins, Crystals, Jewels, and Hogyokus, items required to develop and ascend characters. Players who have an active PlayStation Plus subscription will also receive another 5-Star Summons Ticket, a 5-Star Accessory Ticket, and 50 Soul Tickets.
There are also some caveats to note for players interested in taking up Bleach: Brave Souls on the PS4. For one, the aforementioned PlayStation Plus Subscriber Perk rewards will be distributed at a later date, and won't be available immediately. The game also doesn't support PSN Online ID changes, so players that opt to change their PSN handle while the game is playing will crash the game. Testing for compatibility is also not quite complete on the PS5, as well. While the game is downloadable and playable on PS5 consoles, KLab noted that some bugs could occur. The game also does not support cross-save functionality, so existing mobile or PC users cannot access their existing profiles and save data on PS4 and vice-versa.
Bleach: Brave Souls originally launched for Android and iOS in 2015. Developed by KLab, it is a free-to-play action game. Players control their characters from an isometric perspective, defeating enemies in real time using each characters' unique abilities. It also supports real-time multiplayer. Players can summon new characters and accessories via a gacha system.
Bleach: Brave Souls is available on Android devices, iOS devices, PCs, and the PS4.
The post Bleach: Brave Souls is Now Available on PS4 appeared first on Siliconera.
---
Siliconera Tuesday, March 15, 2022 1:30 PM
The Night Warriors: Darkstalkers' Revenge anime is coming back. Discotek Media announced a Darkstalkers: The Complete OVA Collection Blu-ray release the evening of March 14, 2022. It will prepare a remastered version of the four-episode Madhouse animated adaptation for a May 2022 release. As part of the announcement, it showed a teaser of how it will look, what people will find on the disc, and what folks will see in its gallery.
The main characters in this Darkstalkers anime are Morrigan, Demitri, Donovan, and Pyron, though characters like Felicia, Hsien-Ko, Bishamon, and Jon Talbain also show up. Both Japanese and English voice acting will be available. There will be a gallery, subtitles that use characters' English and Japanese names, promo and trailer videos for the anime and games, and clean ending and epilogue options.
Here's a peek at some of its gallery inclusions.
[gallery columns="5" ids="920158,920159,920160,920162,920163" link="file"]
And this is how the upscaled, restored footage will look.
But that new upscaled video is the high point.

A comparison clip to show you how much different Darkstalkers looks now. pic.twitter.com/zi2EYegJ4q

— Discotek Media (@discotekmedia) March 15, 2022
The preliminary box art also appeared.
A look at the packaging & the disc label.

These really came out excellent. pic.twitter.com/K3tYtsvoc1

— Discotek Media (@discotekmedia) March 15, 2022
The Darkstalkers: The Complete OVA Collection anime Blu-ray will be out in May 2022.
The post Darkstalkers: The Complete OVA Collection Anime Blu-ray Announced appeared first on Siliconera.
---
Siliconera Tuesday, March 15, 2022 1:00 PM
Some of Spike Chunsoft's more memorable deadly escape games will be heading to Xbox consoles. As part of the Xbox Game Pass update for the second half of March 2022, the Zero Escape: The Nonary Games compilation that includes 999 and Virtue's Last Reward appeared. This means the final entry in the trilogy, Zero Time Dilemma, won't be available. The collection is listed as making a March 22, 2022 debut on Xbox Game Pass for consoles and PCs.
em>Zero Escape: The Nonary Games contains two connected adventure games. In 999: Nine Hours, Nine Persons, Nine Doors, a group of people find themselves trapped on a ship and forced to play the Nonary Game. Each has a wristband with a number, which determines which doors they can open to solve puzzles. The goal is to escape and survive. In the sequel Zero Escape: Virtue's Last Reward, a new group of people with wristbands find themselves playing another Nonary Game.
Here is the full list of upcoming Xbox Game Pass games for March 2022.
March 17, 2022: The Dungeon of Naheulbeuk: The Amulet of Chaos (Cloud, Console, and PC) and Shredders (Cloud, Xbox Series X, and PC)
March , 2022: Tainted Grail: Conquest (Console) and Zero Escape: The Nonary Games (Cloud, Console, and PC)
March 24, 2022: F1 2021 (Console) and Norco (PC)
March 29, 2022: Crusader Kings III (Xbox Series X, already on PC)
March 31, 2022: Weird West (Cloud, Console, and PC)
The release of Zero Escape: The Nonary Games will mean 999 and Virtue's Last Reward will be playable on the Xbox One, Xbox Series X, and PC on March 22, 2022. It is also available on the PS4, Vita, and PC.
The post Zero Escape: The Nonary Games Brings 999 and Virtue's Last Reward to Xbox appeared first on Siliconera.
---
Siliconera Tuesday, March 15, 2022 12:30 PM
Discotek Media announced that it picked up the license to Digimon: Digital Monsters, known in Japan as Digimon Adventure, and that it will release digital remasters of the English dub and uncut Japanese on Blu-ray. It confirmed that Season 1 of the English dub will appear first in 2022. Then after that, the original Japanese release will appear.
To go along with the announcement, the company shared clips to show how the remaster process is going for the Digimon: Digital Monsters season 1 Blu-ray release. In some cases, the Japanese footage was used in the restoration process.
Some preview clips. First up...

A short clip showing off Gabumon.

The masters for Digimon were in very rough shape. They've been improved significantly, making the show more watchable than it ever has.

Twitter decimates video quality, but these should still show it off. pic.twitter.com/VR2DJ6yXgj

— Discotek Media (@discotekmedia) March 15, 2022
Another clip.

A number of episodes of the English dub had worse video quality, going back to their original broadcast.

We've replaced the footage in those episodes with the best available SD Digimon footage from Japan, and then @astro_res upscaled those along with the rest. pic.twitter.com/IarzIRyIpX

— Discotek Media (@discotekmedia) March 15, 2022
Then a clip showing the difference between the Japanese Blu-rays & the new remaster upscale of the English version of the show.

In addition to the higher level of detail, you'll notice the distinct background stylings are still visible.

Twitter destroys video quality. pic.twitter.com/9E4YGb4rzk

— Discotek Media (@discotekmedia) March 15, 2022
Finally, here is a first look at how the Blu-ray discs will look.

Digimon: Digital Monsters (aka Digimon Adventure) season 1 will appear on Blu-ray outside Japan in 2022.
The post Digimon: Digital Monsters Season 1 Blu-Rays Announced appeared first on Siliconera.
---
Siliconera Tuesday, March 15, 2022 12:00 PM
The next Final Fantasy crossover characters coming to FFVII The First Soldier will be from Crisis Core. The latest Square Enix and Ateam Letter from the Devs went over upcoming additions. People can expect to see versions of Zack, Tifa, and Bahamut in-game. These are expected to appear on March 17, 2022.
First, two Crisis Core: Final Fantasy VII characters will show up in FFVII The First Soldier via skins. The announcement confirmed those versions of Zack Fair and Tifa Lockhart will show up. There will also be a Zack banner people can acquire and use. More gun skins based on that installment will show up too.

As for the final one of the Crisis Core: Final Fantasy VII characters, Bahamut Fury will be a boss. He will only show up in-game between March 17-31, 2022. People get a title if they defeat it. Also, the goal for this fight will be for everyone to work together to take Bahamut Fury down, so friendly fire will be disabled in its boss field. All damage will only be done to the boss.

Other crossover elements recently appeared in FFVII The First Soldier. FFVII Remake Intermission-inspired skins showed up. These allowed people to dress as Yuffie and Sonon.
Final Fantasy VII The First Soldier is available on Android and Apple iOS devices. Crisis Core: Final Fantasy VII elements are on the way. Crisis Core is only available on the PSP.
The post Crisis Core Characters' Skins Coming to FFVII The First Soldier appeared first on Siliconera.
---
Siliconera Tuesday, March 15, 2022 11:30 AM
Back in 2019, Square Enix shared the female Viera naming conventions to help people get into Final Fantasy XIV's lore. Now, that's been updated. The company offered details about male Rava and Veena Viera names, so people interested in FFXIV could learn more about its world. Essentially, Veena surnames will always end in "-wesfv," while Rava ones will begin with "Djt-" or "Rehw-."
With the Rava male Viera names, the idea is to tie into FFXIV realms. "Djt-" corresponds to heavenly in surnames, while "Rehw-" is tied to worldly. The idea is to show people's affinity with a world and an element. The lore also mentioned, "…The Rava consider it necessary that all twelve different surnames be present among the Wood-warders' ranks at any given time to ensure the forest's safety." Some examples of names given were "Djt-Marouc ("Star" – heavenly water)" and "Rehw-Marouc ("Spring" – worldly water)."
As for the Veena male Viera in FFXIV, names will have "guardian" as a suffix. That's to reference their role in the community in their surnames. The names will also have ice and snow-related terms in them. Two of the exact examples Square Enix provided were Monnawesfv ("Prism") and Rawbewesfv ("Bone" – referring to hollow crystals).
The announcement also discussed forenames. It mentioned that there isn't really a need for traditional masculine and feminine names. Names can be gender neutral, due to not knowing a Viera's gender at birth. They also note that all Viera, regardless of gender, have a habit of changing their names once they grow up and that they will have forest and city names.
Final Fantasy XIV is available for the PS4, PS5, and PC. Male Viera appeared when the Endwalker expansion released.
The post Square Enix Shares Insight into FFXIV Male Viera Names appeared first on Siliconera.
---
Siliconera Tuesday, March 15, 2022 10:40 AM
During the March 15, 2022 Monster Hunter Rise Sunbreak digital event, Capcom confirmed a Digital Deluxe Edition of the expansion is on the way. As someone might expect, this version comes with extra cosmetic DLC.
The reveal offered a quick peek at some of the items and gestures people will get. For hunters, there will be Dragonsbane layered armor, a Fight pose set, a Take Aim gesture set, a Fluffy Curls hairstyle, and Elegant Eye face paint. Palicos will get F Devout layered armor in this Deluxe Edition. Palamutes will get C Hound layered armor.

Capcom also offered details about different purchasing options. People can get Monster Hunter Rise Sunbreak can get the expansion alone, as a deluxe edition alone, and in a set with the base game. Should someone pre-order the add-on ahead of launch, they will also get a Palico Striped Cat Costume and Palamute Loyal Dog Costume. The former looks like a calico Japanese bobtail cat. The latter resembles a Shiba Inu. US pricing isn't available yet, but the expansion alone is 4,990 yen and deluxe version is 5,990 yen.

Monster Hunter Rise is available for the Nintendo Switch and PC, and the Sunbreak expansion will arrive on June 30, 2022. Pre-orders for the add-on will begin on March 15, 2022.
The post Monster Hunter Rise Sunbreak Deluxe Edition Detailed appeared first on Siliconera.
---
Siliconera Tuesday, March 15, 2022 10:25 AM
New details regarding Monster Hunter Rise Sunbreak have been revealed, which included a look at the new player hub. This new player hub will be called Elgado. It was shown off during the Monster Hunter Digital Event. Additionally, a new area called The Citadel was shown during the trailer. It is an area that features a castle players can scale.
Players can interact with entirely new NPCs at the player hub. These will include a researcher and the receptionist Chichae. She's voiced by Xanthe Huynh. A new blacksmith named Minayle and merchant named Oboro will also appear at the player hub. Minayle is Cherami Leigh, while Daman Mills is Oboro. The canteen from Kamura Village will make an appearance in Elgado.
Additionally, Sunbreak will see the addition of new Silkbind attacks. This gameplay mechanic was added in to the series through Monster Hunter Rise. Each Silkbind attack is unique to individual weapons and allows for players to perform special skills.
Capcom shared insight into the game during the Monster Hunter Digital Event, which focused on new information about the paid expansion. This included a look at new monsters that will appear, along with a first look at gameplay in Monster Hunter Rise Sunbreak. The broadcast was held over YouTube and Twitch. Archived versions of the broadcast are available to watch.
Monster Hunter Rise is available for the Nintendo Switch and PC. Demos are available for both platforms. Monster Hunter Rise Sunbreak will release on June 30, 2022.
The post Monster Hunter Rise Sunbreak Player Hub and New Area Detailed appeared first on Siliconera.
---
Siliconera Tuesday, March 15, 2022 10:15 AM
Capcom shared new information regarding Monster Hunter Rise Sunbreak, which includes the reveal of a new monster known as the Garangolm. This new monster was shown during the Monster Hunter Digital Event. The broadcast was held through Twitch and YouTube, with archived versions immediately available to watch.
The Garangolm will appear alongside the Malzeno and Lunagaron in Monster Hunter Rise Sunbreak. The Garangolm is a fanged beast that can coat its arms in water and fire elements to unleash devastating attacks.
【映像公開】
6月30日(木)発売予定『モンスターハンターライズ:サンブレイク』のプロモーション映像を公開!
脅威となる3体の新モンスター「王域三公」や、より軽快に進化したアクションに迫る! https://t.co/kFdoCR6QJ1#モンハンライズ #MHサンブレイク pic.twitter.com/iEelRjoOhI

— モンスターハンターライズ:サンブレイク公式 (@MH_Rise_JP) March 15, 2022
The Malzeno is entirely new, and was previously revealed to be the flagship monster for the paid expansion.
The Lunagaron was revealed through a The Game Awards 2021 pre-show trailer. As it stands, these are the only new monsters that have been revealed for Mosnter Hunter Rise Sunbreak. The Lunagaron can cover its body in ice to protect itself. This monster reveals its true form when enraged.
There is also the Astalos. It will also make a return in Monster Hunter Rise Sunbreak.
Additionally, the developer has mentioned that several monsters from previous entries will make an appearance in Monster Hunter Rise Sunbreak. Capcom announced the Shogun Ceanataur will be available to hunt in Sunbreak.
Monster Hunter Rise is available for the Nintendo Switch and PC. Demos are available for both platforms. Monster Hunter Rise Sunbreak will release in June 30, 2022.
The post Monster Hunter Rise Sunbreak New Monster is the Garangolm appeared first on Siliconera.
---
Siliconera Tuesday, March 15, 2022 10:04 AM
We now have a Monster Hunter Rise Sunbreak release date. Back when Capcom announced the expansion, it noted it would appear in Summer 2022. Now, that's been pinned down a bit more. People will be able to grab the expansion and take part in its extra quests on June 30, 2022.
This news came up during the March 15, 2022 broadcast on Twitch. While the focus was on the new monsters joining Malzeno and Lunagaron, others were revealed as well. We got to see how Bishaten and Astalos will look in the new title.
The presentation also went over new details about the game. For example, we learned more about the region we'll visit and the characters we'll meet there. As a reminder, this will add a Master Rank and new Wirebug attacks. The Citadel will be the new region people will inhabit and explore, each with its own new biomes. Some of the ruinous areas there hint at civilizations that came before. However, since monsters make their home there, people aren't able to easily explore it.
Monster Hunter Rise is available for the Nintendo Switch and PC. The Monster Hunter Rise Sunbreak expansion release date is June 30, 2022.
The post Monster Hunter Rise Sunbreak Release Date Set appeared first on Siliconera.
---
Siliconera Tuesday, March 15, 2022 10:00 AM
Japanese fighting game publishers will gather to talk about the genre for the third time. They will hold the third edition of Japan Fighting Game Publishers Roundtable stream on March 21, 2022.
The games' producers and key staff members from Arc System Works, Arika, SNK, Capcom, Sega, and Bandai Namco will primarily discuss current situations in the fighting game and esports scenes. Each company will also reveal a secret collection related to the genre in this stream.
Here is the list of key staff members who will appear at the Japan Fighting Game Publishers Roundtable #3 stream:
Daisuke Ishiwatari - Guilty Gear series general director from Arc System Works
Akira Katano - Guilty Gear Strive director from Arc System Works
Akira Nishitani - Company president of Arika, known for Fighting EX Layer
Yasuyuki Oda - The King of Fighters XV chief producer from SNK
Shuhei Matsumoto - Street Fighter V producer from Capcom
Seiji Aoki - Virtua Fighter 5: Ultimate Showdown chief producer from Sega
Katsuhiro Harada - Tekken series chief producer from Bandai Namco
The Japanese publishers used prior editions of the roundtable streams to reveal new content related to their fighting games. At the previous stream in February 2021, Arc System Works revealed I-No as the last character in Guilty Gear Strive's launch roster. Arika announced a Nintendo Switch version of Fighting EX Layer, subtitled Another Dash. SNK confirmed Chizuru Kagura's inclusion in The King of Fighters XV and teased a Guilty Gear character in Samurai Shodown. It eventually revealed the latter to be Baiken in August 2021.
The Japan Fighting Game Publishers Roundtable #3 stream will go live on Monday, March 21, 2022, at 15:00 JST (2 AM ET). It will be available on YouTube via Sega's Virtua Fighter official channel and Twitch on Arc System Works' channel.
The post Japan Fighting Game Publishers Roundtable 3 Will Air in March 2022 appeared first on Siliconera.
---
Destructoid Tuesday, March 15, 2022 5:00 PM
---
Destructoid Tuesday, March 15, 2022 4:30 PM
---
Destructoid Tuesday, March 15, 2022 4:00 PM
---
Destructoid Tuesday, March 15, 2022 3:30 PM
---
Destructoid Tuesday, March 15, 2022 3:00 PM
---
Destructoid Tuesday, March 15, 2022 2:30 PM
---
Destructoid Tuesday, March 15, 2022 2:00 PM
---
Destructoid Tuesday, March 15, 2022 1:30 PM
---
Destructoid Tuesday, March 15, 2022 1:00 PM
Might not shock the world It's pretty telling when the best entry for a particular annual franchise is from decades...
The post Review: WWE 2K22 appeared first on Destructoid.
---
Destructoid Tuesday, March 15, 2022 12:30 PM
---
Destructoid Tuesday, March 15, 2022 12:00 PM
---
Destructoid Tuesday, March 15, 2022 11:30 AM
---
Destructoid Tuesday, March 15, 2022 11:00 AM
---
PC Invasion - FeedDDD Tuesday, March 15, 2022 5:30 PM
Publisher Square Enix posted a survey asking fans how it can improve Babylon's Fall. The new action-adventure title developed by PlatinumGames has not been received well since its launch earlier this month. The most common complaints are made in regard to the game's unusual visuals. And that's exactly what Square Enix is looking to get feedback on. The survey itself is a form that asks a variety of questions. These questions inquire into what fans think about Babylon Fall's character design, oil painting aesthetic, environments, and accessibility. Square Enix stated that its motive for posting this survey is to bring an even better game experience. In the same statement, it highlighted that feedback regarding the graphics is especially appreciated. This isn't surprising given that game graphics are such a contentious and divisive issue in the community. Any Babylon's Fall players who want to take part in the survey have until March 18 at 2 ...
---
PC Invasion - FeedDDD Tuesday, March 15, 2022 5:00 PM
During The Game Awards 2020 show, Microsoft unveiled the existence of a new Perfect Dark reboot through a brief teaser trailer. Much like its older cousin GoldenEye 007, many fans of the Nintendo 64 see the original Perfect Dark as one of the best shooters to come out on that system. With this in mind, a revival of the IP seemed like a perfect way to create even more hype around the Microsoft brand. Unfortunately, it appears that development on this new reboot may not have gone as well as the developers had hoped. According to the VGC, an analysis of the Perfect Dark developers' LinkedIn profiles reveals that around half of the core development team's staff at The Initiative left the company last year. This mass exodus of employees include some fairly high-profile individuals, such as game director Dan Neuburger and lead level designer Chris O'Neill. Additionally, principal world builder Jolyon Myers as well as a trio of designers who formerly worked on the new God...
---
PC Invasion - FeedDDD Tuesday, March 15, 2022 4:45 PM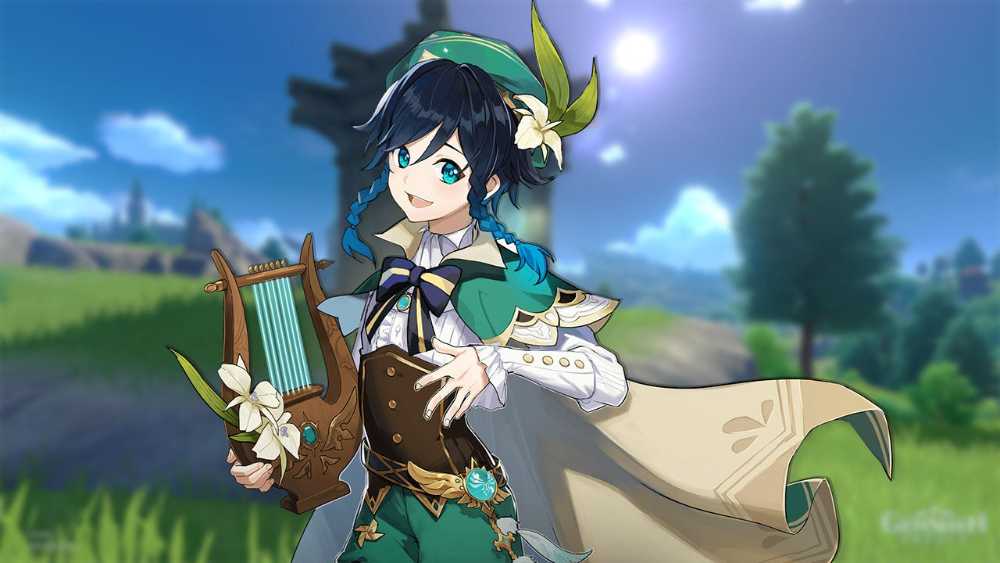 Genshin Impact has a lot of different characters right now, so sometimes, it's nice to return to the classics. The fan-favorite Venti, Archon of Mondstadt, is potentially getting a rerun in Genshin Impact Version 2.6 alongside the highly-anticipated Kamisato Ayato. This character swept the game's meta for a while with his unmatched ability to crowd-control, but he's also popular for his childish personality and love for booze. This rerun leak comes courtesy of reliable leaker Lumie, who tweeted out an image of Kamisato Ayato and Venti side by side, implying that Venti would receive a rerun. The image also has the characters holding their signature weapons. This could imply that Venti's signature weapon, the Elegy of the End, is receiving a special run on the limited weapon banner as well. In other words, if you're missing this character, this might be your chance to go all-out for him. Everyone's favorite tone-deaf bard Lumie also clarified...
---
PC Invasion - FeedDDD Tuesday, March 15, 2022 4:00 PM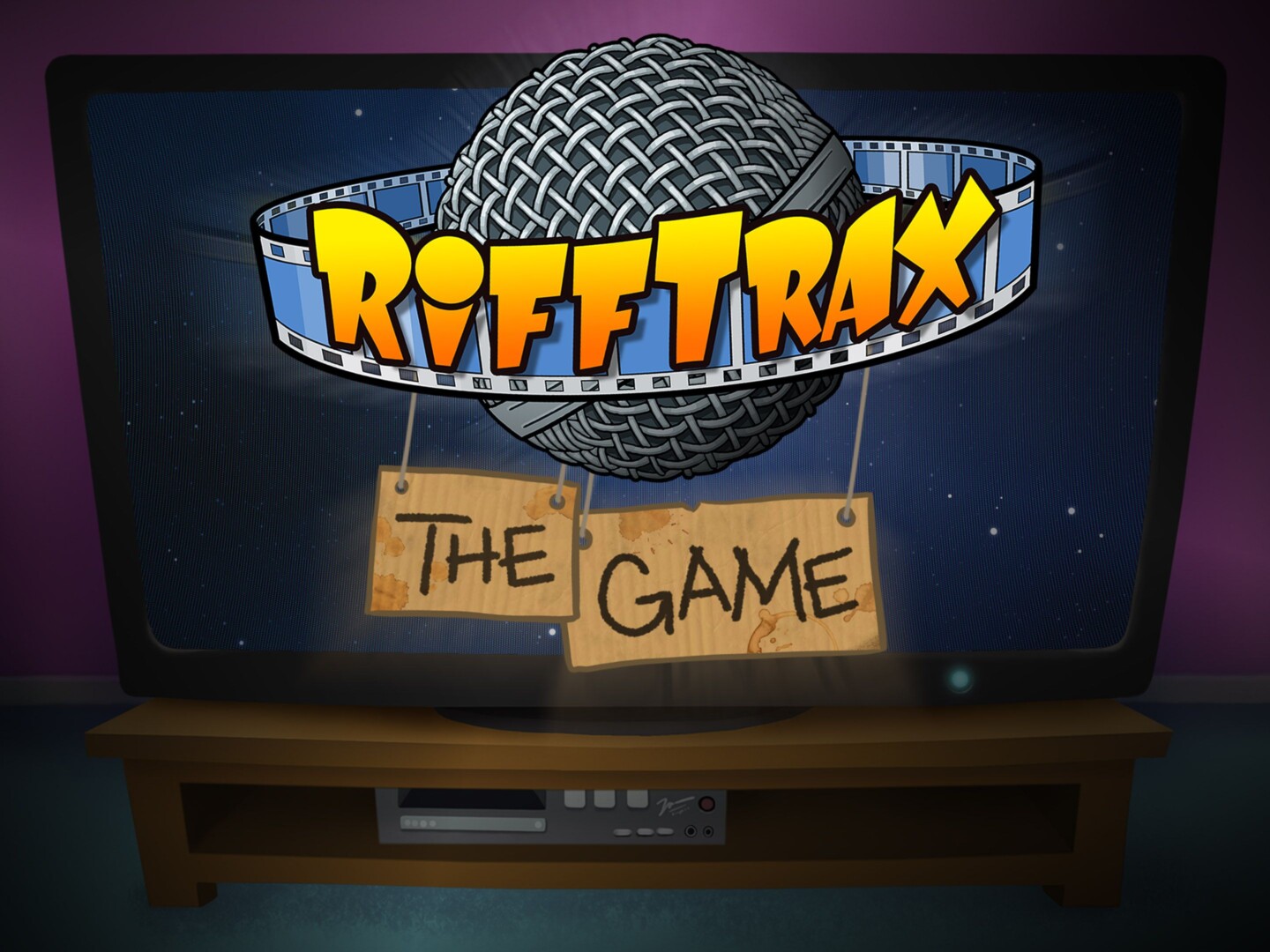 Everyone loves a bad movie now and then. If not for the irony of its awfulness, like The Room, then for the joy that comes with subjecting friends to immense visual torture. Now, a new party game is chuckling onto the scene, adding an extra edge to how you make fun of your favorite awful film. Rifftrax: The Game is an upcoming multiplayer party game where players can "write the best jokes over some of the worst bits of what can loosely be called cinema," and it's heading to PC in a couple of months. In this game, you're presented with a movie clip from classic awful movies, like Rollergator, Attack of the Supermonsters, and Plan 9 From Outer Space. These clips come from a collection of over 250 clips, all abominations. You'll get to "write your own riff," or a funny interpretation of what the heck is going on in the scene, and try to make your friends laugh along the way. You can then choose who truly had the best riff. We love bad m...
---
PC Invasion - FeedDDD Tuesday, March 15, 2022 3:30 PM
In just over a week, the next chapter of the Borderlands saga will launch. Tiny Tina's Wonderlands is adding fantasy to the formula, and luckily that bit of magic doesn't hit its PC requirements too hard. For a game full of magic, whimsy, bullets, and particle effects, it's honestly not too demanding. However, you may need to clear up some storage space. Tina's upcoming adventure is clearly a big one. On that latter note, Tiny Tina's Wonderlands is going to take up a lot of space. According to the tech sheet provided by Gearbox, it'll sit harder on your drive than the fattest of skags. You need 75 GB of space to install the game, which is no mean feat. For a game that looks like a prettier Borderlands 3, I'm a little surprised. At least it should run well after the lengthy download. The minimum requirements should allow Tiny Tina's Wonderlands to run on any PC that isn't more than seven years old. For the GPU, you'll...
---
Gamer Empire Tuesday, March 15, 2022 4:45 PM
In Lost Ark, you have to set sails on the glorious open waters to reach new adventures on other islands once you're done in East Luterra. Even after you've reached new islands and unlocked Triports on them, you cannot teleport to Triports that aren't on the island that you are currently on, leaving Song of […]
The post Lost Ark – Sailing Guide: How to Sail, Fastest Ship, Wiki appeared first on Gamer Empire. It was written by Tim Stadel Clausen.
---
Tabletop Gaming News Tuesday, March 15, 2022 5:00 PM
---
Tabletop Gaming News Tuesday, March 15, 2022 4:00 PM
---
Tabletop Gaming News Tuesday, March 15, 2022 3:00 PM
---
Tabletop Gaming News Tuesday, March 15, 2022 2:00 PM
---
Tabletop Gaming News Tuesday, March 15, 2022 1:00 PM
---
Tabletop Gaming News Tuesday, March 15, 2022 12:00 PM
---
Tabletop Gaming News Tuesday, March 15, 2022 11:00 AM
---
Player Assist | Game Guides & Walkthroughs Tuesday, March 15, 2022 5:00 PM
One of the Shrines in The Legend of Zelda: Breath of the Wild is the Keo Ruug Shrine or the Fateful Stars. This shrine requires Link to determine which glowing socket the glowing orbs should be based on the constellations provided and complete the shrine. This shrine may seem confusing, but it is relatively easy […]
---
Player Assist | Game Guides & Walkthroughs Tuesday, March 15, 2022 3:30 PM
Pokemon Legends: Arceus is set in the old times in the Pokemon world when it was rare to find harmony between people and Pokemon. Set in the land of the Hisui region, known as the Sinnoh region in modern times, you will join the Galaxy Expedition Team (or just Galaxy Team for short) as a […]
---
Player Assist | Game Guides & Walkthroughs Tuesday, March 15, 2022 2:30 PM
Official support for the popular racing simulator, Assetto Corsa, has been dead for almost five years. Back in 2018, Kunoz Simulazioni made a statement regarding the future of Assetto Corsa. In that statement, Kunoz said that updating the original Assetto Corsa further is no longer their focus because the entire Kunoz team was focusing on developing their […]
---
Player Assist | Game Guides & Walkthroughs Tuesday, March 15, 2022 1:30 PM
One of the Shrines in The Legend of Zelda: Breath of the Wild is the Noya Neha Shrine or A Minor Test of Strength. As the shrine's title suggests, this shrine requires Link to prove his strength by defeating a Guardian Scout and completing the shrine. This shrine may seem intimidating, but it is fairly […]
---
Player Assist | Game Guides & Walkthroughs Tuesday, March 15, 2022 12:30 PM
Minecraft is a game where survival means staying alive by sustaining yourself with food to keep your health bar full. And in the game, there are various ways a player can obtain food for sustenance. The player can hunt for passive mobs, harvest crops, cook food, and more. These options are available anytime they need […]
---
Player Assist | Game Guides & Walkthroughs Tuesday, March 15, 2022 11:00 AM
The Very Special Fortune Slip is a series of world quests in Genshin Impact that is tied to the story of the Electro nation Inazuma. It will have you go through special missions as an unofficial member of the Shuumatsuban, a secret ninja organization under the Yashiro Commission. In this world quest series, you investigate […]
---
Level Up Tuesday, March 15, 2022 1:02 PM
Halo: The Series is set to premiere on Paramount+ next week, on March 24, and…
---
Level Up Tuesday, March 15, 2022 12:30 PM
The second batch of Xbox Game Pass games for March has been revealed. Weird West leads…
---
Level Up Tuesday, March 15, 2022 11:33 AM
Disney has released the first official trailer for its upcoming Disney Plus series, Ms. Marvel,…
---
Level Up Tuesday, March 15, 2022 10:45 AM
In a presentation this morning, Capcom revealed plenty of new details on the upcoming Monster…