---
Kotaku Saturday, March 12, 2022 11:08 AM
Good news, For Honor players, Ubisoft has announced that next week the 2017 online action game will finally receive crossplay support as part of the game's next season of content. Sure it took over five years, but this should help speed up matchmaking times, which is always nice.

---
Kotaku Saturday, March 12, 2022 10:00 AM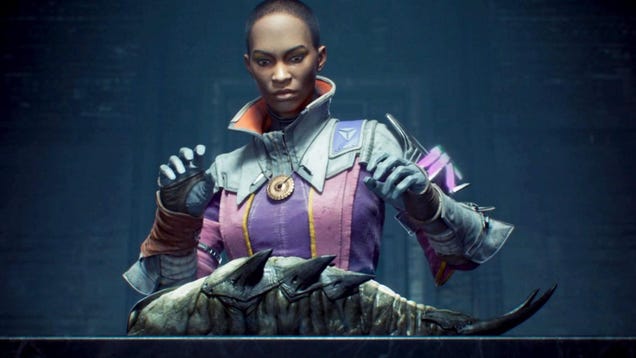 When Destiny first shipped it didn't have much of a story to speak of. Years later, that's definitely changed. There's still plenty of ridiculous jargon, but also characters, conflicts and histories Bungie has spent nearly a decade diligently cultivating. With Destiny 2: The Witch Queen, it's all coming to fruition,…
---
PCGamesN Saturday, March 12, 2022 11:51 AM
Elden Ring is one of the toughest and best RPGs on PC, and it has a range of amazing boss battles that rank as some of the most challenging encounters in gaming - so when a player comes along and beats arguably the most infamous with a silly, non-traditional controller, it makes us all look bad. Now, here's a streamer beating Godrick the Grafted by caressing a bunch of bananas.
Streamer and modder Louis 'Super Louis 64' Hamilton has made a name for himself by creating various fantastical (and farcical) controllers and then humiliating everyone by beating really tough games with them. He beat Sekiro with the Donkey Kong bongos and has already taken down Elden Ring's Bloodhound Knight Darriwil using a Ring Fit controller.
Now Super Louis 64 has brought back one of his older tricks: the banana controller, which he previously used to beat the final boss in Dark Souls 3. He's now playing through Elden Ring with this controller (thanks, PC Gamer) and has already taken down the infamous Godrick the Grafted.
Best Elden Ring settings
,
Elden Ring bosses guide
,
The best Elden Ring classes
---
PCGamesN Saturday, March 12, 2022 11:25 AM
10/10 review scores. Game of the year buzz. Nonstop hype from fans. After six years of development, FromSoftware launched Elden Ring to the kind of reception every game developer dreams of. Celebrated for delivering on the studio's promises and more, Elden Ring will generate discussions on open-world RPG game formulas for years to come.
Those discussions may, unfortunately, be plagued by the tired 'difficulty vs accessibility' arguments that have followed the Souls series since the release of Demon's Souls in 2009. It's a notoriously challenging series for newcomers, and the flip side of having such a high barrier to entry is that Souls games have earned a reputation for being inaccessible. Despite both the studio's efforts to address these concerns with Elden Ring, the same criticisms have resurfaced, and with them, backlash from fans against disabled gamers.
Disabled gamers have heard it all before. Predictable excuses, like the difficulty being 'the artist's vision', are followed by suggestions that an easy mode 'spoils the whole experience', and that 'the game isn't for you' if you want such a thing.
Best Elden Ring settings
,
Elden Ring bosses guide
,
The best Elden Ring classes
---
PCGamesN Saturday, March 12, 2022 10:16 AM
Minecraft is undoubtedly one of the best building games on PC, and it's always a wonderful surprise to see what the community has come up with. Like, for example, a Minecraft mob bestiary museum that catalogues all the game's weird and wacky creatures in release order.
There's still a while to go before the release of the Minecraft 1.19 The Wild update, which will introduce several new mobs to the game - such as a creepy new monster called The Warden and a blue fairy with bat wings called Allay.
Before that happens, however, you may want to check out a full catalogue of every single mob added to Minecraft from the original "pre-Classic" 2009 version all the way to update 1.17. Made and displayed on Reddit by user HeeyMonster, the creator's little mob museum consists of a line that neatly displays all the creatures when the player walks down it - starting with just Steve and ending with the likes of Axolotls and goats from the recent Caves & Cliffs update.
Minecraft console commands
,
Minecraft skins
,
Minecraft mods
---
PCGamesN Saturday, March 12, 2022 10:14 AM
In Chaos Theory, the third and arguably the best Splinter Cell game, there's a moment that's always stuck with me. I'm upside-down, shimmying along a pipe on the ceiling to cross over a fire that's burning below, like a very trim spit-roast hog dressed in jet black neoprene. When I'm about halfway along the pipe, a goon pokes his head through the doorway ahead of me; in a two-second storm of sheer instinct, I let go of the pipe with my hands, hanging completely upside-down by my legs, draw my silenced pistol, take a single shot - plip - and the man crumples into a pile before me.
What makes this Mission: Impossible moment memorable is its rarity in a game that's about 90% pure stealth. Sam Fisher has an impressive array of acrobatic skills, like the aforementioned upside-down shot, a split-jump that lets him straddle narrow corridors, and the ability to grab enemies while hanging from the ceiling like a Half-Life barnacle, but they feel special because he so rarely gets to actually use them. Fisher is constantly showing off his gymnast skillset in later Splinter Cell outings.
Chaos Theory came right at the end of a golden era of stealth games; one that more or less began with Thief: The Dark Project in 1998 and probably ended around 2006 with Hitman: Blood Money. Released in 2005, Chaos Theory was the last Splinter Cell game left untouched by the emerging trend towards action and explosions. Its combat is deliberately awkward; you have very little health, you can't run and gun, and you have to press a button to aim before firing.
---
PCGamesN Saturday, March 12, 2022 8:04 AM
While Square Enix has recently confirmed that its next big RPG game Forspoken is delayed to October, it has given a new look at some of the game's side missions and features - including the reveal of what looks like ultra-tough Forspoken dungeons hidden deep within its Break storms.
Square Enix is well-known for having some of the best JRPGs on PC, and the publisher's latest hopeful is Forspoken from new developer Luminous Productions - which is made up of many of the Final Fantasy XV team, suggesting why Forspoken is such an action-focused open-world game.
An open-world means there has to be a lot of side activities, and Game Informer has a look at a few of them. Square Enix has previously revealed some gameplay features such as the "Break" storms that sweep in, bringing in higher-level enemies. However, this latest look reveals that there will be challenging dungeon-type experiences hidden within specific Break-infected areas on Forspoken's map, called "Depths of Corruption".
---
PCGamesN Saturday, March 12, 2022 6:55 AM
The new Warframe expansion Angels of the Zariman will launch next month, according to developer Digital Extremes, and it'll bring with it a new 'frame too - the graceful Gyre, an electricity-based character, who will bring a bit of ballet to the live-service ninja game.
Warframe is already one of the best multiplayer games on PC, and it's set to become even more expansive with the release of the game's "direct follow-up" to last year's The New War expansion. Digital Extremes has now confirmed in its latest developer live stream that Angels of the Zariman will drop next month, April 2022.
The expansion is set aboard the Zariman Ten Zero ship, which was introduced in New War. It will feature a new main quest, new missions, and a new social hub called the Chrysalith - the first of its type in Warframe, where players can "seamlessly access procedural missions without load screens". There will be numerous NPCs to talk to and trade with, and players can even get their own customisable apartments on the Zariman.
Play Warframe for free
,
Warframe builds
,
Warframe Duviri Paradox release date
---
Siliconera Saturday, March 12, 2022 10:00 AM
TBS Animation unveiled the third key visual for the upcoming The Quintessential Quintuplets movie. The new image features all five sisters huddled together, surrounded by cherry blossoms. Additionally, TBS Animation will host a special stage for the movie as part of the Anime Japan 2022 event on March 27, 2022. The movie itself will debut in Japanese theaters on May 20, 2022. [Thanks, ryokutya!]
Following the second season, the upcoming movie will serve as a conclusion to the anime series as a whole. The series follows Futaro Uesugi, a high school student who works as a private tutor for five identical quintuplets. The beginning of the story reveals that Uesugi will marry one of the five sisters, but does not reveal who it will be. The upcoming movie will follow the characters as they prepare for graduation in their third year of high school and, ultimately, reveal who Uesugi will end up marrying.
Fitting for graduation season, the five sisters appear surrounded by cherry blossoms in the new key visual. The previous key visual showcased the sisters enjoying a summer vacation in swimsuits. Before that, the five sisters also appeared in bridal attire.
You can check out the new Quintessential Quintuplets movie key visual below.
The Quintessential Quintuplets movie will premiere in Japanese theaters on May 20, 2022. The first two seasons of the anime are also available to watch on Crunchyroll and Funimation.
The post The Quintessential Quintuplets Movie Key Visual Released appeared first on Siliconera.
---
Siliconera Saturday, March 12, 2022 8:00 AM
A sequel to KonoSuba: Labyrinth Of Hope And The Gathering Adventurers is now in development. Developer Entergram announced that it will release the game on the PlayStation 4 and Nintendo Switch. While the company opened up a new teaser site for the game, there is no confirmed release date. However, the company did state that it will reveal more information about the upcoming title on March 18, 2022.
The teaser website provides a new visual for the upcoming sequel. The image features Kazuma, Megumin, Aqua, and Darkness. Though the website URL includes "KonoSuba 2", the announced game does not have a confirmed title.
https://twitter.com/entergram_info/status/1502208024571965440
What we do know is that the game will be a sequel to the dungeon RPG KonoSuba: Labyrinth Of Hope And The Gathering Adventurers, which released for the PlayStation 4 and PlayStation Vita in 2019. The game later received an updated "Plus" version for the PS4 and Nintendo Switch in 2020. The enhanced version added new elements such as skills for Kazuma, as well as new events and outfits.
Last year, the official KonoSuba Twitter account announced that a new anime series was in production. Aside from video games and anime, there is also a KonoSuba TRPG available in English via Yen Press.
The KonoSuba: Labyrinth Of Hope And The Gathering Adventurers sequel is in development for PS4 and Nintendo Switch. There is no confirmed release date or price. Developer Entergram will announce further details on March 18, 2022.
The post KonoSuba: Labyrinth Of Hope And The Gathering Adventurers is Getting a Sequel appeared first on Siliconera.
---
Gamer Empire Saturday, March 12, 2022 5:50 AM
At some point, you want to start upgrading your ship in Lost Ark so you can travel around faster and do better in hazardous waters. To upgrade your ship, you need a variety of materials and items, and the higher the level of the ship, the more and higher-grape materials you need. Recommended Read: Lost […]
The post Lost Ark – How to Get Ship Parts Materials for Upgrading appeared first on Gamer Empire. It was written by Tim Stadel Clausen.
---
Player Assist | Game Guides & Walkthroughs Saturday, March 12, 2022 11:00 AM
Poke Balls are arguably the most essential item in every Pokemon game because they capture and store Pokemon. One can say the same in Pokemon Legends: Arceus, as the game's primary goal is to catch every Pokemon in Hisui Region. However, Poke Balls are considered new inventions in this iteration as this game is set […]
---
Player Assist | Game Guides & Walkthroughs Saturday, March 12, 2022 10:00 AM
One of the Shrines in The Legend of Zelda: Breath of the Wild is the Katah Chuki Shrine or A Minor Test of Strength. As the title of the shrine suggests, this shrine requires Link to prove his strength by defeating a Guardian Scout and completing the shrine. This shrine may seem intimidating, but it […]