---
Kotaku Tuesday, January 24, 2023 9:50 AM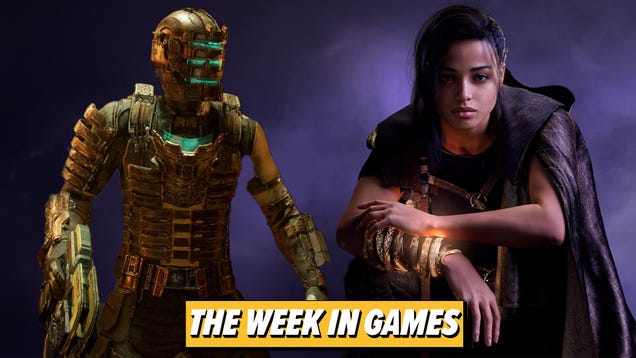 ---
PCGamesN Tuesday, January 24, 2023 9:52 AM
Looking for a guide to Genshin Impact Yaoyao's ascension materials? Yaoyao is now available in the 3.4 update and if you're lucky enough to land her, here's where to farm her ascension materials.
Yaoyao is a four-star polearm user in Genshin Impact and works best as a healer or support, here's everything you need to know about Yaoyao's banner and abilities. Yaoyao has earned a high spot on our Genshin Impact tier list as a flexible Dendro support character. You can use our Genshin Impact codes guide to get free primogems in one of the best free PC games, and hopefully land Yaoyao on the current Genshin Impact banner.
MORE FROM PCGAMESN:
Genshin Impact codes
,
Genshin Impact character tier list
,
Genshin Impact leveling guide
---
PCGamesN Tuesday, January 24, 2023 9:56 AM
Have you come up against Destiny 2's Brutiks Lightbane in The Witch Queen expansion? This tough Legendary boss is a pain to beat, but completing the campaign on this difficulty nets you plenty of worthy rewards such as double chest rewards per mission and a powerful gear set.
Brutiks is extremely aggressive and closes the space on you quickly. His censer-slam attack spits out a trail of fire that carries a surprisingly long way, and his melee attack has what feels like an unreasonably long range - in our experience, it was somehow able to connect with us even if we flew over his head, and if you do survive the initial hit, it can throw you into a wall and kill you with the collision damage.
On top of all this there are a ton of adds, which combined with Brutiks's aggression means that staying still for too long is a death sentence in the free PC game. The problem with this is that the three outer chieftains each have a different elemental energy shield, and with the Match Game modifier that Legend difficulty imposes, this makes them extremely difficult to take down quickly.
MORE FROM PCGAMESN:
Destiny 2 classes
,
Destiny 2 exotics
,
Destiny 2 builds
---
PCGamesN Tuesday, January 24, 2023 9:37 AM
With the Forspoken reviews painting a perplexing picture of Square Enix's divisive RPG game, the developer has announced that a free PC demo will be dropping on Steam, the Epic Games store, and the Microsoft store on January 24; the Forspoken release date.
Forspoken release date
,
Toughest Forspoken dungeons
,
Forspoken system requirements
---
PCGamesN Tuesday, January 24, 2023 9:47 AM
Want to know the Diablo 4 release date and all the latest news? The upcoming entry in the demon-slaying action RPG series has many teasers and trailers. They showcase the various classes we can use to take on the hordes of monsters that block the way between the horned lord of the underworld and, well, us.
The roster of playable Diablo 4 classes includes transforming druids, spell-flinging wizards, and somersaulting rogues. Each class has unique combat skills to weave through every shambling zombie, skittering demon, and colossal terror that awaits you in these dank, hallowed halls. So far, so familiar, but that's hardly going to upset the series' devoted fans. However, despite a relatively open development process, we only just got confirmation about when the Diablo 4 release date is.
MORE FROM PCGAMESN:
Diablo 4 release date
,
Diablo 4 gameplay preview
,
Diablo 4 classes
---
PCGamesN Tuesday, January 24, 2023 9:00 AM
From Sea of Thieves to Assassin's Creed Black Flag and the sadly delayed, but still promising-looking Skull and Bones, we're seeing a lot more pirates in games lately. Nevertheless, we wouldn't typically think of pirates alongside terms like 'stealth' and 'tactics.' Strategy game Shadow Gambit The Cursed Crew, set to launch on Steam and Epic Games Store in 2023, is set to change that, combining the swashbuckling aesthetic of our favourite pirate hits with the thoughtful planning of XCOM and the swift execution of the Hitman trilogy.
Sea of Thieves tips
,
Sea of Thieves quests, guilds, and raids
,
Sea of Thieves endgame
---
PCGamesN Tuesday, January 24, 2023 9:00 AM
Owlcat's CRPG Warhammer 40k: Rogue Trader thrusts players into the deepest, darkest parts of the universe, pitting them against unknown terrors in an attempt to chart the mysterious Koronus Expanse on behalf of the Imperium. The team's latest developer diary dives into the design behind the RPG game's enemies, taking the terrifying Chaos Helbrute as its main case study (with a cheeky look at a Necron Skorpekh Lord, too). The new developer diary can exclusively be viewed below or on PCGamesN's YouTube channel.
The best Warhammer 40K games
,
The best RPG games
,
The best space games on PC
---
PCGamesN Tuesday, January 24, 2023 9:00 AM
Got a copy of Marvel's Midnight Suns and an Nvidia GeForce RTX 4000 graphics card? Well, you're in luck, as the tactical RPG will soon support DLSS 3, the green team's magical frame-boosting tech that arrived alongside the RTX 4090. Hitman 3 will also gain enhanced AI upscaling support later this month, and even more games are set to receive a performance helping hand from DLSS 2.
MORE FROM PCGAMESN:
Best SSD for gaming
,
How to build a gaming PC
,
Best gaming CPU
---
PCGamesN Tuesday, January 24, 2023 8:01 AM
There are plenty Warzone 2 Season 2 changes on the way soon as developer Raven Software continues to tease what we can expect in the update, with the studio now revealing that the way money and prices work in the battle royale game is going to be changed quite dramatically.
Best Warzone 2 guns
,
Best Warzone 2 loadout
,
Warzone 2 map
---
PCGamesN Tuesday, January 24, 2023 7:56 AM
How long is Dead Space? The Dead Space Remake makes a number of key changes to differentiate it from the original game in order to bring it up to today's high standards. The most obvious change to the game is that it looks visually stunning, but the Dead Space Remake features a number of important gameplay tweaks to improve the 2008 cult classic.
It's no surprise that Dead Space remains one of the best horror games we've ever played, and there's a good chance this remake ends up on our best PC games list by the end of the year. Horror games usually like to keep things short and sweet, and the original Dead Space is no different. While there are plenty of gameplay changes in the remake, we can make an educated guess as to how long it takes to beat Dead Space.
MORE FROM PCGAMESN:
The best horror games on PC
,
The best space games on PC
,
Dead Space system requirements
---
PCGamesN Tuesday, January 24, 2023 7:43 AM
Wondering which Hogwarts Legacy spells you'll be casting in the halls of the famous school? Spellcasting is of course one of the biggest draws of attending Hogwarts - that and getting into magical mischief - so which spells will we be able to use in Hogwarts legacy, and how will spellcasting and combat work?
In the first gameplay stream showcasing the open-world game, we got our first proper look at all of the Hogwarts Legacy common rooms, how to fast travel, and the game's UI - including how to access your spells. Since then, more spells have been announced for what could potentially be one of the best PC games released this year, as well as how to harness, boost, and use them in combat. We know that there will be over 20 Hogwarts Legacy spells available to learn as you progress through your studies, with four, slottable, quick-access spells on your HUD.
MORE FROM PCGAMESN:
Hogwarts Legacy release date
,
All Hogwarts Legacy spells
,
Hogwarts Legacy system requirements
---
PCGamesN Tuesday, January 24, 2023 7:30 AM
The best Dead Space suit upgrades appear as elusive schematics scattered across the Ishimura, and taking the time to track them down can be the difference between life and death – or worse, a full inventory. Resource Integration Gear, otherwise known as RIGs, are specialised suits designed to assist the wearer in a number of ways. RIGs come with built-in health management and navigational systems as standard, but that's only scratching the surface of what benefits they provide.
Isaac begins his ill-fated tour of the Ishimura while wearing his default suit, the appropriately named Standard Engineer RIG, but it doesn't offer much in the way of protection against necromorphs. It's currently unclear whether Motive has made any significant changes to the Dead Space suit upgrades in the remake to one of the classic horror games, but each one will almost certainly grant damage resistance bonuses and additional inventory space, both of which will serve you well in what's shaping up to be one of the best PC games of 2023.
MORE FROM PCGAMESN:
The best horror games on PC
,
The best space games on PC
,
Dead Space system requirements
---
PCGamesN Tuesday, January 24, 2023 7:22 AM
As Gods Revel and Lands Tremble, Square Enix has unveiled the FFXIV patch notes for the MMORPG's 6.31 update, which adds the all-new ultimate raid, Omega Protocol, as well as fixing the infamous warrior bug that saw tanks healing for insane amounts of damage.
MORE FROM PCGAMESN:
The best MMOs on PC
,
FFXIV Island Sanctuary guide
,
FFXIV Island Sanctuary animals list
---
PCGamesN Tuesday, January 24, 2023 7:02 AM
Series developer Rockstar has acknowledged the recent increase in player-threatening hacks in GTA Online, which can seemingly let hackers remotely add, remove, or modify your own stats in the multiplayer game. The prevailing advice from GTA Online content creators is to avoid playing the game on PC altogether, as Rockstar promises it is doing something about the issue.
GTA 5 mods
,
GTA 6
,
Buy GTA V
---
PCGamesN Tuesday, January 24, 2023 7:50 AM
The best anime games for PC are as wildly varied as the Japanese film, television, and manga from which they are inspired. Whether you fancy being trapped in a school with a sadistic remote-controlled bear, defending yourself from gargantuan humanoid monsters, or joining a book club with a dark side, there are plenty of anime games for PC to choose from in 2023.
We've got everything from the biggest anime games based on Japan's hottest export shows, from the finest JRPG games to MMOs influenced by its signature style. Dragon Ball, Attack on Titan, and Naruto are all present and correct, plus a few other gems you may not have heard of before. If you're a fan of anime, you might consider these entries some of the best PC games available on the platform. Let's go.
MORE FROM PCGAMESN:
Genshin Impact codes
,
Genshin Impact character tier list
,
Genshin Impact leveling guide
---
PCGamesN Tuesday, January 24, 2023 6:54 AM
The latest Fortnite crossover has already landed, bringing Isaac Clarke from the upcoming Dead Space Remake to Epic's battle royale game. As we plough through Fortnite Chapter 4 Season 1, and also look forward – kind of – to reboarding the Ishimura and the Dead Space Remake release date, this is the ideal collaboration to mark the start of 2023, and unite one of gaming's most iconic heroes with its wackiest shooter.
Fortnite Chapter 4 map - key locations
,
Free PC games
,
All Fortnite Chapter 4 weapons
---
PCGamesN Tuesday, January 24, 2023 6:12 AM
Epic Games is no stranger to crossing over musicians like Ariana Grande and Travis Scott with its battle royale game, and now a Fortnite The Kid Laroi event is coming to the island with new and exclusive music, skins and cosmetics, and even a tournament with plenty of rewards.
MORE FROM PCGAMESN:
Fortnite Chapter 4 map - key locations
,
Free PC games
,
All Fortnite Chapter 4 weapons
---
PCGamesN Tuesday, January 24, 2023 6:13 AM
We know the Genshin Impact 4.0 release date is coming later this year, and we've spent enough time playing the game to figure out what this big update might introduce, including a brand new region called Fontaine.
You can expect something big from the free PC game as we draw closer to the middle of the year. Genshin Impact 2.0 introduced Inazuma, a brand new region to the fantasy game, as well as a host of characters and quests. The 3.0 update followed the same pattern, adding the Sumeru region to the world of Teyvat as well as the Dendro element. There's no way to know exactly what Genshin Impact 4.0 holds, but we have some ideas as to what the devs might be working on.
MORE FROM PCGAMESN:
Genshin Impact codes
,
Genshin Impact character tier list
,
Genshin Impact leveling guide
---
PCGamesN Tuesday, January 24, 2023 6:11 AM
A new Nvidia RTX 3060 Ti rolled into town last year, and it turns out it's faster than an original factory overclocked model. The new SKU pairs the same GA104 GPU as its predecessor with GDDR6X memory, but it guzzles more power supply juice as a result.
MORE FROM PCGAMESN:
Nvidia RTX 4080 review
,
Nvidia RTX 4070 rumours
,
Best graphics card in 2022
---
PCGamesN Tuesday, January 24, 2023 6:08 AM
Brian Birmingham, who previously served as technical lead director on World of Warcraft Classic, has left Activision Blizzard in protest of employee review policies at the Overwatch 2, Diablo 4, and Call of Duty creator. An alleged ranking system implemented at Activision Blizzard in 2021 reportedly demands that at least 5% of employees be categorised as low-performing, which can affect their end-of-year profit share and opportunities to work within certain development teams. As one of the people responsible for completing reviews, Birmingham has left Activision Blizzard after refusing to downgrade employees' status in order to meet the 5% quota.
MORE FROM PCGAMESN:
WoW Dragonflight tier list
,
The best WoW addons
,
WoW Dragonflight review
---
PCGamesN Tuesday, January 24, 2023 6:19 AM
Metas change, LoL tier lists fluctuate, and your favourite champion might not be in a great place right now. While you can absolutely win games and climb the ranked ladder with nearly anyone in the lower ELOs, the changes that come via champion and item balancing can tip the scales enough that some picks are almost mandatory.
We've put together a few picks for each lane that have become especially overpowered in the 13.1 patch for League of Legends. Whether it's due to a buff, kit change, or item change, these are safe picks if you're looking to climb the ranks in the free PC game. If you do want to play something else, keep every one of these champions in our LoL tier list in mind for your ban, as they all have the potential to go on and dominate Summoner's Rift in one of the best MOBAs you can play right now.
How much have I spent on League of Legends?
,
League of Legends patch 13.1
,
League of Legends Prime Gaming rewards
---
PCGamesN Tuesday, January 24, 2023 6:32 AM
The Overwatch 2 PvE release date isn't set in stone, but we do have some idea of when it'll finally make an appearance. Overwatch is no stranger to PvE modes, and recent events are proof positive that time-limited cooperative events are still on the cards for the sequel.
However, a dedicated Overwatch 2 PvE mode is a different prospect, and one which fans of the free PC game's story have been anticipating for some time. The PvE mode is predicted to integrate major plot developments as part of an ongoing campaign. If you're invested in the trials and tribulations of the Overwatch 2 characters, this upcoming story mode is guaranteed to be right up your street. Here's everything we currently know about Overwatch 2 PvE, including its release date.
MORE FROM PCGAMESN:
All Overwatch 2 characters
,
Best Overwatch 2 settings
,
Overwatch 2 tier list
---
PCGamesN Tuesday, January 24, 2023 5:26 AM
Want to know about The Witcher 4 release date? CD Projekt RED initially confirmed the existence of a new game in The Witcher series via a press release in March 2022.
Since then, we've received confirmation that the upcoming open-world game is the first instalment in a new trilogy, though it remains unclear whether it will follow the characters and events of the previous games. While it's safe to assume this new entry to the series won't be called The Witcher 4, we're going to call it that for now, for lack of a better, more official term. The closest we have to a title at the moment is its internal codename: Polaris. If it's anything like The Witcher 3: Wild Hunt, it has the potential to be one of the best PC games ever, but let's not get ahead of ourselves.
MORE FROM PCGAMESN:
The Witcher 4 release date
,
The Witcher 4 Unreal 5
,
The Witcher 4 School of the Lynx
---
PCGamesN Tuesday, January 24, 2023 5:24 AM
Gaming forum ResetEra has banned discussion of Hogwarts Legacy, as the upcoming Harry Potter RPG game struggles to cast off the spectre of the Wizarding World's founder, J.K. Rowling.
MORE FROM PCGAMESN:
Hogwarts Legacy release date
,
All Hogwarts Legacy spells
,
Hogwarts Legacy system requirements
---
PCGamesN Tuesday, January 24, 2023 5:21 AM
If you're looking for a VPN and you want to know which service gives you the broadest selection of VPN servers, you've come to the right place. This will understandably be a top consideration when determining which provider you want to use, because a vast server array comes with a lot of benefits.
If you go for an option that has a lot of VPN servers, you reduce the risk of congestion, which can result in slower speeds due to so many users using the same server. Additionally, you increase the chances of finding a server that's compatible with any website or online service you might want to use, and potentially increase the number of countries you can connect through oo.
We've picked out six VPN providers that have the broadest selection of servers, and we've listed both the total number of servers for each one, and the total number of countries in which these servers are located. For added convenience, we've provided mini overviews that will let you know which is the fastest VPN, the best gaming VPN, or whatever else it is that makes each one special.
MORE FROM PCGAMESN:
Best SSD for gaming
,
How to build a gaming PC
,
Best gaming CPU
---
PCGamesN Tuesday, January 24, 2023 8:05 AM
When is the Dragon Age 4 release date? Dragon Age 4 is real and in production at BioWare, we know that much, but where will the story go next? And which of our favourite characters will return?
Bioware has officially announced the title, Dragon Age: Dreadwolf, which looks set make a list of the best PC games and best RPG games. So far we've had a cryptic teaser trailer about Dread Wolf, suggestions of a potential multiplayer angle, and heaps of clues to its story contents courtesy of various interviews and tweets with developers and writers who have worked on previous Dragon Age games. BioWare has teased more about the Dread Wolf saying, "Solas, the Dread Wolf. Some say he might be an ancient elven god, but some say not. Others say a betrayer of his people…or a savior who now seeks to rescue them at the cost of your world. "
MORE FROM PCGAMESN:
Best RPG games
,
Dragon Age 4 characters
,
Dragon Age 4 release date rumours
---
Rock Paper Shotgun Latest Articles Feed Tuesday, January 24, 2023 9:01 AM
There's a new Nvidia GeForce Game Ready Driver out, and for once it sounds pretty interesting – especially if you're lucky/rich/unhinged enough to have dropped megabucks on one of Nvidia's megabucks RTX 40 series GPUs.
The 528.24 WHQL driver is mainly aimed at tuning up GeForce graphics cards for imminent PC releases Forspoken, the Dead Space remake, and Deliver Us Mars. All three will include DLSS support, which might come in handy for Forspoken in particular, given its slightly bananas system requirements. But 528.24 will also get Hitman 3 and Marvel's Midnight Suns ready for DLSS 3 upgrades, with both games set to gain support for the overhauled upscaler in forthcoming patches.
---
Rock Paper Shotgun Latest Articles Feed Tuesday, January 24, 2023 9:00 AM
Most deckbuilding strategy games see you create a single deck of cards over the course of the game. With every completed stage, you're given the chance to add in new cards and take out old duffers, carefully honing those rough edges until it's your very own death by paper cut machine. Mahokenshi isn't most other deckbuilders, though. Here, you're tasked with creating a fresh deck of cards each time you start a new mission, bolstering your initial crop of starter attacks and movement cards with new, more powerful attacks on the fly as you move around its hex-based landscapes. Some can be found out in the wild, but most of them you'll be buying from village merchants, before upgrading them at dojos dotted around the map. And at the end the mission, they're all swept away.
It's certainly a refreshing take on deckbuilding, and it lends itself to even more spontaneous wins and comebacks than the usual frisson of tension you get from simply drawing a good or bad hand. But with main story missions quickly ramping up in difficulty, that scramble for bigger and better cards up front is often Mahokenshi's undoing. The whims of chance are felt more keenly than ever in Game Source Studio's debut deckbuilder, and they never quite felt like they're tipped in your favour.
---
Rock Paper Shotgun Latest Articles Feed Tuesday, January 24, 2023 9:00 AM
Mimimi Games have been teasing their next stealth strategy game for over two years now, and finally, we know what it is. Today, the makers of Desperados 3 and Shadow Tactics: Blades Of The Shogun revealed that the game formerly known as Codename: Sweet Potato (or Süßkartoffel, in their native German) is now called Shadow Gambit: The Cursed Crew, and it's all about undead magical pirates. Sign me the heck up.
I got to see Shadow Gambit in action late last week, and boy howdy it looks super cool. Even better, it's coming to Steam and the Epic Games Store later this year. Read on below to watch its pair of exciting reveal trailers, and find out all about it.
---
Rock Paper Shotgun Latest Articles Feed Tuesday, January 24, 2023 8:36 AM
After almost 14 years, I am still delighted by Windosill. It's still a joy to poke and prod at the wee indie puzzle game, tugging on orbs, spinning carousels, and jabbing at the many beaks and eyeballs and mouths and noises emerging from an ever-shifting box. It's such a reward for curiosity. And it still looks great too, with that unaging smooth vector art from developer Vectorpark. Now it's out on Android phones and tablets too. I bought it, and really enjoy how much a touchscreen adds to the tactile experience.
---
Rock Paper Shotgun Latest Articles Feed Tuesday, January 24, 2023 8:10 AM
Time to dust off your headset and motion controllers, because a free VR version of Half-Life 2: Episode One is coming to Steam. Created by Half-Life 2: VR Mod's SourceVR Mod Team, Episode One is the first of Valve's episodic adventures to get the virtual reality overhaul treatment. It's planned to follow up with Episode Two at an unannounced, but at a later date. You can take a gander at Half-Life 2: VR Mod - Episode One in full flow below, without wearing the fancy digital helmet.
---
Rock Paper Shotgun Latest Articles Feed Tuesday, January 24, 2023 6:56 AM
It's only been a week since Microsoft announced they were laying off 10,000 human staff across their various divisions (including their games studios), but they've now revealed they'll be investing billions of dollars into driving breakthroughs in AI. Microsoft will be pumping the money into futuristic tech firm OpenAI, which operates Turing-botherer chatbot ChatGPT and its artistic relative DALL-E. OpenAI's already received two investments from Microsoft, one in 2019 and another in 2021. This third investment is intended to be "multi-year" and "multibillion dollar", allowing both companies to "independently commercialize" whatever budding Skynets emerge.
---
Rock Paper Shotgun Latest Articles Feed Tuesday, January 24, 2023 6:00 AM
Even before the monsters arrived, the USG Ishimura was a nightmare.
I mean, yes, the hulking spaceship where Dead Space takes place isn't exactly a floating Hilton once its crew have been turned inside out by a bunch of drooling flesh moths, but there is ample evidence that the Ishimura was a miserable place to live and work long before that happened. This is why the planet cracker class vessel is still remembered as fondly as other iconic spaces such as City 17, Rapture and the Spencer Mansion. Despite its fantastical contexts, the Ishimura is a believable location, one where the work itself is deemed more important than the workers who do it.
---
Rock Paper Shotgun Latest Articles Feed Tuesday, January 24, 2023 5:19 AM
You may have already heard that several outlets haven't had review code for Forspoken, Squeenix's magical parkour isekai game that's out today and that some people have already decided they hate because of the dialogue. I was actually pretty excited to review the game, and was hopeful that the dialogue would make sense and work in context. But unfortunately we, too, are one of the outlets who don't have code, so no PC review from us for a while.
Like many others - and you too, if you've got a PS5 - I've been able to play the free Forspoken demo, which plops you into the game after the opening bumf, and presumably the cutscene where Frey establishes her modern girl "lemme get this straight?!" credentials. And you know what? I don't hate it!
---
Twinfinite Tuesday, January 24, 2023 9:30 AM
Parenting isn't all it's cracked up to be, and maybe that's OK.
---
Twinfinite Tuesday, January 24, 2023 9:00 AM
A stealth strategy experience on the high seas await in Shadow Gambit: The Cursed Crew.
---
Siliconera Tuesday, January 24, 2023 9:30 AM
People can now face the Omega Protocol (Ultimate) Duty, as it and the initial patch notes for FFXIV 6.31 are now live. However, only the preliminary details are available. While the section on Omega Protocol is filled out, Square Enix hasn't listed the new achievements, items, music, or titles.
With Omega Protocol (Ultimate), FFXIV players will need to have their Disciple of War or Magic job at level 90 to participate. They'll also need to get eight people together who also completed Abyssos: The Eighth Circle (Savage). Once they do, they can challenge the fight weekly to get a reward and earn the new ultimate Omega weapons. However, while you can only get the reward once per week, you can participate multiple times to assist others in their pursuit.
Here are the full patch notes for FFXIV 6.31.
Battle System

The high-end duty the Omega Protocol (Ultimate) has been added.

What if Omega's relentless testing had continued, and provided the elusive answer it sought?

The minstrel's words invite you to imagine this scenario─to entertain the possibility of that which may have been─and follow the experiment to its ultimate conclusion.

Level Requirement: Disciple of War or Magic level 90
Party Size: Eight players
Time Limit: 120 minutes
Requirements: After completing Abyssos: The Eighth Circle (Savage), speak with the Wandering Minstrel in Old Sharlayan (X:12.7 Y:14.2) as a level 90 Disciple of War or Magic.
Entering the Omega Protocol (Ultimate): The Omega Protocol (Ultimate) can only be accessed via the Raid Finder after forming a party of eight players who have all completed Abyssos: The Eighth Circle (Savage).
Completion Reward: Upon completing the Omega Protocol (Ultimate), players can earn a separate reward once per week. Players who have yet to receive that week's reward can still claim it even if other members of the party have completed the duty prior to the weekly reset.
The reward can be exchanged with Nesvaaz in Radz-at-Han (X:10.6 Y:10.0) for ultimate Omega weapons.
Reward eligibility is reset every Tuesday at 12:00 a.m. (PST).

Items

New items have been added.

System

New achievements and titles have been added.
New music has been added.
In order to better facilitate login, one-time passwords will no longer be hidden during entry.

Resolved Issues

The following issues have been addressed.

An issue during the extreme trial implemented in Patch 6.3 wherein player casting was interrupted by certain enemy actions.
An issue during the raid dungeon Alphascape V4.0 (Savage) wherein the areas of effect for boss actions Diffuse Wave Cannon and Oversampled Wave Cannon did not display in full.
An issue when using the warrior action Shake It Off wherein the amount of HP recovered when only healing self was incorrect under certain conditions.
An issue wherein actions with a forward-facing cone or straight-line area of effect would strike in the direction of the selected target, as well as the direction the executing character was facing under certain conditions.
* Learn more about this issue.
An issue wherein the conditions to trigger Fisher's Intuition at Seagazer Shoals were incorrect.
An issue wherein certain wild animals in the island sanctuary did not appear under certain conditions, despite fulfilling necessary requirements.
An issue wherein selecting the glamour buttons in the Trust window would not apply intended changes.
Other minor text issues have also been addressed.

Other various issues have also been addressed.
Final Fantasy XIV is available for the PS4, PS5, and PC, and 6.31 is now live. As a reminder, 6.3 added a Myths of the Realm Euphrosyne Raid.
The post Omega Protocol (Ultimate) Duty Discussed in Patch Notes for FFXIV 6.31 appeared first on Siliconera.
---
Siliconera Tuesday, January 24, 2023 9:00 AM
Bandai has added another character from Kamen Rider Geats to its S.H. Figuarts lineup for pre-order. The latest addition is an action figure based on Kamen Rider Tycoon, in his Tycoon Ninja form. It's the first version of Tycoon to be added to the S.H. Figuarts line, and the third Kamen Rider Geats character overall (after Geats himself and Kamen Rider Buffa). The figure will be sold via the North American Premium Bandai online store, putting it in reach of Kamen Rider fans in that region. The figure will cost $80 USD.
Kamen Rider Tycoon is the Rider identity of Keiwa Sakurai, a fellow competitor to protagonist Ace Ukiyo. Filled with a sincere desire to bring about world peace, Keiwa enters the "Desire Grand Prix", a supernatural tournament. In the Desire Grand Prix, contestants are given the ability to transform into Kamen Riders, competing with each other to protect the city from the monstrous Jyamato. The winner will be granted the "right" to "bring about their ideal world."
[gallery size="medium" ids="948168,948169,948170,948171,948172,948173" link="file"]
The new figure takes the form of Kamen Rider Tycoon Ninja, one of Tycoon's fighting styles. The Ninja form parts are added to the black-colored Entry Form, the baseline form of Geats Riders. The parts attach to the Entry Form's head, chest, back, shoulders and arms. Other parts include the Ninja Dueler weapon, which can split into two knives or a single sword. Owners that also own the Kamen Rider Geats Magnum Boost Form or Entry Raise Form figures can use the Ninja parts on those, as well, multiplying the number of variations available to Geats.
The Kamen Rider Geats Tycoon Ninja S.H. Figuarts action figure is available for pre-order. It will ship in August 2023.
The post Kamen Rider Tycoon Ninja SH Figuarts Pre-orders Opened appeared first on Siliconera.
---
Siliconera Tuesday, January 24, 2023 8:30 AM
Sting announced that it will release Yggdra Union for PC on February 6, 2023, 15 years after the game launched on the PlayStation Portable (and 17 years since its original launch on the Game Boy Advance). Formally titled Yggdra Union: We'll Never Fight Alone, the game will arrive on PC via Steam's Early Access program. The game's Steam store page is already live.
Yggdra Union is part of Sting's "Dept. Heaven" series that includes titles like Riviera: The Promised Land and Knights in the Nightmare. Yggdra Union on PC is the first time that players outside Japan have been able to play the game on a current platform since the PSP era. Sting ported the game to iOS and Android in 2019, and then to Switch in 2020. However, those ports were never localized for overseas release. The PC edition will support English, Japanese, Traditional Chinese, and Korean language options. English and Japanese voice dubs will be included.
As for why the game is in the "Early Access" program, an FAQ states that Yggdra Union on PC itself is essentially complete. Players who buy it will be able to play through the story to its end and experience all other content. Sting is classifying the game as "Early Access" because bug fixes and feature improvements are still in progress, and the team wants "live" feedback to help the process along. Sting intends for the game to remain in Early Access for three to five months after release, and suggests that it may increase the price once the "full" release is set.
The PC edition itself will have a number of additional features. These include:
Rewind function for undoing actions
Auto-saving
Save-Anywhere
Conversation log
A hint log to let players know where certain items can be found
Battle speed adjustment (up to 5x speed)
A special unit called "Flunky" that can participate in battle under certain conditions
Sound testing
Bilingual Japanese/English dub options
Easy mode with infinite item uses
Equipment removal
Optional Unbreakable Equipment toggles
Compatibility with mouse-and-keyboard controls in addition to modern gamepad support
Sting even plans to add "Tricks" or "Cheats" to the ported edition. These tricks will be activated by certain button combinations.
A function to make Milanor look like Cruz
Enemies and Allies do "no critical" damage
A way to Max out the skill gauge at the start of a battle
Reverse formation types between male and female
Yggdra Union launches on PC via Steam Early Access on February 6, 2023. The game can be found on PSP and Game Boy Advance. In Japan, it is available on mobile devices and Nintendo Switch, as well.
The post Yggdra Union for PC Launches in Early February 2023 appeared first on Siliconera.
---
Siliconera Tuesday, January 24, 2023 8:00 AM
Forspoken is out today, and Square Enix is selling a limited physical edition in Japan, targeted at players especially interested in having some Athian adventures. The Forspoken Limited Edition package is exclusive to the PS5, and includes a number of digital and physical extras. It's available on the Japanese Square Enix online store for 22,000 Yen (about $170 USD).
The Forspoken Limited Edition includes the PS5 edition of the game, and the special collector's box packs the rest of the goods.
https://www.youtube.com/watch?v=e74qIiQ9fV8
Besides the game, an "expanded edition" of the Forspoken Original Soundtrack is part of the bundle. The expansion is an additional disc of music from the game, in addition to the three discs from the standard soundtrack. There's also an art book, The Art of Forspoken, containing a number of art pieces and information bout Athia and the characters of the game.
The last physical goodie that's part of the Forspoken Limited Edition is an original T-shirt with an exclusive design of Frey on the front.
The package includes a few in-game bonuses for players about to start out. These take the form of an in-game rare material pack, with crafting materials to give players a head start on their upgrades.
The Limited Edition also includes access to the game's planned story DLC, Forspoken: In Tanta We Trust. The DLC is scheduled to drop around Summer 2023. Owners of the Limited Edition will be granted early access to the content, as well.
Buyers who pick up the Limited Edition early will also gain additional in-game cosmetic benefits. One is the "Whiskers" cape, which drapes Frey in a poppy cat-themed cloak. The others are two sets of cosmetic nail art. The first is part of the early-purchase bonus, and the other is an exclusive reward for buyers who purchase through the Square Enix e-Store.
Forspoken is available on PC and PS5. A playable demo is available.
The post Forspoken Limited Edition Includes Music, Art, and DLC appeared first on Siliconera.
---
Siliconera Tuesday, January 24, 2023 7:30 AM
Publisher Koei Tecmo and developer Gust have begun selling an Atelier Ryza art collection in Japan. The collection consists of premium art prints from the Atelier Ryza games, also known as the "Secret" series. The sale is part of the companies' ongoing 25th Anniversary celebration of the Atelier series as a whole [Thanks, Denfaminico Gamer!].
The Atelier Ryza art collection features high-quality, framed art prints. There are a total of six pieces to acquire: Two from Atelier Ryza: Ever Darkness & The Secret Hideout, three from Atelier Ryza 2: Lost Legends & The Secret Fairy, and one from the upcoming Atelier Ryza 3: Alchemist of the End & The Secret Key. Each piece comes with its own frame and a small plaque with the piece's name and the game it's from. All cost 20,000 Yen each (about $154 USD).
[gallery size="medium" ids="948148,948149,948150,948151,948152,948153" link="file"]
Other items from both Ryza and other Atelier games are available on the special online storefront alongside the Atelier Ryza art collection. There's a line of B5-size acrylic art plates, each going for 4,900 Yen (about $38 USD). The line has two more pieces from Ryza, but also two from Atelier Sophie 2: Alchemist of the Mysterious Dream. A set of three clear files also features characters from Atelier Ryza 3 for 1,200 Yen (about $9 USD).
[gallery columns="4" size="medium" ids="948154,948155,948156,948157" link="file"]
Finally, those interested in a fuller accounting of the Atelier franchise can pick up a chibi acrylic standee. Each standee costs 800 Yen (about $6 USD) and renders a protagonist or major character from the franchise in chibi style. There are 30 standees in total, and the whole set can be acquired in two boxes, each costing 11,999 Yen (about $93 USD).
[gallery columns="2" size="medium" ids="948158,948159" link="file"]
The Atelier Ryza art collection and other franchise items for the 25th Anniversary celebration are on sale in Japan through this special storefront. They'll be sold there until February 19, 2023. On February 25, 2023, the collection will be shown and sold at a pop-up store in Shibuya's PARCO department store. Mail-ordered products will ship at the end of March 2023.
Following an announced delay, Atelier Ryza 3 will release on PC, PS4, PS5, and Nintendo Switch globally on March 24, 2023.
The post Atelier Ryza Art Collection Goes on Sale for 25th Anniversary appeared first on Siliconera.
---
Siliconera Tuesday, January 24, 2023 7:00 AM
For the 30th anniversary of Kirby, SuperGroupies will release a collection of goods based on the pink demon. There will be a total of five items that you can purchase. They are a watch, a shoulder bag, sneakers, a wallet, and a jacket. All of the items are made-to-order, and you will have until February 12, 2023 to put in your orders.
All of the items feature lots of star motifs. As well, the majority of the items feature a dark navy or black color that contrasts the pale pink that represents Kirby. The Kirby SuperGroupies items all have different release windows and prices. They are:
Watch: $220 (late September 2023)
3-way shoulder bag: $170 (mid-August 2023)
Sneakers: $150 (late July 2023)
Wallet: $140 (late July 2023)
Reversible jacket: $270 (late July 2023)
[gallery columns="6" ids="948131,948130,948129,948128,948127,948126" link="file"]
The items all feature different aspects of the Kirby games. For example, the watch draws inspiration from the Fountain of Dreams. Meanwhile, the sneakers have a lot of Lor Starcutter motifs.
Since 2022, Nintendo and other brands have released limited goods for the 30th anniversary of the Kirby series. Kirby debuted in Kirby's Dream Land, which came out in 1992 for the Game Boy. In 2022, there was an Ichiban Kuji, music festival, Nendoroid, jewelry collection, and more for the 30th anniversary.
The Kirby 30th anniversary collection at SuperGroupies is available to pre-order until February 12, 2023. They will ship out from Summer 2023.
The post SuperGroupies Kirby 30th Anniversary Collection Features Stars appeared first on Siliconera.
---
Siliconera Tuesday, January 24, 2023 6:00 AM
Yet another anime studio is feeling the effects of the COVID-19 pandemic, as Connect announced it will delay episodes of the Ayakashi Triangle anime due to the virus. The delay will start from Episode 5. [Thanks, ryokutya2089!]
The Twitter account for Ayakashi Triangle apologized for the delay, as well as any worries it may cause the fans. According to the official announcement, the hiatus is due to production falling behind schedule as a result of COVID-19. So after episode 5 on February 6, 2023, it will start airing re-runs of episodes 1 through 5. This delay not only affects the broadcasts, but the release dates of the DVDs and Blu-Rays as well.
The new release schedule of the Blu-Rays and DVDs are:
1: September 27, 2023
2: October 25, 2023
3: November 22, 2023
4: December 27, 2023
5: January 31, 2024
6: February 28, 2024
Connect is not the only anime studio that has recently announced delays due to COVID-19 complications. A-1 Pictures also has to put the NieR Automata anime on hiatus due to pandemic. There was a significant increase of cases throughout 2022. If production for the anime occurred during that time, then that is likely the reason for the hiatus. However, the country is going through another major outbreak, despite the government's intention to downgrade COVID-19 to flu status. So there is no telling as to when production for Ayakashi Triangle will return to normal.
The Ayakashi Triangle anime will go on a hiatus from episode 5, which will air on February 6, 2023. The show is available for streaming via Crunchyroll.
The post Ayakashi Triangle Anime Delayed Due to COVID-19 appeared first on Siliconera.
---
Siliconera Tuesday, January 24, 2023 4:00 AM
Sword Art Online is a popular franchise with a vision of the future of video games lying at its core. And as might be expected of such a thing, a fair few real video games exist to cater to its fans. But where to start? The many game adaptations of Sword Art Online exist across multiple console generations and even multiple genres. In light of the recent announcement of Sword Art Online: Last Recollection, we've come up with a quick guide to help you find out the best place to start with SAO video games.
Where can I get Sword Art Online games?
SAO games are available on a variety of platforms, including the PSP, PS Vita, PS4, Nintendo Switch, PC, Xbox One, and once Last Recollection hits, PS5 and Xbox Series X|S. That said, right now the most convenient way to play all of the relevant Sword Art Online games is via PC or PS4. All the officially-released single-player SAO games are available via Steam or the PSN store, so you can play them in order on a single platform, if you wish. The PC versions do have a slight advantage in that they tend to go on sale more often than on PSN, too, which will help minimize your outlay if you have to buy them.
What order should I play Sword Art Online Games in?
With the exception of various mobile and free-to-play entries, the game adaptations of Sword Art Online form a distinct, alternative timeline to the novels and anime series. The games have a number of original characters, and incorporate events and storylines from the source material in unique ways. The departures from "canon" don't alter the fundamental context of Sword Art Online's narrative, but they may confuse someone coming from the anime expecting things to be the same across media.
Luckily, the distinct timeline makes the task of playing the games in order pretty simple: Just play them in the order they were released (with one exception). The Sword Art Online games' narratives proceed in chronological order. While they aren't closely linked, they do reference each other occasionally. Players interested in exploring exploring the SAO games' would do best to have at least some familiarity with prior titles if they intend to jump into one of the later ones.
Now, here's a description of each Sword Art Online game, in the order they should be played.
Sword Art Online: Re: Hollow Fragment
https://www.youtube.com/watch?v=rCaIap4PEQ0
Technically speaking, 2013's Sword Art Online: Infinity Moment was the first title in this particular timeline of SAO games. However, it wasn't actually released in the west. There's also no need to play it, because Infinity Moment has been completely replaced by its quasi-sequel, 2014's Sword Art Online: Hollow Fragment.
Hollow Fragment was an updated re-release brought to PS Vita that contains all of Infinity Moment's content as a base. It was further updated for PS4 (and later, PC) and titled Sword Art Online: Re: Hollow Fragment. In a way, this game lies at the root of the SAO games' alternate timeline. It asks "What if Kirito and the gang still had to clear the rest of the Aincrad tower before leaving the death game?" and uses that point as a springboard to introduce characters like Sinon, Leafa, and Yuuki to the story much earlier than they would've joined otherwise. It even adds an original character, Strea, to the mix.
Sword Art Online: Re: Hollow Fragment is available on PC via Steam and PS4.
Sword Art Online: Lost Song
https://www.youtube.com/watch?v=iMF0J9OH8Y4
Originally released for the PS Vita and PS3, then ported to PS4 and PC, 2015's Sword Art Online: Lost Song takes place in the fairy-themed Alfheim Online (ALO), the game Kirito, Asuna and their friends gravitate to after escaping from SAO and Aincrad. It also answers a slight continuity problem raised by Hollow Fragment by essentially skipping the whole "Fairy Dance" plotline (which couldn't have happened as originally written, anyway). Instead, the game leans in on an original adventure in a new expansion area to ALO called "Svart Alfheim".
Lost Song is notable for featuring the ALO character designs for most of the original SAO crew, as well as bringing in various ALO-based characters from the Fairy Dance arc (like Alicia Rue and Sakuya) and the Girls Ops spin-off manga. A rudimentary "original character" system is incorporated, but it really only allows you to create a templated NPC and has no effect on the narrative. That narrative features more game-original characters: Sumeragi, Seven, and Rain. Notably, the game also features an alternative, arguably happier take to the "Mother's Rosario" story arc, as well.
Sword Art Online: Lost Song is available on PC via Steam, PS Vita, and PS4.
Sword Art Online: Hollow Realization
https://www.youtube.com/watch?v=x-Jzb8HiVYo
Sword Art Online: Infinity Moment and Hollow Fragment developer Aquria returned to the helm for the next SAO game adaptation, and essentially decided to make a more fully realized take on Hollow Fragment for the occasion. They even return to Sword Art Online itself - or rather, Sword Art: Origin - a new, non-lethal title that reuses assets and quests from Aincrad. The release intrigues Kirito and the crew, who decide to jump in to see what's up, only to discover the seeds of new adventure in Premiere, a strangely intelligent NPC that wasn't in the original SAO.
Hollow Realization revisits a lot of Hollow Fragment's ideas, particularly the ones involving the quasi-simulation of the meandering MMORPG game rhythm. Its NPC interaction system allows Kirito to chat up and play alongside even random NPC characters, building bonds with them beyond his stable of named contacts. These mechanics show up as well in in The Caligula Effect, another Aquria-developed RPG. Premiere and Genesis join the roster of game-original characters, while Kizmel from the Sword Art Online Progressive series makes an appearance.
Hollow Realization is available on PC via Steam, PS Vita, Nintendo Switch, and on PS4.
Sword Art Online: Fatal Bullet
https://www.youtube.com/watch?v=DgnlWy1lFvo
Of the many ways that Sword Art Online games have departed from the narratives of the original novels and anime, Fatal Bullet might be the most dramatic separation of them all. For one thing, the base game doesn't even star Kirito and his pals, but instead involves a player-created protagonist and their buddies. This player protagonist is a resident of Gun Gale Online, the gun-based VR MMORPG that serves as the setting for the "Death Gun" story arc. Being based on Gun Gale Online makes for a dramatic departure in game mechanics, too. Fatal Bullet was developed by Dimps, creators of Freedom Wars, and more than a little of that game's DNA manifests in Fatal Bullet, with its gun-based play and its use of a powerful grappling hook-like device, as well as an "assistant" NPC that you can customize.
Kirito and company won't be left out, of course, and the story gives players a chance to experience a Sword Art Online story that views Kirito from the outside, a relatively rare perspective, as SAO goes. The "Death Gun" story is also featured as a separate plotline, though, and does put Kirito in similar circumstances, complete with his effeminate "Kiriko" avatar. Fatal Bullet also features GGO-based incarnations of the now-familiar SAO cast. Characters like LLEN, Pitohui, Fukaziroh, and others from SAO Alternative: Gun Gale Online manga also show up.
Sword Art Online: Fatal Bullet is available on PC via Steam, Nintendo Switch, PS4, and Xbox One.
Sword Art Online: Alicization Lycoris
https://www.youtube.com/watch?v=whxHYYmgesU
The most recent of the Sword Art Online games, Alicization Lycoris represents something of a break from some of the ideas put forth in other SAO titles. Just like the Alicization story arc in the anime and novels feel like an SAO-flavored take on the popular "isekai" stories of the current age, Alicization Lycoris returns to the narrative roots of Infinity Moment by building off of what should've been the canonical "end" of a key story arc in the source material. Stuck in the virtual, AI-populated "Underworld", Kirito and his new buddy Eugeo work together to defeat its tyrannical "Administrator". But things don't go the way they did in the book, and essentially leaves Kirito in a position to adventure around in Underworld's Human Empire for the rest of the game, alongside many of his friends from the real world (and other games). The secondary plot also centers around Medina, a game-original Underworld resident, adding to the increasingly large cast of the SAO games' universe. Its sequel, Last Recollection, should expand the Underworld further, bringing in more elements from the "War for Underworld" storyline that closed out the most recent series.
Sword Art Online: Alicization Lycoris is available on PC, PS4, Xbox One, and Nintendo Switch.
Sword Art Online vs. Accel World: Millennium Twilight
https://www.youtube.com/watch?v=6QIVqY9xMwU
You'll notice that I left out this game, though chronologically it came out in 2017, between Hollow Realization and Fatal Bullet. That's because even in a series of games that made its name by diverging from the source, Sword Art Online vs. Accel World is considered "non-canonical" by many of its players. Millennium Twilight is more of a tribute to another of SAO author Reki Kawahara's works: Accel World. Set (theoretically) a few decades into the SAO universe's future, Accel World stars a gang of kids that compete for territory in an Augmented Reality (AR) game called Brain Burst. Playable only by teenagers, Brain Burst unlocks a secret time-dilation function in every youth's cybernetic internet implant, allowing them to perform nearly superhuman feats in real life by paying "Burst Points" earned in-game. The contrivances of quantum mechanics and brand synergy come together to have Kirito and his pals hang out with a bunch of kids from a generation in the future. As ripe as the premise is for fan indulgence, the game is built on the creaky skeleton of Sword Art Online: Lost Song, and it isn't referenced much in subsequent games. Though an interesting curiosity, particularly for fans of Accel World (all several dozen of us!), it's largely inessential.
Sword Art Online vs. Accel World: Millennium Twilight is available on PC via Steam, PS4 and PS Vita.
The post Where to Play Sword Art Online Games in Order appeared first on Siliconera.
---
Tabletop Gaming News Tuesday, January 24, 2023 9:00 AM
---
Player Assist | Game Guides & Walkthroughs Tuesday, January 24, 2023 9:36 AM
The Last of Us on HBO has already released two episodes, and we already had our major post-outbreak loss with Tess (Anna Torv). While we know Tess' function in the story overall, showrunner Craig Mazin reveals that there was actually a backstory written for the character. Talking to the Last of Us podcast with Troy […]
---
Player Assist | Game Guides & Walkthroughs Tuesday, January 24, 2023 9:10 AM
The Deadpool DLC comes to Marvel's Midnight Suns in a few days, and just as expected, we have a new character deep dive looking into Wade's abilities and kit, as well as the benefits of having Hunter hang with him in the Abbey. Watch this: Deadpool's abilities are very dependent on his En Fuego status […]
---
Player Assist | Game Guides & Walkthroughs Tuesday, January 24, 2023 8:57 AM
It's going to be a while before the release of the second season of Lord of the Rings: The Rings of Power on Amazon Prime Video, but we have an update on a game focused on one of the franchise's favorite antagonists. As per Nacon Financials (via @MauroNL3), we should expect The Lord of the […]