FIFA Street was a defining game for many multiplayer sessions during the PS2 era, offering pick up and play gaming and the potential for some crazy goalscoring feats, but it wasn't the only option. Personally I always preferred the over the top cartoony characters of the under-appreciated Sega Soccer Slam, while my friends swore by Mario Strikers. Whatever your chosen flavour, it's safe to say that the street soccer genre's golden age was a long while back now. Whilst EA attempted to bring things back with the Volta mode in FIFA 20, there's clearly a gap in the market for a standalone game. That brings us to Street Power Football, which looks perfectly set to occupy that gap… until you try to play it, that is.
Of all the things I'm going to criticise about Street Power Football, I'm not going to include the music. It isn't to my taste and there are some awful remixes of classic dance tunes from the 90s, but I'll happily put this down to the target audience wanting something different than I do. That one caveat down, let's get down to business.
Street Power Football is one of the worst games I've had the misfortune of playing for quite some time, despite the glitzy appearance of the trailer. It manages to take a seemingly foolproof genre and ruin it across a series of dull game modes featuring some of the worst controls and smug presentation choices you could ever have to endure. I normally try to look for the positive in my reviews and have found enjoyment in many flawed titles, but trust me when I say that there is nothing here worth your time, let alone the full retail cost. To be this bad is one thing, but to price it the same as FIFA or PES is just a bit insulting.
The game is stuffed with tons of flashy trick animations as you might expect, but they lack the fluid blending to make them feel enjoyable and the general running motion looks awkward Combined with unattractive character models, it's the most unpleasant thing to appear on a football field since the Tottenham team all came down with food poisoning. Camera angles are surprisingly poor, with the standard game being played out from a viewpoint that makes judging distance unnecessarily hard and the trick shot mini-game using an over the shoulder view that doesn't even allow you to see the path of the ball properly.
There are times here when it genuinely looks like the worst possible design choice was taken at every turn, and remember this is supposed to be a full price title in 2020 (although given the state of this year, maybe this is exactly what we deserve). Even the presentation around the game is bad, with ugly menu screens and one of the worst uses of green screen you could expect in a video game.
The aforementioned green screen comes in due to the career mode. You are greeted by Sean Garnier, the winner of the inaugural street style world championship in 2008. He begins by relating (at length) the story of his own path to glory in a move that had me thinking that this might be a cool take on FIFA's journey mode, but no. You don't follow Sean's path at all, but will be constantly interrupted by his takes on your progress. Instead you just go through an interminable sequence of mini challenges that require you to show off your skills in the various modes. These become quite tough early on, which is a positive in one way but doesn't help when the game itself plays so badly. The whole Garnier side of the game gives the same impression as a self-published autobiography and I found myself wondering if this was some kind of Alan Partridge-like parody at times. The alternative is that it is all quite smug and self-serving, so I'm not really sure if that's worse.
Aside from career mode (but also in career mode) you have the option to play 1v1, 2v2, 3v3 standard street football, the aforementioned trickshots, freestyle, and the 1v1 nutmeg-tastic Panna mode. These all succeed in competing to be the worst so let's see what they have to offer.
Standard street mode is the closest to enjoyable that the game gets, but mostly just makes you want to dig out literally any other football game for a better experience. Power ups are glitchy, tackling is almost non-existent and the camera makes everything frustrating. Trickshots should be fun, but again, the bizarre camera angle manages to ruin this mode. Freestyle is perhaps the worst of the lot, boiling down to being a rhythm game that really shows off how turgid and unresponsive the controls are, whilst Panna is almost entirely unmemorable. It's almost impressive how bad the combined effect of this is, not so much more than the sum of its parts as just a barrage of awfulness.
---
Here is the Xbox Series X box box shot
The Xbox Series X and the Series S set to launch on the 10th November 2020. The Series X will retail for £449 or $499, while the Series S weighs in at £249 or $299. There will also be a 24-month subscription offer bundling a console, Xbox Game Pass Ultimate and EA Play together starting from an exceedingly tempting $24.99 / £20.99 per month for Series S, and $34.99 / £28.99 per month for Series X.
But here's the important bit – the Xbox Series X box! Woo!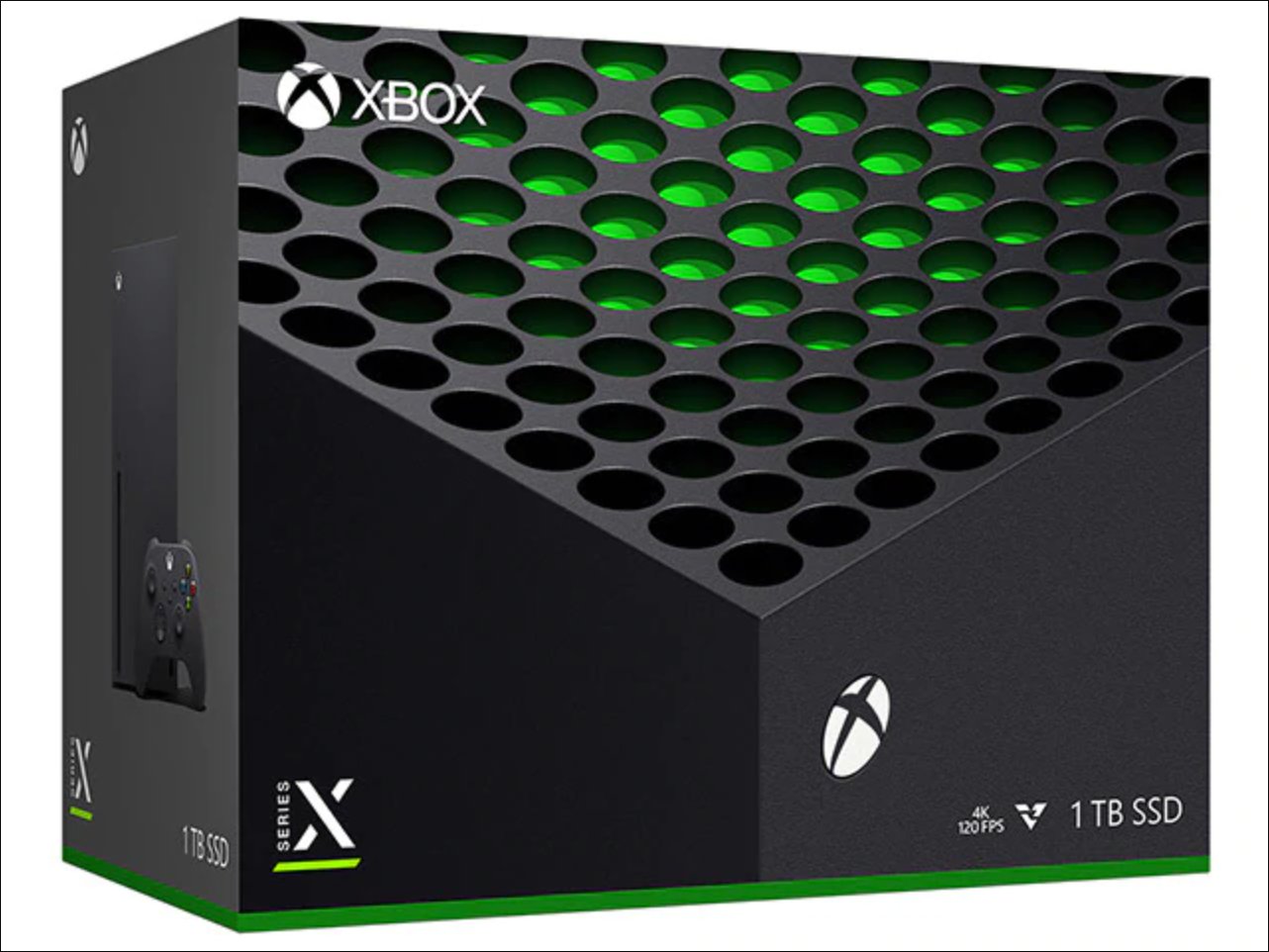 It looks rather monolithic doesn't it? Not exactly a friendly beast, I'm sure I've seen something similar in an alien invasion movie.
In case you missed it, here are the specs for the two new consoles.
| | | |
| --- | --- | --- |
| | Xbox Series X | Xbox Series S |
| CPU | 8-Core Zen 2 @ 3.8Ghz / 3.6Ghz w/ SMT | 8–Core Zen 2 @ 3.6Ghz / 3.4Ghz w/ SMT |
| GPU | RDNA 2 GPU – 52 CUs @ 1.825 GHz | RDNA 2 – 20 CUs @ 1.565 GHz |
| GPU Power | 12.15 TFLOPS | 4 TFLOPS |
| Memory | 16 GB GDDR6 | 10 GB GDDR6 |
| Memory Bandwidth | 10GB @ 560 GB/s, 6GB @ 336 GB/s | 8GB @ 224 GB/s, 2GB @ 56 GB/s |
| Performance Target | 4K @ 60 FPS, Up to 120 FPS | 1440p @ 60 FPS, Up to 120 FPS |
| Internal Storage | 1 TB PCIe Gen 4 NVME SSD | 512 GB PCIe Gen 4 NVME SSD |
| I/O Throughput | 2.4 GB/s (Raw), 4.8 GB/s (Compressed) | 2.4 GB/s (Raw), 4.8 GB/s (Compressed) |
| Expandable Storage | 1 TB NVME Expansion Card | 1 TB NVME Expansion Card |
| Optical Drive | 4K UHD Blu-Ray Drive | Digital Only |
| Video Output | HDMI 2.1 – Up to 4K at 120Hz, 8K, VRR | HDMI 2.1 – Up to 4K at 120Hz, 8K, VRR |
| Backward Compatibility | Xbox One, Xbox 360, Xbox | Xbox One, Xbox 360, Xbox |
| Availability | 10th November 2020 | 10th November 2020 |
| Price | $499 / £449 / €499 | $299 / £249 / €299 |
Writing on Xbox.com, Jason Ronald, Director of Program Management for Xbox Series X said, "Backwards compatible games run natively on the Xbox Series X hardware, running with the full power of the CPU, GPU and the SSD. No boost mode, no downclocking, the full power of the Xbox Series X for each and every backward compatible game."
Source: Twitter
---
Xbox Game Pass for PC leaves beta (and gets more expensive) on 17th September
After more than a year spent labelled as a beta, Microsoft are fully launching Xbox Game Pass for PC and the new Xbox App for Windows on 17th September. This will, of course, mean an end to the promotional price point that Game Pass for PC has enjoyed since the middle of last year.
Xbox Game Pass for PC will cost £7.99 per month from 17th September onwards, with the £3.99 price point fading into the sunset at that point. However, new subscribers can still try their first month for £1, and Game Pass for PC is still bundled into with Xbox Game Pass Ultimate, alongside the console game library and Xbox Live Gold.
Later this year, Game Pass for PC and Game Pass Ultimate will also expand to include an EA Play membership, folding in 60 EA games into into the library. So alongside the evolving Halo: The Master Chief Collection and recent PC games like Microsoft Flight Simulator, Wasteland 3 and Crusader Kings 3, you'll then find FIFA 20, Titanfall 2 and classics like Dead Space, Mass Effect and Crysis. It's more than just games, giving members 10-hour free trials of new titles a little in advance of their release, discounts on games to keep, and other member-only content and benefits.
Just to be sure, we reached out to Microsoft to confirm the beta pricing would be coming to an end. A Microsoft spokesperson said:
Both Xbox Game Pass for PC and the Xbox App become generally available September 17. New Xbox Game Pass for PC members can try their first month for $1, and existing members will keep their current pricing for the next billing cycle. After that, Xbox Game Pass for PC will be available for £7.99 a month. We worked with the PC gaming community to evolve both of these throughout their beta availability, and look forward to continuing that partnership as we iterate on what the future of PC gaming looks like from Xbox.
Xbox Game Pass for PC originally opened its doors in June of last year, at the time running out of the Microsoft Store app in Windows 10. However, it seems that a major part of the effort before Microsoft could shed the beta label has been the need to build a new Xbox App for PC. This has been in public testing for the last few months, providing a much more cohesive view into the Game Pass library, as well as letting you more easily browse games to buy and folding in the social friends lists, chat and messaging elements from Xbox Live – important if cross-platform multiplayer is to continue to expand.
The new Xbox App also showcases the new Fluent Design language that Microsoft are adopting for the revised Xbox user experience coming to Xbox Series X | S, Xbox One and mobile apps later this year.
Source: Microsoft
---
Necromunda: Underhive Wars Review
See the name Games Workshop and your mind will likely conjure up images of stoic space marines clad in power armour or frenzied orcs charging into battle with their guttural war chants.
However, between their work on Warhammer Fantasy and its 40K sci-fi counterpart, the beloved British company have spawned a series of interesting spin-offs over the years, from the D&D-like Warhammer Quest to Blood Bowl and obscurities such as Digganob. Yes, Digganob.
Two tabletop classics which have garnered a cult following over the past couple of decades are Mordheim and Necromunda, both of which have been adapted into video games thanks to developer Rogue Factor. What's immediately clear is that Necromunda: Underhive Wars is very much an evolution of Rogue Factor's third person, turn-based strategy template which debuted with the intriguing yet rough-edged Mordheim: City of the Damned.
Necromunda fans should know that Underhive Wars is based on GW's recent reboot of the skirmishing tabletop game and not the original 90s edition. The character models and overall visual stylings aren't quite as deliberately garish, though there's still a gritty, desperate vibe that feels different enough from your vanilla Warhammer 40,000 setting.
The Underhive is a filth-ridden metropolis overrun with crime and corruption as houses wage endless wars upon one another. Gangs run amok and when they're not spilling blood, they're delving far beneath the dying city in search of salvage and rumoured ancient treasures.
Developer Rogue Factor have done a great job in translating the core rules of the tabletop experience into something more video game-y. Instead of moving painted miniatures around a board, rolling dice, and flicking through source books, Necromunda: Underhive Wars goes for more of an XCOM approach instead. Well, it's really more of a Valkyria Chronicles approach for those familiar with Sega's under-appreciated PlayStation classic.
Two or more gangs will face off as they navigate dense battlefields packed with all kinds of hazards. Each map is multi-layered, allowing you to grapple, zipline, jump, climb, and vault terrain, perhaps to secure a vantage point or break the line of sight from a pursuing enemy. Your objectives will vary from battle to battle though often involve reaching a specified area of the map, taking down marked targets, and hauling precious salvage to an extraction zone.
Movement, as well as your available actions, are limited by two separate gauges. Typically, you can travel a fair distance while also being able to attack and perform a secondary action – reloading, using items, or looting chests, just to new a few. Players will take it in turns, activating one character at a time until all characters have been used and the end of a round restores all movement and action points.
Necromunda uses a third person camera, helping players to feel more immersed in the action instead of watching from above via a birdseye view. Going for the more traditional XCOM top-down camera wouldn't work here anyway due to the verticality of Necromunda's maps. Each is its own maze-like obstacle course which can be daunting at first, but encourages strategic positioning.
Unlike Mordheim before it, Underhive Wars features a story-driven campaign which fleshes out Necromunda lore with narrative missions, cinematic cutscenes, and a recurring cast of characters. This mode helps ease you into the Necromunda experience but is far from being a highlight. While there's some nice variety in terms of level design, characters poorly voiced and not at all likeable. This is made worse by technical hitches with the game's cutscenes in which the audio is a good few seconds behind the on-screen visuals.
The main appeal of Necromunda is being able to create your own gang from the ground up. Selecting one of the three available houses (there's an easy opportunity for Rogue Factor to add more post-launch) you spend credits and experience to craft a ragtag warband. The Goliath, Escher, and Orlock factions all come tagged with unique abilities with a decent spread of character classes, from snipers and brawlers to saboteurs, engineers, and leaders.
Assigning skills and attribute points, outfitting each member of your gang, the scope for customisation is pretty overwhelming at first. However, this is also where Necromunda comes into its own. You can lead your gang through various operations and skirmishes, as well as online showdowns, watching them grow over dozens of hours of gameplay. Or not – there's also a chance they'll incur injuries or be killed outright, adding a layer of lethality to each encounter.
In terms of visuals, Necromunda: Underhive Wars is a marked improvement over Rogue Factor's previous work. Character models are superbly detailed and offer a surprising level of customisation to swap out body parts and colour schemes as if you were assembling a collection of Games Workshop miniatures.
The biggest downer here is pacing. Much like Mordheim, matches in Necromunda are often reduced to a crawl as you wait for the enemy AI to take their turn. They put up a fair fight, capitalising on your mistakes and tactically positioning themselves, but this eats up precious time. Having some kind of fast forward or skip function would be ideal here and it's a baffling omission considering how present pacing issues were in Mordheim.
---
Xbox Series X | S final tech specs revealed – Series S RAM speed could affect backward compatibility
As part of today's Xbox Series X | S release date and pricing announcement, Microsoft have released a little slide detailing the final tech specs of the two consoles, showing the relative teraFLOP-iness of the two consoles, and confirming a few details about CPU speed and RAM size. What's surprising is that, since the start of this year, the Xbox Series X has apparently become just that little bit more powerful.
But first the Xbox Series S. The console has a lot in common with the Xbox Series X, with an 8-Core Zen 2 CPU, but this is clocked at 3.6Ghz or 3.4Ghz with SMT, putting it 200Mhz shy of the bigger console. That's paired with a 20 CU RDNA 2 GPU at 1.565Ghz, which produces 4 TFLOPS of power. There's also 10GB of GDDR6 RAM, with 8GB at 224GB/s (roughly half the speed of the Series X) and 2GB at a much, much lower 56GB/s on the Series S to cater for system processes. The 512GB SSD is an exact match for the speed of the Series X, and the console will take the same 1TB expansion card SSDs.
All of that is roughly what was expected, though it's clear they're scrimping a little on CPU speed. The main surprise is the speed of the RAM, which is dramatically slower, though a typical compromise made in GPU design for lower specced parts.
Update: As noted on Twitter by GigaBoots, the Series S has less of its speedier RAM (8GB) than the Xbox One X makes available to developers (9GB), and it also runs at 224GB/s compared to the One X's 326GB/s. The implication is that for backward compatibility to Xbox One titles, the Series S would not be able to run games in the One X mode, and would instead step back to original Xbox One resolutions up to 1080p. The Series S target of 1440p could also be the target it adopts for Xbox 360 and Xbox One backward compatibility.
But on to the Xbox Series X, where all of the specs match up exactly to the March hardware reveal… except one. The stated GPU Power is now at 12.15TFLOPS instead of 12TFLOPS. That's despite featuring the same 52CU design and having the same 1.825Ghz clock speed as announced way back when. All we can assume is that some kind of refinement of the GPU design on AMD's part has allowed them to eke out just a smidgeon, and almost unnoticeable amount of extra power.
Here's the full table:
| | | |
| --- | --- | --- |
| | Xbox Series X | Xbox Series S |
| CPU | 8-Core Zen 2 @ 3.8Ghz / 3.6Ghz w/ SMT | 8–Core Zen 2 @ 3.6Ghz / 3.4Ghz w/ SMT |
| GPU | RDNA 2 GPU – 52 CUs @ 1.825 GHz | RDNA 2 – 20 CUs @ 1.565 GHz |
| GPU Power | 12.15 TFLOPS | 4 TFLOPS |
| Memory | 16 GB GDDR6 | 10 GB GDDR6 |
| Memory Bandwidth | 10GB @ 560 GB/s, 6GB @ 336 GB/s | 8GB @ 224 GB/s, 2GB @ 56 GB/s |
| Performance Target | 4K @ 60 FPS, Up to 120 FPS | 1440p @ 60 FPS, Up to 120 FPS |
| Internal Storage | 1 TB PCIe Gen 4 NVME SSD | 512 GB PCIe Gen 4 NVME SSD |
| I/O Throughput | 2.4 GB/s (Raw), 4.8 GB/s (Compressed) | 2.4 GB/s (Raw), 4.8 GB/s (Compressed) |
| Expandable Storage | 1 TB NVME Expansion Card | 1 TB NVME Expansion Card |
| Optical Drive | 4K UHD Blu-Ray Drive | Digital Only |
| Video Output | HDMI 2.1 – Up to 4K at 120Hz, 8K, VRR | HDMI 2.1 – Up to 4K at 120Hz, 8K, VRR |
| Backward Compatibility | Xbox One, Xbox 360, Xbox | Xbox One, Xbox 360, Xbox |
| Availability | 10th November 2020 | 10th November 2020 |
| Price | $499 / £449 / €499 | $299 / £249 / €299 |
Source: Xbox
---
Call of Duty: Black Ops Cold War multiplayer revealed – open beta announced for October
Treyarch have unveiled the multiplayer side of Call of Duty: Black Ops Cold War, showing off some ambitious new settings and elements look to shake up the status quo of Call of Duty multiplayer in the game's 1980s Cold War setting. Call of Duty: Black Ops Cold War is out on 13th November for Xbox Series X, PS4, Xbox One and PC, and maybe PlayStation 5 soon after.
A PS4 exclusive beta beta window kicks off on 8th October for those who pre-order the game digitally, before all PS4 players can take part on 10th October. The beta then opens on all platforms from 15th-19th October.
Call of Duty: Black Ops Cold War will feature cross-generational, cross-progression and cross-platform multiplayer, uniting all platforms in a fundamental way.
Deniable Operations are what Treyarch say unify their globe-trotting game and its multiplayer. Each location has a story to it, with those seen in the trailer include Miami, the North Atlantic, Angola, Moscow and the Ural Mountains, each of which leans on vehicles in some way, whether it's tanks, boats, jetskis, helicopters or more.
Classic game modes like Team Deathmatch, Domination and Search and Destroy will be there, as will the return of Domination, but there's also new game modes:
VIP Escort – a 6v6 objective-based mode where you try to escort one of the players, the designated VIP player – who's equipped with a fancy pistol, spy plane for intel and smoke grenade – needs to reach one of two exfiltration sites, or you wipe out the other team.
Combined Arms – a 12v12 battle that brings vehicular warfare into the mix.

Fireteam – a new 40-player category of Black Ops Multiplayer with up to 10 teams of four. The first available Fireteam game type is called Dirty Bomb, with more details planned for a later time.
Treyarch are mixing up some of the fundamentals of multiplayer, with Create-a-Class and Scorestreaks.
Create-a-Class will just be a straight up slot system, so you have all classes of weapon and equipment. Field Upgrades are new in-game items that can be used to help your team or hinder enemies, and they persist after your death with a cooldown. Wildcards also return to give you more customisation options.
The Gunsmith has been expanded so there's eight attachment points with at least six options per point. There's up to 54 attachments per gun, and the benefits and drawbacks will be shown to you immediately.
Scorestreaks now persist between deaths to help level the playing field between players. That might still require a lot of points, but it will be combined with cooldowns so that they cannot simply be spammed. Some Scorestreaks also act as anti-Scorestreak measures.
Treyarch explained four changes made to player movement:
Sprint Take Off – Operators automatically receive a burst of speed when starting a sprint, then settle down to a normal sprint speed.
Sliding – Slides start and end in a crouched position for a more believable movement pattern.
Footstep Control – Faster movement makes more noise, while slower movement doesn't make as much sound. Players can further reduce the sound of their footsteps with the return of the classic Ninja Perk.
Jumping – Expect more natural height in jumps, which briefly slows an operator down as they land.
For Call of Duty: Warzone, Black Ops Cold War will kick off a new era for the battle royale game. It will see weapons and vehicles from Black Ops being introduced to that game, start a new narrative arc, and feature new rewards. You won't be starting over, with everything you've already unlocked continuing through Warzone, but also with cross-progression between Warzone and Black Ops Cold War.
You can watch the full stream here:
---
Gears Tactics will be an Xbox Series X | S launch title
The Xbox Series X and Xbox Series S will have at least one launch day exclusive, coming in the form of Gears Tactics, the turn-based strategy spin-off from the Gears of War franchise. The game will be out on 10th November alongside the next-gen consoles, but will also be coming to the Xbox One family of consoles at the same time.
Of course… it's already out for PC – insert snippy comment about exclusivity and not being new here.
And in even bigger news…#GearsTactics comes to console on November 10. https://t.co/wRcrGWoFAK

— Gears of War (@GearsofWar) September 9, 2020
The game serves as a prequel to the original games, introducing Gabe Diaz, the future father to Gears 4 and 5 protagonist Kait Diaz, who finds himself wrapped up in one of the dastardly plots of Chairman Prescott, right after the tumultuous events of Emergence Day. You're tasked with seeking out Ukkon and dealing a serious blow to the Locust army.
Developed by Splash Damage, the game arrived on Windows 10 back in April to a good amount of praise for its pacey XCOM-like turn-based combat. Would you have guessed that the cover-shooter mechanics of Gears could translate to this genre?
In our Gears Tactics PC review, Dom said:
There's a sense that this is Splash Damage and The Coalition playing to the crowd with Gears Tactics. It undoubtedly captures the look and feel of the Gears universe, squeezing it into a slick turn-based tactical game, but while I can see a few genre fans attracted to its more cerebral form of warfare, it's the series fans who are going to get the most out of it.
It was always known that the game would eventually come to console, but Gears Tactics will prop up the first party side of the Xbox Series X | S launch line up in lieu of having the delayed Halo Infinite. It makes sense, with Gears Tactics and Microsoft Flight Simulator both pitched as PC-first titles as befits their genres, coming out earlier this year before following onto the trickier console platform with different controller requirements. We're still waiting to hear on when Flight Sim might make the short haul over.
In the meantime, the Xbox Series X | S launch already looks absolutely packed with new and near releases. Dirt 5, Assassin's Creed Valhalla, Destiny 2: Beyond Light, Gears Tactics, Tetris Effect: Connected, and Watch Dogs: Legion all ready on the 10th, not to mention Call of Duty: Black Ops Cold War and Yakuza: Like a Dragon on the 13th, and Cyberpunk 2077 on 19th November!
It's going to be mad.
---
Pathfinder: Kingmaker console patch will fix save corruption, progression bugs and more
The release of Pathfinder: Kingmaker Definitive Edition for PS4 and Xbox One on 18th August should have been a crowning moment for the game, bringing the vast CRPG by Owlcat Games to a new audience on console. Instead, it's been a bit of a debacle, with many complaints about interface and gameplay bugs, as well as more serious issues that block progression in one of the DLC expansions, and corrupted and broken save files.
Owlcat have been working hard to remedy the issues, but have found themselves needing to wait extended periods to get their game updates through certification on both consoles – the day one patch for Xbox One was actually only released two weeks later!
There is good news in that an update that fixes many of the most serious issues is currently going through certification. The bad news is that there's no definite ETA on when it will be released. It's because of this that our review has not yet been posted. Gareth has been playing the game since release – it's dozens of hours long, which is why it's taken this long – and with the potentially imminent patch, we've decided to hold off to check the issues that we have butted up against. Our advice is to wait for the update before considering the game.
Signs are somewhat promising though, reading through the patch notes. Beware that there may be plot spoilers in the patch notes below.
Pathfinder Kingmaker Patch Notes
Highlights
Fixed the issue due to which sometimes it was impossible to save the game.
Respec should work fine now.
Black screen after the cutscene in Varnhold's Lot DLC was fixed.
Issues that led to broken saves were fixed.
When saving a game on PS4, you could see an error message about insufficient disk space even if there was enough space. Resolution: fixed.
If there wasn't enough space on the console, the saved games could become corrupted. Resolution: fixed. Now a message about insufficient disk space is displayed on Xbox.
Areas
It was possible to enter the locations that required certain companions even if you had no such companions in your party. Resolution: fixed. If you are stuck in such a location, try loading an autosaved game before entering the area.
There were some incorrect ways of exiting the location with the Everblooming Flower in the Other World. Resolution: fixed.
Zombies in Vordakai's Tomb failed to use weapons. Resolution: fixed.
It was possible to start a fight with Marquise Immolatia when entering Lostlarn Keep — Upper Reaches. Resolution: fixed.
Dallirun Myrnas failed to summon the undead on the Flintrock Grassland. Resolution: fixed.
Kassil Aldori was missing on the Flintrock Grassland. Resolution: fixed.
You could no longer interact with Astradaemon at Vordakai's Tomb after talking to him. Resolution: fixed.
Now you cannot leave Vordakai's Tomb until you talked to Maegar Varn.
In the Other World area, the teleporting system was greatly improved to prevent characters from being stuck when they use teleportation spells (e.g. Dimension Door).
If your main character fell unconscious before your companions when you first met the Technic League, that could lead to gameplay-related issues in the area. Resolution: fixed.
Fixed the issues with the characters' movement in the Stag Lord's Fort.
Fixed the error due to which you could lose control over your party after Tristian's attack at the Abandoned Keep.
It was impossible to enter the Valley of the Dead if Jaethal wasn't in the party. Resolution: fixed.
The characters could sometimes be stuck in the throne room. Resolution: fixed.
Fixed the issue with the freezing of Octavia and Regongar's scene in the tavern.
In Jamandi's mansion and some other areas, weapons sometimes were hanging in the air. Resolution: fixed.
The main character was hanging in the air during the dialogue with Kaessi in her house. Resolution: fixed.
Quests
When you chose a chaotic evil option in the dialogue with Rook at the Ruined Watchtower, it was impossible to get the item necessary to solve the puzzle. Resolution: fixed.
Even if one of the tiefling sisters was dead, you could still ask to talk to her in the corresponding dialogue in the capital. That resulted in numerous further issues. Resolution: fixed.
The romance dialogue with Tristian started each time the player's character entered the main square in the Capital. Resolution: fixed.
When companions joined the main character, sometimes they were not linked. Resolution: fixed.
Classes & Mechanics
Fixed the issues with Nereids' aura in the game saves.
The alchemists could use Fast Bombs as a standard action. Resolution: fixed.
The kineticist's Shroud of Water ability worked incorrectly. Resolution: fixed.
Frightened characters couldn't take actions in their turn in turn-based mode. Resolution: fixed.
Characters with the Kinetic Blade ability were unable to attack enemies in turn-based combat if they needed to come closer to their target. Resolution: fixed.
Spells that have a line of effect and cone-shaped spells sometimes failed to hit the targets that were standing behind opened doors. Resolution: fixed.
Fixed the duration of Gather Power and other effects in turn-based mode.
The abilities that used a swift action each round, spent it even if they were disabled. If a swift action was spent, the prediction panel showed that a free-action ability would be used as a standard action. Resolution: fixed.
The kinetic knights started the game with 0 gold. Resolution: fixed.
The kineticist's action panel was sometimes displayed incorrectly. Resolution: fixed.
Items
Fixed the Necklace of Double Crosses.
User Interfaces
Now the effect duration is displayed in rounds in turn-based combat.
The page for the Illusion school of magic was empty. Resolution: fixed.
Unessential messages are no longer displayed in the combat log during cutscenes at the House at the Edge of Time.
Some converted spells were incorrectly displayed on the spell panel. Resolution: fixed.
In some cases, hints in the Equipment and Inventory windows were displayed incorrectly. Resolution: fixed.
Fixed the issue when Amiri's fourth weapon slot was locked after Armag broke her sword.
Now you can change the order of characters in your group
Miscellaneous
The number of available quicksaves and autosaves was set to 1.
Some combat log notifications about spell immunity have been localized.
Fixed the issues when the AI missed the turns, especially at low FPS.
---
Distributor lists the Ninja Gaiden Trilogy for PlayStation 4 and Switch
Game Source Entertainment, a distributor in Hong Kong, recently listed the Ninja Gaiden Trilogy for PlayStation 4 and Switch but just as quickly deleted the listing. It revealed the collection includes Ninja Gaiden Sigma, Ninja Gaiden Sigma 2, and Ninja Gaiden 3: Razor's Edge, and would be launching in March 2021 for $39.99. Koei Tecmo have not announced any such collection, and we don't know if these are simple ports or remasters but the lower price point does suggest port without enhancements.
It's been the best part of a decade since we last saw a mainline entry in the popular Ninja Gaiden series, Japanese developer Team Ninja has been working on Nioh 2 but the game's director hinted at a potential new game in the franchise.
Speaking with IGN, Fumihiko Yasuda did not reveal any solid details though the following quote pulled from an interview strongly suggests we could be seeing Ryu Hayabusa and friends in the near future:
The core members of the team that worked on Ninja Gaiden want to make a new game," said Yasuda. "We are aware that some fans wanted Ninja Gaiden more than Nioh 2. Now we see a lot of ninja games like [Sekiro: Shadows Die Twice] as well, and we see a lot of good inspirations in those games, so we hope to deliver some good news one day.
The last we saw of Ninja Gaiden was 2014's awful zombie slashing spin-off, Yaiba: Ninja Gaiden Z. Co-developed alongside the now defunct Spark Unlimited, Yaiba saw the series hit a devastating low point – we scored it worrying 4/10 in our review.
As Yasuda notes, we're currently in a golden age of games focused on samurai, shoguns, and shinobi. Although Nioh has been a major success for Team Ninja, we're fascinated to see what the developer could do with Ninja Gaiden, especially on the upcoming PlayStation 5 and Xbox Series X.
Source: Gematsu
---
Xbox Game Pass is expanding to include an EA Play membership for no added cost
Xbox Game Pass is going to play a big role for Microsoft on Xbox Series S and Series X, and the company has now struck a deal with EA to bundle in their EA Play (formerly EA Access) subscription in with the line up of games. EA Play memberships will be added to Game Pass this holiday season, likely around the time of the next-gen launch in November.
IMPORTANT NEWS YOU SHOULD STOP SCROLLING AND READ IT THANKS

Starting later this year, @EA Play will be included with Xbox Game Pass Ultimate & @XboxGamePassPC!

that is all pic.twitter.com/zhbUKN3Bjy

— Xbox Game Pass (@XboxGamePass) September 9, 2020
This isn't entirely universal to the Game Pass subscription, though. You need to be subscribed to Xbox Game Pass Ultimate for £10.99 per month, or to Xbox Game Pass for PC, which is currently £3.99 per month but will jump up to £7.99 per month at some point in future. Left out is the basic Xbox Game Pass subscription, though Microsoft would obviously like you to sign up for their all-encompassing Ultimate, which also bundles in Xbox Live Gold… and now EA Play.
Available on Xbox One, PlayStation 4, and PC via Steam or Origin, EA Play on its own is £3.99 per month or massively discounted to £19.99 if you buy a full year. It features a large library of EA's games, going back to the late 2000s, and through to the last year or two to include FIFA 20, Titanfall 2, Need for Speed Heat and more. However, on Xbox, with backward compatibility, the EA library is larger than on PlayStation 4, so you might miss out on some PS3/360 gems there.
It's more than just games, giving members 10-hour free trials of new titles a little in advance of their release, discounts on games to keep, and other member-only content and benefits.
That obviously joins the library of Xbox One, Xbox 360 and original Xbox games on console, and PC games on PC. Microsoft have long committed to releasing all their first party titles into Xbox Game Pass on day one, whether it's a smaller effort like Grounded or the biggest games in their line up, like Halo Infinite or Forza Motorsport.
All of this has come alongside Microsoft's reveal of the release date and pricing of the Xbox Series X and Xbox Series S. Both will arrive on 10th November, coming in at £449 / $449 for the Series X and £249 / $299 for the lower powered, digital only Series S. However, both will be available as part of Xbox All Access, which bundles the console together with Xbox Game Pass Ultimate for surprisingly reasonable monthly fees – £28.99 for Series X and £20.99 for Series S – the payments running for 24 months, after which you officially own the console and can do whatever the hell you want.
Source: Xbox
---
Assassin's Creed Valhalla launches 10th November as an Xbox Series X launch title
It's another dramatic day down at TSA Towers as the next-gen details keep rolling in. This is a big one though – Assassin's Creed Valhalla is launching on the 10th of November, a week earlier than previously announced, to line up with the launch of the Xbox Series X and Xbox Series S.
The game will be be releasing for PlayStation 5, Xbox Series X, PlayStation 4, Xbox One, PC and Google Stadia. For the home consoles, if you're not hitting the next-gen on day one there's free cross-gen upgrades, using Smart Delivery on Xbox.
Assassin's Creed Valhalla was announced at the end of April. It will follow new protagonist Eivor (who can be either male or female, and is heavily customisable), who spends some of his time back at home in Norway, where the game begins, before heading off to Britain.
During the Ubisoft Forward stream, they revealed some more of the game's setting and what they learnt from researching the peoples and the time period. In particular, that the Vikings were really searching for new lands in which to settle, not simply to raid and pillage. That's not to say that they weren't brutal warriors.
A part of the new gameplay trailer showed off some snippets of raiding, in which you sail forth, blow your horn and raid for resources to grow your settlement. There's a number of enemy archetypes that you'll face, forcing you to take different approaches in battles, using new combat abilities such as using harpoons, throwing axes and the new stun mechanic. You can dual wield any two weapons and really customise your fighting style to suit you – even if that's dual wielding two shields! You'll also be leading the charge in assaults against Anglo Saxon strongholds.
Other times, it'll be the classic Assassin's Creed stealth of popping up your hood and then sneaking through. There will also be plenty of exploration, with pagan temples and roman ruins to head into.
"We are excited to announce that players will be able to discover Assassin's Creed Valhalla sooner than expected! We cannot wait to see the world we've been creating over the past three years coming to life on all platforms, including on the next generation of consoles with the Xbox Series X | S on 10th November." said Julien Laferrière, Producer on Assassin's Creed Valhalla.
---
Xbox Series X price is official, pre-orders start this month
It's time! The next-generation is happening and Microsoft have jumped first, with the Xbox Series X and the Series S set to launch on the 10th November 2020. The Series X will retail for £449 or $499, while the Series S weighs in at £249 or $299. There will also be a 24-month subscription offer bundling a console, Xbox Game Pass Ultimate and EA Play together starting from an exceedingly tempting $24.99 / £20.99 per month for Series S, and $34.99 / £28.99 per month for Series X.
After yesterday's leak it was probably inevitable that this was all going to come rushing in, but the rumours of a PlayStation 5 announcement may have also had them biting the bullet in an effort to steal a little bit of that next-gen thunder.
This is the tweet…

Xbox Series X: £449 (ERP)
Xbox Series S: £249 (ERP)

Release date: November 10th

Pre-order starts September 22nd | #PowerYourDreams

— Xbox UK (@xboxuk) September 9, 2020
The full specs of the Series X and Series S can be seen in the table below – the Series X is now apparently just a tiny bit more powerful. Both will allow the developers to take advantage of DirectX raytracing so lighting and sound react much more naturally in the game environments.
| | | |
| --- | --- | --- |
| | Xbox Series X | Xbox Series S |
| CPU | 8-Core Zen 2 @ 3.8Ghz / 3.6Ghz w/ SMT | 8–Core Zen 2 @ 3.6Ghz / 3.4Ghz w/ SMT |
| GPU | RDNA 2 GPU – 52 CUs @ 1.825 GHz | RDNA 2 – 20 CUs @ 1.565 GHz |
| GPU Power | 12.15 TFLOPS | 4 TFLOPS |
| Memory | 16 GB GDDR6 | 10 GB GDDR6 |
| Memory Bandwidth | 10GB @ 560 GB/s, 6GB @ 336 GB/s | 8GB @ 224 GB/s, 2GB @ 56 GB/s |
| Performance Target | 4K @ 60 FPS, Up to 120 FPS | 1440p @ 60 FPS, Up to 120 FPS |
| Internal Storage | 1 TB PCIe Gen 4 NVME SSD | 512 GB PCIe Gen 4 NVME SSD |
| I/O Throughput | 2.4 GB/s (Raw), 4.8 GB/s (Compressed) | 2.4 GB/s (Raw), 4.8 GB/s (Compressed) |
| Expandable Storage | 1 TB NVME Expansion Card | 1 TB NVME Expansion Card |
| Optical Drive | 4K UHD Blu-Ray Drive | Digital Only |
| Video Output | HDMI 2.1 – Up to 4K at 120Hz, 8K, VRR | HDMI 2.1 – Up to 4K at 120Hz, 8K, VRR |
| Backward Compatibility | Xbox One, Xbox 360, Xbox | Xbox One, Xbox 360, Xbox |
| Availability | 10th November 2020 | 10th November 2020 |
| Price | $499 / £449 / €499 | $299 / £249 / €299 |
Writing on Xbox.com, Jason Ronald, Director of Program Management for Xbox Series X said, "Backwards compatible games run natively on the Xbox Series X hardware, running with the full power of the CPU, GPU and the SSD. No boost mode, no downclocking, the full power of the Xbox Series X for each and every backward compatible game."
The Xbox Series S will be priced at $299 / €299 / £249, coming out on 10th November alongside the Xbox Series X. The console will be 60% smaller than the Xbox Series X, and all-digital with no disc drive, which we could already tell from the initial imagery.
While this all started off as yet another major PR blunder and leak from Microsoft, it's to their credit that they simply turned it around into an announcement. Of course, to then have even more details slip between their fingers is a further embarrassment, when the company has been in a tense (and frustratingly boring) standoff with Sony over announcing the release date and price of their respective consoles.
While long speculated, the two-pronged attack on the next generation is now confirmed, with Microsoft targeting both the high end and the lower end of the spectrum. It's a fascinating approach, with the Series S able to cater to people on a tighter budget, those without 4K TVs, or those thinking about picking up a secondary console to pair with a PS5, PC or something else. Let's see how it pays off.
Meanwhile, in the land of Sony, a regional GAME store claimed that there was a big PlayStation 5 announcement coming today… It looks like Microsoft decided to beat them to the punch?
---
Marvel's Avengers update 1.06 now available
Square Enix and Crystal Dynamics have quietly dropped a new patch for Marvel's Avengers. Update 1.06 is live now on PC and consoles – you'll be required to install this in order to access the game's online features. The download size clocked in at just under 100MB on PS4.
Update: since going live earlier today, Crystal Dynamics have now posted the official patch notes for version 1.06. Here's what to expect:
Patch fixes for V1.2.4 have been combined with V1.2.5 – the below patch notes account for both updates.
Patch V1.2.5 resolves a number of playthroughs stoppers. Our next patch – V1.3.0 – will be our largest yet and will resolve bad states for bugs fixed in 1.2.5, as well as address hundreds of smaller quality of life issues. We are rigorously testing V1.3.0. to ensure it is ready for deployment, and will update you when we have a timeline to share!
Patch V1.2.5:
Resolved an infrequent bug where players are unable to progress with the campaign due to an infinite loading screen.

This patch does not resolve the fix for those who have already encountered it – bad save states will be resolved in V1.3.0.

Addressed majority of instances of a partially loaded Helicarrier which resulted in characters infinitely falling out of world when trying to access the Avengers Initiative.

There are rare instances where this could happen still, but the patch ensures that loading back into the main menu and then returning to the Avengers Initiative will resolve it. We are still working to eliminate this bug entirely.

Campaign Mission reward outfits will no longer disappear from Cosmetics Inventory UI. This presented as costumes that were previously unlocked through campaign progress – such as the Stark Tech outfits – reverting to a locked state.

We prevented this from happening in V1.2.5, but the patch does not return outfits for those who have already encountered it – bad save states will be resolved In V1.3.0.

Marketplace and Challenge Card outfits will be restored and no longer become re-locked in the Cosmetics Inventory UI. This presented as costumes that were previously unlocked through online play – such as Hero Challenge Card rewards, pattern drops, and faction vendors – reverting to a locked state
Updated Community Challenge UI that now reflects current community progress.
Backup Save UI improvements
Load time optimizations
Xbox Only: Achievements should now unlock and increment properly. We are still investigating if all Achievements will be granted retroactively – our current theory is that story-based will, but challenge-based will not.
Either the changes and fixes are very minute or Crystal Dynamics plans to go into more detail via the game's official forums, Reddit, or via Twitter.
We've been playing Marvel's Avengers for more than a week now. Here are some closing thoughts from our Marvel's Avengers day one review in which we scored the superhero action game a respectable 7/10:
Marvel's Avengers offers a new approach for a superhero video game, yet one that still feels all too familiar for anyone who's played Destiny, The Division, or Anthem. It's eye-popping in its technical prowess as well as how much it leans on live service hooks, anticipating players will come back day after day. And a lot of players definitely will, especially if they can squad up with friends. Past its flaws and behind the grind, Marvel's Avengers is still a fun superhero brawler that has plenty of room to grow in the coming months.
More than a week after we started playing, some of that novelty has started to wane. As a sucker for live service games, I find myself drifting back to complete my Thor daily challenges in an attempt to unlock some flashy cosmetics and creep closer to that endgame content.
Just before the launch of Marvel's Avengers, the developers announced that Kate Bishop (Hawkeye) is coming to the game as a playable hero.
---
Moon: Remix RPG Adventure Review
Moon: Remix RPG Adventure is something of a lost classic. Originally released on PS1 in Japan but never localised, even though a translation had apparently been underway, it was coined as an 'anti-RPG', subverting many of the genre's tropes. It probably stands alongside Earthbound as a game that was meta long before meta entered the mainstream consciousness.
It begins as a game within a game where our protagonist is a young boy playing an RPG at night, doing typical hero things like slaying monsters and looting NPC's houses before approaching the final boss at the castle, only for his mother to tell him to switch it off and go to bed.
Instead, the boy gets sucked into the game world where he's not just silent but invisible, suddenly tasked with trying to fix this world that's being devastated by another 'hero' who's going around murdering all the creatures and levelling up over time.
Moon is an incredibly unusual game from the offset. Even its art style, while similar to the early PS1 RPGs that had character sprites over pre-rendered backdrops, is given a twist with its monster designs, which appear to be clay figures that have been digitised. There's also a surprising amount of freedom in its nonlinear design, even though it's restricted based on your Action Points.
Essentially, you start off being only able to take a set amount of steps before you run out of energy and pass out, which promptly leads to a game over before sending you back to the title screen. You can recharge your steps by returning to bed and sleeping, but to increase your pool of action points, you have to level up your character, but instead of the traditional RPG route of levelling, you must go around talking to the world's denizens and sometimes carry out requests for them to gain love. It's love that levels you up when you go to bed to sleep (which also saves your progress). The more action points, the longer and further you can explore the world without having to rush back home to bed, and later some quests are dependent on you being able to stay up for a considerably long time.
That sense of time means that moon also features both a day and night cycle as well as a calendar, each day indicated by a symbol on the top corner of the screen, where you also have to keep track of both the time and how much time you have left before you're out of energy (it'll start flashing while your movements will be more sluggish when time is almost up).
This is all important as virtually all the NPCs run on their own routine, not just based on time but sometimes the day of the week – for instance, a guard at the castle has specific days when they're relaxing in the evening at the bar.
You'll have to figure this out for yourself however, because moon shows itself as a product of its time. It's woefully obtuse compared to modern games where you have a quest marker or reminder micromanaging every step of the way. It should be noted that this is basically a faithful port of the original PS1 game with no extra bells or whistles, so it retains the 4:3 display ratio and even the option for mono audio in the menu.
Even so, a lot of the puzzles, including the ones you have to complete in order to reach the end, are often far from clear, while there's a few devious ones that are ridiculous memory tests that you're bare given time to register – the one relief you have comes not from the game itself but the Switch's ability to instantly capture video, and believe me, you'll find this helpful to check back on a few puzzles.
Suffice to say a fair amount of patience is required to figure out moon's bizarre workings. Remembering to go back home to sleep is also key if you don't want to find yourself unwittingly too far away to rush back and then lose all our progress. You might also just want to hang around for a whole day just to follow one NPC's routine, and you'll be surprised by what they get up to, or what secrets they'll unwittingly lead you to.
The same applies to the many slain creatures around the world, who you can rescue by catching their souls – another way of gaining love. The first of these (unsurprisingly looking like the Slime creatures from Dragon Quest) seems fairly straightforward as its soul appears nearby at night. But as you go on, they also have different routines and conditions for appearing, and you might even have to travel to another location to find them. Again, you're often left in the dark on how and where they might be.
In any case, these are fascinatingly designed creatures and the rest of moon's cast is equally charming and quirky in their own way. The game's visual and audio design has indeed come to characterise much of Onion Games' own output.
A special mention should go to the wonderful music you can listen to via the game's MD player. This playlist can be programmed to basically make your custom background music, as well as its strange garbled voices that are actually a random mash of real languages (I can sort of detect English, French and Cantonese in the mix).
It won't be a surprise if most players find themselves struggling with moon and give up before they've even scratched the surface of what it has to offer. Truth be told, even after reaching the credits, there's still a lot that remains oblivious to me. And yet there really aren't many games like it.
---
Rogue Company update 1.30 rolls out minor changes
Rogue Company, the newly-released hero shooter from Hi-Rez Studios and First Watch Games, has a new update ready for players to download and install.
Patch 1.30 is now live across all platforms, making some small changes to the competitive multiplayer game to iron out some bugs flagged by the community.
Rogue Company is still in closed beta and is only accessible to those who manage to get their hands on a code or through purchasing a founder's pack. Hi-Rez haven't confirmed when the game will be free to download for everyone.
Rogue Company Update 1.30 Patch Notes
Players should no longer become immune to damage in Demolition mode

Fixed an issue that was preventing players from reconnecting to a match after a crash or disconnect

Fixed an issue where players could become stuck as a Rogue regardless of who they selected in the match

Players should no longer be able to place the bomb inside of walls and other unintended objects

Fixed an issue where the Redeem Code screen would remain on screen when clicking other parts of the menu or Store.
We went hands-on with Rogue Company when it entered closed beta on consoles a couple of months back. It seems that even in 2020, years after Overwatch first entered the scene, the hero shooter genre is still going strong. Amazon's Crucible might have been an unfortunate flop though Riot Games have struck gold with Valorant, Hi-Rez providing their own superb alternative to a typically impenetrable brand of FPS. Here's what we thought:
In short, Rogue Company should definitely be on your radar. It offers a slightly more accessible gateway into this brutal shooter subgenre, but manages to do so without losing any of its strategic depth. Early access is now available when purchasing one of the three founder's packs though Hi-Rez have confirmed that Rogue Company will be free-to-play at launch.
Rogue Company will be rolling out new features and content as it approaches full release. For more on that, check out the Rogue Company roadmap.
Source: Reddit
---
Wasteland 3 co-op and stability fixes live in newest update
InXile Entertainment have emerged from their survivalist bunker with a new update for post-apocalyptic RPG sequel, Wasteland 3.
Patch 1.1.0 (or update version 1.07 for console players) makes some fixes to the role-playing sequel including improvements to console stability and solving issues surrounding Wasteland 3's co-op mode.
Wasteland 3 launched last month to rave reviews, picking up a 9/10 from Thomas – here's what he had to say:
"Wasteland 3 is a delight to experience with some of the most engaging RPG mechanics in the series to date. Its dense and detailed world is only outshone by the character and its cast of vibrant and wacky characters, who are all brought to life by the introduction of voiced dialogue. If you're a fan of RPGs, isometric-adventure games or turn-based combat, Wasteland 3 is an absolute must."
You can catch the full list of recent Wasteland 3 changes below.
Wasteland 3 Update 1.07 Patch Notes
Quests and Gameplay
Fixed issues that could cause character and quest progression to be lost

Fixed Fishlips' encounter

Fixed an issue where some players would see an endlessly looping Ambush Site intro

The La Perla quest can now be completed

Polly and the Cyborg Chickens have been beefed up
Co-op
Fixed issues that could cause character and quest progression to be lost

Fixed multiple issues that could cause an infinite loading screen

We're aware this issue is still impacting some players and are investigating

Fixed a sync issue where the host and guest could see the Kodiak in different places after receiving a radio call

The host and guests will no longer get different radio calls on the world map

Resolved an issue where one player would only see a black screen while the other is watching the intro video

Resolved an issue whereby one player getting disconnected in character creation within Ranger HQ would cause the other player's game to become unresponsive

Fixed a crash that could occur when a second player joins an in-progress conversation with Irv

Fixed a crash that could occur for the guest when talking with Hope Emerson
Stability
Fixed a possible freeze when approaching a specific robot in Broadmoor Heights

Fixed an issue where the UI could disappear if viewing the main menu for a long time
Consoles
Numerous changes aimed at improving stability
PlayStation 4
[L2] button now highlights items in the game world
Wasteland 3 is now available on PC, PlayStation 4, and Xbox One.
Source: InXile Entertainment
---
It's hard work being an evil genius. You'd think a big baddie would be all about taking it easy and having fun, spending the time to enjoy the things like creating an army of mutant crocodiles with laser beams sewn to their heads, but as Cid – the local, unfriendly neighbourhood demon of Darkestville – will tell you, being this bad takes effort. If you want to terrorise the village population in a suitably over-the-top megalomaniacal scheme, then you're going to have to get up very early in the morning. Especially when there's a pack of Demon Hunters after you.
That's the intriguing storyline set-up behind Darkestville Castle, an old-school point and click adventure that clearly harbours fond memories of Monkey Island, Sam and Max, and Day of the Tentacle. For those of you young enough to have absolutely no idea what I'm talking about, allow me to explain. Point and click adventures were the defining video game genre of my youth. Home to a plethora of classics, the genre is, funnily enough, all about pointing and – shock, horror, gasps etc – clicking. Your protagonist scarpers around multiple environments – usually confined to one or two screens – collecting random objects and attempting to use them to solve obscure puzzles. There's usually some eminently odd and bizarre NPCs to chat to on the way and all sorts of, usually comedic, narrative hijinks to be a part of.
Darkestville Castle emulates the genre's conventions to the letter, which depending on how much you enjoy these games is either a massive turn on or a horrific turn off. First off, those obscure puzzles. Boy oh boy, Darkestville does not disappoint with its eclectic puzzles. Take this as an early example: Cid the Demon needs some ink in order to doctor a manuscript. Who has a pot of ink? Why, the hotdog vender, of course. But he doesn't want to just give you the ink, that would be far too easy. He wants something spicy to increase the tastability of his flaccid dogs.
At this point it's a case of going through Cid's extensive inventory to check out all the objects you've collected up until this point, surely one of them will do the trick? A bottle of whisky perhaps? No. Some soap? No. Peanuts? Don't be ridiculous. A screwdriver? Not on your nelly. Right then, in that case you'd best go back through all the screens you've visited and find a suitable item. Fast-forward forty seven minutes of painful screen clicking until the correct object is found: a smelly coat. Yes, that's right, the hot dog vender needed a smelly coat to flavour his hot dogs.
Does that sound like a fun puzzle? If your answer is yes, than you're in luck, Darkestville Castle is 100% the game for you. If the above puzzle sounds equal parts frustrating and very stupid, then you'd best give the adventures of Cid and friends a miss. Personally, I find myself rather uncomfortably straddling the fence. Sometimes the puzzles prove to be the right amount of weird, developers Epic Llama giving you just enough information to nudge you in the correct direction, so that when you solve the puzzle there is genuine sense of satisfaction to be had. More often, the solution is nonsense only arrived at by trying every possible object combination till you stumble on the right answer with a bit of dumb luck and some patient perseverance. Whilst I'm not a massive fan of it, that approach to puzzle solving defined the golden age point and clicking.
From a visual perspective, Darkestville Castle is a nostalgic delight: Bright, bold, and full of Saturday morning cartoon character. Indeed, if I didn't know that we were in the much-despised year of 2020, I would swear that we had teleported through time to find ourselves in the glory days of LucasArts. There's much to be enjoyed here, from the chunky character design to the rich pallet of colours that bring Darkestville and it's inhabitants to life. Some locations are overused and a little on the empty side, but overall it's like looking at the daft digital baby of Tim Burton's Nightmare Before Christmas and The Secret of Monkey Island.
Just like the aforementioned Monkey Island series, Darksetville Castle is intended to be funny, but its success rate in mimicking its forbear is decidedly less clear. Humour is subjective, so take my opinion here with a pinch of salt, but I found Darkestville far too desperate in its attempts to be funny. Epic Llama throw everything at you all the time – ridiculous anecdotes, insane subplots, silly puns, fourth wall breaking – but little of it successfully lands. The comedy timing of the gags is inconsistent throughout, very few of them successfully ninja-chopping the funny bone.
This issue is exacerbated by the decision to include both text and voice over. It's an odd choice, with one medium often spoiling the punch line of the other. Sure, you can change that in the options, but the default setting should be the optimal one. Overall, there's just too many gags, at times it felt like I was watching Eddie Izzard on ketamine. Now, I love Eddie Izzard, but sometimes a bit of light and shade is necessary for comedy to work.
The voice over work is a little marmite too; Cid manages to impressively walk the thin and precarious line of being both charming and annoying with aplomb, but the results in the rest of the cast are less successful. Some of the later demons proved so grating that I found myself simply reading their text and skipping through the voice. Overall, much of the dialogue felt flat, like the actors delivery was recorded whilst reading from the script for the first time. There's also odd irregularities in the quality of the voice recording, some characters almost seeming to have an entirely different voice at times, whilst others sound like they are stood in a different room to the protagonist. It's a minor detail, but one that stands out in a video game genre that relies so heavily on talking to people.
---
Destiny 2 update 2.9.2 is now live, fixes Gambit spawn freeze, check out the patch notes here
The weekly Destiny 2 reset has occurred and brings the Iron Banner back to the game, plus a lovely new patch that fixes the annoying spawn freeze that has been plaguing Gambit.
However, the big news is that Resonate Stems / Override Frequency / Frequency node will no longer get reset so you won't get duplicates anymore! Hurrah!!!
There's also a bunch of other fixes, check out the notes below.
ACTIVITIES
Gambit
Fixed an issue that caused players to freeze when spawning into Gambit.
Prophecy Dungeon
Fixed an issue where enemies could stop spawning in Hexahedron area, blocking players from progressing.
Nightfall
Fixed an issue where enemies would stop responding to players if they carried motes from a Contact event into the Savathun's Song or Festering Core Nightfall.
---
GAMEPLAY AND INVESTMENT
Investment
Fixed an issue where players who completed Tommy's Matchbook catalyst pursuit were re-awarded it.
Fixed an issue where the Trials vendor engram advertised rewards at zero Power level.

Note: This was simply a display error; the actual Power you would receive was not affected.

Fixed an issue where the Cold Denial ornament ADS view looked very different from the base weapon.
Prestige Eater of Worlds and Spire of Stars ornaments can be viewed in collections.
The "Become Legend" step of the New Light quest incorrectly asked players to reach Power level 950.

It now correctly ask players to reach Power level 1000.

Redrix's Broadsword will now be available to reclaim from Collections.

Note: This will be locked to the first roll rewarded when completing the Broadsword quest.

Made improvements to Sleeper Node RNG on Mars.

When combining Resonate Stems, it is very unlikely that the resulting Override Frequency will unlock a node in your current area. For example, if you need to unlock a node in Heatsink, you should leave Heatsink before creating an Override Frequency.
Destiny 2 has an internal checklist of nodes you have unlocked. This checklist is separate from the count you see in game, and prior to this fix, the checklist would frequently be cleared. Clearing this checklist is the reason duplicates were so common. Going forward, the checklist will never be cleared.
Note: If you create an Override Frequency for a node that you have opened in the past, you should open the node again instead of deleting the Override Frequency. This will allow the internal checklist to be updated, and help prevent future duplicates.

Spider will begin offering three weekly Wanted bounties, up from one.

Note: These bounties will now award 10k Glimmer, down from 15k.

Fixed an issue where the Guardian Games quest was still present in some players' inventories.

Seriously, if this Quest isn't fully removed this time, we're going to need to talk to Zavala about how Titans are rubbing their win in everyone's faces.

It's not very nice of them to do that.

Please stop reminding me that Hunters lost.

Fixed an issue where players could block quest progress by acquiring Calcified Light without the quest active.
Reduced amount of Shader drops from Umbral Engrams.
Weapons
Exotics

Ruinous Effigy:

Transmutation Spheres can no longer be picked up by players with active Super abilities.

Perks that provide ability energy on Super activation (Apotheosis Veil, Radiant Largesse) now activate after Super energy is consumed.

These perks used to activate during the Super's warmup, but that allowed players to cancel their Super during warmup to gain ability energy without consuming their Super energy.
This change will prevent activating these perks for "free."

Fixed an issue affecting the perks on Jade Rabbit and Merciless.

Perks that activate "on hit" weren't triggering properly when projectiles over-penetrated their target
Armor
Solstice of Heroes:

When in first person view, most of the Gauntlets are invisible except for the gold trim and hands.
Fixed a misaligned solstice glow on Hunter Solstice leg arrangement.
Increased glow intensity.
General
Fixed an issue on Steam where certain player persona names could cause Weasel errors.
Source: Bungie
---
Xbox Series S design, pricing and November release date confirmed by Microsoft [Updated]
Updates: Well, the cat is well and truly out of the bag. Microsoft have now confirmed almost everything you need to know about the Xbox Series S console, its design, price and availability.
The Xbox Series S will be out on 10th November – almost certainly alongside the Xbox Series X – and will be priced at $299 / £249.99 / €299. It's not sure if this is a fully global launch, but the date has been declared by US and UK Xbox accounts on Twitter and it's in the reveal trailer.
The launch trailer digs into the capabilities of the device, which targets a 1440p resolution with upscaling for 4K, but allows for up to 120 FPS with variable refresh rate support via HDMI 2.1, and also features DirectX Raytracing support. The console includes a custom 512GB SSD, which is half the size of the one found in Xbox Series X.
Some elements are still unconfirmed, such as how powerful the CPU and GPU is in relation to the Xbox Series X, though all reports up to now point to the CPU being an absolute match and the GPU being cut down to 1/3rd the power. This alongside the SSD should allow for all Xbox Series X games to run with not compromises outside of the resolution and visual fidelity.
Microsoft initially responded to the overnight imagery and pricing leaks this morning with the following tweet, but that then spurred the leakers on to release the full reveal trailer, almost identical to the one above. The difference? Well, their said "coming November 2020" and Microsoft's official one reveals the full release date for 10th November.
Let's make it official!

Xbox Series S | Next-gen performance in the ˢᵐᵃˡˡᵉˢᵗ Xbox ever. $299 (ERP).

Looking forward to sharing more! Soon. Promise. pic.twitter.com/8wIEpLPVEq

— Xbox (@Xbox) September 8, 2020
The original post follows:
---
The long rumoured, speculated and leaked Xbox Series S has seemingly been fully revealed over the weekend, with a number of sources popping up to reveal the console's design and its all-important price point. So, let's get that point out of the way. How much will it cost? $299.
The Xbox Series S is a more compact design that the Xbox Series X, somewhere between the the proportions of an Xbox One S, but with the depth of an Xbox Series X. The biggest space saving seems to come from the lack of an optical disk drive. The design is sure to be polarising, with a white body and a circular black vent on the larger face.
Brad Sams broke the story, and while he only had a single image as his proof, this was followed up by a snippet of video, potentially from a presentation or reveal of the console. He was further backed up by WindowsCentral.
— WalkingCat (@_h0x0d_) September 8, 2020
Windows Central also claimed that the Xbox Series X price would be a rather competitive $499, alongside the Series S $299. In both cases, Microsoft will also offer an Xbox All Access financing option, set at $25 per month for the Xbox Series S and $35 per month for the Xbox Series X.
And while all of this is kicking off, what has Microsoft got to say for itself?
— Xbox (@Xbox) September 8, 2020
The Xbox Series S is expected to be a lower powered version of the Xbox Series X, keeping many of the same attributes, such as the ultra-fast SSD storage and Zen 2 CPU, but compromising on the GPU side of things, reportedly only around the 4 TFLOP mark compared to the Series X's 12 TFLOPs. Where the Xbox Series X is expected to deliver a native 4K resolution, higher frame rates and ray tracing, the cut back "Lockhart" could sacrifice these to reach a lower price point for those buyers without a 4K TV or without as exacting demands from their games graphics, while retaining the minimal loading times and enhanced game worlds that the CPU could provide.
Source: Brad Sams, WindowsCentral
---
Dead By Daylight update 2.01 adds Descend Below chapter
There's a new wad of spooky content in store for fans of Dead By Daylight, the popular asymmetrical horror game from developers Behaviour Interactive.
Upon booting up the game, you will be asked to download and install Dead By Daylight patch 4.2.0 (or 2.01 for those playing on consoles).
This update is oozing with game changes and bug fixes. More importantly, it kicks off the latest chapter for Dead By Daylight titled Descend Below.
Before we dive into the new update, here's a quick reminder that everyone who owns Dead By Daylight on PlayStation 4 or Xbox One will be entitled to a free next-gen upgrade on PS5 and/or Xbox Series X. Behaviour Interactive recently patched the game with cross-play and cross-progression on selected platforms.
So, what's new in update 2.01? Descend Below introduces a new killer, The Blight: an alchemist who becomes horribly mutated in his pursuit of knowledge. There's a new Survivor too, Felix Richter, and a glut of new Offerings.
See below for the full list of changes being made to Dead By Daylight as part of the Descend Below chapter.
Dead By Daylight Update 4.2.0 Patch Notes
Added a new Killer – The Blight.
Added a new Survivor – Felix Richter.
Added a new Rare Offering for Killers and Survivors – Sacrificial Ward – cancels other offerings that would send you to a specific realm.
Added a new Common Offering for Killers and Survivors – Bloodied Blueprint – reveals the aura of basement hooks to you for 20 seconds at the start of the trial. If the map has a Killer Shack, this offering increases the chance that the basement will spawn below it.
Added a new Common Offering for Killers and Survivors – Torn Blueprint – reveals the aura of basement hooks to you for 20 seconds at the start of the trial. If the map has a main building, this offering increases the chance that the basement will spawn below it.
Added a new Common Offering for Killers and Survivors – Annotated Blueprint – If the map has a Killer Shack, this offering increases the chance that the Hatch will spawn within it.
Added a new Common Offering for Killers and Survivors – Vigo's Blueprint – If the map has a main building, this offering increases the chance that the Hatch will spawn within it.
Features & Content
Many in-game objects in Dead By Daylight haven't been changed significantly since the game's launch. As part of our ongoing effort to enhance the game's visuals, many of these objects got visual updates in this patch to bring them closer to our long-term vision for the appearance of the game. Some realms also got visual updates, with more coming later in future patches.
Visual updates of several common in-game objects:

Visual update of the Generators, including changes to models, animations and VFX. The Survivor repairing animations and VFX were also updated.
Visual update of the Pallets, including models and VFX.
Visual update of the Lockers.
Visual update of the Chests, including the model and changes to the Survivor's interaction. This Survivor interaction has been updated

Visual updates to some maps, including additions of breakable walls:

Springwood – Updated Badham Preschool Maps I – V
Yamaoka Estate – Updated Family Residence and Sanctum of Wrath

Update aiming when using the flashlight. Up to 4.1.0, the flashlight would aim up and to the right of the center of the screen. In 4.1.0, the aiming animation was updated, which caused the flashlight to aim more towards right of center. Now, the aim should be squarely in the center.
Bug Fixes
Killer
Fixed an issue that caused survivors not to be stunned when shot by the Deathslinger.
Fixed an issue that caused the Hillbilly's carry and lunge speed to be reduced when equipped with the Tuned Carburetor add on.
Fixed an issue that caused all Legion characters to use Julie's animation when the 'Empty Stare' mask was equipped.
Fixed an issue that may cause the Oni to lose the ability to enter Blood Fury.
Fixed an issue that caused the Oni's blood orbs to sometimes flicker in and out of visibility.
Fixed an issue that caused the Plague's Vile Purge to arc higher than previously.
Fixed an issue that cause the Shape not to change stances while in Tier 3 Evil Within.
Fixed an issue that caused the Trapper's bear trap aura not to appear during the tutorial.
Survivor
Fixed an issue that caused survivors to be stuck at the bottom of the Hill on various maps.
Fixed several issues that may cause survivors to be misaligned during Moris.
Perk
Fixed an issue that caused a regressing generator not to turn red once reaching 0 progress when using the Surveillance perk.
Fixed an issue that caused the "Pull Down" prompt to be replaced for Survivors standing next to a pallet while injured and with the Self-Care perk equipped.
Fixed an issue that caused survivors to see the auras of breakable walls when equipped with the Windows of Opportunity perk and suffering from the Blind effect.
Other
Fixed a crash that would sometimes happen when selecting the Low or Medium Graphics Quality from Medium and above.
Reduced rank update errors.
HTML markup in player names during social notifications (toast invites) are now handled properly.
Source: Dead By Daylight Forums
---
Crash Bandicoot 4's alternate universe Tawna revealed as a playable character
Toys for Bob have revealed a new playable character for Crash Bandicoot 4: It's About Time. Returning from the first game in the long-running platforming series is Crash's one-time girlfriend Tawna. Kind of.
You see, this isn't the Tawna from that first game (where she was reduced to just being a damsel in distress) but rather a Tawna from her own universe where she went on to become the hero. Ripped out of this "Tawnaverse" in Crash Bandicoot 4, she gets to share some of the limelight with Crash, Coco and all the others.
Tawna's been reimagined as a full on action hero, with a spiked leather jacket, a punk hair style with blue stripes and pink leg warmers ripped straight out of the 80s. Playing as her, she has a hook-shot that can be used to grapple and move around quickly, attack enemies and break crates from a distance. She also has a ground-pound attack, spin kicks and an acrobatic wall jump. In other words… she's a badass.
Tawna joins Dingodile and Neo Cortex as the third new playable character, each of which has their own unique movement style and abilities. Crash has even picked up a few new tricks himself, with the four Quantum Masks giving him a number of new abilities.
The game is set after the events of Crash Bandicoot: Warped, deciding to ignore the continuity of everything that came after the PS1 trilogy. The year is 1998, and Crash is just happily maxing and relaxing on his island when he stumbles upon one of the Quantum Masks that seems to know Crash's mask friend Aku-Aku! With the four Quantum Masks returning and a bit Quantum Rift appearing, Crash and chums dive in to explore different times and dimensions to stop Neo Cortex, Dr. N. Tropy and Uka Uka, who've returned from exile.
While set after Warped, the game will also feature Flashback Tapes, puzzle set prior to the first game while Crash was still in captivity and subject to cruel experiments. You'll have to find these tapes through the game, being pitched as an extra challenge for players to overcome.
Crash Bandicoot 4 is out on 2nd October, and Activision have announced that digital pre-orders are now live for the game, which (just as with Tony Hawk's Pro Skater 1 + 2) are the only way that you'll get access to the Crash Bandicoot 4 demo when it's made available on 16th September. Cool.
Source: PS Blog
---
Pre-orders for the ridiculously expensive gold PlayStation 5 open on September 10th
Good news everyone, you will be able to pre-order your PlayStation 5 in just two days time! Woohoo! All you need to get the new console is an internet connection, a complete lack of taste, and eight grand in cash. That's because this is the very special Truly Exquisite 24 karat gold plated PlayStation 5.
If that's just a little to audacious for your tastes then you may prefer to buy the 18 karat Rose Gold (£8099) or the Platinum PlayStation 5 (£8199) instead, and they all will ship with a suitably covered PlayStation 5 camera, two Dualsense controllers, and a 3D Pulse Headset. Only 250 of each finish will be made and they will be delivered free of charge in a luxury wooden display box.
The question is, do Truly Exquisite know something we don't? Will the standard PlayStation 5 be available for pre-order on the same day?
The luxury gold PlayStation 5 will be the latest in a very long line of custom consoles. Microsoft recently announced the 'Wonder Woman Golden Armor Xbox One X Console' is covered with 24-carat gold leaves which will be will be auctioned off in aid of Together for Her, an initiative launched by the Charlize Theron Africa Outreach Project, leading humanitarian organization CARE, and the Entertainment Industry Foundation to stand in solidarity with women and girls around the world deploying funds and supporting the global response against domestic violence during the time of COVID-19
Now you might be thinking a gold plated console, or indeed a furry console, might cause a few heat issues and you would be right. "Please note, that all the Xbox is for display ONLY, not gameplay. Prize and the successful bidder will also get a standard Xbox One X," say Microsoft.
They also revealed The 'Barbara Minerva Xbox One X Console' has been inspired by Wonder Woman's archenemy, and features "an intricate snakeskin pattern and faux leopard fur for a truly wild appearance" along with silver spikes on the top and front of the console and a gold "Wonder Woman 1984" logo.
They have also created the less impressive 'Wonder Woman Lasso of Truth Xbox One X Console' which is, well, and orange Xbox with a bit of rope stuck to it.
Source: TrulyExquisite
---
RollerCoaster Tycoon 3: Complete Edition is coming to Nintendo Switch and PC this month
Frontier have decided to let Switch players in on the console theme park management fun this year, announcing that RollerCoaster Tycoon 3: Complete Edition will be coming to Nintendo Switch and PC on 24th September. No, it's not as new and shiny as Planet Coaster will be on other consoles, but look… it's still a classic of the genre.
The game has been revived for the Nintendo Switch with completely new controls to work on the Joy-Con, enhanced visuals and both the Soaked! and Wild! expansion packs. As for why it's coming to PC, the game will also be in widescreen for the first time and improved compatibility for newer PC hardware.
The game will take you through dozens of scenarios as you kit out your parks with over 300 coasters and rides, 500 scenery pieces, 60 shops and services, and 20 animals to look after. There's also a Sandbox Mode, and through it all you'll be fiddling with park finances, shops and staffing to make sure the park and keep on growing and growing.
Over on other consoles, there's the upcoming release of Planet Coaster Console Edition. The game is coming out for PS4, Xbox One, PS5 and Xbox Series X and S later this year, with the much more up to date visuals and game design of the 2016 PC game being brought to gamepad with a few new tweaks and game mechanics thrown in for good measure. We got to go hands on with Planet Coaster a little while ago – read our preview here.
But with RollerCoaster Tycoon 3: Complete Edition, Frontier have decided to make sure you've got some coaster and theme park management that you can take with you.
Source: press release
---
Here's how Crysis Remastered ray tracing works on PS4 Pro and Xbox One X
Crysis Remastered is coming out a little later this month on 18th September, reviving the classic PC buster for more modern hardware and with Crytek throwing plenty of modern graphics techniques into the mix. For the Xbox One X and PlayStation 4 Pro, that will impressively include ray tracing.
Digital Foundry got to visit Crytek in Germany (not that big a deal in terms of international travel, since two(?) of the team live there) and go hands on with the game on all the various platforms it's coming to, diving into the technical nitty-gritty of how Crytek have pulled off ray tracing on the current gen, despite not having hardware support like the PlayStation 5 and Xbox Series S and X will.
Ray tracing is restricted to these higher powered consoles for a very good reason. Without ray tracing enabled, the game runs at 2160p30 on Xbox One X and 1800p30 on PS4 Pro. With ray tracing enabled, that drops all the way down to a dynamic 1080p30 on One X and <1080p30 on PS4Pro. There's also a performance mode locked to 1080p without ray tracing and with an unlocked frame rate for those who want it.
The trick that Crytek have pulled is in being very frugal with what they ray trace. But first, what is ray tracing? Current games typically lean on screen-space reflection techniques that take whatever is on screen at that time and extrapolate and transform that onto a reflective surface to give the impression of realistic reflections, but if you look at a window at an angle and turn your point of view, you'll start to see things fade out as they're no longer on screen.
Ray tracing enhances graphical realism by reflecting things not on screen at that time, which is a big part of why it's such a burden on game performance. In addition, it's computationally expensive the trace how light travels and reflects off different surfaces. So game engines have to decide what to include and what not to include in the ray tracing side of the engine.
For Crysis Remastered, the game drawn an area around the player, rendering an additional low detail version of the game world and then processing reflections from that. However, this is only the scenery, and not characters, vehicles or other destructible elements. It's also rendered at 540p, and it's from this that the CPU then calculates the rays of light. We've already seen that there are similar compromises being made in games like Ratchet & Clank: Rift Apart, where destruction is not shown, but various parts of the scenery are, but with hardware ray tracing, these effects can be done much more extensively.
Speaking of which, you'll get to see Crysis Remastered with full on ray tracing on the PC. There, with Nvidia's RTX 20 and 30 series cards, and the upcoming AMD RDNA2 cards, you can enable hardware ray tracing and have much more extensive ray tracing. In fact, there's a new "Can it Run Crysis?" graphics mode that ramps up every single setting possible on the game engine to show just how the game can punish modern hardware, just as the original game did.
Today's post is dedicated to our PC community!

We want to show you, for the very first time, an in-game screenshot using the new "Can it Run Crysis?" Graphic mode, which is designed to demand every last bit of your hardware with unlimited settings – exclusively on PC! pic.twitter.com/kVHEf63oWe

— Crysis (@Crysis) September 6, 2020
Source: Digital Foundry
---
Hyrule Warriors: Age of Calamity is a Legend of Zelda: Breath of the Wild prequel musou, and it's out in November
Nintendo are full of surprises this month with announcements coming out of the blue. The latest is Hyrule Warriors: Age of Calamity, a follow up to Hyrule Warriors, but set 100 years before the events of The Legend of Zelda: Breath of the Wild. It's coming out for Nintendo Switch on 20th November.
Hyrule Warriors: Age of Calamity builds on the hack and slash action of the first Hyrule Warriors game, but adopts some of the visual stylings of Breath of the Wild. You'll be able to play as many characters from that game, including Link and Zelda and likely also the four Champions as well. You battle swarms of enemies to defend Hyrule, while also solving environmental puzzles, unlocking weapons, crafting, and even using the Sheikah Slate.
The game will hopefully fill the void for those waiting patiently for the The Legend of Zelda: Breath of the Wild sequel that was announced back at E3 2019. That game will likely still be a little while away, with series producer Eiji Aonuma explaining in the video that the team are working hard to fill the world with even more detail than the last game. However, while that game will take the story forward, Age of Calamity can wind things back to the compelling backstory of Breath of the Wild to depict the epic battle that saw Hyrule fall and Link locked in stasis. A Warriors style game would be the perfect form for that to take with epic battles and bombastic heroes striding into the fray.
The first Hyrule Warriors came out for Wii U all the way back in 2014, then as a swansong release for the 3DS that also introduced Linkle, the first female Link. It was an unlikely marriage of genre and game series, but one that worked, with Koei Tecmo able to explore the breadth of the Zelda game series and incorporate numerous characters. By contrast, Hyrule Warriors: Age of Calamity shifts from the broader franchise to tying in with one of the series' most successful games to date.
In our original Hyrule Warriors review for Wii U, we said:
"This might not be The Legend of Zelda we know, but it's a faithful marriage between the Zelda series and the incredibly fun gameplay of the Warriors series. It's not the next step in the Zelda timeline, but rather an off-kilter non-canon entry which effectively acts as a party with all of your favourite people present. It's a hell of a lot more niche – only really appealing to Zelda fans who don't mind a big change in the gameplay style – but Hyrule Warriors is to Zelda what Mario Kart is to the Super Mario series, and that's brilliant news for dedicated fans."
Hyrule Warriors was then one of the first Wii U games to be given a fresh release on Nintendo Switch, the newer console able to handle the big battles much better, combining the merits of the Wii U game with some of the additions made for the 3DS version. It's still a solid shout for fans of the Warriors style hack and slash, and fans of Zelda in general. Might help while away some of the time as we wait for Age of Calamity.
Source: press release
---
Second Extinction is a dino-blasting co-op shooter for fans of Left 4 Dead
Everyone, apart from perhaps Ian Malcom, loves dinosaurs. They provide a window to a past that's utterly alien to the world we know, requiring intense creative thought to picture their huge bodies actually roaming the Earth. They are exceedingly, unequivocally cool, but you might feel a bit differently once you've come into contact with the mutated dinosaurs of Second Extinction. No matter how cool they might be, they all want to turn you into dinner, or maybe second breakfast.
Having appeared amongst the titles shown off by Microsoft as part of the Xbox Series X software lineup – it's also coming to Xbox One and PC – Second Extinction immediately stood out thanks to its high-end visuals and the fact that you get to shoot bullets at dinosaurs. It's hardly high concept, but the game's near-future setting where mutated dinos have reclaimed the Earth basically gives the perfect excuse for a visceral co-op shooter. It takes cues from Left 4 Dead and Turok to bring us something that could already be a highlight of the next generation's lineup.
You're welcomed to this world by Director Pearce of the ERA, who tells us that together we're going to reclaim the Earth. What he really means is that you and two friends are going to have a go at reclaiming the Earth over and over again, as you fight against the increasingly agitated dinosaur hordes with some like-minded adventurers.
There'll be four Heroes available as the game enters Early Access this month, with each bringing a separate set of unique and powerful skills which will hopefully help you and your team on the way to assured dinosaur destruction.
Each character can take out a main weapon and a secondary one, with a host of different options available, and within that you can upgrade each of them to become even more powerful, with unique ammo types opening up as you move through each weapon's upgrade tree. There's also your character's Payload, which is a special ability that you can choose from a limited selection, giving you access to ammo or equipment drops or a barrage-style missile attack. As a team you can choose complimentary loadouts to give you the best chance of success.
First up I picked Rosy for my preview playthrough. A tank class character, she boasts tons of health and an insanely powerful minigun that chews through mutated dinosaurs faster than a hungry velociraptor. Alongside her is Amir, an Operative which is Second Extinction's support class, and then a pair of Trooper's in the shape of Ortega and Jürgen who fulfil the classic all-round soldier slots. More characters are going to be added in the course of the game's journey to full release, but straight off the bat these are a likeable bunch of characters and I'm sure at least one of them will be a welcome companion through Early Access.
Once you're locked in with your loadout, it's time to get locked into a drop pod and fired down to the surface of the Earth. The remains of humanity have had to evacuate the planet while those pesky dinosaurs have had their fun, and Second Extinction is nailing its sci-fi trappings with flair.
Your team of three can then set out to take on whatever mission or objective you have set up. Second Extinction is a live game, and the seven regions on the map face an ongoing push and pull between humanity and the dinosaurs. Different areas appear on the map showing the current level of threat, and how tough an encounter will be there, with players having to combat that on an ongoing basis, trying to bring an area back under control.
Within that there are Emergence events, where an area can fall completely under the control of the dinosaurs and players across the world will have to team up in a community effort to bring it back under control. These might happen every week, or more or less frequently, but whenever they do appear they're going to form a focal point for all Second Extinction players.
The dino-shooting action is of course the heart of the game, and Systemic Reaction has already crafted a system that feels fantastic, with movement and gunplay feeling fast and fulfilling. Those Left 4 Dead vibes are strong as you work together as a team to take on the increasingly aggressive, and increasingly large, toothy-types. From the fodder of mutated Velociraptors to huge, glowing Ankylosaurus, they all look exactly as you'd hope, bringing those classic dinosaurs to life in new and terrifying ways.
Systemic Reaction are clearly putting the plans in place for a live game that's going to continue to evolve, and pull players back week in, week out. Alongside the Emergence events, and growing characters, weapons and Contracts, The War Effort is a community-led meta game, and depending on how players play the game will influence various changes to the game world and Second Extinction's future.
If you're looking for a new, next-gen co-op shooter, Second Extinction should be heading straight to the top of your most wanted list. From the incredible mutated dinosaurs trying to tear you to pieces, to the weighty, team-centric gunplay, this is a game surely set for success in the future while pulling on the best parts of the past.
---
Elite Dangerous update 1.50 deploys bug fixes
Frontier Developments have released their newest update for giant space-faring sim, Elite Dangerous.
Patch 1.50 is now available on consoles as of September 8th, bringing with it a small clutch of changes outlined in PC version 3.7.05.
This latest Elite Dangerous patch offers nothing in terms of new content, instead ironing out a few known issues including one which reportedly led to game crashes in previous versions of the game.
You can read the full patch notes for Elite Dangerous update 1.50 below via the official Frontier forums:
Crashes & stability
Fixed an issue when reading inbox messages in Supercruise caused the game to crash
Fleet Carriers
Fixed a bug causing delays and disconnections when entering a location with Fleet Carriers present
Fixed a UI focus issue which allowed players to sell ships in the background while using Carrier Management
Mining
Stopped depleted motherlode asteroids from respawning when a player flies a Ship-Launched Fighter beyond its maximum limit
For those lapsed players whose ships are now collecting dust in the hangar bay, there's a new Elite Dangerous expansion that might rekindle your interest.
Elite Dangerous: Odyssey will be launching in 2021 for PC, PlayStation 4, and Xbox One. Here's what you need to know:
Odyssey will bring with it newly enhanced rock and ice planets. Rocky planets will now be covered in more realistic canyons, ridges and barren seas, while ice planets bring with them the risk of cryovulcanism. However, across the board, your interactions with planets will be transformed.

Planets will be able to have light atmospheres, tapping into data that Frontier already had for each planet and now presenting it to players. They will also be able to play host to buildings and settlements that are on a "human scale" compared to the scope and size of the planetary bodies that they're built upon.

But the real focus is in letting you truly appreciate the scale of the first time. They want to capture the "Neil Armstrong moment" of stepping outside of your space ship for the first time, beholding just how big your craft is, and feel the cold void of space through hearing the breathing of your character in their space suit.
Source: Frontier Forums (via MP1st)
---
Every death is meaningful, every life holds the spark of a new hope. This is the adage of the OkunoKa Madness player. A hardcore, vibrant platformer that's learnt from the best; there's a touch of Rayman here, a spot of Super Meat Boy there, but for all that it's learnt, its indelible, lasting effect is one of pure, undiluted brutality.
"If you know your enemy, and know yourself, you need not fear the result of a hundred battles". So said ancient strategist Sun Tzu, and while he might not have immediately been thinking about OkunoKa Madness, he's still bang on the money. You will discover a hatred, a dark side, packed away inside your soul that OkunoKa Madness manages to unleash upon the world, but to beat it you must succumb to it. You must learn its ways and acknowledge the mirrored evil and anger in yourself. Only then, can you win.
This is a game set on grinding you down, chewing you up, hammering nails in you, catching you in a bear trap, throwing shards of glass at you, putting cigarettes out on you, and calling you mean names while they break all your toys. It's pretty great, actually.
So OkunoKa Madness is a hardcore platformer. The original OkunoKa was a Switch exclusive that caused Joy-Con all around the world to break out in a cold sweat, and Madness doubles down on the masochistic jumping, sliding and dying delights. OkunoKA Madness adds a whole extra world, taking the level count to over a 100, adds in a handful of playable characters and tidies up elements like the leaderboards and timer display, as well as introducing itself to PC, PS4 and Xbox One players. All manner of game controllers should begin trembling now.
There's a vague sense of narrative to the Story mode. Ka is an adorable blue thing who's set to save the Soul World and fell the evil Os, mostly by making your way through a set of fiendish platforming perils on your way to eating one of the Spirits. I'm not sure how much sense it makes, or needs to make, but it has given OkunoKa Madness' designers the opportunity to put lots of spiky, vicious, decidedly unfriendly metal things in our hero's way.
You will die. Every level gives you a grade that's related to how fast you complete a level, but up in the top right it'll always show you how many deaths it took to get there. It's often a decidedly sobering number, and if you weren't a committed player it might seem excessive. Insane, even.
Part of what makes OkunoKa Madness so hard is that it's not simply about jumping from platform to platform avoiding the bag guys. Ka ingests three different elemental spirits along the way, and a quick flick of the shoulder button will change Ka's elemental power.
What this boils down to is that Ka can make platforms, walls, or indeed random shapes, appear and disappear. Generally the game asks you to do perform this elemental magic while you're jumping in mid-air, avoiding a laser, narrowly avoiding something spiky, and then not quite avoiding some spiky vines, causing yet another of those myriad deaths.
There's a glorious rhythm to getting it right. A crescendo of button presses and finger movements feels like conducting an obscure but deadly dance, where only for the briefest moment do the two partners synchronise to pull off some incredible leap, twist or turn. It can be pure, unadulterated magic, and you will feel like the cleverest, most amazing, most talented video game player in the world, until the next ignominious death.
It's hard to say why you keep coming back for more, but that's the cleverest part about it. OkunoKa Madness is just surmountable enough that you know you can do it if you just give it another twenty-three more tries… -ish. Once you've beaten the level, you'll then imagine you can do it just a little bit faster and go back and start again. My family have watched with incredulity while I've played it, and their anger has surpassed my own. My son has literally just left the room because he can't watch it any more, spreading the madness further.
It all looks fantastic too. Weird painterly visual touches abound in the background, while grotesque boss fights are body-shock tour de forces, melding the ridiculous difficulty with off-brand Rayman-style visuals. It's possible you'll be too busy dying to notice.
There are a few rough edges here and there. Some of the more complicated levels can show the odd instance of slowdown, and that's running on an Xbox One X, and the level select screens can be a pain to navigate through if you're returning to improve your grades along the way, but they're mild grumbles in a game designed to upset you.
---
You know when people refer to something as a 'Whole Ass Mood'? Inertial Drift is that slang in video game form. Set in a 90s retro future featuring a host of performance drifting cars, Inertial Drift looks to change up the formula by introducing a twin-stick control system which empowers play to fine-tune their drifts. It's a novel approach to drifting in video games, and it's honestly one that pays off.
With over twenty tracks to choose from and sixteen cars, there's plenty to see and do in Inertial Drift. The main bulk of gameplay can be found in the story mode, which tasks players with choosing between four different characters, all of whom drive cars with handling that varies in difficulty. Outside of the story mode, there are your usual driving game options which include time trials, style runs, free runs, ghost races and both offline and online multiplayer modes.
If anything, the story mode feels like a prologue to the rest of the game. It provides the player with the perfect opportunity to race and study each track, learning the intricacies of how cars handle and getting to grips with the game's numerous race styles. There is dialogue between each of the races, but it largely served as a portal for tips on how to drift more efficiently. I did like that the cast was quite diverse, but the conversations between them are ultimately forgettable.
The driving more than makes it for the story's shortcomings. Inertial Drift kinda feels like a Ridge Racer game, but instead of steering with the left stick, you shift the weight of the car to drift around the corner with the right stick. I know that sounds a little strange, but you've just got to trust me when I say that it absolutely works. You only typically steer on straights or as a way of counterbalancing your drift by turning the wheel in the opposite direction of the way you're drifting.
Tracks start off wide and forgiving, providing players with plenty of space to drift, but by the end of the story, tracks are narrow and winding looking more like something out of a rally stage. What's magical about Inertial Drift though is that you'll have totally got to grips with the way game handles by that point. You can throw the cars around in a way you wouldn't have thought possible upon starting and that's what makes this game so fantastic.
I really enjoyed the way Inertial Drift tasks players with approaching tracks in the story mode. Rather than having a single race and moving on, each track has a number of warm-up races and events before the final one-on-one race. This system kinda reminds me of the way a lot of motorsports work with racers having warm-up days and practice laps in the run up to a race day. It's a fantastic system that enables players to get closely acquainted with each track before going into the final event. If you truly want to excel in Inertial Drift, you'll need to know the tracks inside and out.
The visual style takes a lot of queues from Initial D, with its cartoony sun-soaked city scapes and futuristic modded cars. The whole aesthetic is very retro future, which fits the premise of the game perfectly, giving it a very unique style. That simplicity means Inertial Drift also performs incredibly well. My PC averages 220-240 FPS without any hiccups or issues, running as smooth as butter on my 144hz monitor.
Inertial Drift accompanies all of the action with a funky electronic soundtrack, but it's the sound design that really stands out. Rather than going for ultra-realism, Inertial Drift's cars sound loud and powerful, playing into the fantasy of drifting these absolute beasts with some of the best car sounds I've heard in a long time. I especially enjoyed going through tunnels; it's one of the best noises you can hear in the real world and it is faithfully reproduced here. I also noticed that you can hear the wind bouncing off walls as you drive past them, with directional audio for added immersion. These little touches really shine in the moment to moment gameplay of Inertial Drift, elevating it beyond a simple driving game.
---
HyperX Alloy Elite 2 Keyboard Review
The HyperX Alloy Elite 2 Keyboard asks the question "What if we made mechanical keyboards… brighter?" and just runs with it. At first glance, it looks a little odd. The keys have a strange pearlescent bottom-half that looks almost accidental when the keyboard isn't plugged in. Naturally, upon plugging it in and turning everything on you're treated with an array of colours and patterns that make it far brighter than most RGB keyboard out there.
To get the best out of the fancy lights, you have to download a program called HyperX NGENUITY, which is where you canthe set multiple different light profiles. You can even have a variety of effects active at the same time – at present I've got three contrasting effects set up – though not all of them are compatible.
My first is a fairly standard RGB wave effect, though I've got it coming in at a 30-degree angle instead of straight across the keyboard. I've also set it up to trigger black bursts above whichever key I press, which means the keyboard ends a little darker as I type – this might sound counter-productive, but then I was perfectly happy with a German QWERTZ keyboard, and I like it. The second effect is a right to left sweep of just blue and purple, except whenever I type on a key it glows cyan for a while. Finally, I have one that lights up random keys as I type, but then produces red explosions whenever I push a key.
Honestly, I know not everyone cares about lighting effects, but it keeps me happy as I tip-tap my way through different articles and games.
The keys feel really great to type on. Each one of the in-house HyperX Red switches clunks in with a slightly lower tone than most mechanical switches, and it makes it a less irritating device than some others if you're not the person doing the typing. The keys have a wonderful weight to them – they're thicc, if you will – though typing on them requires a little getting used to. Initially, I found my fingers tripping over each other like a spider wearing roller skates, but once I'd adjusted to the HyperX Alloy Elite 2, I found it to be incredibly easy to use, and very satisfying too.
This leads to a very satisfying experience when gaming too. Thanks to the comfortable feel of the keyboard you'll have a blast using it to play whatever you want to. It's always responsive, and the satisfying clunk of each keypress only helps to add to the experience when you're chucking sticky grenades at people in Halo 3.
Despite spending multiple hours at any given time using the keyboard, I never found myself getting tired of doing so. I do have to use a gel pad, because I'm old and my wrists are going, but that's not the keyboard's fault, that's God's fault.
The weight of the HyperX Alloy Elite 2 keyboard means that it'll never move. Not only that, but the heft of the thing also means that you've always got a weapon to hand in case something goes awry in your real life. You never have to be AFK if your K can be used as a weapon.
While the sheer volume of RGB lighting won't be to everyone's tastes, the design is actually quite nice. My main criticism that the light bar, which sits above the keys, is basically invisible unless you're typing in a top-down fashion for some reason. I can't envision a time in which I can actually see the bar, and it makes it a somewhat perplexing addition. Aside from that, there are media keys in the top-right and keys to change your profile on the top-left. There's also a USB port on the back of it, which is useful if you'd rather not spend your time ducking behind your desk just to change one of your devices. It does require another wire be plugged into your PC, but that makes sense to ensure it has enough power and whatnot as a passthrough to the computer.
---