---
Kotaku Monday, January 23, 2023 8:40 PM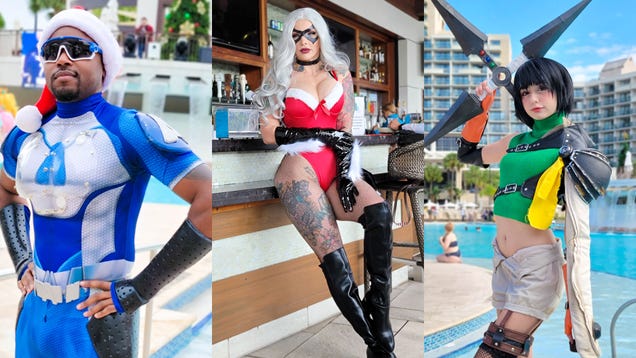 Holiday Matsuri is one of the coolest cosplay shows on the North American calendar. Taking place in Florida in December, the location means that instead of shivering inside a convention centre somewhere freezing their asses off, attendees are instead free to hit the pool, and the timing means we get to see a bunch of…
---
Twinfinite Tuesday, January 24, 2023 1:20 AM
Comes with your very own RIG.
---
Twinfinite Tuesday, January 24, 2023 1:13 AM
Close to liftoff.
---
Twinfinite Monday, January 23, 2023 9:03 PM
The franchise that has become one of Nintendo's biggest surprises.
---
Twinfinite Monday, January 23, 2023 8:10 PM
Honestly, let's just change the name of the game to Furspoken.
---
Twinfinite Monday, January 23, 2023 7:52 PM
Insert obligatory fourth-wall breaking reference here.
---
Twinfinite Monday, January 23, 2023 7:21 PM
Turns out the dead have some pretty frightening things to say.
---
Siliconera Tuesday, January 24, 2023 1:00 AM
A new Devilman manga, Devilman Gaiden: Ningen Senki, started serialization in Monthly Young Magazine. It commemorates the 50th anniversary of the Devilman manga, which debuted in 1972. Fujihiko Hosono (Crusher Joe, Gallery Fake) is the writer and artist behind Devilman Gaiden. [Thanks, Comic Natalie!]
The story takes place in the Reiwa era of Japan. It follows a delinquent named Roppei, who is an acquaintance of Akira's. When devils suddenly appear in Japan and attack, Akira entrusts Roppei with protecting the Makimura family. For reference, the Makimuras are family friends of Akira's. Roppei does his best, but Akira has to step in and help. That is when Roppei finds out that Akira is a Devilman.
Devilman is a highly influential work from Go Nagai. Works that draw influence from it include Neon Genesis Evangelion and X. There have been multiple adaptations of it over the years. This includes Netflix's Devilman Crybaby, which aired in 2018. Devilman follows the story of Akira Fudo, who becomes the eponymous Devilman upon fusing with a demon named Amon. The story is fairly dark and violent, but has strong anti-war themes as well.
Devilman Gaiden is running on a monthly schedule in Monthly Young Magazine. There is no information on whether or not it will be available in the west.
The post Devilman Gaiden Spin-off Manga Begins appeared first on Siliconera.
---
Siliconera Tuesday, January 24, 2023 12:00 AM
Mixi will run a Chainsaw Man collaboration event in Kotodaman. It will be available from January 27 until February 9, 2023. During the event, you can get the limited characters Denji, Power, Makima, Aki, Himeno, Kishibe, Kobeni, and Pochita. [Thanks, Dengeki Online!]
https://www.youtube.com/watch?v=vI6rs9J_U8w
When you log in during the event, you can get a free copy of Denji & Pochita. There is also a combined Denji & Power unit that is a special summon. This unit is capable of Mode Shift, which will change aspects such as the leader skill and element. Though you cannot summon them, Devils from Chainsaw Man will make cameo appearances in the collaboration quests. Some examples include Katana Man, the Bat Devil, and Akane Sawatari.
[gallery columns="7" ids="948112,948111,948110,948109,948108,948107,948106" link="file"]
During the Chainsaw Man event in Kotodaman, you can also purchase voiced stickers of the characters. You will be able to use them in multiplayer. All of the voice actors from the show have reprised their roles for this. Kotodaman is not the first mobile game to run an event with Chainsaw Man. Other games in the past that collaborated with the popular show include Bloodline: The Last Royal Vampire and White Cat Project.
Kotodaman is a free-to-play smartphone puzzle game in Japan. It is similar to Scrabble in which you use hiragana to create as many words as you can. This will create attacks that defeat enemies. Information on the Chainsaw Man units' skills will appear closer to the event's launch.
The Chainsaw Man event in Kotodaman will run from January 27 to February 9, 2023.
The post Chainsaw Man Event to Run in Kotodaman appeared first on Siliconera.
---
Siliconera Monday, January 23, 2023 11:00 PM
Sega uploaded a mysterious countdown that looks to be a Cosmic Smash tease. The hashtag and URL in the Tweet is "CSMASHVRS." So it is likely some form of Cosmic Smash VR project.
https://twitter.com/SEGA/status/1617552792842895360
The tweet and site in question feature dots that form the shape of an eye. When it blinks, the dots temporarily form orange lines. As of the time of writing, there are twenty days left on the countdown. The website uses a similar animation. Aside from the eye, the dots occasionally form the remaining time, as well as a visualizer for the music. There are a lot of other patterns that the dots form, including a Pong-like game. When you drag your mouse through the dots, they follow you as well.
Cosmic Smash was an arcade and Dreamcast game that originally came out in 2001. It is a single-player game similar to Squash and Breakout. You hit a ball against a wall to try and get rid of tiles. Your score depends on your time, whether or not you dropped the ball, and if you used a trick shot. Stages look like subway stations. You can reach the end of the line as quickly as possible depending on which forks you take, or you can take your time in order to maximize your score.
More information on the potential Cosmic Smash VR game will come out in approximately twenty days.
The post Sega Countdown Site Teases Cosmic Smash VR appeared first on Siliconera.
---
Siliconera Monday, January 23, 2023 10:00 PM
The final test is upon us. Signups for the final closed beta of Honkai Star Rail have opened. According to developer HoYoVerse, interested players can now register to join the test via the game's official site. Signups will be open from January 24, 2023 through February 2, 2023. The final closed beta test itself will begin on February 10, 2023, and will cover PC, iOS, and Android platforms. Access to the test is limited, and free of charge. However, save and progress data generated during the test will be wiped when it's over, so there will be no carryover from this test to the official release.
To sign up for the Honkai Star Rail final closed beta test, players will need to visit the official website and log in to their HoYoVerse accounts (or sign up for one if they haven't yet). Then they'll need to click the "Enter Sign-Up" button to fill in the registration survey. Those who qualify for beta access will be notified via their registered email and text message (if they registered a mobile number). Check out this page for more information, including recommended system and device specifications.
Participants in the test will receive an Avatar Frame for their HoYoLab account. Pre-registration for the final release is also open on the site, with escalating rewards based on the total number of pre-registrations received.
HoYoVerse also uploaded a Honkai Star Rail beta trailer to commemorate the occasion.
https://www.youtube.com/watch?v=eZIQMP8w3M4
Titled "Space Comedy," the Honkai Star Rail closed beta trailer shows off a number of the game's characters and locations. Characters sighted in the trailer include:
Balu
Blade
Fu Xuan
Gepard
Herta
Jing Yuan
Kafka
Luo Cha
Qing Que
Serval
Silver Wolf
Su Shang
Ting Yun
They join the trio of Dan Heng, March 7th, and the Trailblazer (whose gender presentation can be selected by the player).
Honkai Star Rail is in development for release on PC and mobile devices.
The post Honkai Star Rail Closed Beta Registrations are Open appeared first on Siliconera.
---
Siliconera Monday, January 23, 2023 9:00 PM
One Piece Film: Red, The First Slam Dunk, and Suzume no Tojimari are some of the nominees for the 46th Japan Academy Film Prize. The entire list of movies up for consideration is available on the Academy's website. The awards ceremony will take place on March 10, 2023, and that is when we will see the final results.
Shin Ultraman is also one of the nominees. It is up for Best Picture, along with A Man and Phases of the Moon. Phases of the Moon was, along with The First Slam Dunk and Suzume no Tojimari, one of the most highly-attended movies of December 2022. Speaking of those two films, they (along with One Piece Film: Red) are up for the Best Animation Award. They are up against Lonely Castle in the Mirror and Inu-Oh.
Despite The First Slam Dunk's strong sales and record-breaking attendance, it does not appear in any other categories. Neither does One Piece Film: Red (despite One Piece Film: Red being the ninth best-selling movie of all time in Japan). Shin Ultraman, however, appears as a nominee in several other categories. It is up for awards such as Best Director, Best Cinematography, Best Art Direction, and Best Lighting. As for Suzume no Tojimari, it is a nominee for Best Music.
The 46th Japan Academy Film Prize awards will take place on March 10, 2023.
The post One Piece Film Red, Suzume Nominated for Japan Film Prize appeared first on Siliconera.
---
Siliconera Monday, January 23, 2023 8:00 PM
The Nintendo Support Japanese Twitter account shared an important piece of information relating to the maintenance of the Nintendo Switch console. Players need to be mindful of sudden changes of temperature in their surroundings while using a Switch, in order to prevent condensation from forming inside their system. Nintendo explained the course of action that users need to undertake in order to keep problems to a minimum.
https://twitter.com/nintendo_cs/status/1617357719815745542
In the case of users suspecting of the formation of condensation inside a Nintendo Switch unit, the course of action advised by Nintendo is to immediately turn off the console completely. This must not be confused with sleep mode, which only requires a quick press of the power button. To completely turn off power on a Switch console, users must keep the power button pressed for 3 seconds and select the option after the power menu appears on screen.
On the off chance that power cannot be turned off normally, all that needs to be done to turn the power off is to keep the power button pressed for 12 seconds. The console will shut off completely. After doing that, users should place the console in a warm and dry location until the water droplets dry completely.
Finding a replacement Switch console can be very difficult, given the recent chip shortage. Fortunately, Nintendo recently announced that the console shortage will be coming to an end in 2023.
The post PSA: Nintendo Switch Users Beware of Condensation Drops appeared first on Siliconera.
---
PC Invasion - FeedDDD Monday, January 23, 2023 7:06 PM
Not all social deduction games are made equal. Although Goose Goose Duck is almost always loosely compared with its predecessor, Among Us, it is a game that deserves its own limelight. With six game modes and a total of 45 player roles, it's not as simple as the good Goose versus the bad Ducks. For both new and seasoned players of social deduction games alike, you need these tips to get you set up for victory in Goose Goose Duck. Related: Goose Goose Duck EXP guide. Goose Goose Duck: Tips and beginner's guide Actually play the Tutorial Screenshot by PC Invasion Whether you're an experienced player of social deduction games or simply eager to start, we promise you the tutorial is actually worth playing at least once or twice. For geese and ducks, you'll have plenty of tasks which are essentially mini-games that you play to complete. You get a random set of tasks each time, appearing on the top-left corner of your screen, and the game doesn't necessarily h...