Pun aficionados, rejoice. Cake Bash is, without doubt, one of the most pun-tastic video games of all time, with developer High Tea Frog taking every opportunity to cram-in as many bakery themed quips, witticisms and word play as humanly possible. In fact, I'd go so far as to say that there isn't a single cake based joke they haven't risen to. Don't be concerned if you're not a pun lover though, because they've also gone and created one of the most fun party games of 2020.
The premise of Cake Bash is wonderfully simple, as all good party games should be. Up to four players, over local or online play, do battle in a series of challenges to decide who is the most delicious sweet treat of them all.
The cast of characters to choose from is a treat and sure to bring a smile to even the most sour and jaded of faces. Players pick their avatar from a gallery of mauling muffins, dangerous donuts and ferocious fondant fancies, each one brought to life with doodled stick thin limbs and scribbled on faces. The result is that these badass baked goodies have oodles of charm to spare. Witnessing a Unicorn themed cupcake – eyes flashing with anger and gritted teeth bared – karate kicking the crumbs out of a wincing chocolate éclair is hilarious.
There's a variety of challenges on offer. Most revolve around the chaos of four player fisticuffs, as players utilise simple combo strings, charged attacks, dashes, and the hurling of chocolate balls to render their opponents briefly unconscious. However, this isn't a game in which you win by KOing your rivals. Instead, you use their temporary incapacitation as an opportunity to complete simple tasks. That might mean the player has to successfully lob fruit into a yogurt pot, cover their avatar head to toe in jelly beans or hold on to a smouldering candle for as long as possible. Successfully pull off this madness and you'll be awarded an array of points. And you know what points mean? Prizes! Well, actually coins, but more on those later.
In addition to the battles there are eight different mini-games in which High Tea Frog really get their creative juices flowing and the in game insanity is turned up to gas mark 7 (220ºC / 200ºC fan oven). Players are tasked with an enjoyably diverse selection of mini-challenges; barbecuing marshmallows to just the right amount of goo, spearing evasive slices of caterpillar cake and fighting off swarms of wasps are all smile inducing highlights and operated with simple controls. Though far and away the best challenge is Fork Knife, In which players try to dodge killer cutlery as slice after slice on an ever dwindling cake are removed; the last one standing is rewarded with the phrase 'Gateaux Royale'. See? I told you there was some higher functioning pun work here.
There's just the right amount of skill required for each activity. Cake Bash managing to be eminently accessible to pretty much everyone, whilst also providing a dedicated player with the opportunity to seek the optimum approach to clearing every round. Successful completion of each challenge sees the players awarded with those lovely aforementioned points. And you know what points mean? That's right, coins. And I guess, seeing as how I've mentioned it twice now, I'd best explain why you want those coins.
You'll need coins in order to win Get Tasty. This is the central game mode that all the mini-games are framed around. In essence, it's a delightfully elegant alternative to the board game set-up seen in other party games. After completing several battles and mini-games, players can invest their hard earned coins in buying a variety of sweets to decorate their cake. Whoever has the most delicious and point-worthy cake at the end of the game is the victor, and ultimately the one eaten by a hungry customer.
This gathering of sweets becomes a game in its own right. In a busy free-for-all on the bakery's counter-top you'll have to grab the decorations you need before your rivals pilfer them. Manage to gather three of the same and plentiful bonus points are yours. Get Tasty provides a nice balance and is a neat leveller for the varied skill levels of each individual player. You can win every round, but if you don't choose wisely with your decorations then you won't come out on top. This gives even those who are far behind in points the chance to forge a heroic comeback, keeping the game tight and competitive until the very end.
There is one element of the mode that I wasn't particularly keen on however. For the cost of two coins, a player can try their luck with a randomly picked decoration from the mystery capsule machine. You could be rewarded with a lovely decoration for a fraction of the price, though at the risk of being stained with some radioactive point killing trash. In a game that is so beautifully balanced elsewhere, this mechanic feels like it's gone off. Risk a capsule and you'll be rewarded with stinky cheese more often than not and each piece of trash immediately wipes out forty points from your score – an amount that is very difficult, maybe impossible, to recover from. It makes the otherwise intriguing risk/reward of the capsule machine entirely redundant; there's just far too much risk to make it even worth a punt.
Everywhere else, Cake Bash is everything I want from a party game. Fun, frantic, funny and, most importantly, accessible to every player in my family. If I were being overly picking – which, lets face it, I often am – then there's not enough game here. Sure, more play time is required to unlock all the different character skins,but you'll have certainly unlocked all the challenges and mini-games in an afternoon. Would I have liked a little more? Yes, I enjoyed Cake Bash so much that of course I'd want more, but when you consider the level of polish that such a small development team has achieved, then you can absolutely see why High Tea Frog went for quality, not quantity.
---
The Monster Hunter movie trailer had landed, watch it here!
Monster Hunter fans rejoice, the first trailer for the big screen debut of the movie based on the hit game has arrived! The trailer shows Milla Jovovich leading her team of clearly not going to make it to the end of the movie soldiers and of course, some blimmin' big monsters.
We've seen clips of the the desert battle before, it looks very much like Scoponok's attack in the first Transformers movie, but the trailer also includes a few brief moments showing jungle locations.
The movie will launch in cinemas – yes, they are still planning for that – this December.
Directed by Paul W.S. Anderson, Monster Hunter is loosely based on the power-selling video game franchise instead of being a direct adaptation. Anderson is best known for his work on the Resident Evil film franchise (another Capcom partnership) with Milla Jovovich joining him once again as the lead actor. Here's an official synopsis of the film:
Behind our world, there is another: a world of dangerous and powerful monsters that rule their domain with deadly ferocity. When an unexpected sandstorm transports Captain Artemis (Milla Jovovich) and her unit (TI Harris, Meagan Good, Diego Boneta) to a new world, the soldiers are shocked to discover that this hostile and unknown environment is home to enormous and terrifying monsters immune to their firepower. In their desperate battle for survival, the unit encounters the mysterious Hunter (Tony Jaa), whose unique skills allow him to stay one step ahead of the powerful creatures. As Artemis and Hunter slowly build trust, she discovers that he is part of a team led by the Admiral (Ron Perlman). Facing a danger so great it could threaten to destroy their world, the brave warriors combine their unique abilities to band together for the ultimate showdown.
It's fair to say that the Monster Hunter series is still going strong in 2020. Capcom continue to bolster Monster Hunter World: Iceborne with new features and content with title update 5 having recently launched. Whether they have another expansion (or a full on sequel) planned for World is unclear, though the series is continuing to splinter off, Capcom have recently announced Monster Hunter Rise and Monster Hunter Stories 2 for the Nintendo Switch, both of which will be arriving in 2021.
---
Interview: High Tea Frog on making Cake Bash a S'moreish party experience
Cake Bash – the 4 player sugary sweet smackdown bake 'em up – is out right now. So, is there a better time to have a chat with High Tea Frog's Laura Hutton about all things Cake Bash? I think you'll find there is not.
Laura is the Technical Artist and Director on Cake Bash and she took the time out from a busy schedule to discuss bakery bad asses, zero-G crumbs and a love of puns.
---
TSA: I'd like to know a little more about High Tea Frog. You guys left Ubisoft to create your own games, what led to that decision?
Laura Hutton: For our last few years at Ubisoft we were part of a small team making games like Grow Home, which has to be the closest you can get to indie development at a giant AAA studio. We worked really well as a team and had big roles in these projects, so thought it might be worth giving things a try on our own.
Being part of huge teams beforehand and working on these little games near the end was a great experience and we wouldn't change anything! But now we can make whatever we want, which just happens to be cake.
TSA: What was the decision process behind Cake Bash becoming your first game? How did the idea for a video game that's kind of Fight Club for sweet treats come about?
Laura: We made a bunch of prototypes before starting this one, but after just a week we already had the cake characters, the flappy drawn to life arms and funny faces which got angry when you punched someone. The game has evolved so much since then, but we knew after just a few days that we were onto something because it was already making us laugh.
TSA: How have you adapted to creating a game during the challenging time of a Covid-19 world that we find ourselves in?
Laura: The two of us usually work together in a small office, but we decided to work from home just before official lockdown was announced in the UK. It's been different, and there's been some issues we've had to overcome that we weren't expecting, but we're really proud to have still finished everything on time despite the circumstances. One benefit of our tiny team is that we didn't have an army to organise remotely!
Our programmer, Clement, had to set up dev kits for the three different consoles at his house, and platforms are (quite rightly) strict in how they must be kept secure at all times. Luckily the people behind the decisions were really approachable and understanding, but his living room was covered in cables for months and looked a bit like Neo's room from The Matrix!
TSA: Party games have to walk a thin line between making a crazy chaotic experience and balancing that with clear, simple and intuitive gameplay. How did you approach this?
Laura: We were inspired by the old classics like Pokémon Stadium and Mario Party, where the controls are simple but the gameplay is really fun, even if you lose! We tried to keep a good balance between the chaos of the bash modes where it's a giant free-for-all, and the minigames which are more competitive and skill based without violent interruptions from the other cakes. The control schemes for each minigame are simple, usually only two inputs, but the bash modes are more complex, with dash, throw, combo punch and megabash. You only have to learn one set of buttons for all five of our bash modes though, and there's a playable tutorial which we hope helps!
We also have full screen tutorials before every game mode to help people digest the different controls and win conditions, and we even added unique 2D animations to keep them interesting!
TSA: One aspect that really impressed me was the between rounds challenge of needing to invest coins into buying sweets to decorate your cake with. This neat addition has allowed players in my family who aren't as experienced in playing video games to still be able to win. They can use their brains to choose the right decorations, and this can make all the difference between winning a round or losing it. Can you tell me more about the idea process behind including this element?
Laura: Thanks so much! Not many people have played Get Tasty yet as it isn't available in the demo, so it's great for us to hear it's working well and that you all had fun with it. We thought the toppings and adventure through the bakery were good ways to tie all of our games together while sticking to our cake theme, and we wanted to steer clear of the classic board progression with dice.
A huge challenge of multiplayer games is trying to find something which is balanced and fair with comeback opportunities, but not too much to annoy whoever is winning. We went through so many design iterations trying to figure out the best way and finally settled on the combos and the capsule machine. Remembering what you've already bought becomes a meta game, especially in the chaos of the shop, and getting something good out of the capsule machine when someone else gets a bit of cheese is always funny.
TSA: The cast of bakery bad asses is wonderful. There's mauling muffins, dangerous doughnuts and ferocious fondant fancies – just to mention a few. How did you go about selecting the sweet treats that would be included in the game? Was the selection process based around a tastiness metric?
Laura: We should use "bakery bad asses" somewhere, it's flantastic. The main decider for those cakes was actually their silhouette. Even though you can choose different skins, which we call flavours, I wanted them to be instantly recognisable. For instance Fancy is a cube, Minni is a cylinder, Slice is a triangle and so on.
But yes, another factor was my lifetime of very important research, eating treats from real world bakeries! I'd definitely rank these seven cakes as some of the best, who doesn't enjoy a donut?
TSA: Will there be additional characters made available in future updates or DLC? I'm longing to unleash my inner cake fury playing as a flapjack.
LHLaura I'd love to add more characters later, we have some fun ideas but nothing confirmed yet. We got some excellent fan art of a character called Stax who is a stack of pancakes, which I was very fond of, and angel cake has to be one of my favourites. I'd have to think about how to make different flavours though, maybe other loaf cakes like madeira and fruit? Only time will tell.
TSA: In addition to the battling, there's a terrific variety of game modes on offer here, my absolute favourite being the high-speed marshmallow toasting. Were there any ideas that you felt were too crazy and couldn't be included? Or was everything and anything fair game?
Laura: Oh nice, campfire is my favourite too! It's epic when you get a perfect scoring marshmallow in the high heat.
We've always been about quality over quantity – we could likely have made more game modes but they wouldn't have been as polished. One prototype that I liked personally was inspired by What's the Time Mr Wolf, but after a couple of weeks we couldn't make it fun, so we chucked it in the bin and made Wasp Attack instead.
The only real constraint for us was that it needed to be a real life scenario, and somewhere you might expect to see a cake. Anything in space wouldn't work with all those zero-G crumbs, but a kid's space themed birthday party was a perfect fit. I always jump at the opportunity to sneak in a terrible pun, and for Birthday it was "In space, no-one can eat whipped cream"… still makes me laugh now.
---
Thank you to Laura for taking the time out to discuss all things Cake Bash. Cake Bash is out today on PS4, Xbox One, PC and Stadia, with a Nintendo Switch release planned for later this year. Keep an eye out for our review later this afternoon.
---
Fall Guys Seasons 2 Battle Pass XP and rewards guide
Fall Guys Season 2 has launched and with it has come a new Battle Pass filled with lots of lovely new cosmetics for you to grind for, but just how much medieval grinding is there to be done?
Well wonder no more! If you want to unlock everything in Fall Guys Season 2, you are going to have to rack up 26000 XP, which is much less than the 35000 XP needed in Season 1.
Here's what you can earn:
| | |
| --- | --- |
| Level | Reward |
| 1 | N/A |
| 2 | Romantic (Color) |
| 3 | 1 Crown |
| 4 | Pantaloons (Pattern) |
| 5 | Slime (Nameplate) |
| 6 | Orc (Costume) |
| 7 | Amethyst (Color) |
| 8 | 1 Crown |
| 9 | Floral (Pattern) |
| 10 | Orc (Costume) |
| 11 | 1 Crown |
| 12 | Molten (Color) |
| 13 | Dragonfire (Nameplate) |
| 14 | Knight To Remember (Nick) |
| 15 | 2 Crowns |
| 16 | Jester (Costume) |
| 17 | Salute (Emote) |
| 18 | Strained (Faceplate) |
| 19 | Medieval Madness (Pattern) |
| 20 | Heraldic (Color) |
| 21 | 3 Crowns |
| 22 | Jester (Costume) |
| 23 | 1,500 Kudos |
| 24 | Foolish (Color) |
| 25 | Cross Check (Pattern) |
| 26 | 3 Crowns |
| 27 | Bronze (Color) |
| 28 | Elder Dwarf (Costume) |
| 29 | Famous (Nameplate) |
| 30 | Court Jester (Pattern) |
| 31 | 5 Crowns |
| 32 | Bow (Emote) |
| 33 | Valorous (Color) |
| 34 | Menace (Nameplate) |
| 35 | Knight (Pattern) |
| 36 | 5 Crowns |
| 37 | Elder Dwarf (Costume) |
| 38 | Sir Hugs A Lot (Nickname) |
| 39 | Fleur-De-Lis (Pattern) |
| 40 | Magician (Celebration) |
In case you missed them, here are the patch notes for Season 2:
New Feature – The Show Selector: Time-Limited Shows give players new ways to enjoy their favourite rounds types by selecting which Show they want to play!
New Feature – Nameplates: Mix and Match customisable Banners and Nameplates to compliment your Fall Guy's attire!
New Feature – Random Outfit Generator: Press triangle on the customiser screen until you get a combination of items you like!
Improvement – See your party members fall alongside you while waiting for matchmaking to complete.
Improvement – Fall Guys now have more responsive mantling up ledges.
Improvement – Visual updates to many levels
New Level – Knight Fever: Our hardest gauntlet level yet.
New Level – Wall Guys: Cooperate with other players to traverse castle walls.
New Level – Egg Siege: A brand new Egg Scramble map with moving drawbridges!
New Level – Hoopsie Legends: A Solo Hoopsie Round with moveable blocks.
Plethora of new customisation options – costumes, faceplates, colour palettes, emotes, and celebrations.
Many bug fixes and optimisations.
---
Baldur's Gate 3 Update 1 fixes a bunch of launch bugs
Larian were a little bit overwhelmed by the popularity of Baldur's Gate 3's launch into Early Access last week for PC and Stadia. Their servers were flooded with users (and their offices with storm water) and they pushed out a trio of quick hotfixes to shore up co-op multiplayer, fix a number of crash bugs, and more.
Yesterday they released the first more meaningful update, dubbed Patch 1 – Launch. Again, it's focussed on fixes as opposed to making gameplay tweaks, improvements and additions, all of which are detailed below.
However, Larian have also given us a first insight into how the game is actually being played by people. They obviously rely a lot on player feedback, but then there's plenty of telemetry and data that they can collect as well. This has revealed a few amusing things:
A lot of people died when they first met Gale, a "spooky wizard" who jumps out at you from behind a rock.
Speaking of which, Gale died 333,757 times in the first week, but Shadowheart is the only companion who died more than the player character.
A surprising number of people die in the camp.
5715 were killed by the Owlbear Cub.
4000 people died when interrupting intimate moments of Ogres and Bug Bears.
All of this is being fed into Larian's process to balance the game, and will surely shape how they continue the game's development and the design of later acts in the story.
But for now, the full patch notes for Patch 1 – Launch.
Improvements:
Added polish and bug fixes to several in-game cinematics, such as Shadow Heart recruitment, Astarion recruitment and Volo's Poem. (These will be ongoing throughout EA).
Added minor text tweaks to various bits and bobs.
Altered certain dialogue choices for different NPCs.
Added extra combat tutorial messages to better explain the basics (let us know how you get on).
Astarion no longer thinks Lae'zel inspected you at camp when she is not in your party. Quite rightly.
Bug Fixes:
Fixed a crash related to having the level up screen open while in a dialog.
Fixed a crash related to dropping items from inventory.
Fixed a rare crash that could happen at the start of combat.
Fixed a possible blocking issue when using the transponder at the end of the tutorial twice.
Fixed black screen issue when ending tutorial if the transponder was used by any character that is not the main player avatar.
Fixed a possible blocking issue when reassigning characters to others players while in combat.
Fixed an issue with lip sync not working correctly.
Fixed several localization issues.
Fixed combat UI not updating correctly when someone joined during combat.
Fixed party shared gold and items not always working in dialog checks.
Fixed summons from NPC's getting stuck in combat.
Fixed levelled up characters having duplicated racial and class features.
Fixed not being able to level up to level 4 on a Zariel Tiefling Cleric of Light due to cantrip selection.
Fixed text cut-off issues in several interfaces.
Fixed party members getting stuck trying to open doors they run past.
Fixed listening in to dialogs getting stuck in multiplayer, also causing players not being able to save.
Fixed camp button being broken after closing the camp window with escape key.
Fixed "end the day" multiplayer message being broken if a player closed it with an escape key.
Fixed certain quests not having map markers.
Fixed certain secret entrances incorrectly showing up on the map.
Fixed incorrect player portraits in the lobby screen as more people joined.
Fixed Cambion wings and Tiefling tail animations.
Fixed map not centering correctly on player characters in smaller subregions.
Fixed health values not being synced correctly to the Baldur's Gate 3 twitch extension.
Fixed superiority die not showing actual values when using abilities such as Menacing attack.
Fixed minor issues with hair, skinning and textures on several models.
Fixed lighting issue in owlbear cave.
Fixed not being able to walk over corpses.
Tweaked ragdolls to reduce the possibility of models exploding (or glitching. Idk how to explain it, but it's spooky).
Source: Steam
---
The Overwatch Switch trial and Halloween Terror 2020 event is now live
The Overwatch Halloween Terror is event now live on PC, Xbox One, PS4, and Nintendo Switch, bringing cosmetics from previous events and brand new rewards for this year.
Here is what you can expect from the event.
JUNKENSTEIN'S REVENGE – CHALLENGE MISSIONS

This year, Junkenstein's Revenge will release two challenge missions per week, for a total of six.

Week 1: Vengeful Ghost, Frenzied Stampede

A deadly ghost chases players

Zomnics move faster

Week 2: Volatile Zomnics, Three They Were

Zomnics explode near players

Only 3 players but they deal more damage

Week 3: Mystery Swap, Shocking Surprise

Heroes periodically randomized

Some enemies spawn Shock-Tires on death

Baptiste (The Renegade) and Ashe (The Outlaw) have also been added to Junkenstein's Revenge.

WEEKLY CHALLENGES

Weekly Challenges can be completed in Quick Play, Competitive Play, or the Arcade for limited-time sprays, player icons, and an epic skin on top of standard earnings normally received for playing Overwatch.

Week 1:

Win 3 Games | Fantasma Sombra Player Icon

Win 6 Games | Fantasma Sombra Spray

Win 9 Games | Fantasma Sombra Epic Skin

Week 2:

Win 3 Games | Stone Brigitte Player Icon

Win 6 Games | Stone Brigitte Spray

Win 9 Games | Stone Brigitte Epic Skin

Week 3:

Win 3 Games | Ragdoll Echo Player Icon

Win 6 Games | Ragdoll Echo Spray

Win 9 Games | Ragdoll Echo Epic Skin

NEW COSMETICS

Aside from the Weekly Challenge rewards, new rewards consist of 5 Legendary Skins:

Karasu-Tengu Genji

Dai-Tengu Hanzo

Werewolf Winston

Flying Dutchman Sigma

Shin-Ryeong D.Va
It's also the one year anniversary of the game landing on Nintendo Switch so there is a free trial on that console running from October 13th to October 20th. You will need Nintendo Switch Online membership and Nintendo Account to access the free trial. If you wish to get hold of the trial, head on over to the Nintendo eShop.
If you like the game then you can pick up the Legendary Edition of the game from the eShop with 50% off, that offer runs until October 25th.
Source: Press release
---
PlayStation 4 system update 8.00 tweaks parties, messages & security, but friends lists are now broken [Update]
Sony have released system software 8.00 for PlayStation 4, making a bunch of relatively minor changes that are (we presume) intended to line up with whatever they have planned for the PlayStation 5.
Unfortunately, this has broken the friends list, and if you try to see who else is online you'll see the WS-44369-6 error code. Hopefully this can be resolved by Sony this afternoon.
Update 12:50PM: After a long time we just had our friends list successfully load… only to then be presented with a new error code: WS-37505-0. Cool.
But back to what update 8.00 does. In particular they're linking Party and Messages much more closely, so a group message chat has an associated party chat that you can hop into. Great for if you have a regular group you play a particular game with.
However, they're also cutting features. You will no longer be able to create or access Events, and they're stopping you from creating any more private Communities, though you'll be able to access existing ones. Are these features being sidelined for the PS5? More likely they're being redesigned.
New avatars are being made available for you to select for your profile, including Bloodborne, Journey, Ghost of Tsushima, God of War, The Last of Us Part II, The Last of Us Remastered, Uncharted 4: A Thief's End and more.
The update also enhances the options you have for account security, adding 2-Step Verification (2SV) that lets you use third party authenticator apps to sign-in across PS4, mobile and web browsers. This will exist alongside the current 2 Factor Authentication (2FA) system which pings you a quick text message.
Parental Controls see 'Communicating with Other Players' and 'Viewing Content Created by other Players' combined into one setting – 'Communication and User Generated Content'. This covers both areas of communication and UGC sharing. Kids will be able to request access from their parents, who will receive email notifications and can make exceptions to a rule.
And finally, the Remote Play App for iOS, Android, Windows and Mac has been updated to enable connection to a PlayStation 5. You'll have to sign into PSN on a PS5 for the option to appear, though.
Source: PS Blog
---
Mount & Blade 2: Bannerlord mods, maps, and perks coming
Developer TaleWorlds Entertainment have outlined new and upcoming changes planned for their sandbox RPG sequel, Mount & Blade II: Bannerlord. Fans can expect a slew of improvements as well as new in-game content and the eagerly awaiting addition of modding tools.
A new Mount & Blade II: Bannerlord video takes players behind the scenes as TaleWorlds discusses two major highlights including new maps and the enhanced perks system.
As promised, they are increasing the number of environments found throughout Bannerlord's campaign map, creating more diversity within each region with new settlements and townships. Five new Empire faction villages are being added with two new multiplayer arenas also in the pipeline for Bannerlord's online multiplayer Captain mode.
Another focus is the perks system. One big change since the original Mount & Blade and Warband is the expansion of skills to now include perks. As you progress and advance skills such as weapon proficiency, leadership, trade, and other talents, you will have the option to unlock perks which grant permanent buffs.
Of course, what most Mount & Blade fans want to see more of is the modding tools. A recent update brought an initial beta version of the mods toolkit for fans to experiment with. Here is how you can access Bannerlord's mods:
Currently, you will need to own the game on Steam in order to access this beta version of the tools. This is something we hope to rectify in the future by making the tools available to everyone who owns the game, regardless of where they bought it. To access the tools, you need to head to your Steam library, select Tools from the filter, and search for Mount & Blade II: Bannerlord – Modding Kit. You will need to ensure that you have the game installed alongside the tools and that the version numbers match between the two for the tools to work. Then, you can simply launch the modding kit and press CTRL+E at the main menu to open the editor.
With Mount & Blade II still in early access, it will take some time before we start to see larger mods appear though the potential here is massive. What drew many fans to earlier games in the series (apart from their sublime strategic sandbox gameplay) were mods allowing them to play in various historical and fantasy settings, one of our favourites being this comprehensive Game of Thrones mod.
For those wanting more information about Mount & Blade II mods, you can follow the official modding forum for updates and community discussions.
Source: Steam
---
Mount & Blade II: Bannerlord Guides from TheSixthAxis
For more on Mount & Blade II, check in with our Bannerlord early access review.
---
For Honor PS5 & Xbox Series X|S upgrade detailed
Ubisoft have officially announced plans to beef up For Honor on PlayStation 5 and Xbox Series X|S when the next generation systems finally touch down next month.
Ubisoft Montreal's brutal fighting game won't be left behind as players make the leap from current hardware to Sony and Microsoft's new gaming systems.
In a nutshell, if you already own For Honor on PS4 or Xbox One then you can redeem the game on PS5 and Xbox Series X|S respectively. Your For Honor progress, profile, and purchases will all be transferred too so you don't have to worry about losing data.
Those who decide to play the unique fighter on shiny new consoles can expect a number of graphical improvements to the game, as outlined by Ubisoft:
Improved Water Reflections
Improved Distance Level of Detail
Improved Shadow Resolution
Improved Texture Filtering
4k Resolution (Xbox Series X, PS5) / 1080 p (Xbox Series S)
It has also been revealed that next gen versions of For Honor will be updated in the near future, allowing the game to run at 60 FPS and thereby bringing the game up to par with the PC version. We don't have a confirmed release date for this upcoming patch though Ubisoft has stated it will be coming as part of Year 4 Season 4 which kicks off this December.
For those keeping track, Y4S4 is also when we are due a new playable hero. Earlier this year Ubisoft introduced the Warmonger during Y4S2. Based on For Honor antagonist, Apollyon, this flamberge wielding fighter has quickly become a community favourite and is also a great pick for newcomers.
We're now just several weeks away from the launch of next gen. In the UK, we'll see Microsoft go first with its Xbox Series X|S launch on November 1th. This will be followed by the PlayStation 5 release on November 19th, Sony debuting the console in other territories on the 12th.
Source: Ubisoft
---
The New Xbox Experience update is now live on Xbox One, ahead of Xbox Series X|S launch
Xbox gamers can get a little taste of next-gen almost a month before the Xbox Series X|S launch, as Microsoft have released the New Xbox Experience user interface update out to Xbox One today.
The update weighs in at 660MB and can be triggered in the usual manner, whether simply waiting for your Xbox One to announced the update over the coming days and weeks, or triggering it manually in the system settings.
While Sony have been teasing major changes for the PlayStation 5 system functionality, Microsoft's plan for next-gen has been to maintain consistency across all their platforms, including Xbox Series X|S, Xbox One, PC and mobile apps.
They've made a number of tweaks and changes to the layout of the system software on Xbox One over the course of the year, revising the Guide's layout and introducing a new Microsoft Store app, but have now rolled out the Fluid Design language across the rest of the system. You now have UI elements highlighted by an outline with rounded corners, instead of the full box being highlighted, and there's subtle changes to how things are positioned.
The biggest change in functionality we've found so far comes in how you manage game installs and data, with a whole new layout for the 'Manage game and add-ons' screen. Picking a game from Xbox Game Pass to install also offers more screenshots and details.
So, there will be a lot of consistency for Xbox Series X|S purchasers, and Microsoft can now iron out any kinks in the system that users highlight between now and early November. That's not to say that the Xbox Series doesn't have any system differences, with animated backgrounds for the main Dashboard available, and the Quick Resume feature allowing you to keep up to five games on standby to hop back in exactly where you left off.
There's also plenty of behind the scenes changes, so that you can be logged into as many Xbox consoles and Xbox apps and do messagings, streaming, chatting and more, so long as only one device is actually gaming with your account at a time. This is to ensure that progress, achievements and saves are up to date and synced (game sharing with multiple user accounts and a designated home console should still work, though).
---
Set in Arthurian England in 673 AD, Pendragon is a narrative turn-based strategy game from Inkle, the indie studio behind 80 Days and Heaven's Vault. Opening shortly after the dissolution of the Knights of the Round Table, you are tasked with rallying to King Arthur's side as he prepares to confront the evil Mordred in the battle at Camlann. At first glance, you'd be forgiven for thinking that Pendragon is a simple game when compared to Inkle's previous titles, but there's a lot more to this Arthurian tale than first meets the eye – or indeed, the first playthrough.
You can make your way through the main story and arrive at the final battle in a relatively short amount of time, but Pendragon is meant to be played multiple times and each adventure will allow you to unlock higher difficulties. Because of this, you may well find that it's not until the second or third playthrough that you really begin to appreciate the nuances of the gameplay and the many options and paths that are available to you.
Initially, you'll get to choose between two champions – Queen Guinevere and Sir Lancelot – with more becoming available as and when you encounter them during the story, but it's not just about the hero you choose or the path you take that affects how the story plays out. Everything you do in Pendragon is significant and can alter the choices that are offered and the abilities your character can learn.
Hints and warnings are turned on by default and give Pendragon a refreshingly gentle learning curve, though these tutorial options can be toggled off in the menu if you so choose. In fact, the game does so well at holding your hand throughout your first playthrough that you may well blunder into the final battle filled with overconfidence, only to find yourself thoroughly defeated by a rather smug Mordred. Or was that just me?
Once you move away from the first area, you'll be presented with a map of rolling hills and a number of locations will open up for you to explore. You'll need to choose which way you want to go and you may find that selecting one route will lock access to another. Much like the starting area, each location is set out as a series of squares and you'll need to manoeuvre your character across the board while taking out or avoiding enemies that may try to stop you. The aim is to move your character from the starting position to the glowy exit square on the opposite side. Seems easy, right? Well it's not quite as simple as that.
Different stances dictate whether your character can move diagonally across the board or whether they can only move to adjacent squares. Your ability to attack is also limited depending on your stance, so you'll need to take that into account before making your move.
Be aware that the enemies you encounter also have different ways of moving and attacking – I got caught out by this a few times. You can find out more about an unfamiliar enemy by clicking on them to discover their abilities and plan your own moves accordingly. As you move across the board, you gain ownership of the squares you pass over, as does the enemy in most cases. This ownership dictates how both you and the enemy can move, so you need to be aware of your surroundings if you want to survive long enough to reach King Arthur in Camlann.
As you progress through the story and uncover new areas, you'll often come across peasants, knights or other strangers. While they may seem hostile at first, it's worth giving them a bit of space to see if they might become potential allies; rather than going straight in on the attack, it's often prudent to find out if it's someone you can recruit before you cut them down. While it's true that you can only take one party member to the final confrontation with Mordred, there is good reason to expand your team as you journey to reach Arthur.
Each follower you recruit will have their own set of abilities and will interact with your chosen hero based on their own character path. This interaction often takes place around a campfire where you exchange stories while resting up for the night, but it can also come into play on the battlefield. Some allies will have their own unique abilities that may be invaluable in certain situations while others may be less than trustworthy. I'm looking at you, Morgana!
A lot of the areas will allow you to choose which member of your party you want to lead and you can bring additional members onto the board as needed. It's worth noting though that you can only perform one action per turn, so you should be careful not to endanger one character while you're positioning another. You may have to make tough decisions to sacrifice one ally in order to save another to continue with your journey.
Rather than going in with guns (or swords, in this case) blazing, you may find that doing nothing is the best option. Choosing to 'Hold…' can come in handy if you want to progress dialogue without moving into what may be perceived as a threatening position or if you simply want to see what an enemy is going to do next. These conversations can also lead to different dialogue options or they might offer up a new ability along with a change to your character's Core Story.
There is a caveat to inaction; stand around doing nothing for too long and you'll run into the real danger of your morale decreasing to zero and the party members you've acquired may well abandon you. Pendragon is a strategy game after all and there are certain resources such as this that you'll need to keep an eye on as you make your way to Camlann.
Health can be restored by using Rations but these are fairly scarce so, depending on the size of your party, you may need to use these sparingly. Resolve is something else you'll want to keep an eye on. While you don't need resolve to move or perform a basic attack, you'll need it if you want to use one of your abilities. It may seem like an easy win to use Branwen's ranged attack to take down an enemy quickly, for example, but burning through your resolve can leave you in a tricky situation later on. Luckily, most areas have resolve ready to be collected and you just have to move to the relevant squares to collect it.
At the end of each playthrough – whether you manage to reach Camlann and defeat Mordred or not – you'll be presented with a nifty timeline which shows you the choices you made, the allies you recruited and the path you chose. Each of your adventures will be different in Inkle's imagining of Arthurian England, and despite first impressions, there's a lot more to enjoy than one playthrough can possibly cover.
---
Borderlands 3 Xbox Series X|S and PlayStation 5 free upgrades confirmed for console launch
Gearbox has confirmed that free PlayStation 5 and Xbox Series X|S upgrades for Borderlands 3 will be available to download on the day each console launches. That means Xbox players will get it on November 10th and PlayStation 5 players will be able to upgrade on November 12 in the US, Japan, Canada, Mexico, Australia, New Zealand, and South Korea, and November 19th in UK and the rest of world.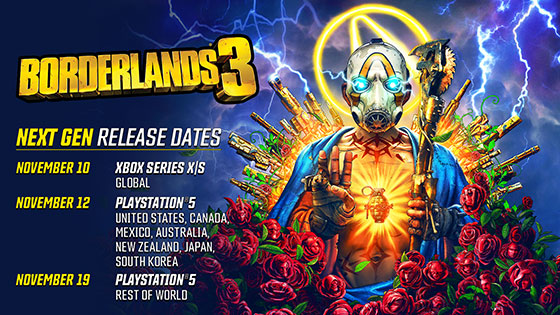 The game will run at 60fps in 4K on the PS5 and Xbox Series X during single-player and online co-op, and the next-gen consoles will support three- and four-player split screen for local multiplayer. If you are going to be playing on an PlayStation 4 or Xbox One X then good news, you get split screen as well, but it will only support two players.
Additional DLC will also be ported over to next gen and your current save files will also work, so you can upload them to the cloud, download on your new console and pick up where you left off.
New paid add on content was confirmed for Borderlands 3 back in September but it will be different to the story DLCs that were previously released. The only real details we have so far is that a new game mode will be added. New skill trees for the Vault Hunters will also be introduced alongside new action skills. FL4K's skill tree was highlighted and it is called Trapper. This skill tree favours shields and increasing survival odds. The new action skill is Gravity Snare. When deployed it throws all enemies near it into the air, which then causes them to slam into the ground. FL4K's new pet will be a Hyperion Loaderbot.
In our review for Borderlands 3, Jason wrote:
I've got very mixed feelings about Borderlands 3. Overall I like it and it's fun to play, but it could have been so much more and the writing feels like time traveling back to your high school days and being surprised and a little disappointed at how immature everyone is. Few things in life are as embarrassing as the person you were five years ago. If you're not embarrassed, then I'm sorry to say that you may well be the Borderlands 3 of your friend group; stuck in the past unable to grow or change in any meaningful way, relying on fart jokes as a stand-in for your personality.
---
Fallout 4 runs at 60fps on Xbox Series S with advanced backward compatibility techniques
Microsoft have been making a big deal about the potential of their extensive backward compatibility programme on Xbox Series X and Xbox Series S, from simply steadying frame rates and dynamic resolutions of Xbox One titles, to Auto HDR through machine learning and even talk of doubling the frame rate of games.
The backward compatibility team have now revealed the first example of this: Fallout 4. Originally a basic 1080p30 game, Bethesda's RPG has had its 30fps frame rate limit removed and can run at double the frame rate on Xbox Series S.
There, that's much better, isn't it?
The technique to double the frame rate is something that Microsoft will implement on a case-by-case basis, as some games may not work due to the original physics or animations. Those games would require a patch and additional work to iron out the kinks, though Microsoft have also stated in the past that for many games, adding new Xbox Series S and Xbox Series X performance targets and profiles could require as few as three lines of code.
Auto HDR is a much broader enhancement, with machine learning trying to analyse each frame of the game and broaden the colours and dynamic range available – reportedly Microsoft will be disabling this in cases where it doesn't work quite right – and "nearly all" backward compatible titles will now have 16x anisotropic filtering to improve the appearance of textures. This was previously done for select Xbox One X Enhanced games in backward compatibility.
Back to the frame rate doubling, and it's great to see how this can improve the experience for Fallout 4 and Xbox Series S. The implication is that this will also apply to the game on Xbox Series X, but this is not yet known. Bethesda released an Xbox One X update that boosted game resolutions to 2160p. Given the sheer power of the Xbox Series X, you'd bet that it could pull the same 60fps trick at 4K, but nothing is confirmed just yet.
Source: Microsoft
---
Get 12 months of PlayStation Now for £35 via Amazon
Amazon Prime Day is on, the annual event where millions of people buy loads of things they don't really need. As usual there are a bunch of video game deals but nothing too spectacular, a few quid off FIFA 21 or Doom Eternal, that sort of thing.
However, if you are look for a bargain in then Amazon are offering twelve months of PlayStation Now for just £35. That works out at around 9 pence a day for access to over 700 games including PS4 titles.
In May Sony confirmed the latest figures of PlayStation Now subscribers, announcing that 2.2 million people worldwide are signed up to the streaming service. This is over double the amount from last year when the figure hit one million subscribers. While it is a decent number it is still approximately five times lower than what Microsoft has managed with Xbox Game Pass. That subscription service has reached over 10 million subscribers since its launch in 2017 across Xbox One and Windows 10. PlayStation Now had a three year head start launching in 2014, though only in select areas. While the figures show an improving picture for the service Sony still has its work cut out to get more people subscribed as the next generation arrives.
Over the last few months, Sony has been offering some big hitting titles on the PlayStation Now service, in April Sony added Marvel's Spider-Man and Just Cause 4, March saw Control and Shadow of the Tomb Raider, and February had Uncharted: Lost Legacy and Horizon Zero Dawn. Other games on the service Dishonored 2, Metro: Exodus, Days Gone, Trine 4, RAD, MediEvil, and NASCAR Heat 4.
How PS Now will fare when the PS5 launches remains to be seen. With Microsoft being in a strong position already with Game Pass it has that advantage over Sony going into the next generation. Sony has decisions to make as well regarding when PS5 games will be added to the PS Now service, especially when Microsoft is utilising Xbox Game Pass to bring new games day one to subscribers. Sony may have to have a similar tactic if the company wants to compete in the streaming market.
Source: Amazon
---
Corsair K60 RGB Pro Keyboard Review
A year or two ago, you wouldn't have caught me dead with gaudy gamer RGB anywhere on my desktop setup. While the neon glow of a piece of RGB gear is gorgeous, I always considered it a bit excessive to ever want for myself. Fast forward to today, though, and I've thoroughly eaten my words. I've got bias lighting on the backs of my screens, an ultra-comfortable gaming mouse kitted out with multiple glowing bits and spots, and now I've added a Corsair K60 RGB Pro to my desk.
The colorised keys of this premium kit are already a massive game changer for me personally, but there's plenty of other solid features to this keyboard that might warrant an upgrade if you're in the market for a new desktop device. At $90 in the US, it's actually around the middle of Corsair's RGB-happy keyboard range, comparing well against other high-end mechanical keyboards. It's slightly less appealing in the UK, where it can be found for £109, for whatever reason.
Aside from the price, the weight and feel of the K60 scream one word: premium. With a brushed aluminium frame and a hefty weight of 880g or 1.95lb, the K60 is a sturdy beast that won't slide around your desk or get any cracks or scratches easily. I'm in love with the texture of the surface, and while the keycaps themselves look a tad more basic by comparison, they've got a unique look going thanks to their elevated style.
The RGB emitters under the keycaps stick out a lot further than you might see on other keyboards, giving the keycaps a sense that they're almost floating above the body of the keyboard. While it certainly gives the keyboard more real estate to emit gamer glow from, the fact that the emitters and the keycaps aren't uniform leads to an awkward visual disconnect whenever I look at the keyboard. It's a shame that some important keys are missing, as well. The K60 has no dedicated media buttons, and on top of that, there isn't even a Function lock key to permanently swap the operation of your F keys.
Of course, if you're the type to prioritize RGB with your keyboard, this is still great news for you. The glow of the K60 is bright, gaudy, and gorgeous. You can adjust the brightness and style of the glow through your function keys, enabling a variety of patterns like rolling waves, a sliding scanner, rippling glows as you type, and more. For me, I enjoy going with a simple single-colour glow on the keyboard. It's nice to simply have easy-to-spot backlit keys for when it gets darker in my room, but getting to set them to a sleek purple that matches my mouse is a fun bit of personalization.
You're afforded a lot more options for customisation if you connect to the Corsair iCUE software, which is the same software you'd use to alter the RGB and functionality of any other Corsair products you might be rocking.
The K60 is kitted with 100% CHERRY VIOLA mechanical keyswitches, on top of full n-key rollover and anti-ghosting. For the uninitiated, all of that basically translates to one of the most responsive and accurate keyboard experience you'll ever have.
As someone who's spent many a night being deprived of sleep by the loud clang of my college roommate's mechanical keyboard, I was happy to hear that the K60 is nowhere near as loud and obnoxious. Your typing gives off satisfying little clunks, but it's a much softer sound that won't prove too distracting.
The only distracting thing is the spacebar. Even with standard light presses while typing out an article or email, the spacebar spouts off a noticeable mechanical twang that continues to echo for a second after you press it. That same sound can sometimes be heard from the rest of your keypresses if you're really slamming the keys or looking out for the sound, but the fact that it's so noticeable on every press of the spacebar is a massive distraction. Even with a headset on and a video playing, hearing the sound of the spacebar echo out dozens of times a minute as I type proves to be way too intrusive for my tastes.
---
Aquanox: Deep Descent gets a new trailer explaining the game ahead of launch
First person underwater vehicle shooter Aquanox: Deep Descent launches on October 16th for PC, almost twenty years after the first game in the series hit the waves. As some gamers weren't even alive back in 2001, THQ Nordic have put together a trailer explaining what the new game entails.
Here's more about the game which I have shamelessly copied from the press release.
Aquanox: Deep Descent is a first person underwater vehicle shooter, in which players control a variety of customizable ships to engage in fierce battles in the dystopian deep sea world of Aqua.

In the near future, the Earth's surface has become uninhabitable. What remains of humankind lives in former mining and research stations, deep below the surface of the sea. Born and raised in the only world we know, the loose network of underwater settlements, torn by the war for resources and dominance between various factions.

Take control of a team of highly trained fighter pilots and experience an epic story in the deep sea world of Aquanox. Send your enemies down to Davy Jones's Locker with well-aimed torpedoes, mortars, mines and more. Explore the deepest corners of the oceans – mysterious, hazardous, uncharted.

Features

Fight: Unique underwater vehicle combat with a wide variety of play styles
Co-op: 4 player drop-in co-op, with four distinct pilots who are all involved in the game story
Customize: Choose your ship, and upgrade it to fit your preferred playing style
Explore: Explore, salvage, and loot- all while discovering the deepest corners of the ocean
PVP: Classic multiplayer modes, including Deathmatch and Team Deathmatch Dogfighting
For more on the history of the game you can pop over to the Aquanox Deep Descent Official Website. The game will launch on Steam and there is also a Limited Edition on Amazon for € 39.99 / £ 34.99 / $ 39.99. Sploosh!
Source: Press release
---
King Arthur: Knight's Tale is a dark tactical RPG twist on the Arthurian legend
The last half decade has seen Hungarian developer NeocoreGames make a name for themselves in the action RPG genre. The success of The Incredible Adventures of Van Helsing led to not one, but two sequels, before they snapped up one of the many Warhammer 40,000 licenses out there to create Warhammer 40,000: Inquisitor – Martyr.
For their next game, though, they're returning to the company's real roots. Their earliest games mixed real-time tactics, role-playing, and grand strategy genres together in the two King Arthur: The Role-Playing Wargame games and it's this historical fantasy setting that they're returning to with King Arthur: Knight's Tale… but with a twist.
King Arthur: Knight's Tale doesn't follow the same blend of genre buzzwords as The Role-Playing Wargame, nor is it an action RPG, instead forging a different path for the company. This is a dark fantasy tactical RPG, similar in some ways to the XCOM series with turn-based combat, but with more RPG-like depth to each character's growth through the campaign, deep loot tables, and with permadeath and other roguelite elements thrown in for good measure.
That's not the twist, though, which comes in the story that Neocore have woven, turning the Arthurian legend on its head, quite literally. You play as the traditional villain of the tale, Sir Mordred, tasked with gathering knights to a new roundtable and venturing forth to battle all manner of fantastical beasts.
But where's King Arthur? The game is actually set after the climactic Battle of Camlann between King Arthur and the infamous black knight, in which both were dealt a fatal blow and passed away… and yet they both still live. The magical island of Avalon is now beset by nightmarish enemies, with King Arthur somehow at the heart of them all. Now Sir Mordred must try to kill Arthur once more for the good of the realm.
The game will play out on multiple levels, with tactical RPG battling taking place on a grid-based battle map. You'll have the pick of over 30 heroes, each of which is aligned with one of five classes. Success can depend on your ability to scout out an area, luring enemies into an ambush and take advantage of their weaknesses; with the aforementioned permadeath in mind, you'll probably want to play cautiously. Thankfully you can heal injuries, curses and disease, but they will take time and sideline a particular hero.
Leading them as Sir Mordred and rebuilding Camelot poses some interesting questions of morality. Mordred was, obviously, the bad guy, but it will be up to you to chart his course through the campaign and pick which quests to send your heroes on. Will your decisions lean toward the tyranny that he was best known for? Or will he turn over a new leaf and become a righteous ruler that King Arthur might be proud of?
It's going to be interesting to see how those elements come together, and we were only offered a glimpse of them at this time. The campaign will span twenty story missions, as you reclaim the kingdom from seven enemy factions and build up to defeating its ten bosses, but there will also be endgame modes and content to tackle after you've (presumably) rescued Arthur from his nightmarish fate. The permadeath and potential to simply run out of heroes adds a little extra spice to proceedings and could encourage multiple playthroughs.
King Arthur: Knight's Tale is expected to release in Q1 2021, but Neocore are first holding a Kickstarter crowdfunding campaign in the hopes of building a small community of enthusiastic fans to help shape some of the finer details of their twist on the Arthurian legend. The Kickstarter is live today, leading to a backer beta in November, before launching on Steam early next year and then for PlayStation 5 and Xbox Series X|S.
---
Fall Guys adds a chonky Sonic the Hedgehog costume
A new costume has been revealed for the smash hit multiplayer game Fall Guys and it is based on everyone's favourite blue hedgehog. The brand new Sonic costume was demoed in a live stream yesterday and features the characters iconic red shoes and white gloves. That said, the costume is still stretched over a Fall Guy bean so it doesn't exactly look like Sonic, take a look.
The costume will be available tomorrow, 14th October, and will cost you five crowns for the top half and another five crowns for the bottom so you're going to have to be a good player to get the full costume.
Fall Guy Season 2 went live last week and brought new levels, new costumes, a new seasons pass and visual updates to existing levels, check out the patch notes below.
FALL GUYS SEASON 2

IT IS LITERALLY LIVE RIGHT NOW

RT if LETS GOOOOOOOOOOOOOOO#FallGuysSeason2 pic.twitter.com/YPohsggNC8

— Fall Guys (@FallGuysGame) October 8, 2020
Here are the patch notes:
New Feature – The Show Selector: Time-Limited Shows give players new ways to enjoy their favourite rounds types by selecting which Show they want to play!
New Feature – Nameplates: Mix and Match customisable Banners and Nameplates to compliment your Fall Guy's attire!
New Feature – Random Outfit Generator: Press triangle on the customiser screen until you get a combination of items you like!
Improvement – See your party members fall alongside you while waiting for matchmaking to complete.
Improvement – Fall Guys now have more responsive mantling up ledges.
Improvement – Visual updates to many levels
New Level – Knight Fever: Our hardest gauntlet level yet.
New Level – Wall Guys: Cooperate with other players to traverse castle walls.
New Level – Egg Siege: A brand new Egg Scramble map with moving drawbridges!
New Level – Hoopsie Legends: A Solo Hoopsie Round with moveable blocks.
Plethora of new customisation options – costumes, faceplates, colour palettes, emotes, and celebrations.
Many bug fixes and optimisations.
When it launched on PlayStation Plus Fall Guys quickly became the most downloaded PlayStation Plus title ever!
Source: Twitter
---
Horizon Zero Dawn PC update 1.06 is out, here at the patch notes
Guerilla have dropped a new patch for Horizon Zero Dawn on PC with a couple of tweaks including one that makes Aloy walk in a straight line, an odd thing to have to patch but there you go.
Here are the patch notes.
KNOWN ISSUES

Some players are experiencing an out of memory error during the game optimization process.
Some players are experiencing graphical settings issues, such as Anisotropic Filtering or HDR not working correctly.
Some players are experiencing performance issues on specific GPUs or hardware combinations.
We're aware of and continue to investigate issues that are not yet solved on both the player-compiled lists by u/EvilMonkeySlayer and u/Rampage572 – thank you!

PATCH NOTES

Crash Fixes

Fixed a streaming compute shader crash
Fixed a crash on startup related to file paths with non-ANSI characters

Graphical Improvements

Fixed an issue where characters would noticeably warp between cuts during a specific cutscene in main quest "The Point of the Spear"
Fixed an issue where box graphics would flash during the final cinematic of the game
Fixed an issue in HDR where the UI could get overlapped by a black scene
Fixed an issue where turning on the Adaptive FPS option gave lower performance results than setting similar results manually

Gameplay Improvements

Aloy forward walking direction – Aloy now walks directly towards the direction the camera is facing when you press forward, rather than at a slight angle

Other Improvements

Executable details – Properties of the executable now also displays the current version
We gave the game 7/10 in our review, a mark down from the PlayStation 4 version as it needed a beast of a PC to run. "Horizon Zero Dawn Complete Edition brings Guerrilla Games' fantastic sci-fi adventure to a whole new audience, but PC players used to ultra-high frame rates will have to accept a step down in performance as they enjoy Aloy's journey," we said.

Source: Guerilla
---
The original Oculus Quest was the device that really made virtual reality make sense to me. While the console-connecting PSVR was my first taste of home VR, and remains an impressive system that's capable of far more than its hodge-podge of peripherals would have you believe, it's hard to go back once you've experienced standalone VR without any wires. Oculus Quest 2 does such a good job of smoothing off the original unit's few remaining rough edges, there's very little reason to have to.
The Oculus Quest 2 looks every inch like a desirable piece of modern tech. Having ditched the original's all-black aesthetic, the Quest 2 is a pleasingly rounded, pure white headset that looks as though it's been designed to sit on every Ikea table you can find on Instagram. It's smaller too, feeling more compact in your hands, less bulky on your head, and remedying one of the key faults of its predecessor.
The biggest downside to the original Quest was its weight. An hour or two of the front-heavy system and you'd be feeling it in your cheeks for the rest of the day, no matter how you positioned the headset's straps. The Quest 2 makes a resounding move to rectify this by dropping the unit's weight from 571g to 503g, and within moments of putting it on the difference is obvious. It's still not effortlessly weightless – we're a long way from being able to pack these kinds of specs into something you won't notice – but it's a major improvement, adding some precious minutes to how long you can have it strapped to your head before feeling fatigued.
They've altered the strap too, swapping out the rubberised strap for a fabric one. In terms of usability they're very similar, with a central pillar connecting up with an adjustable band that runs around your skull and keeps the Quest 2 firmly in place, but the new strap has a pleasing tactility that feels far nicer under your fingers and against your head.
If you're looking for the an even better experience, Oculus have created a pro strap with an optional battery pack. It brings back some of the weight that was removed, but with it set at the rear of the unit the idea is that it provides balance and extra play time. We'll be running a full review of this peripheral when we've spent more time with it this week, but our first impression has been very positive.
The other major physical change from the original Quest is the loss of the lens slider. This was used to set the distance between the lenses across a range of increments, but it was easy to accidentally knock, whether during play or when coming in or out of storage. The Quest 2 alters this so that now you physically move the lenses inside their housing.
It reduces the number of lens positions down to three, which feels like a step back in a number of ways, but if you're swapping between different members of a household it makes the experience far quicker and easier. The positions are simple to click through, with a central button clearly showing which numbered slot the lenses are in. Once you know what your setting is you can just move to it within moments. I assume that some original Quest users will have lost their preferred setting, but across our household no one experienced any problems with the reduced range of options.
With the removal of the slider the outside of the Quest 2 features a fairly minimal number of controls. There's a volume rocker on the underside, and the left-hand side plays home to both the power button and the sole 3.5mm connection. The only other defining features are the Quest 2's camera units that allow for its inside-out tracking. Much like the original Quest they do a fantastic job of tracking you in whatever play space you've defined when starting up, and they'll allow you to see the outside world if you come up against that boundary.
The other main part of the Quest 2 package are the touch controllers. You get two in the box – one for each hand, as if that needed saying – and it's gratifying to find that there's no need to invest in anything else to get up and running; the box even serves as a robust place for keeping the Quest 2 safe, so you don't even necessarily need a case.
The touch controllers haven't had much in the way of external updates over the original other than getting a white makeover to match, but they were already a mature and well-conceived VR interface. It's a shame that they still rely on the AA batteries and haven't had a rechargeable upgrade but you can easily remedy that yourself for £10, and they certainly last a long time during use, boasting a 4x improvement over the originals.
The Quest 2's UI is largely unchanged from what Quest owners have been experiencing over the last few years, and it's a great example of a company getting the fundamentals right. The central bar shows the battery status of both your headset and the touch controllers, as well as giving direct access to your apps and games, sharing options, friends and options. That's all there is to it, but you'll find you can hop around from game to option to chat with no sign of lag or stuttering. The enhanced innards of the Quest 2 keep everything nipping along at pace, and it's a pleasure to interact with.
It's been fantastic to see the evolution of the original Quest, with features like the Minority Report-aping hand and finger tracking now included in the central options, and the Quest 2 has benefitted from the three years of consistent development. While the Quest never felt unfinished in its early days, the quality of life improvements of the firmware match up to the newly revamped hardware of the Quest 2. This is a slick, sleek virtual reality tech package, and Facebook are making a major play for the space.
Therein lies one of the rubs. You can no longer simply use an Oculus account to use a Quest device, and you'll be needing a Facebook account in order to do so. Who you trust with your data is becoming an ever-more difficult task to monitor, and the recent history of the company may not fill you with confidence that it's going to be well looked after when directly in Facebook's hands. For the majority it will barely register, but it's disappointing that there's any kind of barrier to entry when the technology is as good as this.
One of the most obvious improvements to the Oculus Quest 2 is the increased resolution. Coming in at 1832×1920 per eye, the jump over the Quest's 1440×1600 is apparent from the moment you put the headset on. It's difficult to quantify what that will come to mean in usage terms, especially when many games haven't had a Quest 2 update to take true advantage of both it and the added oomph of the new Snapdragon XR2 chip, but as of this moment, everything is crisper and cleaner than it was before.
Tetris Effect – easily one of my games of this generation – looks utterly beguiling, and those Tetronimoes and their psychedelic surroundings have simply never looked better. Similarly, the tactical squad shooter Onward benefits greatly from the cleaner display, the sharper image working wonders as you line up a sniper shot through a scope or sneak a peek around a corner.
The Oculus Quest 2 has also upped its refresh rate to a punchy 90hz, and though that's currently limited to the home screens and a few select titles, soon enough everything on the Quest 2 will be hitting that natively. Alongside a smoother experience it should help those that suffer from motion sickness to feel a little less overwhelmed. Anyone that's suffered from it during a VR session will know how horrifyingly bad it can be, and anything that can reduce it is a godsend.
The improved resolution and refresh rate could well be key for those that want to use the Quest 2 as a PCVR headset, and if you're looking to play some of the impressive PC exclusives like Half-Life: Alyx, the Quest 2 makes a convincing case thanks to its innate versatility.
It's as simple as hooking it up to your PC with the Oculus app installed – ideally with the Oculus fibre-optic cable, though cheaper USB-C cables are available – and you can play Oculus and SteamVR titles with ease. There's even an option to play wirelessly using Virtual Desktop, though there's a few hoops to jump through and it may not quite function the way you'd hope depending on your WiFi setup. Still, when the Quest 2 isn't just replacing its predecessor, but the Rift as well, it gives you some indication of just how important and integral Facebook think it is.
The Oculus Quest 2 is the next step in home VR that builds on the foundations of the original Quest's genre-defining standalone setup. This is a truly next generation console that's beaten both Sony and Microsoft to the punch.
---
Today's Call of Duty: Modern Warfare update will let you delete individual modes on PC
Today's update for Call of Duty: Modern Warfare on PC will include options to uninstall different modes from the game and free up some of your under pressure hard drive and SSD space.
The news was revealed by Infinity Ward's Production Director Paul Haile on Twitter last night.
tomorrows update will have mode specific uninstall options for PC MW owners.

— Paul Haile (@Tyrael) October 12, 2020
The feature is finally coming to the PC version of the game, having been given to PlayStation 4 and Xbox One players back in June, and comes a little over a week after some gamers found that Modern Warfare was now so big on PC that it would no longer fit onto a 250GB SSD.
@CallofDuty MW nolonger fits onto a 250GB SSD and cannot be updated…..@Activision @Blizzard_Ent please split up SP, MP and Warzone. pic.twitter.com/pSZdlSldvK

— Battle(non)sense (@BattleNonSense) October 3, 2020
Of course, this is all because Call of Duty: Modern Warfare has ballooned in size since its initial release, with the PC version of the game already catering to higher end graphics cards with higher quality assets, and then with Infinity Ward and Activision adding to the campaign, co-op and multiplayer with the Warzone battle royale mode. That's available standalone and for free, but has been bundled into Modern Warfare's install size to cater to the cross-over nature of the seasonal content, unlocks and game events.
It's great to see for one of the biggest games on the planet, and it's something we expect to become more common as we head into the next generation of console. The size of game installs has been a topic of discussion through the run up to the PlayStation 5 and Xbox Series X|S release in November, with both consoles having ultra-fast SSDs built in, and with next-gen games only able to run from the SSD or expansion SSDs, not from external hard drives. On the one hand, games will initially be smaller on next-gen consoles, with developers able to drop some of the workarounds needed to load quickly from hard drives and use higher levels of compression, but even then, some games will be absolutely massive.
For titles such as Call of Duty where many will run through the campaign once or twice before dedicating the rest of their gaming time solely on the multiplayer modes, it absolutely makes sense to let users delete the content they will no longer be using.
Source: Paul Haile
---
HyperX Cloud Stinger Core Wireless Gaming Headset Review
While I've been using a headset for PC games for as long as I care to remember, it's only in the last few months that I've started using one for console gaming. I'd always felt like it was a bit of a hassle, especially with the wired set ups of the PS3 and Xbox 360 era, but it's far easier to go wireless these days, which finally convinced me to stop polluting my house with the sound of Destiny 2 gunfire and anime late at night.
The HyperX Cloud Stinger Core Wireless Gaming Headset has a lovely sleek design with a white body, black cushioning and some blue accents. It goes very nicely with the needlessly white PS4 I own, and I'm sure it'll match the PS5 and DualSense as well. I don't normally get all that hot and bothered about matching colour schemes for my gaming peripherals, but when it does all work out like this, I'd be lying if I said it didn't make me happy.
It's not just good-looking, because it's also incredibly comfortable. Weighing in at just 275 grams, it's pretty easy to forget that it's even on your head. The earpads are nice and soft and have a wonderful passive noise-cancelling effect that will ensure that it's not just keeping you from disturbing everyone else, they'll have a hard time disturbing you as well. That's a pretty important thing in a headset when your house is filled with two chaotic cats and a toddler (I'm not actually ignoring her, this is just for dramatic effect).
The audio it delivers is great too. Relying on dynamic 40mm drivers, the headset delivers extraordinary clarity in each sound. You feel like everything is right next to you, and thanks to the way it blocks out external noise you don't have to pump the volume up just to be able to hear everything that's going on in the game or TV show you're watching.
The unidirectional microphone ensures that you can easily be understood whenever you happen to be gaming with others, and the swivel to mute function means you can swing it up and out of the way when you're chowing down on ice cream in the middle of a raid or being forced to interact with people in the same room as you.
As my first ever wireless headset, I can say that the HyperX Cloud Stinger Core Wireless Gaming Headset was incredibly easy to set up. You just stick the USB dongle into whatever you want to use it with, turn on the headset and voila, sound is getting all up in your ears.
The other main factors are the range and battery life. It can apparently broadcast audio up to 12 meters in an open field, but since I don't live in a field (open or otherwise), all I can say is that walking into the small kitchen that's smushed into my lounge let me do some cooking while chatting to friends. You'll probably be fine in your house too. The battery life is also suitably impressive for a modern wireless headset, with HyperX rating it for 17 hours. I have to admit I charged it before that point just to be safe, with a decidedly modern USB-C port for when you need or want to top up.
The only real issue I have with the headset is the lack of a 3.5mm jack. The headset is for a PC or PS4, so it's not strictly necessary, but the lack of one does mean you can't co-opt it for with with other gadgets or Xbox consoles that you've got hanging around.
---
See the Overcooked! All You Can Eat next-gen overhaul compared to the original
Team17 have released a video comparison for Overcooked! All You Can Eat, their upcoming next-gen remaster of the hugely successful culinary co-op series. The remaster bundle will be out for PS5 and Xbox Series X|S later this year.
The side-by-side video shows off a slew of levels and how they've been packed with more detail, enhanced lighting, graphical effect and more.
Underneath it all, there's over 200 levels, as the bundle gathers together Overcooked!, Overcooked! 2 and all their DLC, but while it's the first game's content that will benefit the most here, there's a big step forward for the second game as well, thanks to the new lighting and shadow detail. The whole game runs in 4K and 60FPS on PS5 and Xbox Series X, as well.
Beyond that, loading times will be lightning fast, there's a new set of trophies and achievements to earn, and there's now cross-platform multiplayer across the whole game – online multiplayer was only introduced for Overcooked! 2.
Helping newcomers to the game with be the new assist mode that will let you slow the timeouts on recipes, lengthen rounds, and just skip levels outright. To be more inclusive, new accessibility options add a scalable UI, dyslexic-friendly text, and colour blindness options. All of these things are great to see, when other titles like Moving Out have helped reduce the bar for entry quite significantly from the game that inspired them.
Team17 have decided to sidestep the arguments over free and paid cross-gen releases with this remastered bundle, which is a paid, standalone release. It's worth remembering that the first game released way back in 2016, while its sequel came out in August 2018 and has been supported and expanded with free content since.
Overcooked! All You Can Eat will be out both physically and digitally for PS5 and Xbox Series X later this year.
Source: YouTube
---
Nickelodeon Kart Racers 2: Grand Prix Review
I honestly wasn't expecting much when I fired up Nickelodeon Kart Racers 2: Grand Prix for the first time. After all, its 2018 predecessor was widely panned as a game with not much going for it. So, it is a pleasant surprise to say that Nickelodeon Kart Racers 2: Grand Prix is a decent kart racer that has some depth to it, though it is missing some character.
The game follows the traditional form of the kart racer, giving you series of eight cups to take on, each with four races and tracks inspired by Nickelodeon shows. They range from Avatar's Ba Sing Se through to the Rugrats inspired Reptar Ruins. Outside of the Grand Prix you can take on 42 challenges that are divided between hitting targets, beating times, avoiding obstacles, and boss races. There is also the time trial mode to set new records on tracks by beating ghost racers, and an Arena mode which features a free for all deathmatch inspired mode as well as a capture the spatula mode.
Whatever you decide to do, there's a wide range of 30 racers for you to choose from, though some can only be unlocked by completing game modes. They're joined by 70 support characters, and it's these that add a real tactical element to Nickelodeon Kart Racers 2: Grand Prix.
First you will choose a Chief character who has a slime ability that can be activated in races, be it Plankton's rain of chum to slow your rivals or Zuko's fire boost that shoots out flames to attack with. Then you have the Crew Engineer and Crew Mechanic. These support characters have abilities that work passively or activate automatically, including Spongebob's Gary giving you more slime, or Teenage Mutant Ninja Turtles' Splinter granting invisibility after you attack an opponent. Bundle all of that with picking different engines, exhausts, and tyres, and you've actually got to put a little thought into choosing your loadout before you go racing.
There's three difficulty settings, but you'll want to go for the highest difficulty if you want a meaningful challenge. The Slow difficulty will have you outpacing opponents with ease, and this is only slightly upped at the Middle tier. The challenge events have their own difficulty settings with some being very easy, while a few will take quite a few attempts to beat. Some of them focus on drifting, specifically getting your drift up to the blue sparks level. They are the highest spark level with yellow and purple preceding them, similar to the drift progression found in Mario Kart 8. While there are crew members who can mitigate these challenges a little, like Mrs Puff and her instant purple sparks ability, it feels like it takes ages to get to blue sparks with some drift areas feeling like they are a bit too short to manage it in time.
Nickelodeon Kart Racers 2: Grand Prix is also just lacking a certain charm. While it looks good and the tracks are entertaining, it feels a bit flat. You have all of these characters from Nickelodeon shows, but outside of some character specific animations there is no real soul to them. The game features no voice acting whatsoever, so all you hear in races is the music and the drone of the karts. Weapons definitely take inspiration from Mario Kart with a Purple Squid filling in for the Blue Shell, rocket footballs in for red shells, a hand mimicking the inkspots to reduce visibility, and so on.
Unfortunately, at time of writing I was unable to try out the online portion of Nickelodeon Kart Racers 2: Grand Prix as there seemed to be no one playing in either the Grand Prix mode or Free Race mode in the first five days after released. There is promise of a decent experience here, but the community will need to really pick up if there's going to be much longevity for online play.
---
Report: PlayStation 5 accessories and games have their launch date moved forward by a week in the UK
Good news everyone, Sony have moved forward the launch date of the PlayStation 5… media remote! According to Simply Games, Sony have pushed forward the release date for all the PlayStation 5 accessories apart from the DualSense controller.
In a bizarre twist in this already bizarre situation, PlayStation®5 Accessories, apart from the controller, have had their release date brought forward to November 12th.

— SimplyGames (@SimplyGames) October 12, 2020
This means the PlayStation 5 camera, media remote, and headphones will launch on November 12th, the same day the PlayStation 5 launches in the United States, but you will have to wait for a week until the 19th before the console is released in the UK.
I quick check on Amazon reveals that PlayStation 5 games have also been brought forward, Marvel's Spider-Man: Miles Morales now has a release date of the 12th as does Sackboy: A Big Adventure.
Sony recently updated the PlayStation 5 FAQ and revealed that if you have bought one of those snazzy new HD cameras for the PlayStation 5 you won't be able to use for your PlayStation 4 VR games.
The HD Camera is not compatible with PS4 games – please connect a PlayStation Camera via a PlayStation®Camera adaptor.
The old PS4 camera runs at 720p, the new one is 1080p and and includes new feature such as background removal. PlayStation VR owners are going to have swap the cameras out, the old PS4 camera to play any existing PSVR games, and then back to the PS5 camera if they want to broadcast or play any future PSVR games that, presumably, will work with the new camera and take advantage of the higher definition.
Sony state, the "overwhelming majority" of PS4 games will still work and many of them will benefit from the added power of the new console. The PS5's Game Boost feature will make select PS4 games run at higher or smoother frame rates, and seems to be applied across the board.
However, that comes with some caveats and advisories:
Some functionalities that were available on the PS4 console may not be available on PS5 consoles. In addition, some PS4 games may exhibit errors or unexpected behavior when played on PS5 consoles.
Before purchasing add-ons to play with your PS4 games on PS5 consoles, please try to boot and play your PS4 games on your PS5 console to see if you are happy with the play experience.
Please note, playing PS VR games on a PS5 console requires a PlayStation VR headset, a PS camera (sold separately from PS5 console) and a PS camera adaptor (no purchase required).
Always update your PS5 console to the latest version of the system software.
There are ten titles that Sony have noted will not work on PlayStation 5, for whatever reason. These games will be labelled in the PlayStation Store as only being compatible with PS4, and are as follows:
DWVR
Afro Samurai 2 Revenge of Kuma Volume One
TT Isle of Man – Ride on the Edge 2
Just Deal With It!
Shadow Complex Remastered
Robinson: The Journey
We Sing
Hitman Go: Definitive Edition
Shadwen
Joe's Diner
Source: Twitter
---
MX vs ATV All Out Switch Review
MX vs ATV All Out is an extreme-sports race that mixes a number of different vehicle classes into one hectic mess of tricks, mud, races and crashes. The title originally released in 2018 to mostly mixed and negative reviews, but has Rainbow Studios turned the title around in it's Nintendo Switch port?
First things first, this is definitely a game for those people who consider themselves Motocross fans. The game features numerous professional riders, official brands, recognisable tracks and just about everything else a fan of the sport would need, all in one package. The bikes and riders are incredibly detailed with lots of customisation options and upgrades to boot, giving fans plenty of options to get stuck into.
All Out lets players control both the bike and the weight of the rider through the left and right analog sticks. Shift the right the stick left and the rider will lean to the left, and vice versa. It's a neat system which enables players to shift their weight when going around contenders, helping to maintain both speed and control.
There are several different types of race disciplines in the game, ranging from closed circuits through to large open areas that involve driving across rough terrain. The former are often the most fun, featuring numerous vehicle types and some really varied terrain to battle with. Tussling with other drivers for first, second and third can be a lot of fun, although it can feel a little unfair when a car launches you off your bike.
There are also trick events, in which players can manipulate their bike and body in order to pull off flashy tricks to score points. This was probably the most enjoyable mode for me as there's a real joy to be found in linking tricks together and building a solid run across many of the ramps.
Between races, players can explore a large hub area filled with collectibles and jumps to play around with. It's a great way for players to get to grips with the games controls and physics without the pressure of being in a race. The collectibles also provide an added element of challenge as they can be quite difficult to reach.
Unfortunately, MX vs ATV All Out is not a good looking game. It sports visuals that sit somewhere between the resolution of this genre and the texture quality of last gen and the one before that. Grass, trees and mud all look washed out with a dynamic resolution that looks like it drops quite a bit below 720p at points.
Even when the original was released on PS4 and Xbox One in 2018. Many of the reviews complained about how washed out and drab the visuals look, and while a port to Switch was unlikely to dramatically overhaul the graphics, it's a shame that no effort has been made here to try to rectify those complaints. It's one of the poorest examples of what the Nintendo Switch is capable of.
I'm also not a fan of the game showing all of the DLC races in the event selection screen. You actually have to scroll past them to get to the playable races and that just sits wrong with me. That's before you consider that there has been an Anniversary Edition release on PS4 and Xbox One that bundled some of the DLC expansions in, which are kept separate for the Switch version of the game. At £34.99, it's relatively budget pricing, but this still feels pretty cheeky.
---
David Tennant and Jodie Whittaker to star in Doctor Who: The Edge of Reality for PC and consoles
The BBC and Maze Theory have announced Doctor Who: The Edge of Reality, a new game coming to consoles and PC with both David Tennant and Jodie Whittaker taking the part of the Doctor. It's not a completely new game but rather a reimagining and expansion of the 2019 game Doctor Who: The Edge of Time which was for VR only. The new(ish) game will launch in Spring 2021 for PS4, Xbox One, Switch and PC, with next-gen versions also confirmed but undated.
Doctor Who: The Edge of Reality features:
A Console and PC adventure across Space and Time – built with current and next-generation consoles in mind, Doctor Who: The Edge of Reality features new worlds to explore, new puzzles, new challenges and new gameplay.
An Original Doctor Who story – uncover a universe-spanning threat as you seek to save reality from a series of time-breaking glitches. Continue the story that began in The Edge of Time and partner with the Doctor to unearth a greater mystery.
New Enemies and AI – come face-to-face with classic Doctor Who monsters including the Daleks and Weeping Angels. Experience the metal-clad terror of the Cybermen and more foes yet to be revealed…
Unfortunately Doctor Who: The Edge of Time was a bit of a dud and scored just 4/10 in our review. "I like Doctor Who a lot. As a TV show it's got all the best things about good entertainment and genuinely has some incredible storylines and messages. Doctor Who: The Edge of Time is not one of them though," ," said Jason in his review. "Between sluggish movement and dull puzzles, I think it's enough to say that even Jodie Whittaker can't save this game."
Also revealed was Doctor Who: The Lonely Assassins, a new game for mobile and Switch. For this game you will be heading back to Wester Drumlins, the spooky house from the classic Who episode "Blink". You get to team up with a familiar face, Petronella Osgood!
Source: Press release
---
Guilty Gear Strive launches in April for PS4, PS5, and PC, new character announced
Arc System Works has confirmed that Guilty Gear Strive will be released on April 9th for PS4, PS5, and PC via Steam. The studio also announced the game's Deluxe and Ultimate Edition. The Deluxe Edition will come with the Season Pass, while the Ultimate Edition will have the Season Pass plus the soundtrack and special character colours. The Season Pass itself will contain five fighters, two stages, and new story content. Speaking of fighters, new fighter Giovanna was also announced and you can see her in action below.
Giovanna rounds out the base roster of 15 characters. Add the five DLC characters and there will be a total of 20 fighters to choose from. Guilty Gear -Strive- has been in development since 2018, with the full announcement coming in the middle of last year. The start of 2020 then saw Arc System Software hold a closed beta well in advance of the game's planned release, originally planned for 2020, to give the team enough time to digest the feedback and data and adjust the game.
We went hands on with the beta, with Dom sharing his thoughts on how it sought to shake up the series:
"While the franchise may have fallen from some player's memories, visually Strive looks to be making an emphatic play for their hearts, and I've every confidence that this Closed Beta, and future open ones, will help the team hone the action to within an inch of its life. Change isn't always a bad thing, but it'd be a shame to lose part of Guilty Gear's own DNA by chasing the pack."
You can read the full preview of Guilty Gear Strive here.
---
Something for the Weekend – 10/10/20
We're exactly one month away from the start of the next generation, with the release of the Xbox Series X coming on 10th November, but all the chatter over the last few days has been about the PlayStation 5, with Sony finally answering some of the burning questions about their soon-to-be-released console. Backward compatibility, how to install an SSD expansion, PSVR support and more have all been revealed now, making up the bulk of the headlines in our round-up.
Let's dive in!
In the News This Week
Games in Review
Things are starting to ramp up toward the end of the year, and we've got reviews to help you decide what's worth picking up:
And we had a couple hardware review, with a focus on soothing or vibrating your ears with high-end sound, and making sure you sound as good as you can.
Featured Articles
Away from the review queue, Nick played an awful lot of Baldur's Gate 3's Early Access release, finding an enthralling world, albeit one that's a touch mean.
Dom revisited Avicii Invector with the Nintendo Switch Encore Edition release, calling it the "perfect portable album", and he put a few questions to Synthesis, a go-to voice acting and localisation studio based in Germany. Steve then got a bit creepy, exploring the Alpine setting and hand-drawn visuals of Mundaun.
Nic braved the outside world to visit a cinema and watch Akira in 4K. Was it a worthwhile endeavour? Can you still visit a cinema in a responsible socially distanced manner? We discuss exactly that.
Finally, What We Played featured Star Wars Squadrons, Baldur's Gate 3 and The Survivalists
Trailer Park
The PlayStation 5 teardown video shows removable side panels, dust holes and how to install an SSD
NBA 2K21 next-gen gameplay revealed running on PlayStation 5
Rainbow Six Siege Tachanka Rework goes live today on Test Servers
Need for Speed: Hot Pursuit Remastered confirmed, out this November
Monster Hunter Rise shows off new combat gameplay
Your Achievements
Here's what you in our community has been up to this week:
MrYd played "too much" Genshin Impact, as well as checking out Trine 4 from PS Now and Rogue Company.
It was a bit of Horizon Zero Dawn and Flight Simulator for hornet1990.
A different kind of flight was on ron_mcphatty's menu, as he played and loved Star Wars Squadrons
Lieutenant Fatman is finding Death Stranding "surprisingly fun" right now.
And Crazy_Del has been racking up more platinums. Sound Shapes on PS4 and PS3, Hitman Go on Vita, Life is Strange: Before the Storm, and Beyond: Two Souls have been knocked off, and with more planned for the weekend.
---
Have a good weekend (and wrap up warm if you're going out) and we'll see you on the other side!
---
Reports suggest PS3, Vita, and PSP games will no longer be purchasable from PlayStation web store
There are reports suggesting that Sony will no longer allow people to purchase PS3, PSP, or PS Vita games from the PlayStore Store through its website or the PlayStation App. Instead, the only way players will be able to purchase any games for these systems will be through the PlayStation Store on those devices directly. For example, digital PS3 games will only be purchasable through the PlayStation Store app on the a PS3 system. This moves does not just affect games though with apps, avatars, and themes all apparently being removed as well. Eurogamer reported on the exact list which can be seen below.
SIE will no longer offer the ability for consumers to purchase:
PlayStation 3 games and add-ons
PSP (PlayStation Portable) games and add-ons
PlayStation Vita games and add-ons
Apps
Themes
Avatars
The report, which references an email sent to PlayStation development partners, also appears to confirm that the wishlist will be removed, and any current wishlists maintained by players will be wiped. Apparently these changes will first hit the web store on October 19th and then the mobile app on October 28th. Sony has yet to clarify why it will be removing games from previous systems from its web or mobile stores. Of course, the company will want to make way for PS5 games. This comes hot on the heels of confirmation that the PS5 camera will not be compatible with PS4 PSVR titles. Sony also stated game save transfers between the PS4 and PS5 will be dependant on developers. Sony also confirmed 10 games that will not be playable on PS5 through backwards compatibility.
Source: Eurogamer
---